Grammarly goes beyond the basic spell checker that Firefox already provides.
It can check everything from sentence structure to plagiarism, ensuring not only that your text is technically correct that it imbues quality. Although you can use Grammarly for Windows or log onto the Grammarly site, the Firefox add-on enables you to check the passages you type on any website with ease, including Google Docs, social media posts, blog post editors, and more.
Disclosure: These reviews are reader-supported. We might earn a small commission if you purchase something through our site. Learn more
Our Verdict
Grammarly adds best-in-class support for grammar, spelling, and plagiarism checking to Firefox's already best-in-class privacy & speed.
Grammarly
Best All-Around
$11.66
/mo – before discount
PROS
86% out of 86% accuracy
16+ billion database
150k+ word limit
5 devlice limit
Includes plagiarism
1 hour support response
CONS
Only supports English
Expensive without our link
Grammarly Premium Walkthrough Video
TABLE OF CONTENTS
Add Grammarly for Firefox Browser
You can add Grammarly for Firefox from the add-ons page store. Click "Add to Firefox," and the browser extension will download. You'll have to click "Add" from the popup before it installs.
Using Grammarly in Firefox Browser
Grammar Checking
Once you add Grammarly, the extension adds a button to the top toolbar. You will be prompted to activate Grammarly, which requires you to sign in to an existing account or to sign up for a new one. There is a free Grammarly option, or you can upgrade to premium. You'll see some recommendations if you have the free version of Grammarly, but you won't see as many tips as you would if you purchase a subscription to Grammarly. Whether you have a free or paid account with the service, you will have to sign in.
Those tips will show up as red underlines; although, you won't see them in single-line boxes such as those that might be used to write a title of a blog or forum posts. Hover over any underlined word to view the issue and click on it to select it. There's also an option to ignore any unnecessary corrections.
These tips are accompanied by a small icon in the bottom right corner of the textbox. This circle will display the number of spelling errors and be red, green, or yellow, depending on the overall "score" of your writing. It refreshes as you type, and your score improves as you make corrections and improve your writing. There's also an emoticon to indicate the tone that your writing uses.
Although you may prefer to type directly on websites, you can upload documents and copy and paste an article to a new document on Grammarly by logging into the site or simply clicking the button in the toolbar and selecting a new document. Grammarly will check for spelling and grammar mistakes here as well as save the document so that you can access it later.
Thanks to its ability to detect subtle errors such as repeated words, Grammarly is useful even if you don't pay for it, but it's nearly indispensable if you opt for the subscription. This unlocks vital features such as Microsoft Office integration, plagiarism detection, vocabulary enhancements, and additional checks for readability and genre. Premium Grammarly suggests missing and errant commas and opportunities to remedy passive voice. It will help you improve clarity through such edits, such as reducing unclear antecedents. You can specify the language you use, so Grammarly will understand the way you spell.
Our content marketing agency produces over 300+ articles/month, so we use Grammarly Premium on a daily basis.
All of these suggestions will appear when you click the Grammarly button at the bottom of your textbox. The popup gives you a chance to see the recommendations for corrections and either accept or ignore them. Grammarly explains why each of these grammar rules may be appropriate. For words that Grammarly may not recognize, you have the option to add them to your personal dictionary.
Check for Plagiarism
Recommendations appear like a to-do list to the right of the content, which you can edit in the popup. To use the plagiarism checker, click the button in the bottom right of the popup screen. You'll have to wait a moment as Grammarly compares your writing to other sites. If the checker finds potential matches, it will list them similar to grammar suggestions. You can see the name and URL of the similar page, which you can visit, and you can make the change or ignore the advice.
Grammarly's plagiarism auditor is a useful utility for writers who do want to stray too close to reference material as well as teachers, editors, or professionals who must verify the originality of any content submitted to them. Site owners can receive penalties from search engines if their content isn't original, which makes this feature even more beneficial.
To unlock this function, you can purchase a subscription. The most cost-effective option is the annual plans, which costs $139.95 total, making it one of the better Grammarly offers. However, you can subscribe quarterly or monthly if you do not need it for a full year. Any Grammarly Premium review can help you determine if this is right for you.
Similar to our MasterClass review, the value you get from using Grammarly is well worth the cost.
Uninstalling Grammarly Browser Extension
If you only need Grammarly temporarily, you can uninstall the Web browser add-on until you need it again. Right-click the Grammarly icon in the toolbar and select "Remove Extension."
Note that if you heard about a possible security weakness involving Grammarly and authentication tokens, which could have exposed your data to hackers, the Grammarly team released fixes for the bug to both the Chrome and Firefox extensions in February 2018. The company asserts that while there was potential for people to gain unauthorized access to your data, no customers were impacted by this vulnerability.
Like most sites, Grammarly uses cookies. You can increase security by enabling two-factor authentication.
Grammarly For Other Devices
Some people enjoy using Grammarly to fix grammatical mistakes so much that they want to use it on other devices. Fortunately, you can log in to the online editor in any browser. Grammarly Keyboard, a keyboard app for Android, provides similar functionality on mobile devices. If you prefer to use a browser without the extension Grammarly installs — there isn't one for Internet Explorer — you can always sign in to the website to create and check a document for good grammar or use Grammarly for Windows PC or Mac. There is also a desktop app and integration with Microsoft Word.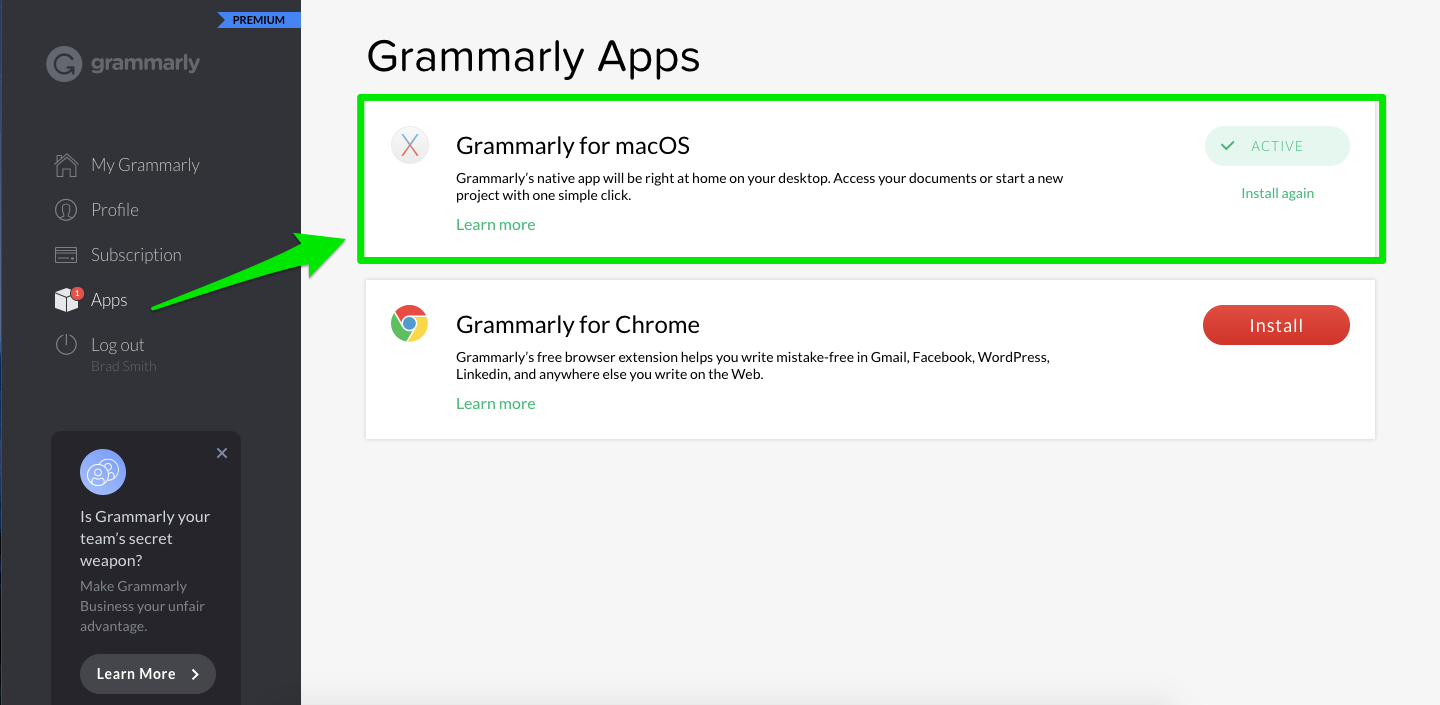 Aside from some notable exclusions, including Evernote Web Clipper, PC app, and website.
Whether you're a student or promote your company on social media, you'll only help yourself when you add Grammarly grammar tool to Firefox.