If Grammarly were a song, it'd go like this:
"Every spelling mistake you make, every grammar mistake you make, I'll be watching you."
Which may sound a bit creepy…
But think of it this way: Grammarly is like having a personal writing assistant by your side anytime you need them. Available 24/7.
As a student, that's a significant value add.
You're already juggling a full load of classes and possibly even a job or two. And if you're an adult student, you may be juggling a mortgage and a family, too.
In other words, you don't have time to take extra grammar courses or meet with a tutor to sharpen your writing skills.
And that's the beauty of using Grammarly.
With Grammarly, you'll get real-time writing suggestions without ever leaving your computer.
And as a student, you qualify for a Grammarly student discount, too.
In this article, we'll share how to score a discount in seconds, answer some of your burning questions, and reveal whether or not Grammarly is actually worth it.
Let's get to it.
Disclosure: These reviews are reader-supported. We might earn a small commission if you purchase something through our site. Learn more
Grammarly
Best All-Around
$11.66
/mo – before discount
PROS
86% out of 86% accuracy
16+ billion database
150k+ word limit
5 devlice limit
Includes plagiarism
1-hour response
CONS
Only supports English
Expensive without our link
Grammarly Premium Walkthrough Video
TABLE OF CONTENTS
Does Grammarly have a free trial for students?
Grammarly doesn't currently have a free trial for students, but they could offer your school one. In that case, you'll need to meet with your English teacher, student advisor, or counselor for trial login details.
If your school hasn't signed up for a trial, you can still test out Grammarly's basic features by signing up for the Grammarly-free version.
With the free version, you'll have access to basic spelling, grammar, and punctuation features, and surprise! Grammarly should offer you a Grammarly Premium trial at some point, too. More on that in a bit.
After signing up, download Grammarly on your desktop, install a Chrome browser extension or access The Grammarly Editor online. You can also download the Grammarly app for quick editing on the go. It's called The Grammarly Keyboard.
If you're a tablet user, download Grammarly for iPad for an optimized version of The Grammarly Keyboard and The Grammarly Editor. And if you work in Microsoft Office, download Grammarly for Microsoft Office.
Once you've signed up for a free Grammarly subscription, keep an eye out for a Grammarly Premium trial offer. You might get an invitation from Grammarly in your email about it, or you might see it as a pop-up when you're in The Grammarly Editor.
When you're all set with the free trial, pay attention to the trial's end date. You'll either need to cancel before then or you'll have to start paying for the premium subscription once the trial ends.
Want to keep your Grammarly Premium account? Stick around to learn how to get a Grammarly coupon for 20% off the Grammarly premium subscription cost.
Does Grammarly offer an educational discount for students and teachers?
The top two Grammarly educational discount options we've found for students and teachers include: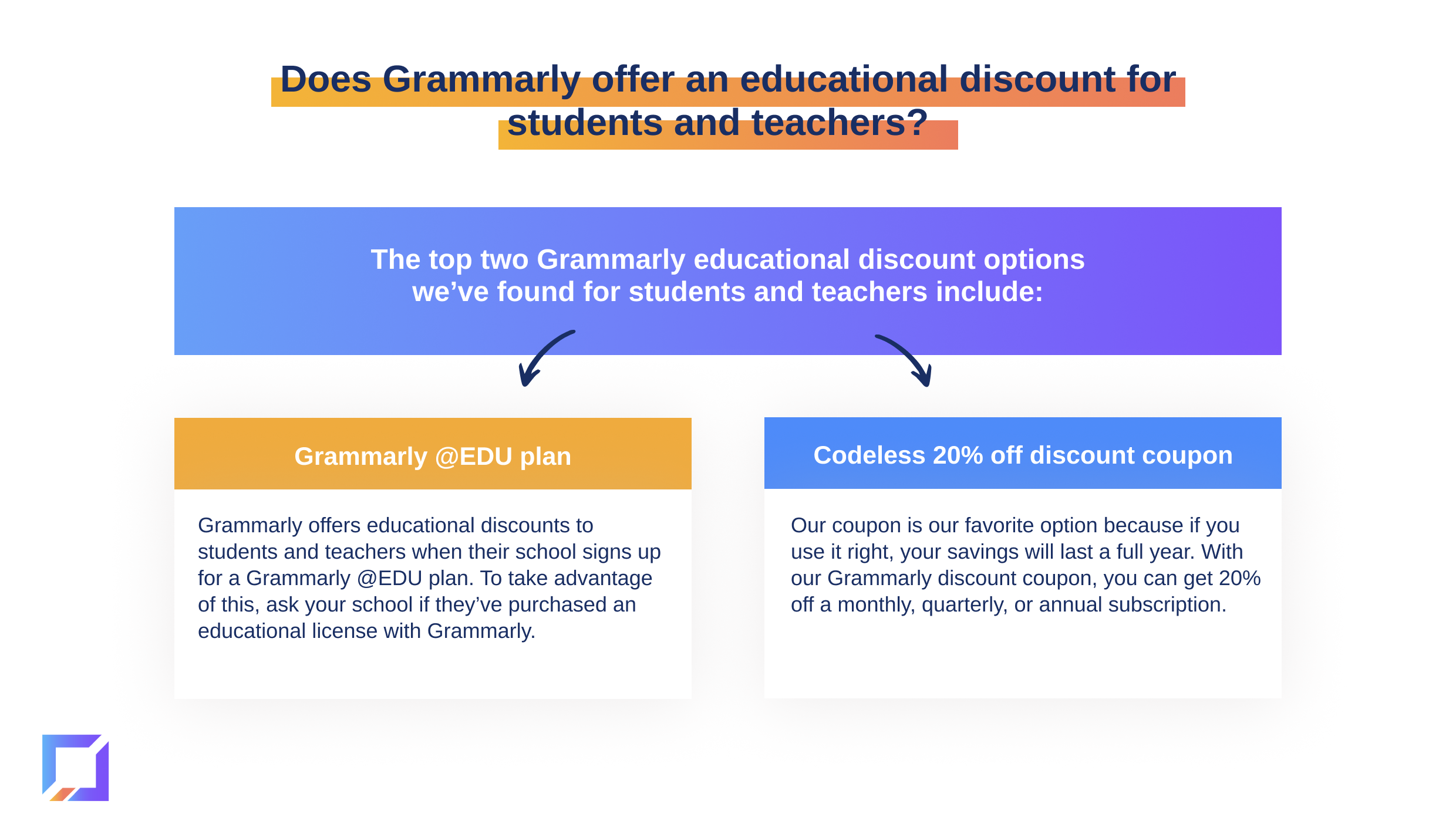 1. Codeless 20% off discount coupon
Our coupon is our favorite option because if you use it right, your savings will last a full year. With our Grammarly discount coupon, you can get 20% off a monthly, quarterly, or annual subscription.
So if you sign up for a monthly plan using our coupon, you'll get 20% off your first month. If you sign up for a quarterly plan, you'll get 20% off your first three months. If you sign up for an annual plan, you'll get 20% off your first year. When you do the math, it makes sense to use the coupon for the annual option.
2. Grammarly @EDU plan
Grammarly offers educational discounts to students and teachers when their school signs up for a Grammarly @EDU plan. To take advantage of this, ask your school if they've purchased an educational license with Grammarly.
If your school doesn't have a Grammarly discount for you, don't worry. We bet our discount is better anyway.
How much does Grammarly cost for students?
Since Grammarly dishes out custom quotes for each school, we can't go over @EDU plan costs in this article. If your school purchased a license with Grammarly @EDU, make sure to ask them how much your Grammarly account will cost.
If your school hasn't purchased a license with Grammarly @EDU, here are your options:
Option one: The free version
In Grammarly's free plan, you'll get basic spelling, grammar, punctuation, clarity, and tone suggestions.
We appreciate that this plan lets you access Grammarly from multiple browser extensions, apps, your desktop, and beyond. But, the features they include aren't robust enough to cover your needs as a student. The lack of a plagiarism checker alone is enough to cross this plan off the list.
Option two: Grammarly Premium
Grammarly Premium is where Grammarly's key features really shine.
Not only will you get a more advanced version of everything included in the free plan, but you'll also get:
Advanced learning suggestions
Compelling vocabulary suggestions
Lively sentence variety suggestions
Tone adjustment suggestions
Fluency checker
Inclusive language detector
Clarity-focused sentence rewrites
Formality level checker
Spelling and punctuation consistency checker
Formatting suggestions
Word choice suggestions
Confident writing feature
Politeness detector
In other words, you're getting that personal writing assistant we promised you.
Without a discount, Grammarly Premium is a bit pricey.
You can pay $30 per month for a monthly premium plan. You can pay $20 per month billed three months out for a quarterly premium plan. Or you can pay $12 per month for an annual premium plan, billed in full upfront.
Option three: Grammarly Premium with our 20% off coupon
This one's our favorite option because it saves you money!
When you sign up for Grammarly Premium using our 20% off coupon, you'll pay:
$24 your first month and $30 every month after that with the monthly premium plan
— note: this is the lowest savings option
$48 your first three months and $60 every three months after that with the quarterly premium plan
$115.20 your first year and $144 every year after that with the annual premium plan
— note: this is the highest savings option
When in doubt, take the free version out for a spin. Then, wait for Grammarly to invite you to try their premium plan for a free trial. After the trial ends (and once you see how awesome Grammarly Premium is) use our coupon to save $28.80 off the annual premium plan.
Should I get a cheap alternative to Grammarly?
We don't recommend getting a cheap alternative to Grammarly.
We've scoured 10 Grammarly alternatives, and while they each have their perks, Grammarly's still our fave.
3 main reasons why Grammarly is the way to go
Here are the top three reasons why we choose Grammarly every time: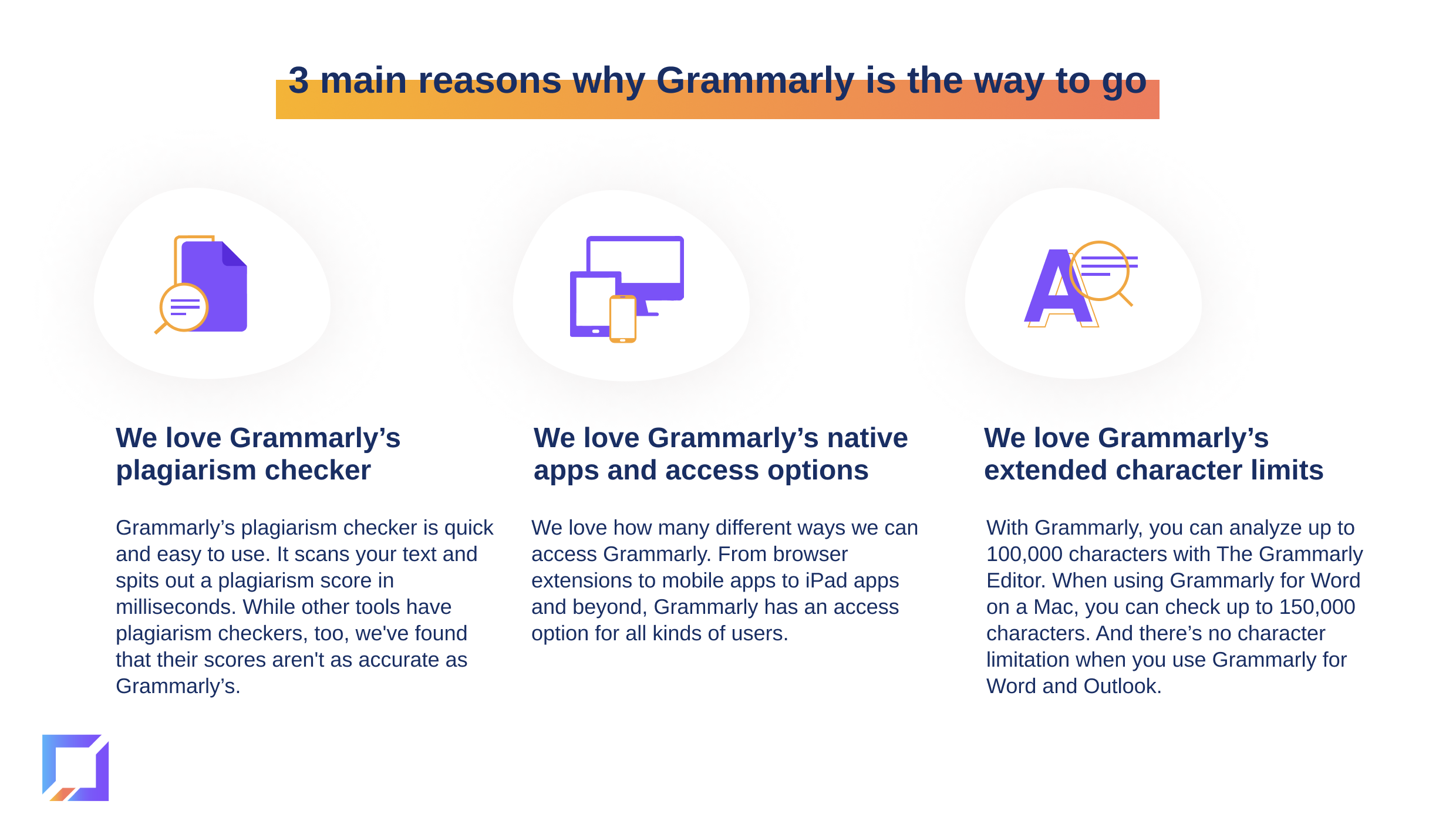 1. We love Grammarly's plagiarism checker
Grammarly's plagiarism checker is quick and easy to use. It scans your text and spits out a plagiarism score in milliseconds. While other tools have plagiarism checkers, too, we've found that their scores aren't as accurate as Grammarly's.
For more on this, check out our article on the best plagiarism checker on the market today.
2. We love Grammarly's native apps and access options
We love how many different ways we can access Grammarly. From a Firefox browser extension, Chrome browser extension to mobile apps to iPad apps and beyond, Grammarly has an access option for all kinds of users.
But a lot of other tools don't. To access other tools, you'll usually have to head to their website or download the tool to your desktop. Not all tools are like this, but it's hard to find a tool that has as many access points as Grammarly has.
3. We love Grammarly's extended character limits
Can you imagine having to break up one document into a bunch of small ones just to fit a tool's character limits? It's unbelievably annoying. But with tools that only let you analyze up to 10,000 characters at a time, you'll have to.
With Grammarly, you can analyze up to 100,000 characters with The Grammarly Editor. When using Grammarly for Word on a Mac, you can check up to 150,000 characters. And there's no character limitation when you use Grammarly for Word and Outlook.
Should you buy a Grammarly Premium plan?
Yes, yes, yes. It's totally worth investing in a Grammarly premium plan.
What we love most about premium, are the thorough writing suggestions, the plagiarism checker, and the inclusive language detector. But there are so many reasons to love premium.
With premium, you don't just get a writing assistant. You get a writing teacher, too.
Its advanced learning suggestions reveal the 'why' behind a writing recommendation. Its tone adjustment suggestions help you keep a consistent tone throughout your content. And its lively sentence variety suggestions help you swap out boring sentences for vibrant ones.
But more than anything, Grammarly Premium helps you become a better writer, and ultimately, a better student.
You'll go from merely accepting grammar check recommendations to understanding where you went wrong. You'll go from feeling frustrated with grammar, to maybe even cracking a few nerdy grammar jokes here or there. It's okay, it happens to the best of us.
In the end, Grammarly Premium is worth it. Every penny.
How to claim your Grammarly student discount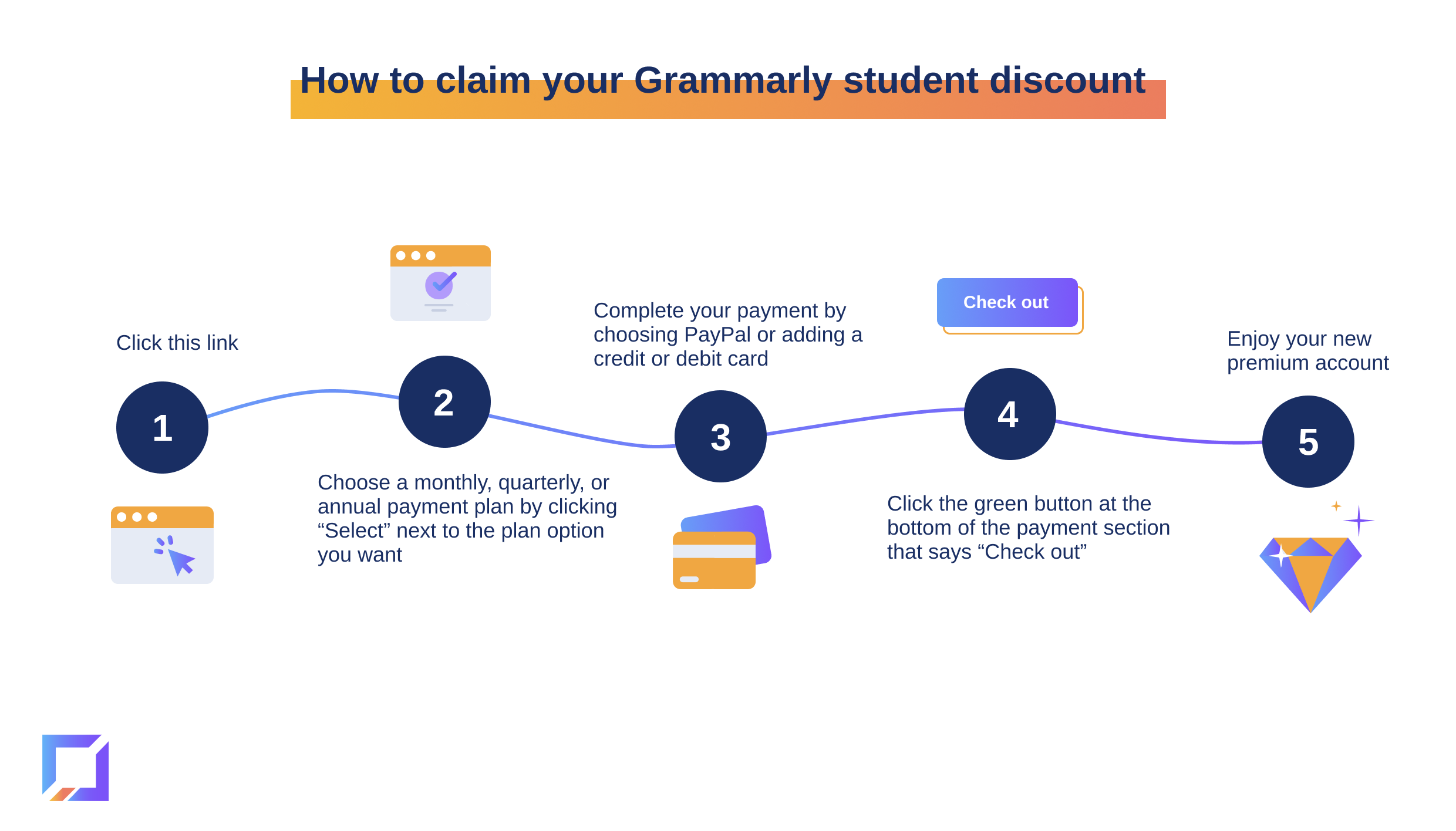 To claim your Grammarly student discount from your school, you'll need to contact them directly.
To use our discount, here's what you'll need to do:
Choose a monthly, quarterly, or annual payment plan by clicking 'Select' next to the plan option you want
Complete your payment by choosing PayPal or adding a credit or debit card
Click the green button at the bottom of the payment section that says 'Check out'
Enjoy your new premium account
Is Grammarly worth it?
By now you already know our answer. YES. Grammarly is so worth it.
It'll carry you through English exams, term papers, and book reports. It'll remind you to dot your i's and cross your t's. But more than anything Grammarly will give you writing confidence.
Let's review some of our favorite Grammarly features.
5 Grammarly features students can't live without
Here are five Grammarly features every student needs:
1. Spell checker
It's the middle of the night and you're still side-eyeing that one word you swore you knew how to spell. But it sounds off and it doesn't look right. You could either manually head to an online dictionary to double-check your spelling. Or you could let Grammarly catch it before you even notice you misspelled anything.
2. Vocabulary enhancement suggestions
Want to see your teachers do a double-take? Impress them with advanced vocabulary words that'll make their jaws drop. And expand your own mental vocabulary bank in the process.
3. Plagiarism detector
As authentic as we may think our text is, it's nearly impossible to run away from plagiarism. Surely others have written a sentence or two that you've written as well, right? Don't be ashamed, it's normal.
But keeping a close eye on plagiarism isn't just morally right or expected by your teacher. Your school expects it, too. And the consequences of submitting plagiarized work can be steep.
Save yourself the suspension or embarrassing note on your transcript by always, always, always scanning your work through the plagiarism detector.
4. Grammar checker
You'd be surprised how much there is to learn about grammar. Grammar is everywhere. But trying to memorize every grammar rule isn't the answer.
With the premium version, you'll get a grammar checker that checks all of the rules for you. And if you pay attention, you'll learn a new grammar tip every time you use it.
5. Clarity-focused sentence rewrites
Stream-of-consciousness writing works sometimes. Emphasis on the sometimes.
The downfall of writing what flows in your mind is running into some clarity issues. With Grammarly's clarity-focused sentence rewrites, you'll get a grasp on your mental flow so your writing comes out clearer.
For more on this, check out our full Grammarly review.
Wrap up
As a student, you don't have time to take umpteen grammar courses.
You're probably juggling a full course load and maybe a few side hustles. Or at the very least, you're trying to get to that next wild party.
With Grammarly, you don't have to worry about becoming the next grammar guru to pass your classes.
And with our Grammarly student discount, it's simply a no-brainer.