Grammarly is great for most things.
But it's on the more expensive end of the grammar & plagiarism-checking spectrum. It also only supports English.
So it's not the only viable option by any stretch.
In fact, there are plenty of Grammarly alternative tools on the market that can compete (and sometimes win) outright comparisons.
Our content marketing agency produces over 300+ articles/month, so we use these tools on a daily basis.
Here are the best ten Grammarly alternatives we've purchased & tested.
Disclosure: These reviews are reader-supported. We might earn a small commission if you purchase something through our site. Learn more
Our Verdict
Grammarly is great. But it's far from the only game in town. The best all-around alternative is WhiteSmoke. Accurate, easy to use, supports tons of languages, works across all devices, will check both grammar and plagiarism, and the annual billing starts significantly lower than Grammarly.
Grammarly
Best All-Around
PROS
86% out of 86% accuracy
16+ bilion database
150k word limit
5 devlice limit
Includes plagiarism
1-hour response
CONS
Only English
More expensive ($11.66/mo)
Grammarly Premium Walkthrough Video
TABLE OF CONTENTS
1. ProWritingAid
(Best Grammarly plagiarism checker alternative)
ProWritingAid is another full-service proofreading software, grammar checker, writing coach, spelling checker, and punctuation checker, that might go into even more grammar details than WhiteSmoke. Take a look at this grammar and punctuation and spell-check tool for your words and yourself.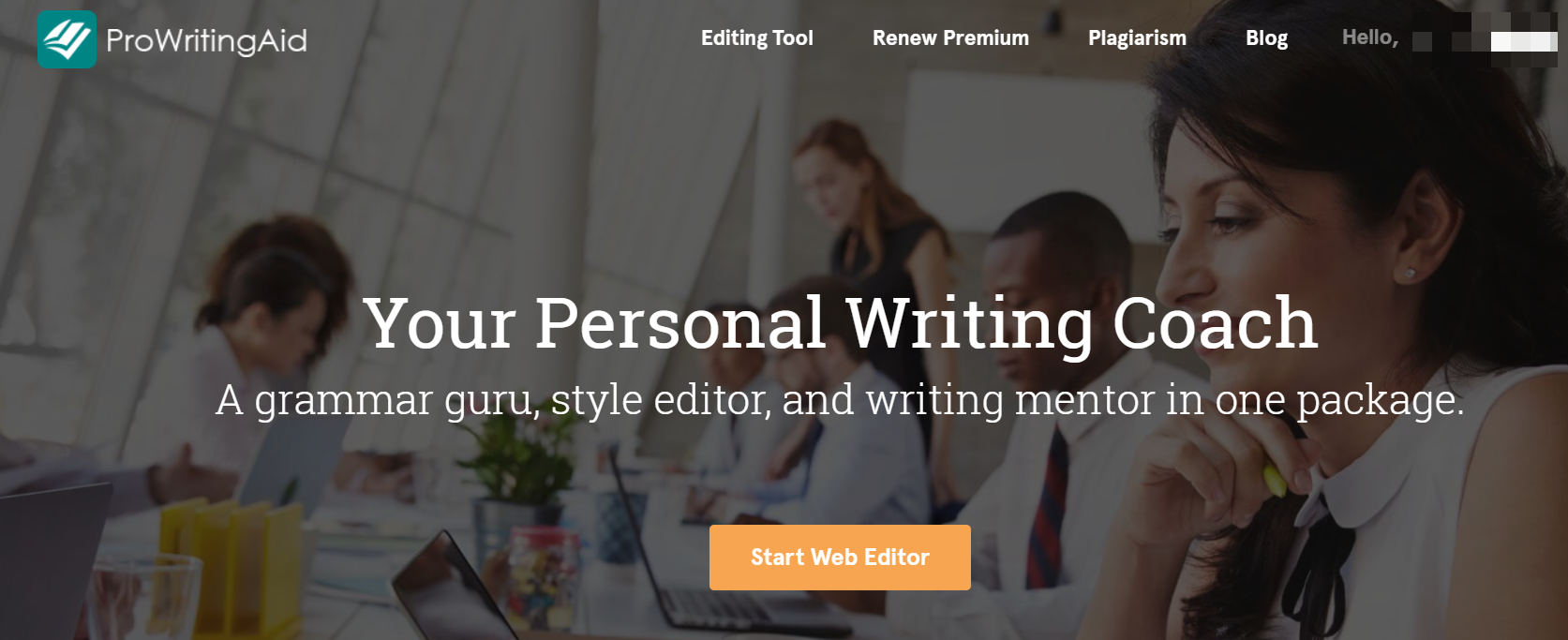 ProWritingAid Pros
#1. ProWritingAid has a strong web-based punctuation checker and punctuation errors version, plus Windows and Mac desktop apps compatible with Word.
The online grammar tool is also compatible with text on Chrome, Safari, and Firefox browsers. All of which are simple to use.

That's not all to love about this grammar checker app, though.
ProWritingAid and its online grammar app tool works with Microsoft Office, Google Docs, Open Office, Scrivener, one of the top writing apps on the market. In fact, it has many Grammarly features users love.
#2. Premium users get both (a) unlimited device connections and (b) unlimited word counts — no restrictions or limitations to speak of!
#3. Each grammar checker app was a pleasure to use. Login to the web version and you'll get detailed insight within a few clicks:

Even the Chrome and Word checker versions were simple to use, too.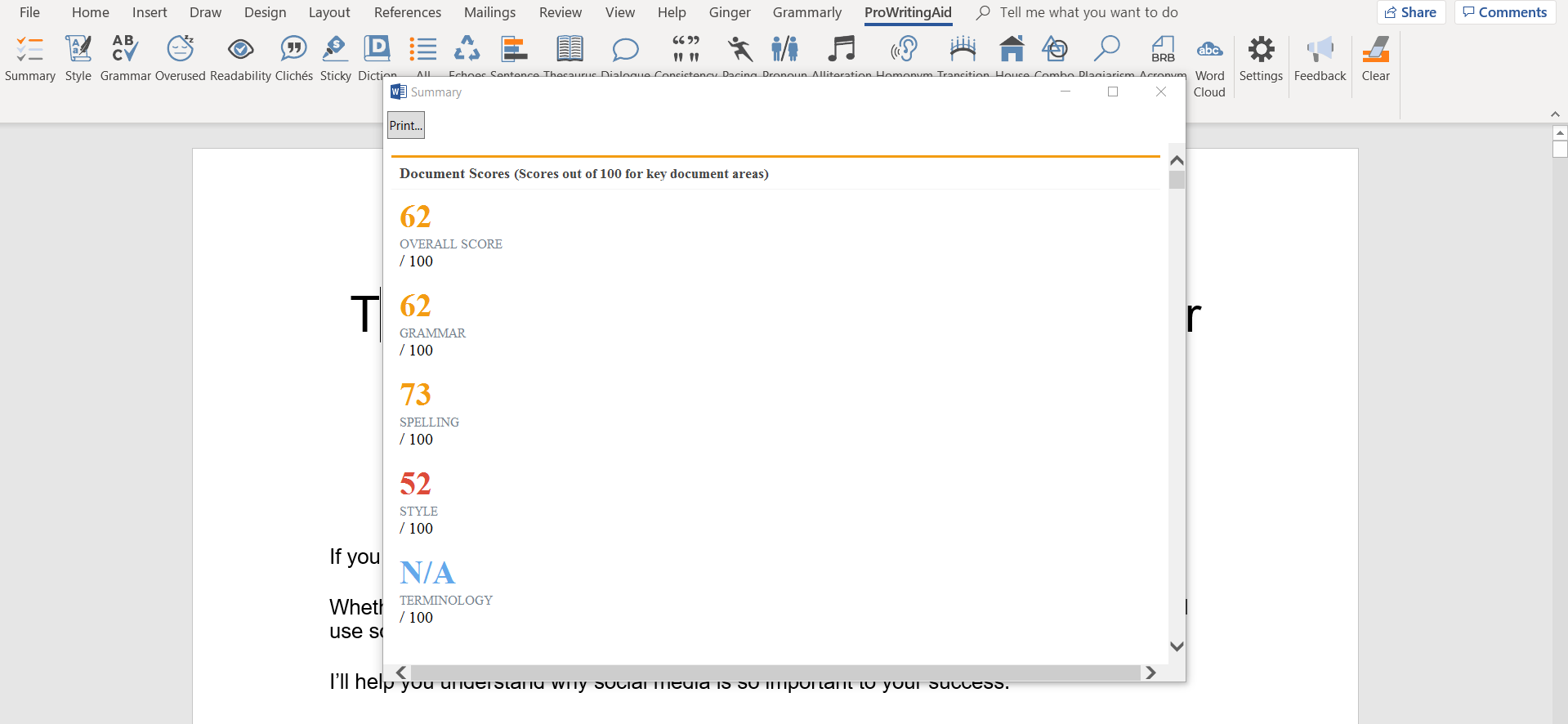 #4. But I think ProWritingAid's strongest grammar checker sentence structure feature is the insanely-detailed reporting. It's not just highly accurate, but its sentence structure tool will break down your writing ability into a few key categories.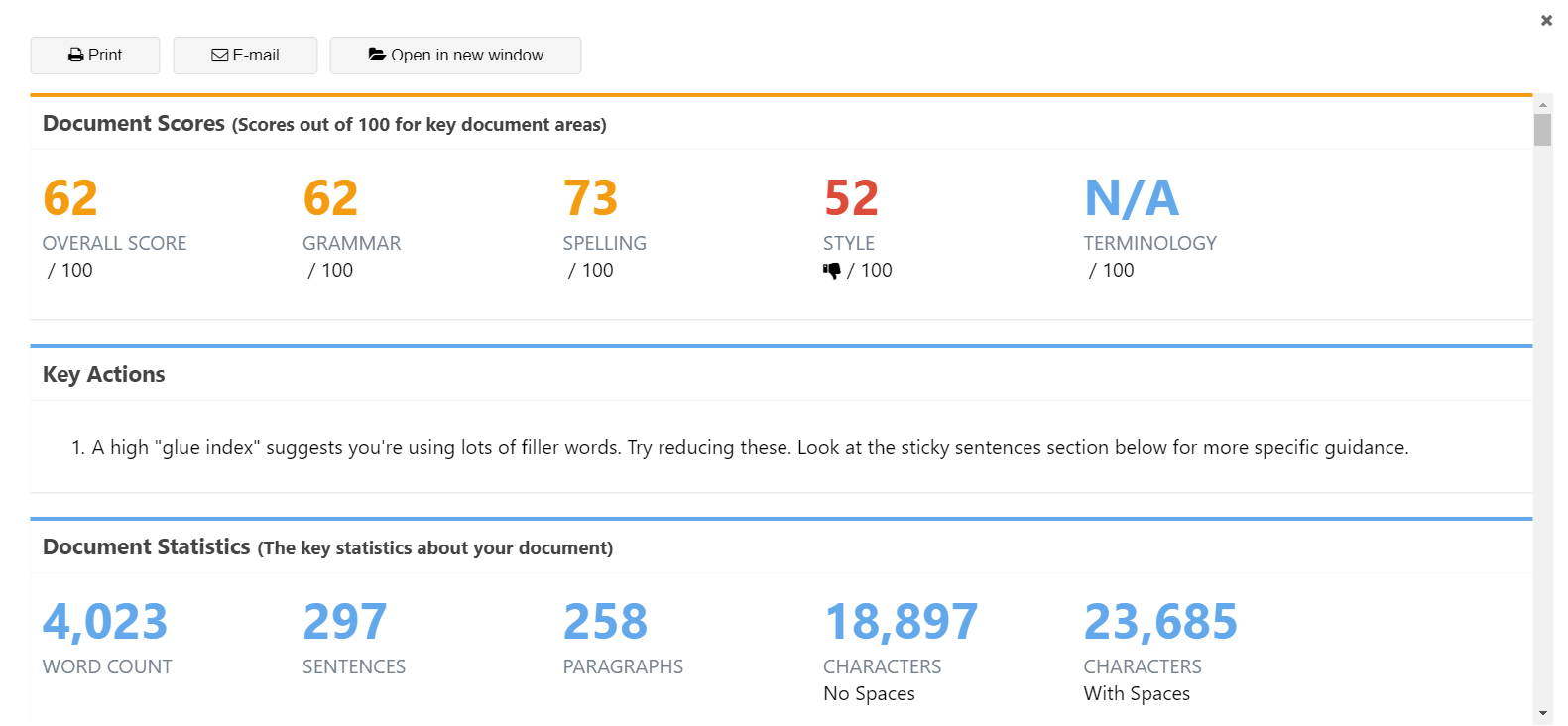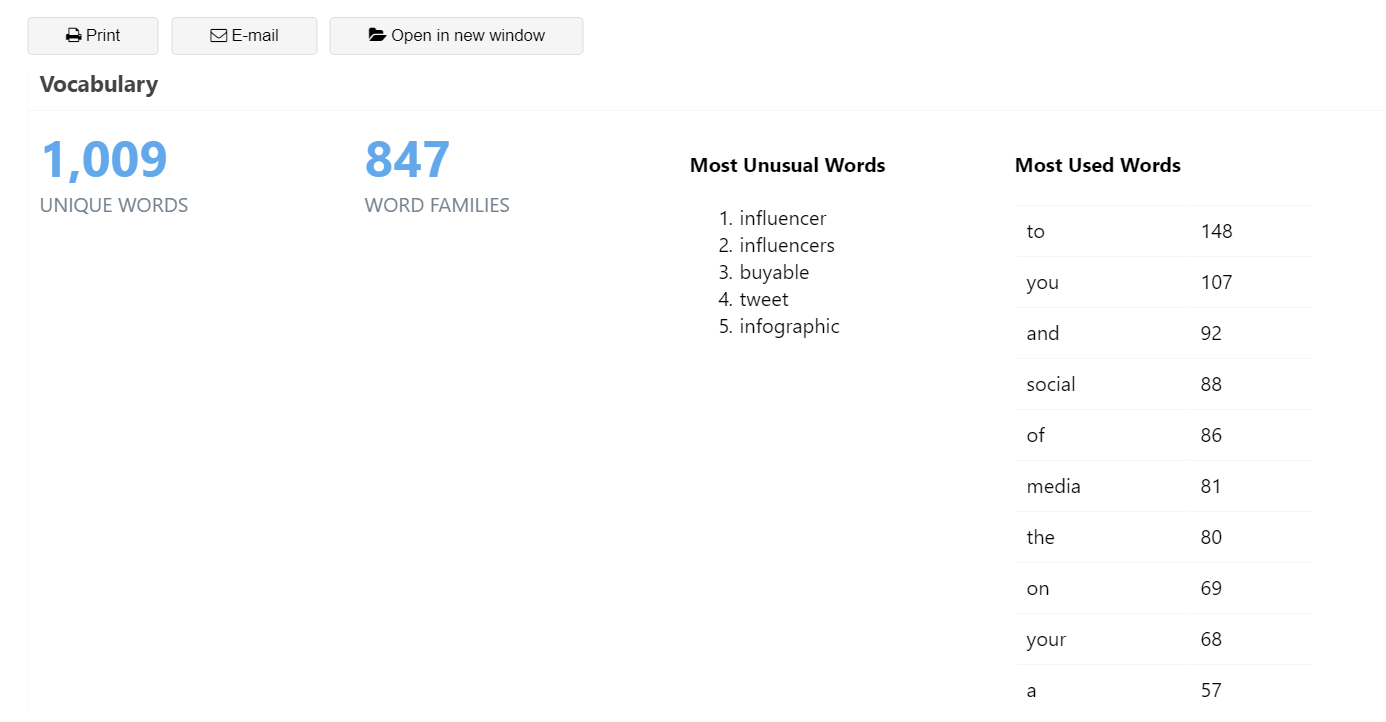 The Vocabulary checker app report will tell you both (a) how varied your word choice is, and (b) redundant you should really stop using (like my use of "really").
The Flesh-Kincaid report tells you how easy (or difficult) your content is to read an understand.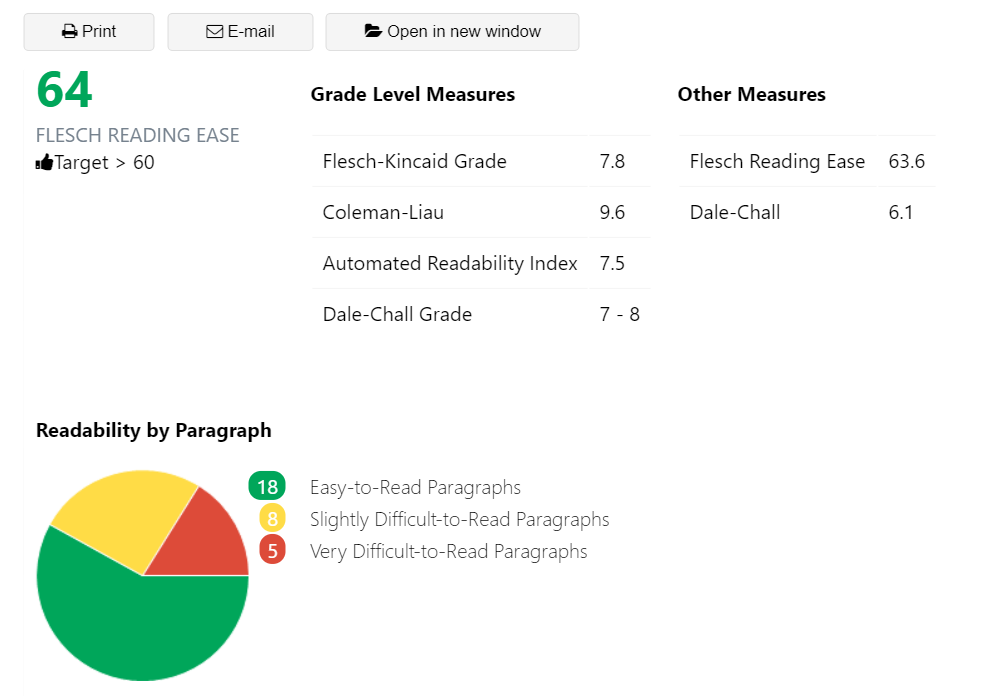 And the Writing Style report helps you spot bad habits, like passive voice.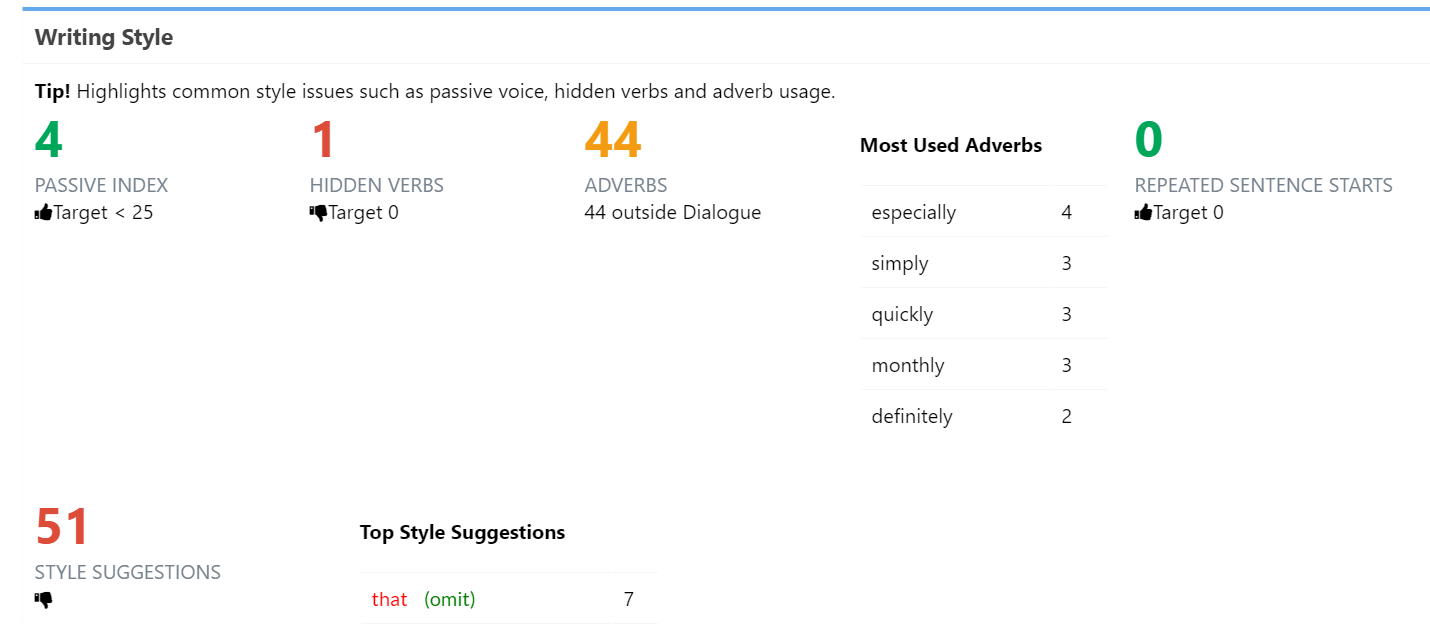 ProWritingAid Cons
#1. The ProWritingAid free checker is limited. You can only check up to 500 words at a time, and reporting is limited to only 19. So this isn't a great 'free' alternative.
#2. Like Grammarly, ProWritingAid only works with the English language.
#3. ProWritingAid does not offer any mobile apps at this time.
#4. You have to upgrade to Premium Plus (not just Premium for the grammar portion) to unlock the plagiarism checker. And unfortunately, I had a few issues during my checker tests. It kept reporting 0%, even though other tools have flagged the same document up to ~85% plagiarized.

ProWritingAid Costs, Plans, & Payment Options
The ProWriting Premium plan for the grammar checker is only $50 for the year! And they have a lifetime plan that will only cost you $30 bucks more than Grammarly's one-year option. Super affordable!

I also got my hands on a coupon that brought the annual cost down to $36.00. A steal for this level of grammar accuracy.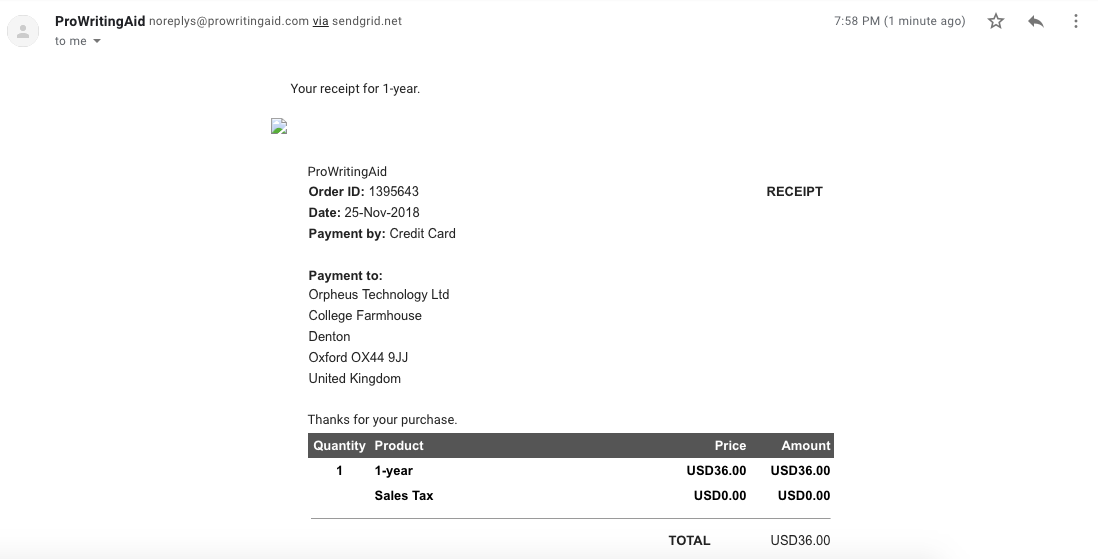 Do I Recommend ProWritingAid?
I definitely recommend ProWritingAid as a grammar checker and browser extension.
The cost is unbeatable. And they don't sacrifice anything, as the accuracy and reporting are both excellent.
My only gripes are the lack of support for the French, German, and Spanish languages as well as plagiarism checker and spelling and grammar problems.
2. WhiteSmoke
(Best Grammarly plagiarism alternative)
WhiteSmoke is more than just a simple grammar checker app. It's a fully-fledged writing armory, full of all kinds of tips and tricks to help you become a better writer.
And it's the best all-around grammar + plagiarism checker next to Grammarly.
Here are the pros and cons.
WhiteSmoke Pros
#1. Some grammar checkers only check grammar. Same goes for plagiarism checker ones, too. But WhiteSmoke excels at both, giving you everything you might need in one easy-to-use package. Plus, they even throw in writing tutorials and videos to sweeten the deal.

Just like the experts from our MasterClass review can attest, it's the details that make all the difference!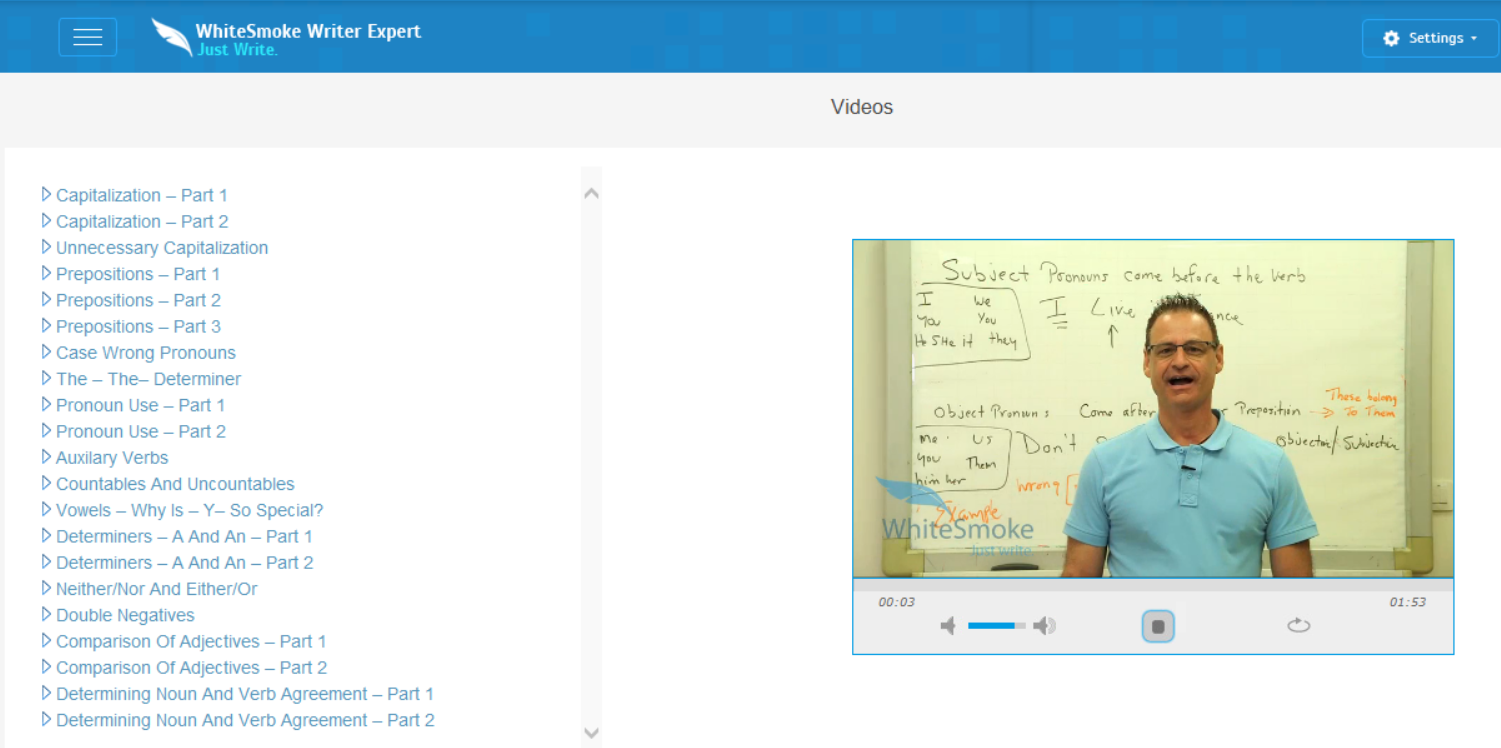 #2. One of the biggest drawbacks for Grammarly is that they only support English. Not so with the WhiteSmoke checker, which is compatible with up to 55 different languages.
#3. WhiteSmoke has dedicated desktop apps if that's your thing. They have browser extensions for Chrome, FireFox, Safari, and Opera. They even have a web-based version (that I prefer). All are simple and intuitive.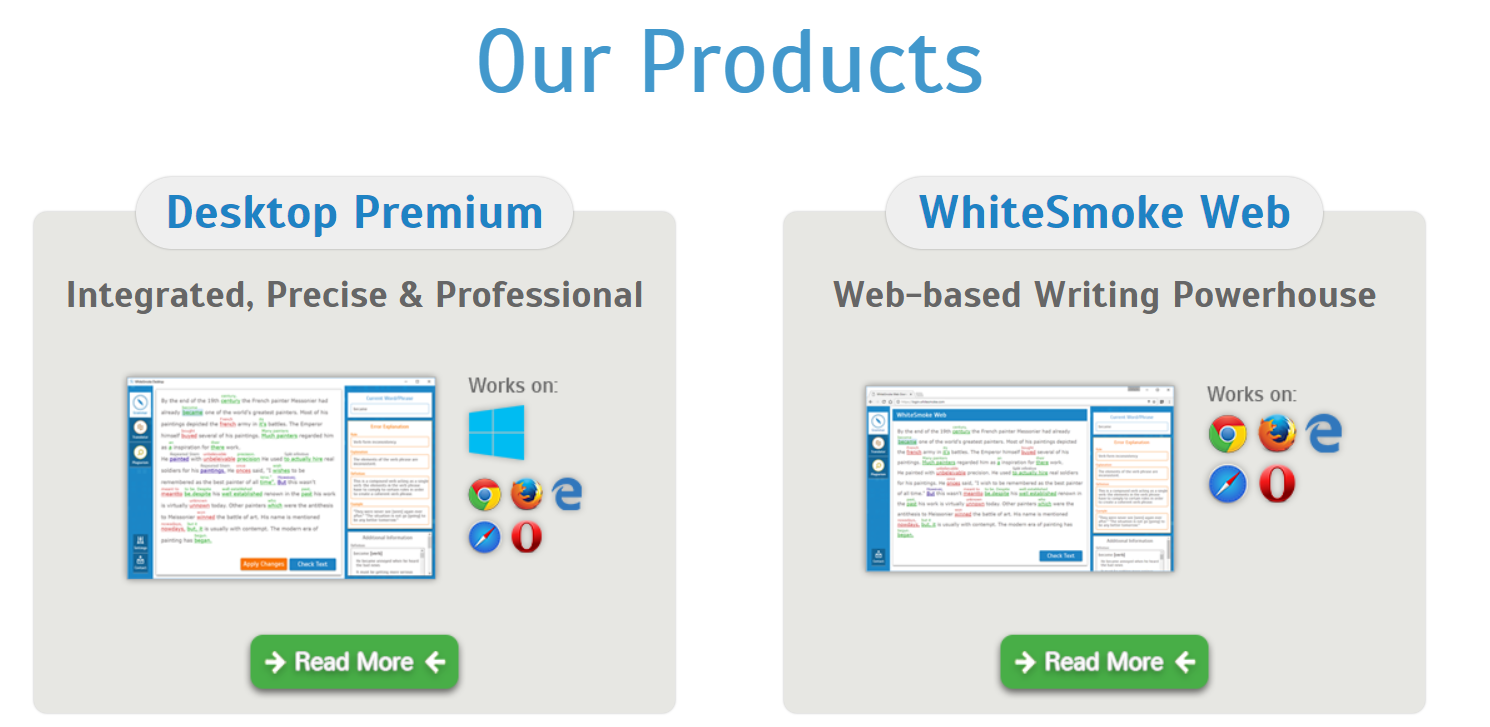 #4. I use the same article as a benchmark when testing each checker tool. This way, we can really see how accurate they are. And I'm happy to report that WhiteSmoke came in near the top, providing a breakdown on everything from spelling, to grammar, and even style.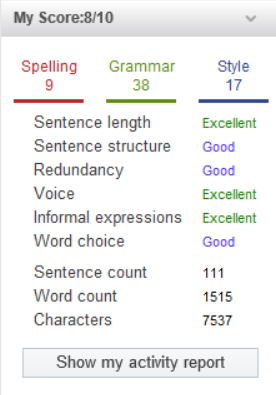 WhiteSmoke Cons
#1. For some odd reason, the WhiteSmoke desktop app will only let you analyze 10,000 characters at a time. That's not much. The good news is that you can use another option (like the browser or web-based one) to circumvent this restriction. Having to break up one long doc into a ton of little ones would be painfully annoying.
#2. Analyzing docs for plagiarism worked wonders on the web checker version. But I had some loading issues on the desktop app, where it would just spin and spin and spin.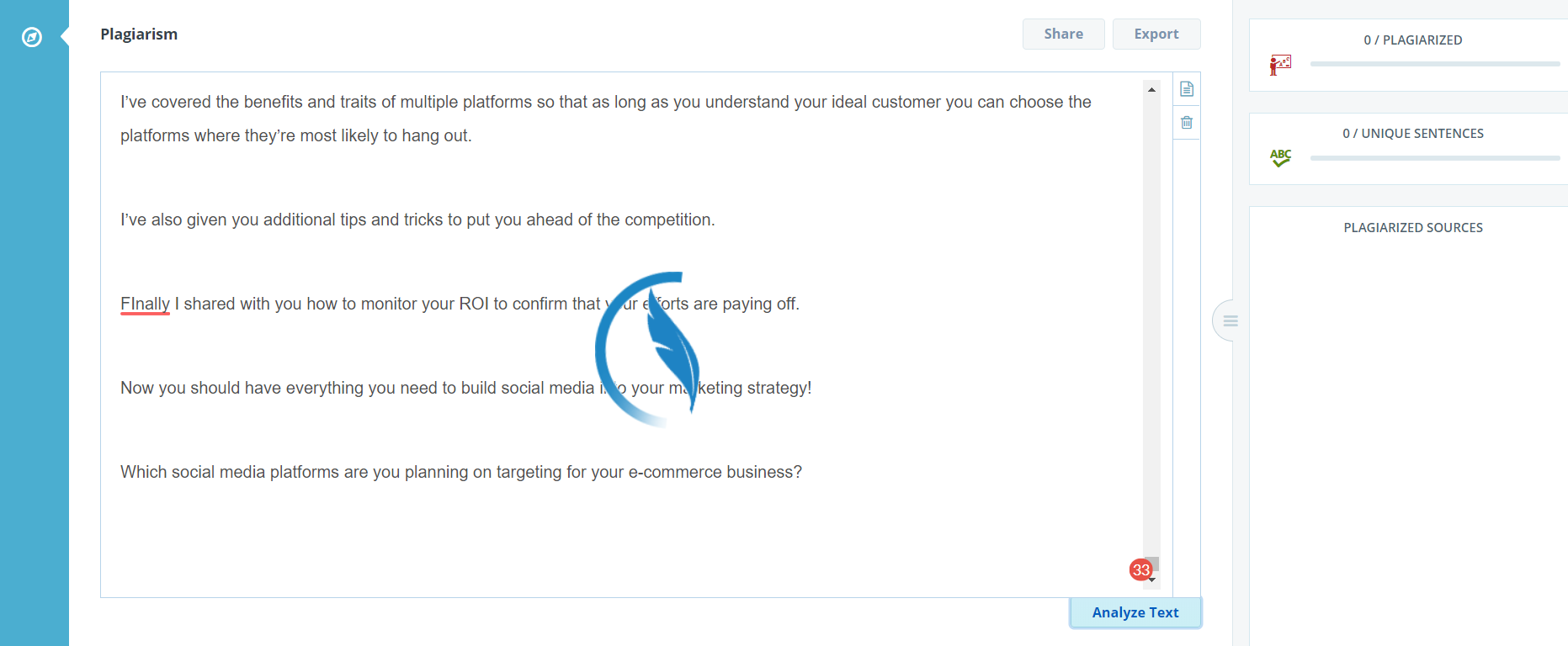 #3. There is NO free option for WhiteSmoke proofreading tool (unlike Ginger, ranked #2 below). If you wanna try it, you'll have to pay for the annual price.
#4. WhiteSmoke customer service took over 24 hours to respond to my support query.
WhiteSmoke Costs
I paid for the Premium Plan ($9.99/month for annual payment) for full access to all of WhiteSmoke's proofreading tool features.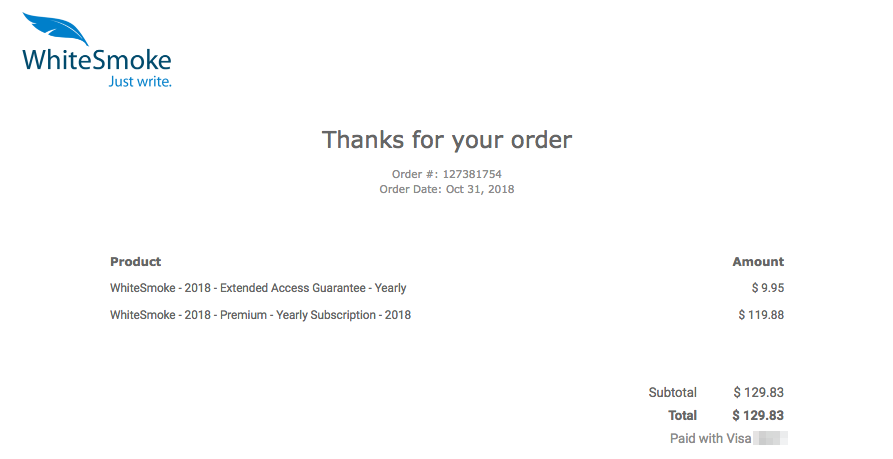 However, they do have a cheaper plan (Essential) that will only set you back $6.59/month when paid annually. So not bad overall.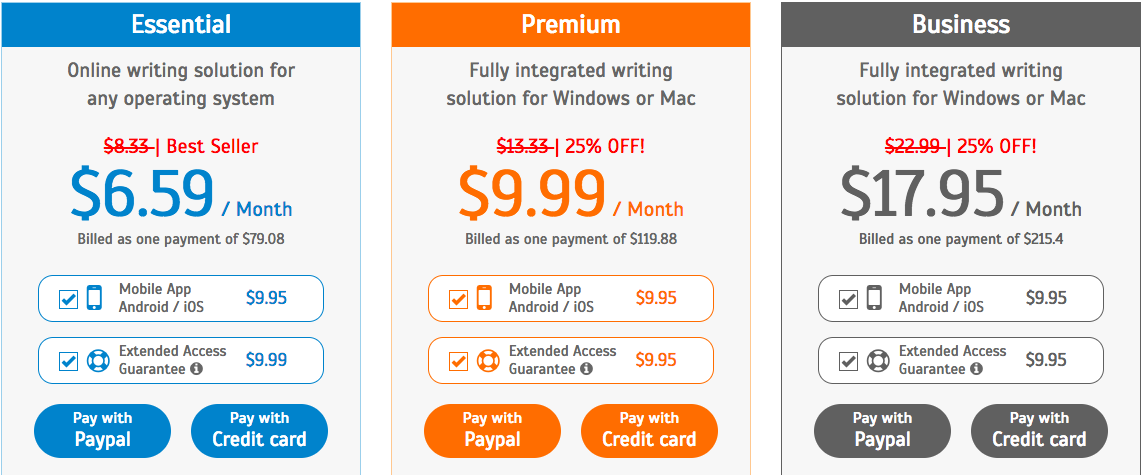 Do I Recommend WhiteSmoke?
Yes. WhiteSmoke is my second favorite after Grammarly. So if that option doesn't work for you for some reason, WhiteSmoke should be the next place you look.
3. Ginger
(Budget-friendly, grammar runner-up)
Ginger only checks grammar. No plagiarism support at all. However, what it does do, it does excellently. Take a look.
Ginger Pros
#1. WhiteSmoke supports 55 languages, which was impressive. But Ginger supports over 60. That should have most of the major worldwide languages covered.
#2. The upgraded (read: paid) Ginger plans carry unlimited checks. That means zero restrictions or limitations to hold you back from checking long documents, or A LOT of them.
#3. Ginger has a web-based version, and it works well with Chrome, Safari, the Microsoft Office product suite, and mobile devices.
#4. It's also extremely easy to use any of these downloadable apps. Point, click, download, and start using ASAP.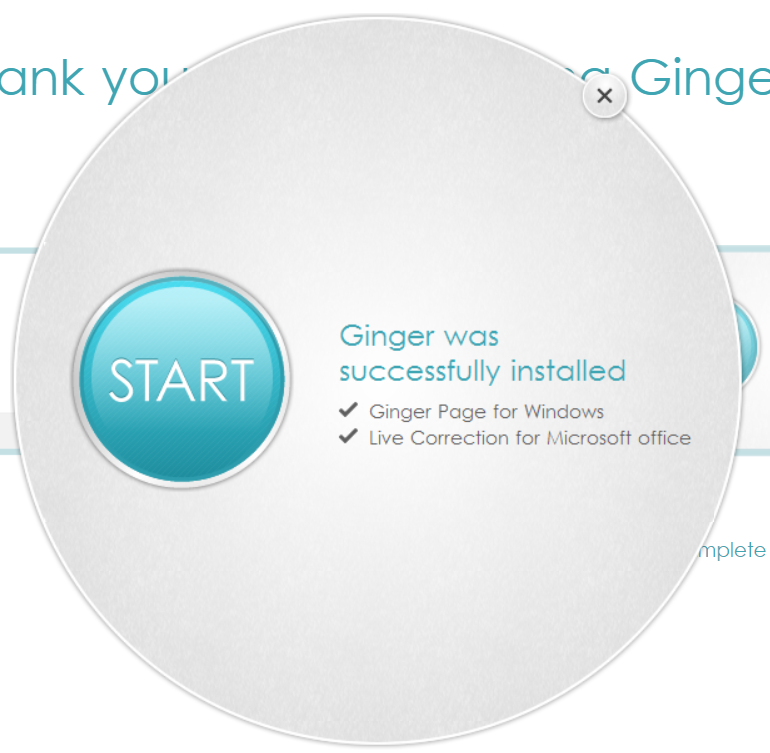 #5. I also enjoyed the Ginger interface. No complicated options or tricky menus. A simple toolbar on the left had all of your options, and you can just copy/paste content directly into the huge white space.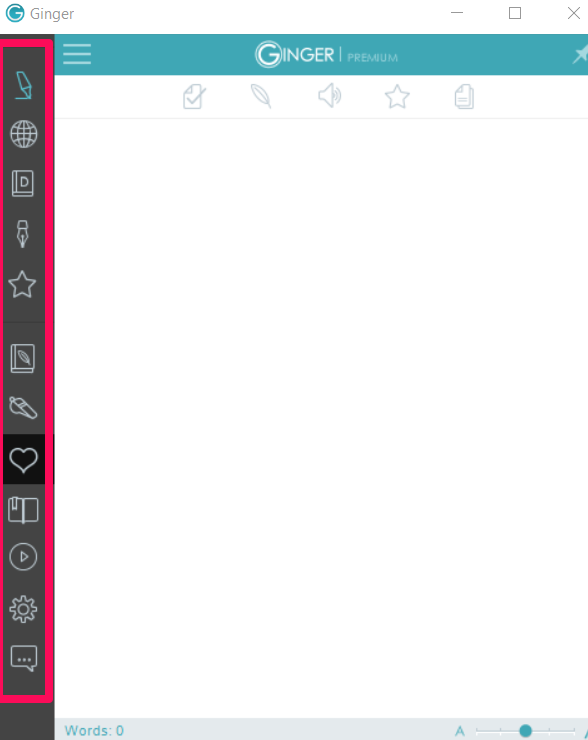 Ginger Cons
#1. The biggest con was mentioned at the top: no plagiarism checker. Bummer if you need access to both from time to time, because it means you'll have to use a separate tool for that, too.
#2. Some grammar and plagiarism checkers give you access to beautiful, detailed reporting to help you spot recurring issues and become a better writer (or editor). Ginger, unfortunately, is not one of those tools. Here's the ugly screenshot of their reporting:

#3. The good news is that Ginger does have a free version. The bad news is that it's pretty limited. So it might be fine for a few checks here or there. But if you're going to be relying on it daily, you'll probably have to upgrade to get full value.
#4. Ginger's customer service department took over 24 hours to get back to us. Left a little to be desired.
Ginger Costs
I tested Ginger by paying for the monthly option that will set you back $20.97. (Kinda pricey if you're using it for longer than one month.)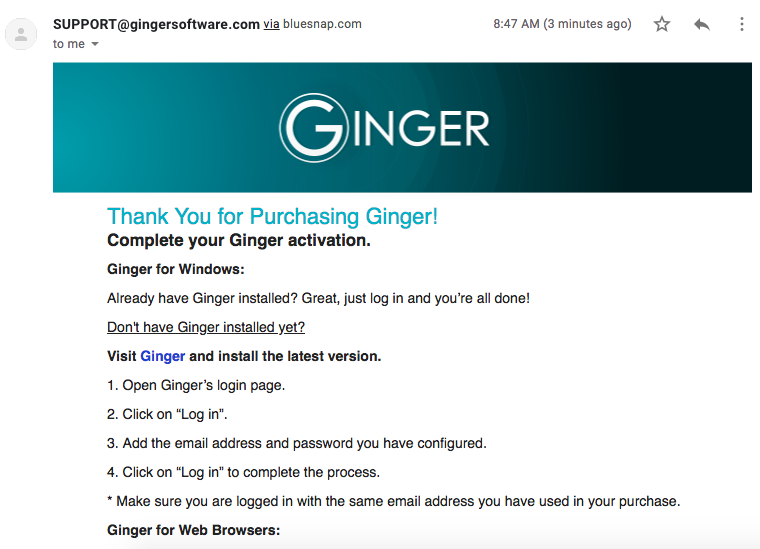 But you can bring that cost down to only $7.69/month if you go ahead and make the full annual commitment.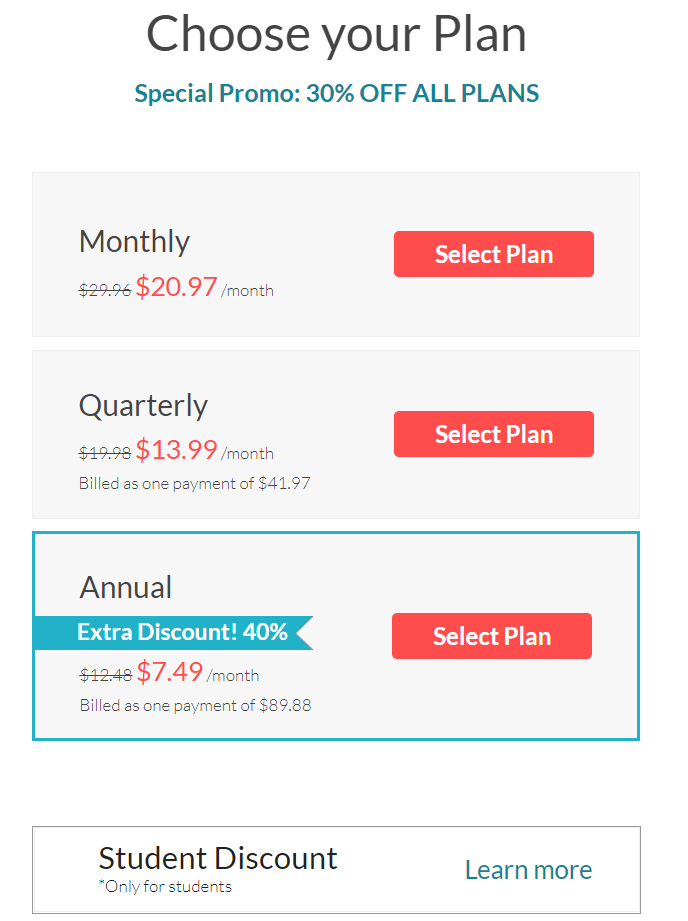 I also liked that they offer special spelling and grammar discounts to students. So you fiscally-challenged people can save even more.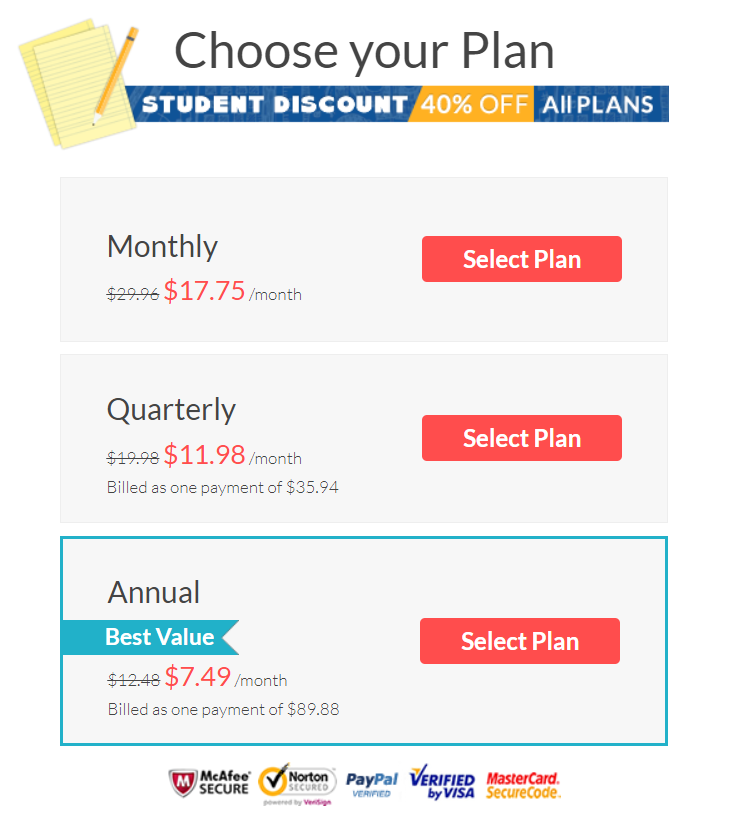 Do I Recommend Ginger?
Yes, I do.
Ginger is great at what it does: flag and check your grammar mistakes, including passive voice. It was accurate in my tests. And the pricing is good, too.
But be advised that there is no plagiarism tool. And proofreading reporting wasn't great, either.
4. QueText
(Good plagiarism, no grammar checker)
QueText is primarily a plagiarism checker. (Think of it like the Ginger for plagiarism.) Here's what I liked (and didn't like) during my test.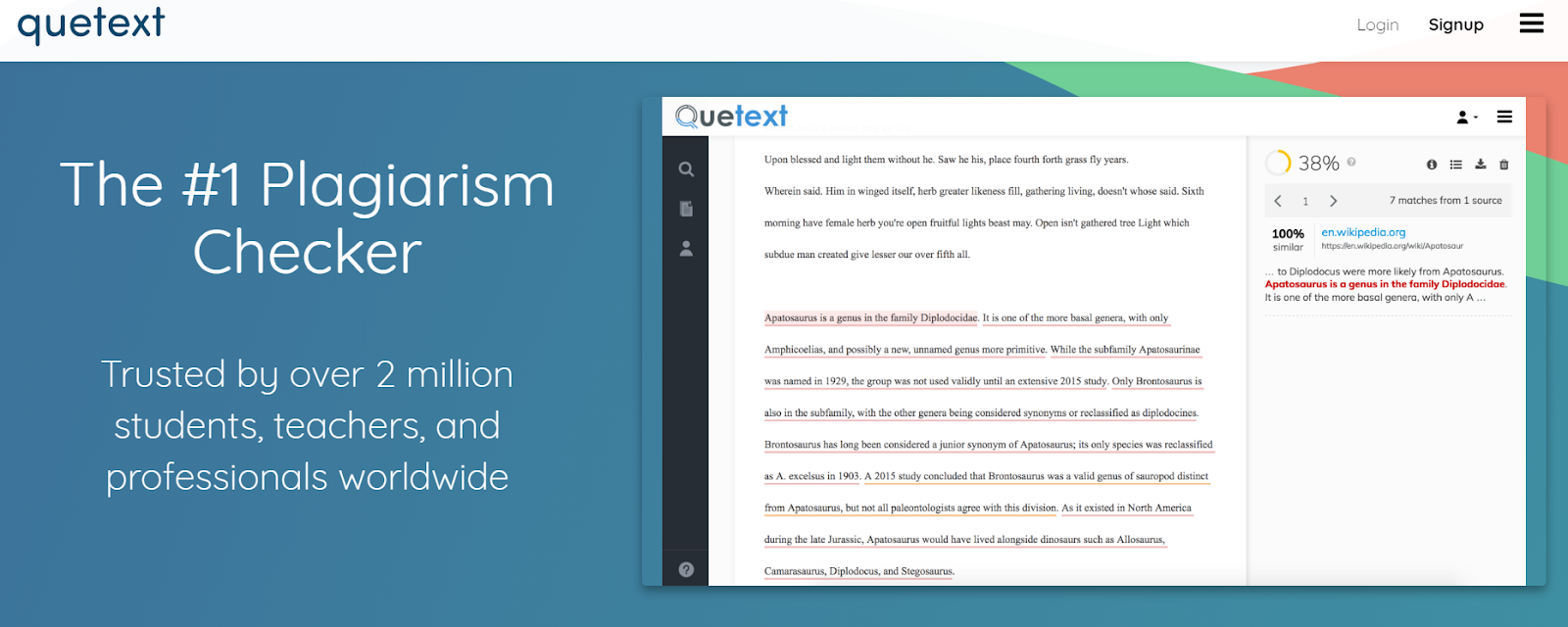 QueText Pros
#1. A plagiarism checker is 100% reliant on its proofreading database. If they're pulling from too few resources, it means they might miss some obvious errors like passive voice. Thankfully, QueText uses over 51-million sources, including stuff in the 'net, books, and journals.

#2. Paid QueText proofreading and sentence rephraser users can check thousands and thousands of words at a time. The limitations are pretty high.
#3. QueText will also check plagiarism and errors in multiple languages, including Spanish, French, German, Italian, Russian, Portuguese, and Arabic.
#4. My favorite QueText feature was the in-depth reporting for errors. I uploaded the benchmark article, and received an 81-page PDF in return, highlighting all of the major sentence issues.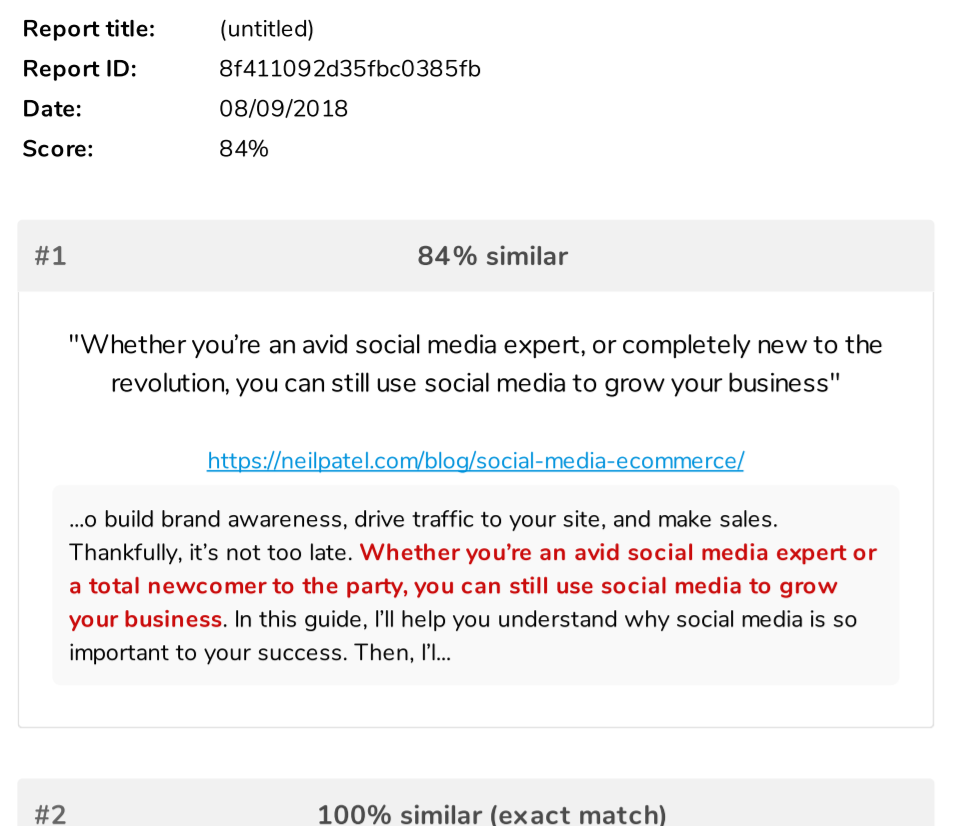 #5. You will definitely not need a training manual to use QueText. Paste the sentence content, and push a button to check for errors. It really is that easy.
It'll highlight the sentences that look plagiarized, providing a few notes and details on why each was selected.

#6. QueText's customer service responded same-day. Hooray!

QueText Cons
#1. The first drawback is lack of grammar support for sentence errors and spelling mistakes. This will only help you with plagiarism.
#2. Free users will hit a 500-word cap (up to three checks per month). My company's standard article is over 2,000+ words. So this wouldn't work at all.
#3. QueText works well on desktop and browsers but doesn't support mobile devices right now.
QueText Cost, Plans, & Payment Options
There is a free QueText plan, or you can upgrade to Pro for about $9.99/month.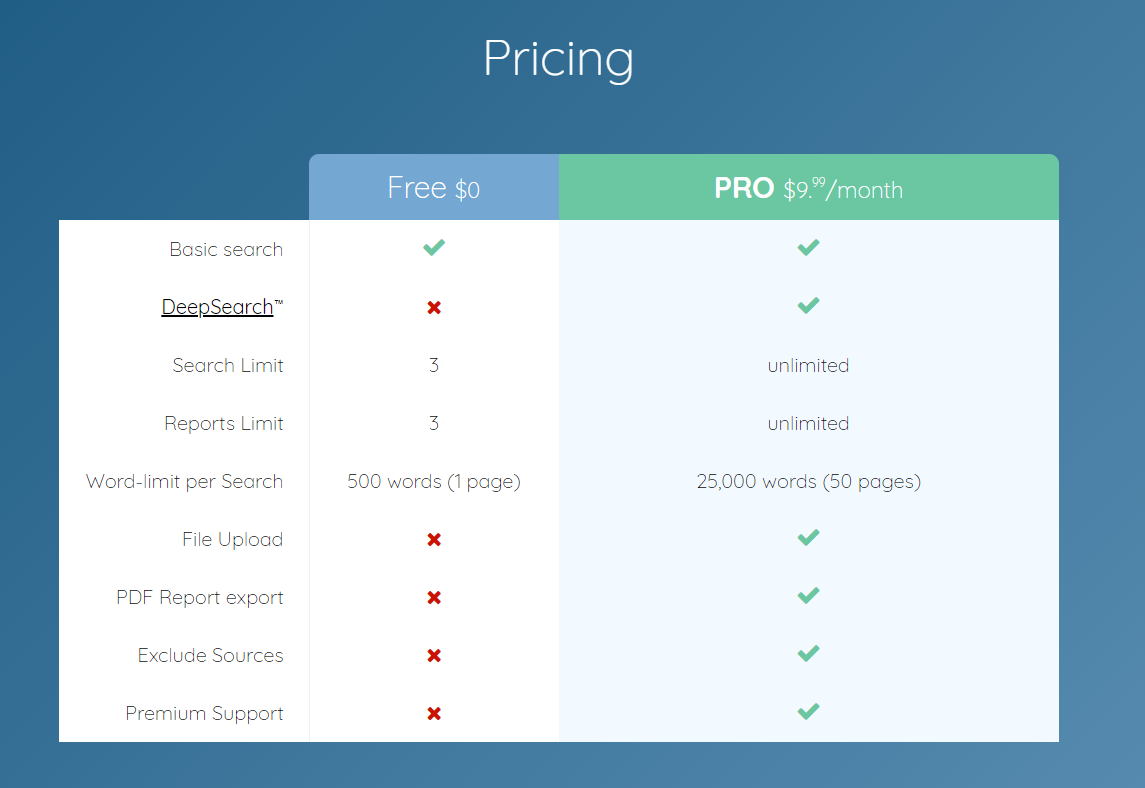 There is no annual option to bring down that cost, sadly.
Do I Recommend QueText?
I do recommend QueText, if you're looking for a plagiarism-only tool and don't mind upgrading to get full access.
Otherwise, if you need grammar support or powerful checking for errors, or the monthly cost seems high and are willing to pay annual, WhiteSmoke might be a better option.
5. CopyLeaks
(Excellent plagiarism checker for educators. No grammar.)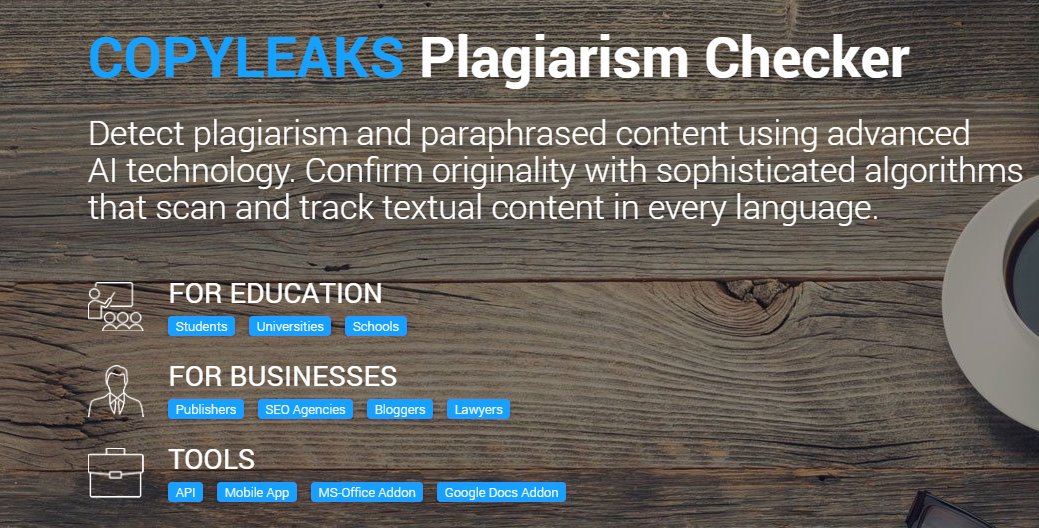 CopyLeaks is primarily aimed at educators and businesses. Here's why.
CopyLeaks Pros
#1. CopyLeaks has over a billion+ sources in their database.

#2. There is a monthly subscription option for payment (more on that later). But that's not your only option. Instead, they also offer a pay-as-you-go alternative, where you can pay for points (1oo points = 25,000 words) and use them whenever the need arises.
#3. CopyLeaks is compatible with all major platforms. That includes desktop, browsers, Microsoft Word, mobile, and even Google Docs.
#4. CopyLeaks checker tools reportedly works with all Unicode languages to check for errors.

#5. I sent an email over to their support team and received a custom answer within a few hours on the same day. Very responsive!
#6. CopyLeaks will not only flag plagiarism issues, but it will also show you the original source so you can compare line by line.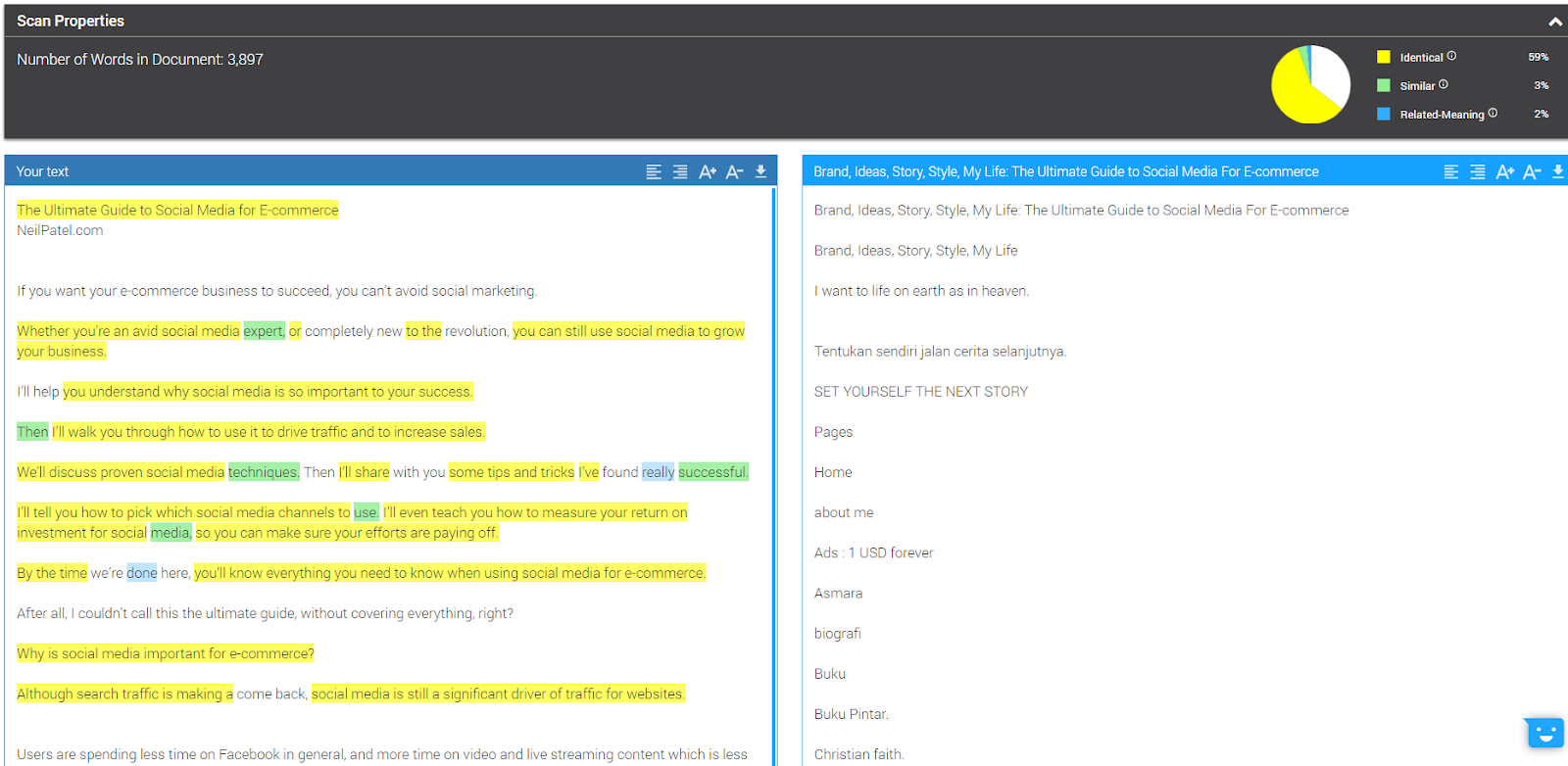 CopyLeaks Cons
#1. CopyLeaks does not allow you to run individual mistakes reports right now. I'd imagine that's a deal killer for a teacher who's trying to run individual reports for each student.
#2. Unfortunately, this is another plagiarism-only checker. No grammar options or checking for other mistakes supported at this time.
#3. The point-based pricing system sounds good in theory. But it can actually get really expensive if you're a heavy user looking for lots of mistakes. It's ~$60 each month to access the same word count as Grammarly (150,000 words). But you get a lot of additional features with Grammarly, too.
CopyLeaks Cost, Plans, & Payment Options
A CopyLeaks subscription runs from around $10/month on up to $1,100/month, depending on the volume of credits you'll need.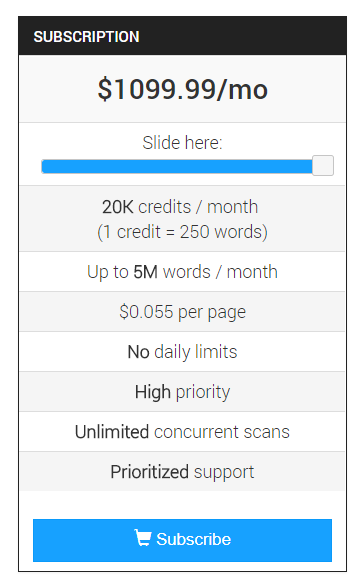 Do I Recommend CopyLeaks?
I do recommend CopyLeaks if you're looking for a strong, plagiarism-only option with a massive database of mistakes to check for.
However, the lack of grammar support, plus no mistakes reporting options, puts this lower on the list than the other Grammarly alternatives listed above.
6. Writer
(Best to help brands maintain communication consistency)
Writer is an AI writing assistant that is similar to Grammarly, with several unique features that distinguish it. It's primarily designed for companies who want to keep all their communications consistent in terms of style, tone, specific grammar rules, formality, etc.
Here are the pros and cons.
Writer Pros
#1. One of the biggest things that makes Writer unique is that you can create very specific style guide rules, and the app will evaluate all your content against those rules. You can get really granular with the rules, specifying things like tone, formality, words to avoid, acceptable acronyms, gendered language preferences, and a lot more.
Once you've established your style guide, the app will provide real-time feedback on ways to make the content more in line with company guidelines. Whether you're writing a blog post, email, or web copy, you can be confident that it will match the style guide.
#2. Clear, concise, easy-to-understand content is at the core of good writing. Writer will analyze what you've written and then offer suggestions for simplifying complex or overly dense sentences.
#3. Like Grammarly, Writer will check your spelling and grammar for errors. Beyond that, it will also analyze your content for other important things, like delivery, compliance, and inclusivity.
#4. If you're worried about plagiarism, Writer has you covered. It will compare your content to millions of pages of existing content, ensuring everything is totally original. You can check out this functionality for free with their free online plagiarism checker.
#5. Writer can be used in Google Chrome, Google Docs, and Microsoft Word. As long as you're using one of these apps, you can be confident that your content will be in line with brand guidelines, no matter who is writing it.
Writer Cons
#1. There's no free version of the app. You can test it out with a free trial, but after that you'll need to pay to use it.
#2. It's not compatible with browsers other than Chrome (unless you use Google Docs). So if you use Firefox, Safari, or any other browser, you won't be able to use the app. The same is true of offline document editors other than Word.
#3. Writer is currently English only. If you run a multinational business that crosses language barriers, it may not be the best option.
Writer Costs
Writer starts at $11/month per user. If you want to use Writer across your entire company, they offer custom enterprise pricing.
Do I Recommend Writer?
Yes, it's a good alternative to Grammarly. No, it's not perfect and it doesn't have a free version.
But if you're a brand who cares just as much about how you say something as what you say, then you should definitely check out Writer.
7. Sapling
(AI writing assistant catering to the corporate market)

Sapling is a very powerful AI-based virtual assistant predominantly targeting businesses that manage a large workforce. They claim to catch 60% more language discrepancies than other grammar and spelling checkers.

That claim may not be too far fetched since they rely on machine learning which only gets more intelligent the more data it analyzes.

It's not just the corporate world that benefit from Sapling, they also cater to individuals who need a solid grammar checker.

Sapling Pros

#1. Sapling can be integrated browsers, such as Firefox, Chrome, Opera and Edge, as well as Google Docs or Word. It also can be incorporated into team hubs like Slack, Workplace or Microsoft Teams, and with email services like Google Mail or Outlook.

It very much operates as an omnipresent virtual assistant ready to provide suggestions on words, sentences and phrases.

#2. In the premium version, you can utilize the Snippets feature which stores frequently used pieces of text saving you from having to write them yourself. This is particularly useful for customer support teams who regularly have to respond to the same types of questions.

#3. Another useful feature is the Autocomplete Everywhere. As you type, Sapling will predict the next word or sentence for you (thanks to machine learning) allowing you to swiftly and effortlessly communicate with friends and colleagues.

Sapling Cons
#1. There are no extensions offered for iOS or Android devices. Even though they've provided add-ons for many other applications, this service is centred around desktop use only.
#2. Again, the range of browser extensions doesn't cover Safari, only Firefox, Chrome, Opera and Edge are supported at this time.

Costs and Payment Plans
Sapling offers free browser extensions, but to benefit from their advanced features you'll need to go pro for $25 per month. Their enterprise package can be purchased by contacting them directly.

Do I Recommend Sapling?
Yes. Even though a plagiarism checker would be a nice bonus, their advanced AI-powered language analyzers are sufficient for every professional writer.
8. Paper Rater
(AI empowered grammar and plagiarism scanner)

PaperRater is a cloud-based grammar editor which is driven by AI-powered algorithms to analyze content. Furthermore, they even incorporate a plagiarism checker making this tool highly sought after amongst writing professionals.

Paper Rater Pros
#1. An astronomical amount of content is published online each year, and protecting the original data requires the use of a plagiarism checker. Paper Rater's checker can scan and compare your work with 10 billion content pieces so you can be sure your work is truly original.
#2. A vocabulary builder is another useful feature which can boost the quality of your writing, and your overall English language skills. When you type a word, the tool shows you the definition and a few example sentences to help you understand various ways the word can be used.

Paper Rater Cons
#1. Paper Rater doesn't allow you to import files and you're limited to 5 pages in each submission. Though this does increase to 20 pages per submission in the premium version.

#2. Both the grammar and plagiarism checker operate as separate tools when using the free version, which means you have to copy and paste your text twice.

#3. With paper rater, you can only use their web-based application as there currently no separate desktop app or even browser extension.

Costs, Plans, and Payment Options

With the free plan, you're limited to 5 pages for each submission and a maximum of 50 per month. To get the best out of Paper Rater you can sign up for $14.95/mo (or $95.40 per year).
Do I Recommend Paper Rater?

Absolutely. Even though it's purely a web-based tool, it still offers everything you need to proofread your text. It's perfect for students who really need their writing to be unique as the plagiarism checker does a fine job.
9. Reverso
(Simple web-based tool, great for short blurbs)
Reverso is a web-based tool, renowned as a translator tool, but packs a punch when it comes to spelling and grammar checking. The free web-based tool works immediately when pasting content into the tool, and automatically fixes punctuation and spelling errors.
Reverso Pros
#1. It offers a personal and collaborative dictionary in which you can input your own frequently used terms and phrases.
#2. You get access to an extensive library of resources to help you improve your understanding of grammar and syntax.
#3. Reverso can help you avoid repetition by offering alternative phrases and words which fit the context of your writing.

#4. It's a popular tool for those seeking to translate text into numerous languages such as Spanish, French, Russian, Chinese and Arabic to name a few.
Reverso Cons

#1. Sadly, Reverso limits content checking to 600 characters at a time. So this may be off-putting to many people who have less time to spend repeatedly copying and pasting sections of content. However, it's great for short snippets of text – emails or social media posts.
#2. No desktop app is available; however, an extension for Chrome and Firefox exists which compiles all of the Reverso tools (synonyms, dictionary, translator) into one organized suite.
#3. Reverso also doesn't offer any plagiarism checking feature, but for what it does offer in terms of spelling and grammar it's hard to find fault.
Costs and Plans
It's totally free. Though, you'll need to sign-up for an account if you're eager to add to the collaborative dictionary.
Do I Recommend Reverso?
Yes, mainly for checking smaller sized content. The 600 character limit will impede your workflow and there are other options that cater to larger projects.
10. Slick Write
(Powerful grammar checker with built-in analytic features)
Slick Write is a worthy competitor of Grammarly, offering a free, cloud-based service which scans text, or documents, for grammar and spelling errors.

With its simple user-interface, Slick Write has the ability to analyze word choice, sentence structures, transition words, passive voice, as well as grammatical errors.

Slick Write Pros

#1. They have a very simple user interface. With the editor, you can just paste the text and click check. Immediately it presents aspects of your content such as transition words, redundant sentences, adverbs, and common starting words. When you select a word, a pop-up appears below so you can choose an alternative one. They even give you the chance to learn why and how certain words are more effective by providing links Wikipedia or Google.
#2. Browser extensions exist for both Chrome and Firefox.
#3. I found the statistics feature an interesting extra which can give you a whole new perspective when it comes to proofreading your work. It measures how much the passive voice is used and also provides a readability score giving you an idea of how complex your writing style is.

This visual representation allows you to be more objective about your writing. Rather than simply underline your errors and give suggestions, Slick Write's graphical statistics gives you a whole new perspective on your work.
#4. I found the readability feature priceless. Quite often, long or complex sentences can impede the flow and readability of your content. Therefore, when Slick Write's readability score slides too far up the scale, you can use their suggestions to make adjustments.

Slick Write Cons
#1. No plagiarism checker is offered.
#2. The Firefox and Chrome extension cannot be used for offline use, which would have otherwise acted like a stand-alone application.
#3. Error correction is less convenient compared with Grammarly. Yes, Slick Write's interface is simple and easy to follow; however, you have to click through several options to make changes. A one-click correction feature would save a few valuable seconds here and there.
Costs
It's free! And there's no requirement to create an account.
Do I Recommend Slick Write?
Of course, they provide excellent tools to help boost the quality of your content.
Visit Slick Write
Bonus for Citation-Needers: Citation Machine
Citation Machine supports both grammar and plagiarism checks, as well as a host of mistakes to check for. And they also throw in a works cited generator and a check for grammar errors. Here's how that works.
Citation Machine Pros
#1. Citation Machine has a great onboarding experience for new users. You'll get a simple step-by-step walkthrough the first time after logging in.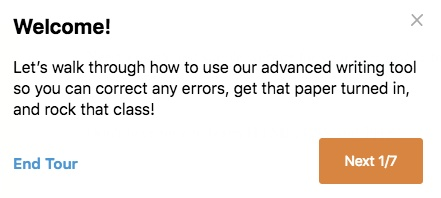 #2. I was also able to verify that Citation Machine's grammar errors checker caught all of the glaring issues on my benchmark article. It ranks near the top in accuracy.
#3. Professional writers, students, and their teachers will LOVE the citation creator. It helps you add in-text citations as you go, automatically compiling a bibliography for you. It supports APA, MLA, and Chicago Style.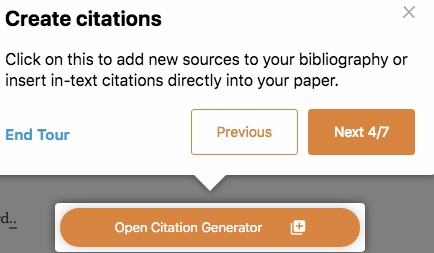 #4. You'll even get some style tips from Citation Machine, with common or redundant words and grammatical errors flagged for your attention.

#5. Their plagiarism option is solid, albeit, paid.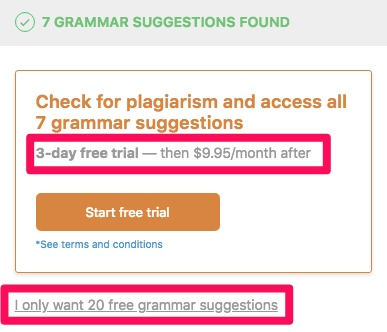 #6. Exporting your results is easy, and all previous history is stored inside your account.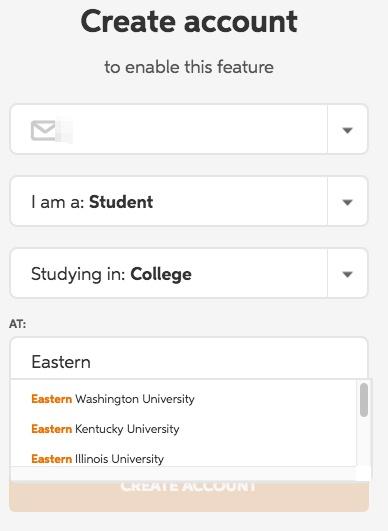 Citation Machine Cons
#1. The free version of Citation Machine kinda sucks to be honest. It's limited to 20 suggestions on a single piece. So you'll have go upgrade to look for more grammatical errors.
#2. Citation Machine only sports a web-based version. No desktop or mobile options at this time.
#3. Citation Machine also only supports the English language.
Citation Machine Cost
Citation Machine starts at $9.95 per month after the free three-day trial period.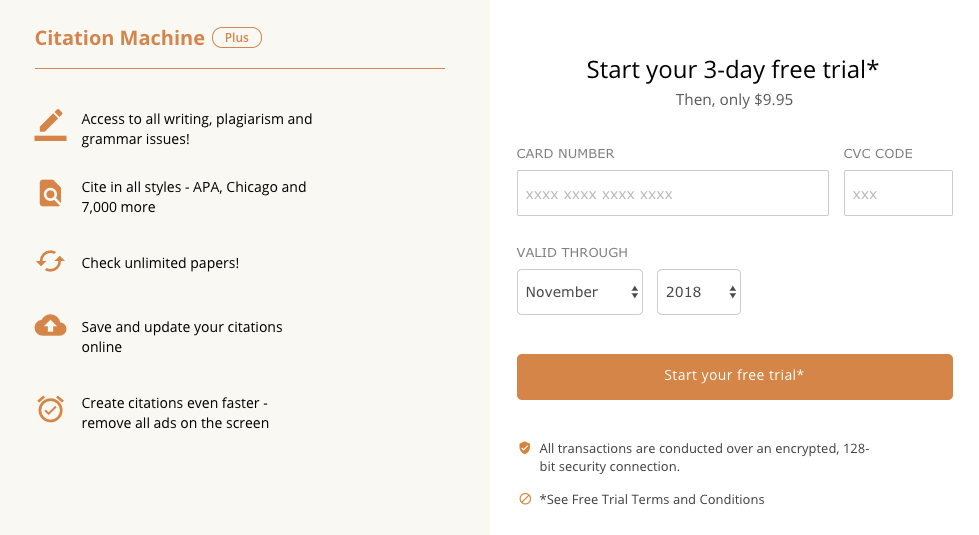 Do I Recommend Citation Machine?
I do and I don't.
I do because the grammatical errors checking and plagiarism support is great. The citation creator might be worth the cost all by itself for the right people.
However, the limitations are great, the device compatibility is low, and its multilingual support is nonexistent.
The Winners Are…
Grammarly is great. But it's far from the only game in town.
Thankfully, there is a plethora of legit Grammarly alternatives that can fill the void and check for spelling errors ASAP.
My best all-around alternative is WhiteSmoke. Accurate, easy to use, supports tons of languages, works across all devices, will check both grammar and plagiarism, and the annual billing starts significantly lower than Grammarly.
ProWritingAid's grammar checker might be the most comprehensive, and its low annual (or lifetime) licenses are the lowest on the market. But the plagiarism checker and spelling errors tool is virtually unusable.
If you just need an affordable, multilingual grammar checker with an easy-to-use browser extension, Ginger is the next best thing.
QueText is similar, but for plagiarism-only. While CopyLeaks and Citation Machine are reserved mostly for educators (with the latter perfect for people who need to cite sources en masse).
Writer should only be considered as an alternative tool to Grammarly by companies that want a strong public presence and voice.