ProWritingAid is a Pro Writing Aid. Get it? Ok, enough corny jokes. It is a writing aid, though — a complete grammar, spelling, and plagiarism-checking tool that works across a variety of platforms.
So it's more than just proofreading software that catches simple mistakes. They consider themselves your personal writing coach, grammar guru, writing style editor, and mentor.

At our content marketing agency, we've compared and tested the best writing apps, and also reviewed top-quality Masterclass content by experts so that you don't have to.
After paying and testing it ourselves, we can confirm ProWritingAid does just that.
The real question, though, is where to put your grammar dollars. Do you go with the good, yet expensive Grammarly? Is this online checker as good as Grammarly to catch grammatical errors and other mistakes?
Or does ProWritingAid deserve to be on the same level (at a much lower price point)?
That's what we're going to find out in this hands-on, in-depth ProWritingAid review.
Disclosure: Our site is reader-supported. We might earn a small commission if you purchase something through our site. Learn more.
ProWritingAid
Best Budget/Best Value
PROS
62%, 73%, 52% accuracy scores
Millions in the database
Scrivener compatible
Plagiarism support included
$4.16/ month (best value)
CONS
Only English
24+ hour support response
Inaccurate plagiarism checker
Grammarly
Best All-Around
PROS
86% out of 86% accuracy
16+ bilion database
150k word limit
5 devlice limit
Includes plagiarism
1 hour response
TABLE OF CONTENTS
ProWritingAid Pros +
ProWritingAid is one of the first grammar checking systems that I think really takes the fight directly to Grammarly.
It might just be the best Grammarly alternative out there. If you are looking for a grammar checker software outside Grammarly, here you go.
Using this system was an absolute pleasure. Editing is a breeze because it catches so many mistakes. All downloads occurred quickly, all files installed in under 30 seconds, and when I was checking my content, it completed reports in real-time.
ProWritingAid integrates into a huge variety of programs and its premium package comes with no restrictions. Yet the free version boasts great features such as proofreading, grammar check, sentence structure, and so forth.
If you consider buying this grammar checker to improve your writing style, then keep reading.
Let's dive in and bask in some great things offered by this software.
1. Extensive Integrations with Every App You Use
A grammar checker that comes with its own desktop app or web-based editing software is fine.
It's a simple matter to copy and paste your documents into a blank page and let the service get to work.
But when you can seamlessly blend the full power of a grammar and spell-checking system directly into the platforms you use the most, you create a convenient system that goes above and beyond.
That's what ProWritingAid does here.
Not only does it have a desktop app that works for both Windows and Mac operating systems. Not only does it have a web-based editor and works efficiently. It has add-ons with some of the most well-known and popular writing platforms on the market today.
For starters, you can download a Google Chrome add-on to ensure that each sentence is being corrected nearly everywhere — like Google Docs — that you type online.

I downloaded the Chrome add-on directly from the Google Chrome store. It was free and installed within 30 seconds. I ran a test on the effectiveness of this system immediately and it impressed me. I'll go into more detail on this in a later section.
ProWritingAid also has an add-on for Safari, a browser popular with Mac users. As of this writing, they are waiting for approval on their new add-on for Firefox, another popular web browser.
And ProWritingAid integrates into popular writing platforms, too.
It has a Microsoft Office add-on that allows users to connect the power of ProWritingAid to both Microsoft Outlook and Microsoft Word. This ensures that whether you're writing a report or sending a professional email, you're covered and connected to ProWritingAid.
You can install ProWritingAid on Open Office, Google Docs, and even writing apps like Scrivener, which is a writing program especially popular with novelists for its organizational system. This is the most inclusive program I've seen, hands down.
ProWritingAid can be used on multiple devices with the same license as well. So you can install it on every platform that you use. If you wanted multiple users, you would have to purchase additional licenses.
2. Unrestricted Premium Plan
Most grammar and proofreading software tools put restrictions on paying customers.
Some are high (like Grammarly's 150k/words a month). While some others are as low as ~600 words at one time. (Not enough to even check this article!)
Thankfully, ProWritingAid bucks this trend and doesn't come with limitations. There are no word count limits to report.
Premium members can enjoy unrestricted access to the system, included with the price of your license. This is a major bonus to businesses and individuals who are writing or editing a lot of run-on sentences in a one-month period.
Authors and professional full-time writers can get a lot of mileage out of this service.
Content writers can fix their grammar errors or spelling mistakes with this simple online editor.
3. Extremely Accurate Editor
This is an accurate system that is simple to use and easy to understand.
We run the same piece of content through all the grammar checking programs we review. We consider it our "control" content. Grammarly rates this content at 86% in terms of performance. So, that's always the measuring stick we place our new checkers up against.
I logged into ProWritingAid through the online word explorer first. It is a simple blank page with a series of tools up at the top.

I pasted our control content into the page, and the system got right to work, spotting mistakes, and giving me corrections in real-time. Once finished, I could access a full comprehensive report of all this editor's findings across every sentence.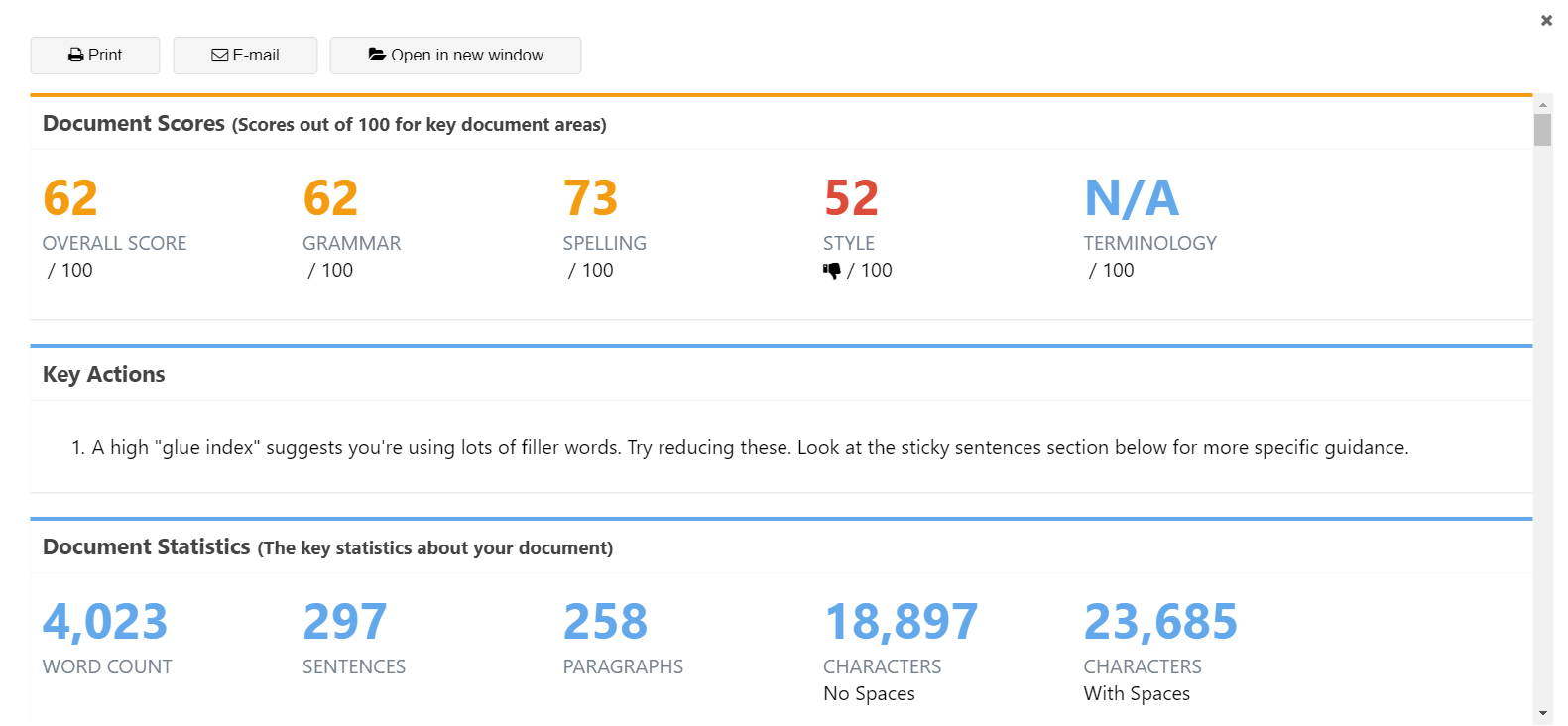 4. Detailed Writing Checker Software, with Best-In-Class Error Reporting
The first thing I noticed was the overall score we received after checking for grammar mistakes.
ProWritingAid gave this content 62% our of a possible 100%. I was surprised when this editor beat our Grammarly test, giving us a lot more issues to work through than its strongest competitor.
The editing report can be printed or emailed, another nice feature to add to an already impressive system.
It goes on and on, cycling through ProWritingAid's wealth of editing features, showing examples and graphs to help you gauge precisely where your writing can improve.
Here is the vocabulary breakdown, for example: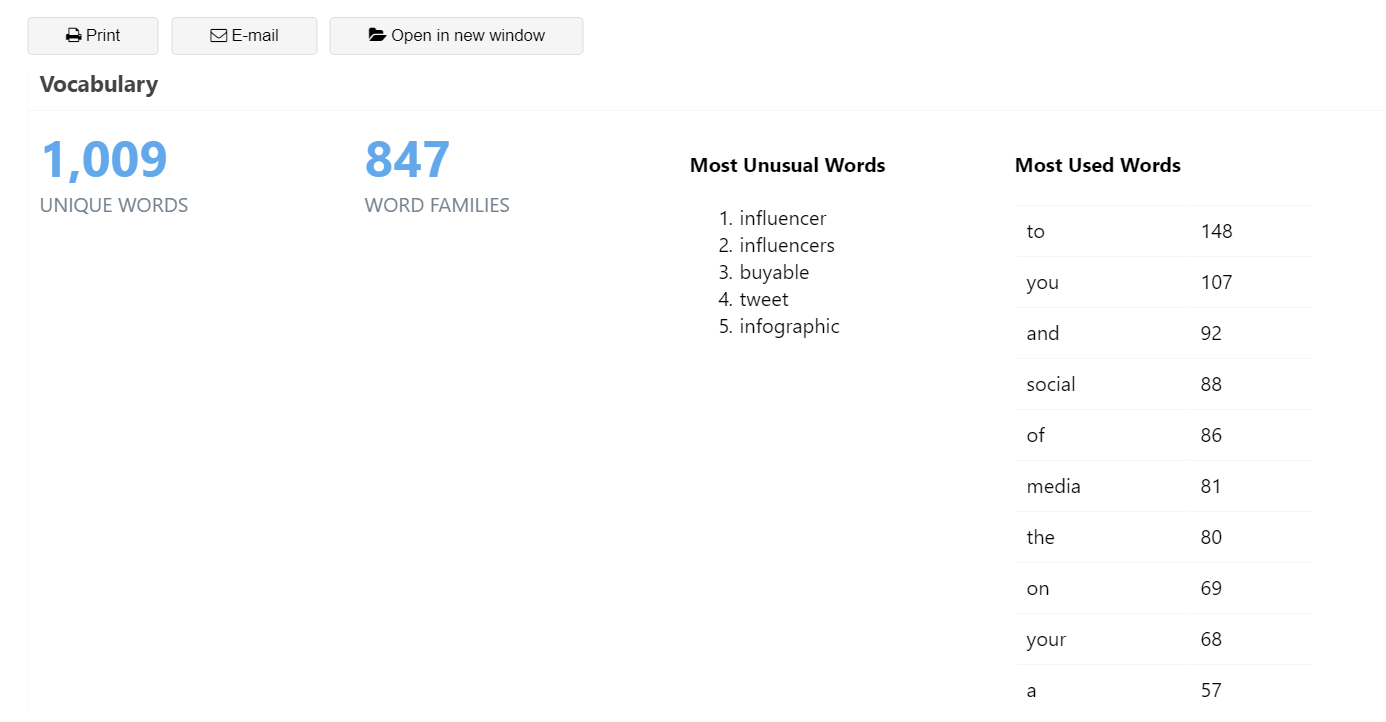 Here is the Flesh-Kincaid reading analysis: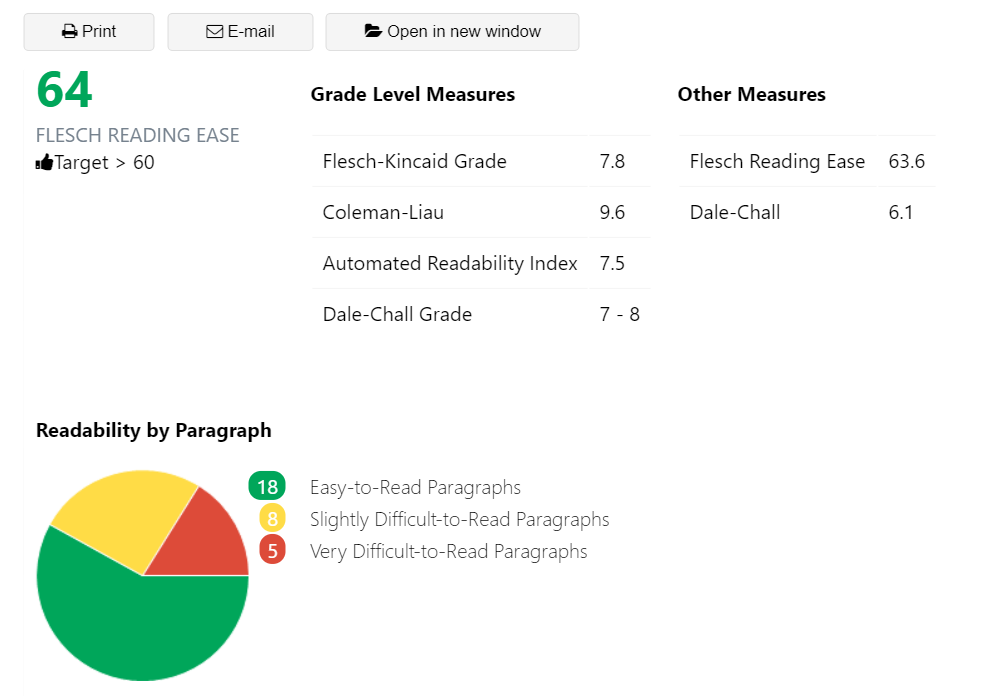 And here is the writing style index to help you spot common problems like passive voice or too many adverbs: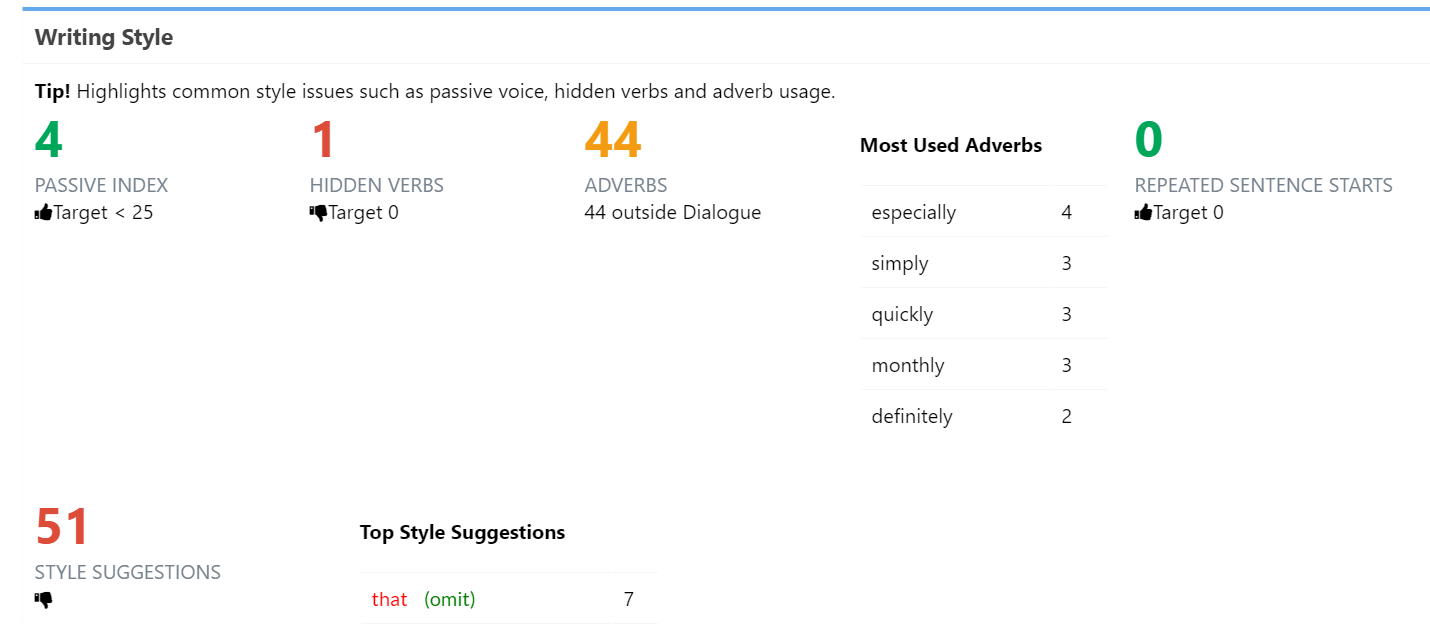 The details here were excellent.
The editing interface features a long toolbar at the top, which lists all of the mistakes that ProWritingAid checks for:

It checks for grammar and spelling mistakes, but it also looks for cliches, readability, repeated words, passive voice, and much more. It also includes a plagiarism checker, which we will discuss in a later section.
I was impressed with this web-based editor, but I was still concerned about the add-on applications. Could they live up to the lofty expectations I expected from this service?
First, I installed the Microsoft Word add-on.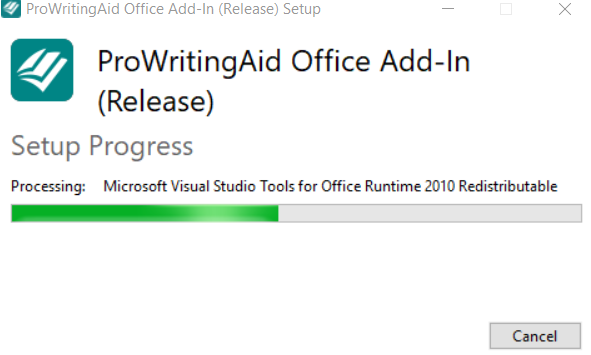 The download was instant, and once I opened Microsoft Word, it was right there editing in the top toolbar. All of the features were unlocked after logging in with my ProWritingAid credentials.
I entered our control content once again to see if the Word application would give me the same results as its web-based counterpart. Here's a screenshot of the results: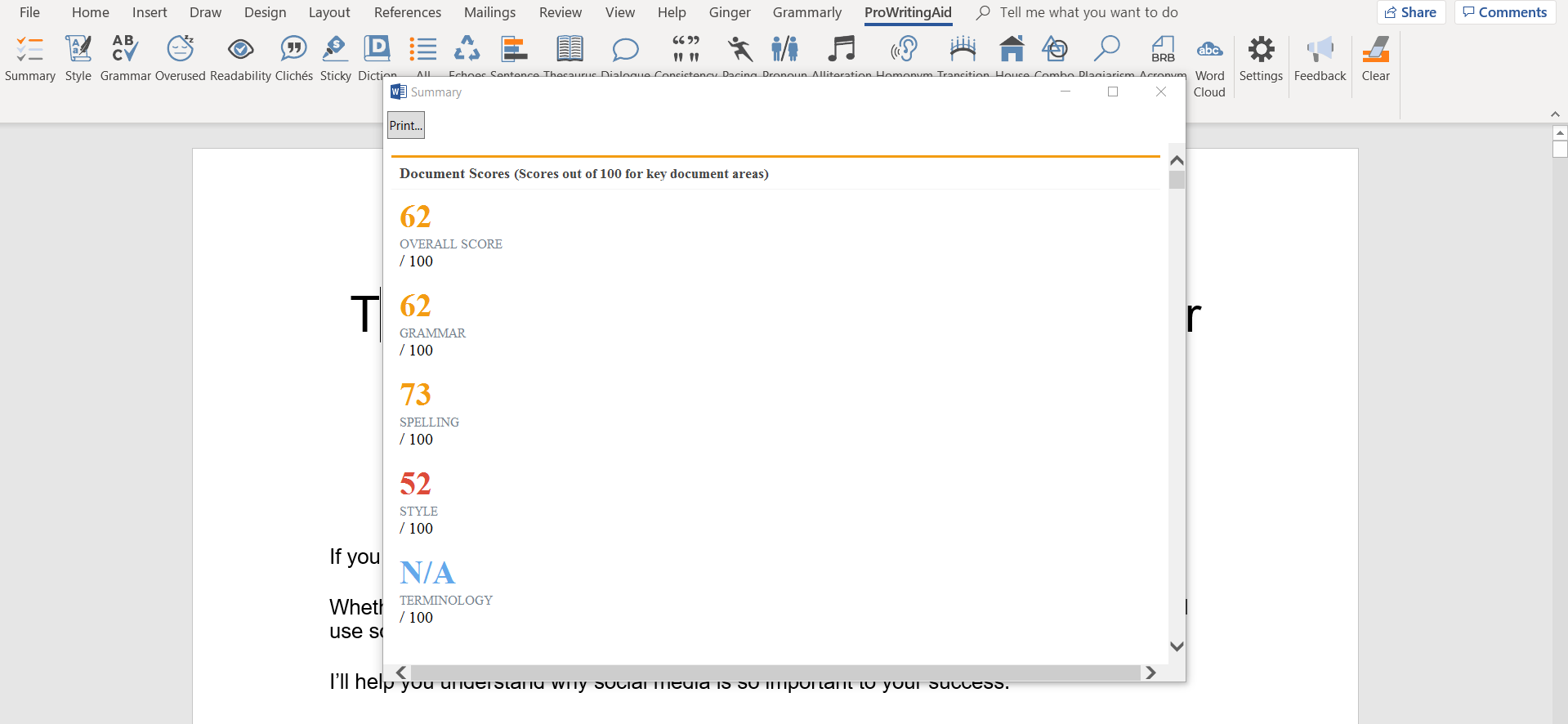 Sure enough, I got the same score of 62%. So there are no accuracy issues with conflicting results.
I moved onto the Chrome browser extension and started typing up some horrid email content. I made sure that both my Grammarly and ProWritingAid extensions were working at the same time. I wanted to see if they would find the same issues.

The blue and yellow underlines are ProWritingAid and the red is Grammarly. As you can see, ProWritingAid caught the use of "it's" when no apostrophe was appropriate.
However, Grammarly caught one glaring mistake that ProWritingAid missed. I used "affective" instead of "effective" and ProWritingAid wasn't very effective at catching that. (See what I did there?)
I threw in some improper comma mistakes as well, which both systems missed.
You can open up a ProWritingAid interface right in your email browser by clicking on the small icon located in the lower right-hand corner of your text box.

This gave me a full accounting of the corrections the system made.
This was one of the best hands-on tests with an online grammar checker.
I tip my hat to ProWritingAid for creating a special and thorough product that can be an asset to any writer.
ProWritingAid Cons –
As we just discovered, ProWritingAid is extremely good in several key areas.
However, it is not perfect.
For starters, the multilingual editing options were limited, and there is no mobile app to speak of. To top it all off, their plagiarism detection software was kinda a letdown. In fact, it seemed really inaccurate and there were a lot of mistakes that slipped through.
Here's a detailed look at all of the cons.
1. Limited Free Plan
There is a free version of ProWritingAid. However, it's pretty limited. You can only check 500 words at a time and get 19 reports.
You're going to have to upgrade to a paid plan to unlock the most useful features.
The silver lining, however, is that the paid plans are extremely affordable (more on that in the Costs section below).
2. English Only
ProWritingAid is only offered in the English language. This is a severe handicap when compared to other checkers like WhiteSmoke or Ginger, which can be used in multiple languages and dialects.
ProWritingAid does offer various styles of the English language. Beyond American English (the only right kind of English 😉), you can check your content in UK English, Australian English, and Canadian English.
English is the most popular language around the world, but that still leaves out a massive audience in Latin-speaking countries and across Asia.
3. No Mobile Apps for Editing
You do a surprising amount of writing and editing on your mobile device.
Whether it's your smartphone or tablet, you'll be texting or responding to emails via mobile platforms on a daily basis.
That's why it's slightly disappointing that ProWritingAid does not have mobile applications for Android or iOS devices, despite their desktop app.
That's not to say you can't use the service on a mobile device. The web-based editor is still available through your mobile browser, but that would involve copying and pasting your content into the mobile browser, correcting it, and pasting it back into your email or texting app of choice.
It would be much easier and more user-friendly to simply have a dedicated application that could police every keystroke you make into your phone without the extra steps.

4. 24+ Hour Customer Response Time
ProWritingAid's customer service is good, albeit slightly slow.
Look for the "Help" icon in the corner of your screen:

When you start searching for the issue you're dealing with, you'll get a "Suggested For You" option that will recommend help desk articles to read through.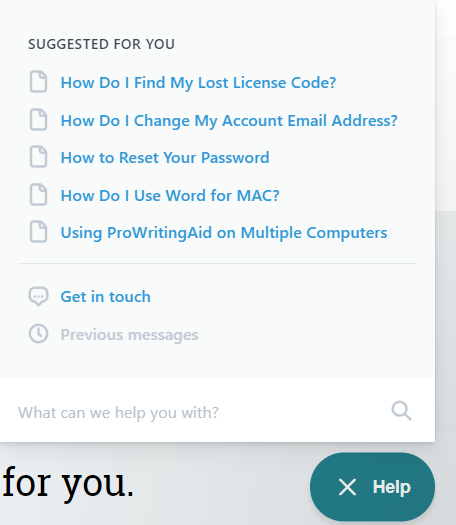 Otherwise, you can submit a message directly through email (although it looks kinda like a live chat):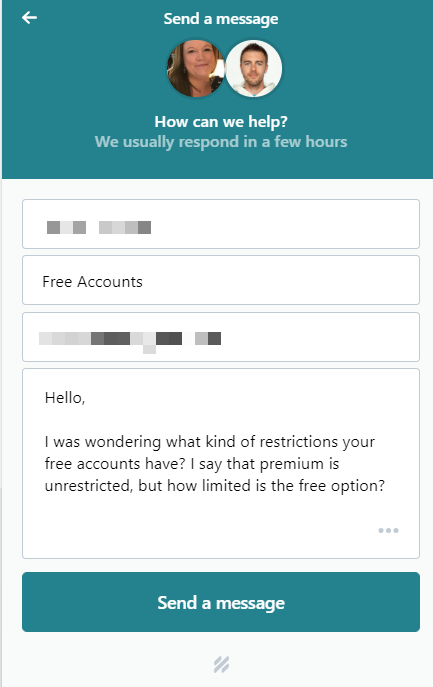 Around 24+ hours later, I received a friendly email response: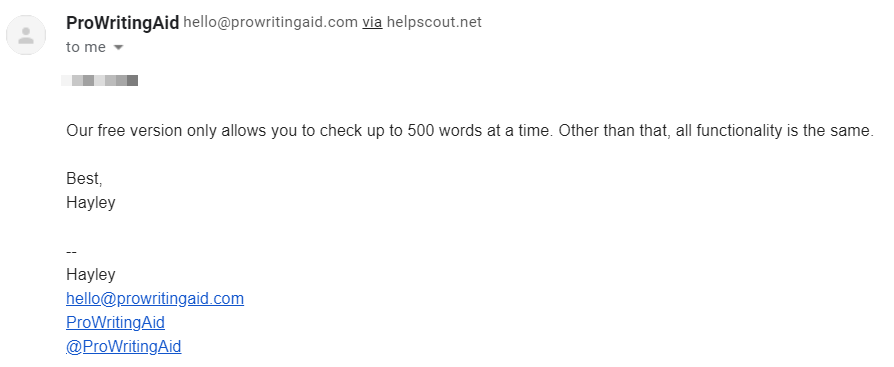 The response was good. However, possibly contradictory, because I've read on their site that devices are limited (online only) on the free plan and that the number of reports (19) is also lower than the premium option.
5. Inaccurate Plagiarism Checker Software
Unfortunately, the plagiarism check feature couldn't live up to the rest of the editor.
The first time we tested it, it gave us a 0% plagiarism score on a document that other tools have said as much as 86% is copied from other sources.
So we wanted to give them another try a few months later to see if any improvements have been made.
First, it's kinda a slow process. Once you have the content inside the editor, you click on the "Plagiarism" option and then you're met with a spinning wheel:
This thing will keep spinning for anywhere from ~2-5 minutes. You might think it's not working. That's what I thought initially, too.
It is working, so try to be patient. It's just really slow.
After a few minutes, the results will show up on the left-hand side of the editor:
We use this same control document across all 20+ grammar and plagiarism checkers we've reviewed to have a fair benchmark to compare them.
This ProWritingAid score is extremely low compared to the others we've seen (as high as 86% in some cases). That leads me to believe they've missed a ton of issues, possibly because their database is too small.
Either way, I can't recommend the plagiarism checker at this time. A huge bummer considering how good everything else looked.
ProWritingAid Costs, Plans, & Payment Options
Most online grammar checkers charge you monthly, but ProWritingAid sells licenses on an annual basis. (There is no free version of ProWritingAid.)
And their prices are super low. Like, low low.

One year of ProWritingAid Premium is only $50. That's by far the cheapest price I've seen across any (good) paid grammar software or editing tool.
You can also snag a lifetime subscription to this service for $175(!).
To compare, one month of Grammarly Premium is $29.95. An entire year would run you $140. For another $35, you could have ProWritingAid for the rest of your life.
I picked up a coupon and paid $36.00 for one year of ProWritingAid's Premium Plus plan: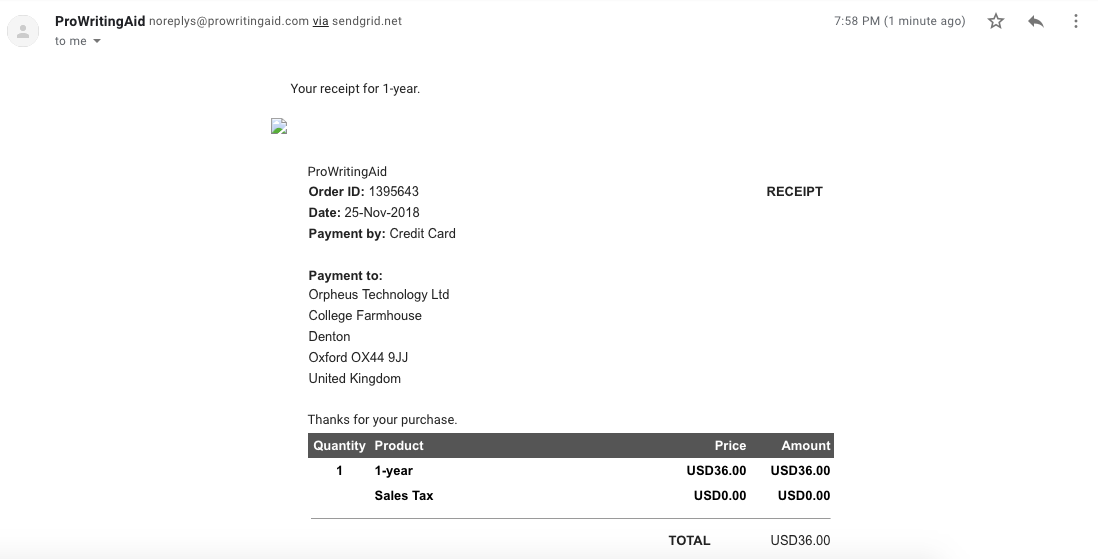 Payments can be made either via credit card or PayPal. All Premium subscriptions come with a 14-day money-back guarantee.
Do I Recommend ProWritingAid?
If you're primarily looking for a grammar, editing, and writing tool? Then yes, absolutely we recommend ProWritingAid.
The features are great, error accuracy is excellent, the desktop app is easy to use, it's also compatible with writing tools like Google Docs or MS Word, and you can't beat the price.
However, if you also need to use a plagiarism checker? Then no, probably not.
In that case, you're probably better off biting the bullet and upgrading to Grammarly because you literally can't afford to miss any plagiarism issues.
Pro writing? Yes. ProWritingAid is an excellent grammar checker — especially at such a low cost.