Bad grammar is everywhere.
But it doesn't have to be.
True, emulating the greats you see on MasterClass is never easy. But you don't have to have a Doctorate in English to make sure your grammar is on par, either.
So which tools can you use to check your writing and correct your grammar mistakes?
Below are the top 11 picks that we like best (and still use in our daily work as a top-tier content marketing agency). We compare both free and premium versions, apps or desktop versions.
This guide will walk you through how to fix your sentence structure and your writing overall.
Disclosure: These reviews are reader-supported. We might earn a small commission if you purchase something through our site. Learn more
Grammarly
Best All-Around
$11.66
/mo – before discount
PROS
86% out of 86% accuracy
16+ billion database
150k+ word limit
5 device limit
Includes plagiarism
1 hour response
CONS
Only supports English
More expensive ($11.66/mo)
ProWritingAid
Best Budget
$4.16
mo – before discount
PROS
62%, 73%, 52% accuracy
Millions+ database
Scrivener compatible
CONS
Inaccurate Plagiarism
Only English
24+ hour support response
Grammarly Premium Walkthrough Video
TABLE OF CONTENTS
The Best Grammar Checker 2021 (Hands-On Review)
How Can I Check My Grammar? Here's How We Decide on the Best Tool…
1. Usability Is the tool easy to use/does it have a solid user interface? Are similar issues grouped together to help the writer learn how they can avoid common mistakes and improve their writing?
2. Accuracy Does the tool consistently uncover the same issues, such as commas, punctuation, misspellings, etc?
3. Sophistication How well does it check for comma use, parts of speech, hyphens, or words that are used incorrectly although spelled correctly?
4. Concision Can the tool measure conciseness and/or give the writer suggestions to write with more clarity?
5. Plagiarism Does it offer a feature that checks for instances of plagiarism? If yes, how well does it work?
6. Limitations Are there daily, weekly, or monthly word or page limits and/or file/page upload limitations?
7. Grammar Rule Source Does the tool offer up any information about how they check content? What type of grammar rules are used and from which source (e.g., APA, MLA)? This will help you catch all those pesky grammar punctuation issues that usually slip through the cracks.
8. Reporting Does the tool offer a feature that allows users to export reports? If so, how useful are they, what's on them, and what formats are available?
9. Device Compatibility What devices does the tool work with? Does the tool offer a mobile app, a browser extension, or some kind of Google doc/Microsoft Word compatibility?
10. Human Reviews Does the tool offer the ability for human review? If so, how does this feature work and how much does it typically cost?
11. Multilingual Can you check for grammatical errors in different languages? If so, how many and which ones?
12. Customer Service How well is the customer service provided by the grammar checker, if any is offered? Are multiple options available like live chat, email, or a knowledge base?
13. Plans and Pricing Does the value of the tool justify the cost?[/su_spoiler]
What is the Best Free Grammar Checker? Which is the Correct Sentence? All That and More in This Review
A grammar checker can instantly improve your writing, whether you're a professional writer who needs to check an article or you're a student who just needs to double-check an essay before turning it in.
We've used all of these tools ourselves, signing up, paying, and running them each through a hands-on test.
We've also used the same control documents to compare these grammar checkers to create an unbiased, transparent benchmark to compare them.
So what is the on the market? How good a can detect plagiarism? Can you improve your with a or a app like Grammarly?
Now, let's check out each one in detail so you can see how these grammar checkers were rated.
1. Grammarly: The Best All-Around Grammar Checker Software
Grammarly
Best All-Around
$11.66
/mo – before discount
PROS
86% out of 86% accuracy
16+ billion database
150k+ word limit
5 devlice limit
Includes plagiarism
1 hour response
CONS
Only supports English
Expensive
Grammarly
Grammarly offers AI-powered solutions to "help people communicate more effectively," according to the About Us section of their website.
The cloud-based app is loaded with algorithms that flag potential text problems, while also suggesting corrections for users.
The tool can check for a large range of issues, like grammatical errors, spelling, run-on sentences, style, punctuation, and plagiarism.
I have analyzed pretty much everything about Grammarly: from testing the Grammarly Chrome plugin or Grammarly chrome extension, from web Grammarly to free Grammarly, and so forth.
Here's what makes Grammarly great, along with the major drawbacks of the service.
Grammarly Pros
#1. Grammarly is extremely easy to use to improve your writing style and sentence structure. Simply copy, paste, and you'll immediately start getting results.

You'll even start to get a brief breakdown about (a) what's wrong and (2) why it's wrong. So you're less likely to keep making the same mistake!
#2. Grammarly's grammar checker is also among the most sophisticated I tested. It catches a lot of the tiny details that often slip through the cracks, like passive voice.

#3. Online writing should be crisp and concise. Welp, Grammarly has you covered here, too. Their Conciseness feature will help simplify sentences and reduce redundancies.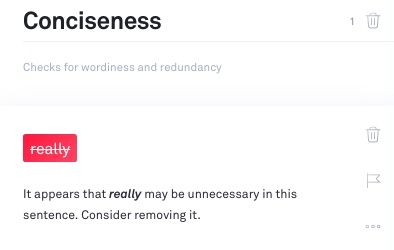 This can be especially useful in formal writing situations, short emails, or blog posts and articles where writers need to get to the point quickly and efficiently without tons of extra fluff.
#4. Grammarly also boasts a built-in plagiarism checker that scans up to "16 billion web pages and ProQuest's databases" for any issues.
Unlike other insights within the tool, plagiarism isn't checked automatically. Users have to click the "Plagiarism" button on the bottom right hand of the screen.
Then, a percentage score out of 100 is given for how closely your text matches other sources.
The only catch? This feature is only available with a paid Grammarly plan.
#5. You can have Grammarly check any of the following five style guides:
The Chicago Manual of Style
APA 6th edition
MLA for citation style guides
Swan's Practical English Usage
The Cambridge Grammar of the English Language for grammar guides
#6. All free grammar check options are limited in some way, shape, or form. With some, you'll hit that cap pretty soon. But you might not with Grammarly.
In a 30-day period, users can check up to 300 documents or up to 150,000 words. In a 24 hour period, users can check up to 100 documents or 50,000 words.
You can check up to 60 pages (or 100,000 characters with spaces included) at once. There are also no limitations with Grammarly for Microsoft Word and Outlook.
Documents cannot be larger than 4MB, but Grammarly supports Microsoft Word docs and Open Office docs, in addition to .txt and .rtf files.
These are much larger limit ceilings than most grammar checkers on the market offer.
#7. The whole point of a grammar checker isn't just to fix one document or email. It's to become a better writer.
Grammarly's detailed reports can do just that: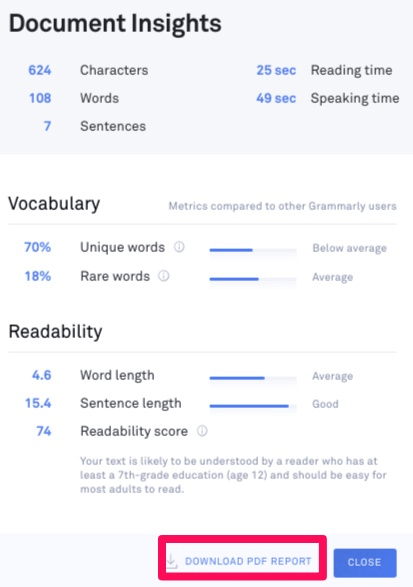 And the reports include every insight given for your text, including your overall score, number of writing issues, and more. Spelling errors are well spotted.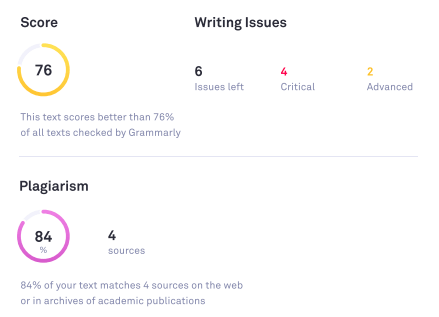 The report even lists out the exact descriptions of each issue in your document.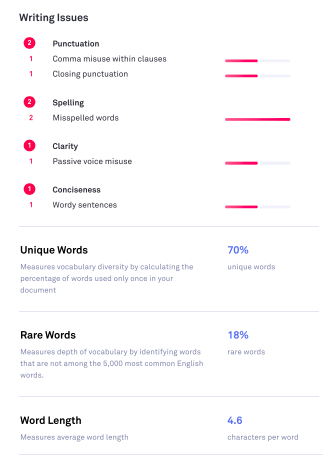 #8. Grammarly doesn't seem to have many device limitations.
There are Android and iOS apps for mobile. A plethora of web and browser-based extensions, including Chrome, Safari, Firefox, and Edge browsers.
The Grammarly desktop app is also available for Mac or PC, and it's compatible with:
Windows 7, Windows, 8, Windows 8.1, and Windows 10
macOS 10.9 and higher
With a Grammarly membership, users can access the tool on up to five different devices simultaneously.
#9. Grammarly also offers a simple, built-in way to get human proofreading. But they come at a small cost, depending on how fast you need your document returned.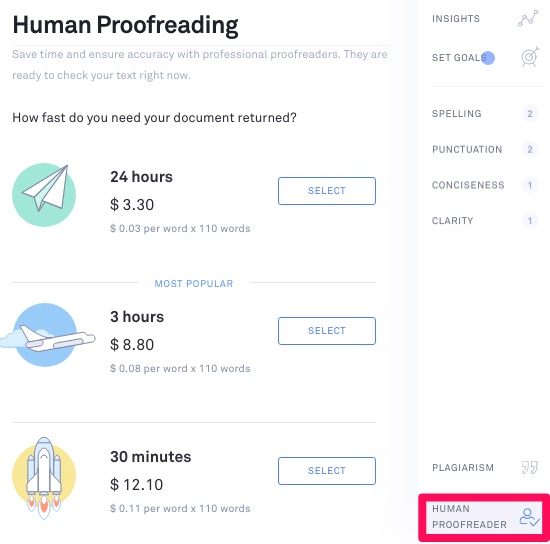 It costs $0.03 per word to receive your document back in 24 hours, $0.08 per word to get your document back in three hours, and $0.11 per word to complete a human review in 30 minutes.
#10. Grammarly offers a 24/7 helpdesk service that's available for registered users. All users can access the knowledge base and ticketing system.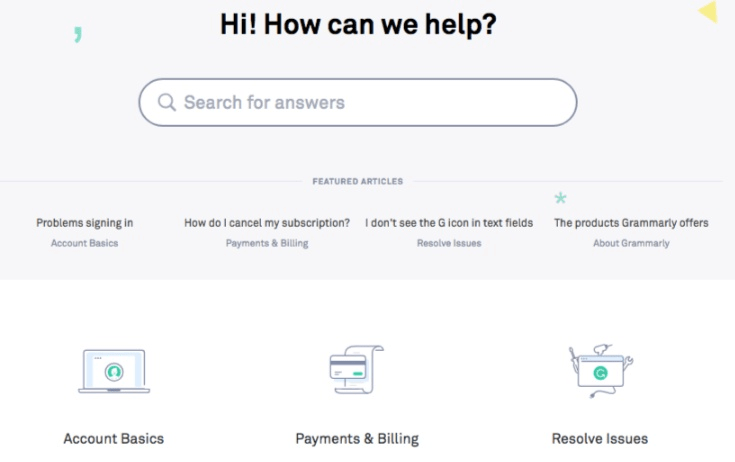 We sent in a customer support ticket to test Grammarly's support quality and speed.
Sending in a request was simple: all the site needs is your email address and a brief description of your problem.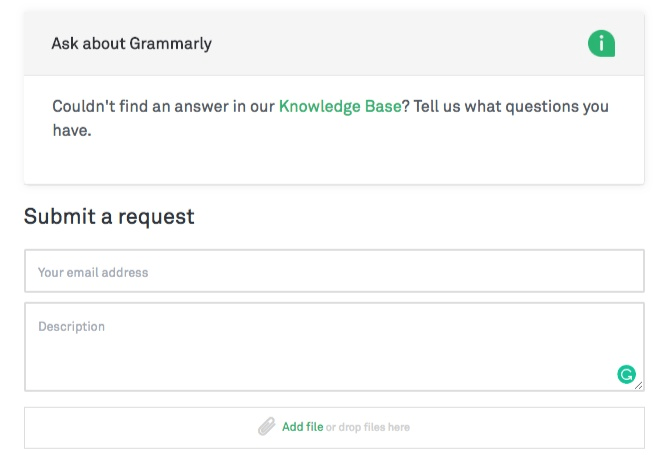 Zach with Grammarly Support responded with a comprehensive answer in about 12 hours.

Now that we've covered what's great about Grammarly, let's talk about the cons of the service.
Grammarly Cons
#1. No grammar checker will offer 100% accuracy. Grammarly is the most accurate one I've reviewed, but there are still a few issues from time to time. For example, in this case, the sentence should have read "your" instead of "you're."

#2. Grammarly does not support multilingual documents, only supporting English.
Grammarly Cost
While some Grammarly features are free, you'll have to pay for access to all of the bells and whistles, like the plagiarism checker.
Monthly, Quarterly and Annual plans are available. Costs are as follows:
Monthly: $29.95 per month
Quarterly: $19.98 per month billed as one payment of $59.95 for three-month access
Annual: $11.66 per month billed as one payment of $139.95 for 12-month access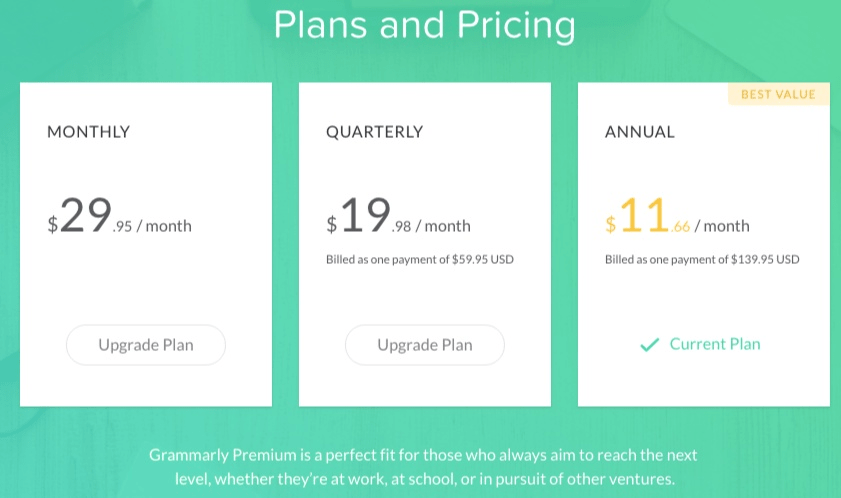 Available payment methods include:
PayPal
Debit card (excluding for Visa Electron debit cards, Mastercard Maestro, and Interac)
Checks, money orders, and phone payments aren't currently accepted.
Do I Recommend Grammarly?
Yes, I recommend Grammarly.
Grammarly is packed full of more features than most grammar tools out there. (Read our full Grammarly review for details on everyone.)
Whether you need a grammar checker for academic, professional, or personal reasons, this one should have you covered.
If you're a blog writer or you own a website, this tool is a great, comprehensive option that can help you take your content to the next level. You can dramatically improve your blog posts' structure and length.
And the paid version is worth it, considering all of the sophisticated, advanced features that you'll have access to.
(That being said, if you need to check grammatical errors in other languages, Grammarly won't be much help. Check out WhiteSmoke below for that.)
Try Grammarly Now or read the full review
2. ProWritingAid: Built-In Writing Tutor
ProWritingAid
ProWritingAid is a fully-fledged writing coach. But it excels at checking grammar. A perfect tool to make your writing style smooth. Improve your grammar rules with ProWritingAid.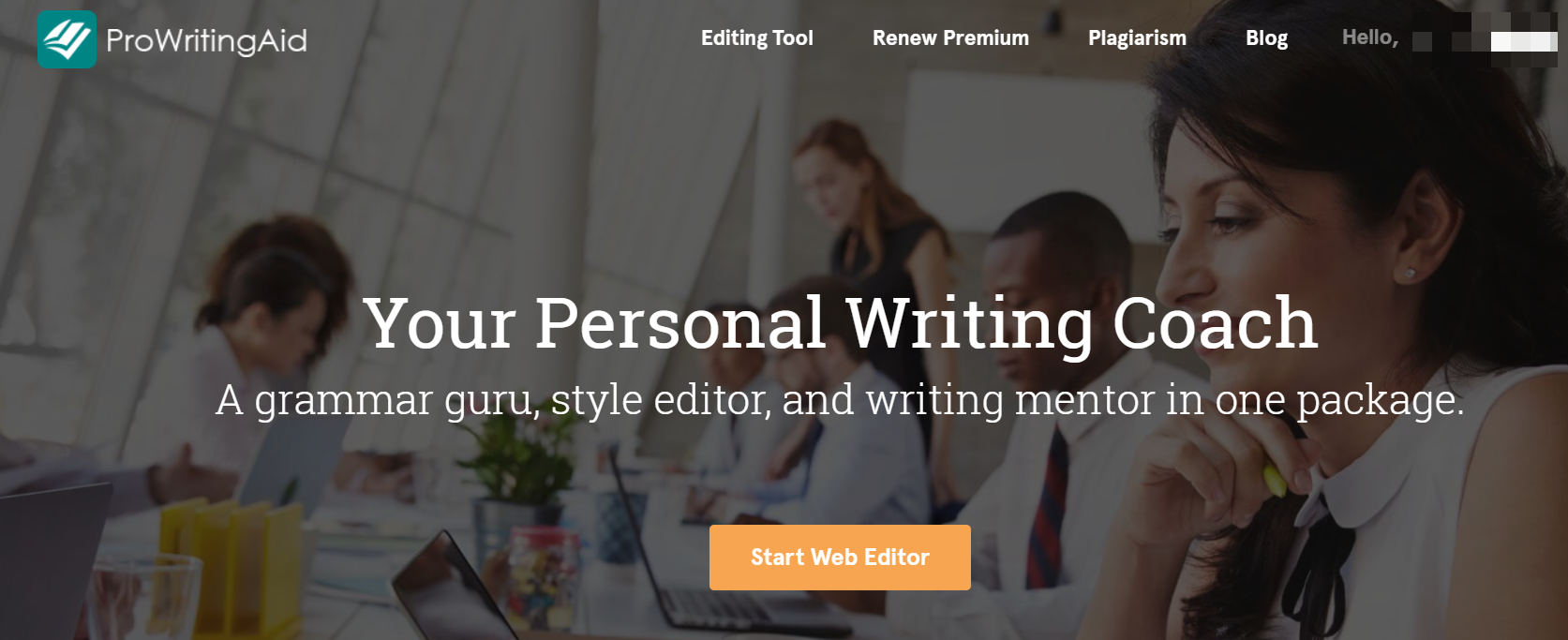 Here are the top things I loved about it.
ProWritingAid Pros
#1. ProWritingAid integrates with almost every device you'd want.
The web-based editor is awesome. They have desktop apps for both Windows and Macs. Plus, they have free browser extensions for Chrome, Safari, and FireFox. I tested the Chrome extension and it was extremely easy to use.

If that's not all, ProWritingAid also connects with the entire Microsoft Office suite (including Outlook), Open Office, Google Docs, and even Scrivener! (This last option is one of the most popular screenwriting apps on the market.)
#2. A Premium version license will allow you to connect all the devices you own. In comparison, Grammarly only provides 5 for paid customers.
#3. However, what's even better, is that ProWritingAid Premium version doesn't have any limitations or word count restrictions. So you can literally copy and paste the biggest docs you have and there should be no issues.
#4. I tested multiple ProWritingAid apps across different platforms and all of them were extremely easy to use. Just open, copy, and paste. You'll get a complete report a few seconds later.

The Word version was just as easy to use as the web-based one.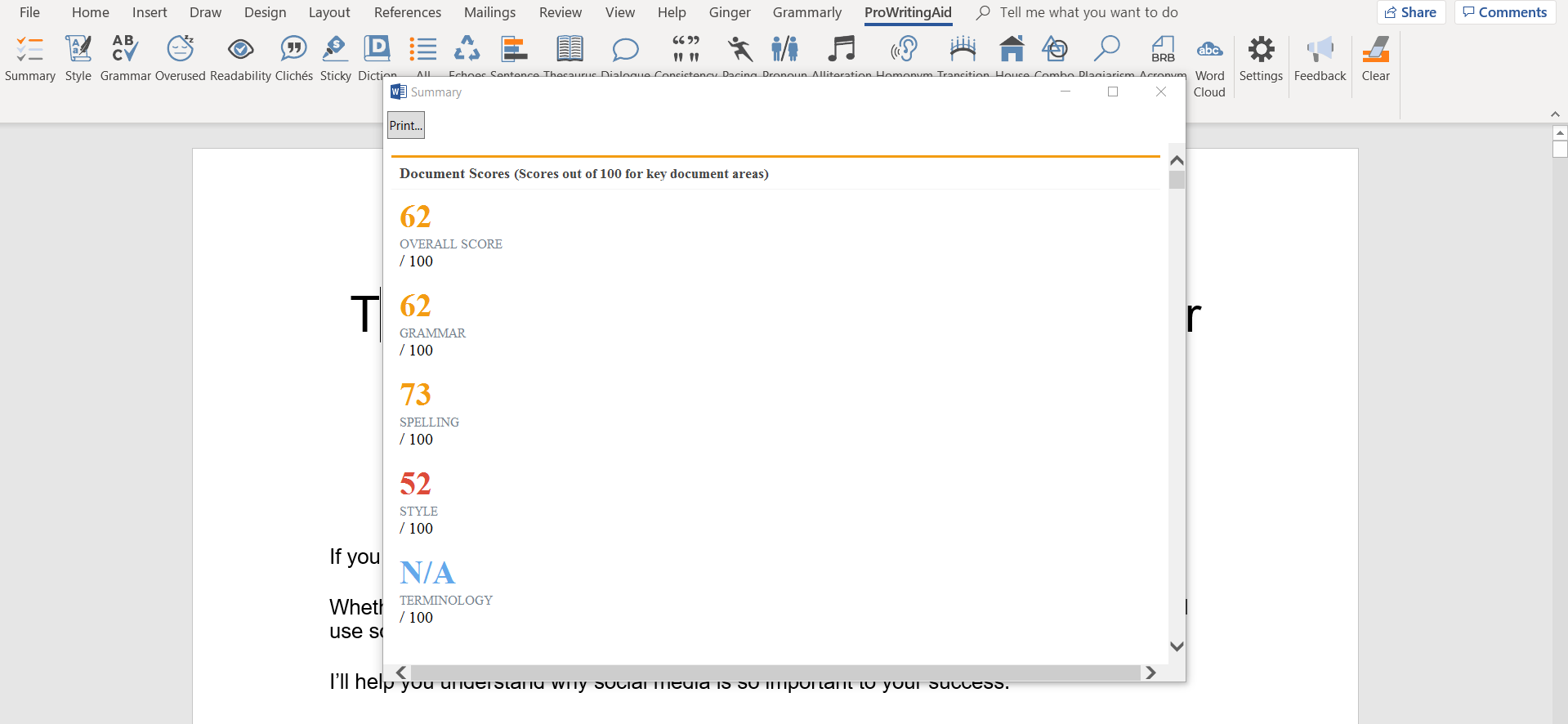 Speaking of reports…
#5. ProWritingAid might have the best reporting I've seen.
First, the grammar corrector is super accurate. If flagged pretty much every common grammar mistake in my test document, rivaling only Grammarly in accuracy.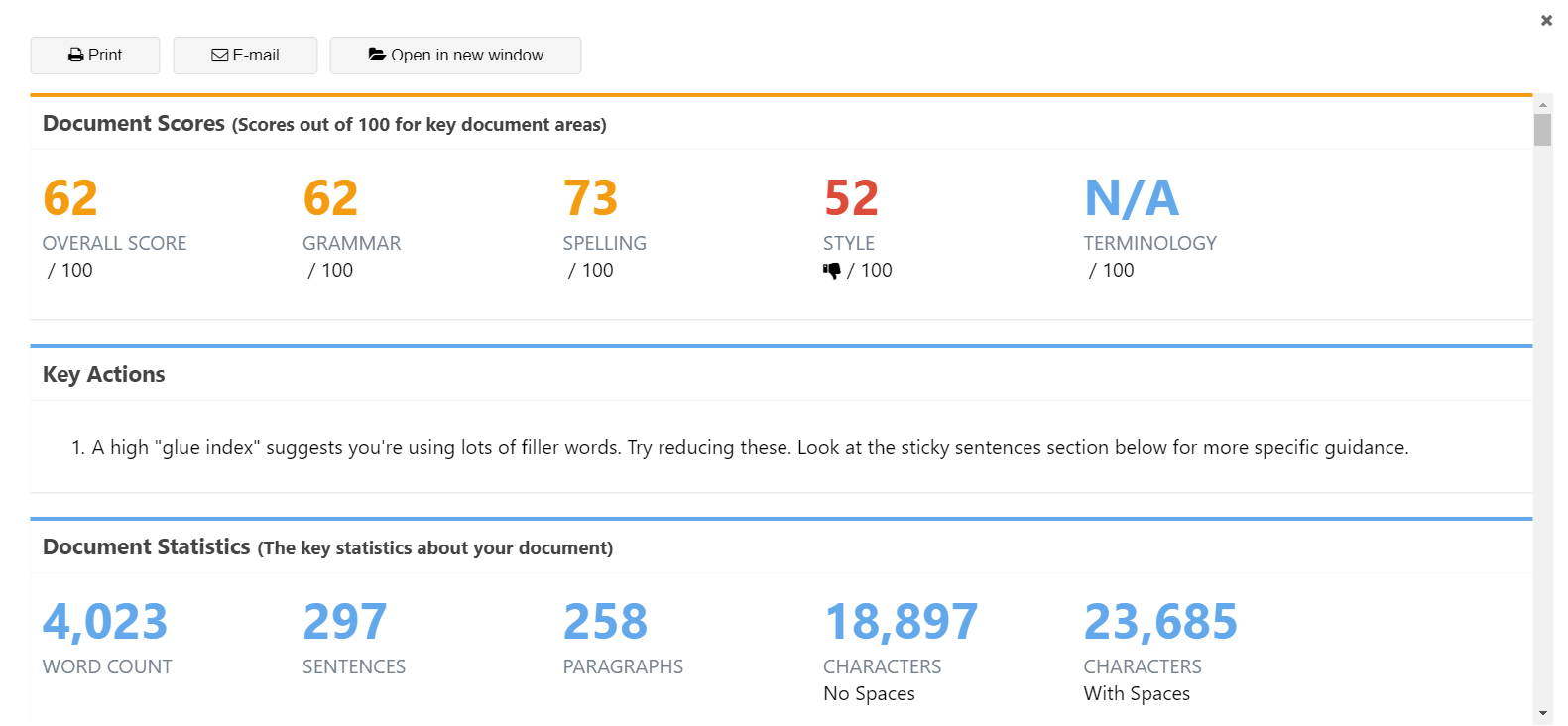 But I didn't just get a spell checker.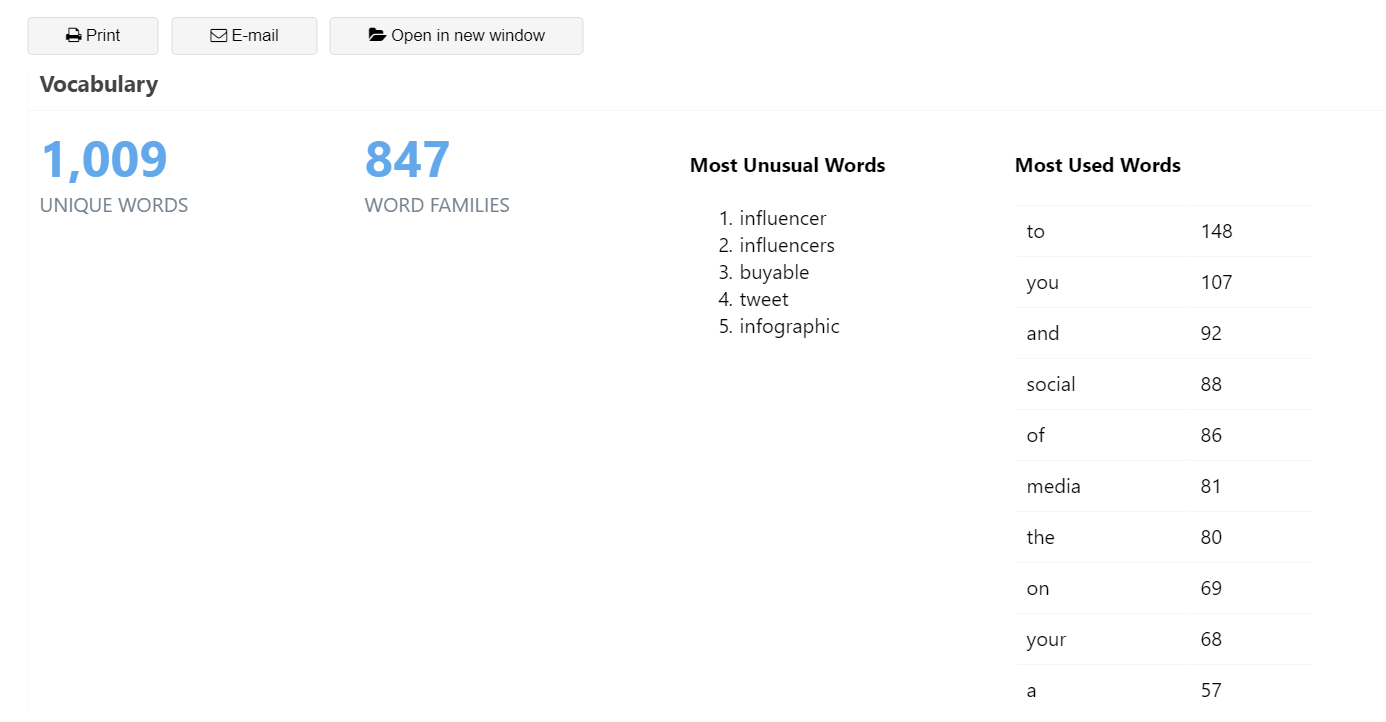 ProWritingAid gives a complete vocabulary report to help you become a better writer, spotting all of those overused and redundant words.
It also provides a reading comprehension analysis (Flesh-Kincaid) to help you write with more clarity.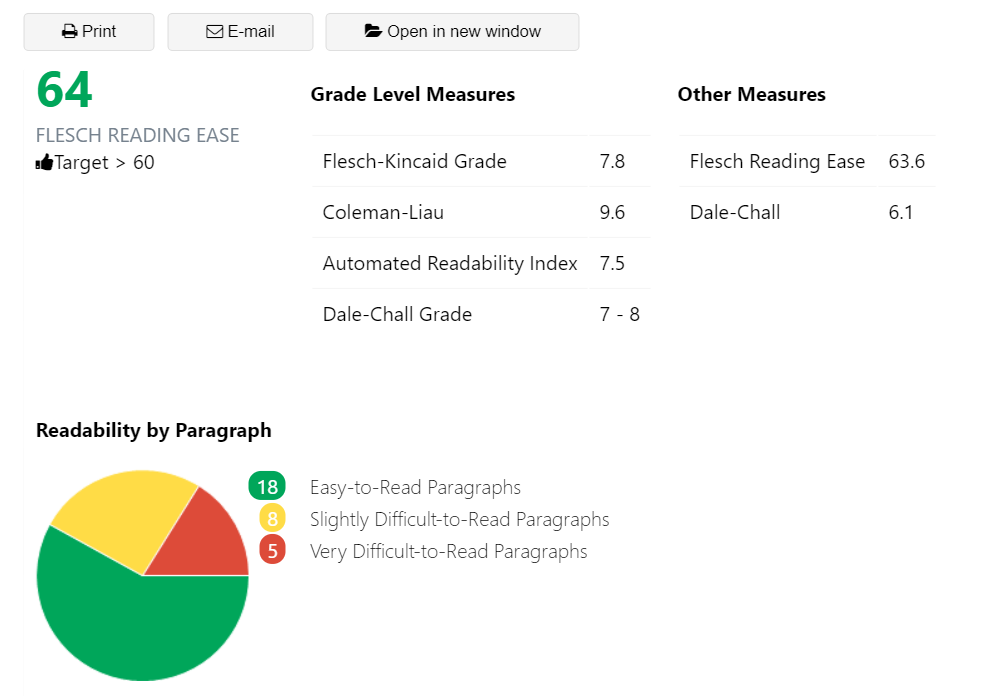 Last but not least, they also have a writing style report that highlights all those bad habits, like passive voice.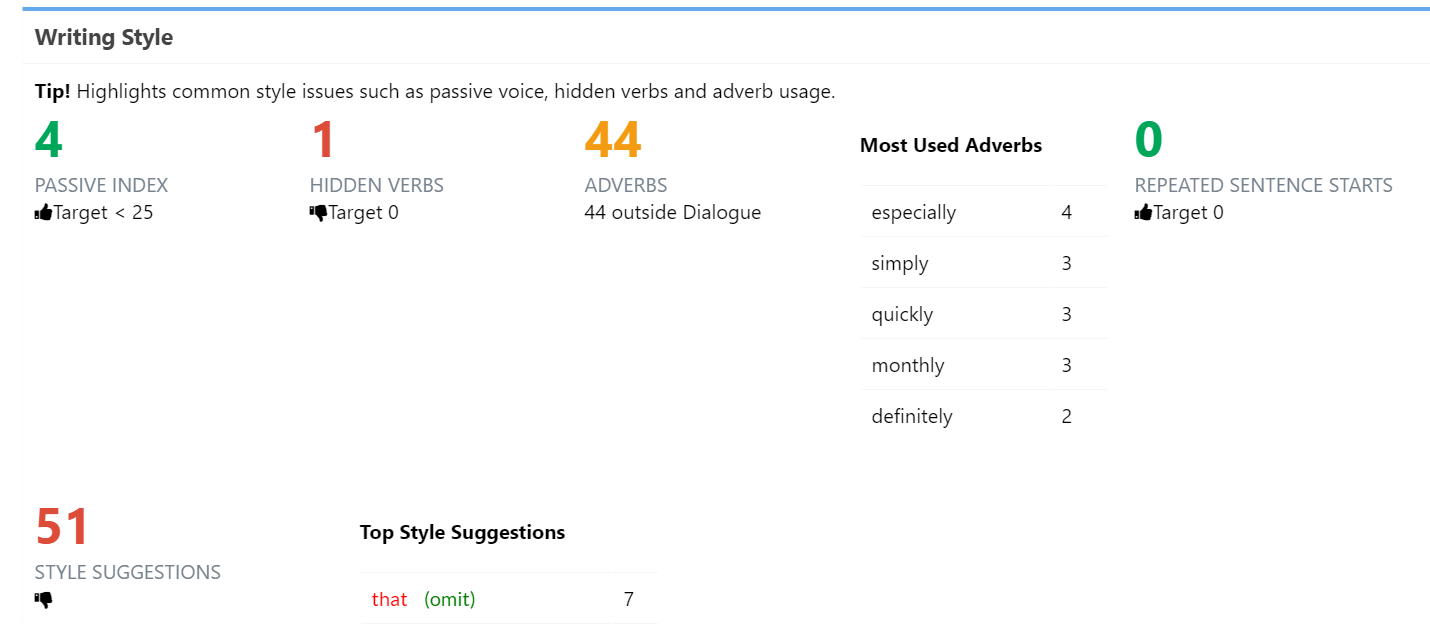 ProWritingAid Cons
#1. Unfortunately, the free version of ProWritingAid limits a lot of these beautiful advanced features highlighted above. You only get 19 reports and 500 words at a time. So you'll probably want to just upgrade ASAP. (The good news is that paid plans are super cheap.)
#2. ProWritingAid is only compatible with the English language. English variations from the U.K., Australia, and Canada are included. But no other multilingual options are available at this time.
#3. There are also no mobile apps at this time. You can use the web-based on your mobile device, but that requires a few extra steps of logging in and copy/pasting content back and forth.
#4. ProWritingAid does offer a plagiarism checker in a separate plan (Premium Plus vs. just Premium). However, I had some issues testing it. For example, it reported a score of 0% plagiarism on a document that other plagiarism checkers reported ~85% plagiarized. So it's either buggy or glitchy, either is not great.

ProWritingAid Costs, Plans, & Payment Options
ProWritingAid is the most affordable (good) grammar checker that I've reviewed. You can pick up an annual deal for only $50.

The Premium Plus version for plagiarism is a little more expensive, but based on my issues, I'd recommend skipping it here.
I was also able to find a coupon that brought down the cost to only $36.00 for a year.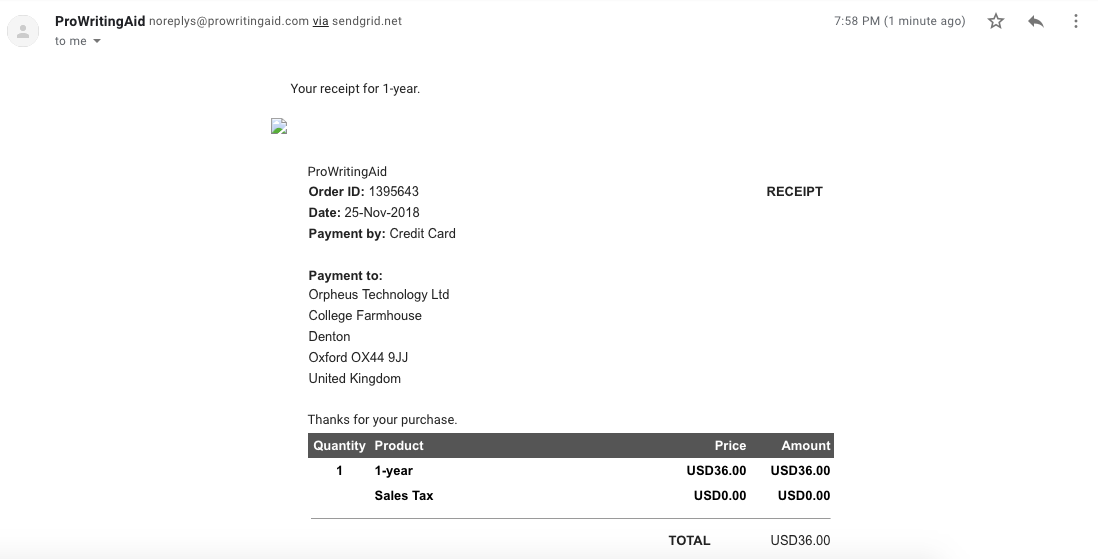 Do I Recommend ProWritingAid?
I wholeheartedly recommend ProWritingAid's grammar checker.
It's very thorough, accurate, and easy to use. You can install it on almost every device you own (minus mobile).
And you literally can't beat the price.
Try ProWritingAid Now or read our full review
3. Writer
Writer is an AI-driven copyeditor that's specifically designed to help companies keep communications consistent no matter who is writing.
It's a grammar checker, but it's also a lot more than that.
Writer Pros
#1. What sets Writer apart from every other grammar checker is the ability to set your own styleguide rules. You can tell it what style and tone you use, do's and don'ts, common acronyms, gendered language preferences, formality, and a ton of other things.
#2. Writer also evaluates every piece of written content for clarity and ease of understanding. It will flag overly complex sentences and give you specific suggestions for how to improve them.
The app will then offer suggestions and corrections in real-time based on the rules specified in your styleguide. This real-time feedback ensures that no matter who is writing, it's always in line with your brand guidelines.
#3. Writer checks your communications for grammar and spelling, but it also analyzes it based on a number of other important factors, such as delivery, inclusivity, and compliance.
#4. Plagiarism (intentional or otherwise) can be a big issue for companies, creating legal issues and embarrassing situations. Writer ensures your content is totally original and plagiarism-free.
#5. Writer has a Chrome extension, Google docs add-on, and Microsoft Word plugin. Whether you're writing online or offline, you can ensure that you're always in compliance with company guidelines.
Writer Cons
#1. If you use Firefox, Safari, or any other browser other than Chrome, you can't utilize Writer. The same goes for offline document editors other than Word, like Pages, Open Office, etc.
#2. While they do offer a free trial, there is no free version of the app. It's a paid-only tool.
#3. Writer only supports English at the moment. If you need to write in other languages, this probably isn't the best choice for you.
Writer Costs
Writer starts at $11/month per user. If you want to use Writer across your entire company, they offer custom enterprise pricing.
Do I Recommend Writer?
Yes, especially for companies. While it certainly would work fine for an individual, what really makes it shine is the ability to keep everyone in line with the company style guide.
And although you have to pay for it, it's pretty inexpensive compared to other grammar checkers while still offering significant features and benefits.
4. WhiteSmoke: Best Multilingual Grammar Checker (55 Languages)
WhiteSmoke
WhiteSmoke is a comprehensive writing tool that you can use on pretty much every device in your house. I purchased an annual license in November 2018. Here's all of the good and bad that I found. Improve your sentence structure easily with WhiteSmoke.
WhiteSmoke Pros
#1. WhiteSmoke has a TON of extra writing features, similar to the 'writing tutor' ProWritingAid. That includes everything from checking grammatical errors and proofreading for plagiarism, to video tutorials to help you become a better writer.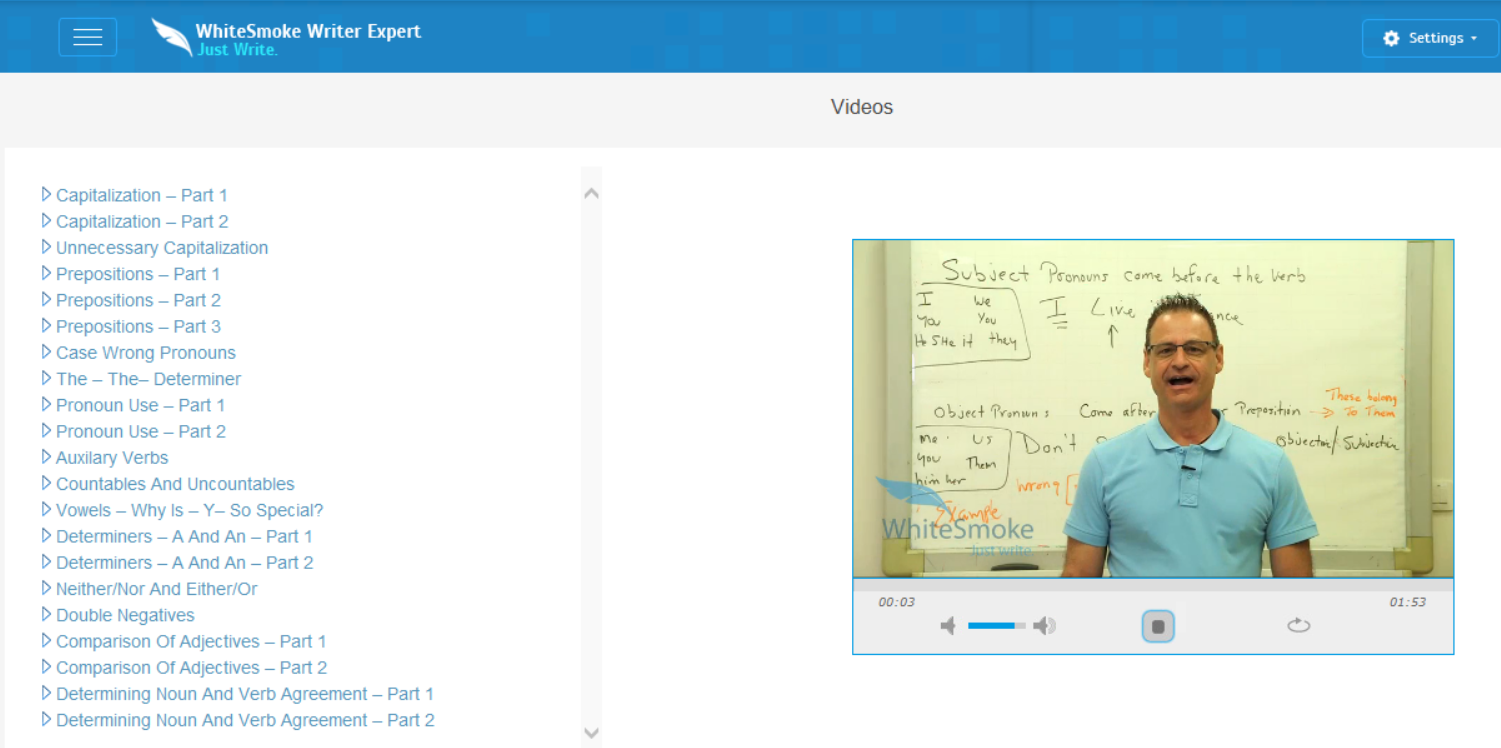 #2. WhiteSmoke is available in 55 languages, perfect for international users or second language students.
#3. They also have easy-install apps available for pretty much every device you own, including a desktop version or an online one to check web-based text. The full installation process only takes a few seconds, so there's no learning curve at all.
#4. I also found that WhiteSmoke is super accurate. I plugged in the same article used to benchmark each tool, and they caught pretty much every grammatical issue and spelling error. I also liked how the 'scoring' system gave style points, too.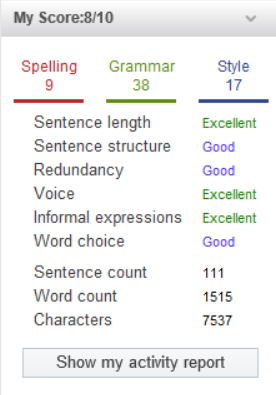 WhiteSmoke Cons
#1. The desktop WhiteSmoke app has some limited restrictions, unfortunately. You can only check up to 10,000 characters at a time. That means if you're trying to review a long piece of content, you might have to break it up into sections. Otherwise, you'll have to log in to the web-based version.
#2. The plagiarism checker is super easy to find on the web app. However, the same can't be said for the desktop free version. You'll have to do a little hunting for it, and it can sometimes be finicky. For example, during my test, it would continually load over and over and over again. Kinda frustrating.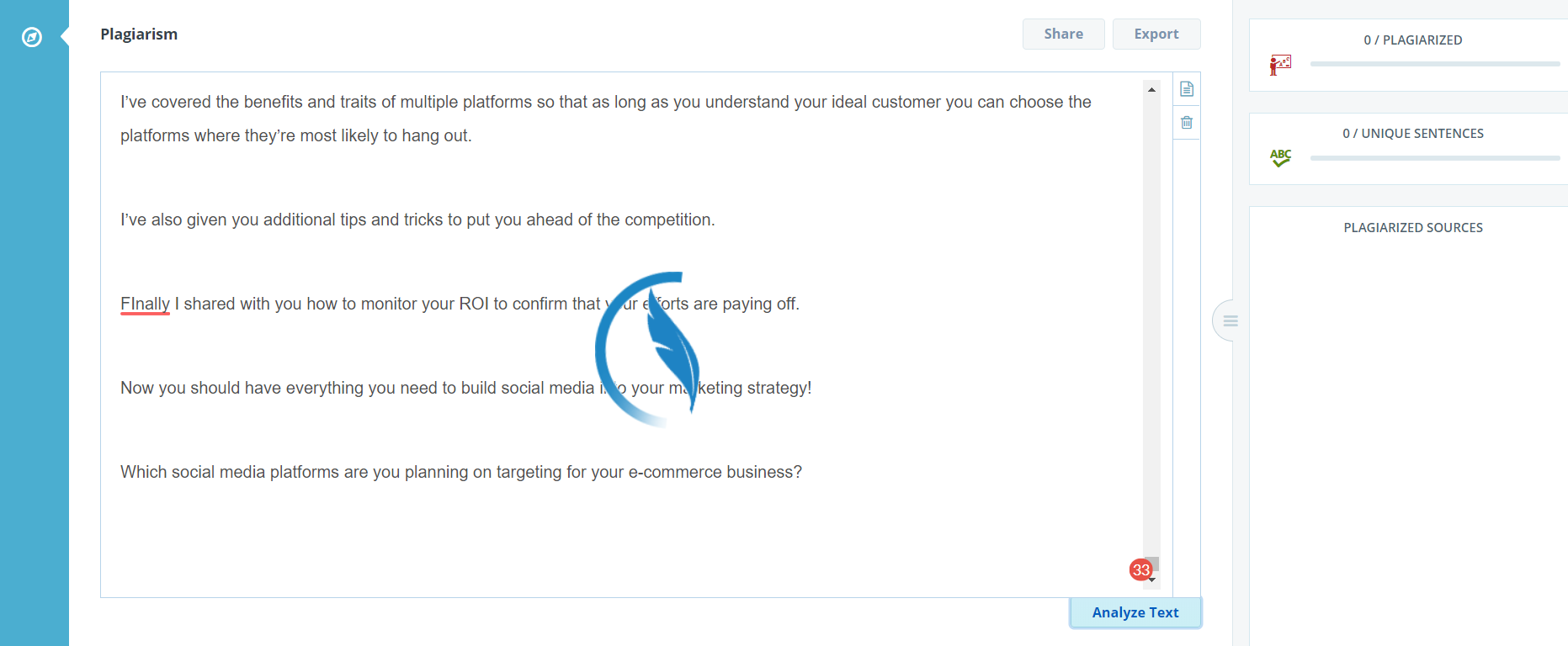 #3. In an ideal world, you would never have to contact customer support. But if you're having an issue (like mine above), you might need a little help. Unfortunately, it took WhiteSmoke's customer support team over 24 hours to get back to me.
#4. Finally, there is no free option like Grammarly or Ginger. This is a paid-only tool.
WhiteSmoke Costs
WhiteSmoke comes out to only $6.59/month if you pay annually. That's a good deal!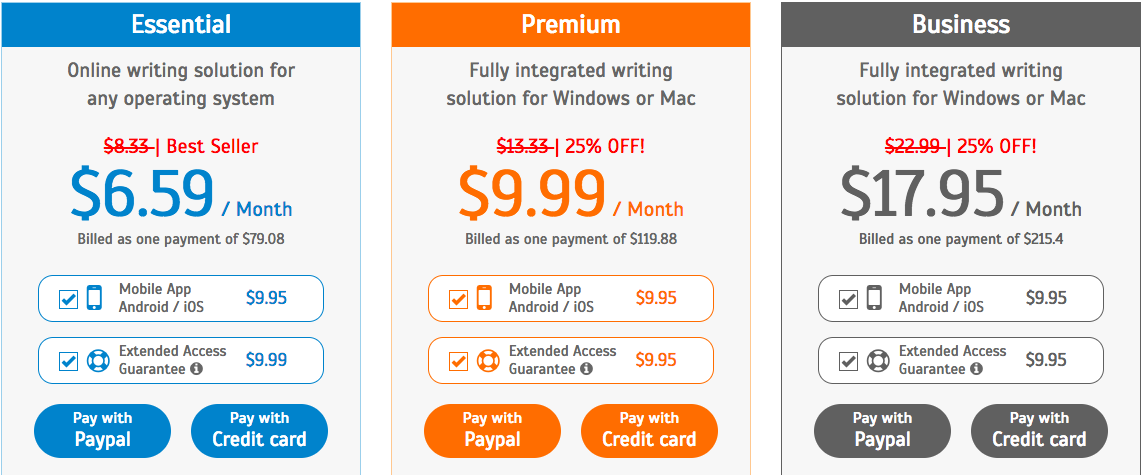 I upgraded to the Premium version ($9.99/month for annual payment) so I could review all of the features and apps.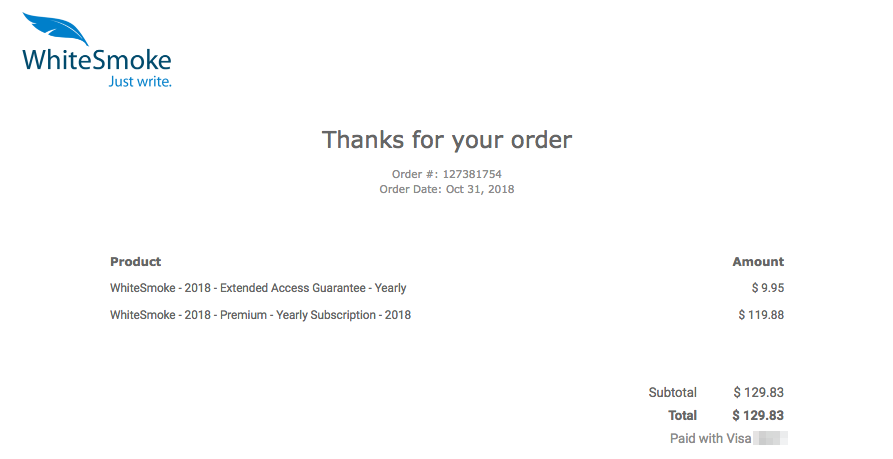 Do I Recommend WhiteSmoke?
Yes, I do recommend WhiteSmoke.
It's not perfect by any stretch, but it's super accurate, available across all devices, and provides a ton of extra features that no other grammar checker has (like writing tutorials).
Although you have to pay for it, you can get a pretty good annual price. It ends up being one of the cheapest (paid) grammar checkers listed here, even though the features are excellent.
Try WhiteSmoke today or read our full review →
5. Ginger: Inexpensive Grammar Corrector
PROS
More than 60 Language Translations
Unlimited Premium Use
Installs on Many Devices
Easy to Install
Easy to Use
Lots of Features
CONS
No Plagiarism Detector
Poor Reporting
Poor Customer Service
Ginger
Ginger is a grammar-only checker that's often considered one of the top Grammarly alternatives.
But can they still deliver the same value-per-dollar without any plagiarism checker?
Ginger Pros
#1. Ginger comes out of the gate strong, offering support for over 60 languages! This makes it one of the best options for international writers and students.
#2. Ginger only allows 14 checks per month on the free plan. But paid users? You get unlimited access! That's awesome because it means you'll never run into limitations when using the product.
#3. There are tons of devices available for Ginger, too. It includes the usual suspects, like desktop and browser apps. And they also support Microsoft Office for Windows users.
#4. Downloading and installing these apps is a breeze. All you have to do is point, click, and get going.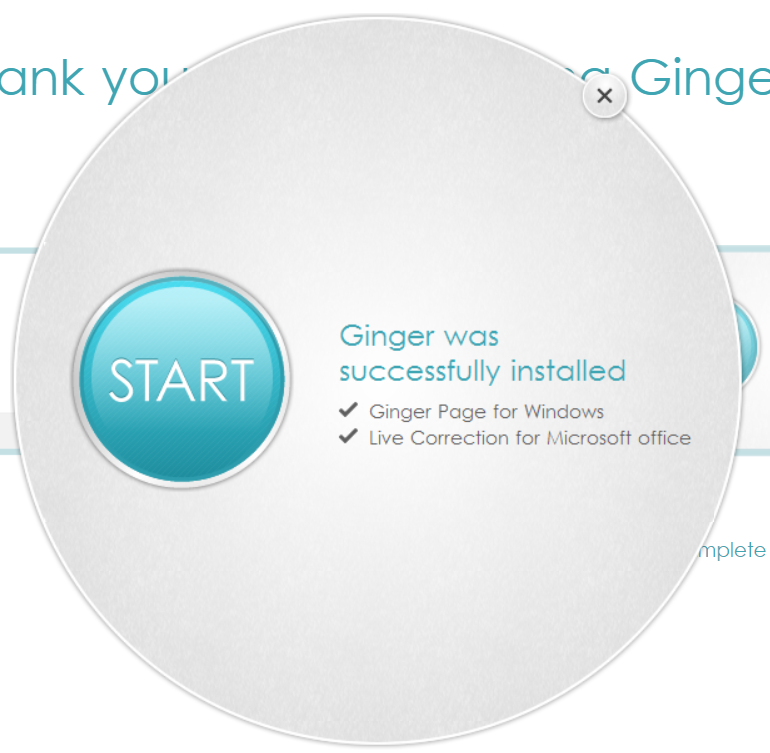 #5. It's also super easy to use, with a huge open space to paste your content, and a simple toolbar on the right-hand side with all of your options clearly labeled. No user manual required.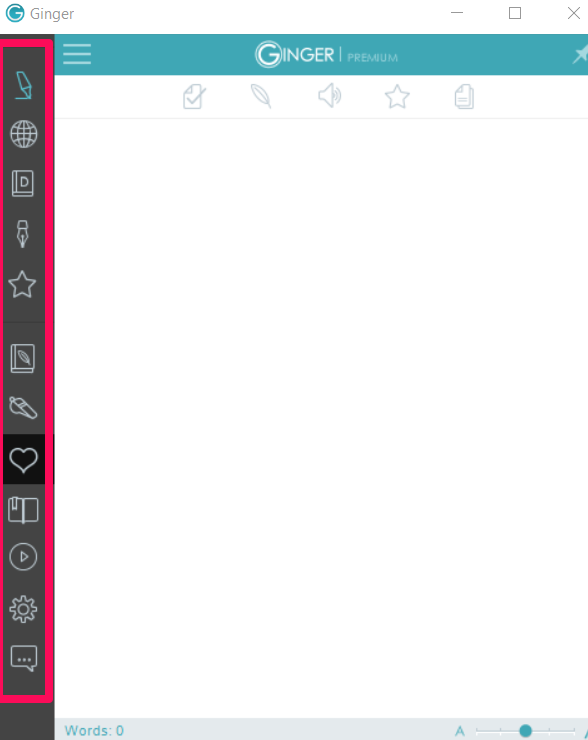 Ginger Cons
#1. The biggest con for Ginger isn't necessarily grammar-related. However, they don't offer any plagiarism checker or support. That's a huge bummer because it means you'll need a completely separate tool to review your docs.
#2. I was also not a big fan of their reporting. (Or, lack thereof.) Where Grammarly and WhiteSmoke provide simple, clean reporting to help you figure out exactly what went wrong, all Ginger does is highlight a few things.

So it's tough to get a high-level, aggregate review, or dive deep into how or why you made a mistake.
#3. I tried reaching out to Ginger's customer service department, but it took well over 24+ hours to get a response. Pretty disappointing.
#4. While Ginger does have a free version, it's pretty limited. The 14-check limit means it's only good for people who need the occasional oversight. Otherwise, the free version probably won't work for professional writers or editors.
Ginger Costs
Ginger's paid plans currently start at $20.97 for month-to-month access, or only $7.69/month if you pay annually.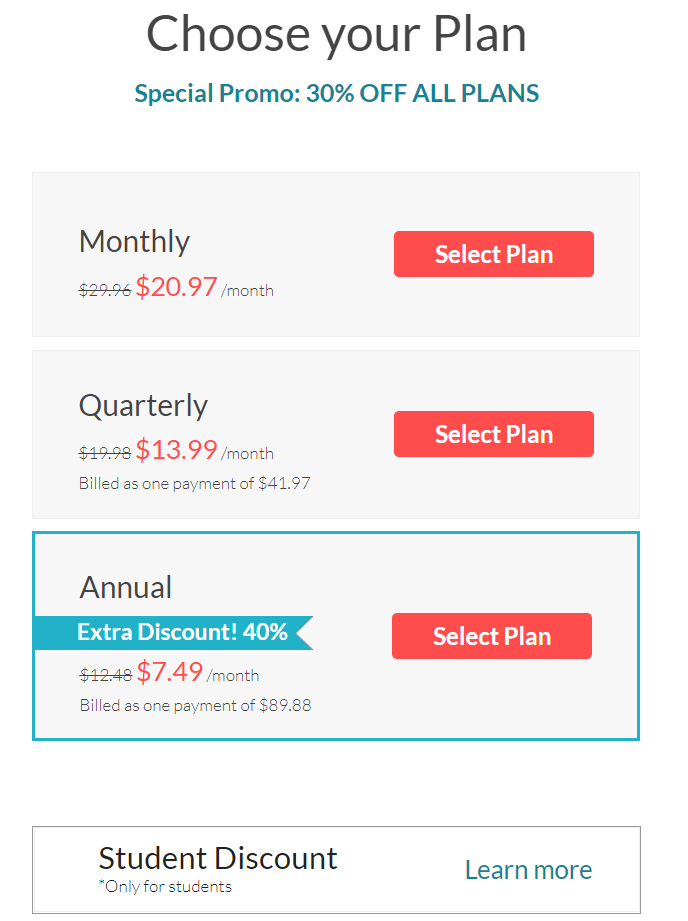 I started with the high monthly option to do this review: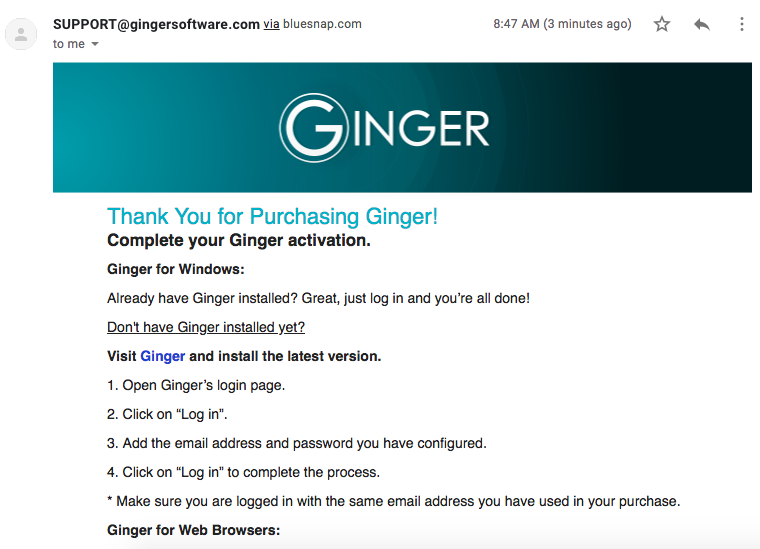 Students, though, can save a couple more bucks on these plans: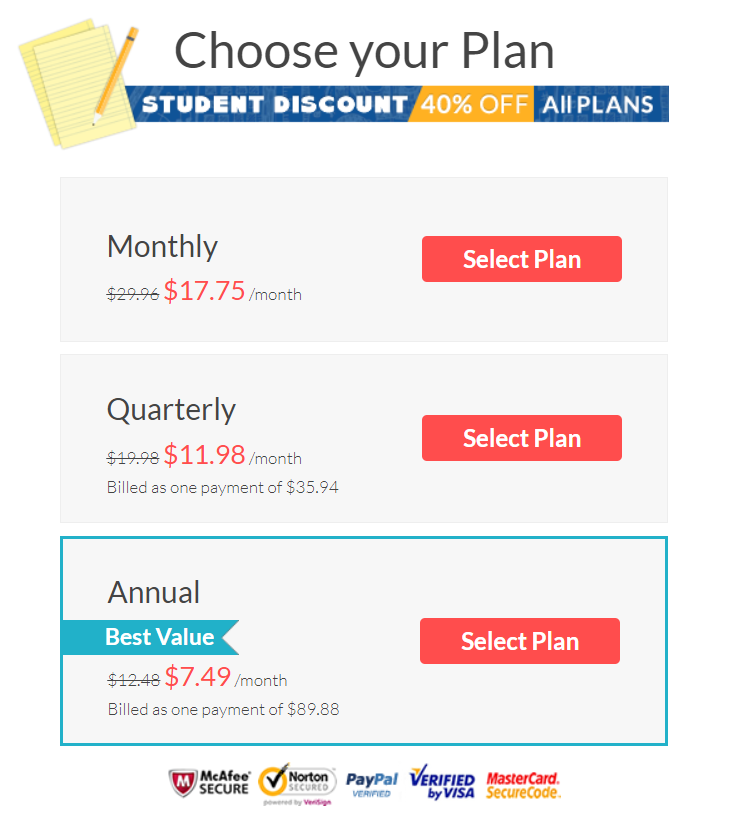 Do I Recommend Ginger?
Yes, depending on what you need.
It was pretty accurate in my tests, and the device availability was great. I also loved the unlimited access for paid plans.
Unfortunately, no plagiarism support is a huge drawback.
The free version is pretty limited, too, so you'll have to upgrade. The only silver lining is that it's a little less expensive than Grammarly.
Try Ginger today or read our full review →
6. Citation Machine
Citation Machine
Citation Machine is considered a 'works cited' generator.
That's fancy language for professional citation slayer. (Or something.)
But they also offer a grammar and plagiarism checker. So let's see how it stacks up.
Citation Machine Pros
#1. Citation Machine is pretty. They'll even give you a step-by-step walkthrough when you first sign up.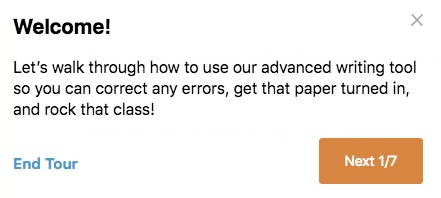 #2. Citation Machine's grammar check is accurate, catching all of my (many) misplaced commas, for example.
#3. I really liked the citation creator integration, to help you catch all sorts of advanced grammar issues. Not only will it correct your actual text, but then it'll seamlessly create a citation for said text that'll get added to your bibliography in the background.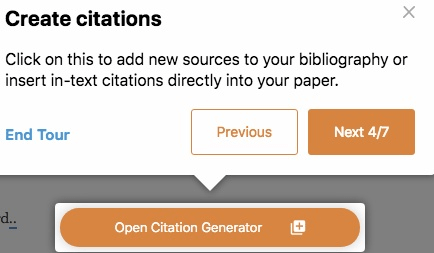 #4. Citation Machine has no issue flagging unnecessary, superfluous words.

#5. Citation Machine does offer a plagiarism checker (hallelujah!). But it is paid.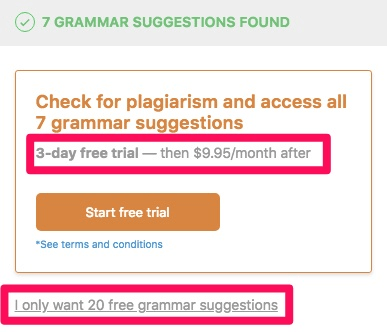 #6. Citation Machine is compliant with major style guides, including APA, MLA, and Chicago Style.
#7. If you'd like to see improvements in grammar, or plagiarism scores across the board, you can easily keep export reports from your account.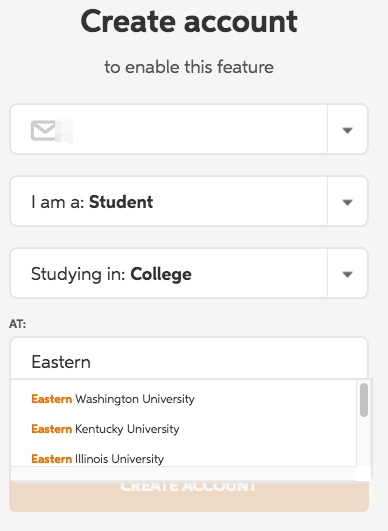 #8. There is no live chat available for Citation Machine. But, they do have a good knowledge base for your viewing pleasure.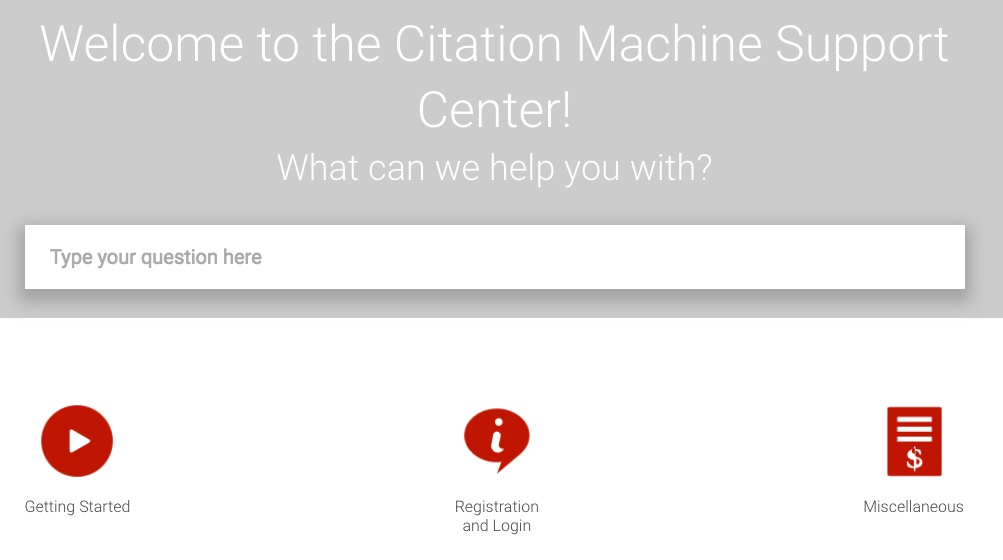 Citation Machine Cons
#1. Unfortunately, Citation Machine's free version is extremely limited. There is no word count limit, but you'll only get 20 suggestions (on any content piece).
#2. I was pleasantly surprised with Citation Machine. The underlying technology is actually pretty good. It's just too bad that they don't extend that functionality to anything other than your web browser.
#3. No human proofreading is available through Citation Machine. Neither is multilingual support.
Citation Machine Cost
A three-day free trial is available with this grammar checker. After that, it is $9.95 per month. It appears that Citation Machine only accepts credit or debit card payments at this time.
Do I Recommend Citation Machine?
Yes and no.
I think it's a great option for students or educators. The built-in citation feature will be a lifesaver for you.
But for everyone else, it seems a little expensive considering the drawbacks and no annual discount (like Grammarly).
Try Citation Machine or read the full review →
7. Scribens
Scribens
Scribens is yet-another-free grammar checker.
Except, this time, they claim to fix over 10X what Microsoft Word picks up.
Scribens Pros
#1. I do like that Scribens makes it easy to spot the most common mistakes you make. It'll also provide a little extra insight into each suggested fix.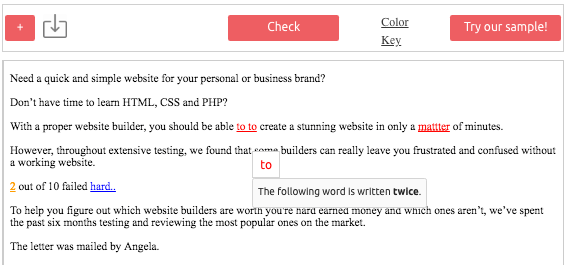 #2. Scribens picks up on subtle mistakes, too. For instance, it caught an incorrect bracket I used in one section.

#3. Although Scribens doesn't officially have a concision feature, it will recommend words to replace that will improve the clarity of each piece you write.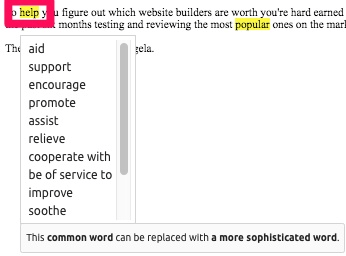 #4. I couldn't find a daily word, symbol, or page limit. No cap to worry about!
#5. Scribens doesn't go into detail on which specific style guides they use. However, they do allow you to select between British English or American English.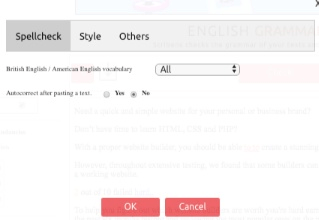 #6. Scribens has TONs of available apps. It'll work with Chrome, Firefox, and Safari browsers. Plus, Windows, Excel, LibreOffice, OpenOffice, Google Docs, and more.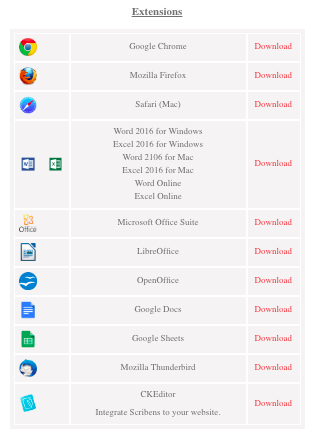 Scribens Cons
#1. Scribens' accuracy was good, but not flawless. They missed a simple "their" during my tests: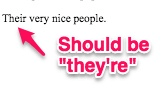 #2. While Scribens covers most of your grammar options, there are unfortunately no plagiarism or reporting options available.
So you're going to need to run all of your work through an additional tool.
#3. Scribens also doesn't offer any human review, or multilingual support.
#4. There is a customer service form on Scribens: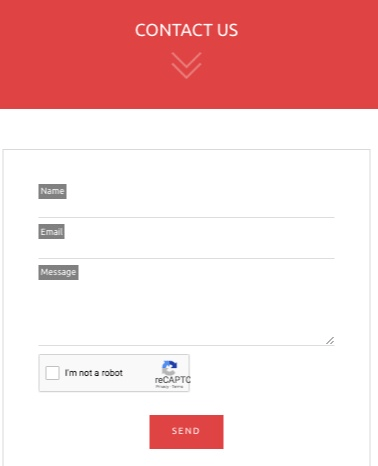 The issue is that I couldn't get the "Send" button to work. I even tried switching devices, without any luck.
Scribens Cost
Scribens is absolutely free.
Do I Recommend Scribens?
Yes and no.
Scribens is pretty bare bones. It does provide strong grammar options.
However, the lack of plagiarism, reporting, and customer service means what you see is what you get.
Grammarly offers all of those things, with a similarly-liberal free plan, so the decision should kinda a no brainer.
Try Scribens now or read the full review →
8. LanguageTool
LanguageTool
LanguageTool is a grammar checker like the others on this list, but with a few interesting twists. Check it out.
LanguageTool Pros
#1. LanguageTool's interface won't let you down, providing a simple color-coded workspace directly on their homepage.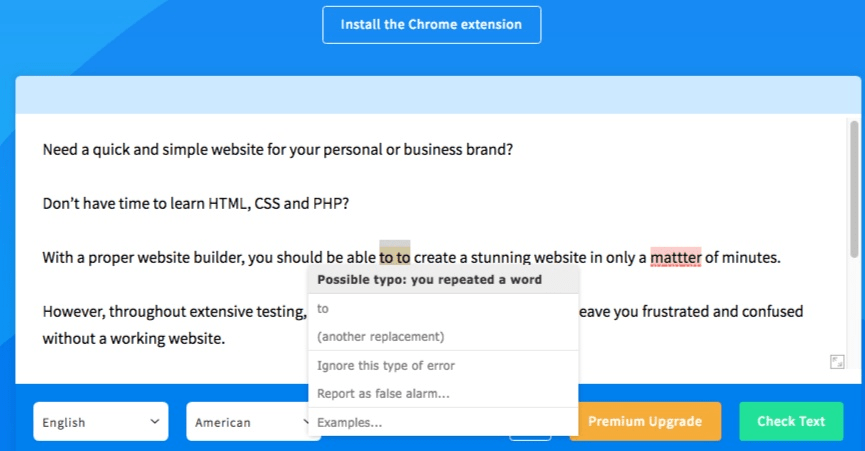 #2. I tried fooling LanguageTool a few times, giving it the same section of content to see if they'd slip up and miss anything. Well, they got the last laugh. They routinely corrected me, catching just about every potential hyphen opportunity imaginable.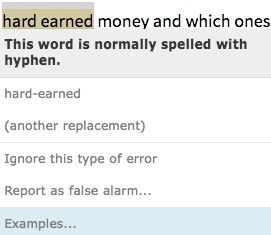 #3. The free LanguageTool plan, meanwhile, allows up to 20,000 characters. That's not as bad as some on this list, but you'll probably hit the cap over the course of a few weeks if you use it religiously.
#4. LanguageTool is available on so many devices. Seriously. It covers most writing apps imaginable, including LibreOffice, Microsoft Word, Firefox, Chrome, and Google Docs. Plus, because it's open-sourced, you can also get a ton of different plugins that will add it to even more.
#5. Finally! LanguageTool does exactly what it sounds like — let you check grammar in many, many different worldwide languages.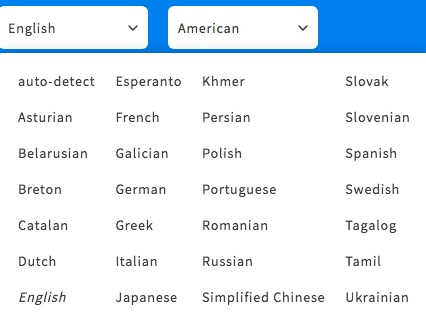 #6. Last but not least, they have a forum for support, where other users will chime in with help or their experience.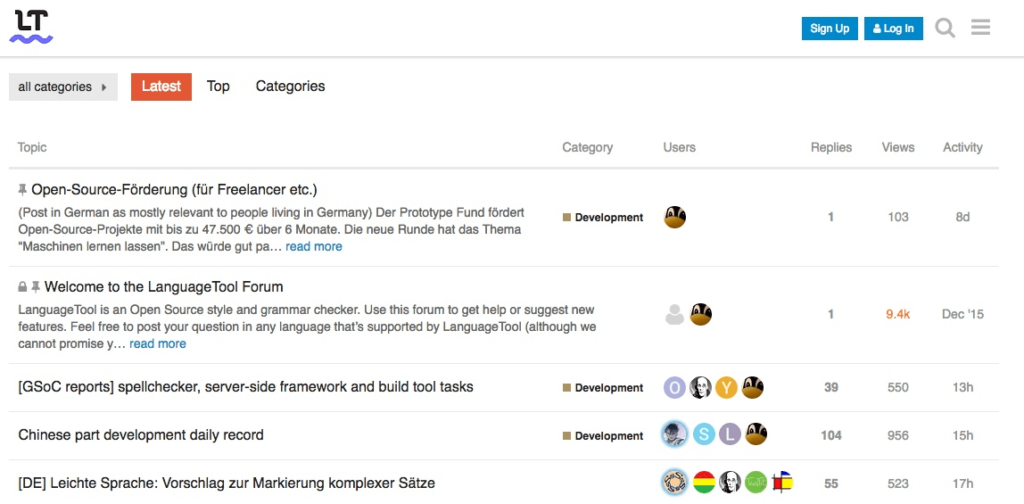 LanguageTool Cons
#1. LanguageTool caught the major grammar issues, but let a lot of little ones through its cracks. For example, it almost didn't catch any of my passive voice examples: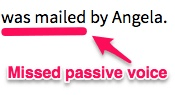 #2. Unfortunately, there is also no plagiarism or reporting support. That's a bummer because it drastically reduces what you can use this tool for and almost forces you to patch several different ones together. No one has time for that!
#3. LanguageTool's accuracy seems legit. Except, it doesn't really tell you which style guides are used. They also don't support any human review through the platform.
#4. While LanguageTool offers a TON of different device options, many are reportedly not supported. So they might be hit or miss.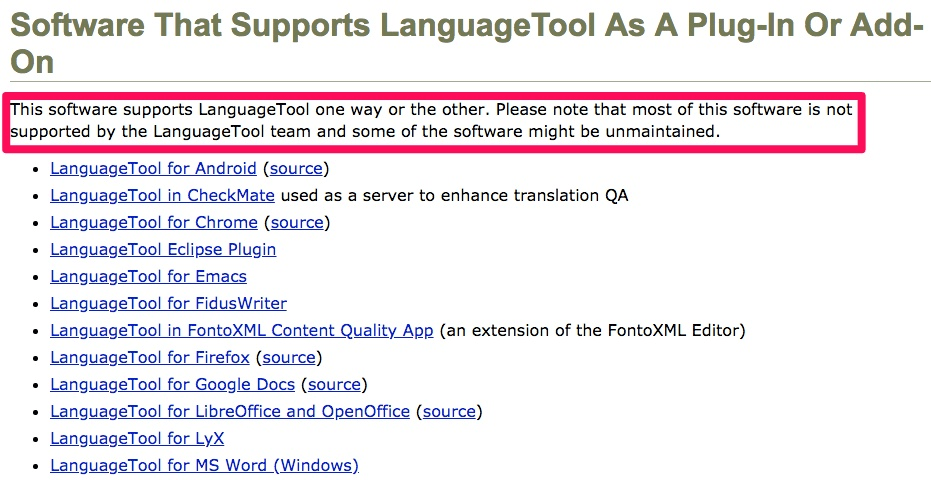 LanguageTool Cost
You can pay monthly, quarterly, or annually for LanguageTool premium version. Here's the breakdown:
Monthly subscription: $19 per month
Three-month subscription: $39 every three months
Yearly subscription: $59 every year
Do I Recommend LanguageTool?
Yes and no.
If you absolutely need multilingual support, look no further! This will be your best tool.
However, if you're looking for a good all-around grammar checker, this one lacks some basic features like plagiarism or reporting.
Try LanguageTool today or read the full review →
9. Reverso
Reverso
Reverso has a grammar checker, even though it's usually best known as a translation tool. Does that hinder its performance at all? Let's find out.
Reverso Pros
#1. Reverso will immediately highlight all improper words or punctuation after dropping in your content and hitting "Check."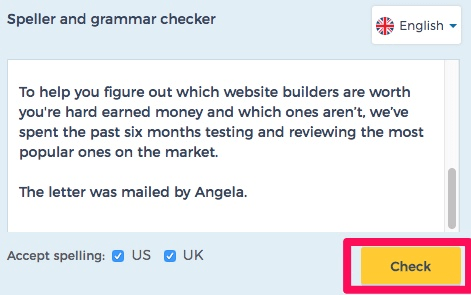 #2. Reverso is also pretty good at catching most basic issues, including punctuation problems or misspellings.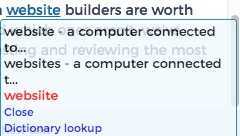 #3. Reverso was also one of the only options here that caught the correct "your" vs. "you're" usage.

#4. Instead of basing their grammar grades off well-known style guides, they're using their own Reverso-Softissimo translation software.
#5. Reverso offers a Chrome Extension to help check everything you write, on every site you visit.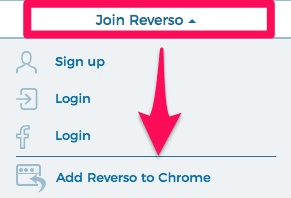 #5. Reverso also offers a multilingual option to help fix your grammar mistakes in several different languages.

Reverso Cons
#1. There's a lot to like about Reverso. But I was blown away by how limited their restrictions were. You can only check up to 600 characters at a time on their free plan! Unfortunately, you can't even upgrade if you wanted to open up more access, either. You're stuck here.

#2. Reverso offers zero support for both plagiarism and concision. Kinda disappointing, to be honest.
#3. You can't have a human review or proofread your information through Reverso.
#4. Customer support comes in the form of a form (ha!).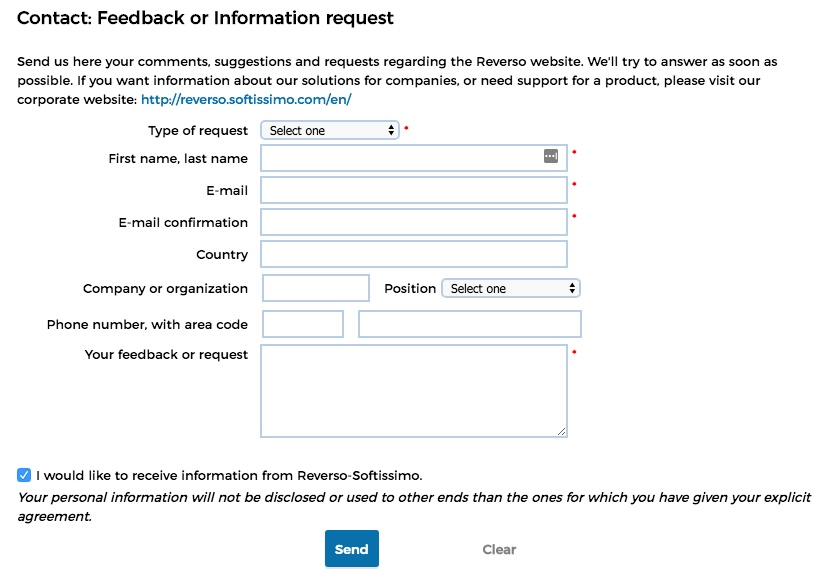 Despite filling everything out, I never heard back. Bummer.
Reverso Cost
Reverso is a free service that uses ads to help pay for everything. You can, and should probably sign up for the free account, though, so you can track your old usage.
Do I Recommend Reverso?
Yes and no. Here is what I like and dislike about this tool:
I liked a lot about Reverso. The accuracy was good, and the multilingual options were great.
Unfortunately, the severe restricted 600-character limit means this tool is only good for short sections of content.
Realistically, it's probably going to be too limited for most people.
Try Reverso today or read the full review →
10. GrammarCheck
GrammarCheck
GrammarCheck sounds like a new grammar check option.
But once you dig below the surface, you'll quickly realize it's not. It's a unique site, masquerading as a Grammarly clone, relying on their technology to power it.
GrammarCheck Pros
#1. Paste your info into GrammarCheck, and it'll quickly return your results.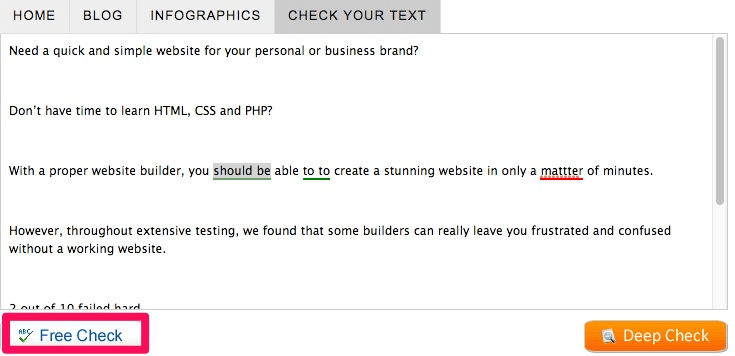 #2. Because GrammarCheck leverages Grammarly's software, you'll get access to the same best-in-class sophistication.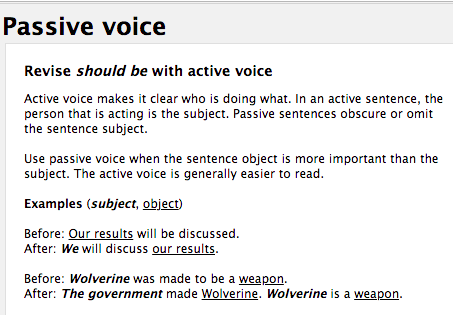 #3. Once again, you also benefit from GrammarCheck's, err, Grammarly's higher-than-normal restrictions for word count.
GrammarCheck Cons
Accuracy is Off
#1. We still saw some of the same inconsistencies with GrammarCheck, where "your" vs. "you're" still threw it for a loop.

#2. GrammarCheck is able to coast off of Grammarly's coattails so far. But here's where things start to fall off the rails.
GrammarCheck is unable to measure both conciseness and plagiarism. So you're missing out on some key features.
#3. You're also missing out on any potential human proofreading, too.
#4. GrammarCheck only has a web browser extension. There is no Chrome extension, app, or plugin of any kind.
#5. GrammarCheck does not offer any multilingual support.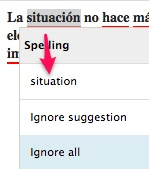 #6. There are no customer service options, either. You don't get the usual knowledge base content. And the content form is currently closed, meaning you can't even get in touch with them if you tried.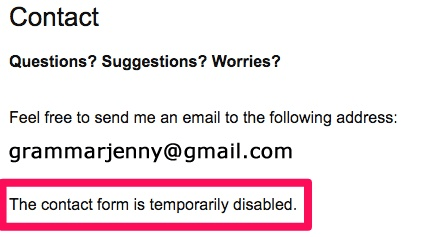 GrammarCheck Cost
GrammarCheck is mostly free. They do have a "Deep Check" option, but it's pretty misleading. Instead of actually doing anything, it's just going to redirect you straight to the Grammarly Premium version.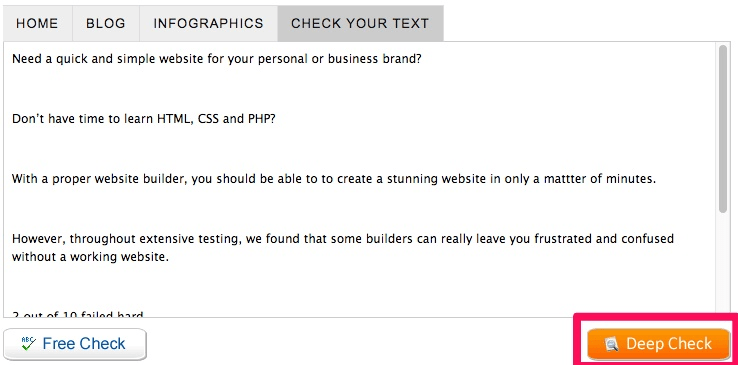 Do I Recommend GrammarCheck?
No, I don't.
This grammar checker is pretty misleading, if we're being honest. They're not doing anything original, relying 100% on Grammarly's free option.
You're better off just bypassing this and going straight to the source.
Try GrammarCheck now or read the full review →
11. Grammarix
Grammarix
Grammarix prides itself on being a complete-free grammar tool. They even go so far as to boast that they "won't attach a premium version price tag" to their app.
But, is that a good thing? Do you want to save a few bucks, or do you want something that works properly?
Let's find out.
Grammarix Pros
#1. The Grammarix interface is extremely simple. Paste the content, and you're good to go.

Uh oh. Unfortunately, that's all I have under the Pros column for Grammarix.
Here's why.
Grammarix Cons
#1. 'Free' is good. But not when it jeopardizes accuracy or sophistication. And unfortunately, that's exactly what happens with Grammarix.
In my tests, it missed both double punctuation issues and passive voice. (Stuff that Grammarly, despite it faults, easily caught each time.)

#2. Grammarix also badly misses concision, helping you to write with more clarity. This means, at best, you'll need to run your content multiple tools.
#3. Technically speaking, Grammarix does have a plagiarism checker. However, if my tests are anything to go off of, it's not very good.
I literally used a plagiarized copy of The Great Gatsby, and it came out completely clean. Huh?!

#4. Grammarix only allows you to check up to 2,000 symbols at a time. That's super disappointing, considering 2,000 words is the average length for most of my content. That means you'd potentially have to run multiple checks on the same piece!
#5. Grammarly transparently tells you which databases they're using to check your content. Grammarix, on the other hand, does not. You have no idea.
Plus, there's also no reporting options, either. So you're unable to get feedback on different pieces it checks.
#6. Grammarix is only available through a web browser. No other plugins, extensions, or apps available.
#7. No human proofreading or review options are available.
#8. No multilingual support, either. It's trying to change Spanish to English!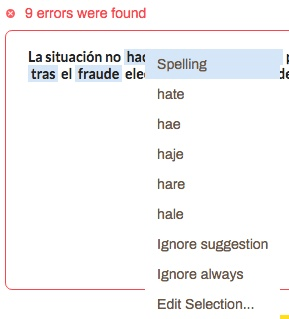 #9. Grammarix does have a contact form available. But don't expect to see anything from it. I fired off a message, received the standard confirmation reply, and have yet to receive a real response from the company (after over five days and counting).
Grammarix Cost
Grammarix is free, with no paid plans.
Do I Recommend Grammarix?
No, I do not.
'Free' can only get you so far. I'd MUCH rather pay a few bucks than miss out on accuracy, plagiarism, and even customer support.
Try Grammarix now or read the full review →
Additional Grammar Checker Reviews Outside the Top 11
Additional Notes and Features
Now that we've bombarded you with several types of proofreading software, we want to provide more details about grammar checkers, in general, so you know how to choose one easier.
What do the best grammar checkers have in common?
The best grammar checkers we've researched across the web share a few features that have become sort of a baseline to consider them usable.
These features include checking all grammar errors, primarily focusing on punctuation and spelling.
While some grammar checkers don't have the tools required to fix sentences with stylistic errors and word choices, they should have the resources to detect misspellings and provide guides on how to use punctuation correctly.
What features on grammar checkers can be customized?
While most people might be happy with the baseline features, there is a degree of customization available to some grammar checkers that you should know about.
For example, Grammarly offers an audience goal selector that allows you to customize its rule rigidity according to the intended reader of your work.
Students, academics, and working professionals will have different standards for what they consider an acceptable style, and Grammarly will ensure that articles obey the target audience best.
Another frequently customizable feature is dictionary enhancement. This is especially useful for fiction writers, and most grammar apps will include the ability to add words to their usable dictionary for your premium account. This will help reduce the number of apparent errors when you use words that are less common, or made up, to suit your writing better.
Can a grammar checker replace a human proofreader?
While the most popular grammar checker apps are powerful, they are not without their limits. They have extensive libraries to check spelling errors, but an occasional mistake can still pass through undetected.
Professional human proofreaders have more training and a keen eye to spot what apps can't. Students will usually be able to make do without one, using only a spell check to get their article through. Professionals, however, will require a proofreader to ensure zero mistakes.
Editors, especially developmental editors, are similarly indispensable and probably won't be replaced by programs for a long time.
Why should you use a grammar checker?
It's considered proper practice for most professions that your communication and writing skills need to be at your best.
A grammar checker app can save some time by going through what you write and suggesting appropriate replacements, so there is more chance to improve the content as you go along.
Furthermore, most grammar checkers will include a brief overview of common mistakes and steps on how to gradually correct them in your writing. The more you use a spell checker, the more your writing will improve with time.
What types of writing is a grammar checker good for?
Not all types of writing suit an online grammar checker. English grammar is particularly nefarious to get a grip on completely, and grammar checkers are more fallible than trained human eyes are at spotting mistakes.
That said, a good grammar checker will help most people who need to write for their school work, hobby, or profession. With some practice, most writers will see results when using an automated tool to catch minor mistakes, which allows them to focus on the big picture.
What kinds of errors does Grammarly detect and correct?
Grammarly has by far one of the most comprehensive and inclusive libraries for errors and writing styles among all available software options.
Its most notable features include:
Punctuation checker for missing commas and periods
Grammar checker for misspellings
Detecting an overuse of particular words or phrases
Passive voice detection
Word order and type correction, such as subject-object agreements and adverb placements
Style detector, with a focus on simplifying writing to fit the general audience better
With Grammarly, the articles you write will flow better, have a more active vocabulary (if you choose to remove passive voice, which can be optional for some types of writing), and have an expanded word base to use and keep the audience in the know.
Conclusion
Most grammar checkers are either free or cheap. But there are tons out there to choose from. So how can you decide which one(s) are right for you?
If you're looking for an easy-to-use, all-around option, look no further than Grammarly.
ProWritingAid and WhiteSmoke are your best alternatives, providing style corrections like a writing tutor would make your life simpler.
Writer is a great grammar checker app for companies willing to invest in their brand message. It has all the features a startup needs to deliver the best results, and large businesses will find the features more than enough to suit their needs.
Avoid GrammarCheck and Grammarix. GrammarCheck seems to be a site built from embedded Grammarly software. Skip the middleman and use Grammarly (or another tool) instead.
Grammarix has too many cons to make it a real competitor in the grammar checking space.
That said, if you are on the market for an app that allows you to export from Google Docs to WordPress in 1-click, then we recommend checking out Wordable. It will not only clean and properly format your HTML, but also compress images, open links in a new tab, automatically set featured images, or create a table of contents, and lots more.
If you just need a basic, Plain Jane checker for everyday use, opt for Scribens. It's free, so you aren't risking anything to try it out.
Citation Machine is best for students and educators. If you need to analyze your latest paper or get some assistance grading students' writing, try this tool.
If you're looking for a multilanguage grammar checker, LanguageTool or Reverso are wonderful services.
LanguageTool is compatible with more languages than Reverso and has fairly high limitations. Reverso is great for checking small bits of text, like emails.
If you prefer to use a separate plagiarism checker with one of these grammar checkers, consider checking out our favorite plagiarism checking software.
Now that you know which of these grammar checkers is the best one for you based on your needs, what are you waiting for? Try it out and boost your writing now.