Active vs. passive voice is a confusing topic.
It sounds subtle. But just like the experts from our MasterClass review can attest, it's the details that make all the difference!
A lot of people will argue about the difference, while others think it's just a waste of time to worry about.
However, it's important to know that using passive voice makes your writing sound weaker, less confident, and less clear. It's one of the most common grammatical mistakes.
Thankfully, technology is making the mystery easy to understand. Grammar-checking tools can easily spot passive voice issues and help you edit them out of your content. Our content marketing agency produces over 300+ articles/month, so we use these tools on a daily basis.
Let's look at what passive voice is, and how to replace passive voice with an active voice, and some of the best tools that can help you eradicate it.
Disclosure: These reviews are reader-supported. We might earn a small commission if you purchase something through our site. Learn more
Grammarly
Best All-Around
$11.66
/mo – before discount
PROS
86% out of 86% accuracy
16+ bilion database
150k word limit
5 devlice limit
Includes plagiarism
1 hour response
CONS
Only English
More expensive ($11.66/mo)
ProWritingAid
Best Budget-Friendly
$4.16
/mo – before discount
PROS
62%, 73%, 52% accuracy scores
Millions in the database
Scrivener compatible
CONS
Only English
24+ hour support response
Inaccurate plagiarism checker
TABLE OF CONTENTS
Grammarly Premium Walkthrough Video
What is Passive Voice?
If you ask The Chicago Manual of Style, here's the difference between active and passive voice:
'The subject of a sentence acts, or is acted on.' A sentence in which the subject performs the verb's action is in the active voice. A sentence in which the subject receives the force or action of the verb is in the passive voice.'
At a more simple level, writing with an active voice makes your writing have more impact and energy.
The active voice is bold. It gets to the point. It's immediate, direct, and engaging. Active voice sentences are shorter and punchier.
Passive voice sentences are more extended, can sound overly formal, and can be confusing.
Look at these examples:
'The bear caught the fish' uses an active voice.
'The fish was caught by the bear' uses a passive voice.
The difference is subtle, but you can see how too many passively voiced sentences can get tiring to read.
How Do You Identify Passive Voice?
You will notice that passive voice is still used a lot in legal, science, government, and corporate communication. This technique adds objectivity to a topic. It's also effectively used in fiction writing, to create a sense of mystery.
When writing a blog post or creating content for the web, it's easy to fall into a passive voice.
Most writers will tend to place the focus of a sentence at the end, which can cause the voice to be passive instead of active.
Here are two different examples:
The taxi hit a cyclist (the taxi is the topic, but the cyclist is the focus).
A cyclist was hit by a taxi (the cyclist is the topic, and the taxi is the focus).
In some cases, a passive voice can also be used when the agent of an action is unknown or unimportant:
Three bicycles were stolen last night (here the identity of the agent may be unknown).
A new miracle drug has been discovered (here the identity of the agent may be unimportant).
How do you fix passive voice?
If you want to change a passive voice sentence to an active voice, ask yourself who or what is performing the action.
If a bear catches a fish, the bear is performing the action.
The fish has no action except being caught, so it is passive.
The easiest way to spot passive voice is to the words 'by' or 'was.'
'The fish was caught by the bear' is passive.
'The bear caught the fish is' active. (Notice the lack of 'was' or 'by').
This simple distinction helps to shift a passive voice to active. Remove the words 'was' or 'by' and see the difference in the sentence.
The Best Passive Voice Checkers
You'll likely catch some of your passive voice mistakes easily. But some will still sneak through into your writing. And, depending on the type of writing style, that might be fine.
If you want to become a stronger writer, there are some excellent passive voice checking tools out there that can help.
Let's look at five of the best passive voice checker online, and passive voice software and how they stack up.
1. Grammarly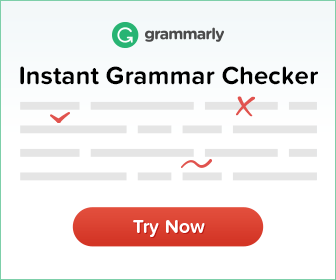 Grammarly has taken the writing software world by storm these past few years. And their brand recognition is well-deserved.
Both a spell checker and grammar checker in one package, Grammarly Premium is an excellent tool to identify passive voice if you are willing to pay for the premium version.
For between $11 – $29 a month, you get access to the full version of Grammarly, which goes into a lot of depth to improve your writing style.
However, if you use the free version (which is a great starting tool for better writing), you will get this notification about extra grammar tools that are available in Grammarly premium.
Once you take the plunge and upgrade Grammarly, you will get a lot of excellent detail about how to remove the passive voice from your writing.
Not only does the explanation help you stop using passive voice, but it can also help to stimulate ideas for how to change to active voice in your content. After a few months using Grammarly, you will undoubtedly become a more precise writer.
Grammarly Premium has a whole slew of useful tools for better grammar, readability, avoiding plagiarism, and more. So if you only need a quick passive voice checking tool, it might be too expensive. However, if you want better writing overall, Grammarly is a great way to get better.
Read the full Grammarly Review
2. ProWritingAid
ProWritingAid is a full-fledged writing tool that gives Grammarly, and other paid writing apps a run for their money.
It's packed with features that can help you write, edit, and improve your grammar, readability, and to avoid plagiarism in your work.
All that, and it is an excellent tool for checking passive voice mistakes.
As part of the readability tool, the ProWritingAid will give you a score for your writing style.
It will give you suggestions on how to fix the issues and improve your overall score. There is a great deal of insight you can gain from the tool, and it feels more like a writing coach rather than just a grammar checking tool.
Similar to Grammarly, the ProWritingAid tool can be integrated into different types of software to help improve your content. You can use it as a desktop app, a web extension, or even as part of tools like Microsoft Word, Scrivener, and more.
One of the advantages that ProWritingAid offers is the ability to make a one-off purchase of the tool to avoid monthly or yearly fees.
It's an investment upfront, but if you are serious about removing grammatical errors and passive voice from your writing, it can be well worth the cost.
Read the full ProWritingAid review
3. Writer
Writer is a somewhat unique grammar and style checker. However, calling it a grammar and style assistant would be more appropriate. It has features similar to Grammarly, but it doesn't contain as powerful a passive voice detector.
To be honest, some forms of passive voice construction can be missed by many grammar checkers, but all grammar checkers have a tendency to overlook some fragments of sentences or misdetect various verb forms.
We're not fully convinced that either assistant knows how to perfectly detect an auxiliary verb in a complex sentence (which is probably why they promote using fewer words to begin with).
Writer is most powerful at delivering similar results over time. It puts less focus on improving the writing quality of a single writer, and instead focuses on making sure all the writers using it collectively within a company have a cohesive, universal style guide to follow.
If you think that this would make you less likely to stand out from a crowd, you would probably be correct.
Unfortunately, Writer's options as an essay checker are quite limited. Without a free version and their heavy focus on commercial use for large companies, this assistant is unlikely to be of use detecting errors in punctuation and sentence structure for the average user. Students need not even apply.
Pros
Consistent grammar checker
Various style options
Good for brand identity
Cons
No free version
Only suitable for large-scale companies
Lacking features for personal use
PROS
Chrome, Word and Google Docs extensions
Straightforward user interface
Custom writing guidelines
CONS
$11/month/additional user (more expensive)
No full-screen available
4. Hemingway
If you're looking for a free or low-cost version of a grammar checker, then Hemingway might be a right choice.
Billed as 'like a spellchecker, but for style' the Hemingway is a free browser-based grammar checker software that helps you identify different ways to refine and tighten up your writing. There is also a very affordable paid version if you want to use it on your desktop.
It does this with simple color highlights for areas that need work: hard-to-read sentences, wording alternatives, adverbs, and of course, passive voice.
Any section that Hemingway highlights in green represent the passive voice in your text.
This simplicity, however, shows one of the limitations of the Hemingway app. The app is excellent at pointing out where you've made grammar mistakes, but it doesn't give you any suggestions about how to fix them.
By contrast, premium services like Grammarly will show you what mistake you made and how to correct it. There is also a small educational section that can sometimes trigger a way to fix the issue.
The Hemingway editor, in contrast, just lets you know that there's an issue and expects you'll figure it out on your own.
But, for a free tool (or a one time purchase of $19.99 for the desktop app), you can't really complain about Hemingway. If you want a tool that can help spot your overuse of the passive voice, then give it a try.
Read the full Hemingway Review
5. WhiteSmoke
Whitesmoke is another grammar and passive voice checker that has several features that work to improve your writing skills.
It is compatible with multiple devices (including Microsoft Office, Android, Mac, and iOS). As another cool feature, it can translate your content into a large number of languages.
Whitesmoke will detect and suggest changes for passive voice, just like the other tools. However, one unique feature of WhiteSmoke is that it includes written and video writing tutorials. These lessons are designed to help make you into a better writer.
Similar to Grammarly and Hemingway, it uses a color-coding system to highlight each type of grammatical error. Red is for spelling mistakes, green is for grammar mistakes, and purple is a writing style issue.
Whitesmoke uses a monthly and annual pricing plan model. The basic tools start at $6.99 per month for the essential plan. The good news is that the essential plan works with all browsers and offers the grammar checker, plagiarism checker, and translator.
If you are looking for a low-cost grammar checking software, Whitesmoke is a good tool to test out.
Read the full WhiteSmoke review
6. Ginger
Every grammar checking tool is unique in its own way. The Ginger writing tool doubles as a grammar checking software and a language-translation tool.
It offers over 55 languages (40 can be accessed with the free version), which is an excellent feature for anyone wanting to learn to write well internationally.
Another cool feature of the Ginger software is the Sentence Rephraser tool. It can help with passive voice issues if you aren't sure exactly how to rewrite into an active voice.
If you are serious about improving your writing, there is the Ginger personal trainer tool, which will test your grammar skills and slowly enhance your ability to write.
Like several other grammar checking tools, Ginger offers both desktop and extensions that can add to your browser.
There is a free version of the Ginger software available, but it does limit some of the functionality, and in particular, the number of languages available. If you only want a passive voice checking tool, this might be all you need.
If you are looking at upgrading, Ginger currently offers a 30% off promotion, which makes the pricing more enticing.
PROS
More than 60 Language Translations
Unlimited Premium Use
Installs on Many Devices
Easy to Install
Easy to Use
Lots of Features
CONS
No Plagiarism Detector
Poor Reporting
Poor Customer Service
Tips on Passive Voice
While a grammar checker will often detect a passive verb and point it out, it won't tell you how to change it for the better.
While most writing assistants have decent capabilities when it comes to correcting punctuation and grammar mistakes, passive voice isn't counted as a grammar mistake per se, contrary to what the checker itself may suggest.
Thus, you'll need to provide a suitable action word on your own and give the reader the written experience you deem fit. Sometimes, that includes leaving the passive voice in and disregarding the AI's advice.
Passive voice sometimes can't even be avoided. For example, consider this sentence:
"The book was stolen from the library."
In the example, the subject isn't known, so it would be impossible to reorder the sentence to have the object follow the main verb properly. In situations like these, recognizing that the passive voice can be a legitimate way of writing is much better than trying to eradicate any and all examples of the passive form in a sentence.
For academic purposes, passive voice is actively encouraged to maintain objectivity and distance from the subject matter, although some publications are pushing for a change towards a more active voice.
On the other hand, informational pieces can often sound muddled and boring with too much passive voice, so it can be a good idea to sprinkle active verbs in to help make it read faster and easier.
The English language is particularly difficult to master, and using automated tools might make it more challenging than necessary.
Trusting your writing capabilities and knowledge will go a long way towards improving your writing ability. For professionals, further learning is always an option and editors are always there to correct any mistakes.
Conclusion
Passive voice is not going to ruin your writing; it just subtracts from its effectiveness.
Think of active voice as a tool to help you sound more definite. Rather than trying to stop using passive voice, try using an active voice more often.
To help you, try out one of the passive voice checker tools, we suggest to notice how often you use passive voice. Then, make an effort as you're writing to reduce the amount of it.
Good writing is about nuance. Using the active voice is a great way to add it to your pieces.
In life, it's usually better to be active rather than passive. Let it start with your writing style!