Plagiarism Check does exactly what its name infers. It checks for plagiarism. It's a premium service that has plans designed for educators of all levels and students, but it could easily be used on the business level as well.
Disclosure: These reviews are reader-supported. We might earn a small commission if you purchase something through our site. Learn more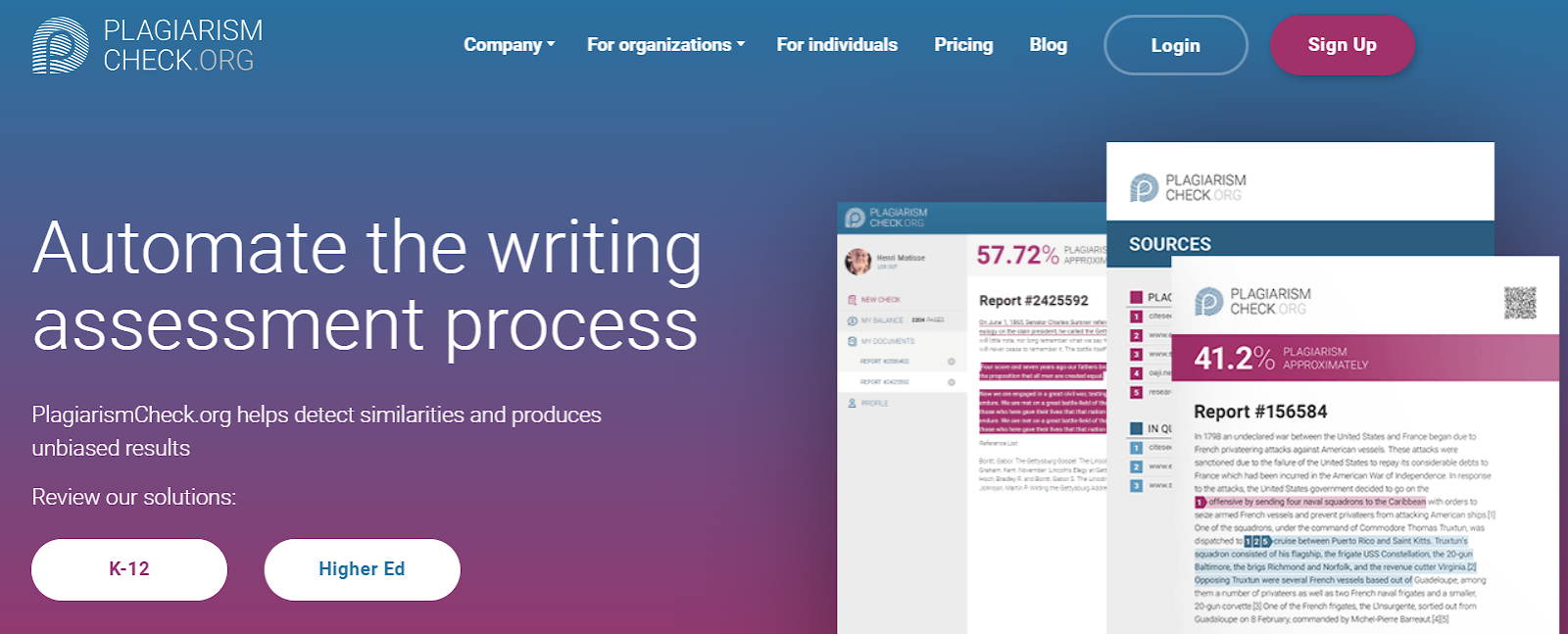 Our Verdict
It's great and well priced for students and educators for sure. You can also get more out of Grammarly. It's on the pricey side, but you can save 20% with our link. 
Grammarly
Best All-Around
$11.66
/mo – before discount
PROS
86/86% accuracy
16+ billion database
150k+ word limit
5 device limit
1-hour response
CONS
Only English
Expensive without our link
Plagiarism Check
Limited Features
PROS
Huge database
Detailed reporting
Highly accurate
Quick customer service
CONS
Computer only
Only English
Limited device support
Grammarly Premium Walkthrough Video
TABLE OF CONTENTS
Plagiarism Check Pros
This is a very effective and accurate program. It has limitations in place but all are within the acceptable range. It allows you to export your results for the sake of efficiency and pulls from a very impressive database.
1. Huge Database
Plagiarism Check makes use of a database that encompasses more than 95 billion different websites and academic depositories, as well as over 5,000 multi-disciplinary archives from 126 different countries.
That's absolutely massive in scale and makes for a very effective search.
2. Reasonable Limits
Business level accounts, which are designed for educational institutions, can have an unlimited number of users running an unlimited number of plagiarism checks 50 pages at a time. Some of the more expensive tiers allow users to check up to 500 pages at once.
On an individual student level, there are no daily limits on how many checks can be run as long as the user stays within their page allotment. This ranges from 20 pages up to 150.
3. Detailed Reporting
One of my all time favorite features included in a plagiarism checker is the ability to export your findings as a PDF. I'm happy to report that Plagiarism Checker makes this available for all membership levels.
4. Highly Accurate and Easy to Use
Using Plagiarism Checker is a snap. I just pasted my content into their interface, and the system started checking.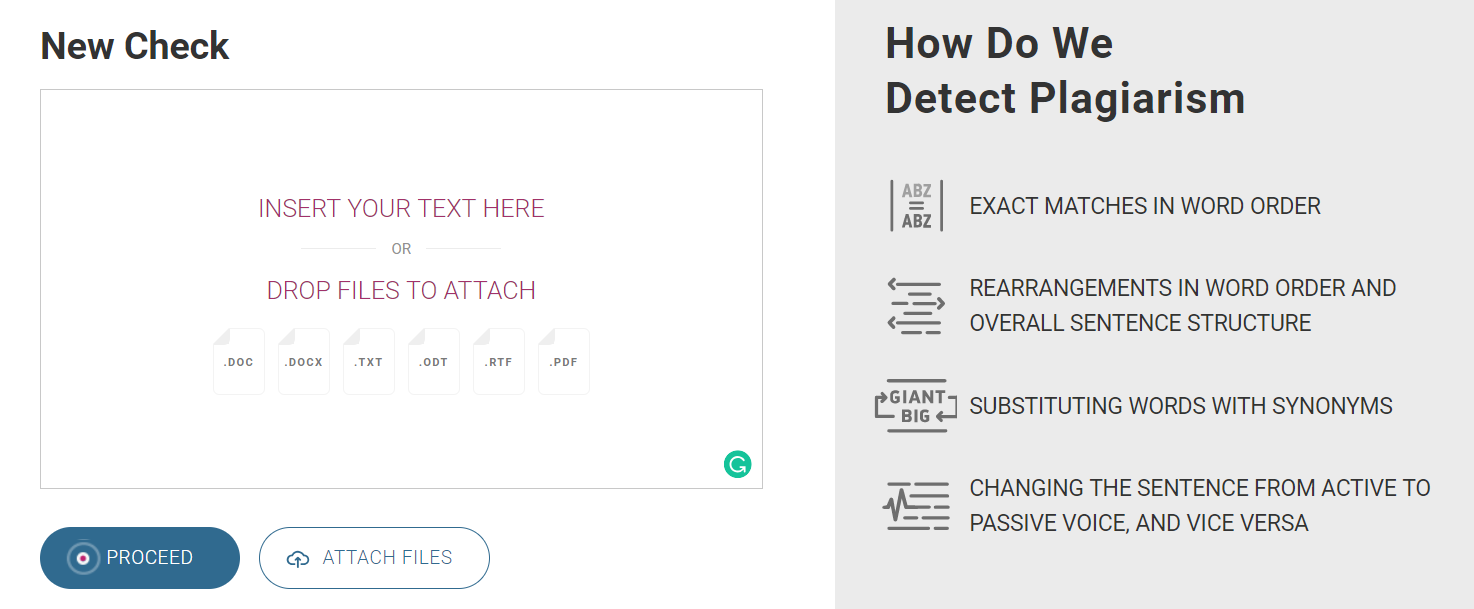 It didn't take that long to work through our plagiarism sample, which is nearly 4,000 words and 15 pages.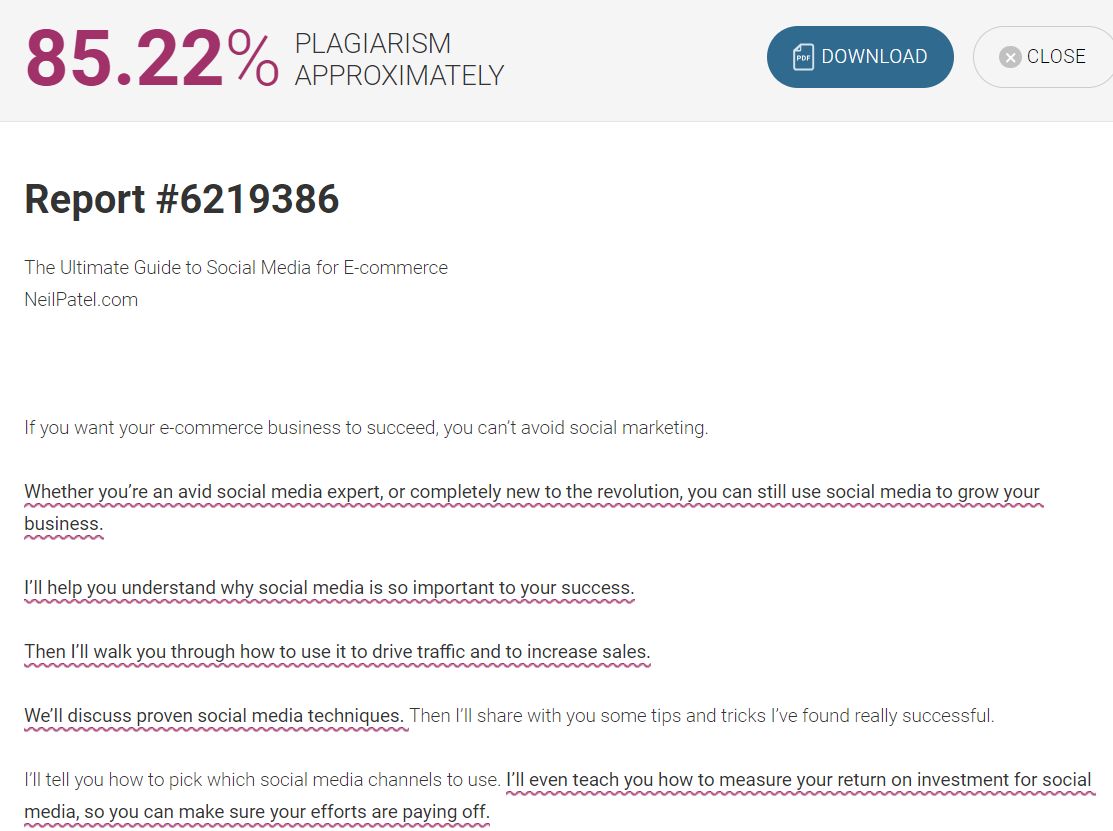 It was super accurate as well, scoring the article at 85.22% plagiarism. Of course, I also checked our clean content, and it found more issues that most of the other checkers we've reviewed.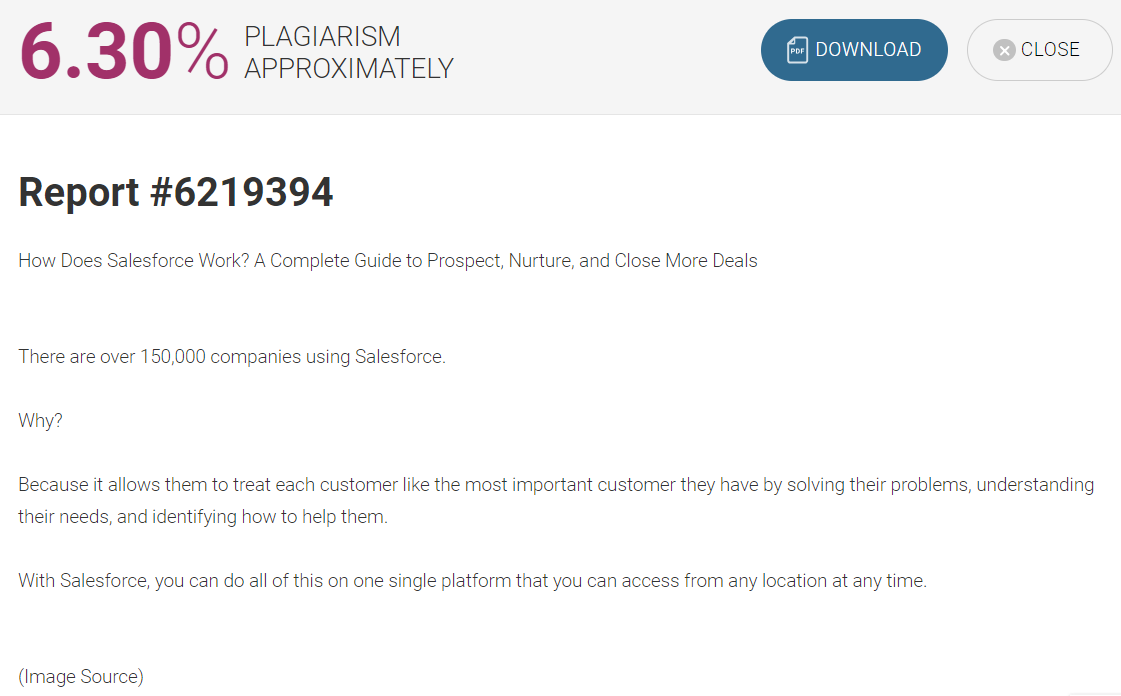 Simple to use and highly effective. As far as test drives go, this was close to perfect.
5. Quick Customer Support
I found their customer support to be fast and efficient. I submitted a question via their contact form, and they got back to me quickly.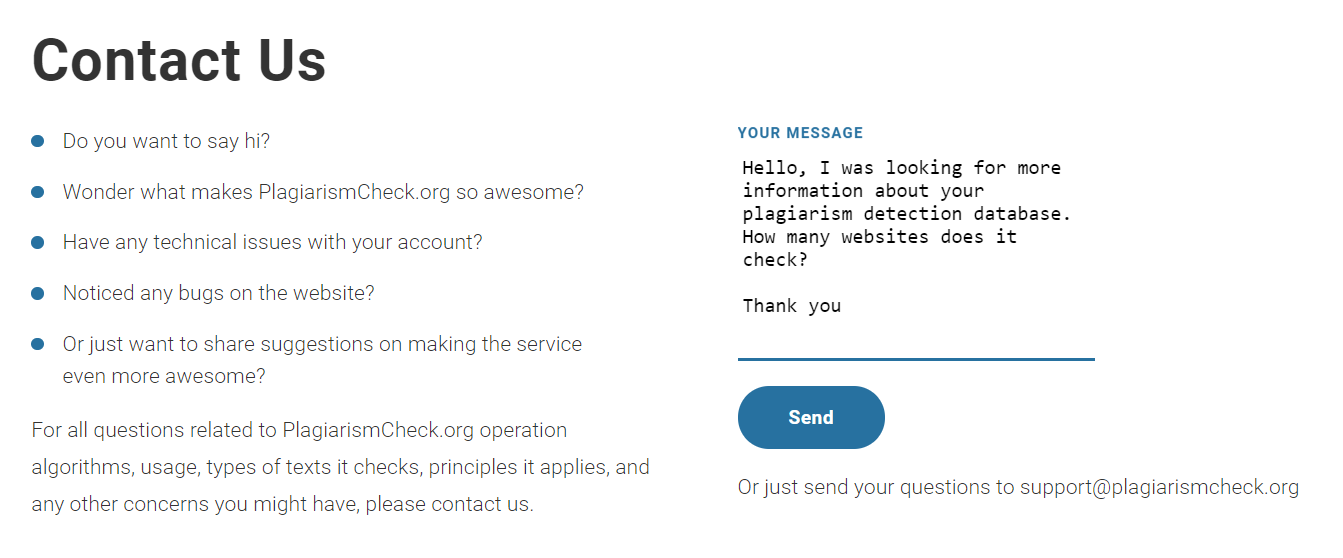 They responded within four hours.

Informative, quick, and they kept the lines of communication open. There's not much more you can ask for when dealing with a customer support department.
Plagiarism Checker Cons
It's not a totally perfect system. While they do support some other languages, they don't recommend using them. It also has limited device support, which is a bummer.
1. Can be used Only Via Website
There is no mobile support for plagiarism checker, which I always hate to see. They also have no website plugins or any other additional products. The system can be accessed solely from their website.
2. English is Recommended
Plagiarism Checker supports languages other than English, but they go out of their way to state that the system works at its best in English. That honesty is refreshing but the lack of faith in their product was kinda troubling.
Plagiarism Checker Costs, Plans, & Payment Options
Plagiarism Checker has two different groups of plans. They have individual accounts meant for students, and plans that are meant for educational institutions.
The individual plans start at $5.99 per month and go up to $25.49.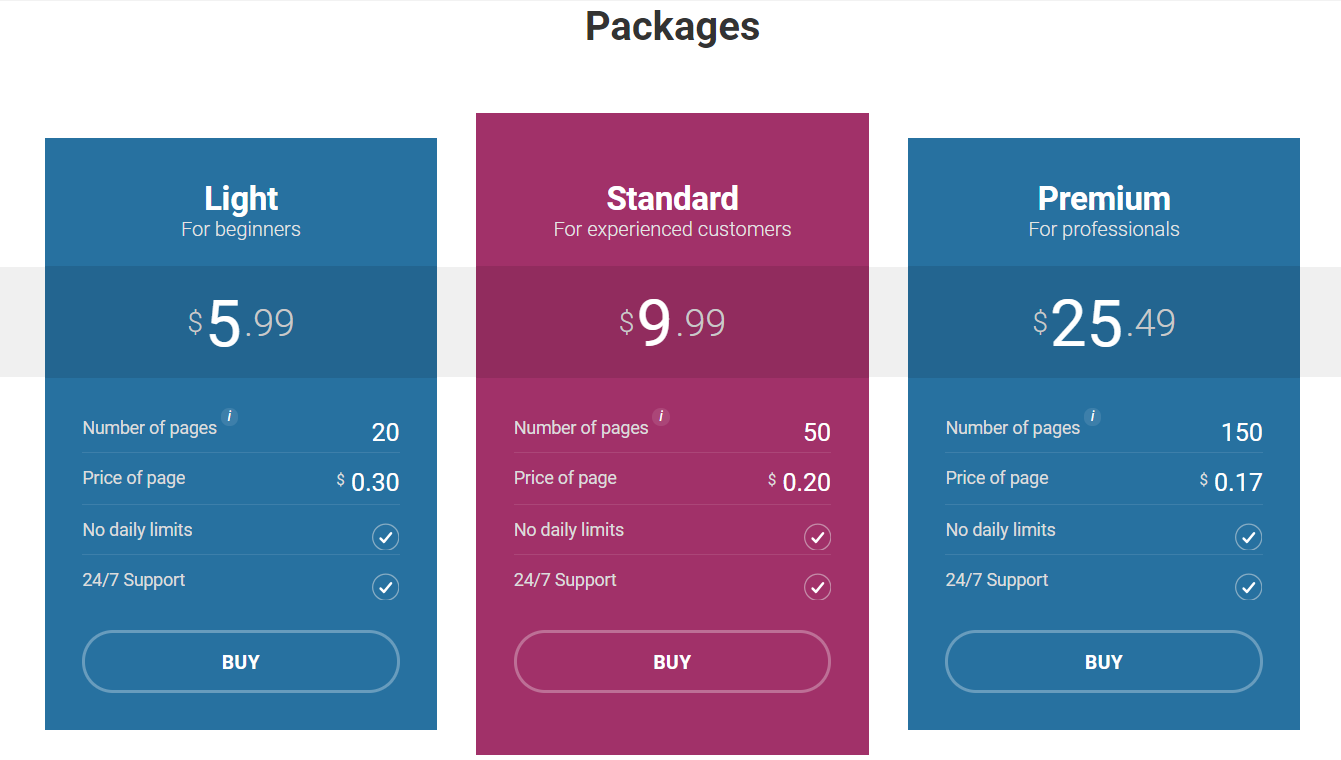 The packages meant for educators require quotes to be requested.
The service accepts both PayPal and credit or debit cards.
Do I Recommend Plagiarism Checker?
I sure do!
It's a fantastic program, well priced and highly accurate. I would recommend it for students and educators for sure, but I also think that SEO firms, media companies, writers, editors, and lawyers would get some great use out of it, even if it's not marketed toward them.