The Grammarly Keyboard, sometimes referred to as the Gboard, is a downloadable app that helps users easily identify spelling mistakes and grammatical errors within messages, word documents, and, LinkedIn messages, or social media posts. It's easy to add Grammarly grammar checker and it is very intuitively easy to use.
The proofreading software requires you to create a Grammarly account and is downloadable on several mobile device options including the iPod Touch, iPhone, and iPads. The device software is also available from the Android store. The Android keyboard is similar to the iOS platform but does not offer compatibility with all features.
Disclosure: These reviews are reader-supported. We might earn a small commission if you purchase something through our site. Learn more
Grammarly
Best All-Around
$11.66
/mo – before discount
PROS
86% out of 86% accuracy
16+ billion database
150k+ word limit
5 devlice limit
Includes plagiarism
1 hour support response
CONS
Only supports English
Expensive without our link
Grammarly Premium Walkthrough Video
What is the Grammarly Keyboard?
The smartphone Grammarly keyboard app is offered in English only but allows users to install Grammarly in British, Australian, Canadian, or American English. After installing and activating the Grammarly extension within writing boxes, you can quickly and easily check for common spelling, sentence structure, and grammar mistakes before sending the message, document, or post to its intended recipient or audience.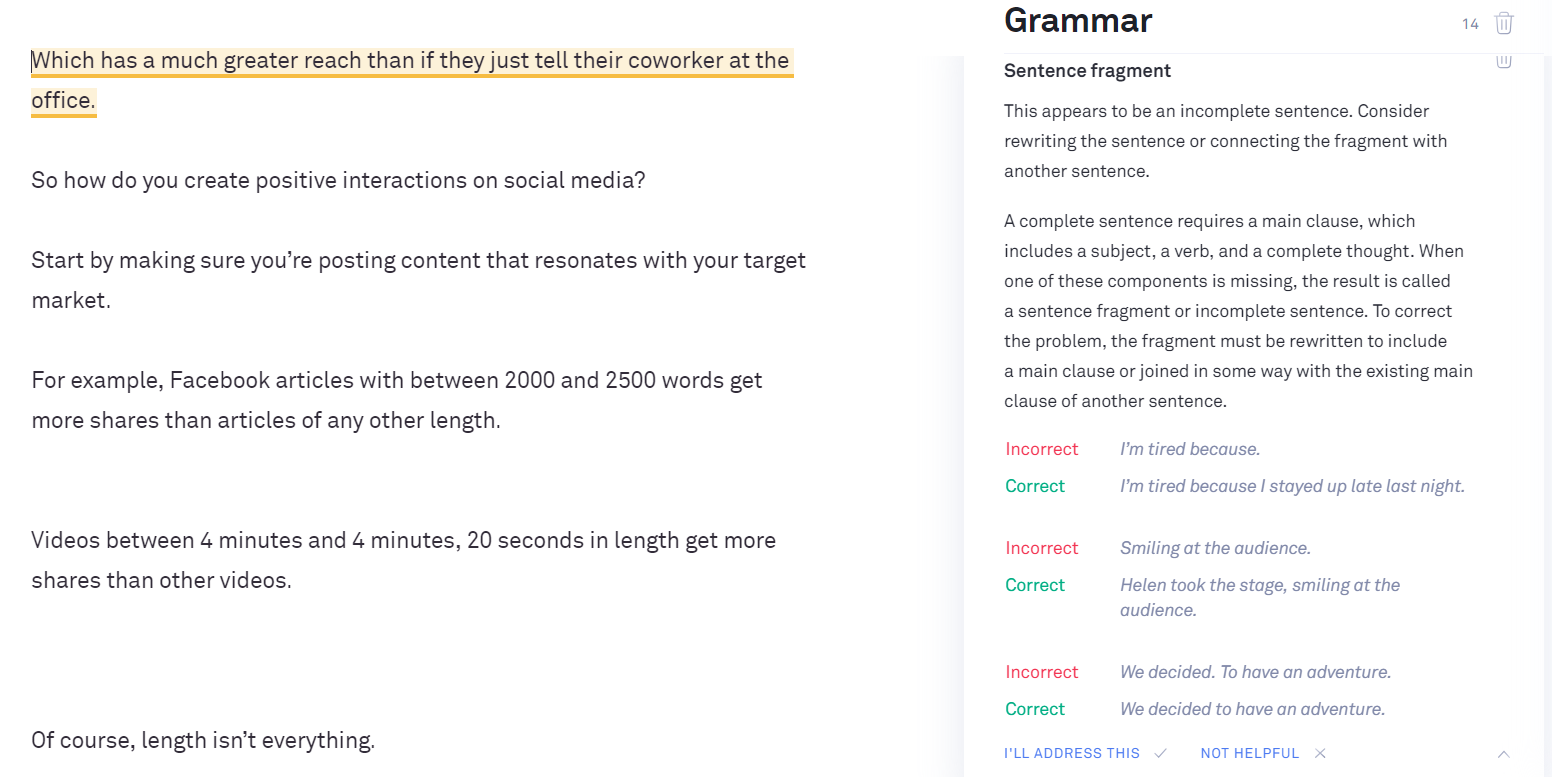 Why you should use the Grammarly Keyboard?
There are many reasons to use the Grammarly Keyboard Android app or iOS app. The most useful reason is to instill faith in users in their grammar and spelling knowledge. When you choose to use the Grammarly editor depends on the type of project you are working on. For example, teens who have trouble with spelling and punctuation would appreciate the built-in spelling checker to make sure their posts are spelled and punctuated correctly before posting to their audiences. Younger kids can check their sentences and paragraphs with the Grammarly app to create better homework assignments. As soon as the keyboard app finds a possible error, it begins to offer suggestions to create a better, final product.
Adults can also appreciate the app as a safety net to proofread messages, inner-office memos, and much more. Managers and supervisors can invest in Grammarly Premium to be used by an entire team of workers to ensure everyone is creating and sending error-free, concise messages internally and externally. Perks of this option include advanced grammar check and a shared dictionary.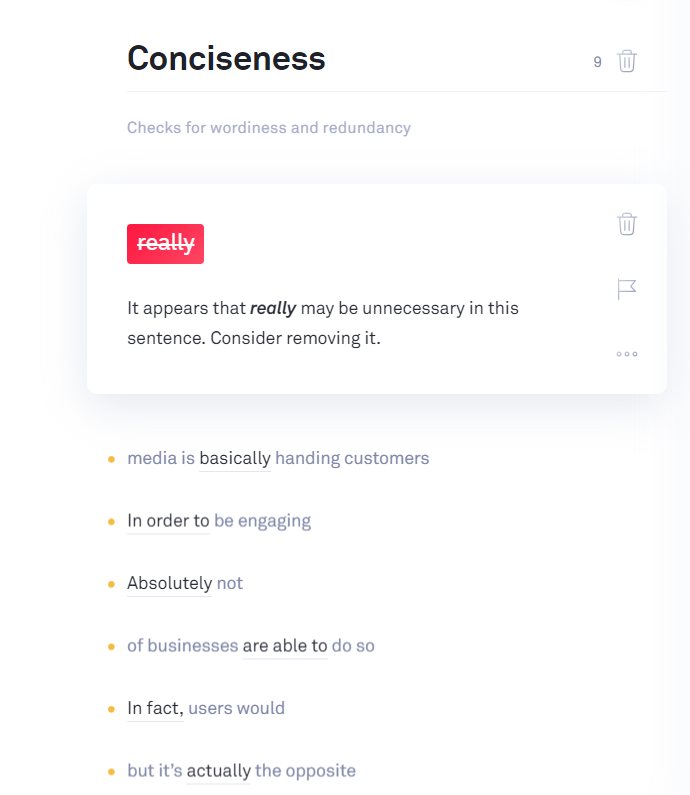 The software quickly detects grammar errors and provides correction prompts to remove mistakes and improve clarity in the text. The app also offers a synonym finder, spell checker, and browser extension options for Microsoft Office. It's not intended to be a replacement for basic editing and users should have a general understanding of grammar to ensure their final product conveys the proper meaning. This is especially important to young users and non-native English speakers because the grammar checking options Grammarly offers might not be appropriate in every situation.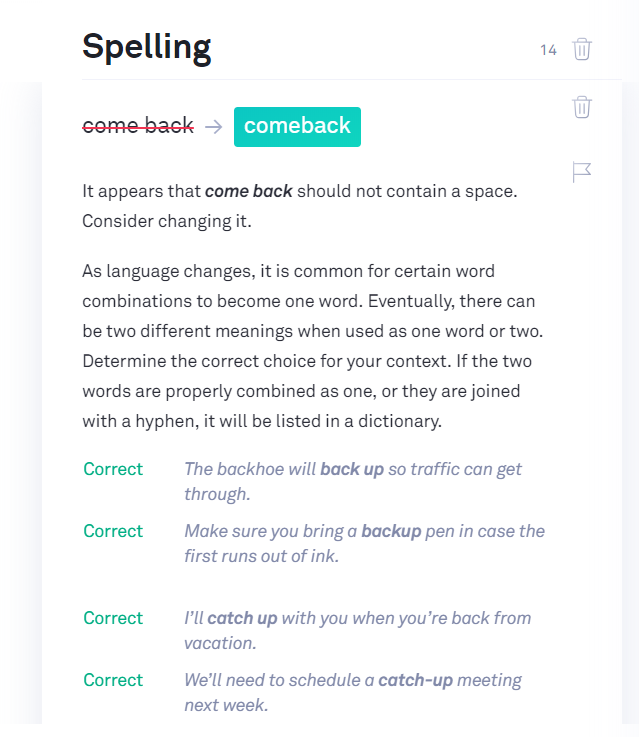 When used correctly, the mobile keyboard app is a great way to increase the accuracy of the written text. It is also a great learning tool for younger writers to help them identify and avoid common mistakes in their writing.
How to use the Grammarly Keyboard?
The Grammarly Keyboard is a free productivity app. To begin using the app, it must be downloaded from the app store. Once downloaded, find the globe icon and hold it down. Doing this allows you to select it for use. You know it's activated when the green Grammarly symbol turns green. In settings, you can choose what type of common proofreading errors you want to automatically correct such as caps lock, keyboard clicks, auto-correction, and auto-capitalization.
The green symbol means the app is ready for use. Simply start typing to use the app. The app allows you to create a personal dictionary. With this feature, you can add names and other information that should be ignored by the proofreading software. With this software application, iOS and Android users can write better text and send messages with confidence.