With smartphones becoming more commonplace, they are quickly becoming used more and more things. Today we use them for many things other than talking. Furthermore, regardless of how good you are at spelling and grammar, you are going to make mistakes. Grammarly is a tool they can help you catch a mistake before anyone else sees it and there is an app for your android device.
Disclosure: These reviews are reader-supported. We might earn a small commission if you purchase something through our site. Learn more
Grammarly
Best All-Around
$11.66
/mo – before discount
PROS
86% out of 86% accuracy
16+ billion database
150k+ word limit
5 devlice limit
Includes plagiarism
1-hour response
CONS
Only supports English
Expensive without our link
Grammarly Premium Walkthrough Video
TABLE OF CONTENTS
Getting started with Grammarly in Android
To get Grammarly for your android phone, go to Google Play to install it. You will find the built-in icon on your device. Simply click on it to go into Google Play.
Finding Grammarly at the app store
To find Grammarly for android, simply enter Grammarly in the search bar. This takes you right to the page for the Grammarly keyboard. It includes pictures illustrating the app.
Downloading and installing Grammarly
Once you are on the app's page, you tap on the download button and the program will start downloading. Your device will install Grammarly once it finishes downloading followed by an icon showing up on the menu. You are now ready to use Grammarly.
Running Grammarly
To run Grammarly simply tap on the icon and you will be welcomed by an opening screen for the big green button labeled "Get Started." Simply tap the button to go on to the signup screen.
Setting up Grammarly
Once on the signup screen, you can sign in with Facebook, Google or a separate Grammarly account. You then go to a screen where you can log-in using that account. Next, you will go to a setup screen. Tap the green button labeled "Add Grammarly keyboard" and you will go to the language and keyboard screen. Tap the on the button next to Grammarly. This will take you to a screen with a big green button labeled "Switch input methods." Click on that button select Grammarly, and you are good to go. It will now work with all your apps.
Edit grammar with Grammarly in Android
Grammarly keyboard is a keyboard app for Android that replaces the standard Android keyboard, so entering text is easy. This also gives it a seamless integration with any existing apps making social media posts with Grammarly installed easy.
Grammar Checking (grammar punctuation)
Grammarly makes suggestions as you type, helping you to avoid grammar mistakes. Users need to do very little other than typing as the proofreading artificial intelligence notifies you of grammatical problems. The grammar and punctuation checker tool allows you to open a personal editor to make the corrections.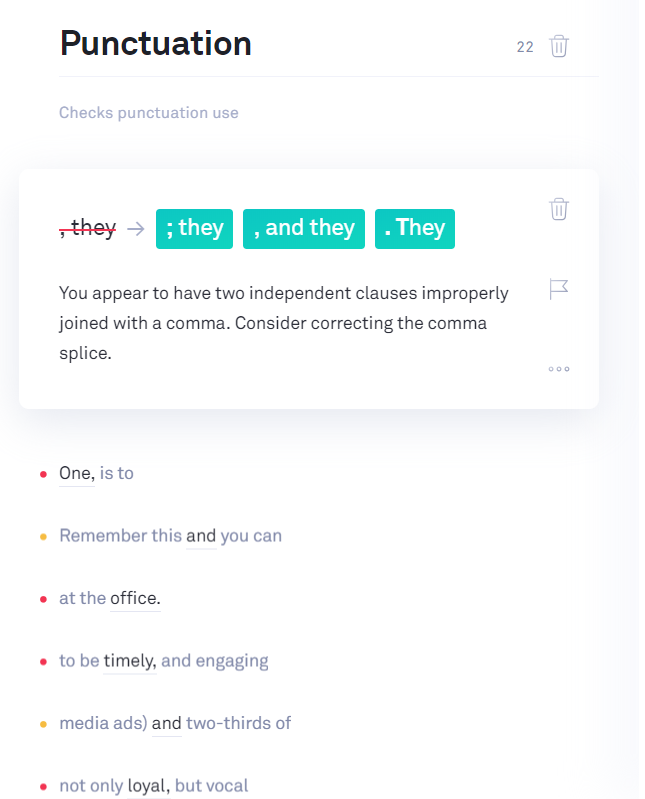 Spell checker
Grammarly automatically checks all of your spelling and gives you suggestions. You have the option of accepting or ignoring the suggestion. This includes going to the editor and telling Grammarly to ignore it. If you make a spelling mistake, the word will be marked in red and the correct spelling will be made available to you. You can then correct your spelling with a touch of the screen.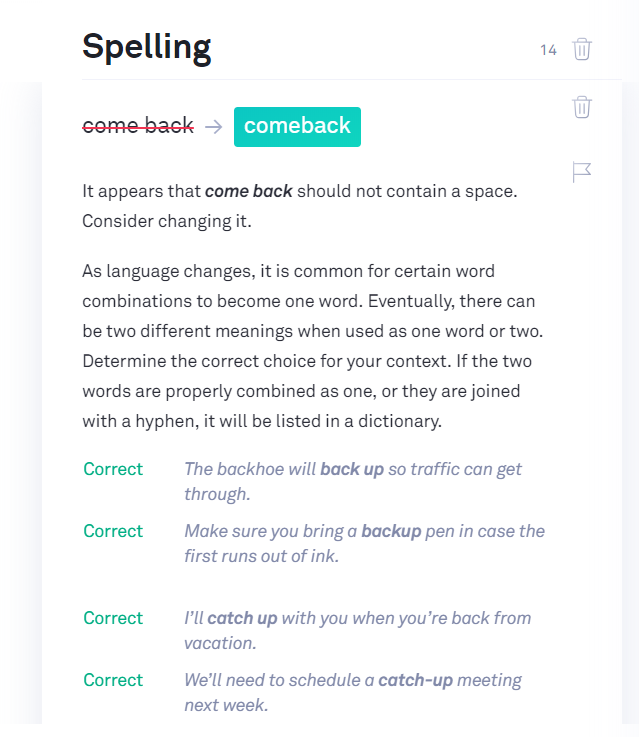 Sentence rephraser
Grammarly helps you to rephrase your sentences to not only improve your grammar but your sentence structure as well. Grammarly goes beyond just making sure that your grammar and spelling are correct but it helps you improve your wording at the same time. Simply put it helps you to make your writing better.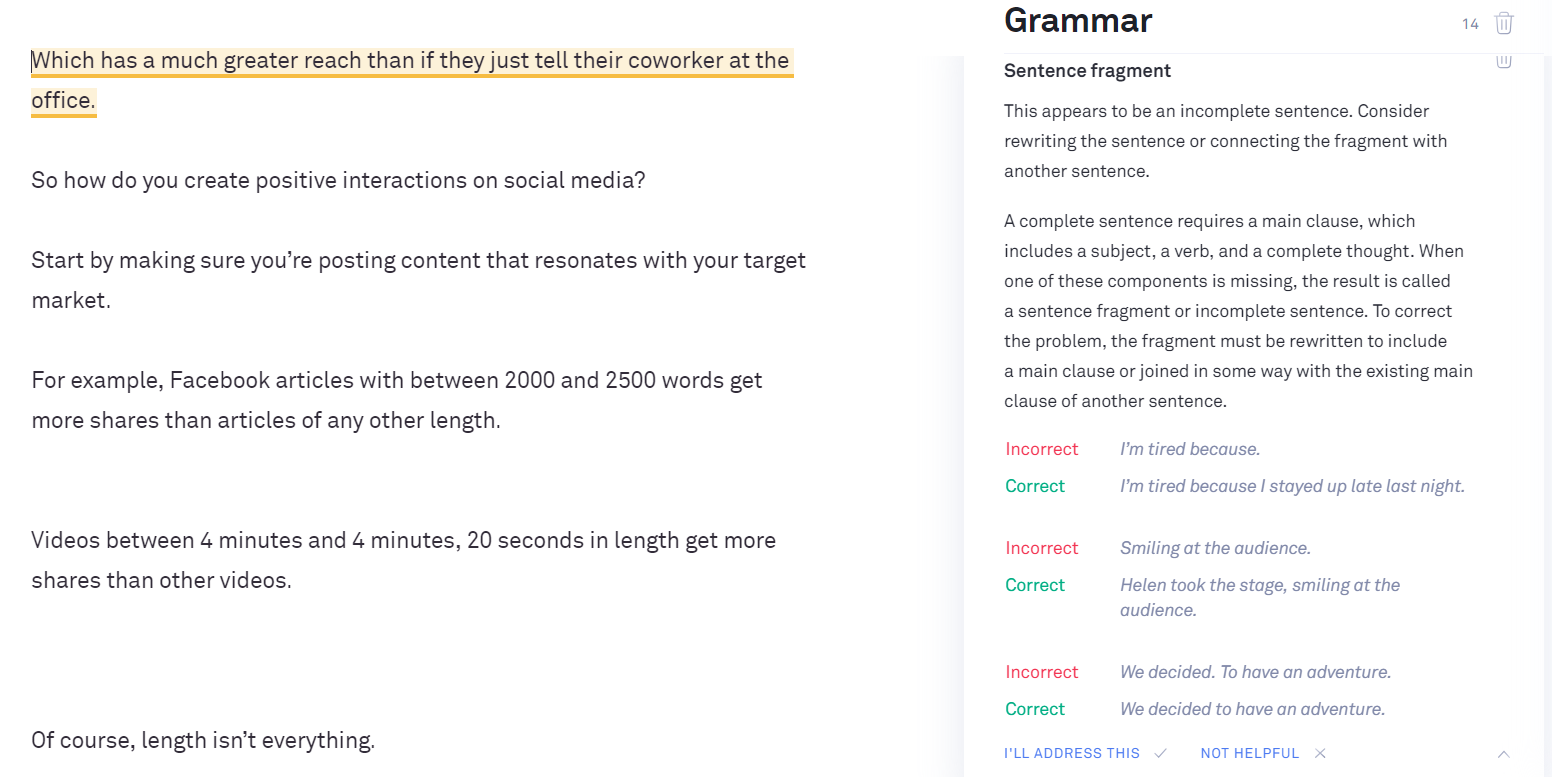 Options in the editor
When you are typing, and you make a mistake Grammarly gives you the option of going into the editor. In this editor, you have an explanation of the problem detected and a suggestion. You can tap on the suggestion to accept it, dismiss it, or tell Grammarly to learn it as a real word. You also have the option of returning to the keyboard or going to the settings menu. If you mistakenly tell Grammarly to learn a misspelled word, you can remove it in the settings.
Check plagiarism with Grammarly in Android
This android app lacks the plagiarism checker found in other versions but you can still access it through them. Then, you can run it through the button on the bottom right side of the screen. The reason why it is missing is that this app will most likely be used for social media in other areas where accidental plagiarism is not a concern.
If you need to check for plagiarism, you can use the desktop or online grammar checker of Grammarly. If you need to use it on your cell phone you can still access this feature through the online version. It does require having a premium subscription, but that has always been the case.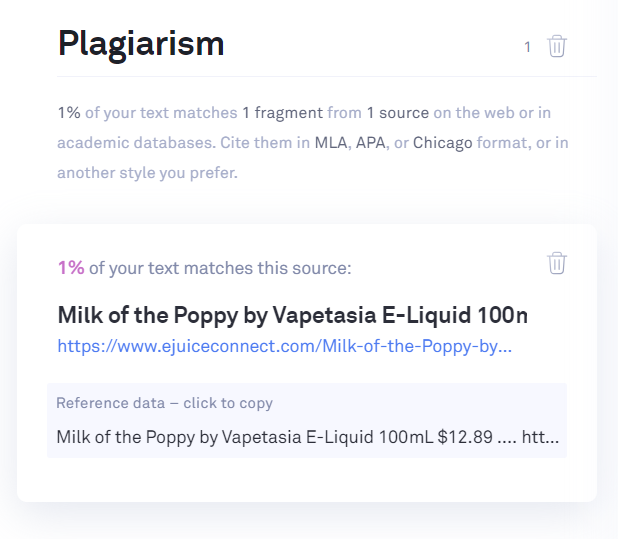 Uninstall Grammarly in Android
There are two options or installing Grammarly on your Android smartphone. The first is to press on the icon until it enters uninstall mode and click on the "x" in the corner of the icon. The second is to go back into Google Play and find the Grammarly page and click on uninstall. In both cases, it uninstalls the software.
Other Android Grammarly Options

The Android Grammarly app is a keyboard with the functionality of the free version of Grammarly. In fact, most of the functionality most people need is in the free version. Grammarly offers a browser extension for the most commonly used web browsers so that you can use it for nearly all of your online writing. The online version allows for online grammar correction while the desktop app gives you quick offline access. The premium version is good if you want extended features. A Grammarly business plan can help improve the writing of your entire company. If you look around, there are ways that you can find a Grammarly discount to help make the premium version more affordable.
Our content marketing agency produces over 300+ articles/month, so we use Grammarly Premium on a daily basis. The good news? Similar to our MasterClass review, the value you get from using Grammarly is well worth the cost.
Conclusion
Android users will find that Grammarly is a no ad experience. Other apps like Grammarly; such as the Hemingway app; are not designed to operate as seamlessly with your other apps. Among the grammar and spelling checking apps for Android, Grammarly stands apart as one that will improve your writing skills as a natural part of using it. When Grammarly is used on a regular basis, you will start to see the mistakes you tend to make so that you can learn to avoid them.