We've reviewed over 10 different plagiarism checkers.
And none really come close to Grammarly.
Spotting plagiarism can be both difficult and time-consuming.
All you have to do is copy and paste your content, and Grammarly will check each phrase against one of the biggest databases in the world (16+ billion).
Just keep in mind that Grammarly will cost you something to unlock all of their plagiarism-checking features.
So how good is it at rooting out plagiarism? Is Grammarly worth it?
That's what we're going to answer in this Grammarly plagiarism checker review.
Disclosure: These reviews are reader-supported. We might earn a small commission if you purchase something through our site. Learn more
Our Verdict
Grammarly is easily the best plagiarism checker we've bought and tested.
Grammarly
Best All-Around
$11.66
/mo – before discount
PROS
86% out of 86% accuracy
16+ billion database
150k+ word limit
5 devlice limit
Includes plagiarism
1-hour response
CONS
Only supports English
Expensive without our link
Grammarly Premium Walkthrough Video
TABLE OF CONTENTS
Plagiarism Checker Criteria
In order to accurately gauge the effectiveness of Grammarly's plagiarism detection tool, we first had to put the system through a series of checks and tests.
When examining an online plagiarism checker, you'll want to know how accurate it is, and how easy the system is to use. We determine that through the following criteria:
1. Accuracy
The most important feature of an advanced plagiarism checker is its ability to root out plagiarism. We tested Grammarly out first hand, using a piece of copy that was stuffed to the brim with plagiarized text. The true test of this plagiarism check will be how effective it is at marking up this document and letting us know where plagiarism exists. Writing a plagiarized text will be detected easily.
2. Database
A reliable plagiarism checker pulls from practically the entire internet. You want to ensure that your checker is testing your content against billions of websites in an effort to sniff out unintentional plagiarism wherever it could be found. Thoroughness is the name of the game. Ensure that your plagiarism detection software leaves no digital stone unturned.
3. Limitations
How many pages/words can you check for plagiarism? Are there monthly limits? Daily? Obviously the more you're able to do, the better. You're looking for a high monthly volume. Something that could encompass a full-length novel (60,000 words) if need be.
4. Languages
How many languages can your plagiarism checker detect? If it's limited to just English, you're selling yourself short. The best plagiarism checker tools in the world will be able to sort through many different languages. Improving your text and spelling in various languages is critical as well as removing errors and grammatical errors.
5. Device Compatibility
You're going to want a plagiarism checker that can be used on more than one device. Mobile internet use is huge, and many tablets function the same as a laptop. You want a plagiarism checker that can be used on both desktop and mobile platforms to make for a seamless transition between devices.
6. Customer Service
We tested Grammarly's customer service department in an attempt to determine how effective they are at resolving questions related to this service. We gauged the speed of their response and the overall quality of their answers.
7. Plans and Pricing
Pricing is one of the most important aspects of a plagiarism detector. What good is the product if it's completely unaffordable? We will dive deep into Grammarly's prices and payment options to give you a clear view of what you can expect to pay for all of its features.
Grammarly Plagiarism Checker Pros +
There's an awful lot to like about Grammarly's plagiarism detection software. From a massive database and highly accurate reporting to a responsive customer support department, this is a well-rounded product that has a lot going for it.
1. Ranked #1 in Accuracy
First, and most importantly, this is a system that does its job. To say I was impressed with my hands-on test of this product would be an understatement.
We use the same "control" article to test all of our online plagiarism checkers. It's riddled with copied content and should light up a decent plagiarism detection program like a Christmas tree.
Grammarly decked the halls with boughs of holly, finding a whopping 86% of this content to be taken from other sources.
The process is simple and effective. You start out by pasting your copy into a blank page.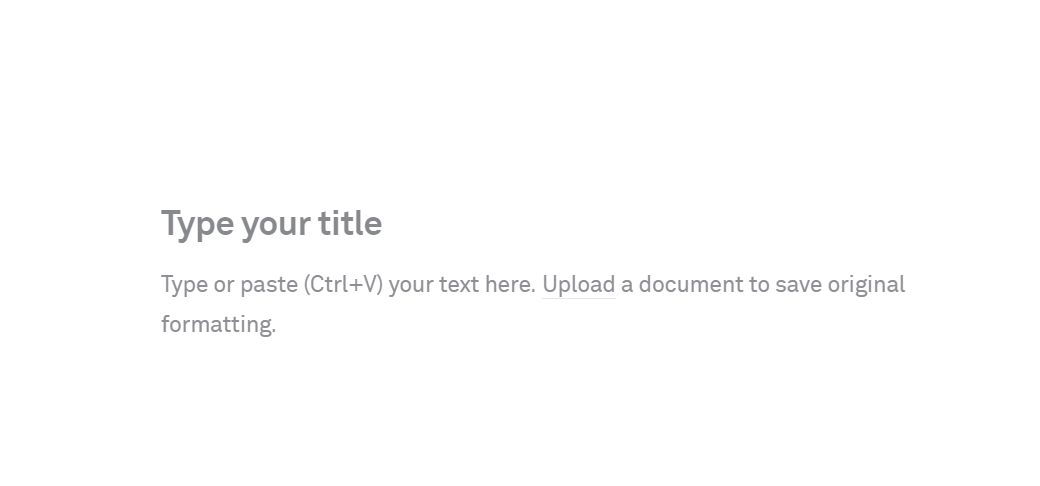 You can also upload the document (Microsoft word, for example), but for the purposes of this review, I chose to copy and paste. Grammarly immediately set to work, running its full range of services on the document. That covers everything from basic grammar to sentence structure, vocabulary, plagiarism, and more.
You can access the plagiarism report by clicking on a tab in the right-hand corner.
Grammarly ripped its way through this content, highlighting passage after passage and letting us know where every bit of suspect copy was taken from.
It determined that this sample article pulled from 11 different sources on the web, and gave us a link to every one of them.
We also tested a piece of original content to gauge the other end of the spectrum. Grammarly only found one similar fragment from one online source to be in question.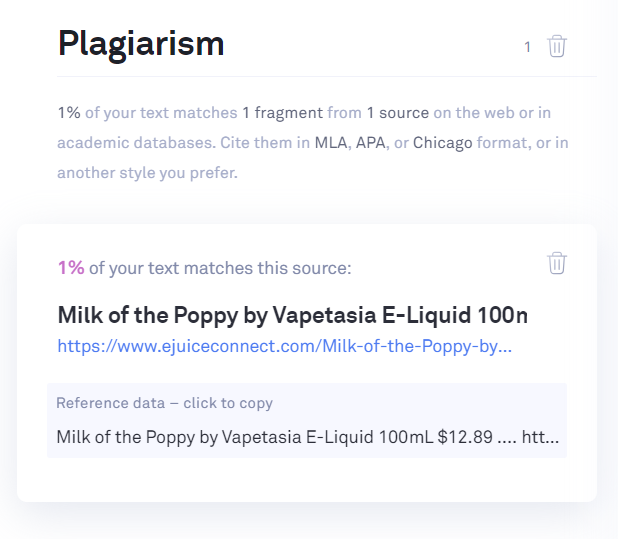 That's not to say that it's a perfect system. We found that some of their reporting insights were not thorough enough.
One of my favorite features for a plagiarism detector is the ability to export your findings in a PDF. This is incredibly convenient, particularly for businesses, to hold writers accountable and keep an accurate record.

It sounds subtle. But just like the experts from our MasterClass review can attest, it's the details that make all the difference!
Grammarly allows you to export a PDF, but it's for all of their combined services and not just plagiarism. The section on plagiarism is very brief and offers little to no information on what was found, other than the total percentage.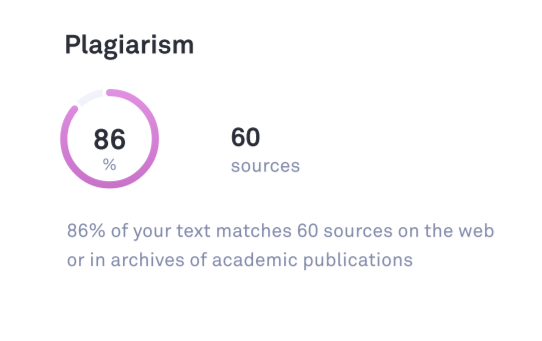 This is not the end of the world, and certainly not enough to move this into the cons section, but it's less than ideal.
2. 16+ Billion Database
When it comes to the size of Grammarly's database, you have nothing to fear. This is a truly massive system encompassing over 16 billion sources at breakneck speed.
What's more, this is not a system that anyone else can duplicate. Grammarly's database is proprietary, meaning that it is exclusive to this service.
To put that number in perspective, there are more than 1.8 billion websites in the world, most with multiple pages, but Grammarly goes beyond that to check databases, journals, ebooks, and more in its quest to find repeated content.
Is it the largest database we've seen? No.
Some checkers like Plagly, pull from more than 20 billion sources. But while they have an advantage over Grammarly in terms of quantity, they're severely lacking in quality.
3. High Daily and Monthly Limits
Grammarly's set limitations are fair and should allow users to check more than the typical workload associated with most businesses and academic programs within the span of a month.
It should also be noted that these limits include not only plagiarism detection, but the rest of Grammarly's suite of services as well.
In one day users are limited to checking 100 documents which, according to Grammarly, encompasses no more than 50,000 words. That's nearly an entire novel per day. However, that doesn't mean Grammarly's monthly cap is 1.5 million words.
The monthly cap is 300 documents, or 150,000 words, which is still a lot of content to check within such a short period.
How does that equate to a common academic workload?
The average college term paper is between five and seven pages. If you're writing in 12 point font with double spacing, that gets you around 250 words per page. Single spaced content boils down to around 500 words per page. That means each college paper should be between 1,750 and 3,500 words.
A Grammarly user could write 42 term papers in a one month period and check them with Grammarly.
I hope I never see the inside of that classroom…
4. Available on Mac, Windows, Chrome, Safari, Edge, iOS, and Android
Grammarly can be connected to five simultaneous devices. That's perfect for a family, a small office, a small academic faculty, or one person with many devices.

Grammarly is available on both desktop and mobile platforms, so it could be connected to your computer, phone, tablet, and more. This is particularly helpful in the mobile arena for those of you writing papers and professional content on an advanced tablet like the iPad Pro.
If you're interested in connecting via Android, you have to be running Android 4.0.3 or higher. iOS users need to be running iOS 9.3 or higher to take advantage of Grammarly's services.
Grammarly has apps for both Windows and Mac computers, Microsoft Office programs like Word, Powerpoint, OneNote and Outlook. Grammarly is probably best known for its Google Chrome extension, which is a free service that offers limited grammatical corrections. The Chrome extension is currently in beta testing for Google Docs. There are also workarounds for Linux or Libre Office users.
The plagiarism detector, however, is only accessible through Grammarly's website, Microsoft Office, or their desktop app.
5. Fast, Friendly Customer Support
I love a good customer service team. I'm a little spoiled, so I want answers to come fast and I want them to be thorough and respectful.
The easiest way to win my affection from a customer service standpoint is to offer a live chat option. Unfortunately, Grammarly does not have that. It does, however, offer a massive knowledge base with articles pertaining to almost any question you might have.

If you're unable to find the answer to your question in the knowledge base, Grammarly has an option for you to reach out to their customer support department via a web form. I reached out with a question about the device compatibility of the plagiarism tool.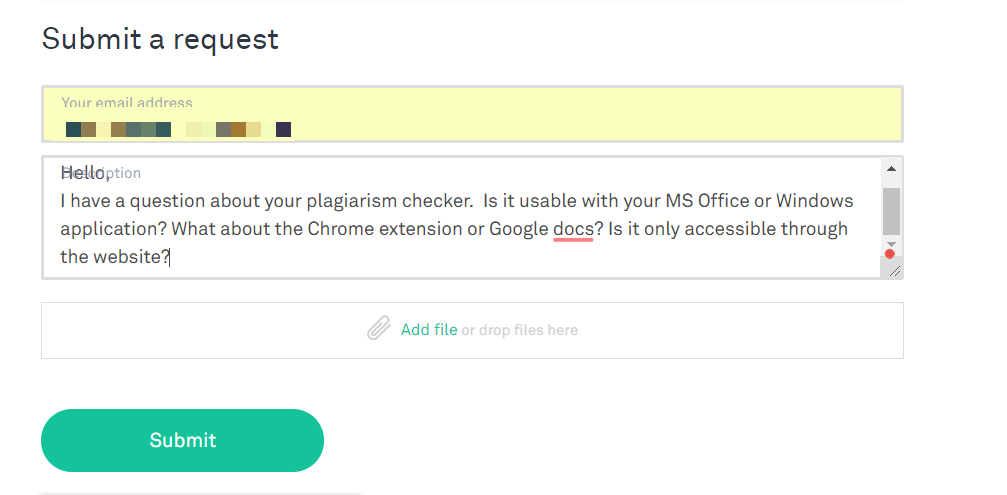 I received a confirmation email immediately, letting me know that my question was being processed and would be answered soon. The email also included a link to the knowledge base and encouraged me to continue looking for an answer in the meantime.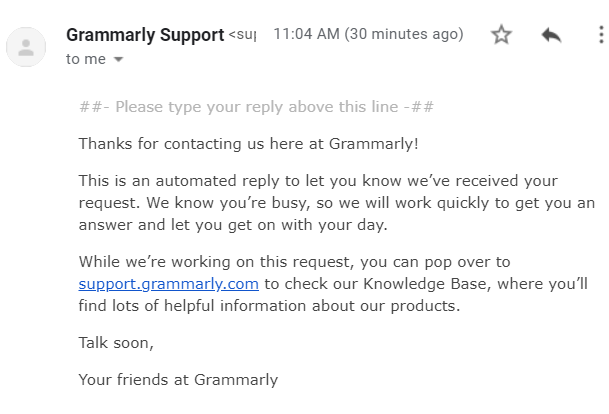 Normally, a customer support department takes between one and two days to respond, so I settled in and prepared to wait this out. I was shocked when I got a response not even an hour later.

Not only was it a quick response, but it was informative and contained a link. Olivia's tone was cordial and welcoming and at no time did I feel like this was a "copy and paste" response. Grammarly heard my question and responded in a complete and fast manner.
What more can one ask from a customer service department?
Live chat. But maybe in the future!
Grammarly Plagiarism Checker Cons
While there's so much to love about this service, it's not perfect. The one glaring con of Grammarly comes in the form of language inclusion.
1. English-Only Language Support
At the moment, Grammarly only offers service in the English language.
With the whole world as a potential market, we feel like Grammarly is selling itself short by limiting its supports to the English language alone.
If Grammarly truly wanted to be more inclusive, they should open themselves up to checking for Grammar and plagiarism in other widespread languages, like Chinese and Spanish.
2. Grammarly Plagiarism Checker Only Available on Premium
Grammarly has a great free option. The only problem is that the plagiarism checker isn't available on the free version, so you'll have to upgrade.

Grammarly Cost, Plans, and Payment Options
The Grammarly plagiarism checking software is only available with Grammarly Premium, a paid plan that includes a lot of extra bells and whistles.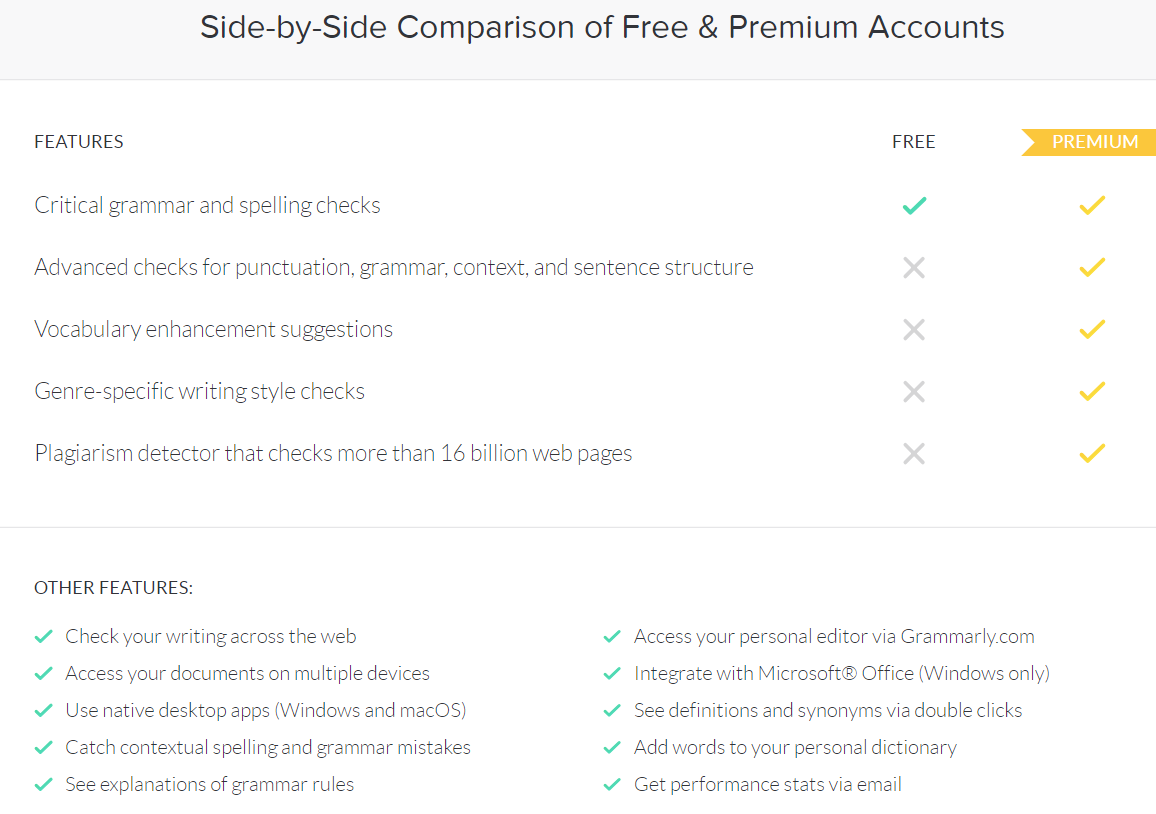 The plagiarism software is only one of many stellar services offered with Grammarly Premium. You also have punctuation, context, and sentence structure checks; vocabulary enhancement; and genre-specific writing checks.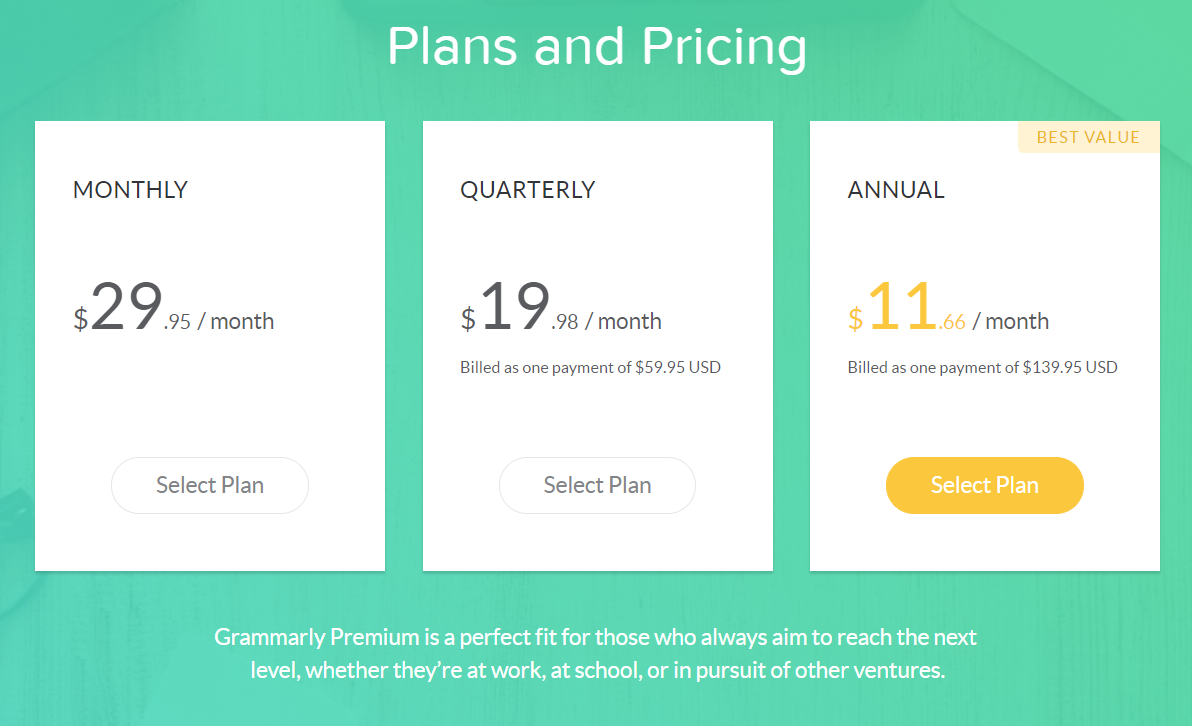 One month with no commitment will cost $29.95. If you purchase a quarterly commitment, the price comes out to $19.98 per month. An entire year of Grammarly Premium boils down to $11.66 per month.
If the price point scares you, I'd recommend signing up for a single month, first. That's what I did initially: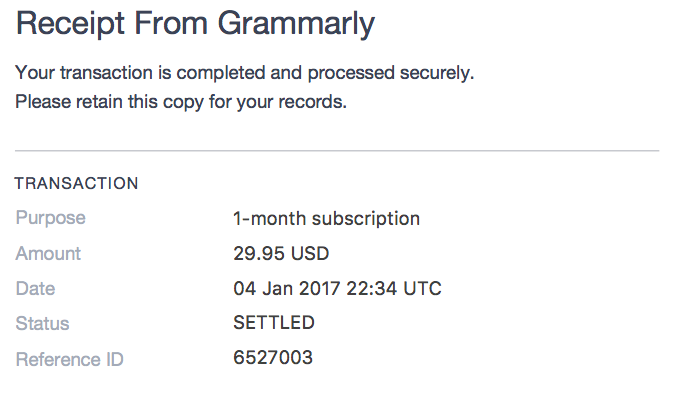 Eventually, I liked it so much that I just went all-in with the annual purchase (to save the most).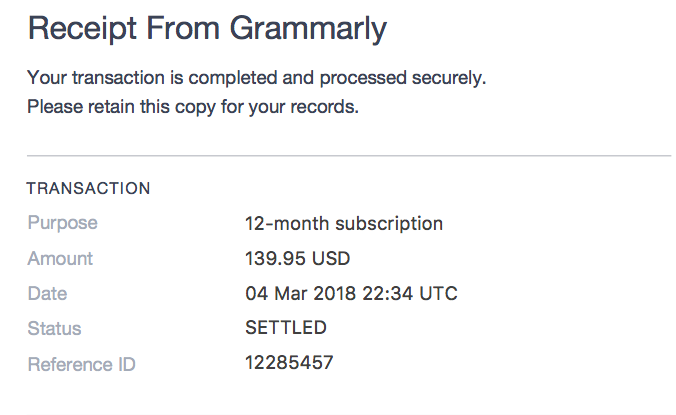 Grammarly allows you to pay with either a major credit/debit card or PayPal.
Do I Recommend Grammarly Plagiarism Checker?
Absolutely.
This is a fantastic plagiarism checking system, combing through a massive online database to accurately pinpoint instances of plagiarism and link you to the sites that the copy was pulled from.

Our content marketing agency produces over 300+ articles/month, so we use Grammarly Premium on a daily basis.
In terms of functionality, Grammarly is unsurpassed. It's a truly great anti-plagiarism system that comes with a slew of additional features that help to create better writers.
I hope that they will eventually offer more languages, and when they do the service can only get better. The only other downside I can see is that Grammarly Premium might be a bit too expensive for students on a tight budget.
But overall, I can comfortably say it is the best all-around plagiarism checker on the market today.