Linux is an open source operating system that's comparable to Mac and Windows and is used on various platforms.
Like any other operating system, apps can be downloaded to make your life easier. Grammarly is one of those apps that can help when it comes to improving your writing.

If you're more of a visual learner, there's also MasterClass where you can learn from some of the best writers and professionals to take your writing to the next level.
Grammarly is also ideal for those that are business types or students. It has many features that do much more than the average spelling and grammar checker. Today we show you how to get Grammarly on Linux.
Disclosure: These reviews are reader-supported. We might earn a small commission if you purchase something through our site. Learn more
Grammarly
Best All-Around
$11.66
/mo – before discount
PROS
86% out of 86% accuracy
16+ billion database
150k+ word limit
5 devlice limit
Includes plagiarism
1-hour response
CONS
Only supports English
Expensive without our link
Grammarly Premium Walkthrough Video
TABLE OF CONTENTS
How to Install Grammarly on Linux
Installing Grammarly for Linux isn't quite the same as it is for Mac or Windows. Unlike with those two, you aren't able to download the Grammarly desktop app as you can for Mac or Windows. You can download a Grammarly browser extension, though. This can be done on any browser of your choosing, but Chrome and Firefox are the most preferred. Be sure to enable them once they are downloaded.
You can also choose to download the add-in for Microsoft Office. This way if you use PowerPoint, Microsoft Word or Excel, it will correct all your grammatical errors and spell check. There's the option of using the online Grammarly editor too. All of these options are available for free.
Once you choose the route you want to go, you can begin using Grammarly. If you choose the option to use the web browser option, then you'll be required to make an account. Making an account can be done by using your email, Google sign-in, or your Facebook login. It should be noted you don't have to make an account if you just want to use the text box but if you want any corrections on your spelling errors or your grammar mistakes, then an account is required.
While Grammarly doesn't come with the desktop version and it may be something you prefer, you can always check out the other grammar tool such as Slick Write or Languagetool. These are both integrated with LibreOffice writer, an open-source software for writing that many Linux users use. The difference between them and Grammarly is that they lack many features and mainly are spelling checker, but more on that in a minute.
How to Correct Your Grammar Using Grammarly on Linux
One of the best things about Grammarly is the different ways you can use it. Whether you are using the browser extension, MS Word add-on, the online tool or the desktop version, Grammarly has an option and app for everyone.
Even if the program you're using it on doesn't integrate with it, you can still use it in other ways. Each version has its way of being a spelling or grammar checker. For example, the website and desktop version are relatively the same. They both have the option to upload documents in formats like doc docx, Google docs, txt, and odt or you can copy and paste plain text. Your mistakes and suggestions with be highlighted and a pop-up menu will appear. This menu will have various suggestions and mistakes that should be corrected.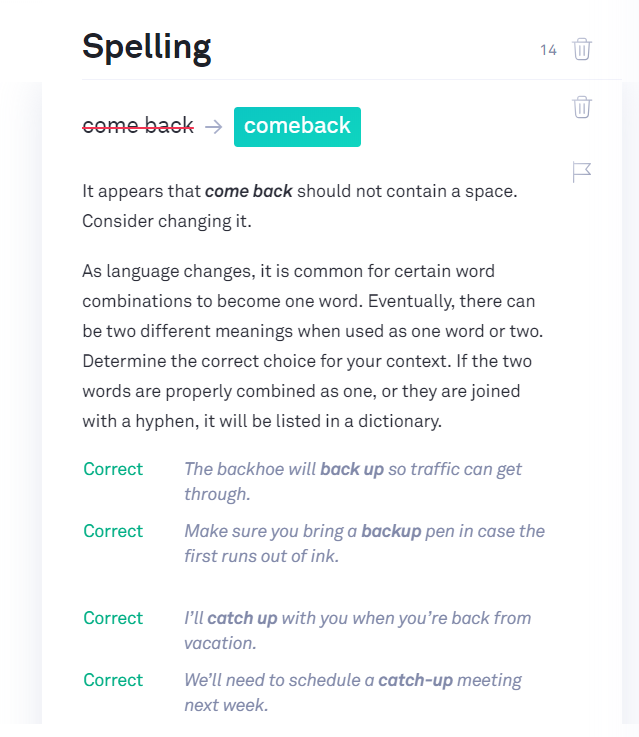 When you use the Grammarly browser extensions or the add-ons, you will receive highlighted suggestions or corrections as you type. This is especially true with the Grammarly app for iOS and Android. It's more like a Grammarly keyboard that will correct as you go and is perfect for business types and students who send emails often or correspond with colleagues frequently.
How to Check Reports on Linux
Grammarly offers several different reports. Each one depends on what you want out of it. 3 sections display suggestions, mistakes, and ways to improve.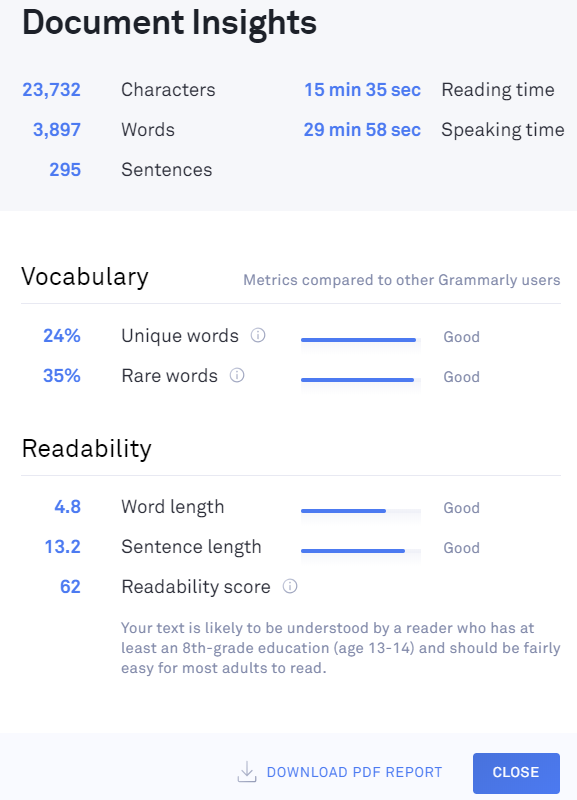 The first report you'll see is the free one. It does the standard spell checker while also grammar checking. This report is part of the pop-up menu that displays on the right side of your screen. It will show you the correctness score, how engaging your writing is, how clear it is, the delivery, and what changes can be made.
The section you will have to upgrade to Grammarly Premium or Business is the ability to correct certain suggestions and mistakes. These mistakes are more about the use of passive voice, readability, plagiarized instances, and writing style. You will have a numbered list of corrections and suggestions, but you won't be able to change them until you upgrade.
The final report is on plagiarizing. This report also needs the upgraded version of Grammarly and is essential for students.
How to Detect Plagiarism Using Grammarly on Linux
Grammarly does so much more than the other writing tool out there on the market. The Plagiarism checker is one of the main features that make it stand out compared to the competition. This feature is essential for anyone who does a lot of writing daily.
Our content marketing agency produces over 300+ articles/month, so we use Grammarly Premium on a daily basis to make sure there's no sign of any plagiarism.
Sometimes we can plagiarize and not even realize it or forget to quote. This is where Grammarly steps in.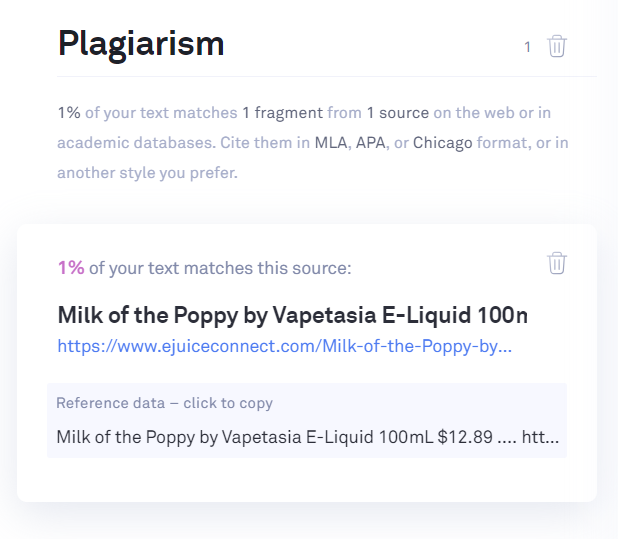 The checker scans over 16 billion databases to find any instance where you might have plagiarized. Once it detects any instances, it will make a note to highlight it. Once highlighted, you may have suggestions to quote the texts, rewrite it, or add citations.
Another feature that goes hand in hand with the plagiarism check is the ability to send your work in to be proofread. This feature is separate from both the free version and the paid premium versions. It requires a fee that is based on the word count of the piece and when you need it checked by. The unique thing about this feature is that the proofreading is all done by a human instead of artificial intelligence.
How to Uninstall Grammarly on Linux
The way you uninstall Grammarly will depend entirely on which version you used to install it. For example, there isn't a desktop version of the software so no need to go into your add and remove programs section of your computer.
When it comes to uninstalling the add-ins for Microsoft, you will go into File > Options > Add-ins. At the bottom, it will say Manage and you will click the Go button. From there, you will be able to disable, enable, or completely remove the add-in.
Uninstalling the add-ons for browsers are similar. When you enter your settings and go into your extensions menu, you'll have a full list of them all and be able to remove them, enable or disable them. Click the "X" at the top right when you want to remove an extension.
If you created a Grammarly account and no longer want it, then you will have to contact them so they can delete the email, Google account or Facebook account associated with Grammarly.
Linux is often a program that many associate with not being compatible with many applications and word processors.
The good news is that it's ever-evolving and so are the applications. Grammarly is one of the best checker software that you can use with Linux even though you can't fully integrate it. It's used by many students and businesspersons alike.
It's free for the most part and you don't have to take our word for it on how awesome it is, just check out any Grammarly review and see for yourself.