Grammarly is a well-known grammar checker that helps you correct grammatical errors and spelling mistakes.
But when you're talking about the cost of Grammarly, you're talking about two different products:
The first version is a free-to-use spelling, grammar, and punctuation checker.
The second is a paid service called Grammarly Premium.
While both of these tiers fall under the Grammarly umbrella, they differ greatly in terms of service quality.
Grammarly Premium plan comes packed to the gills with special features specifically designed to perfect a writer's work and sharpen their skills. The Premium service is far more customizable and pays special attention to the writer's overall knowledge.
But will you get your money's worth? Let's find out…
Disclosure: Our site is reader-supported. We might earn a small commission if you purchase something through our site. Learn more
Our Verdict
Yes, the price of Grammarly is well worth it. Upgrading to the Premium version will unlock a slew of new features, like one of the best plagiarism detectors we've tested. If you're going to pay for a grammar or plagiarism checker, Grammarly is the best option on the market. You can also save 20% with our exclusive link.
Grammarly
Ranked #1 Best All-Around
$11.66
/mo – before discount
PROS
86% out of 86% accuracy
16+ billion database
150k+ word limit
Includes plagiarism support
Responded within an hour
CONS
Only supports English
Expensive without our link
Grammarly Premium Review: Video Overview
TABLE OF CONTENTS
What is Grammarly? And how does it work?
Feel free to read our comprehensive review of Grammarly for more information.
How much does Grammarly cost?
And is it even worth it?
That's usually the first question eager writers, editors, and students ask themselves when they first stumble upon the Grammarly website.
Because if Grammarly's features don't add up to its price point, there's a huge issue that calls the effectiveness of the whole system into question.
The good news? Similar to our MasterClass review, the value you get from using Grammarly is well worth the cost.
How Grammarly's Pricing Works
Grammarly Premium is a subscription-based service.
It can be paid for on a month-to-month basis, or it can be prepurchased for up to a whole year.
The longer your commitment period is, the lower the monthly rate will be. Just keep in mind that you're paying one lump sum that will last the entire year to get these discounted rates.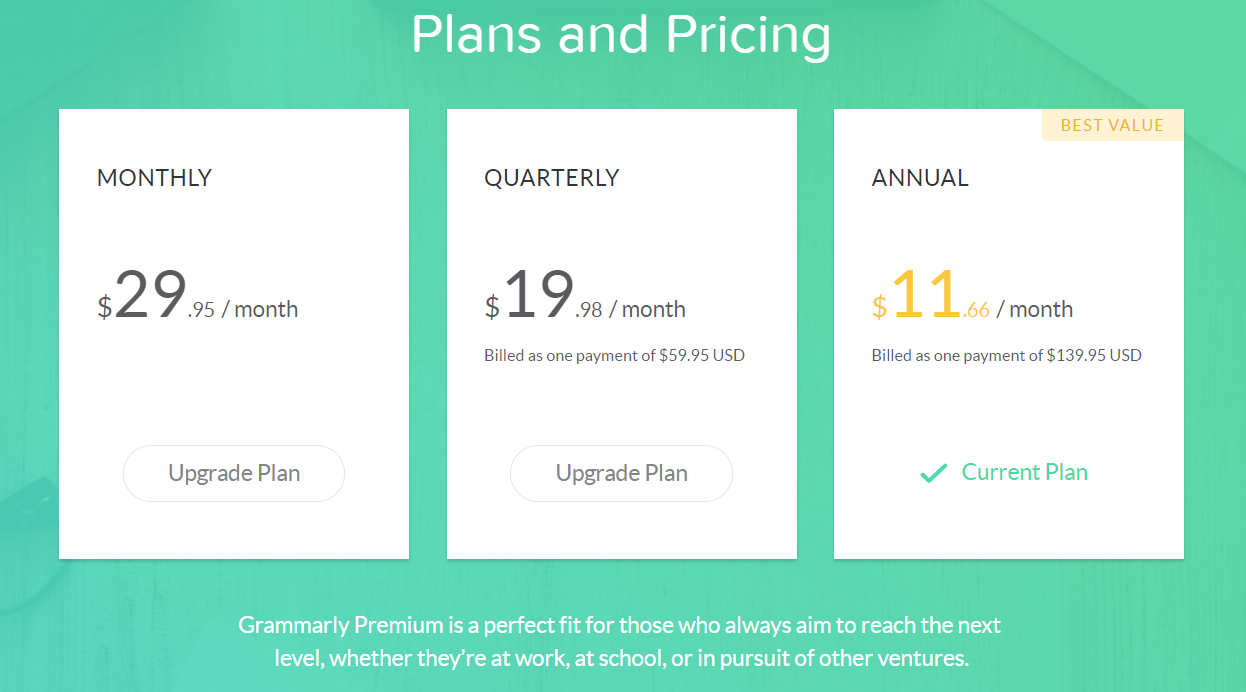 The best value comes from Grammarly's annual plan. They charge one payment of $139.95. That breaks down the Grammarly price to $11.66 per month.
If you're looking to subscribe quarterly, it's a one-time payment of $59.95, and that covers you for four months. At the end of that time period, you'd be charged again. If you break it down by month, it's $19.98.
The most expensive option is their month-to-month plan. That is $29.95 per month. It's the least amount paid at one time, but you pay more in the long run.
Here's how those would compare:
A full year of the month to month plan comes out to a whopping $359.40 in all.
Four quarterly memberships equal $239.80.
When you look at it like that, paying $139.95 for a full year seems pretty tempting.
Unless you only need the service for one month, Grammarly's month-to-month pricing doesn't make much sense. Even if you're using it for only two months, it would be more cost-effective to purchase a quarterly plan, as it comes out to the same price.
What Do You Get for the Cost of Grammarly?
There's a huge difference between Grammarly's free plan and Grammarly Premium. While the Premium service is stuffed with useful features, the free version is, understandably, a lot simpler.
✅ Advanced Grammarly and Readability Analysis
✅ Enhanced Vocabulary Suggestions
✅ Set Writing Goals and Measure Your Progress
✅ Best-in-Class Plagiarism Detection
✅ Business Write Off (Yes, Really)
Free users will be able to make use of Grammarly's critical grammar and spelling check system, and that's it. But for the average writer, that's all you really need. Free Grammarly is a fantastic way to police your correspondence with friends, family, and professional contacts. If you tend to make mistakes when writing a blog post and need a simple proofreading tool, free Grammarly gets you covered.
Using Grammarly's Chrome browser extension, you can bring their critical grammar and spelling system into your email messages, Facebook statuses, tweets, and more! For a social media writer, that's what you need. If you're not creating long drawn out reports, or any kind of professional writing, you could get away with this simplistic no-cost option.
You can even use the Grammarly browser for Chrome across Mac devices, plus both Microsoft Word and Outlook apps, too. The Grammarly for Microsoft is quite convenient. If you are a MS word user, you'll just love it. Grammarly is currently beta testing for Chrome in Google docs.
But if you're writing for school or your job, then the features of Grammarly Premium start to look awfully enticing.
For starters, they have the same critical grammar and spelling system that the free users enjoy. So right away, you know that you're getting everything offered in the free plan. But the list goes on and on.
Grammarly employs an advanced system that checks not only grammar and punctuation but sentence structure and context as well. The grammar checker makes your writing free of mistakes.
Vocabulary enhancements allow you to spice up your writing style with differing language choices.
The ability to set genre-specific goals helps Grammarly provide a more personalized experience, tailoring its recommendations to the type of content you're trying to create.
One of Grammarly Premium's greatest gifts is a built-in plagiarism checker which compares your writing to more than 16 billion websites from all over the world to ensure that you're not accidentally copying the work of someone else.
Let's take a look at these features one at a time to get a better sense of what you're getting when you put money down for Grammarly Premium.
#1. Grammar and Spell Checker
Grammarly does a great job catching the spelling, punctuation, and grammar mistakes that the casual eye would overlook. But the true value in this service lies not in the corrections of mistakes themselves, but in the detailed information that it includes to help educate users.
Grammarly seems to work on the understanding that correcting a mistake with no context does no one any favors. But when you actually take the time to educate your users and explain why they made a mistake, you're helping to create better writers and improving content all over the world as a whole.
As you can see above, Grammarly identified a sentence fragment. In the document itself, it gives suggestions on how to change it up and fix the issue. Then, in this sidebar, Grammarly walks you through what a sentence fragment is, why they're bad, and how you can avoid them in the future.
That's some incredible service, and it goes above and beyond what most other competing programs would offer.
That's one of the main reasons why I say Grammarly is worth the cost. It's like a virtual English tutor.
#2. Improve Your Vocabulary
A strong vocabulary is the backbone of a good writer. The ability to vary up your writing helps keep your readers engaged as you take them through whatever piece of content you've created.
Reading the same words over and over again will make your readers tune out. If their brains go to sleep the point that you were trying to make with your content will fall off.
That means poor reviews for authors, a low conversion rate for web content, and a lower closing rate for sales proposals.
Trust me: it adds up to hundreds of thousands of dollars each year for our content marketing agency.
That's what makes Grammarly's vocabulary checking software so beneficial. The words that you're using might be correct, both grammatically and from a spelling standpoint. But if there's a better word to put there that could help you overcome a passive voice and vary up your content, Grammarly will let you know.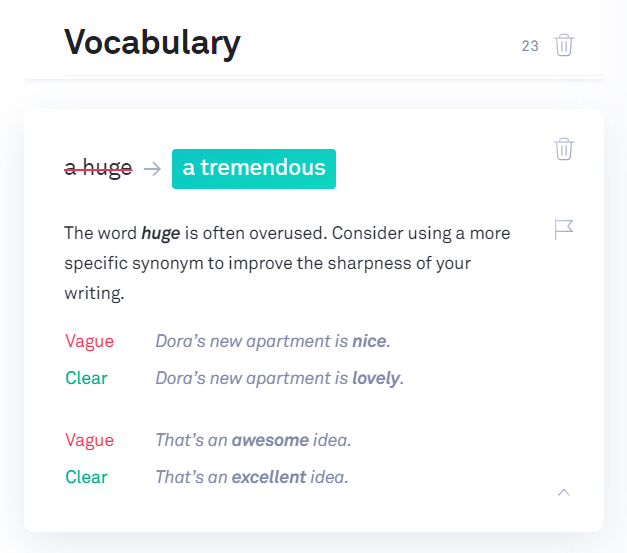 In this example, Grammarly has flagged the word "huge," which is a fairly common word. They recommend a sharper more specific synonym like "tremendous" which makes for a more dynamic sentence.
Varying up vocabulary is one of the hardest lessons that all writers have to learn to improve their writing style. Having a built-in virtual assistant to help you solve this annoying issue heaps a ton of value onto this service, making Grammarly's cost all the more worthwhile. The desktop app or the Grammarly Chrome extension, for example, can help make your writing style sharper.
#3. Get Suggestions Based on Your Writing Goals
Editing is not a one size fits all process. No human editor would approach a work of fiction in the same way they would grade a term paper. They're completely different animals that require a different approach.
That's why Grammarly allows you to set certain goals for yourself. The program then takes your selections into account when making suggestions.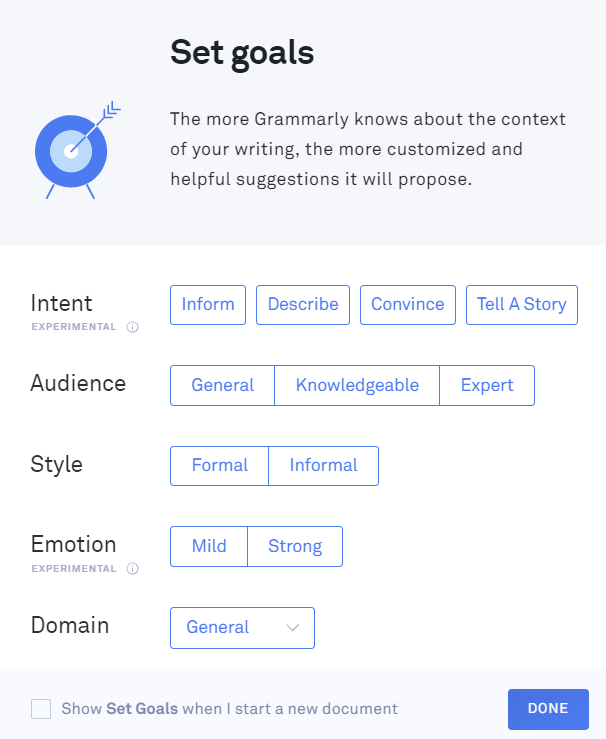 Your goals are set in five different categories. They are Intent, audience, style, emotion, and domain.
As far as intent goes, you have to let Grammarly know what you're trying to accomplish. Informational pieces are judged differently than descriptive accounts. If you're trying to convince someone to purchase a product, that has to be written in a different way than a story that you are recounting.
The audience is important to identify, as that will dictate your overall wording. If you are speaking to experts on plumbing, you're not going to explain the basic intricacies of the industry. They know it already. If you're trying to explain computer science to a general audience, you don't want to load your content up with technobabble and jargon.
Style and emotion go hand in hand. Are you being conversational, or is this a very formal piece? Knowing that will also help you decide if your emotion should be mild or strong.
Domain speaks to where this piece is going to be featured. Is it technical? Is it a creative story? Knowing that gives Grammarly even more insight into how it should police your copy.
That level of personalization and intelligence is yet another area in which Grammarly injects value into its services.
#4. Checking (and Fixing) Plagiarism
Grammarly's plagiarism detection app is one of the most advanced and accurate that we've seen. It examines your copy and compares it to 16 billion Web sources in an attempt to find out if your content matches anything else out there.
Why is this such a big deal? Glad you asked!
Plagiarism comes with some steep consequences. Students have been expelled from universities for copying their term papers, and businesses have been sued for hundreds of thousands of dollars for copying their competitors.
Remember, online content is usually copyrighted, and stealing it is not allowed. You can pull from sources, so long as they are properly cited and linked. A lot of writers don't know how to do that correctly, so a lot of plagiarism happens by mistake.
That's why Grammarly's plagiarism app is so useful both for the writers themselves to check their work for accidental plagiarism, and for business owners and editors to ensure that their writers are using integrity in their assignments.
We took a piece of sample content that was loaded with plagiarism and ran it through Grammarly's checker.
Grammarly deduced that 86% of this content was plagiarized. That occurred in 60 fragments from 11 different web sources.
To add some more value onto Grammarly's cost, I'll let you know that we tested a number of different plagiarism detectors, many of which claimed to pull from databases that were far larger.
The majority of those services ranked this piece somewhere between 60-65%. That's a whole lot of plagiarism that was just glossed over, opening the writers and businesses that hire them to potential legal action.
#5. Business Expense (aka Tax Write Off)
Yes, Grammarly costs money, as most services worth having do. The question that we're trying to answer here is, does Grammarly's price equate to its value?
I believe that everything we've discussed up to this point shows that Grammarly is worth the $11.66 per month that the yearly subscription costs.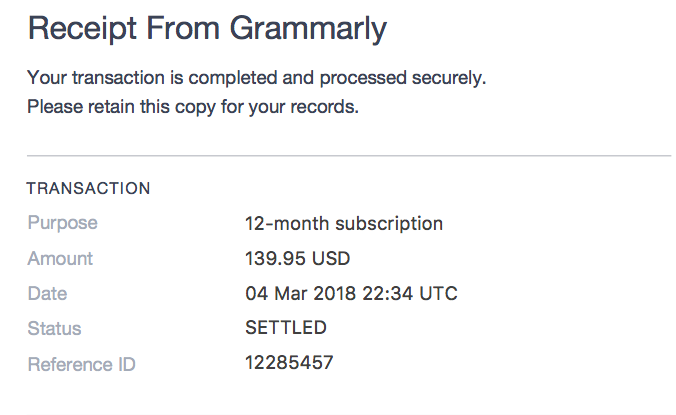 But thankfully, there is a way to save a little more money when using the service for business purposes.
A Grammarly subscription in the hands of a professional writer or editor can be considered a business expense or a reimbursable expense.
And as anyone who has ever done their taxes can tell you, business expenses can be written off, saving you money on your annual income tax amount.
Final Verdict: Is Grammarly Worth the Price?
Yes, I think Grammarly's wealth of services are worth the $11.66 per month that you'd pay with a year-long subscription.
There are some good alternatives on the market.
But I don't think any of them beats Grammarly as an all-around grammar, plagiarism, and writing app.
For just over $10, you're getting virtually unlimited use of:
Advanced grammar and spell checking with detailed educational instructions
Vocabulary suggestions
Personalized writing goals
A top-notch plagiarism checker
That being said, I also feel that a quarterly subscription could be useful for anyone looking to try Grammarly out in the short term.
I would advise against their month-to-month plan. Spending almost $30 for a month of service seems very steep to me. Two months at that price are almost the same as paying for an entire quarter.
I would recommend people give Grammarly's free service a try. The free version has a lot to offer.
If you like it, you'll definitely think the annual Premium value is worth it, especially if your work involves lots of writing. If you write professionally, you may consider Grammarly Pro.
If you are on the market for an app that allows you to export from Google Docs to WordPress in 1-click, then we recommend checking out Wordable. It will not only clean and properly format your HTML, but also compress images, open links in a new tab, automatically set featured images, or create a table of contents, and lots more.
As for students, there's no Grammarly student plan or Grammarly student discount, so just stick to the free version — unless you can afford the premium plan.
(And remember to make sure that you're writing off the cost at the end of the year on your taxes if you're using it for business purposes.)