You know that SEO is important. The ability to rank on popular search engines like Google and Bing has become a necessity for businesses of all sizes.
It's likely that someone at some point has told you that the key to search engine success is to optimize your written content as part of your SEO strategy.
How do you do that?
Thankfully, because SEO is such an integral piece of the content marketing puzzle, there are online tools that will examine your content, compare it to other high-ranking web pages, and tell you how you're doing and what to improve.
But how do you find the right content optimization software for you?
To answer that, we've looked at some of the best content optimization tools out there. Our content marketing agency produces over 300+ articles/month, so we use these writing tools on a daily basis. Dive in to find out which software will best suit your goals and budget.
Our Verdict
When trying to decide between MarketMuse, Clearscope, and Frase, it really depends on the size of your company and what you're looking for out of your content optimization tool. 
TABLE OF CONTENTS
What is content optimization?
Content optimization is the process of improving content to align it with search intent and improve ranking positions. In other words, with content optimization, you make your content more attractive to your target audience and Google, by serving both parties exactly what they're looking for.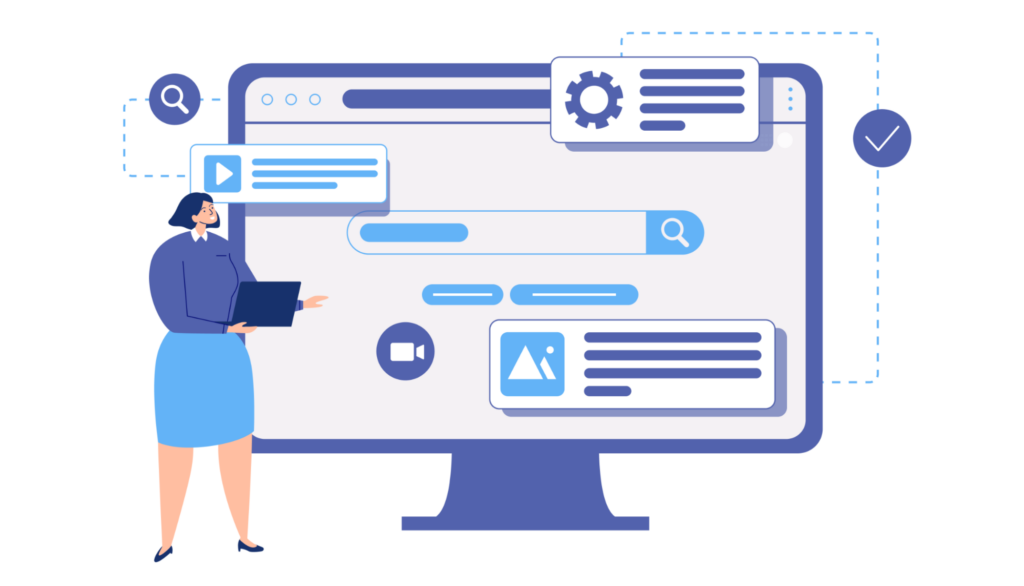 Search engines encourage bloggers and businesses to optimize their pages because they want to serve the most up-to-date, well-structured, and informative content to their users. If internet users are satisfied with what they see, they're more likely to keep browsing, view more ads, and spend more money online — so everyone wins.
How to optimize content
There are a few things you can do to make your content more SEO-friendly:
Use relevant keywords and phrases throughout your content.
Build a logical heading structure for your pieces.
Optimize your headlines and meta tags.
Add relevant internal links to create a clear hierarchy for your website.
Include external links to authoritative niche sources.
Run an analysis to see what your competitors are writing about and which keywords they're including.
What sounds like a week's worth of work actually takes less than an hour to complete — that is, if you're using the right content optimization platform.
The whole point of using dedicated optimization tools is to automate these rather laborious processes and produce content faster and more strategically — without compromising on quality.
We took a look at the top software on offer to more effectively determine which one is right for you.
Our content optimization software review process
To provide you with the best and most up-to-date information on the products we review, we take them all for a test drive. We also perform thorough research on these tools and the companies they come from.
The following steps go into every Codeless content optimization tool review:
We research the parent company, gathering backstory on the tool in question.
We sign up for the service.
We upload an SEO content piece to the service and test the results.
We reach out to the company's customer service department to gauge their effectiveness.
We examine the tool's pricing in order to determine if it's worth the cost. Do you stand a chance of generating a return on your investment?
We offer our overall impression of the tool along with our recommendation. Sometimes we'll recommend the tool for a specific audience but warn others away.
Now that you know what goes into every review, it's time to talk about some of the best tools that we've encountered.
Our picks for the best content optimization tools on the market
Below you'll see three of the very best tools that we've identified through careful research and testing.
Each section will contain information on the tool in question, along with a description of its features and why we feel it is one of the best options on the market. We'll also link to our full reviews of each tool to provide you with more details.
MarketMuse
MarketMuse is a content optimization tool that was developed in 2013. Since then, it has evolved into an award-winning service that has earned its stellar reputation as being one of the very best content tools in existence.

This is a sample result from MarketMuse's Optimize app.
When using MarketMuse, you have access to advanced keyword research, competitor analysis, and even topic suggestions, among other features that we'll highlight here.
Here's the thing about MarketMuse; it's very expensive. However, in our review we found that the high price to be totally worth it for the right company.
That bit about "the right company" is an important disclaimer. MarketMuse isn't for you if it's going to cut into your profits. That's why MarketMuse is only recommended for medium to large agencies that have a strong SEO foundation. Preferably, you should have a team of in-house SEO writers who can get a lot of use out of this tool.
MarketMuse features
MarketMuse uses its features to provide you with hard data, which is essential in content optimization. That means there's no guesswork involved when trying to determine the optimization level of your existing content. It also makes content audits of your site a breeze.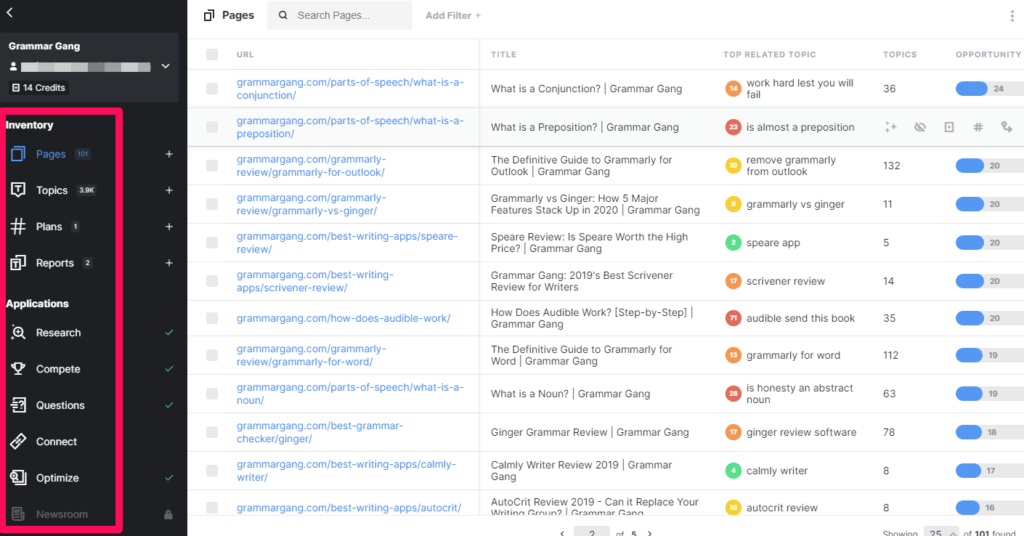 The Inventory section in MarketMuse has a number of fantastic features that are all available through a menu on the left side of the page.
Through the Inventory section, you're able to track content and reports regarding everything currently on your website.
Let's examine these Inventory tabs one at a time.
The Pages tab will store the content you already have on your website. It will even give you advice on how you can improve it.
When you access the Topics tab, you're able to keep track of some of the most common topics covered by your website. MarketMuse will even make suggestions as to how you can improve your rankings for those topics through future content.
The Plans tab allows you to engage in content planning. Create a fully fleshed-out map of your content in order to better determine how your content strategy will unfold in the future.
Finally, the Reports tab helps you filter all of the data pertaining to your content. Data means nothing if it's not organized. By filling this data into actionable reports, you're able to see how your content strategy is working and what, if any, adjustments have to be made.
When it comes to the Applications section, you're working less on the content that you already have and more on optimizing new content that you are in the process of writing.
Like the Inventory section, the Applications feature has a number of tabs that are all listed in the menu on the left-hand side of the page.
Let's kick things off with the Research tab. This keyword tool feature allows you to type a topic of interest into the system. You're then given a generated keyword suggestion list that pertains to your topic, along with the recommended keyword density (or frequency) of each term. Think of this as the first step in keyword optimization.
Let's say you're writing about plumbing services; you'd just type a seed keyword like "plumbing" into the Research tab and it'll tell you which keywords you should go after. This makes the all-important Search Engine Optimization task of keyword research a cinch.
The Compete tab is where you go to get the skinny on the pages you're trying to beat. Imagine that you're the New England Patriots and the Compete tab is the camcorder that you're using to tape the practices of other teams.
Sports humor aside, you can get a good look at some of the pages that rank high for your specific search term (and no, it's not cheating!). It also makes recommendations on how you can overcome those competitors by listing a number of focus areas they missed out on.
Here's a sample report from the Compete tab: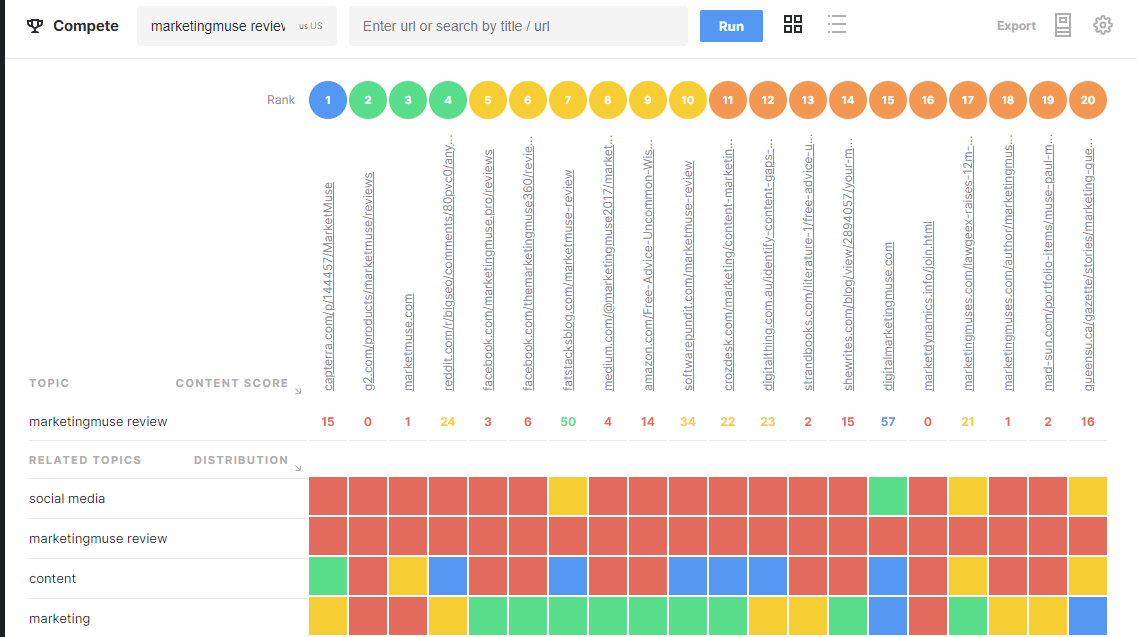 The Questions tab gives you a list of questions that have a connection to your keywords. This is an invaluable resource. Not only does it give you a strong sense of what your audience is searching for, it can also help you get ranked on Google's "People Also Ask" section. If you can provide Google with a great answer to some of these questions, your page can wind up listed in a featured snippet for the search term.
Next we have the Connect tab, which gives you ideas for internal linking. When we say internal linking, we're talking about link building between the articles that are on your page. An internal link should not be confused with a backlink, which is a link to your website that appears on another highly-ranked site. Each article that you post should be connected in some way with the other pages and articles on your site. This is an important ranking factor for Google and can't be ignored in any SEO plan.
The Optimize tab is probably the most useful feature of MarketMuse (and that's saying a lot!). You can paste your page content or blog post into the Optimize tab and receive a score based on how your content is optimized for this specific topic.
The Optimize tab will give you an average score and word count for the topic at hand along with a target score and word count. It's the best way to make sure that the content you're producing will help you from an SEO standpoint. Improve these content scores for better search visibility.
How much does MarketMuse cost?
As we mentioned before, MarketMuse is one of the most powerful SEO content optimization tools on the market, but it's also very expensive.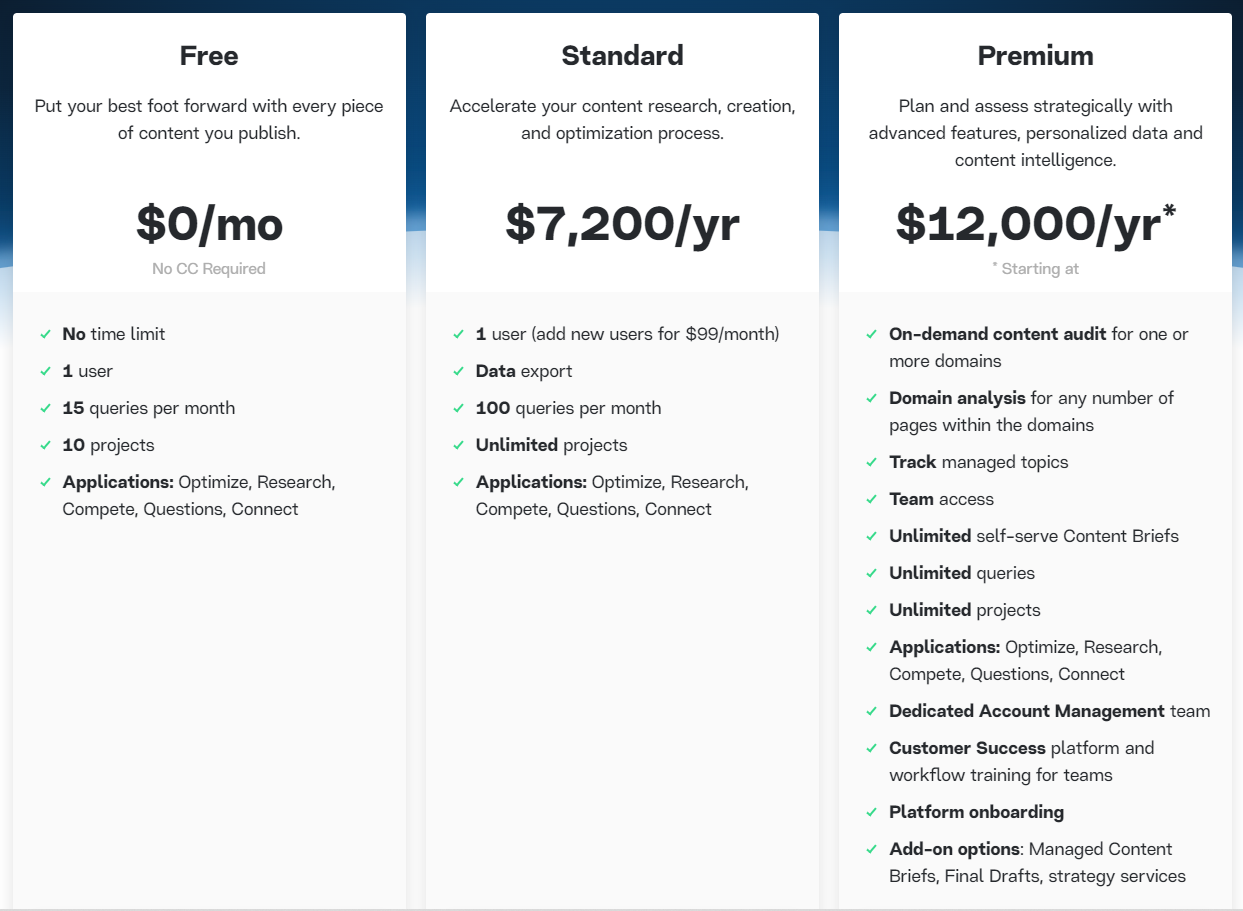 MarketMuse offers three pricing plans: Free, Standard, and Premium. You can also contact their sales team to get a plan tailored to your needs.
The platform has a basic free plan that includes 15 queries per month, which might be enough for independent content writers but not for content marketing agencies. However, it's a great opportunity to see what the platform is about.
The Standard plan starts at $600 per month and is billed annually. It includes one user seat by default, but you can add additional users for $99 a month per user.
The Premium plan can end up costing $1,000 per month or more, but it'll give you access to the whole MarketMuse toolkit, including unlimited queries and add-on options like managed content briefs.
Similar to our MasterClass review, the value you get from using MarketMuse is well worth the cost.
Check out our full MarketMuse review for a more in-depth look at this content optimization platform.
Clearscope
Clearscope is a newer content optimization tool that was developed in 2016.
Clearscope uses IBM Watson services to conduct automated SEO research. It optimizes your content by forming comparisons with high-ranking pages that are already out there.
It's used exclusively for creating optimized content. It excels at helping you create relevant content that will rank high on a search engine without feeling forced. There's nothing more painful than reading a blog post with blatant keyword stuffing.
To that end, Clearscope goes beyond the scope of an average content optimization tool by grading you on the readability of your content. This is something Google is going to judge you on, so it's a very beneficial feature.
Clearscope features
One of the best aspects of Clearscope is its intuitive user interface — just type in your search term and get to work.
The system runs a report once you enter your topic, generating a list of key terms that go along with it. It also shows you which of your competitors are currently ranking for those terms to give you a sense of the battlefield, so to speak.
Here's a sample report from Clearscope showing the overview, volume, and top competitors: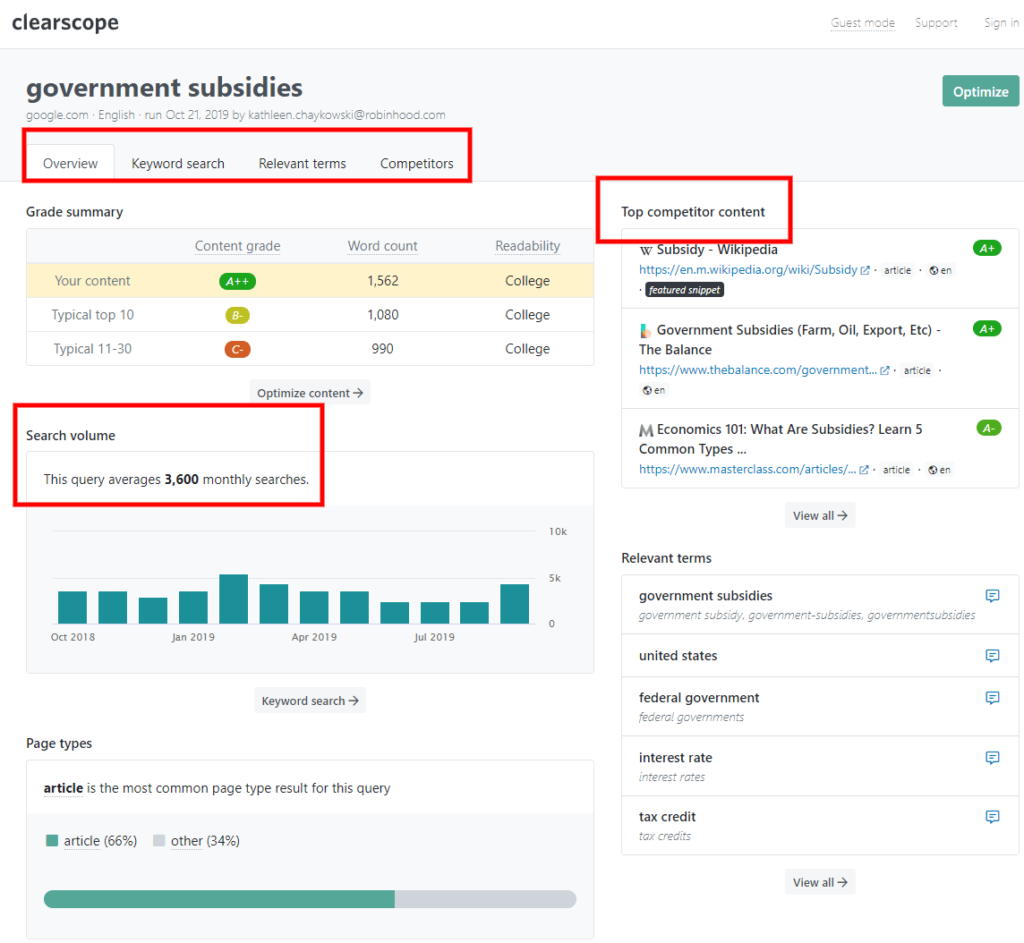 One of the truly helpful features of Clearscope is that it assigns a score to your content using a variety of criteria like search volume, the aforementioned readability, and word count.
Once that's done, it makes suggestions on other relevant topics and additional keywords that can push your content above the competition. This is essential information that you need, especially if you're trailing behind your major competitors.
The overall layout of Clearscope makes it very simple to explore and sift through various bits of data. Once you enter an initial query, everything loads at once. That means you won't have a lot of lag time, which is a common issue that plagues MarketMuse.
What's more, the Clearscope team offers free guided onboarding and support. However, the system is so easy to use that most won't even need it.
All content can be created and optimized in the system, so you won't have to do a lot of copy and pasting.
Another truly valuable feature of this content optimization tool is search volume data. Clearscope will actually give you a bar graph that shows monthly searches for particular keywords. This makes Clearscope a vital keyword research tool that can be a huge help when it comes time to plan out your content strategy. 
Here's a sample search volume report in Clearscope:

It doesn't make sense to go after terms that barely get any search traffic, and a target keyword that you may have assumed would be the backbone of your SEO campaign may end up being something that no one really cares about.
You can use White Label services if you're subscribed to one of their higher tiers. That means if you're an SEO agency, you can generate reports for your clients with your specific branding on it.
As for customer service, premium support is offered to everyone regardless of their chosen tier. That means there are no higher levels of support reserved for more expensive tiers. Though, it should also be noted that Clearscope's customer service department is only available during business hours. It is not a 24/7 service.
How much does Clearscope cost?
Clearscope offers three plans: Essentials, Business, and Enterprise. Every Clearscope plan comes with free one-on-one training and onboarding.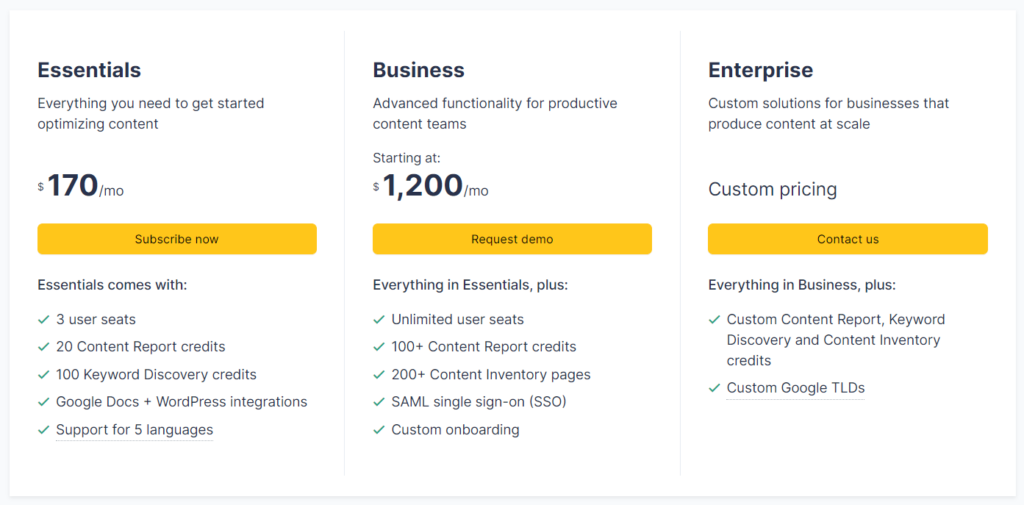 The basic Clearscope plan costs $170 a month, and you can add up to three users. A plan for agencies starts at $1,200 a month and comes with unlimited user seats. Clearscope also offers custom solutions for enterprises.
This content optimization software doesn't have a free plan, but you can request a demo to see whether it'd be a good fit.
Check out our full in-depth Clearscope review for a more detailed look at this tool.
Frase
Frase is an AI-powered content optimization tool created in 2016.
It helps agencies, individual content creators, and SEO professionals simplify their content workflows and automate time-consuming optimization processes. With Frase, you can quickly plan, create, and deliver high-quality content at scale.
Frase features
Let's start with the Research tab. This is where you'll analyze SERP results and discover new content opportunities. You'll know exactly how much you should write and how many links, images, and headers to include to outpace your competition.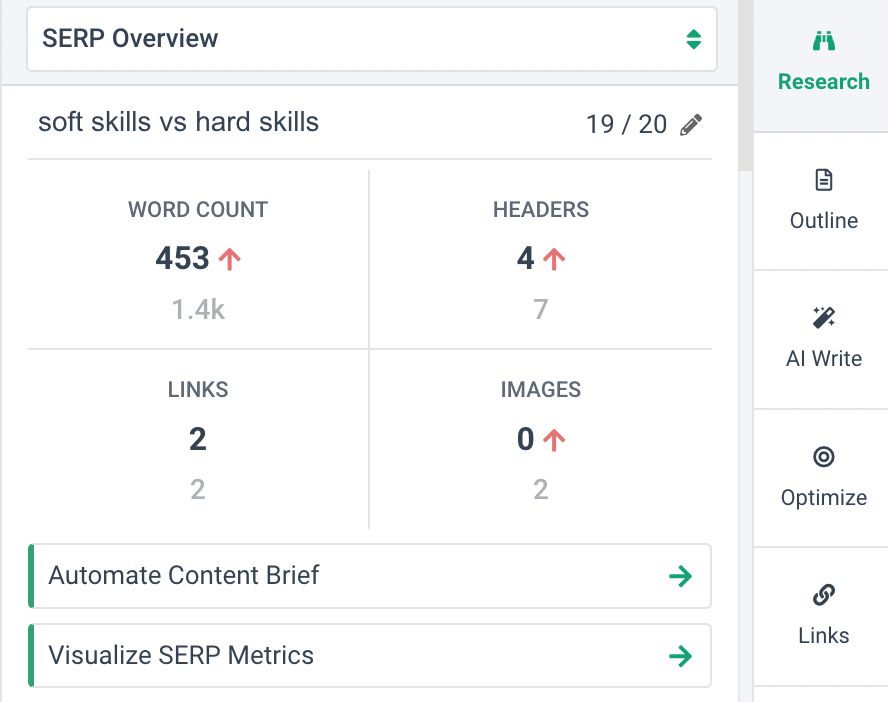 The Outline tab helps you build content briefs and outlines — check the headings your competitors are using and compose your own structure in seconds. Simply click the headings that you like, and they'll appear in your visual drag-and-drop outline builder. Then, arrange them the way you see fit.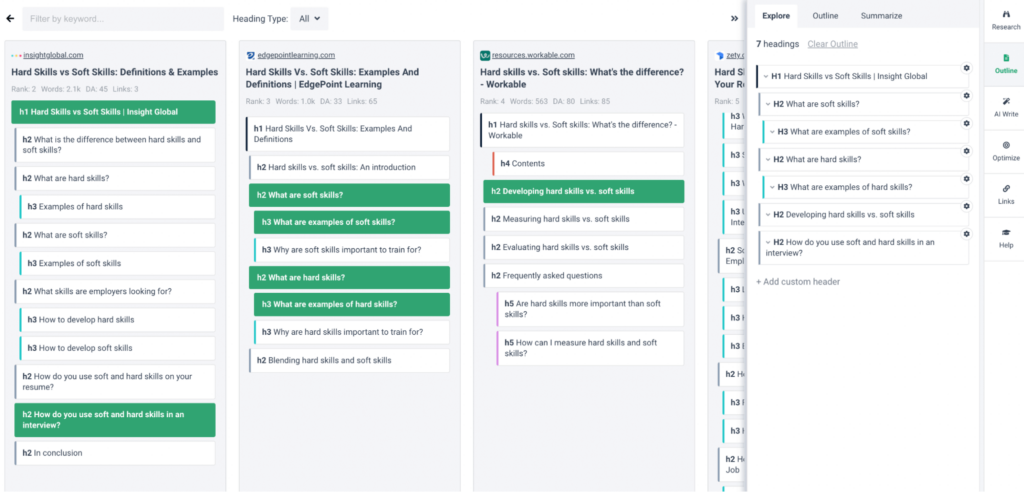 The AI Write tab is your writing assistant. It can generate blog intros, feature descriptions, FAQ sections, paragraphs, Instagram captions, how-tos, and more.
The Optimize tab is where all the content optimization magic happens. Frase suggests relevant keywords and demonstrates how your piece of content stacks up against the competition.
Here's what it looks like. If you click on a suggested keyword, you'll see how it's typically used. Frase also shows you which keywords are overused and which you may want to include a few more times — to keep your writing natural and engaging.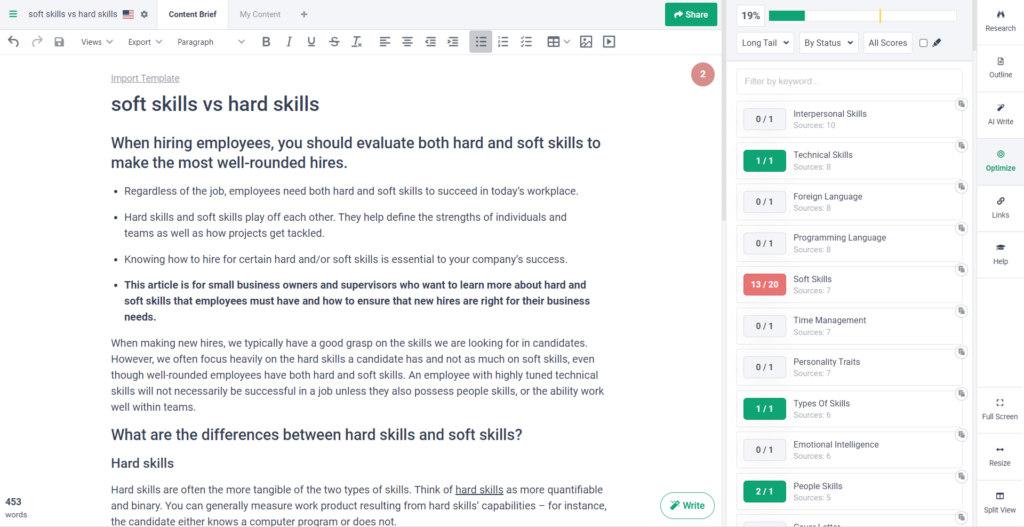 Finally, the Links tab shows you what kinds of resources your competitors are linking to.
If a team member uses Frase, they can send you a link to their Frase document. You don't even need to sign in to collaborate or do a quick content check.
How much does Frase cost?
Despite its impressive capabilities, Frase is surprisingly affordable. There are three plans available: Solo, Basic, and Team.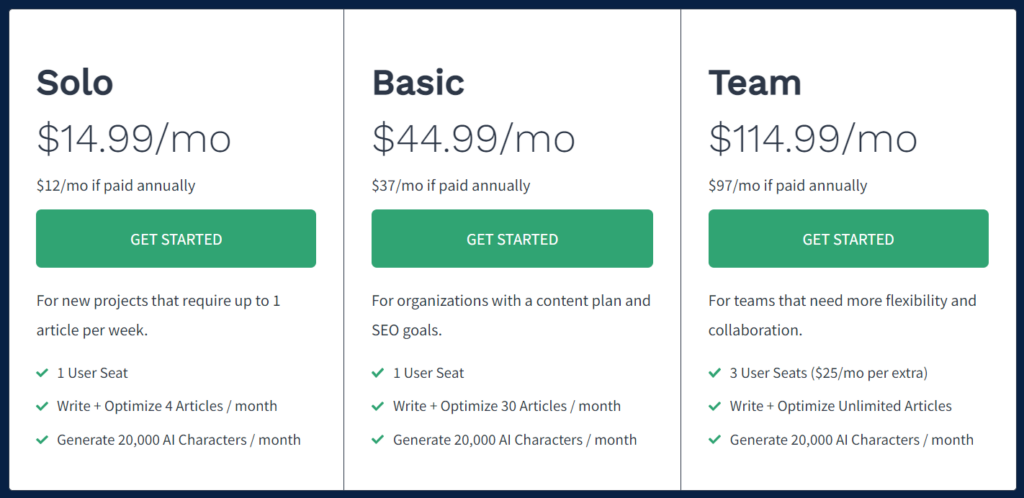 You can sign up for a 5-day trial for just $1.
The Solo plan costs $14.99 per month, but it's limited to four article optimizations a month. The Basic plan costs $44.99 a month and lets you optimize 30 articles per month. For agencies and large businesses, it makes sense to purchase the Team plan for $114.99 a month, as this plan includes unlimited article optimizations.
You can save around 20% on any plan by choosing annual billing.
Check out our full Frase review to learn more about this tool.
Which is best: MarketMuse, Clearscope, or Frase?
When trying to decide between MarketMuse, Clearscope, and Frase, it really depends on the size of your company and what you're looking for out of your content optimization tool.
All three tools help you create SEO-friendly content better than any free SEO tool. Additionally, they'll save you time so that you can work on other SEO factors, like generating backlinks and updating important backend content such as your page's meta description and titles.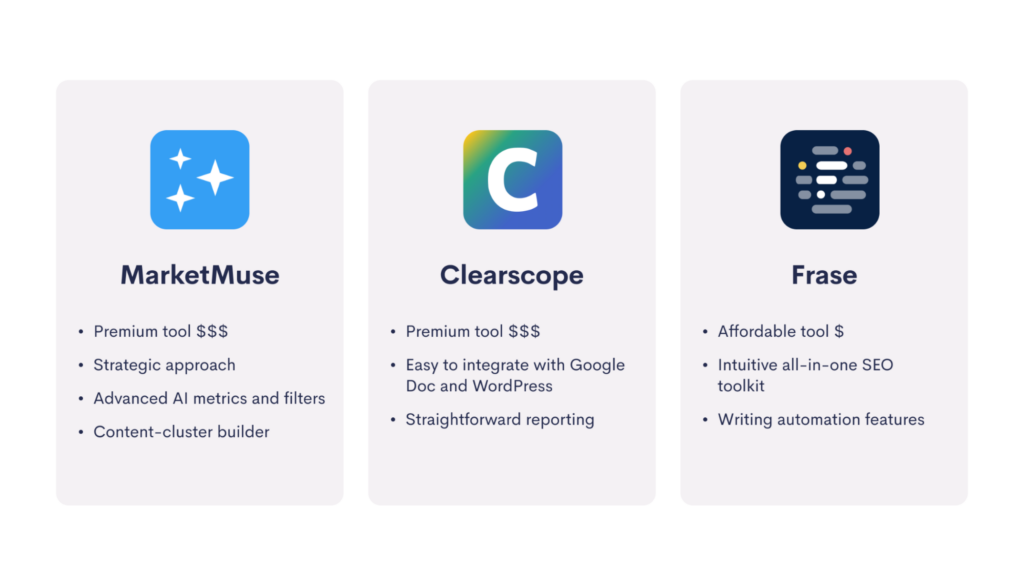 To save even more time, we recommend checking out Wordable. It will not only properly format your HTML, but also create a table of contents, compress images, set featured images, and lots more in a single click from Google Docs.
To sum up, MarketMuse has way more features and goes into a lot more in-depth with many of its reports than any other software. Clearscope is more intuitive and beginner-friendly, and it can be seamlessly integrated into your regular workflow. Frase is a much more approachable tool that even freelance writers can use, and it has strong AI functionalities, just like its biggest competitors.