Do you truly know what your customers want?
Creating content that appeals to different stages of the buyer's journey is a challenge for 61% of B2B marketers.
If you don't know what questions your customers are asking at every stage of their journey, how do you know what custom content to provide them?
Frase's Boston-based team may have the answer to every busy marketing professional's most persistent question.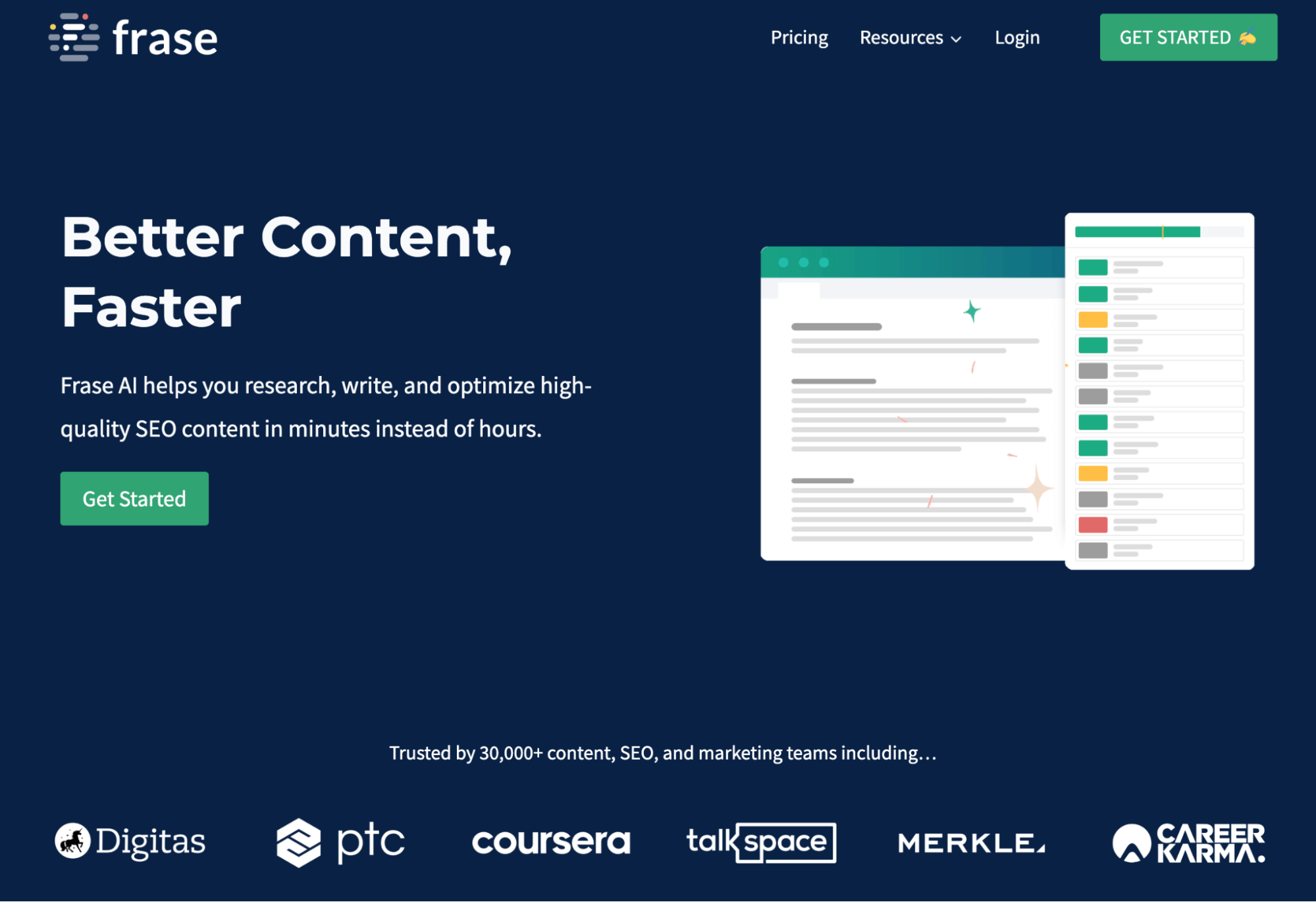 Frase has developed artificial intelligence(AI)-powered tools to help streamline research and content optimization so you're able to research less and create more.
By aligning your website content with the questions your visitors are searching for, Frase's AI tool gets your company answer-ready.
In this Frase AI review, we'll break down the pros and cons of this self-titled "Answer Engine Optimization" so that you can decide if it's the right content optimization tool for you.
Disclosure: These reviews are reader-supported. We might earn a small commission if you purchase something through our site. Learn more
Our Verdict
Frase AI dramatically reduces research time for content writers. The AI tools assist in helping content marketers develop ideas that their customers care about.
Table of Contents
What is Frase?
Frase is an SEO research and content editing tool that's AI-powered to simplify your life as a content marketer. Whether you're a writer, editor, or content manager, Frase can help you come up with relevant topics for your audience and make the most appropriate content marketing decisions.
You can research current SERPs for the keyword you're writing about and see what pages are ranking. The tool also gives you a list of related search terms to use in your post.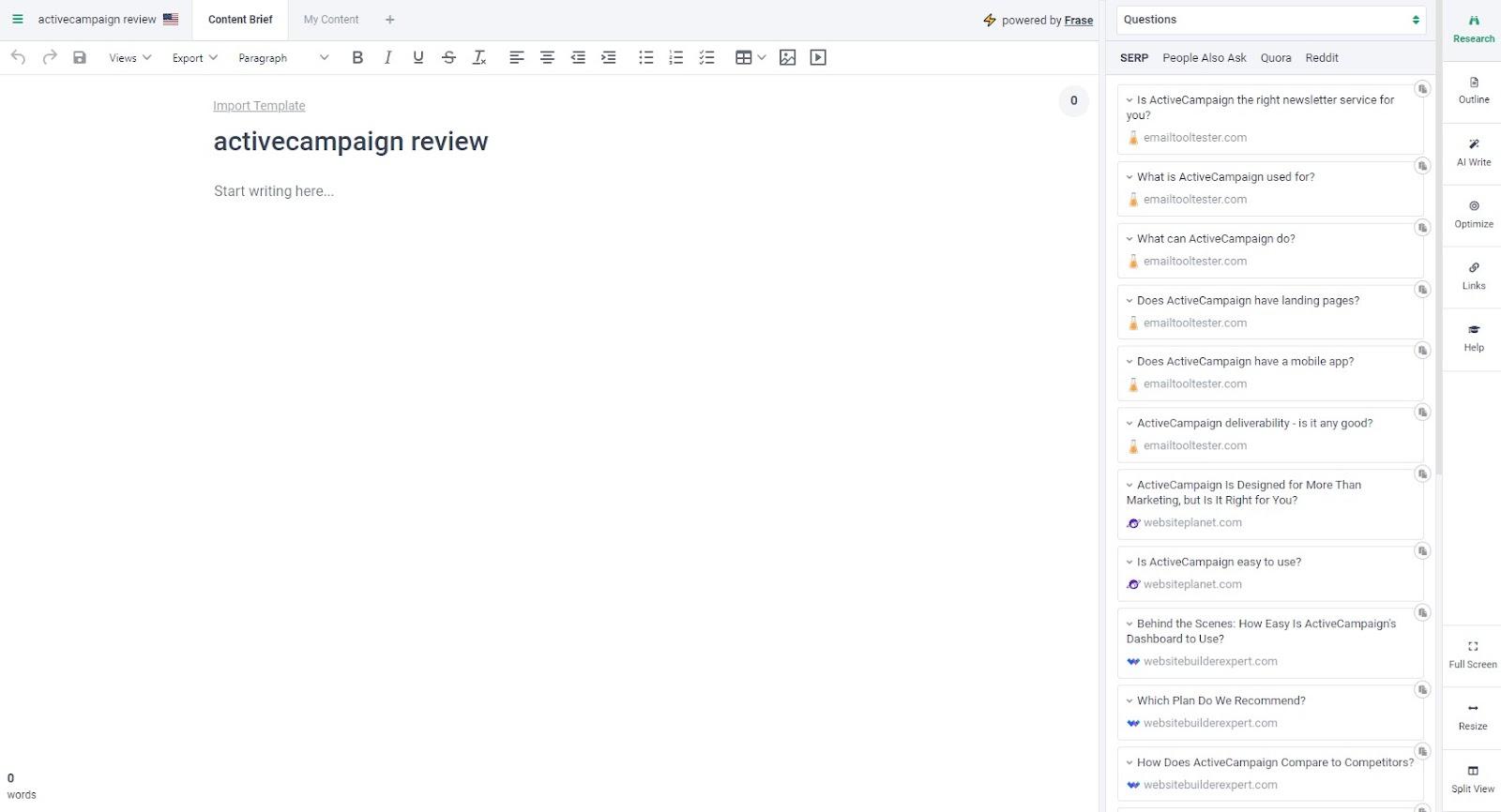 Because Frase lets you see everything your competitors are doing, you can research and outline a post all in one place. Simply click on a header in the sidebar to add it to your content outline.
As you write your content, Frase will display a content optimization score based on your:
Average word count
Related long-tail terms
Content gaps
Terms used in your headers
Here's an example of the topic score that Frase displays for each piece: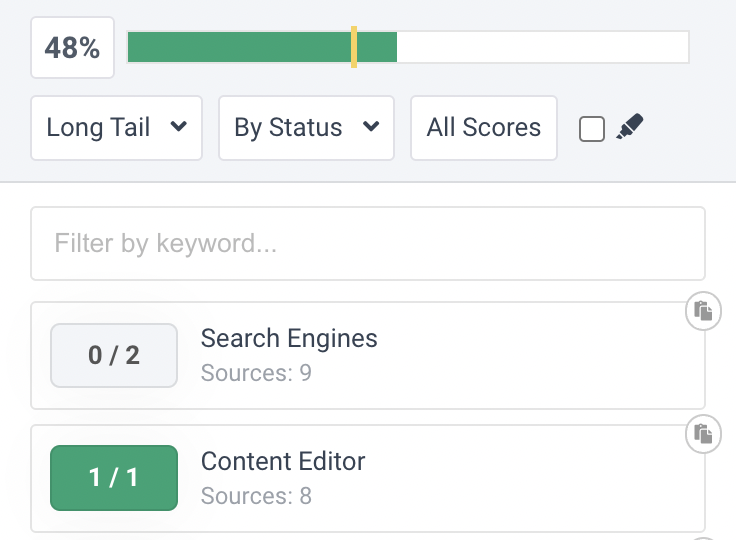 The yellow bar indicates the average score of the top-ranking pages. If your content exceeds the target score, you're on the right track.
Finally, the content analysis tools in Frase help you optimize your existing content to improve your chances of ranking in the SERPs.
How does Frase work, exactly?
Frase does all the research you'd normally do as you create a content brief or research an outline.
Instead of manually searching the SERPs, it provides a simple overview on one screen split into the following five tabs:
Research: View headers, common questions, statistics, and more across the top-ranking SERPs.
Outline: Browse through all headers in the SERPs and click to drag and drop those you want to include in your content outline.
AI Write: Automated writing tool with templates to speed up the content creation process.
Optimize: Where you paste your content and optimize it with recommended search terms.
Links: The top external and internal links suggested.
Help: Handy videos to walk you through the tool.
Frase is simple to use yet powerful enough to create automated content briefs.
Pros of the Frase AI-powered Tools
Let's look at how the Frase AI content tools work.
Content research, optimization, and creation
The Frase AI helps to identify questions that your audience is asking by searching Google so that you don't have to.
The typical search time for a piece of content is four hours. Frase does that work in 12 seconds.
But how?
Let's start with the Frase Content Brief.
The AI tool scours Google, analyzes the top 20 results, and summarizes them into one document — the Content Brief.
The brief is available in the Research tab: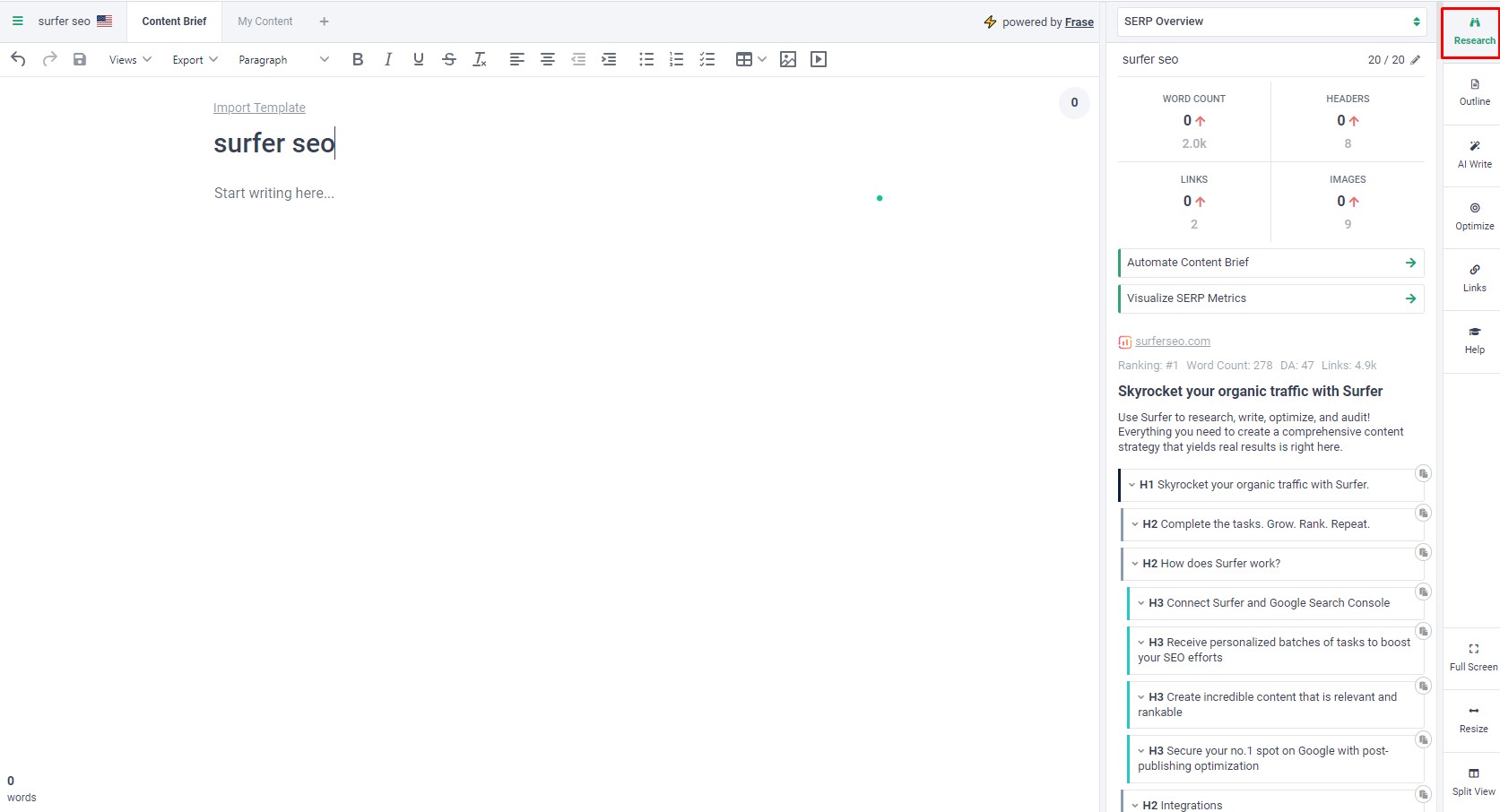 Your Content Brief document contains an overview that features the following information based on your target keyword:
Word count
Domain authority
Number of backlinks
Sections and headers
And that's only in the SERP overview. The content brief also comes with the following sections:
Headings
Questions
Statistics
News & Related Sources
Wikipedia Topics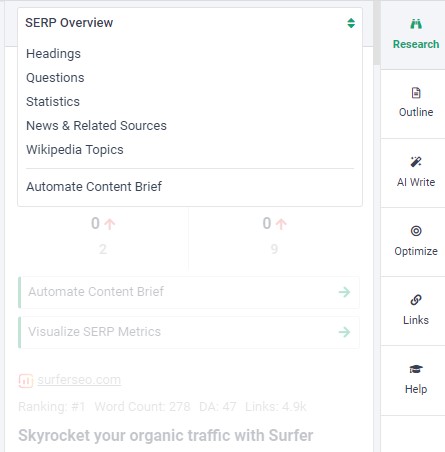 You can also view sub-sections for some of these. For example, the Questions section contains SERP questions from headers on other sites, but you can also look at People Also Ask, Quora, or Reddit questions.
The inclusion of statistics in the content brief is a powerful resource to help vet the top statistics to highlight in your content.
In a single click, you can automate the content brief and paste it into your working document.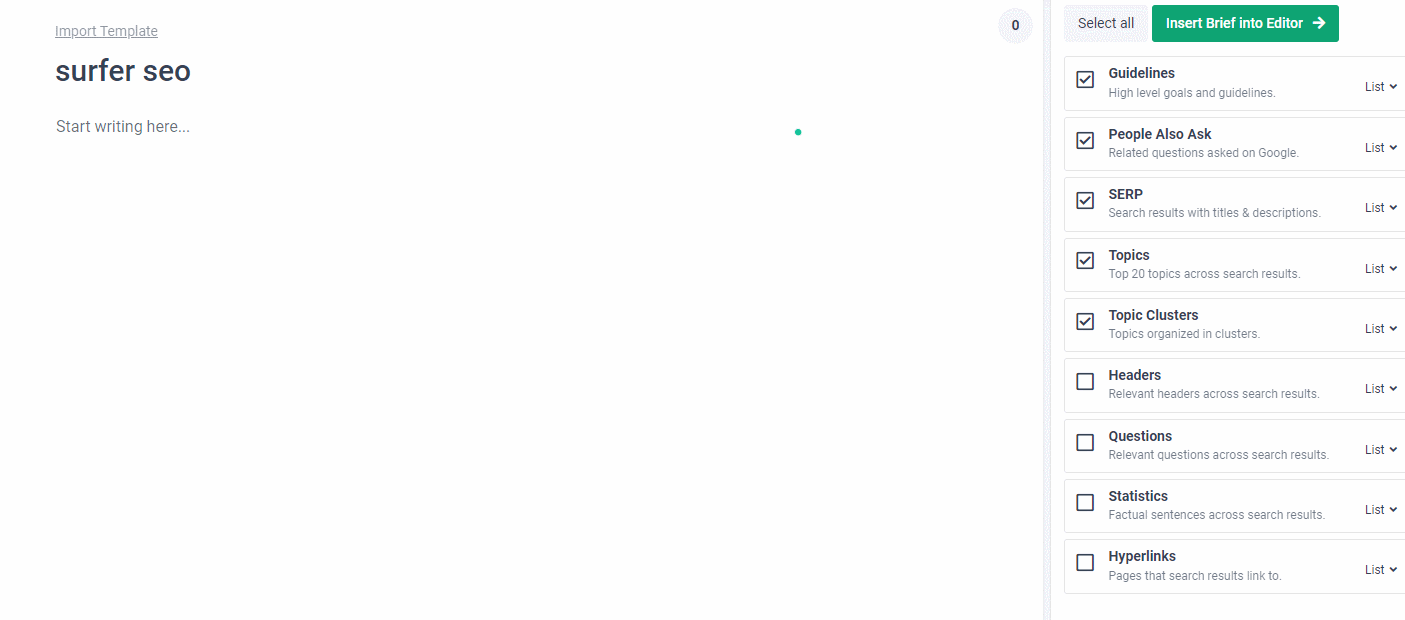 What if you don't like all of the results?
With the document editor, you can easily delete what you don't want and plug in pieces of what you do want. As soon as you paste content into your content brief, it works like any other word processing tool.
It's easy to add, change, or remove anything that's not pertinent for you: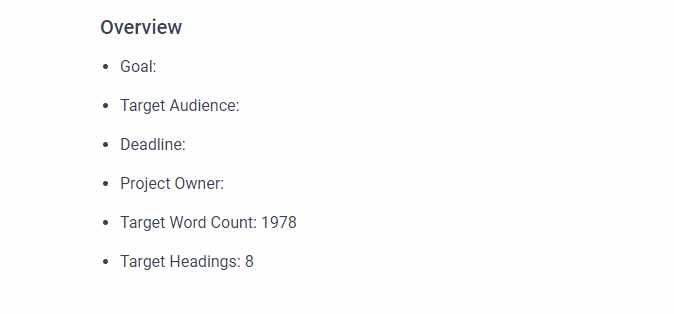 There's also a section that showcases your competitor's top posts, but we'll get into an even more detailed competitor analysis later.
You can then export the edited content brief into Word, WordPress, PDF, text file, directly onto your site, or save as HTML.
Frase also saves you hours of work via its Outline tool. When you're outlining based on the SERPs manually, you have to click on a post, scroll through, take note of the headings you want to include, go back, and repeat for every top-ranking post.
Frase lets you do the same thing in a single screen: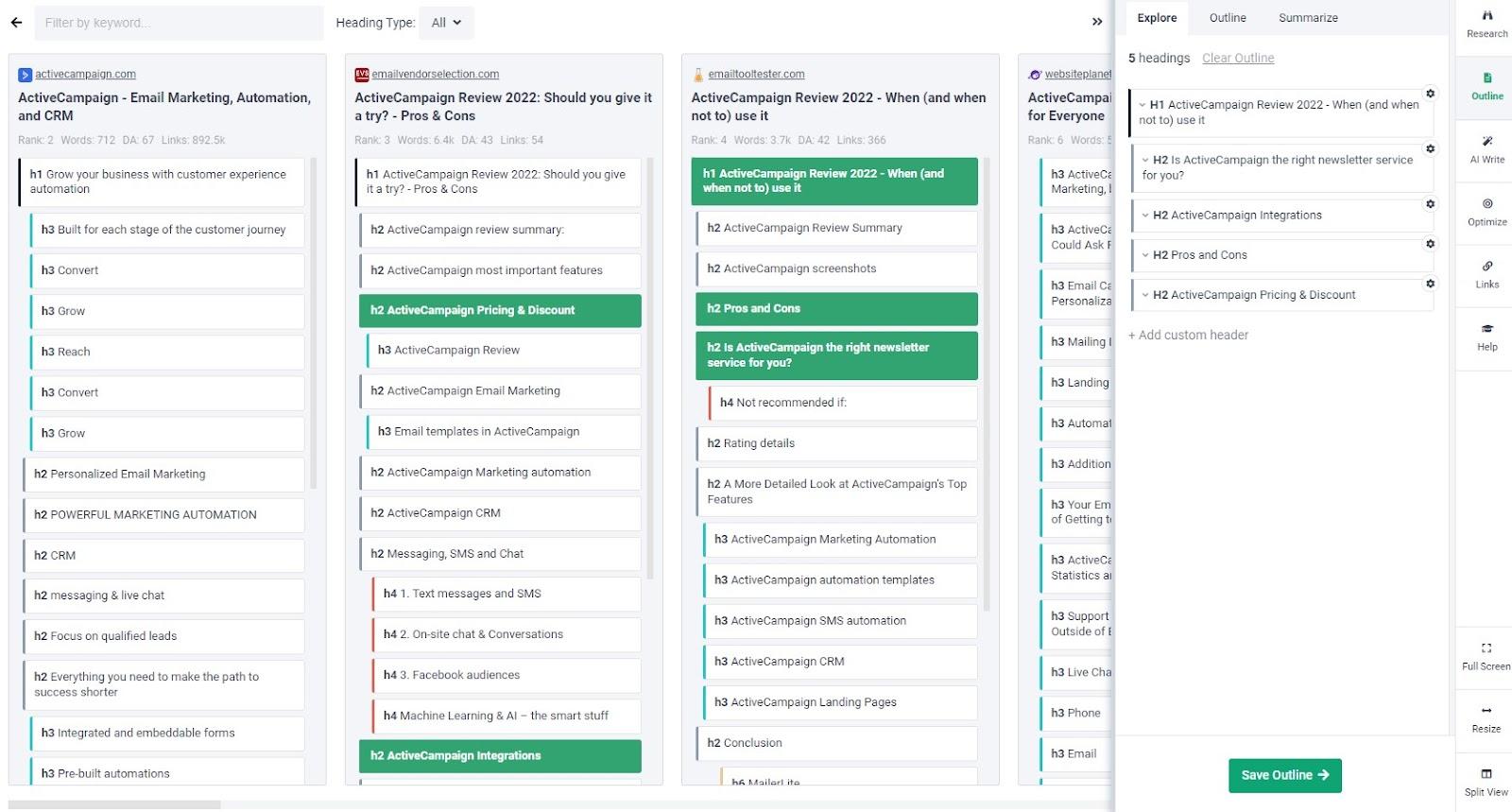 All you need to do is click on a header to include it in your outline. That header will turn green once you've included it. It's so easy to keep track of what you've looked at thanks to that highlight!
Plus, you can filter this screen to only view specific types of headings (H2, H3, long-tail, questions, etc.). Your screen will be much less cluttered when using this filter, especially if you're looking for H2 headings only.
Now, let's take a look at the Content Optimization section.
Frase compares your content to the best-performing related content across the Internet and delivers keyword suggestions to help fill in topic gaps. It even specifies how many times you should include each term.
Once you insert the suggested terms, you can see your target score improve immediately. Keyword suggestions will also change colors based on how well you're doing. Green means you've hit the right keyword density, whereas orange means you're missing a few repetitions.
If the keyword suggestion turns red, it means Frase thinks you've added too many repetitions.
The content editor and optimizer even tells you how many sources use each keyword.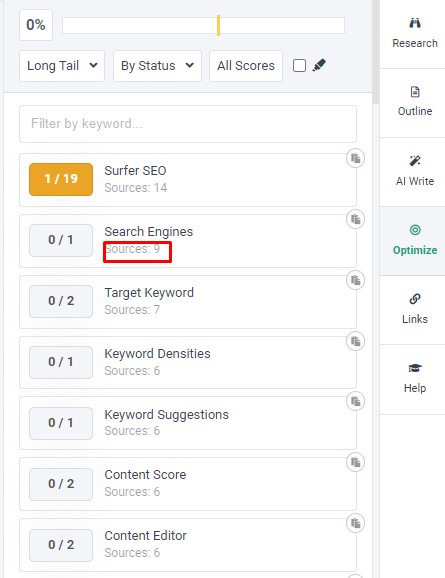 As your content score changes, you'll know how your content stacks up against the competition.
With Content Creation, you're given a blank slate to start from.
Once you've typed in your query, the Frase SEO tool offers suggestions for external links, similar content, headlines, topics, and additional questions.
As with the Content Brief, this document is fully editable, and you can cherry-pick which pieces of data you'd like to use to build out your content.
AI Write
Frase doesn't just let you research and outline your content — it helps you streamline the writing process, too. You'll have access to several AI tools in the AI Write tab.
From this tab, you can choose from a variety of content templates.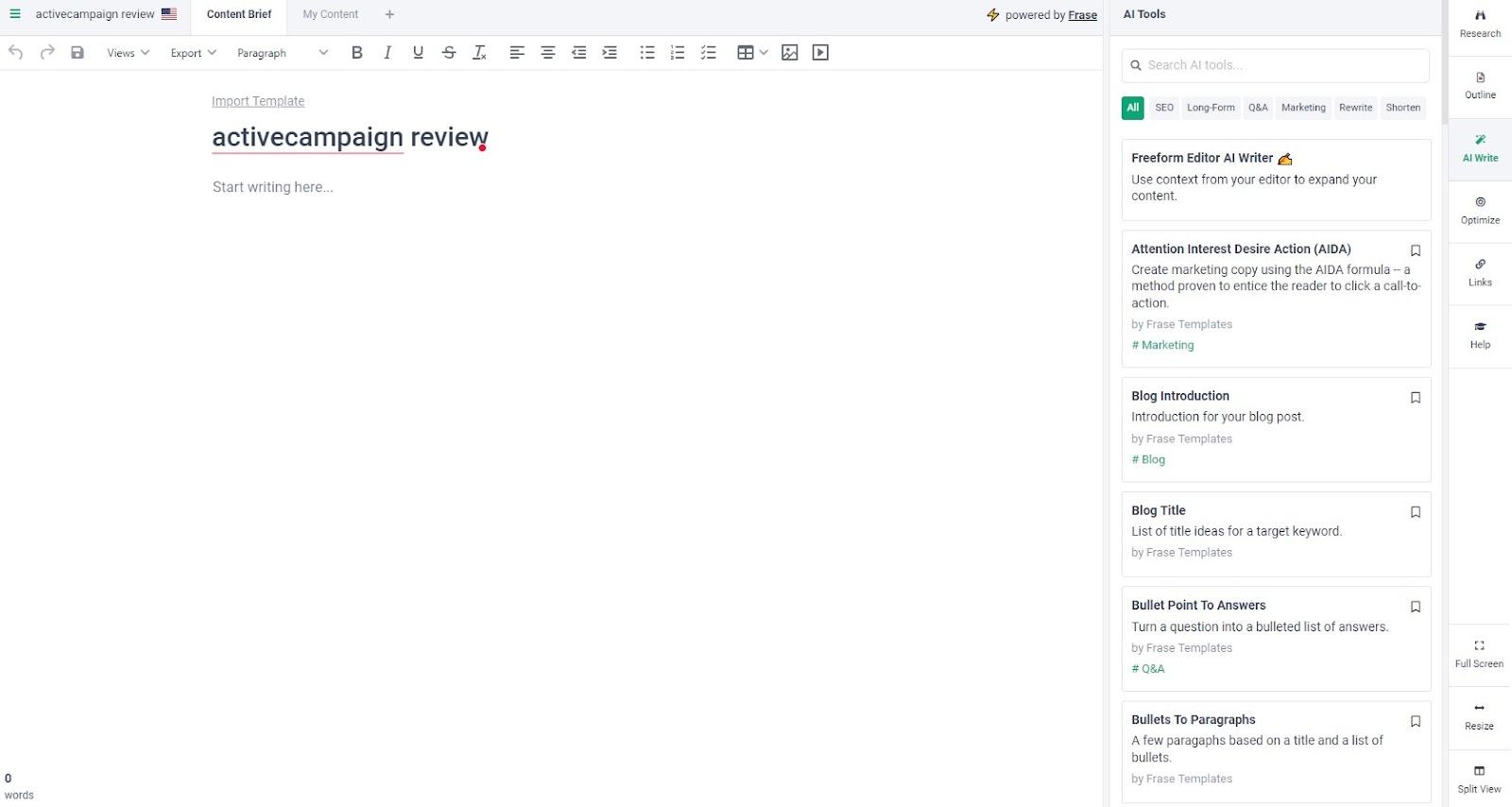 For example, you can try some of the following:
Blog titles
Turning a question into bullet points of answers
Turning bullets into paragraphs
Generating an entire "how-to" blog post or listicle
Each template has different inputs you'll need to add to feed the AI. For example, the Attention, Interest, Desire, Action (AIDA) template will ask you to add a product description and a summary of who your audience is.
You can also toggle the creativity setting between one and five.
So can you skip the writing entirely and let Frase write your draft?
In short, no.
You shouldn't rely on this tool to write an entire post for you. Google's Helpful Content algorithm update cracks down on AI-written content.
What this means is that Google can detect when you're simply pasting AI-generated content into your article without adding any high-quality, original content to it.
But AI Write can help you get started and beat the blinking cursor, so it definitely has its uses.
Competitor analysis
Moving on to a critical tool in the Frase AI toolbox; the Site Audit.
The Site Audit allows you to compare how your site, and your competitor's site, cover certain topics. It then compares those results to Google's Top 10 results for your target search query.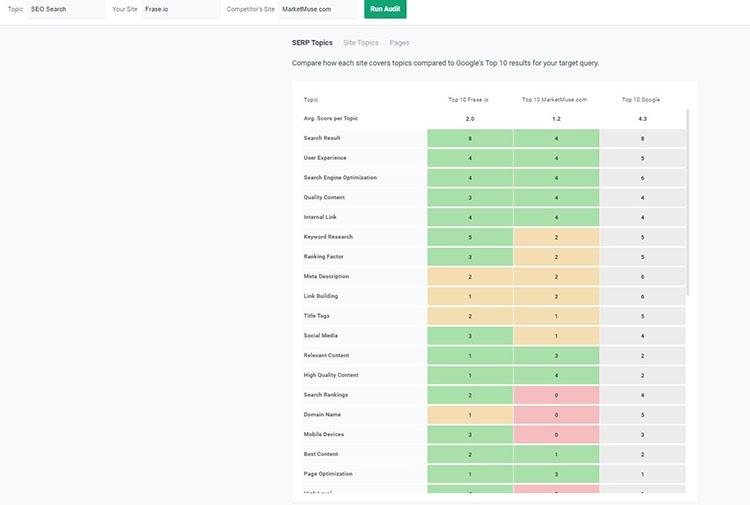 With this information, you can easily find out:
What topics you're excelling at
What topics you need more work on
What topics you may want to spend more time on
In a world where setting yourself apart from your competition is the art of the game, this is an invaluable tool.
Payment and customer support
Frase accepts all major debit and credit cards as payment, and you can cancel at any time.
In terms of customer service, you can easily submit a support ticket — or use Frase Genius to navigate Frase's documentation.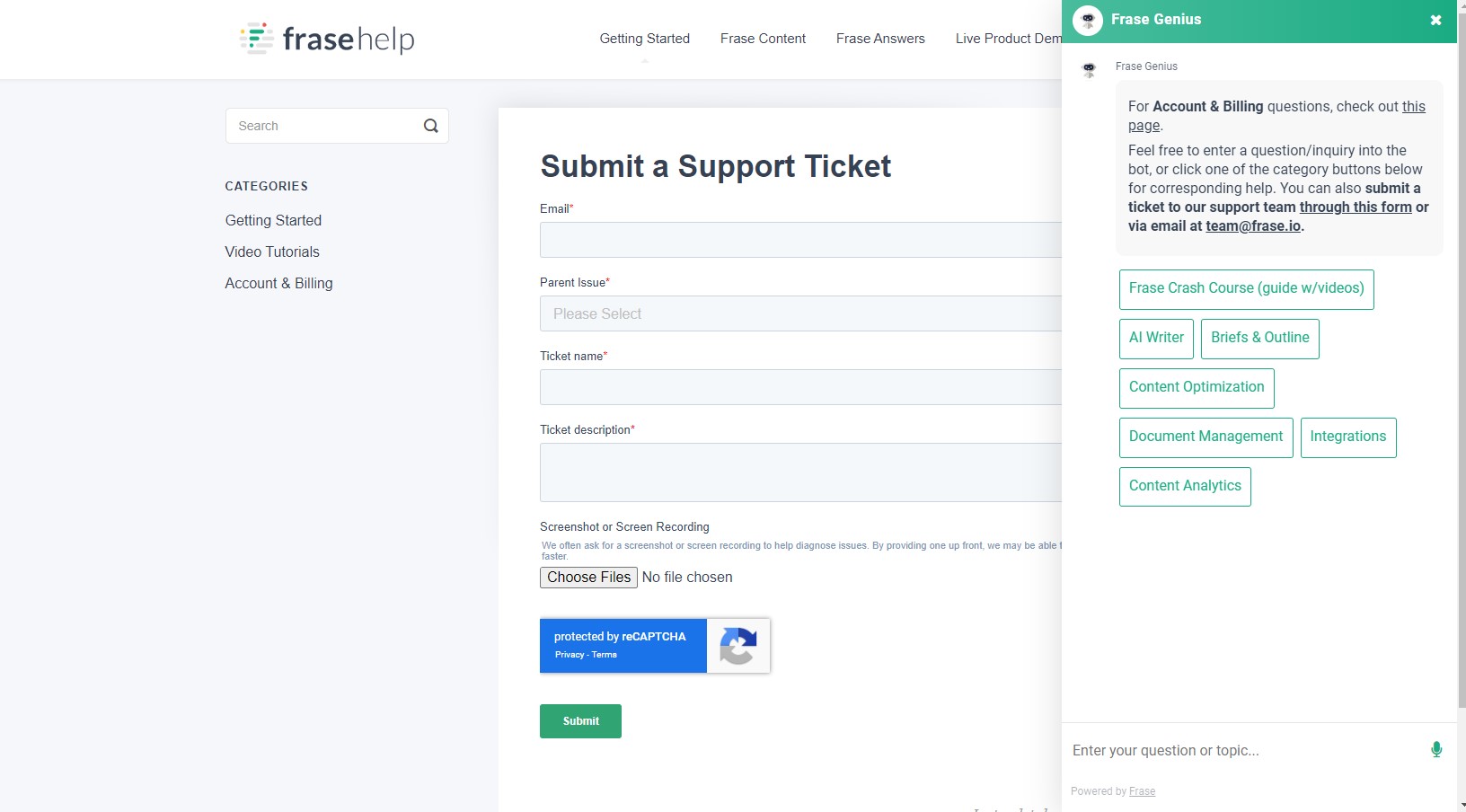 Upon signing up for Frase, you'll also get a few emails directly from your customer service agent.
In those emails, they introduce themselves and also let you know what topics you can expect to go over if you schedule a 15-minute walkthrough.
Integrations
Finally, Frase integrates with many popular marketing tools such as:
WordPress
HubSpot
Mailchimp
Google Drive
Google Search Console
Cons of the Frase AI-powered tools
Despite all of the great things the Frase SEO tool offers, there are a few cons to consider.
Full disclosure: Some of these challenges may have been due to the specific topic being searched for.
Frase AI may not always find what you're looking for
When performing Question Research, many of the results weren't relevant to the search intent for my topic.
Here are some of the questions that came up in the Research tab for "What is construction management":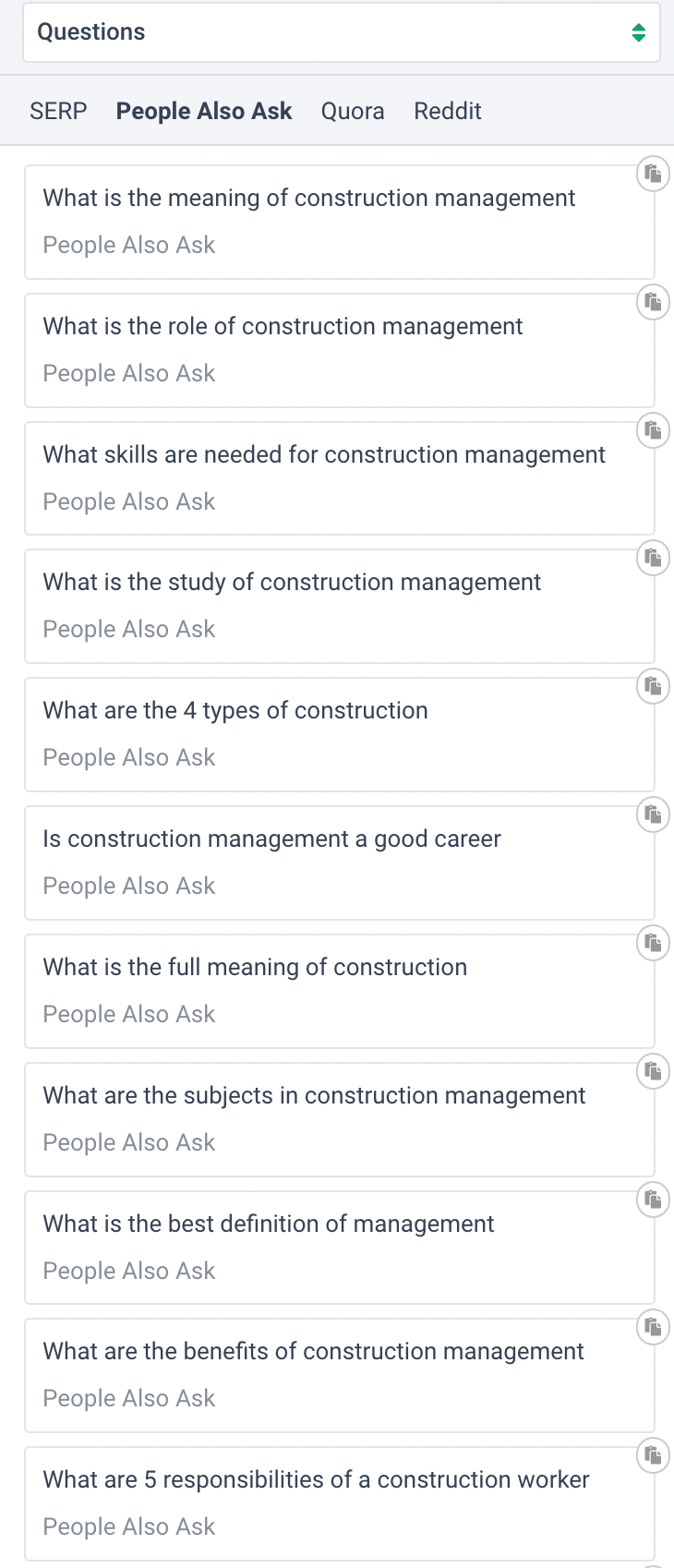 While some of these questions are relevant to the topic, many of them aren't ("What are the 4 types of construction," "What is the best definition of management," "Is construct management a good career," etc.).
Keep user intent in mind when doing your research. Even the best content optimization tools make mistakes.
Confusing results
Another challenge occurred when testing out the Topic Ideas page. While the tool does provide some ideas, the list you get is rather short.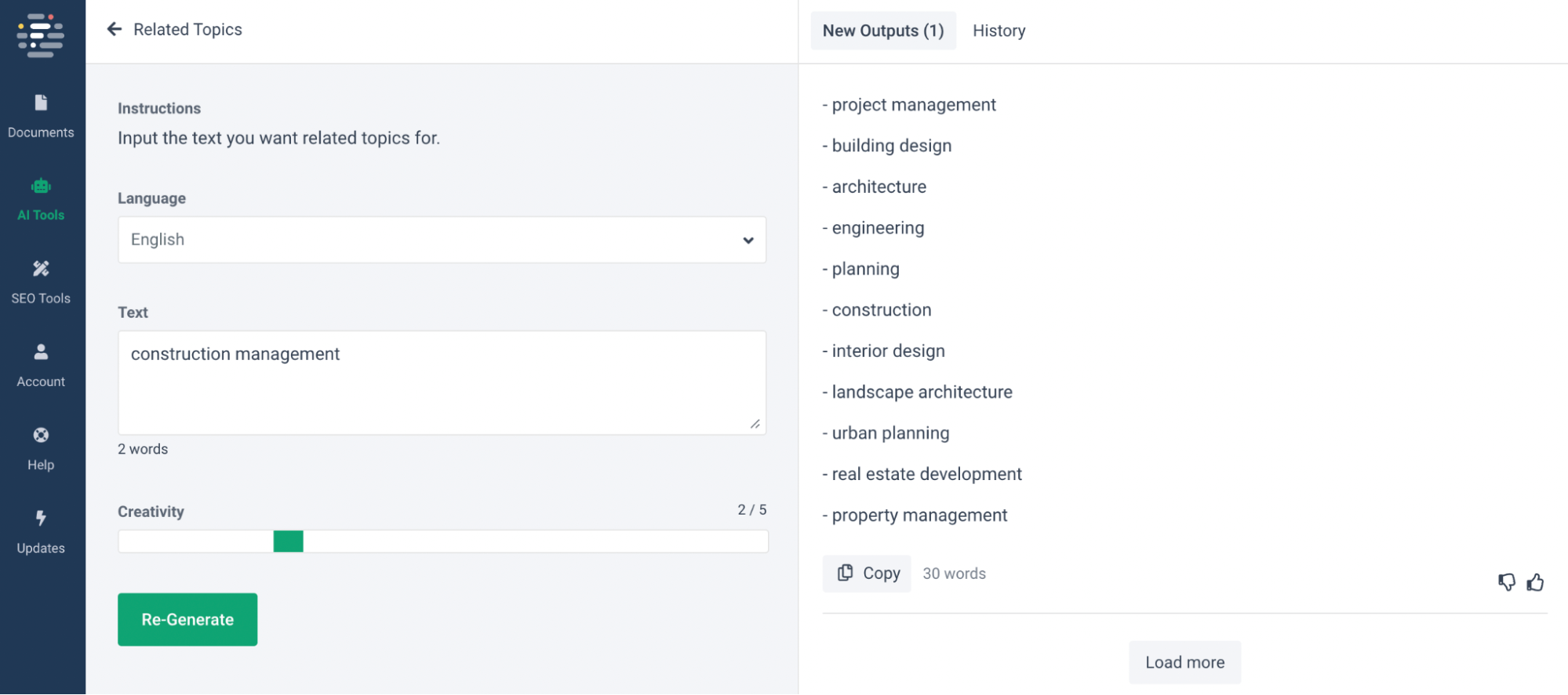 You won't get any direction on what to do next with these ideas, either. That means you'll have to perform some additional research on your own.
It sounds subtle. But just like the experts from our MasterClass review can attest, it's the details that make all the difference!
The tour guide
The biggest fault that I found, for the overall site, is that it required scheduling time with a "tour guide" to clear up the bulk of the challenges that I was facing.
If you have the time to schedule a 15-minute Zoom walk-through with one of the Frase AI staff members, I'd highly recommend it. Having the opportunity to talk through the process, and ask some questions, did clear up a few points.
Even if asking about the competition sent my rep into a tailspin that he never quite recovered from.
While this was definitely helpful in answering some of my underlying questions, I felt as though the app, itself, should have had more direction. There should be no need to have one-on-one calls unless you have specific questions or want to know about upgrading.
Adding in some diagrams or clever infographics could go a long way in making the feel of the application more welcoming as well as more intuitive.
Plans and pricing
Here's a look at the plans that Frase offers.
$1 trial
With a product like Frase AI, an affordable trial is a great opportunity to test the capabilities and find out if this is the right product for your business.
The five-day $1 trial comes with unlimited research questions. With it, you can at least get an overall view of what are some of the most searched-for queries surrounding your topic.
It also comes with five documents. You can use these to develop five content briefs, five content optimization analyses, or a mixture of each.
One of the biggest benefits that Frase offers is its Google Search Console integration. With the free trial, you get one crawl through of the Google Search Console. If you want a very high-level overview, this may be enough; however, this is very limited.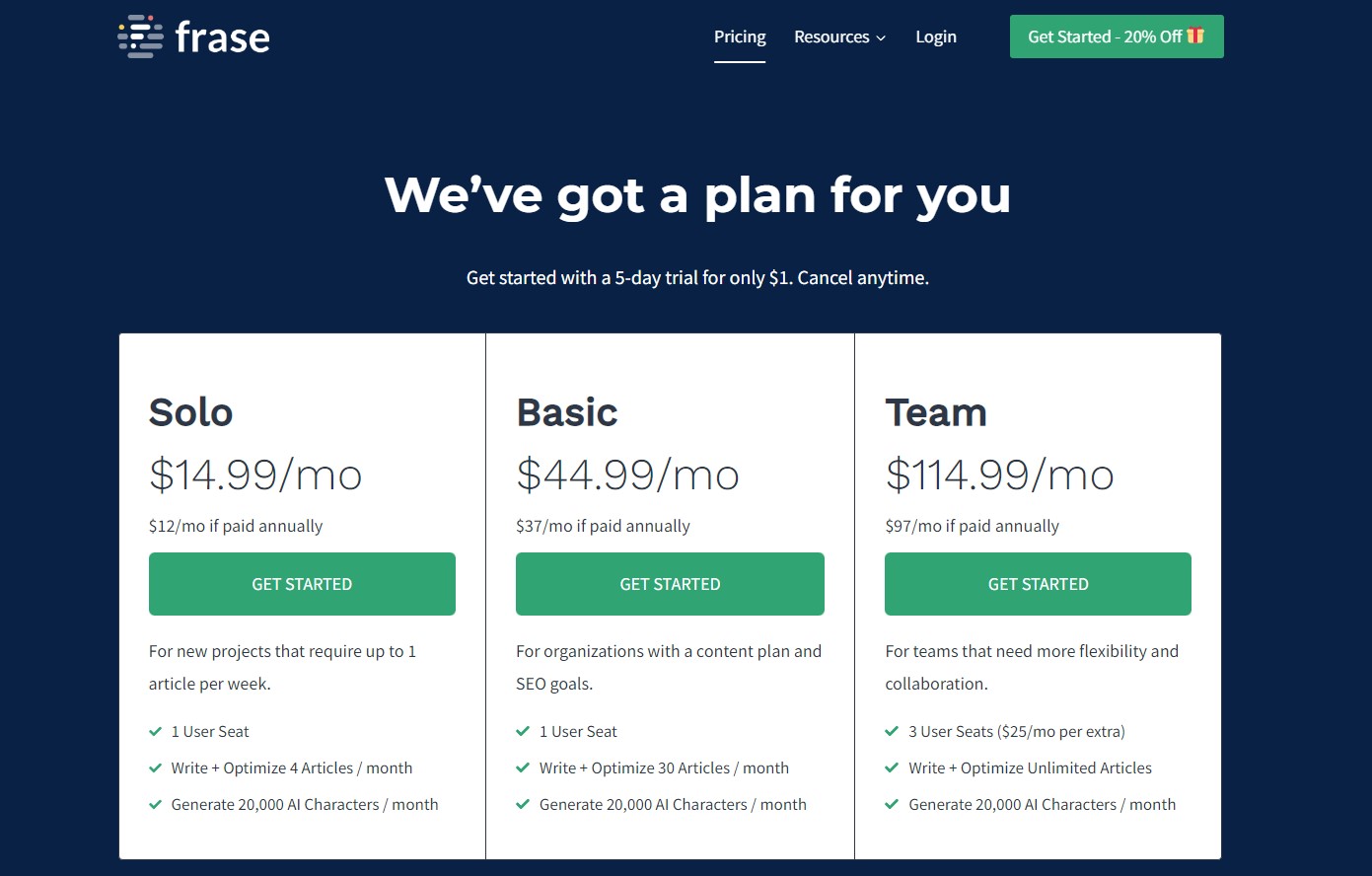 Solo
The Solo plan is offered at $14.99 per month — or $12 per month if paid annually — and allows for one user.
You can write and optimize four articles each month and generate 20,000 AI characters. This option is best for small businesses or content marketing professionals who develop weekly posts.
Basic
With the Basic plan, you still only get one user, but you can write and optimize 30 articles per month.The price for the basic plan is $44.99 per month or $37 per month when paid annually.
Team
This is the highest level of any of the packages listed above.
The Team plan is $114.99 per month and allows for three users (with $25 per extra user). It lets you write and optimize unlimited documents.
Pro Add-On
You can add the Pro Add-On to any of the above plans, which unlocks the following features:
Keyword search volume: View monthly search volumes for your target keyword with this keyword research tool.
SERP data enrichment: View domain authority and backlink data for the top-ranking results.
Frase AI writer: Access Frase's AI Writer and quickly generate content in seconds.
The SEO add-on costs an additional $35 per month, regardless of your plan.
Do I recommend Frase?
Yes, I recommend Frase.
72.2% of professionals either use AI or plan to use it to create content. Frase AI meets those demands head-on.
Frase AI dramatically reduces research time for content creators. The AI tools assist in helping content marketers develop ideas that their customers care about.
To save even more time, we recommend checking out Wordable. It will not only clean and properly format your HTML, but also compress images, open links in a new tab, automatically set featured images, or create a table of contents, and lots more within a single click from Google Docs.
In a world where setting yourself apart from your competition is the key to getting jobs, the competitor analysis is an invaluable tool in deciding how to best optimize your company's blog posts, social media, and brand voice.
Overall, Frase AI is an invaluable tool for busy content marketers. Try it for yourself for only $1!