Do you truly know what your customers want?
A recent poll of content marketing professionals shows that the search for customized content will continue to be a driving force behind a successful marketing campaign. And with good reason.
If you don't know what questions your customers are asking, how do you know what custom content to provide them?
This Boston based team may have the answer to every busy marketing professional's most persistent question.
Frase has developed artificial intelligence(AI)-powered tools to help streamline research and writing content so that you're able to create more and research less.
By aligning your website content with the questions your visitors are searching for, Frase's AI tool gets your company answer-ready.
In the Frase AI review, we will break down the pros and cons of this self-titled "Answer Engine Optimization" so that you can decide if it is the right answer for you.
Our Verdict
Frase AI Dramatically reduces research time for content creators. The AI tools assist in helping content marketers develop ideas that their customers care about.
Table of Contents
Publish Google Docs to your blog in 1-click
✅ Export in seconds (not hours) 
✅ Less VAs, interns, employees
✅ Save 6-100+ hours/week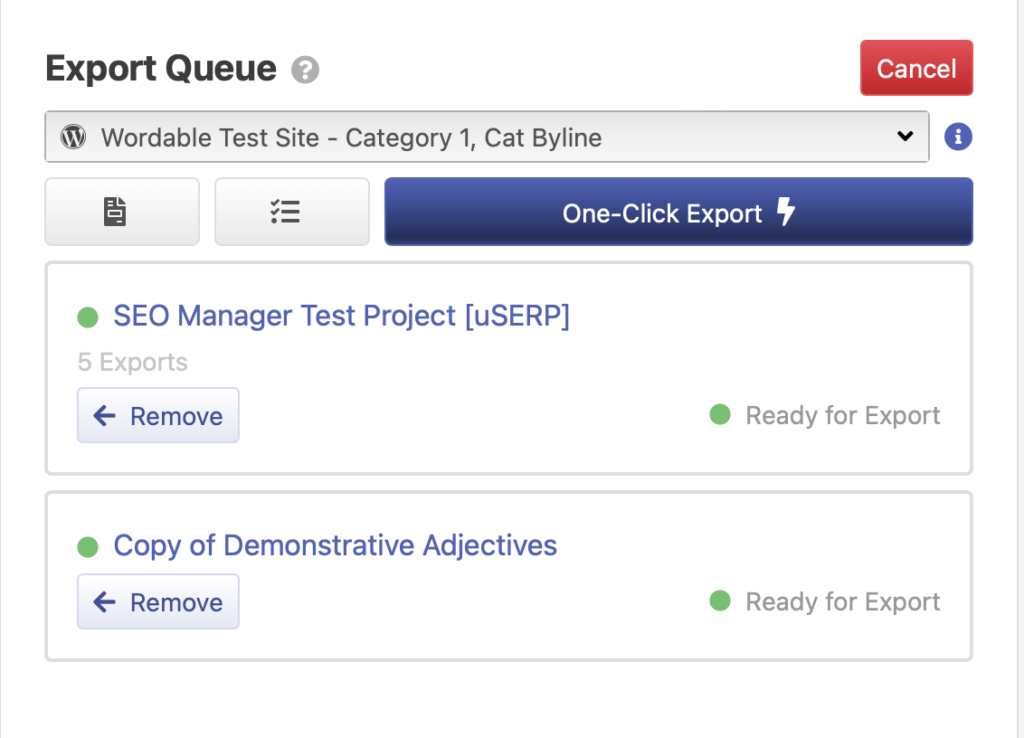 Pros of the Frase AI-powered Tools
Let's look at how the Frase AI content tools work.
Content research, optimization, and creation
The Frase AI helps to identify questions that your audience is asking by searching Google so that you don't have to.
The typical search time for a piece of content is 4 hours. Frase does that work in 12 seconds.
But how?
Let's start with the Frase Content Brief.
The AI tool scours Google, analyzes the top 20 results, and summarizes them into one document — the Content Brief.
Your Content Brief document contains an overview that features the total sources that were processed, average word count for those sources, must have keywords used, title topic ideas, the average number of external links (per source), and the two top links.
Another awesome section of the content brief is the inclusion of statistics. This is a powerful resource to help vet the top statistics to highlight in your content.
What if you don't like all of the results?
The document is fully editable, which means you can delete what you don't want and plug-in pieces of what you do want.
There is also a section that showcases your competitor's top posts, but we'll get into an even more detailed competitor analysis later.
You can then export the edited content brief into Word, WordPress, PDF, text file, directly onto your site, or save as HTML.
Now, let's take a look at the Content Optimization section.
Frase compares your content to the best-performing related content, across the internet, and delivers keyword suggestions to help fill in topic gaps.
Once you utilize suggestions, you can see your site score improve immediately.
This will show you how your content will stack up against your competition.
With Content Creation, you are given a blank slate to start from.
Once you've typed in your query, Frase then offers suggestions for external links, similar content, headlines, topics, and additional questions.
As with the Content Brief, this document is editable, and you can cherry pick which pieces of data you would like to use in order to build out your content.
Competitor analysis
Moving on to a critical tool in the Frase AI toolbox, Site Audit.
The Site Audit allows you to compare how your site, and your competitor's site, cover certain topics. It then compares those results to Google's Top 10 results for your target search query.
With this information, you can easily find out:
What topics you're excelling at
What topics you need more work on
What topics you may want to spend more time on
In a world where setting yourself apart from your competition is the art of the game, this is an invaluable tool.
Answer Engine
Customers will manage 85% of their online relationships through the use of AI by the end of 2020.
And the Frase Answer Engine is already ahead of the game.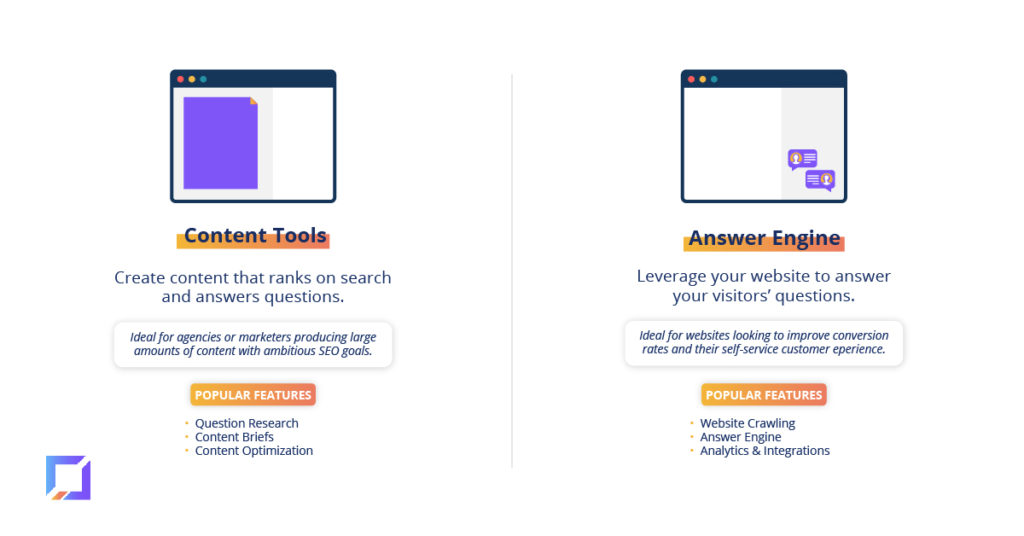 Answer Engine uses the content on your website to answer your visitors' questions in real time.
Think of this as an unmanned chatbot.
By creating a knowledge base, it allows your visitors to ask questions about your company, products, pricing, documentation, and get real time answers.
As your customers engage, each question is coded with contextual data that includes user ratings, geolocation, answers delivered, and more.
With this information, you can train your AI Answer Engine to automatically answer repeat questions and recognize variations.
This ensures a perfect answer every time!
Payment and customer support
Frase accepts all major debit and credit cards as payment, and you are able to cancel at any time.
In terms of customer service, the live chat option is open during business hours. The team is located in Boston, so those hours are from 9 am- 6 pm EST Monday to Friday.
When I tested out the live chat option, I received an immediate response and had a quick and cordial conversation with one of the team members.
The cartoon avatars and first name & title that the team uses, throughout the site, feels very familiar and personal.
You feel like they are old friends.
Upon signing up for Frase, you will also get a few emails directly from your customer service agent.
In those emails, they introduce themselves and also let you know what topics you can expect to go over if you schedule a 15-minute walkthrough.
We will discuss the importance of that walkthrough in the next section.
Integration
Finally, Frase integrates with many popular marketing tools such as:
WordPress
HubSpot COS
Mailchimp
Google Drive
Google Search Console
HubSpot CRM: send leads from your Answer Engine into HubSpot CRM
Cons of the Frase AI-powered Tools
For all of the great things about the Frase AI Answer Engine Optimization, there were a few glaring hiccups.
Full disclosure: Some of these challenges may have been due to the specific topic being searched for. With that said, based on other comments we have read, I am not alone in this struggle.
Frase AI may not always find what you are looking for
When performing Question Research, many of the results were not even close to what I was looking for.
I began by typing in the question "What is Construction Management?"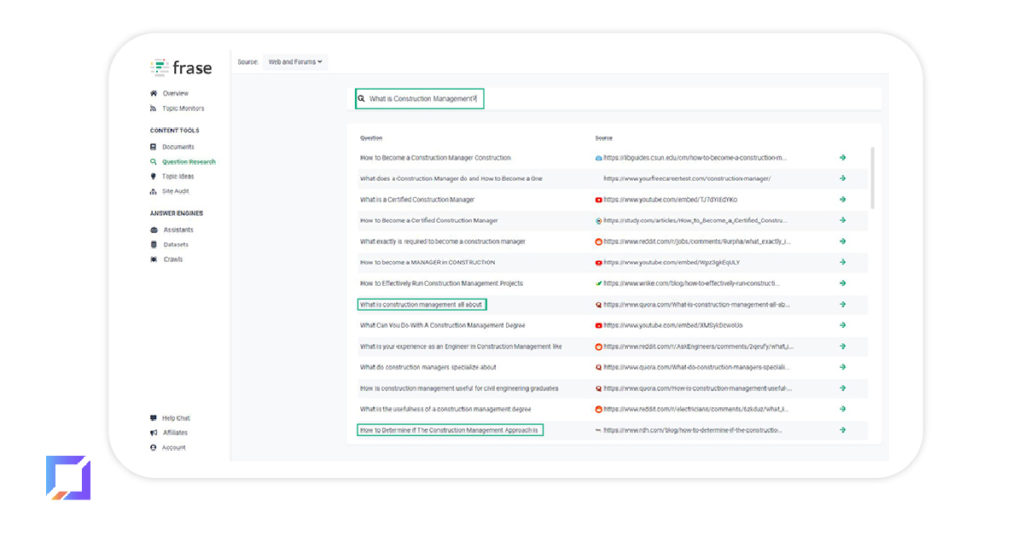 Out of 14 results, only two had anything to do with the question that was posed. The majority of the responses dealt with how to become a Construction Manager.
These are answers to a completely different question. Shouldn't you know what Construction Management is before learning how to become a Construction Manager?
Confusing results
The same challenge occurred when testing out the Topic Ideas page. The majority of the results that came back were not relevant to what I was looking for.
I clicked in on one section that was relevant, and it took me to a rather confusing diagram. Without direction on what was being displayed, it was hard to put together how this diagram could be beneficial.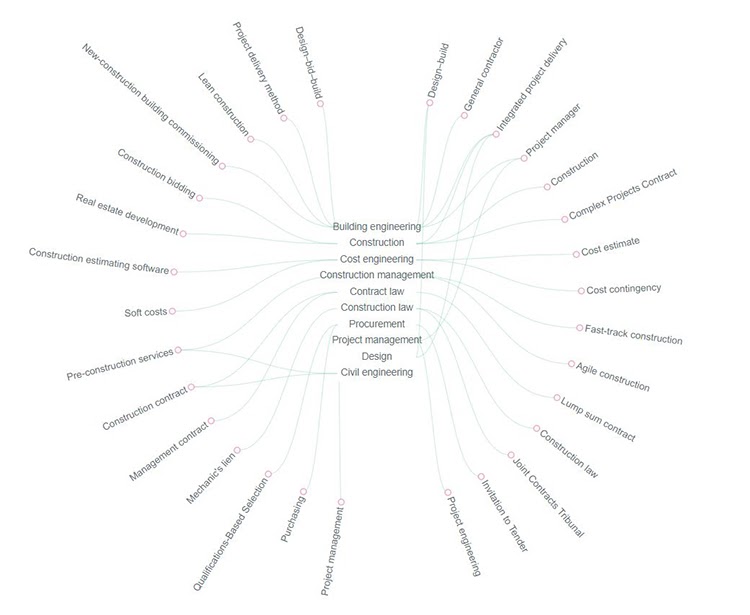 The look of the website is lacking
This next issue is purely aesthetic.
The website's interface is just plain dull. It lacks any feeling of personality or energy.
While the Frase branding is there, there is very little in the way of tutorials or descriptions on each one of the menu pages. This leaves the user floundering while trying to figure out exactly what to do.
Do you know what they say about first impressions?
Unfortunately, Frase does not excel in this area.
When you enter the site for the first time, there is no obvious starting location.
It took some clicking through the different links, on the left-hand menu, to understand what I was looking at.
Once you begin getting into the meat of the site, this does become a little less of an issue as your overview page is filled with documents and search monitors.
However, the overall website leaves much to be desired in terms of visual appeal.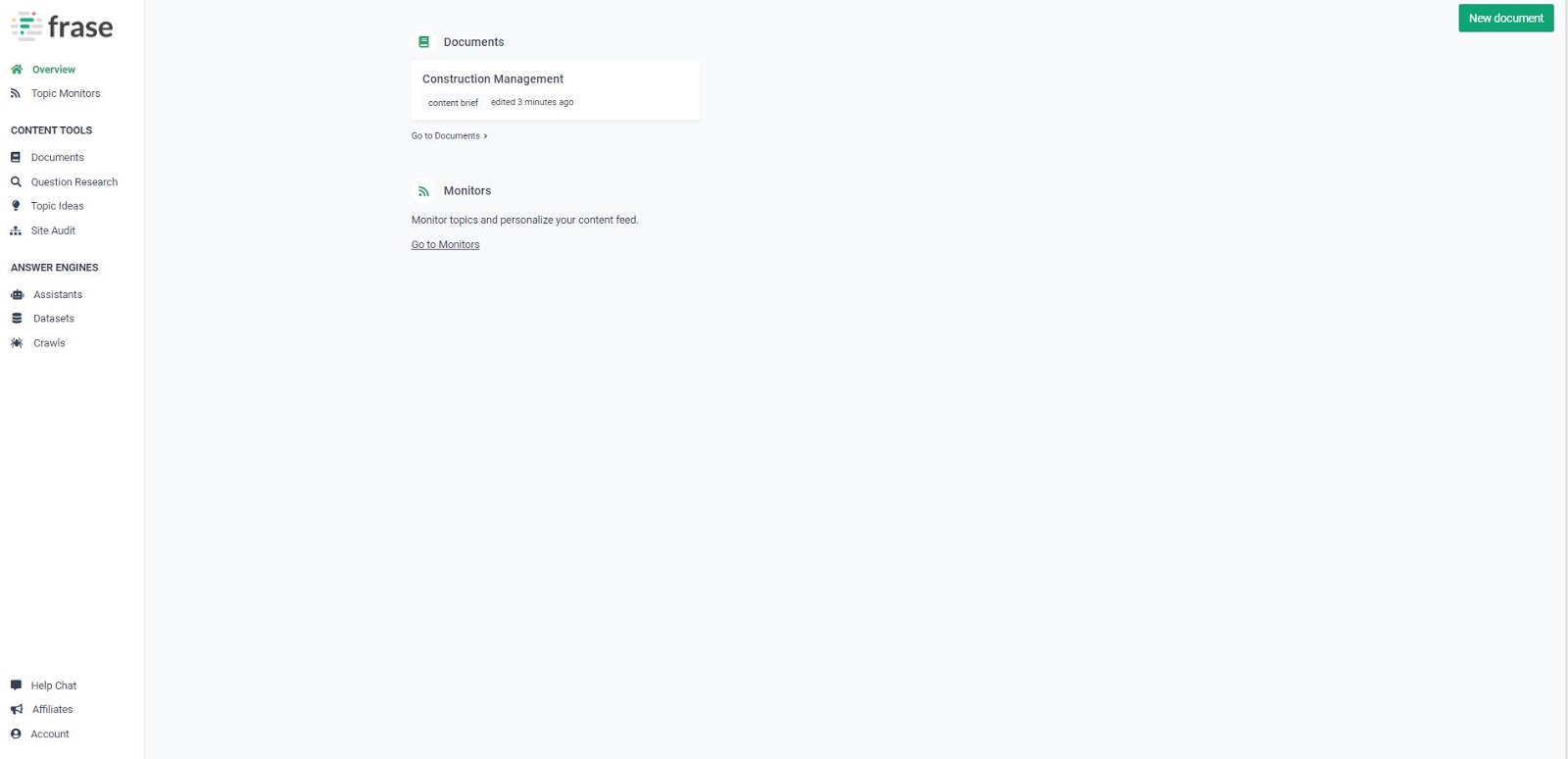 The tour guide
The biggest fault that I found, for the overall site, is that it required scheduling time with a "tour guide" to clear up the bulk of the challenges that I was facing.
If you have the time to schedule a 15-minute Zoom walk through with one of the Frase AI staff members, I would highly recommend it. Having the opportunity to talk through the process, and ask some questions, did clear up a few points.
Even if asking about the competition sent my rep into a tailspin that he never quite recovered from.
While this was definitely helpful in answering some of my underlying questions, I felt as though the app, itself, should have had more direction. There should be no need to have one-on-one calls unless you have specific questions or want to know about upgrading.
Adding in some diagrams or clever infographics could go a long way in making the feel of the application more welcoming as well as more intuitive.
Plans & Pricing
Free trial
With a product like Frase AI, a free trial is a great opportunity to test the capabilities and find out if this is the right product for your business.
The free trial comes with unlimited research questions. Utilizing this, you are able to at least get an overall view of what are some of the most searched for queries surrounding your topic.
It also comes with five documents. You can use these to develop five content briefs, five content optimization analyses, or a mixture of each.
One of the biggest benefits that Frase offers is its Google Search Console integration. With the free trial, you get one crawl through of the Google Search Console. If you want a very high-level overview, this may be enough; however, this is very limited.
The free trial also comes with a 30-day test of Answer Engine. Since this product is usually $199.99, this is a huge bonus to have 30 days free to test the product out.
Basic
The basic package is offered at $44.99/month or $479.88/year and allows for one user.
At the basic level, you have the ability to have 30 documents per month. This is a combination of the content briefs and content optimization analyses.
You also have the ability to perform three crawls through the Google Search Console data.
This option is best for small businesses or content marketing professionals who develop a higher quantity of pieces on a monthly basis.
Growth
With the growth package, three users ($15 per extra user) have access to unlimited documents, and 50 crawls through Google Search Console data per month.
The price for the growth package is $114.99/month or $1,199.88/year
Answer Engine
This is the highest level of any of the packages listed above. There is a 30-day free trial of the product if you want to check it out.
The Answer Engine is $199.99 per month and allows for three users (with $15 per additional user).
The Answer Engine comes with Unlimited documents, and 50 crawls through Google Search Console data.
What is also included are 500 answers/month per Answer Engine with $50 per extra answer. You can also tap into the Customer Success Manager.
Do I Recommend Frase?
Yes, I recommend Frase.
Over 50% of marketers believe it will soon be important for marketing technology providers to have native artificial intelligence capabilities. Frase AI meets those demands head-on.
Frase AI Dramatically reduces research time for content creators. The AI tools assist in helping content marketers develop ideas that their customers care about.
To save even more time, we recommend checking out Wordable. It will not only clean and properly format your HTML, but also compress images, open links in a new tab, automatically set featured images, or create a table of contents, and lots more within a single click from Google Docs.
In a world where setting yourself apart from your competition is the key to getting jobs, the competitor analysis is an invaluable tool in deciding how to best optimize your company's blog posts, social media, and brand voice.
While I did find it a bit frustrating that some of the keywords did not yield the results I was looking for, I think that with creative rewording results will come. This might be an algorithm issue, or it might be human error. Only more time with the product will tell.
Overall, Frase AI is an invaluable tool for busy content marketers.