Let's talk about the most common — and the most infuriating — content marketing advice on the internet.
"If you want better search rankings, you just need to write better content!"
Thanks, I guess? What does "better content" even mean?
Does it mean longer content? Well, sometimes. But not too long and not just for the sake of length.
Should I add more links? Those can be a ranking factor, but they need to be relevant for the content. Oh, and don't forget to use relevant anchor tags.
Should I cover related topics? Search engines do like to see those, but you also need to keep your content on topic and high-quality for readers.
It's enough to drive you mad.
This is why a lot of content marketing teams are turning to SaaS tools like Clearscope that assign content a score and make content optimization recommendations.
But, will Clearscope actually help your content rank better on Google?
That's what we're here to find out.
But first, the basics.
Disclosure: These reviews are reader-supported. We might earn a small commission if you purchase something through our site. Learn more
Our Verdict
While other tools might offer more features, Clearscope offers a solid balance of resources and affordability that medium-to-large companies will appreciate. If you are looking for a single tool that'll improve your content strategy and help you write content that ranks better, give Clearscope a try!
TABLE OF CONTENTS
What is Clearscope?
Clearscope is a keyword research content optimization tool designed to help content marketers and content creators develop content that is more successful in search engines — without being forced or fluffy.
Founded in 2016, the tool uses IBM Watson services to automate SEO research and content optimization by comparing and analyzing content pieces that search engines rank the highest.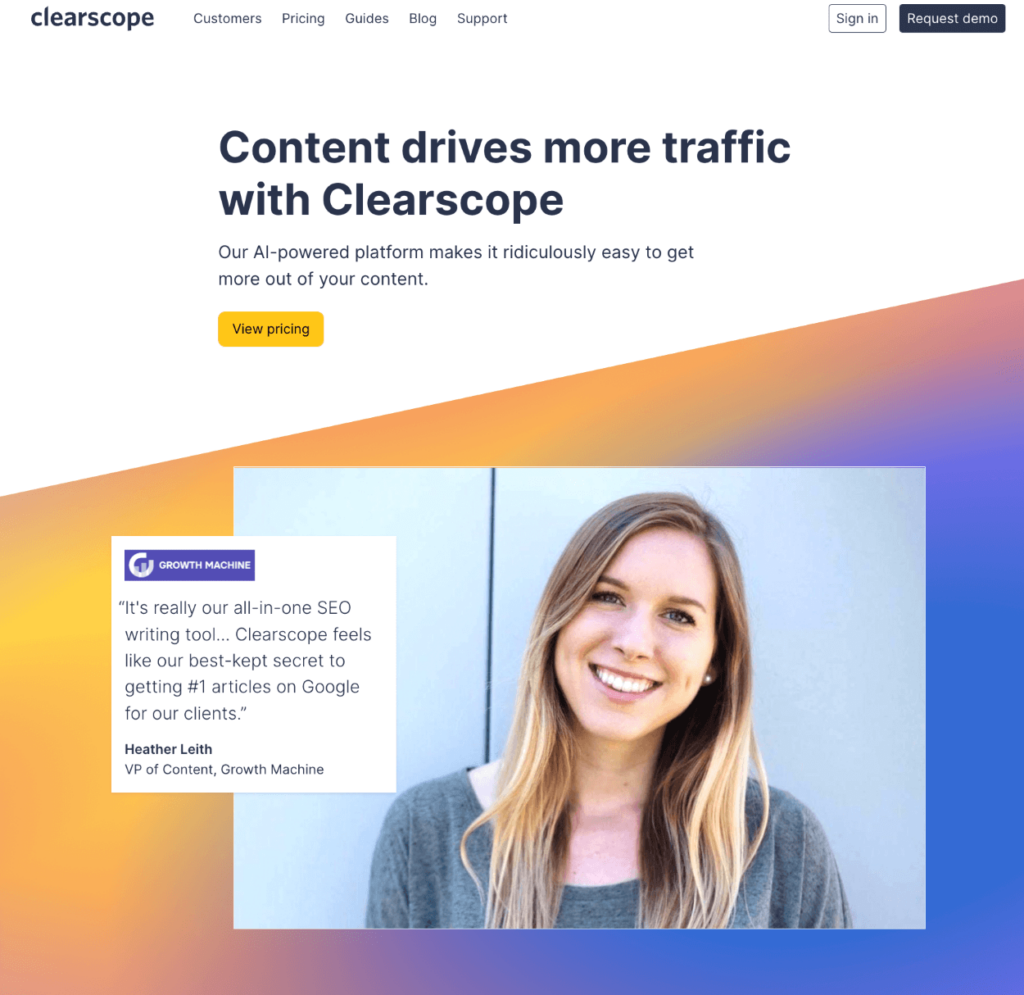 How do you use Clearscope?
To use Clearscope, type in a keyword you want to target, then run the report. Clearscope provides you with a list of keywords and topics. It also tells you which competitors currently rank for your target keyword.
This can help you outline the scope of work, decide what topics to cover, and determine how long your piece should be.
Clearscope also assigns completed content a score based on features like word count, readability, and search volume.
Next, it ranks your content against the top competitors. The report will suggest keywords and relevant topics that can improve your content score.
Here's an example of a Clearscope report on the Overview page tab. Notice the top competitors in the right sidebar, the search volume list, and the tabs at the top of the page.
But, is Clearscope the right content optimization tool for your team? It depends on your content needs and your long-term business goals.
Clearscope features
In this Clearscope review, we'll take a deep look at how this SEO and content tool works, including main features, ease of use, support, major pros and cons — and how it compares to competitors like MarketMuse, Frase, and Surfer SEO.
What you really want to know is, can Clearscope help you rank higher in Google and increase your search traffic?
It can.
Here are a few of the key features that can help your team create pieces of content and streamline the content creation process.
Ease of use
Clearscope really shines when it comes to ease of use. The user interface is incredibly intuitive and easy to navigate.
Features are clearly labeled, and the tabs make it easy to explore all the information. The report also loads all at once, so there's very little lag time once you've run the report.
The team does offer free onboarding and great support, but it isn't really necessary for most. Simply type in your search term, and you can start digging into topics, keywords, and exploring what your competitors are doing.
You can also create and optimize your content right in Clearscope — no need to copy and paste content back and forth. There are no collaboration tools, however.
Topic and keyword research
To start using Clearscope, you'll need a basic key term you want to target. Plug that into Clearscope and run a report. The tool will give you a list of keywords and topics that are popular for that term.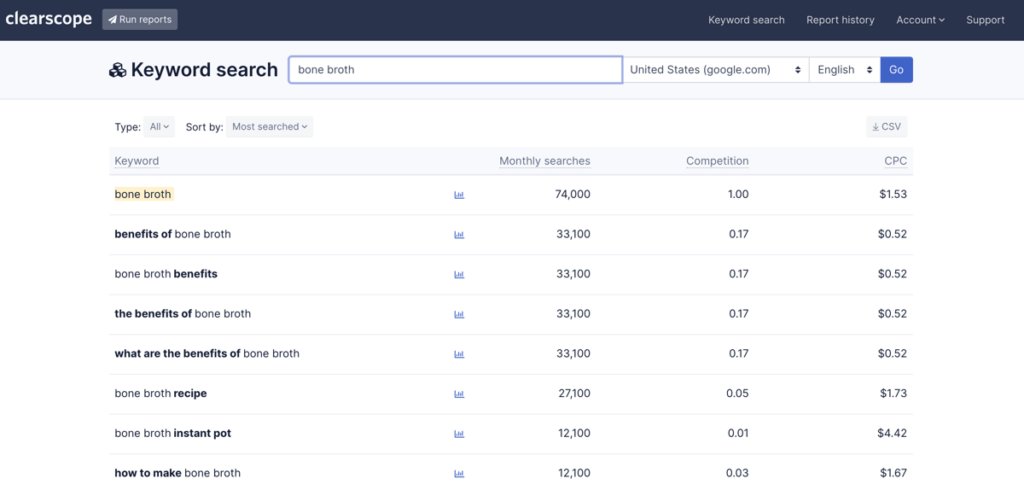 This is a great feature to use for content ideation, especially for a potential client. Instead of doing hours of research in the search console and digging in an SEO tool like Screaming Frog for a client who hasn't signed a full contract yet, you can use the Clearscope report to suggest SEO-backed content ideas to help close the deal.
But Clearscope doesn't just give you content ideas. It infuses each idea with important data about each keyword and topic. For example, the tool displays the average cost-per-click (CPC) for each keyword, allowing you to assess its value. A keyword with a high CPC means advertisers are spending money on it, so ranking for that term could lead to more revenue.
Clearscope also provides search volume data, so you can see if the term you're targeting gets enough traffic to justify targeting. This 12-month search volume chart appears just below the grade summary on the Overview tab.

But it doesn't end there — one of Clearscope's best features is its content report. You can use content reports to make better decisions about the way you outline your content.
You can even batch several reports at once. Simply enter your chosen keywords one by one using the Batch option, and you can let Clearscope generate your reports in a single click.
Once your report is ready, you'll see four sections:
Overview
Keyword search
Relevant terms
Competitors
In the overview, you get the average monthly searches, top relevant keywords, and the top three competitor content. You'll also see average content scores, word counts, and readability scores.
Additionally, Clearscope specifies what page type is the most common result for your query. While they don't suggest other mediums apart from articles — like video or graphics — this can be useful when trying to determine what type of content will be most effective in the search results, say an article versus an ebook or a white paper.
In the "Relevant terms" and "Competitors" tabs, you'll get:
Relevant questions related to your keyword
Semantically related keywords you should include in your post
How commonly a term appears in a heading
Example usage for your keyword in a heading
And once you're done analyzing the report, you can finally get into the optimize section to outline your content.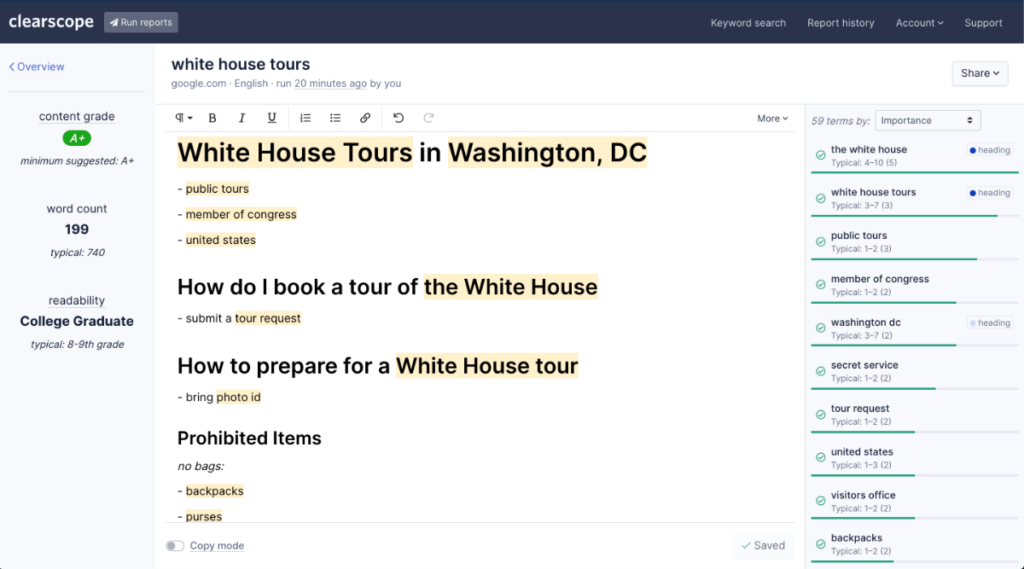 It's up to you how you want to approach the outlining process. But you can use a combination of the following to inform the process:
Suggested headings
Competitor headings
Paragraph style suggestions
Average word count
Your own judgment
You can sprinkle relevant terms into your outline to remind yourself to use them in the drafting phase. Clearscope highlights those terms when you've added them.
The content report is similar to the content brief features you'd find in other tools, like MarketMuse and Frase. However, it's not as automated as Frase. You'll still have to manually read the report and choose what elements to include in your brief.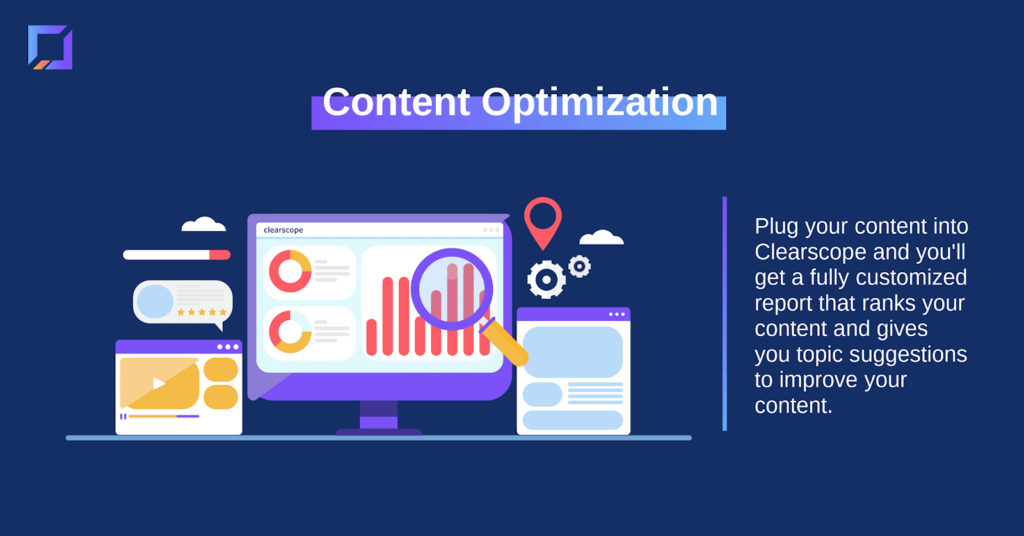 Content optimization
Once you've written your content, you want to know how it'll rank against your competition. You could publish it and wait a few weeks to see what happens in Google, or you can get an idea of how well your content will do with Clearscope.
Plug your content into Clearscope and you'll get a fully customized report that ranks your content and gives you topic suggestions to improve your content.
You optimize your content in the same place you outlined it. Here's what a report looks like with a full article pasted inside: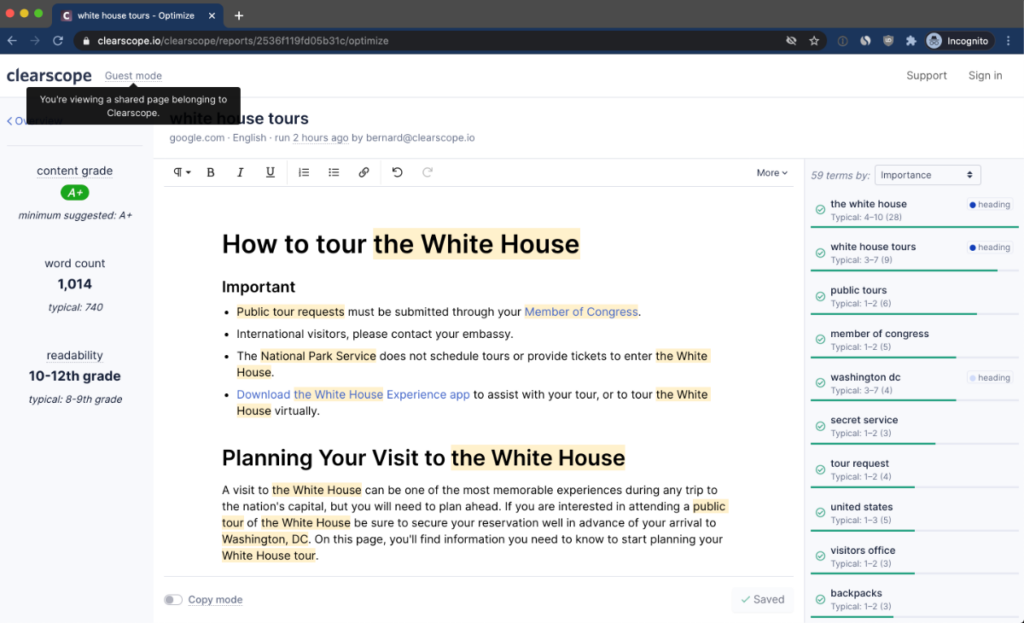 As you can see, Clearscope provides detailed tips and suggestions for improving your content, such as adding relevant terms, increasing the word count, and improving readability for a wider audience.
Integrations
Clearscope integrates with Google Docs so you can optimize your content as you're writing. No need to copy and paste.
Although Clearscope doesn't integrate with Grammarly, Google Docs does. This means you can add both the Grammarly and Clearscope integrations to Google Docs and handle your entire content writing process from there.
Clearscope also integrates directly with WordPress via a plugin. This makes it easy to analyze your existing content instead of copying and pasting old content into your reports.
Clearscope support
Clearscope says they offer "premium" support to all their customers, which means they don't provide better support for higher-paying plans, which is nice. But, support is only available online during regular business hours (9am to 6pm CST, Monday to Fridays), which feels pretty limited for a cloud-based SaaS tool.
Clearscope offers limited documentation on its website. However, it does have FAQs on several pages.
The Clearscope team has also created a five-part onboarding documentation series. You can choose to watch this series in video form or read the documentation guides instead.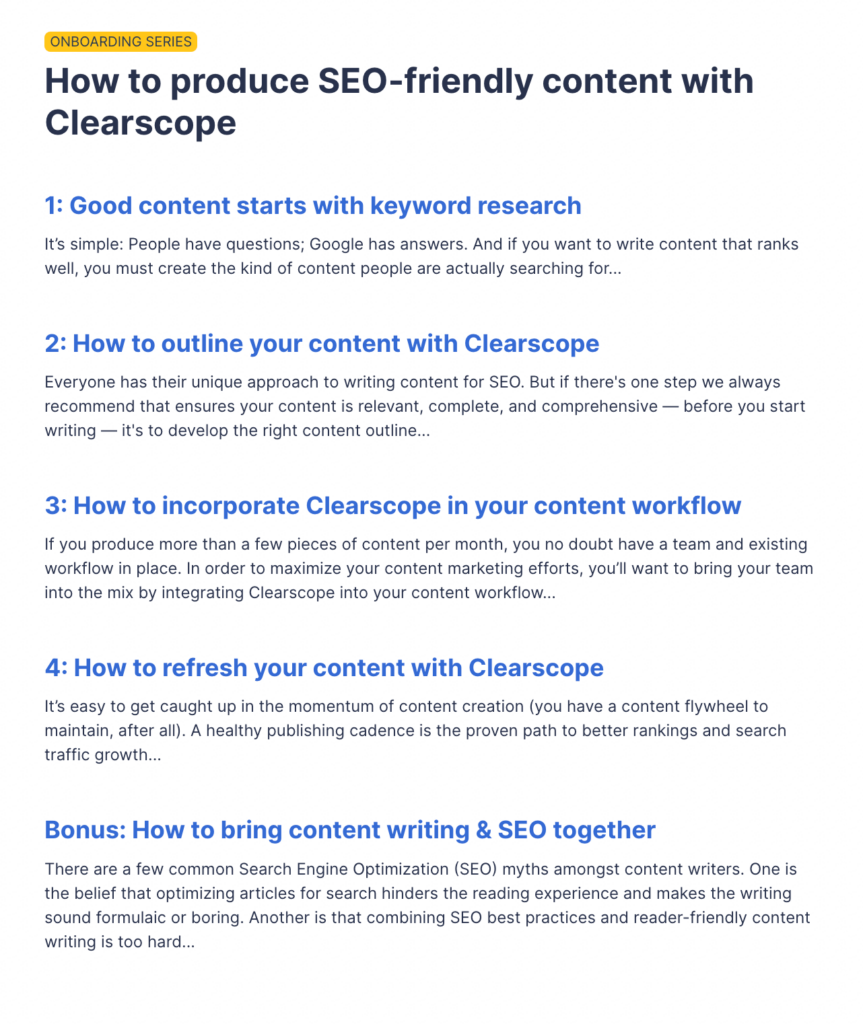 Pros of Clearscope
By now, you should have a clear understanding of what Clearscope is and how it works — but is it the content research solution you need?
Here are the most important reasons Clearscope works great for content teams.
Saves time on keyword research
Clearscope's keyword research is easy to use, fast, and thorough. If you're looking to get a general lay of the land before creating a content outline, Clearscope is the perfect fit. Type in your main keyword, and Clearscope will give you a list of 30 to 40 related terms to include in your content.
And it works — Optimizely increased their search traffic by 52% using Clearscope.
In this case study by Optimizely, they showed how they increased their conversion rate by 52% using Clearscope.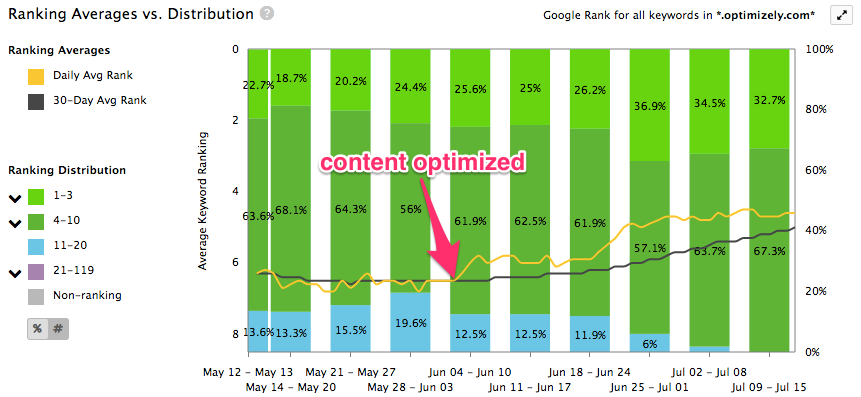 Helps with content ideation
Have a keyword in mind, but not sure where to go with the topic? Research your main term, then click on the Relevant Terms tab. You'll get a full list of relevant key terms listed by importance — including related terms and whether they should be in a heading.

You can use this information to build your content outline.
Makes the SEO writing process much easier
Most marketers know that SEO matters — but adding SEO into writing can be a complex task.
Content writers want to write for readers, and sometimes SEO folks focus too much on the details. Clearscope offers the ideal balance by providing writers with guidelines and using an easy-to-understand content score.
The content review process is really fast, which means your team can quickly optimize your content and get it published faster.
Easy to use
Unlike other tools, like Screaming Frog or MarketMuse, Clearscope is incredibly easy to use.
Because Clearscope is so easy to use, it's a viable alternative to other content optimization tools, like Surfer SEO and MarketMuse.
Clearscope's content reports are well-labeled and the tabs at the top make it incredibly easy to navigate. While the content report is a bit less detailed, it provides all the information you need to do SEO research for content. This helps you focus on what matters most for your content to rank.
Cons of Clearscope
Where does Clearscope fall short? Here are a few cons to keep in mind when deciding if it's the right content optimization and SEO research tool for your company.
Limited integrations
Clearscope only integrates with Google Docs. It does now work with WordPress, however, the functionality is pretty limited.
We'd recommend checking out Wordable to publish Google Docs to WordPress in 1 click, instead. The tool not only formats your HTML, it also compresses your images, opens links in a new tab, automatically sets the featured image, and lots more.
No help with links
Clearscope reports focus mainly on keywords, content length, and relevant topics. There's no linking feature to help you determine what type of backlinks to pursue or even what internal links to add.
On the other hand, other tools, like MarketMuse, Surfer SEO, and Frase, offer an internal linking suggestion feature. Frase even shows common outbound links.
Limited support
Clearscope only provides support via email and only during business hours. They also lack the in-depth on-site documentation that most other SaaS companies offer.
This could be a pain point for some users who need a helping hand.
Limited content briefs and collaboration tools
Clearscope will provide you with the information you need to create better content, but it won't help you with the actual process. You'll have to manually go through the report and choose what to include in your brief.
When compared to Frase, which can automate a content brief in one click, Clearscope requires a bit more elbow grease.
Plus, Clearscope doesn't offer advanced collaboration tools, such as collaborative editing or task assignments.
The best you can do is send colleagues a link to your report in Clearscope. If you're looking for an all-in-one writing process tool, this isn't it.
Plans and pricing
Clearscope's pricing is simple — you'll find two main plans in addition to an Enterprise solution.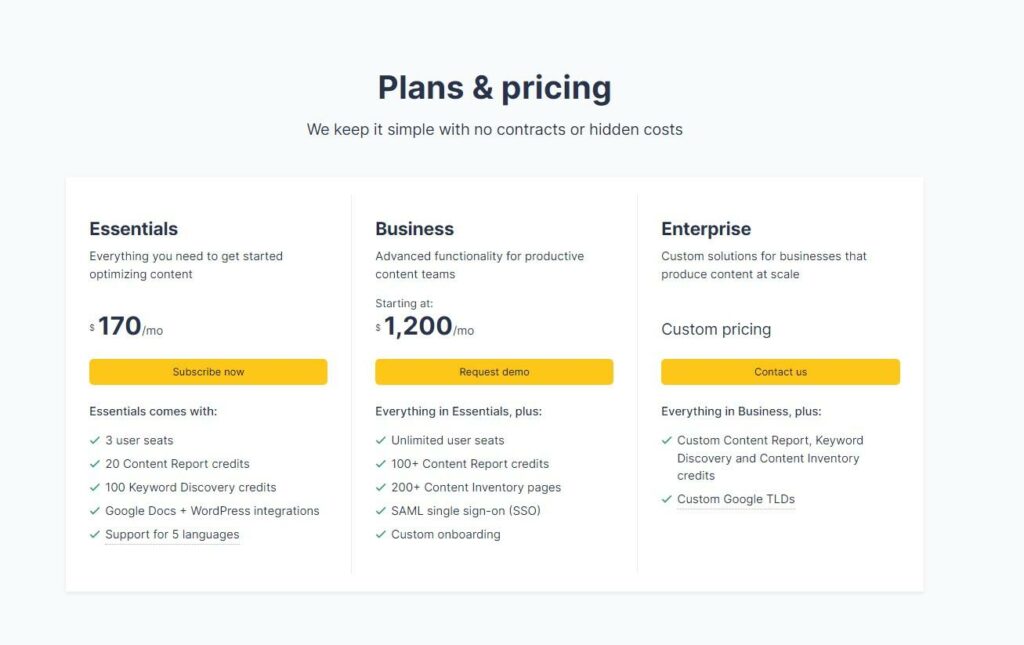 Every plan includes priority support as well as free training and onboarding. That means every customer receives the same level of support.
Every plan also receives unlimited sharing and exporting for content reports. The quality of the content recommendations and the integrations doesn't change between plans.
The Essentials plan starts at $170 per month and gives you 20 monthly Content Report credits and 100 Keyword Discovery credits for up to 3 users. This plan also supports up to 5 languages (English, German, Spanish, French, and Italian).
The Business plan has a significant bump in price. Starting at $1,200 per month, you get unlimited user seats and 100+ Content Report credits. You also get 200+ Content Inventory pages to optimize your existing website.
Clearscope provides its Business customers with a custom onboarding process and the ability to use single sign-on (SSO).
Finally, you can choose the Enterprise plan, which has custom pricing. The cost will depend on how many reports, keywords, and content inventories you need.
The Enterprise level also lets you target custom countries for your keyword research.
There are no yearly plans for Clearscope, and you can cancel at any time.
Who is Clearscope best suited for?
Clearscope is best suited for medium-to-large agencies and brands looking to create competitive content and streamline the writing process. Smaller companies or companies that don't produce a lot of content may find Clearscope expensive compared to Frase or Surfer SEO.
Brands that use Clearscope include Optimizely, Backlinko, and Eventbrite.

Is Clearscope better than alternative SEO tools?
With so many SEO tools to choose from, how does Clearscope compare to its competitors, such as Frase, MarketMuse, and Surfer SEO?
Let's compare pricing first — for only 20 content optimization credits each month, Clearscope's Essentials plan is a bit steep.
But, Marketmuse is far more expensive, which makes it a hard pill to swallow for many smaller companies. At $170 a month, Clearscope is still a powerful tool for keyword research and content optimization.
On the other hand, both Frase and Surfer SEO have more content credits than Clearscope for under $120 per month. In Frase's case, it's only $44.99/mo for 30 articles.
But pricing isn't all that matters. Of all the options, Clearscope is the easiest tool to use.
For example, Frase has several menus and tabs to choose from. Surfer SEO is split into separate tools. MarketMuse's interface is simpler than Surfer SEO's but still more confusing than Clearscope's.
However, Clearscope's simplicity comes at the cost of more advanced features. For example, Frase allows you to automate your content briefs from your content reports. You could use the following process:
Run a report for a keyword
Check which elements from the report you should include in your brief
Click "Insert Brief into Editor," and you've got a content brief!
MarketMuse, on the other hand, provides you with a dedicated content brief that's separate from the rest of the data. It's easier to take the brief and run with it without getting overwhelmed by related topics, statistics, and more.
Clearscope also doesn't use as many automated processes as Surfer SEO. The latter will guide you with a curated list of tasks to help you rank better, while Clearscope will only give you content reports. You'll have to use your own judgment to figure out what to do first.
Compared to the other tools, Clearscope does have the basics you need, including:
A content editor and optimizer
A content auditing tool
Keyword research
Suggested topics
Whether you prefer Clearscope's version of these tools is mostly a matter of personal preference. The jury's still out on which tool provides the most accurate report.
It sounds subtle. But just like the experts from our MasterClass review can attest, it's the details that make all the difference!
Final Thoughts: Is Clearscope Worth It?
Hopefully, this Clearscope review has given you all the information you need to determine if it is the right tool for you. In reality, it's an incredibly powerful tool for streamlining the SEO review process and creating content that shows up in the search results.While other tools might offer more features, Clearscope offers a solid balance of resources and affordability that medium-to-large companies will appreciate. If you're looking for a single tool that'll improve your content strategy and help you write content that ranks better, give Clearscope a try!