Are you looking for a powerful content marketing and SEO tool that helps you create better content in less time?

Our content marketing agency produces hundreds of articles per month, so we use these tools on a daily basis.
MarketMuse takes care of keyword research, performs competitor research, suggests topics, and more.
But what is MarketMuse, and is it worth the hefty price tag? That's what we're going to cover in this in-depth MarketMuse review.
Our Verdict
When it comes to performing keyword research and getting the most out of content marketing, MarketMuse is worth it.
TABLE OF CONTENTS
Publish Google Docs to your blog in 1-click
✅ Export in seconds (not hours) 
✅ Less VAs, interns, employees
✅ Save 6-100+ hours/week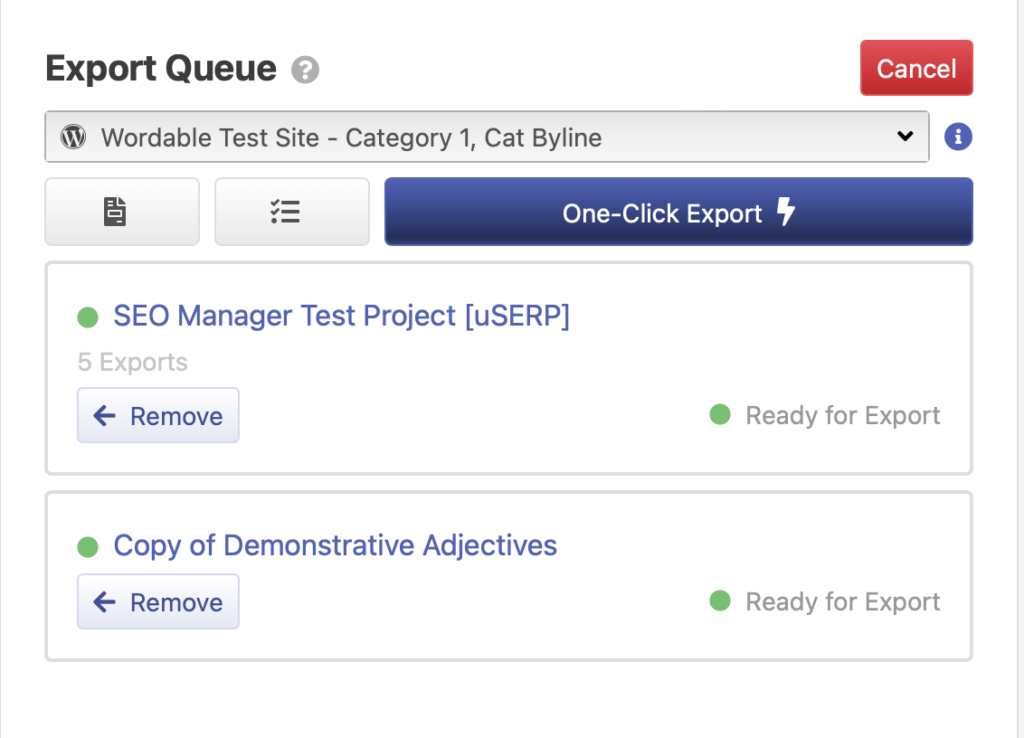 What is MarketMuse?
MarketMuse is an AI-powered content marketing and keyword planner tool created by founders Aki Balogh and Jeff Coyle in 2013.
It uses machine learning and artificial intelligence to analyze content, suggest topics to cover, and develop briefs to help your brand or agency create better content.
It works best for medium to larger agencies or brands with SEO writers looking to create a highly effective content marketing strategy based on hard data, not just gut instincts.
In the past years, it has collected a variety of industry awards from the US Search Awards, Content Marketing Institute, Red Herring, and G2 Crowd.
It does a lot, but is MarketMuse worth the cost? Let's dig into the details, shall we?
What are the most popular features of MarketMuse?
MarketMuse has two main types of features: Inventory, which tracks all the content and reports on the current content on your website, and Applications, which are tools you can use to research and plan your content.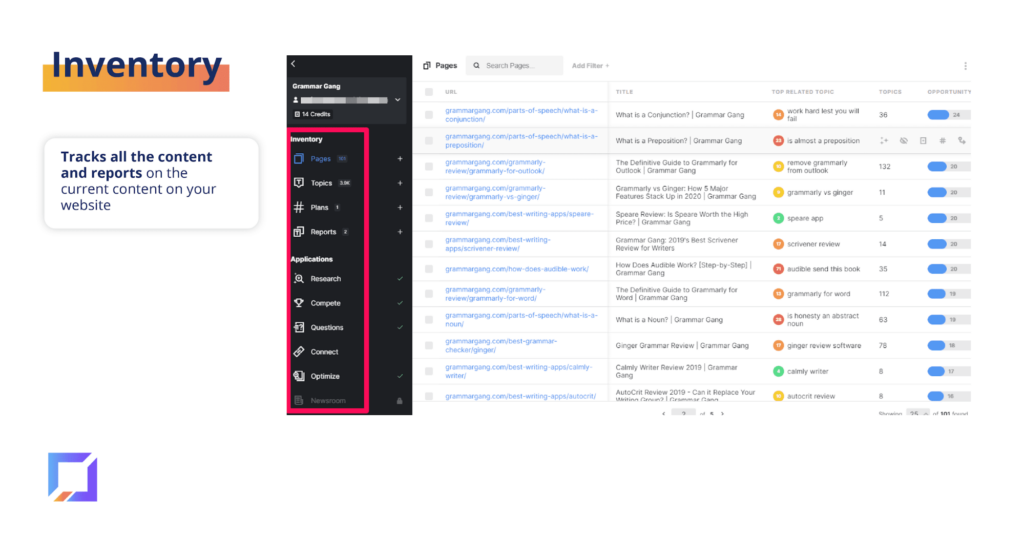 Inventory includes:
Pages: Stores the content on your current site and provides insights into how you could improve that content.
Topics: Stores the most common topics your website covers, including areas you could improve.
Plans: Used for content planning.
Reports: Used to filter and sort content data.
Applications, however, is where the real fun happens.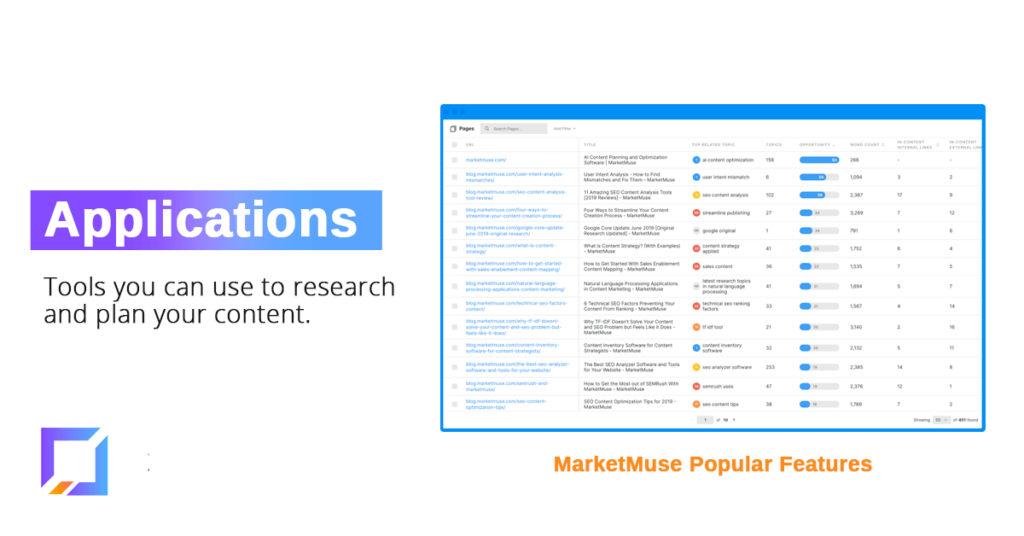 Here's what all those nifty tools do.
In the Research Application, users type in a topic and MarketMuse will compile a list of terms to include in your content. The software even tells you how many times to cover each term or phrase in your article.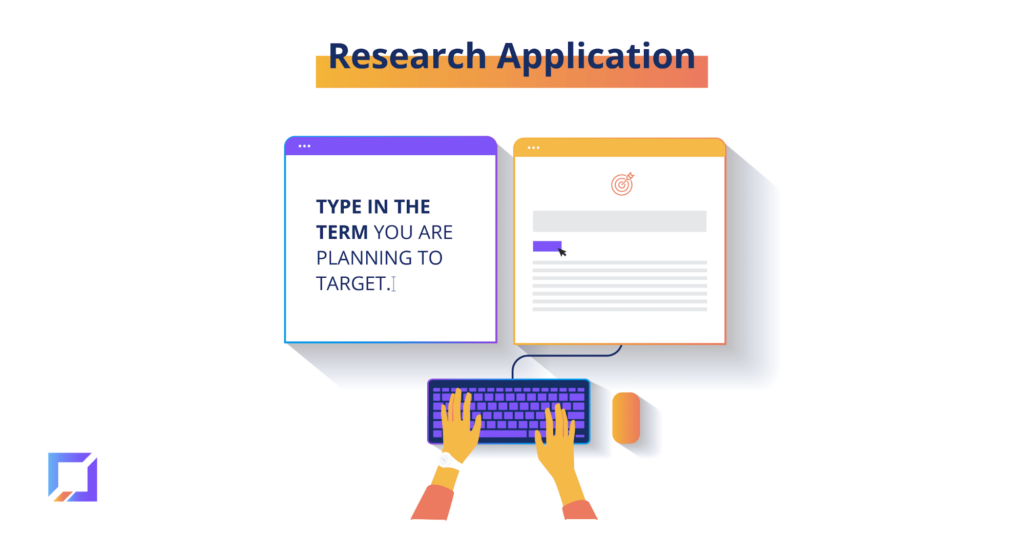 The Compete Application helps the user understand the competing content. MarketMuse shows the top-ranking content for main keywords and highlights content gaps to leverage.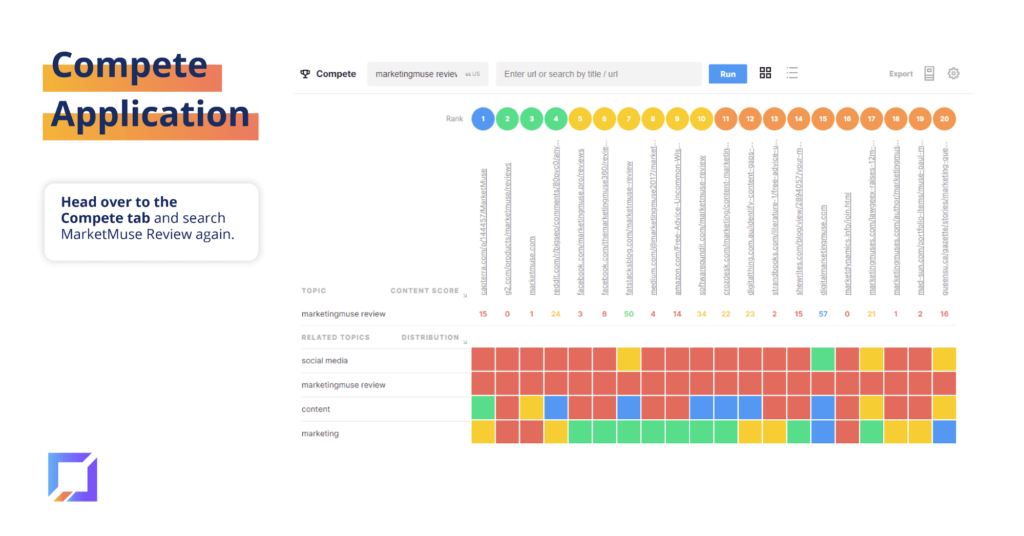 For example, for "MarketMuse review," it suggests including topics like "social media" and "content marketing" — which many competitors aren't mentioning or aren't mentioning enough in their content. This helps distinguish and elevate your content from everything already published in the market.
With the Optimize Application, you can see how your content will rank against competitors. Simply paste your content into the MarketMuse window and you'll be able to see your content score and understand which additional topics you need to cover.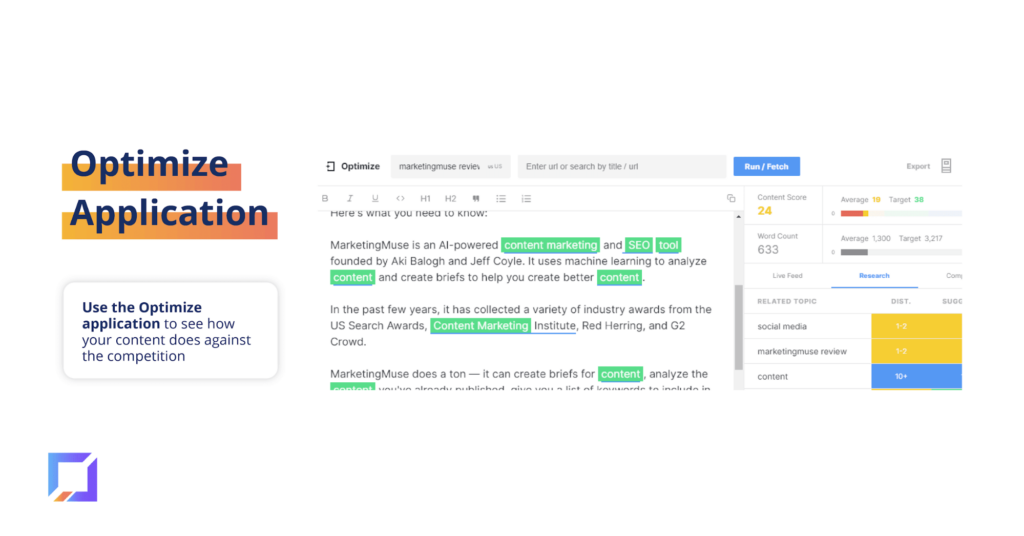 Struggling to find the right direction to take your article?
Use MarketMuse's Questions Application. This feature generates a list of questions related to your main keyword. These questions can serve as a foundation for content and serve as headers for subsections (known as H2s).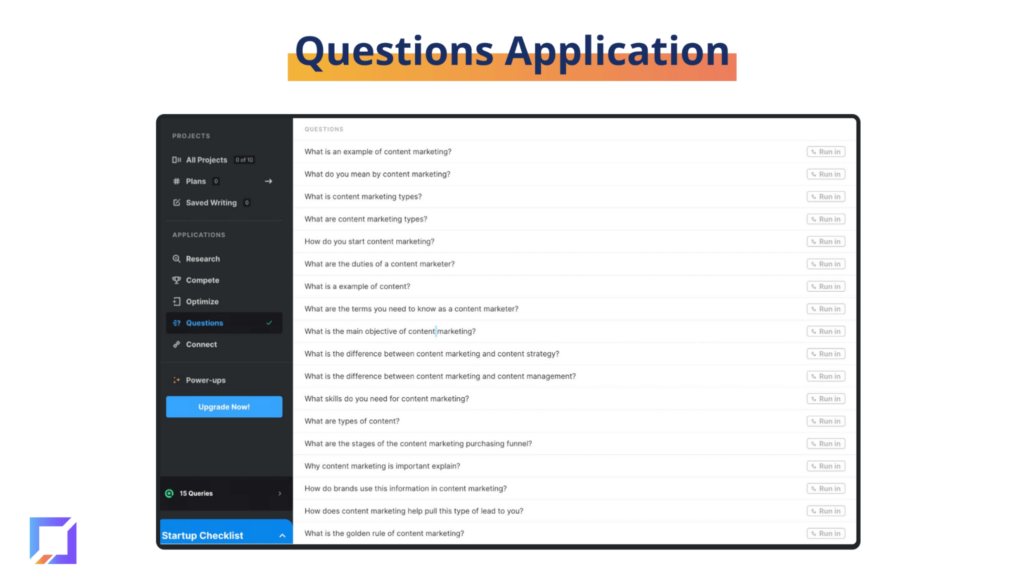 This is helpful if you have writer's block or simply don't know what to cover in your article.
Wondering if you're missing any internal links to add?
The Connect Application provides linking recommendations based on your focus keyword and topic. These links include internal, external, network, and competition links.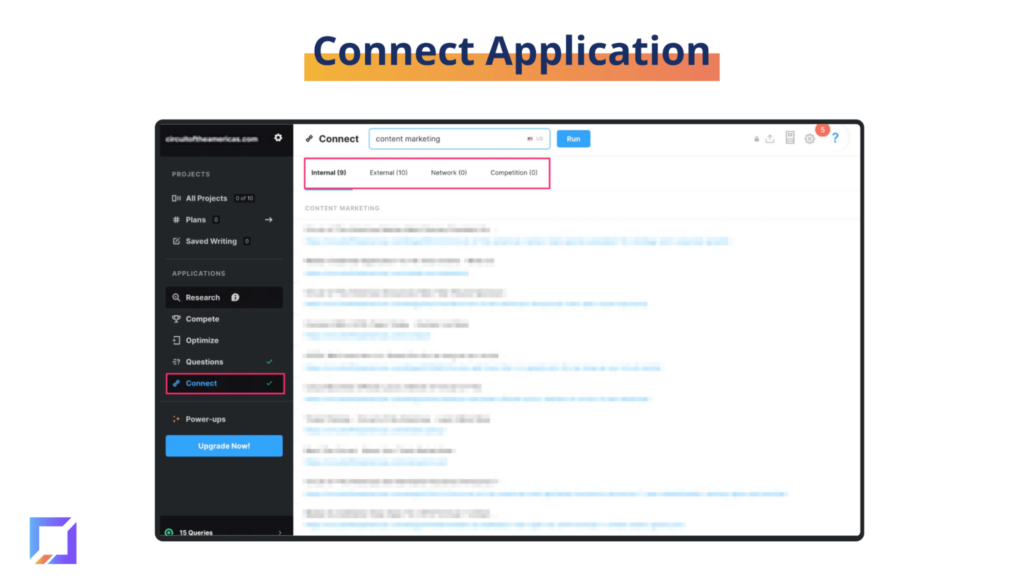 Connect will scan tens of thousands of web documents to assess the current landscape and return with recommendations for your content. You'll discover which links you should include and the suggested anchor text based on a variety of variables.
Now that you know more about the different applications, it's time to dive into the software and discover how you can use MarketMuse to scale and optimize your content production efforts.
How to use MarketMuse
The first thing you'll notice when you sign in to MarketMuse is that there are a ton of options in the dashboard. It can be a bit overwhelming at first glance.
I've found these features aren't too hard to figure out — and they can save you a ton of time on content creation by handling the topic and keyword research for you.
Here's a screenshot of the dashboard in MarketMuse: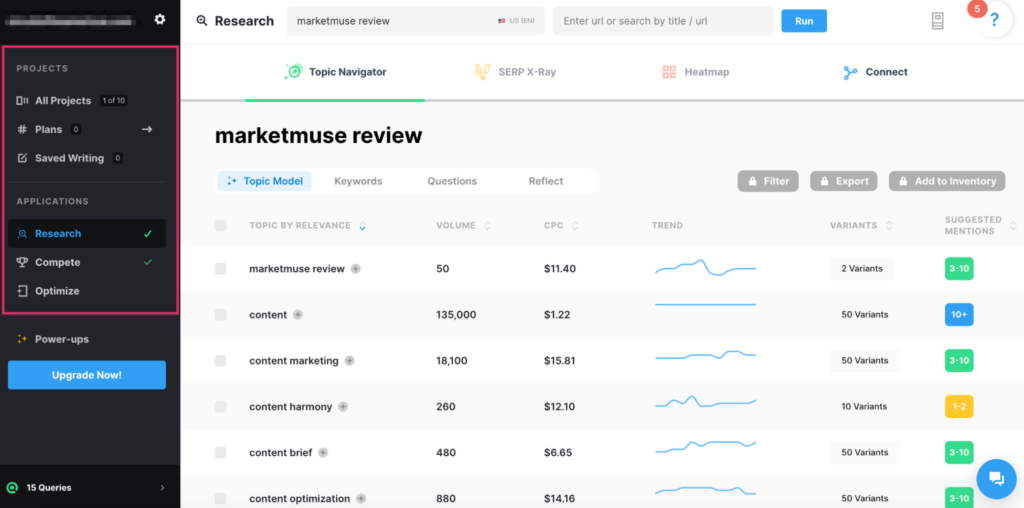 All the options, including the Projects and Applications tab, are accessible on the left-hand sidebar.
The dashboard suggests topic models, keywords and questions to consider covering. The colored numeric boxes under "Suggested Mentions" provide the user with insight into how many times those keywords should appear in an article.
What does the content score in MarketMuse mean?
MarketMuse's Content Score provides an indication of the overall quality of your content, and its ability to rank well for the keywords you've indicated are important.
In the Optimize application, you'll see three scores: Content Score, Average, and Target.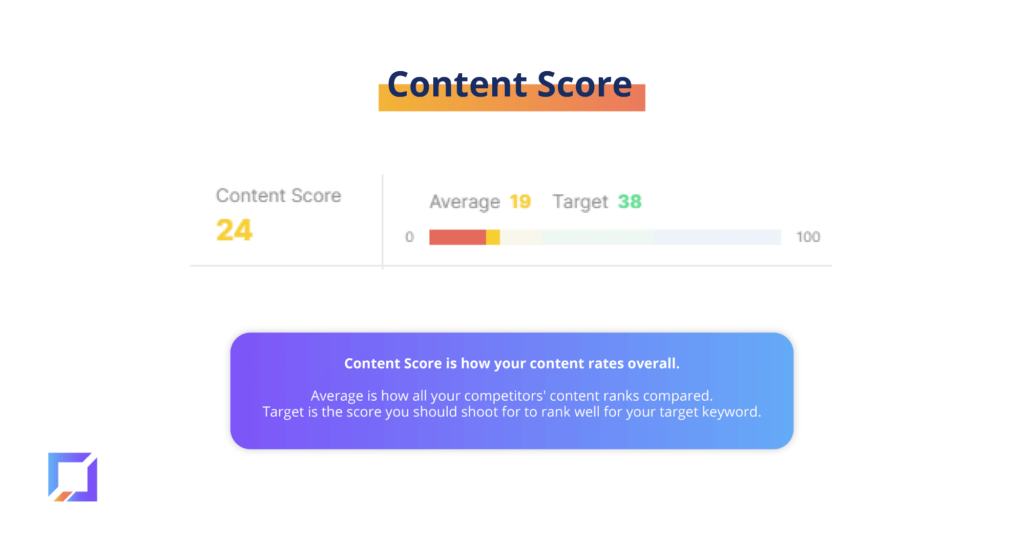 There are three different ratings associated with assessing your content score:
Content Score: How your content rates overall against the MarketMuse topic model which identifies relevant keywords and phrases to include.
Average: How all your competitors' content ranks.
Target: The composite score you should strive for when writing your article.
With Content Score ranging from 0-100, writers should strive for a higher score. Keywords are awarded one point and 50 topics are often outlined. As more relevant keywords get added, the score increases.
Here's the process I use for creating new content using MarketMuse.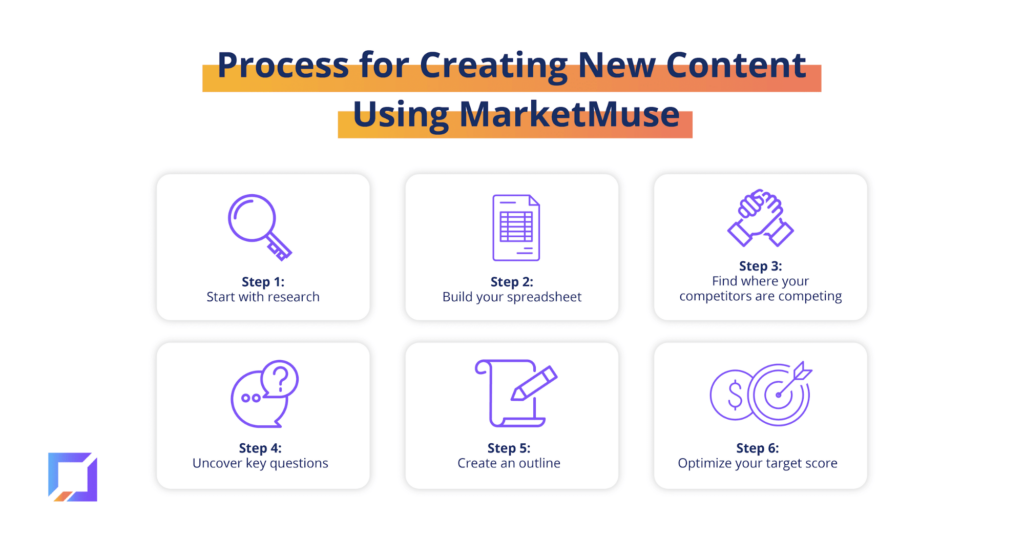 1. Start with research: Before writing a single word, I head over to the Research application and type in the term I am planning to target. For this article, I'm targeting "MarketMuse Review."

2. MarketMuse returns a list of around 50 terms and topics that are related to the original query. I copy and paste those into a spreadsheet.
3. Next, I head over to the Compete tab and search MarketMuse Review again. This gives me a list of the top 20 articles my piece will be competing against — as well as terms and topics those competitors aren't targeting. Those red boxes? Those are topics the top competitors aren't covering — I'll want to include those to create a more in-depth piece.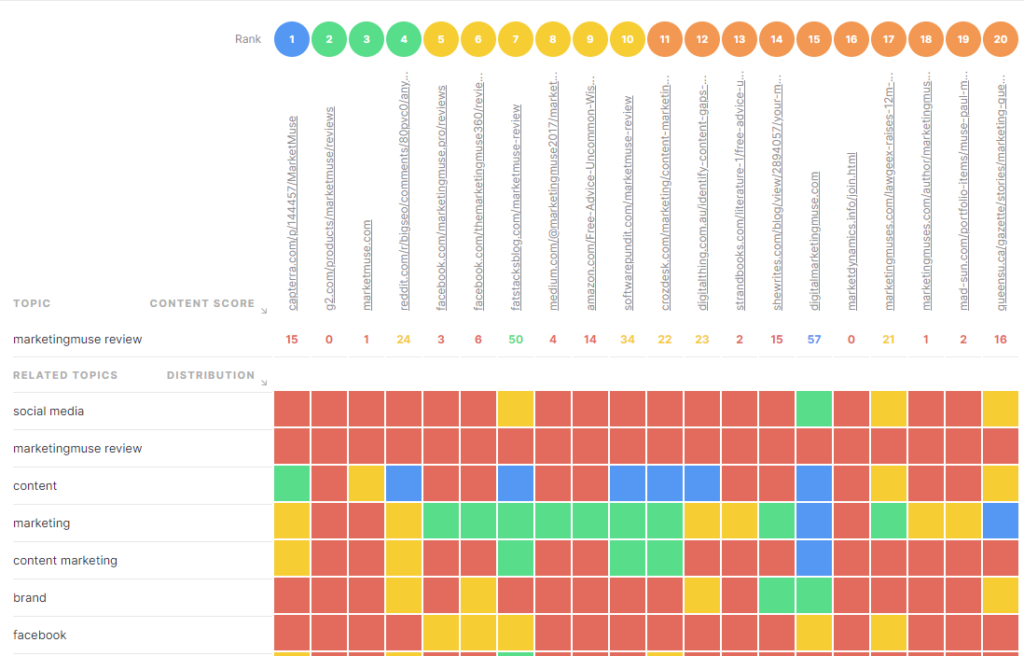 4. Next, I head over to the Questions tab and look for popular topics and questions. I added these to my spreadsheet of key phrases. I do have to sort them, as not all of them are relevant. For example, "How should you choose a writing service?" doesn't quite fit.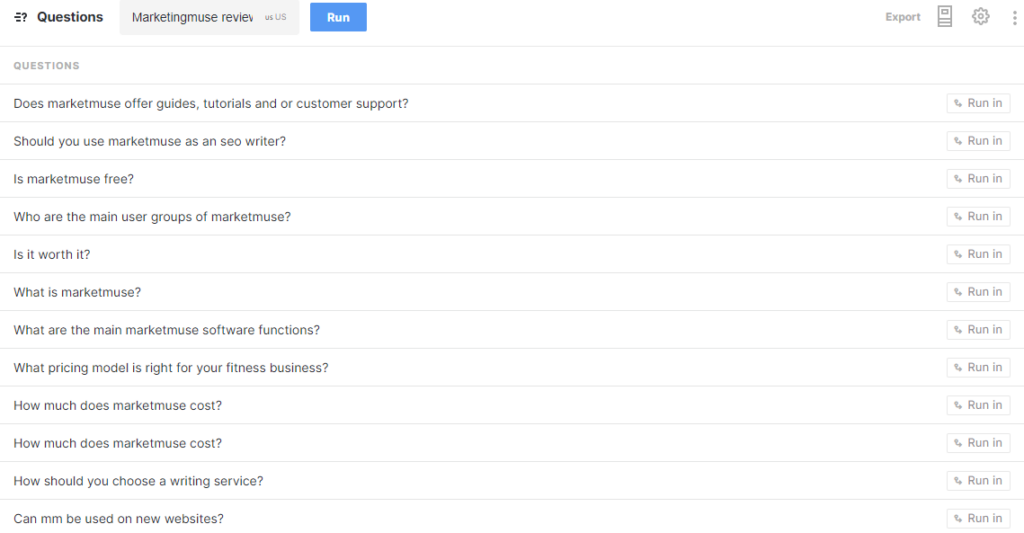 5. I use this information to create an outline, though MarketMuse can generate a limited number of briefs each month.
6. Once I've written the piece, I use the Optimize application to see how my content does against the competition. If my content is below the average or target score, I add more topics from their "Related Topics" list and look for areas where I can make the content more useful.

There are a few other features that we don't use as often — such as the brief creation and the internal linking tools. If you work on a single site, those features may be more useful.
Now that you know an example use case for the platform, let's take a look at some of the pros and cons. After all, there are many different content optimization tools in the market. What makes MarketMuse stand apart from the rest?
MarketMuse pros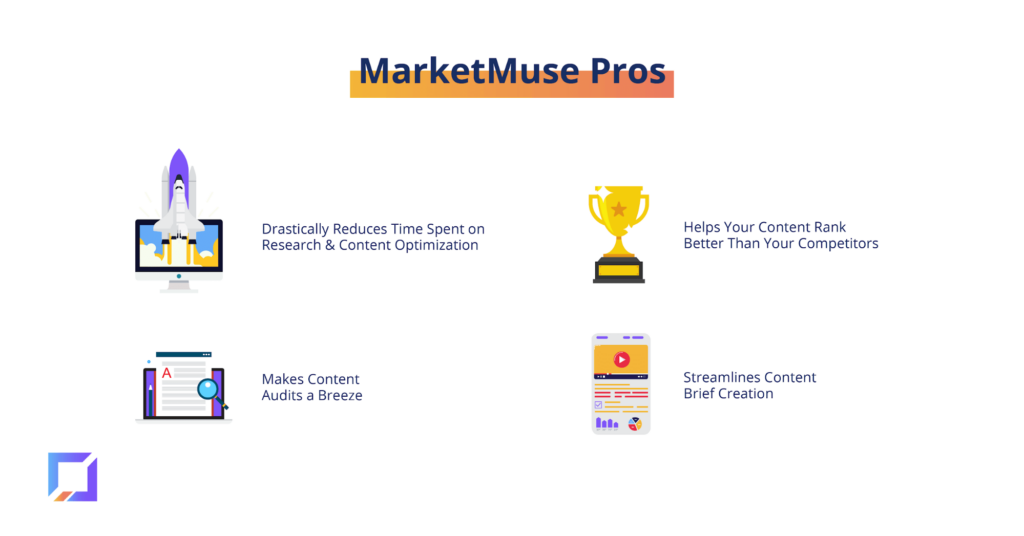 As you can see, MarketMuse does a ton. It can create content briefs, analyze the content you've already published, give you a list of keywords to include in new content, help you locate relevant internal links, and provide direction for creating more competitive content.
Here are a few things I love about MarketMuse.
Saves time on research and content optimization
Instead of spending hours researching topics, performing keyword research, locating competitors, and looking for content opportunities, you can get all that information at the click of a button in MarketMuse.
Using AI driven suggestions, you can easily optimize your content and ensure your content will rank well in Google and other search engines.
Helps your content rank better than your competitors
The internet is a loud, busy place; 7.5 million blog posts are published every day. It's getting harder to create content that stands out. We all want to create better content, but what does that mean in practice?
MarketMuse gives actionable steps to improve your content. The Optimize and Compete features, for example, provide a wealth of information about topics and keywords to help you create relevant, useful content.
Here's what you'll see in the Optimize tab: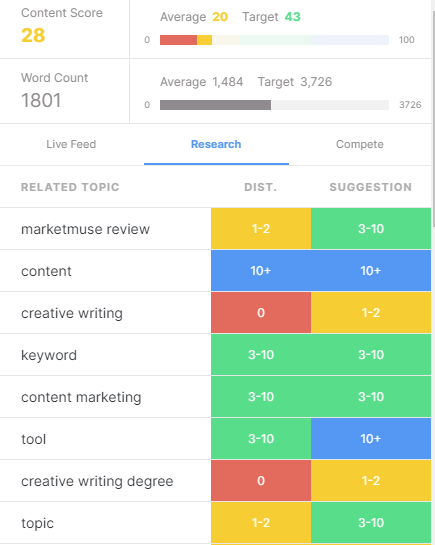 When I analyzed this post early on, I found it was already ranking above the average competitor (who earns an average content score of just 20) but still not quite at the target of 40.
To improve my score, I'll need to add additional topics suggested by MarketMuse and increase the length of the post.
Makes content audits a breeze
Doing a content audit on your site helps protect your site from search engine algorithm changes, but is also incredibly time-consuming. You have to pull all your URLs, sort through them, and look for opportunities for improvement.
Using the Optimize function in MarketMuse, however, you can plug in the URL and see exactly where your content is lacking. Do you need to add keywords? Address another topic you didn't cover in the first piece?
The Pages feature stores your content so you can easily see research opportunities, the most valuable topics you've covered, and page authority. If performing a site audit is on your annual content strategy list, I strongly recommend giving MarketMuse a try.
Streamlines content brief creation
Great content starts with a detailed brief that outlines the topics the post should cover, keywords to target, and a general word count. An effective brief can be the difference between getting back a killer piece of content from a writer — or a lackluster piece that needs to be edited to death.
Content briefs are powerful — but also time-consuming to create. MarketMuse can create AI-powered briefs that detail topics, keywords to include, and even suggest internal links.
Is MarketMuse good for creative writing?
Not really, no. Its main function is SEO and keyword research, not grammar or clarity. Instead, you can polish your writing skills by turning to MasterClass to learn from some of the best writers like Neil Gaiman for example. If you want to write creative writing that also ranks well in the search engines, then give MarketMuse a try.
If you want to improve the flow and grammar of your writing, try one of the popular grammar tools such as Grammarly or ProWritingAid.
MarketMuse cons
So far we've covered the features, how to use the platform, and all the things I love about the platform. But, is it all roses and butterflies? Not quite.
There are a few cons to consider when deciding if you should use this tool, or look at the MarketMuse alternatives on the market.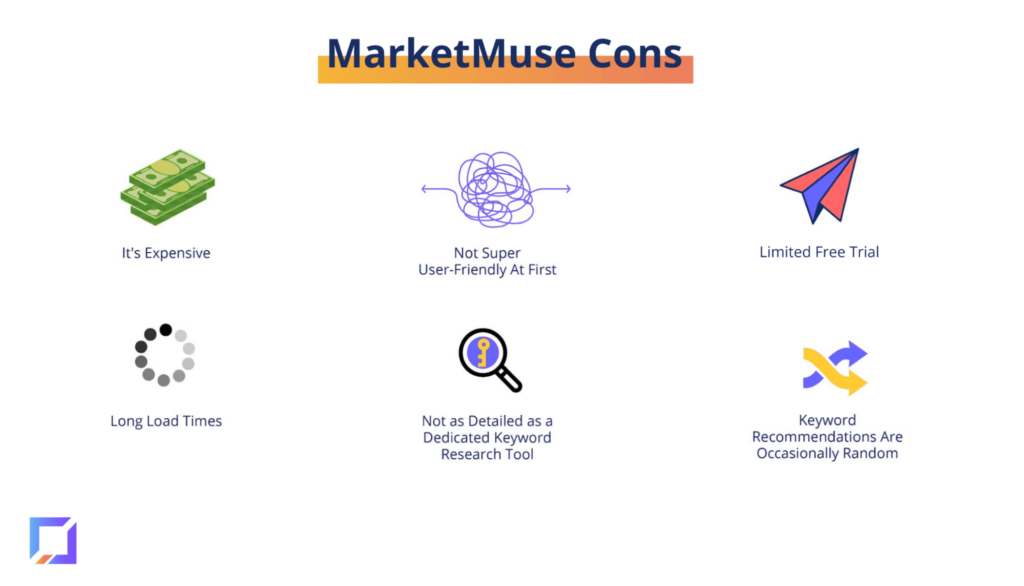 Let's take a closer look.
It's expensive
There are dozens of keyword research tools and content marketing platforms on the market, and MarketMuse is definitely one of the best — but it is pricey. Plans start at $6,000 per year which offers 100 queries per month, unlimited projects, a full data export and so much more. However, this price may be out of reach for smaller businesses.
Although MarketMuse does offer a free plan (which only provides 10 queries per month), it is only suitable for freelancers or bloggers with one site.
Businesses and enterprise clients would need to explore one of MarketMuse's paid plans to get the features and functionality needed to scale their content.Though they claim to be suited for teams of all sizes, the truth is very small agencies and sites may not be able to justify investing in MarketMuse.
The content software is best suited for fast-growing sites and marketing agencies that heavily rely on content marketing for growth
Not super user-friendly at first
Unlike other content planning tools that start with a blank screen requesting a focus keyword, MarketMuse has a toolbar on the left side highlighting plans, applications, and power-ups. Thus, it can be challenging to figure out what to do once you get onto the platform for the first time.
To counteract this, MarketMuse has added guided instructions to help users navigate through the platform. Additionally, MarketMuse offers a free demo and a robust help center with FAQs organized by category and a search function.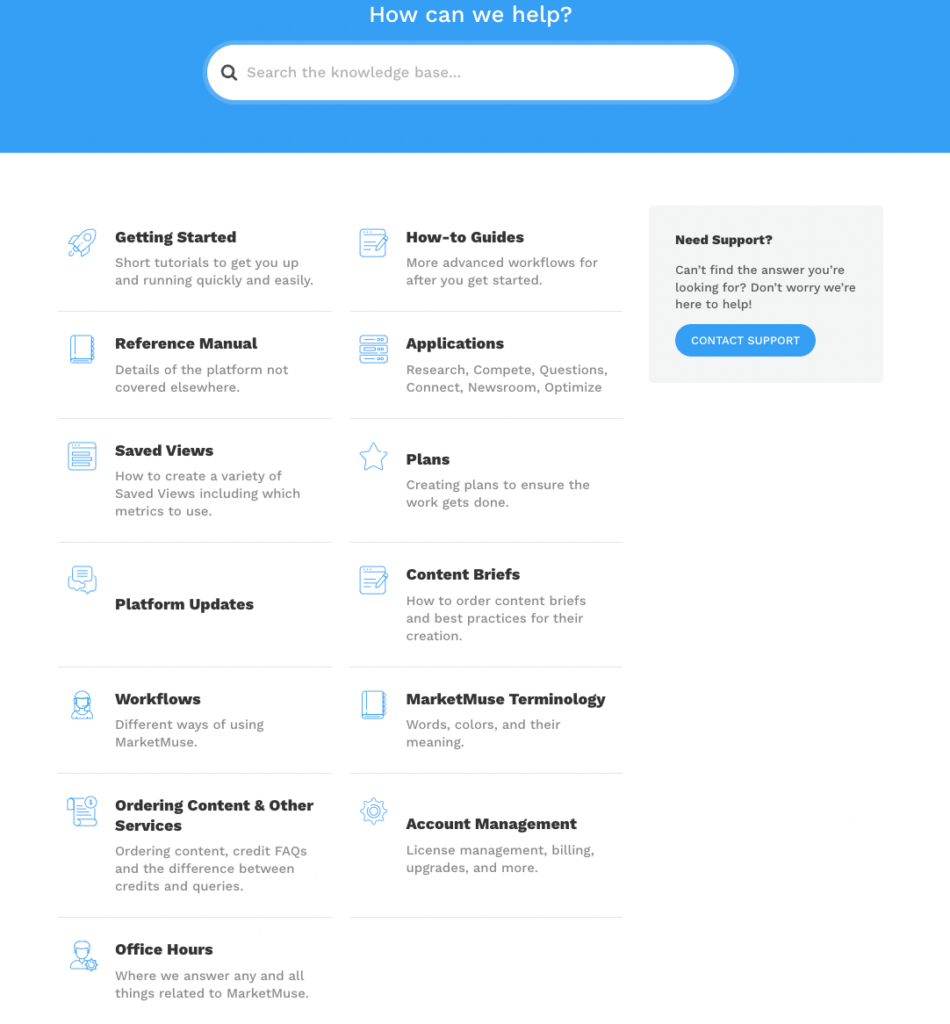 Still think you'll need assistance? MarketMuse goes the extra mile and offers the MarketMuse Academy, a comprehensive course overview of the platform and how to use it to its fullest ability.
Long load times
In a world of same-day delivery and instant messaging, waiting even a few seconds for something to load online is nearly unheard of. Unfortunately, I've noticed the Reports and Optimize applications can take several moments to load.
It makes sense. The program is sorting through a ton of information, but it can still be frustrating when the program takes three or four minutes to load a list of keywords.
Maybe not a deal-breaker, but definitely worth noting. I usually just focus on another task for a few minutes, but I sometimes have to reload a few times.
Does MarketMuse offer support?
Yes, MarketMuse offers support via helpdesk features and email tickets. To submit a support request, head to their support page and click "Contact Support" on the right side of the page.
Not as detailed as a dedicated keyword research tool
MarketMuse tells you which keywords to include and how often to include them, but it doesn't provide specific details like the number of backlinks on a competitor's page.
Backlinks are one of the many factors that major search engines like Google use to determine the rankings of the page on the search engine results page (SERPs). Pages that are more commonly linked on other reputable sites will rise higher in the rankings on SERPs than those which are not.
The platform has introduced some new features over the years, including the estimated ROI and search volume of a keyword, but some hyper-targeted functionality for keyword research like backlink data is still missing. This isn't a huge con, but it is information I'm used to seeing in most keyword tools.
Limited free trial
MarketMuse only offers 10 free queries per month in its free trial version. These queries will evaporate fast as you conduct the proper research needed for a content plan.
With MarketMuse's steep prices, it would benefit from either a more flexible free trial or an entry-level plan that is more cost-effective than the $6,000 paid plan it offers.
Keyword recommendations are occasionally random
In addition to longer than normal load times, it's also important to pay close attention to the keywords MarketMuse returns. They aren't always accurate.
For example, when I researched topics for this article, I got a few suggestions that were tough to weave naturally into the post. Phrases like "great content" don't always come off as natural in the post, while other keywords like "long form content" may not be detected by the platform if you write the phrase as "long-form content" with a hyphen.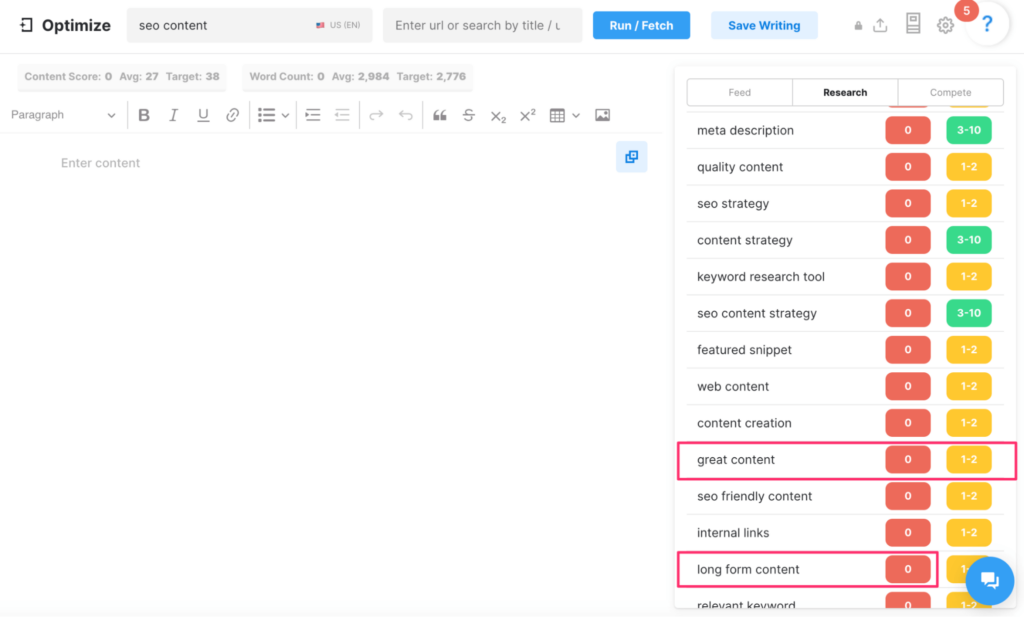 The outliers seem to be decreasing over time, but don't blindly add recommendations without considering if they are appropriate.
Does MarketMuse Help with Building Backlinks?
MarketMuse assists by offering limited backlink data, but the platform is not equipped as a backlink outreach tool. The Connect feature helps you find a variety of links to include in your content and guides you to focus on the sites that will have the most impact. For backlink building outreach, the company even recommends a few other backlink link building tools to consider in their blog.
MarketMuse plans & pricing
The question you've been waiting for: how much does MarketMuse cost? It is a powerful content marketing tool, but it isn't cheap. Luckily, they offer a range of packages, so you won't have to pay for more features than you use.
There are three main plans that MarketMuse offers: Free, Standard, and Premium.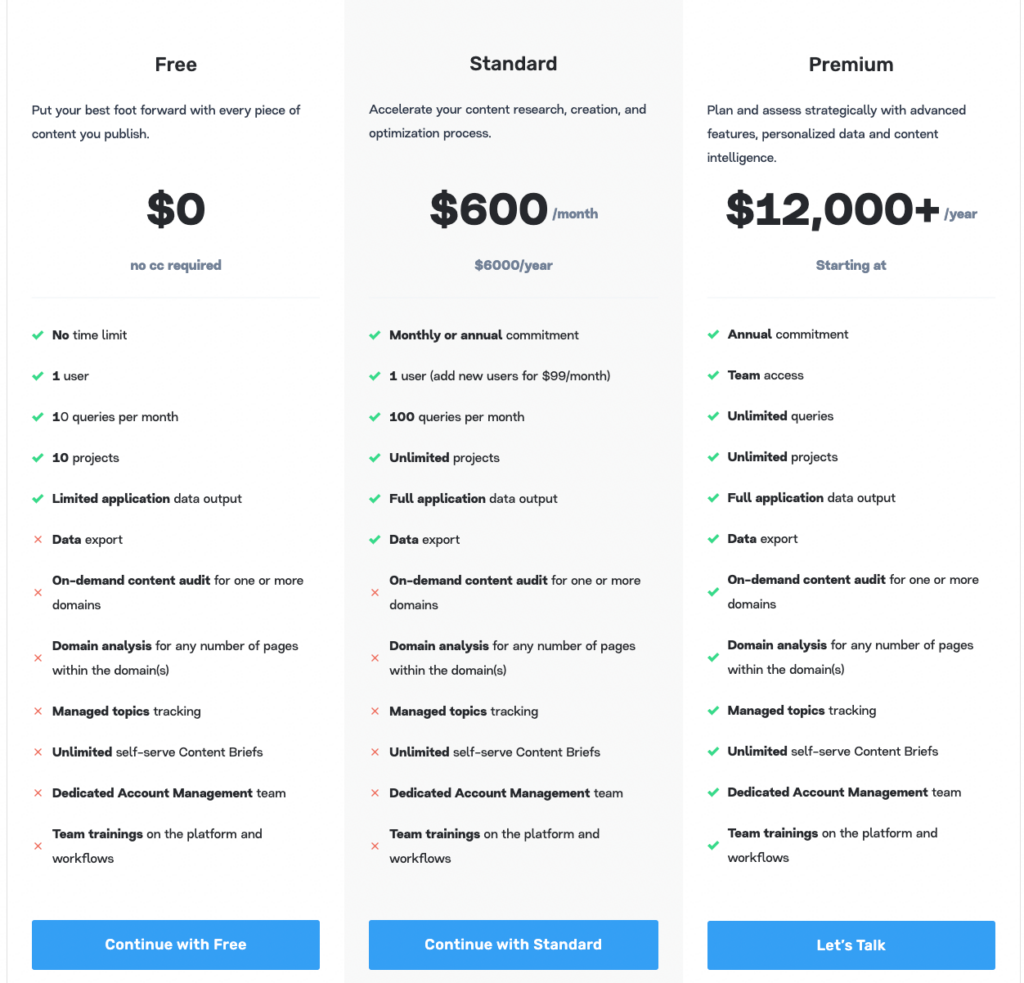 These are the available plans and pricing offered by MarketMuse.
Each plan offers a different level of features and functionality to help scale content production efforts for individual contributors (bloggers, freelancers, entrepreneurs), mid-size companies and agencies as well as enterprise clients.
Deciding which plan is right for you will depend on your specific use case and how many articles you are planning to produce per month.
Let's take a deeper look at each plan to figure out which one is right for you.
Free vs. Standard vs. Premium: Which MarketMuse plan is right for you?
MarketMuse's free plan enables one user to run up to 10 queries per month and access to their Optimize, Research, and Compete features. This is a simple version of the software that still provides a valuable way to optimize and scale your content.
Businesses and agencies will want to look at purchasing one of MarketMuse's paid plans. In general, you can expect to pay between $6,000 and $12,000 per year for MarketMuse's artificial intelligence-powered content and keyword tool.
Some of the top features you'll get in the Standard plan ($6,000 per year) include 100 queries per month, unlimited projects, data export and more for one user. This is great for entrepreneurs, copywriters, and bloggers who operate multiple sites.
The Premium plan ($12,000 per year) is perfect for larger companies and agencies producing many pieces of content across multiple sites. With a Premium plan, you can grant your entire team access to perform content audits, domain analysis, queries, and more. In addition, you'll get access to MarketMuse's Account Management team for enhanced customer service.
Despite these steep prices, MarketMuse still provides incredible value for businesses of all sizes and writers of all skill levels.
Unique new MarketMuse features to check out
MarketMuse continues to update the platform routinely and introduce new features and functionalities every year. As they continue to develop the offering, MarketMuse will better serve its clients over time.
Recently, MarketMuse introduced a SERP X-Ray functionality. This enables users to dissect the targeted SERP and understand which articles are currently ranking and why. The SERP X-Ray can also identify gaps that your competitors may have in their articles and any "must-haves" to include in your own article as well.
In addition, the platform now identifies the ROI estimates of sites and keywords as well as SERP analysis in "Content Clusters."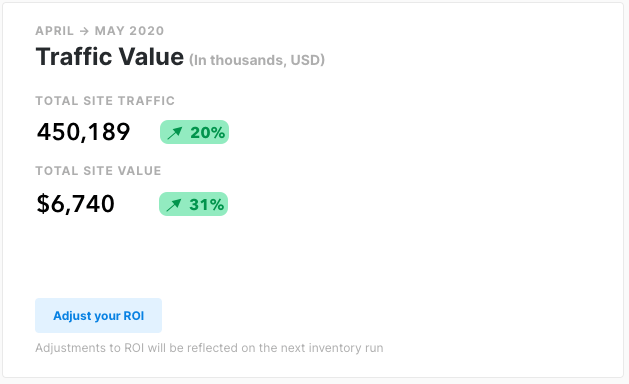 Both of these features together provide a powerful toolkit to help strategists identify valuable keywords and build clusters of content around them that will dominate SERPs and beat out the competition.
All of these new features — along with many more on the way — continue to make MarketMuse into a valuable asset in your marketing tech stack.
Final thoughts: Is MarketMuse worth it?
When it comes to performing keyword research and getting the most out of content marketing, I have to say MarketMuse is worth it. However, smaller businesses may not be able to justify the cost.
When comparing costs, however, consider that MarketMuse may replace several other search engine optimization and keyword tools.
If you have a fast-growing website or run an agency, MarketMuse is an ideal tool to add to your content marketing arsenal. There are a few cons, but they are quickly outweighed by this tool's powerful keyword research and optimize features.
Start your free trial or upgrade to a paid plan to begin scaling your content marketing operation with MarketMuse today.
For those looking to increase their writing efficiency, check out Wordable. It will not only clean and properly format your HTML, but also compress images, open links in a new tab, automatically set featured images, or create a table of contents, and lots more within a single click from Google Docs.