At one point in time, Google was a simple search engine.
The one-size-fits-all SEO approach yielded a plethora of search results on its front pages.
It was a dream for any SEO expert.
But as time went on, Google's SERP began to see many of the same types of content, and its algorithm got smarter. It began to prefer different types of content depending on the search query.
To make things more confusing, Google can tell which topics do better with certain queries thanks to the advent of user metric collection.
Unfortunately, this leaves the average SEO professional sad, confused, and asking, "How, oh, how can we rank!?"
Enter the Surfer SEO tool.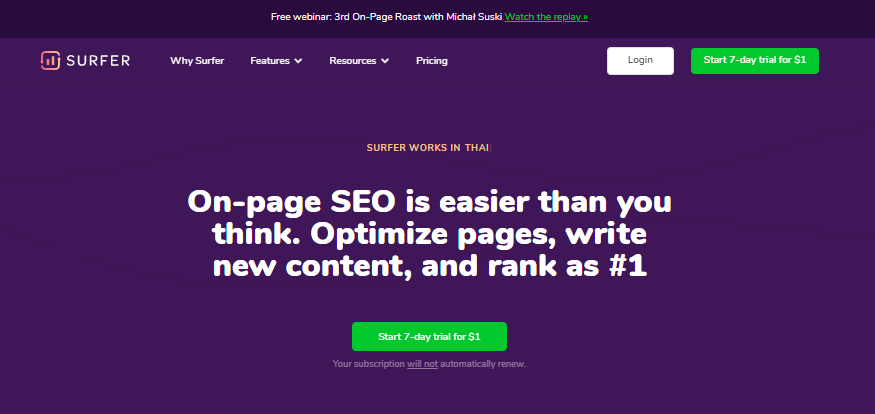 Surfer SEO lets content marketers know how their pages stack up against their competitors by comparing and analyzing top ranking pages in the SERPs.
But does Surfer SEO work?
Find out if our SEO optimization saves the day in our exciting Surfer SEO review.
Our Verdict
Surfer SEO tool may just be the hero you are looking for if you want to optimize your brand's content.
TABLE OF CONTENTS
What is Surfer SEO?
Surfer SEO is an SEO optimization tool that can help you reach your SEO goals in your content writing.
It analyzes over 500 on-page signals and compares your content to sites that rank at the top of the search results.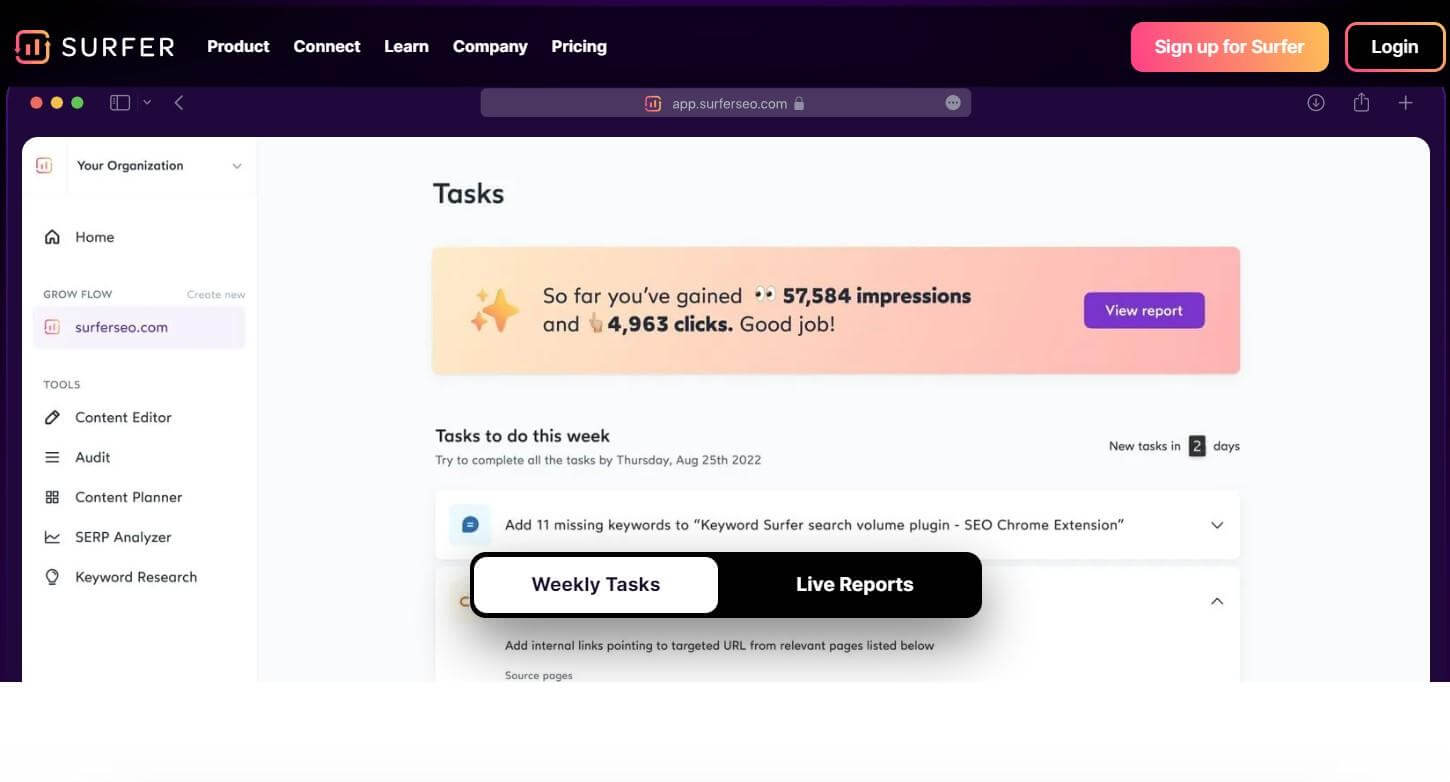 Instead of leaving you on your own to figure out what to start with, Surfer SEO takes a different approach. You get a step-by-step workflow based on its content analysis from your site. You'll know exactly what to do to start driving more traffic!
In addition to its SEO analysis and checklist, Surfer SEO offers the following tools:
Content planner
SEO audit tool
Keyword research tool
AI outline generator
And more
Surfer SEO can become your one-stop shop for SERP-topping content — when used correctly.
Pros of the Surfer SEO Tool
First, let's chat a bit about a thing called correlation SEO. You'll see why this is important in just a bit.
Correlation SEO works by analyzing various ranking factors to decide which ones have the biggest impact on Google ranking.
This goes back to the different data that Google likes to look at.
Here's an example of a query that we put into Google about the benefits of sleep.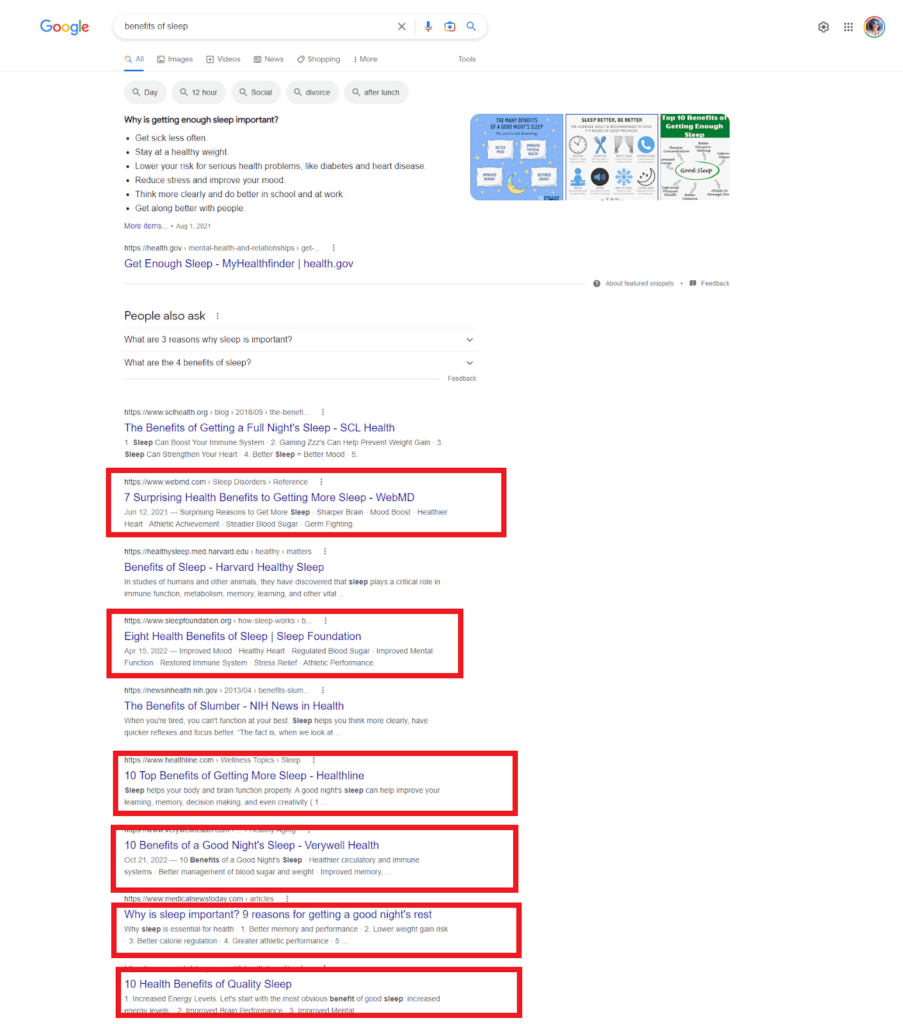 As you can see, Google's SERP definitely likes list posts.
Surfer SEO uses the correlation SEO tactic, which takes your keyword and holds it up against hundreds of search factors that may impact how Google ranks you.
Instead of giving you some vague advice like "add more keywords," Surfer SEO gives you recommendations based on what is already proven to work on Google.
For example, it can recommend a minimum word count to hit. Or, it'll give you suggestions to help you come up with a post structure and internal links.
You'll also get a list of missing semantic keywords you can sprinkle into your content, allowing you to fill any content gaps in your article.
Additionally, Surfer SEO will automatically check your content for plagiarism so that you can fix it before you publish anything.
The tools
Since there are a lot of pros to Surfer SEO, let's break them down by the individual tools. We'll cover the key features of each.
Grow Flow
Grow Flow is the automated AI-generated task list for your entire SEO strategy. It doesn't just find flaws in your content, but it also tells you when to write and publish new posts.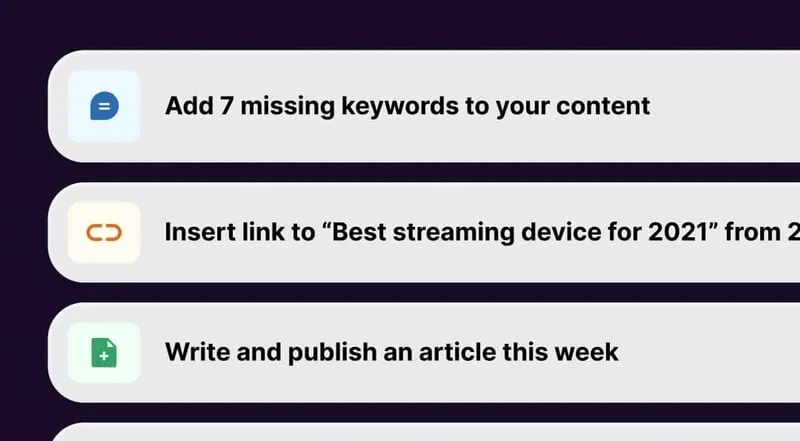 If you struggle to come up with an SEO-driven content calendar, Grow Flow can help you get on track. You'll even get new article ideas each week.
Think of Grow Flow as the "hub" for your entire SEO content strategy.
Audit
The Audit tool analyzes specific search results of your choosing. You can see what keywords, images, tags, etc. are ranking for those search terms and use that info to improve your on-page SEO.
You may find data that you'd have never thought about testing, had it not been for the recommendations.
You can also use this data to optimize existing content like social media or blog posts, or to plan your SEO strategy for future content creation.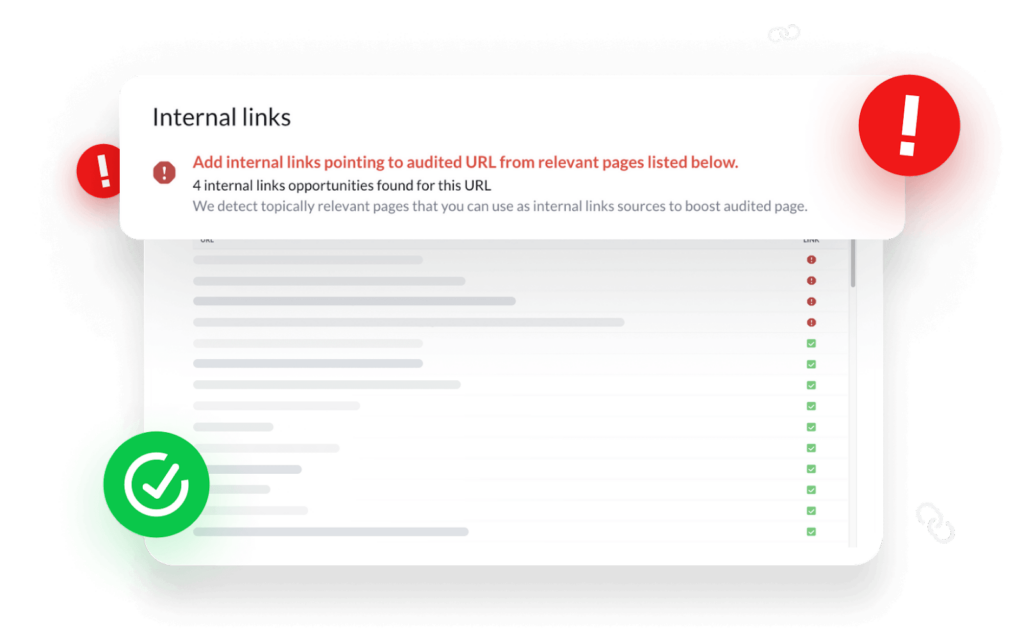 It also offers a website audit feature that gives you the top errors and warnings to look at and gives information on:
Content length
Number of headings
NLP entities coverage
Page speed
Keyword density
Missing backlinks
Referring domains
Meta tag structure
The website audit feature gives you five of the top-ranking competitor pages for each area. It displays them in a visually pleasing graph.
Finally, the Audit tool will find the most relevant pages on your website and tell you which related pages should link back to them.
Content Editor
The Content Editor tool allows you to create a one-page content brief, using data from your seed keyword.
Surfer SEO analyzes your top 10 competitors and offers suggestions based on the following:
Questions and answers
Important keywords, terms, and phrases
Usage of bold text
The number of headings, paragraphs, words, and images to use.
The built-in Outline Builder helps you create content outlines and recommends potential headings that you can include. Surfer's Content Score updates in real time as you write your content.
The Content Editor tool is like a cheat sheet with relevant keywords that'll strengthen your page's performance.
Keyword Research
Surfer's Keyword Research tool provides a list of keywords that are similar to the ones you put in. The tool also provides localized and global search volumes — a big plus for international companies.
With the free Chrome extension, you can analyze keywords right from your browser.
In addition to monthly search volume, Surfer SEO's keyword research tool displays SERP similarity — a percentage that tells you how identical the search results are for your seed keyword and similar keywords.
The higher the similarity score, the easier your content will rank for both keywords with the same post. You can sort your search results by SERP similarity or search volume.
In addition to similar keywords, the Keyword Research tool displays popular questions surrounding your keyword.
Using the provided data, you can plan your content to outrank the top-ranking results.
AI Outline Generator
The AI Outline Generator uses a blend of natural language processing (NLP) and SERP analysis results to generate an outline for your topic.
Here's an example of how the AI Outline Generator works:
All you need to do is choose your target keyword and create a content outline with NLP. Next, you can choose from a list of headers in the brief section and use the AI-generated paragraphs to get your post started.
The tool will show you H1, H2, H3, and H4 headers, each of which come with their own paragraphs.
You'll still need to choose which headlines you want. But this can help you overcome writer's block in no time.
Grammarly integration
Surfer SEO previously didn't integrate with Grammarly. However, you can now add Grammarly to your workflow.
There's no need to copy and paste your content to catch your typos and grammatical errors.
Content Editor is available in Google Docs
In addition to the Grammarly integration, the Surfer SEO Content Editor is available in Google Docs. No more copying and pasting back and forth to optimize your content!
You can even generate a new Google Doc directly from Surfer SEO: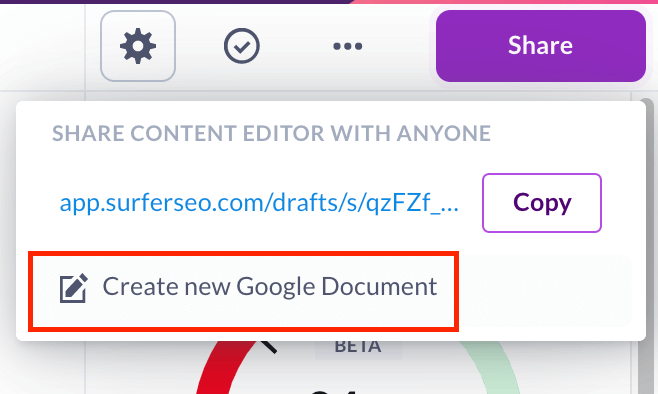 Note that you'll need to install the Chrome extension for this integration to work.
And because Grammarly integrates with Google Docs as well, you can perform your entire writing and editing process from a single tool.
Once you're ready to publish, you can use Wordable to export in one click. Google Docs becomes a powerhouse with this process!
Integrates with Jasper and Semrush
Finally, you can add Jasper and Semrush to your SEO workflow if you have them in your toolkit.
Semrush will allow you to perform thorough keyword research much better than Surfer SEO could on its own. For example, you can get info about:
Search intent
Average cost per click
Keyword difficulty
Keyword trends
And while we don't recommend relying solely on AI-generated content, Jasper's AI tool can help you kickstart your writing process and write more quickly.
Surfer SEO's API is open and available if you want to create custom integrations.
Great interface
One of the most pleasant surprises about the Surfer SEO tool was its visual aesthetic.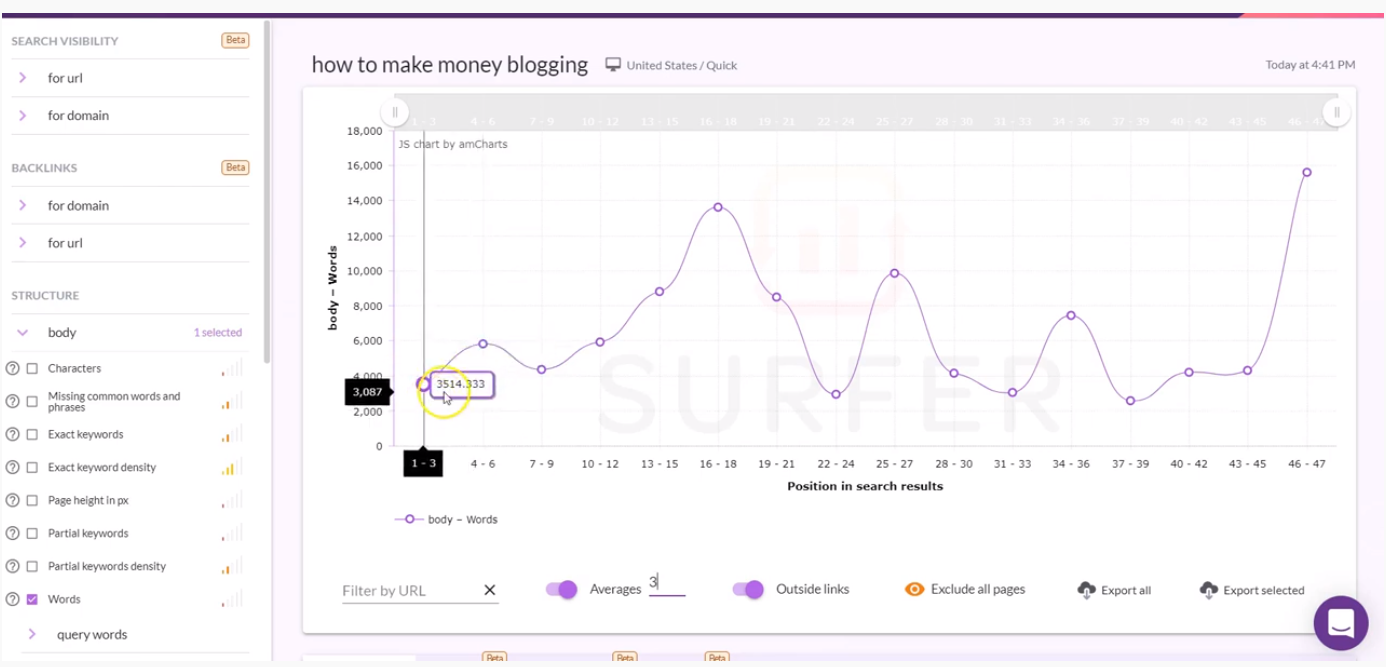 It's colorful and fun — an area where many of its competitors are sorely lacking.
The dashboard is streamlined and features a query bar, Desktop/Mobile toggle, and the ability to do a full analysis or quick analysis. It also allows you to input your region so that your results are localized.
Throughout the site, the designers use emoji's and icons to add flair and direction.
This makes navigating the site a much more intuitive and more engaging experience.
Webinar and tutorials
The first webinar, hosted by Surfer SEO Co-Creator Michael Suski, is a 2-hour walk-through on how to use Surfer SEO.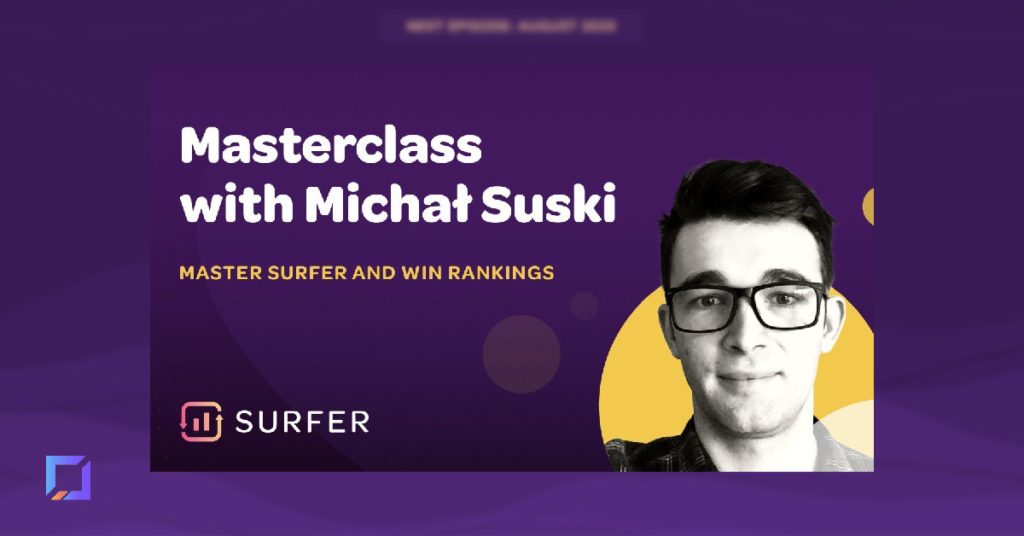 The video was extremely informative and went over everything that you could want to know about the product.
The team follows up with many other webinars and content videos that teach you how to get top quality suggestions, duplicate winning results, how top SEOs use NLP, and more.
They also host on-page roasts that take a look at non-optimized pages and how Surfer SEO could help.
A Young Team
One of the nice things about Surfer SEO is how young the team is.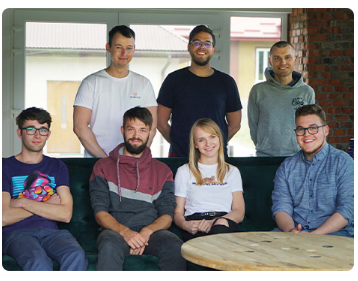 I know, weird thing to comment on, but hear me out.
This is certainly the catalyst behind the fun and engaging voice the site portrays.
The small, Poland-based team takes a vibrant approach to all of its content.
Free trial and free plan
This is most definitely a pro.
You can play around with Surfer SEO for free without any time limits. That's because their first plan is free forever.
However, the free plan only comes with Grow Flow.
If you want to test the Content Editor, perform keyword research, or get a deeper SERP analysis, you'll need to upgrade to a paid plan.
Cons of the Surfer SEO analysis tool
While there are many great things about the Surfer SEO tool, we did discover a few places that could be improved.
The team at Surfer SEO has a history of listening to feedback and carrying out changes often.
So there's a possibility that all of these drawbacks could change by the time you refresh your feed.
With that being said, here are a few annoying things.
Suggestions can hinder readability
One of the biggest challenges is that Surfer SEO may give you keyword difficulty.
This comes into play when you are working with content optimization.
For example, if you are looking up Surfer SEO, it might suggest that you use exact keyword terms like ranking factor, SEO factors, title tag, blog post, target keyword, search result, and keyword density – three times each.
These might not even be close to the primary keyword you are analyzing.
Trying to stuff all of these in could make your piece fluffy.
But not using them may hinder your score.
See the conundrum?
Many users feel that the suggestions help with optimization but can sometimes confuse the content structure.
The keyword tool isn't fully developed
Along these same lines, the keyword suggestions seem to not be fully developed.
Many users have claimed that keywords that have been suggested don't even come close to the exact keyword that was originally searched.
This could be based on specific topics or industries and may not be a broad stroke of the brush, though it is worth mentioning.
There have been others who have stated that US localizations may also have some issues. The team is based in Europe, so it could be that there's a knowledge gap with dealing with other countries' data.
For example, the Questions tab isn't really helpful. Searching for "how to learn SEO" displayed a list of questions with minor variations (the keywords "how learn SEO" were displayed twice).
You're still better off using a dedicated keyword research tool like Semrush to handle this part of your SEO strategy.
The correlation argument
This is where the question between correlation SEO and analytical (math-driven) SEO comes into play.
You could, and some SEO experts do, see correlation SEO — itself — as a con.
But, there's evidence that it does help improve rankings, so the verdict is still out on that topic.
A limited number of queries
In the lower level plans, there's a very limited amount of queries per day. For example, you can only write and optimize 10 articles or audit 20 pages per month on the Basic plan.
If you're an SEO agency, or a company that provides a wider range of SEO content, it's necessary to look into the more expensive plans to get the required quantity of queries.
Even the Business plan only allows 70 articles per month, which isn't enough for most content marketing agencies.
Surfer SEO Plans and Pricing
Surfer SEO provides a robust level of plans and pricing — far more than many of its competitors.
While you can choose from the four starter plans, you also have the option to get a custom plan if you need more.
You also get a 7-day money back guarantee in case you want to try one of the paid plans without risk.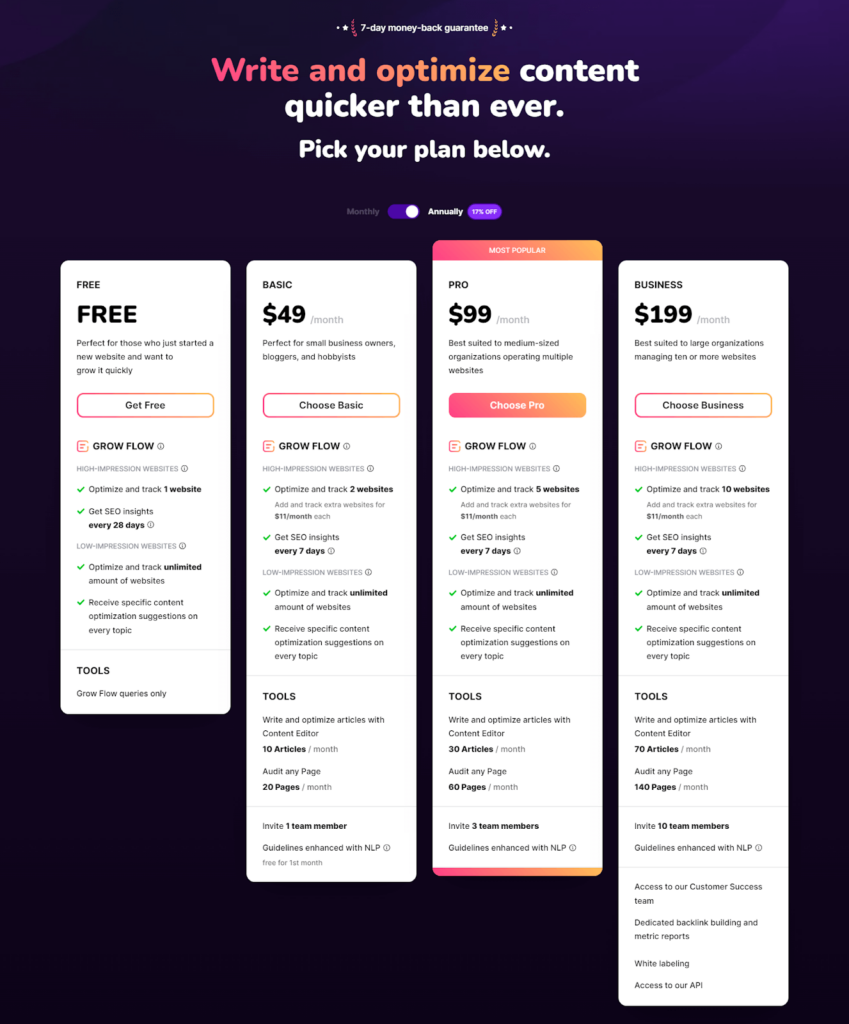 Let's explore each plan.
Free
The free plan is a barebones plan that only provides you with the Grow Flow tool.
Low-impression websites get an unlimited number of websites, but you're limited to a single website if you get more than 100 sessions per day.
With this plan, you'll receive specific content optimization suggestions based on your relevant topics. But you can't optimize or audit your content.
Plus, you'll only get SEO insights every 28 days, whereas you'll get them every seven days with the paid plans.
Basic
The Basic plan is priced at $59mo/$588yr.
It comes with:
Two high-impression websites for the Grow Flow tool
10 article optimizations per month with the Content Editor
20 page audits on your website per month
Advanced keyword research
Deep SERP Analysis tool
One team member invite
One free month of NLP-enhanced guidelines
You can optimize and track additional websites for $13 per month or $132 per year.
Pro
The Pro plan is priced at $119mo/$1188yr.
It comes with all the tools you get in the basic plan, plus:
Five high-impression websites for the Grow Flow tool
30 article optimizations per month with the Content Editor
60 page audits on your website per month
Three team member invites
NLP-enhanced guidelines
Business
The Business plan is priced at $239mo/$2388yr.
It comes with all the tools you get in the Pro plan, plus:
10 high-impression websites for the Grow Flow tool
70 article optimizations per month with the content editor
140 page audits on your website per month
10 team member invites
Access to the Customer Success Team
White labeling
Access to the API
Conclusion
Do I Recommend Surfer SEO?
Yes.
The smart, engaging, and visually pleasing interface makes deciphering otherwise tedious content a breeze for both beginners and the most seasoned SEO experts.
The fun voice of the young team breathes life into stagnant data. This is an area where many competitors fall short on and it's appreciated.
It goes above and beyond by scrubbing over 40 competitors, giving you more data and keywords to work with.
There are so many pricing options that you can start small and scale up as you scale your content and your business.
While there are a few challenges with keyword difficulty, the platform will help with other factors of technical SEO to get around those issues.
Finally, for a 7-day money back guarantee, what do you have to lose?
Surfer SEO tool may just be the hero you are looking for if you're looking to optimize your brand's content.