When I first started teaching English in Spain, I was handed a stack of dusty old binders and told to 'go get 'em.
I don't think the words 'go get 'em were actually said, but am pretty confident the Spanish equivalent was.
I remember thinking that there was no way I could use outdated resources to prepare students for English exams.
Many of my students had to pass official English exams to graduate college. And writing coherent English essays was part of the deal.
After searching the land of Google for answers (and making my own curriculum) I came across a tool sent from the heavens:
Before Grammarly, my students struggled to write English essays that made sense.
After Grammarly? Well, just read the article below.

Disclosure: These reviews are reader-supported. We might earn a small commission if you purchase something through our site. Learn more
Grammarly
Best All-Around
$11.66
/mo – before discount
PROS
86% out of 86% accuracy
16+ billion database
150k+ word limit
5 devlice limit
Includes plagiarism
1-hour response
CONS
Only supports English
Expensive without our link
Grammarly Premium Walkthrough Video
What is Grammarly and how does it work?
Grammarly is an online writing assistant that scans your text for common grammatical errors, wordiness, spelling, plagiarism, and style issues.
Think of it as a more robust, cloud-based spell check with a bunch of extra bells and whistles.
When Grammarly offers a writing suggestion, you can accept the suggestion by clicking on the suggested correction in green. Or you can dismiss the suggestion by clicking 'Dismiss'.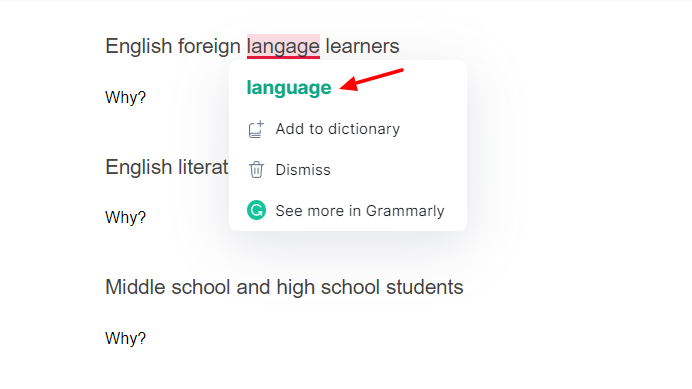 You can also add the term or phrase you've written to Grammarly's dictionary by clicking 'Add to dictionary'. You'll want to choose this option if you've added text that's correct but Grammarly doesn't recognize it.
For instance, Grammarly may think your school's acronym, FRHS, is an incorrect term. Or that you've misspelled your teacher's name as Mrs. Bridgesworth instead of Mrs. Bridgeworth.
The good news? When you add text to Grammarly's dictionary, it'll remember not to suggest a correction for it next time.
You may decide to add a word, acronym, or phrase to Grammarly's dictionary if:
It's a word, acronym, or phrase you'll continually include in current and future essays
It's an acronym that's important to your school but Grammarly can't recognize it
It's a catchphrase, slang word, or another non-official term you might use again later
So now you may be thinking, how do I even access this Grammarly thing?
After setting up an account with Grammarly, you've got six options.
You can access Grammarly through…
The Grammarly Editor: Head to your account on Grammarly's website to access Grammarly's intuitive text editor.
Grammarly for Desktop: Prefer not to access Grammarly through a browser? Download the desktop app straight to your computer.
Grammarly Keyboard (for mobile): Download Grammarly Keyboard to your mobile device to polish text on the go.
Grammarly for iPad: Download Grammarly for iPad for an optimized version of Grammarly Keyboard and Grammarly Editor for tablet users.
Grammarly Browser Extension: Receive writing suggestions while working inside a Google Doc, on Medium, Twitter, and other popular sites.
Grammarly for Microsoft Office: Receive writing suggestions while working inside Microsoft Word or Microsoft Outlook.
To start, we recommend accessing Grammarly through The Grammarly Editor on their website. This way you can get familiar with their setup and features before accessing it another way.
Afterward, choose the method that supports your needs.
Need to write essays for school in Google Docs? Download the Grammarly Browser Extension. Love your iPad more than your dog? Download Grammarly for iPad straight to your tablet.
5 benefits of using Grammarly every student needs to know
From polishing up a final draft to expanding your vocabulary, using Grammarly as a student offers plenty of benefits.
While there are more benefits than we can count on our fingers and toes, here are five to start with:
1. Sentence structure revamp
Writing can be a fickle thing. One minute you're turning in killer essays left and right. The next you're forgetting simple things like verb-subject-verb. Or wait … is it subject-verb-subject? Or subject-verb?
See what I mean?
It happens to the best of us.
But with Grammarly's sentence structure recommendations, you can get the structure right every time.
Well, almost every time. No tool is perfect, so you'll need to use your best judgment from time to time. When in doubt, refer to those killer English lessons you've been getting or ask your teacher.
You can, however, rely on it to suggest corrections for awkward phrases and sentences.
2. Say goodbye to embarrassing grammatical mistakes
The best essay in the world can't save you if it's littered with grammatical mistakes.
Using 'effect' instead of 'affect'? Using 'was' instead of 'were'? Using a singular noun when it should be a plural noun?
If so, it'll tarnish your writing.
Do you want to know the worst thing about making a grammar mistake? It sticks out brighter than your friend Sally who insists on wearing a bright yellow hoodie on dates.
By fixing grammatical mistakes before submitting an essay or project, you not only turn in more polished work — you also learn. One grammar mistake at a time.
3. Vocabulary enhancement your teacher will love
You probably already know this, but your teacher works A LOT. From updating curriculum to planning lesson schedules, there's work coming from all ends.
But possibly the heaviest weight on your teacher's shoulders is grading your work.
So imagine the utter joy on your teacher's face when they land on a book report that includes advanced vocabulary? Or when they come across a biography assignment with beautifully articulated words?
With Grammarly's vocabulary enhancement suggestions, you can differentiate your work and leave a lasting impact. In other words, you can write pieces that stand out.
4. Plagiarism checker to keep the plagiarism wolves at bay
Plagiarism is always a big deal. And most schools issue heavy consequences as a result.
But in college? That's where the plagiarism wolves are.
In college, submitting plagiarised work can:
Get you kicked off a team or out of a sorority/fraternity
Cost you a scholarship and/or room and board
Result in temporary academic suspension
Result in a notation on your transcript
Get you permanently suspended
A college can also revoke your degree post-graduation if you're caught plagiarizing after college completion.
If you're reading this and thinking you're not going to plagiarize, think again. Plagiarism is often unintentional. Yes, you read that correctly.
You could write a sentence (or four) and not even realize those sentences have been written by somebody else already.
That's where Grammarly's plagiarism checker comes in. Grammarly's plagiarism checker compares your text to billions of web pages and online academic papers. Then, it spits out a percentage letting you know how much of your work is plagiarized.
Ideally, you'll want to aim for a 0% plagiarism score. But a general rule of thumb is to aim for a plagiarism score of less than 3%.
But don't take our word for it.
Be sure to always ask your school what plagiarism standards they have so you can follow them to a tee.
Luckily, you'll have Grammarly's plagiarism checker to help you every step of the way.
5. A tone checker everyone will be jealous of
If you've paid attention to this article, you may have noticed that it's written in an informative yet conversational tone. But that wasn't an accident.
The tone of this article is based on a specific style we want to convey at Wordable. It's also picked based on this piece's target audience: students who want to learn about Grammarly.
If I would've written this piece in a formal way, you probably would've left by now. But knowing you can learn about this new tool without yawning eight times a minute means we're on to something.
In other words, the tone in which you write matters.
So whether it's writing a short story for your creative writing class or whether it's writing a lab report for chemistry class, be sure to choose an appropriate tone.
And once you do, you can use Grammarly's handy tone checker to ensure your tone is consistent.
Here's what this cool feature looks like:
FAQs that students ask about Grammarly
By now you probably have an idea of what Grammarly is and how it can help you. But in case you still have some lingering questions, this section should clear them up for you.
Here you'll find answers to four frequently asked questions (FAQs) students ask about Grammarly:
Does Grammarly encourage learning or does it just give out answers?
As with any tool, it depends on how you use it.
You can use social media to catch up on industry trends or melt your brain by staring at countless memes. You can use it to complain about your life's daily woes or use it to connect with like-minded people.
The same is true for Grammarly.
If you pay attention to the suggestions Grammarly provides — and push yourself to learn why it suggested them — then yes, Grammarly does encourage learning.
The premium version also provides detailed explanations of each grammar mistake you make, showing examples of both correct and incorrect usages.
From discovering new words to finally figuring out if 'i' really does come after 'e', you can learn a great deal from Grammarly.
What does a Grammarly subscription include?
The free version of Grammarly offers basic features, such as:
Spelling checker
Grammar checker
Punctuation checker
Tone checker
The Grammarly Premium version offers:
Everything that's included in the free version
Vocabulary enhancement suggestions
Plagiarism checker
Contextual spelling feature
Detailed explanations of grammar issues, with examples of correct and incorrect usages
Checks an additional 150 grammar points than the free version
Provides more thorough suggestions by letting you choose the type of work you'll be writing, such as an essay, presentation, or blog post
And more (see below)
For a more detailed breakdown of Grammarly subscription plans, be sure to check out a full list of features under its plans section.
How much is a Grammarly premium account for students?
A Student Premium account costs around $144 per year or $12 a month without a discount. Note that (because we use Grammarly so much) Wordable actually has a 20% discount for Grammarly.
Does Grammarly offer a student discount?
Students can get a 20% Grammarly student discount by using a partner link, like this one.
Your school may also offer a discount or pay for your subscription entirely, so be sure to ask them, too.
To wrap up
Grammarly changed my students' lives.
Not only did it help them pass the official exams they needed to graduate college in Spain, but it also improved their English immeasurably.
Before Grammarly, my students didn't understand why their sentences lacked structure.
Before Grammarly, my students didn't have the extended vocabulary they needed to answer official exam questions.
Before Grammarly, my students were stuck, and my writing workshops weren't enough to help them soar.
After Grammarly?
After Grammarly, my students didn't need me anymore.