If you're looking to use Grammarly for iPad, there actually is an app writing tool that helps you find spelling errors and mistakes on the device. Here's some information on how you can use Grammarly on iPad as a punctuation and mistakes checker, including review of how well it works.
Disclosure: These reviews are reader-supported. We might earn a small commission if you purchase something through our site. Learn more
Our Verdict
Grammarly adds best-in-class support for grammar, spelling, and plagiarism checking to your iPad's already best-in-class usability.
Grammarly
Best All-Around
$11.66
/mo – before discount
PROS
86% out of 86% accuracy
16+ billion database
150k+ word limit
5 devlice limit
Includes plagiarism
1-hour response
CONS
Only supports English
Expensive without our link
Grammarly Premium Walkthrough Video
TABLE OF CONTENTS
Getting Started
Grammarly on iPad is called "Grammarly Keyboard" at the App Store. This keyboard app works as a plagiarism checker as well as an option for checking spelling and grammar for devices like the iPad Pro. This is a free version of Grammarly, although there are in-app purchases for those who are interested. In order to get started, all you have to do is install Grammarly through the Apple store on your iPad.
There will be a link on the site to get an account that you can use to sign in on the app. Once you have the account, signing in through the app on your iPad should be relatively easy. Then, once you're in, you'll have your own space for saving documents that you upload from a word processor. The site is effective at making it easy to handle spell check through a proofreading tool that you can use on documents through the device in order to check things like subject-verb agreement.
Editing Grammar
Grammarly is free, and even the free version will be one of those writing apps that makes sure you're writing a clean copy on an iPad. All you have to do is start typing in a sentence with the app and it will automatically start highlighting what you're writing to detect issues you may want to correct like passive voice. Even when a new word is finished, the grammar checker comes into play to highlight your grammar mistakes.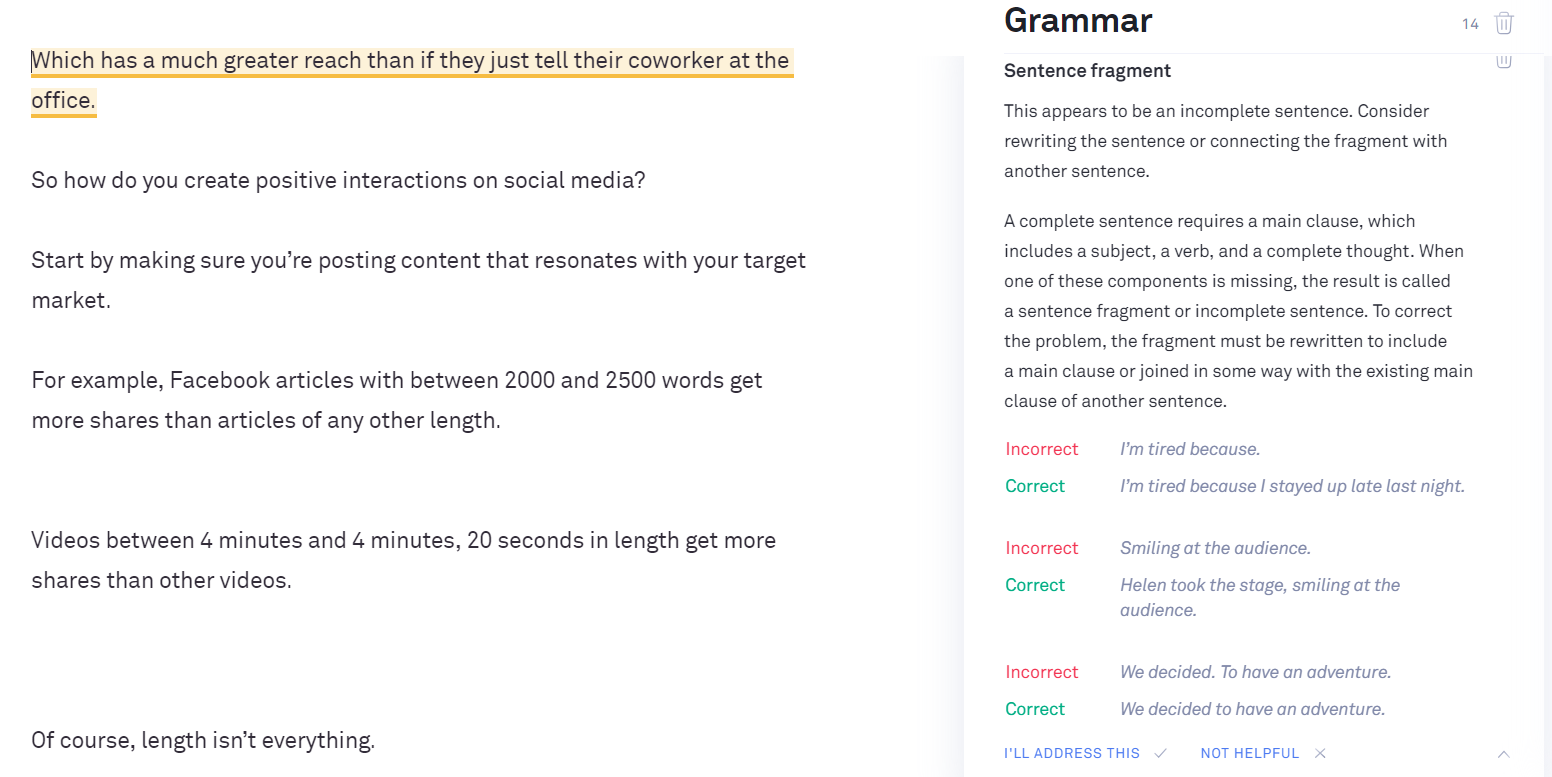 You can check anything this way on your iPad since it works through the keyboard. So, it can check Google Docs, and it can even check Microsoft Word, or you could get Grammarly for Microsoft Office directly if you want. The same also applies with the Grammarly desktop app if you want to use it on your computer, or if you want to enable Grammarly to work on a browser like Chrome, through a browser extension. This Chrome extension will help you if you're not on your iPad, all while using the same account.

Making Changes with Crowdsourcing
Once you've finished typing in what you want, there's a green button on the side that will allow you to look for grammar errors, as well as other types of reviewed errors that you can then use an autocorrect to fix. It only takes one click to get through each error in order to clean up your copy. By allowing a checker like this to handle corrections for you, there's going to be an advantage where you don't have to constantly second guess yourself about whether you got it right or not.
One of the reasons for the accuracy here is that since so many people are using Grammarly, the service can take note of these changes to use the collective intelligence of the group to come up with answers that are most likely to be correct for any particular spelling or grammatical problem. This doesn't mean that this checker, or any checker, is always right, but it does mean that it does tend to be accurate as long as you give it a once over before making any correction.
There will also obviously be variations based on the region that are worth checking as well. For example, British versions of words like "colour" tend to add in more "u" letters than the American version.
Check Plagiarism
In addition to the grammar check option for grammatical errors, and the spell checker for errors of spelling, you can also check for potential errors copying other people. Since there are so many different works on the Internet these days, it's easy to accidentally end up copying someone else without intending to do so.
The Grammarly cost for general checking is free, but it does often cost more to use things like a copying detector. Plus, you will often need to use the Grammarly web option to check for accidental illegal copying since the app version won't always be able to do so. Again, the web option is also free, but the extra features like checking for illegal copying often aren't. However, you can often find deals for this online in places like Facebook Twitter and elsewhere. You can add Grammarly right from places offering deals, and pay with a credit card to make sure everything is working.
Uninstall
Unlike many other tools and apps, it's a simple matter to uninstall the app if you decide that you don't want it anymore. Plus, uninstalling it won't cause you to lose out on your subscription. If you decide that you don't want to use the tool on iPad, it's no problem, you can just uninstall it the normal way. This also applies to extensions on other web browsers or any other application you have for Grammarly. This includes the Grammarly desktop option.
Then, you can just log in to your Grammarly account on the Internet and keep using it there if this is what you prefer to do. You can install and uninstall freely without jeopardizing any premium account you have, in other words.
Plus, the method of doing so is less elaborate than it often is with other applications.
Grammarly
Ranked #1 Best All-Around
PROS
86% out of 86% accuracy
16+ billion database
150k+ word limit
Includes plagiarism support
Responded within an hour
CONS
Only supports English
$11.66/month (more expensive)
Summing Up
It's worth trying a few options for checkers before settling on the one you like the most. Grammarly is one option, for example, and services like the Hemingway editor are another. In some cases, it may help to use both options to get the best service possible. Reading through Hemingway and Grammarly review pieces can help you make your final decision about which of these is going to give you the kind of service you want.
You never know which particular version of an iPad app you're going to like the best for certain until you give it a shot and see how well it works on your particular device, after all.