Grammarly vs. Hemingway isn't as clear cut as you'd think.
The two tools, while complementary, are actually pretty different.
So it's not really a "vs" thing as much as it is an "and" one.
In other words, you should be using them both together to check different things. (As opposed to just choosing one over the other.)
Our content marketing agency produces over 300+ articles/month, so we use these tools on a daily basis.
Here's a complete breakdown to help you figure out when to use Grammarly or Hemingway or both together at the same time.
Disclosure: These reviews are reader-supported. We might earn a small commission if you purchase something through our site. Learn more
Grammarly
Best All-Around
$11.66
/mo – before discount
PROS
86/86% accuracy
16+ billion database
150k+ word limit
5 device limit
1-hour response
CONS
Only English
Expensive without our link
Grammarly Premium Walkthrough Video
TABLE OF CONTENTS
Grammarly Interface
Once you create your Grammarly account, you log into a dashboard. From there you're able to edit your profile, download apps, and use the editor. There's a search box at the top where you can search through all your created documents. The performance score box shows you the statistics on your readability, word count, your grammar mistakes, and your speaking and reading time.
Hemingway Interface
Hemingway app has a much simpler design. There's no account required to use it so once you go on the webpage you can submit your work or begin writing. There's a free-writing mode that removes all the suggestions and errors. Like Grammarly, Hemingway includes a readability score as well. It also has a reading and speaking time, word count, help section, and a link to download the desktop version.
Grammarly Features
Grammarly's primary goal is to correct your writing by fixing spelling mistakes, grammar checking, and sentence structure. The features it comes with allows for plenty of editing.
Plagiarism Software – The Grammarly plagiarism checker scans over 16 billion different websites so your work is thoroughly checked for instances of intentional plagiarizing and unintentional plagiarizing. After comparing their plagiarizing software with other checker tools, the plagiarism Grammarly offers ranked the best for accuracy. It even helps you cite your sources if you happen to unintentionally plagiarize. The only drawback with this checker is that it's only available on Grammarly Premium.
Language Settings – You're currently able to only write in English but in its various forms. This means if you choose to write in Australian English but start straying from it, Grammarly will highlight that so you can fix it. The language feature can be switched around at any time.
Personal Dictionary – Grammarly has a built-in personal dictionary aside from the regular dictionary. Adding your preferred words and spellings will stop the service from flagging it as a mistake.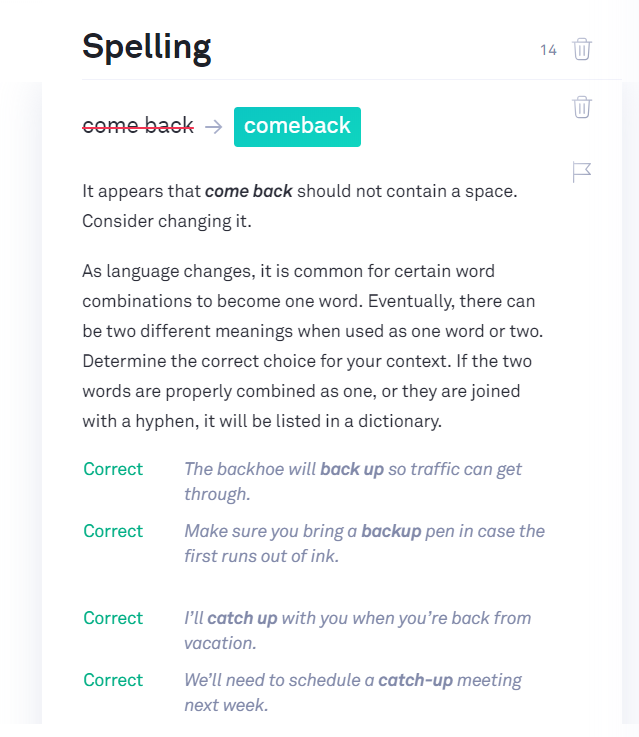 Upload and Print Documents – You can upload your documents from the dashboard instead of having to copy and paste.
Goal Setting – Once you upload your document you can choose to set your goals for what you want the Grammarly editor to check for in terms of emotion, style, audience, intent, and domain.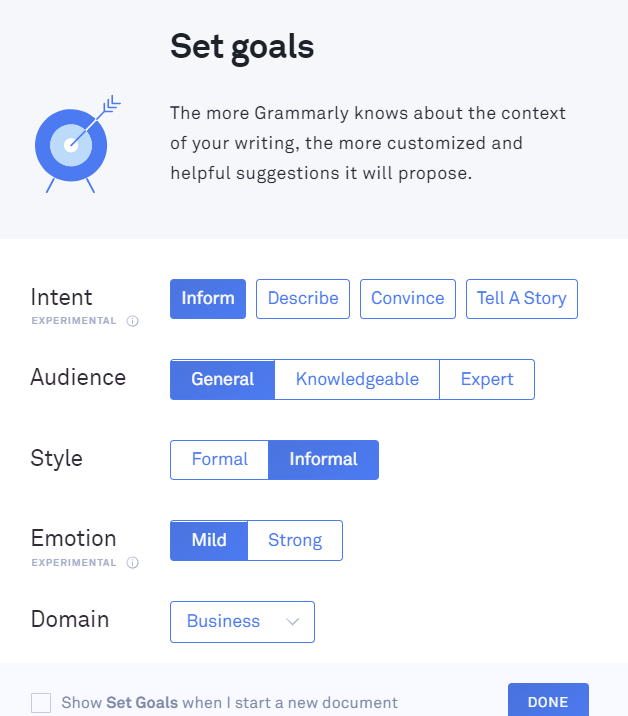 Compatibility Across Devices – Grammarly offers compatibility with many of the popular browsers such as Chrome, Safari, and Firefox. A Grammarly browser extension is also available for them as well. It's compatible with Mac and Windows. There is also an extension for Microsoft Word and Google Docs. Grammarly for Microsoft Word corrects as you type and even picks up on things that Word misses out on such as tone, style, and word choice. The same applies when using Google Docs Grammarly version.
Grammarly also has a mobile app that you can download on your mobile device provided it's Android or iOS. The Grammarly app itself is unlike the Grammarly browser version in that it's basically a Grammarly keyboard. It grammar checks everything as you type and is perfect for business types.
Human Proofreaders – Even though Grammarly is proofreading software, sometimes you want or need the extra assurance that everything is as perfect as it possibly can be. This feature is not for free and isn't included in your Grammarly pro package so keep that in mind when deciding to use this. If you do want to use the proofreading tool, they charge by the word and how quickly you need the document back.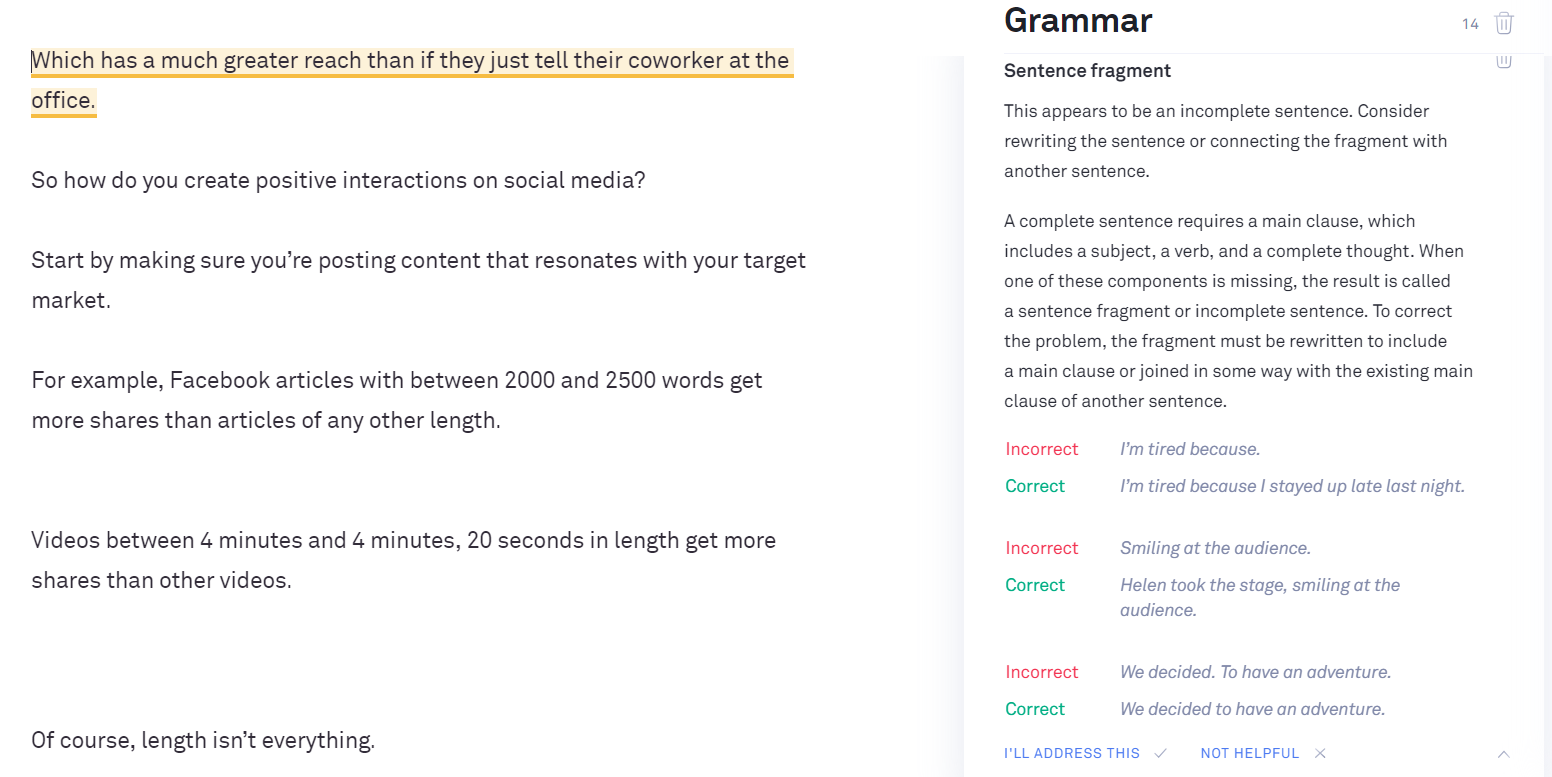 Hemingway Features
Hemingway aims to correct your writing by improving your grammar and sentence structure. It targets sentences that use passive voice, adverbs, and offers suggestions for simpler phrases.
Editing Tool – The text editor gives you the option to add headings, hyperlinks, bullet points, bolding and italicizing text, quoting, and numbers for lists.
Free-Writing Mode – When you are in your groove, seeing all the mistakes as you're going along can disrupt your flow. Hemingway has a mode where you can write without it correcting you or offering suggestions. It can be turned on and off at any time.
Works Offline – While Grammarly requires you to have a broadband connection, Hemingway doesn't. It will still offer you suggestions and corrections if you are offline.
Publish to WordPress and Medium – This feature lets you publish or save a draft right to your WordPress or Medium without having to log into the site.
Import and Export Files – Similar to Grammarly, you can upload files and begin correcting them instead of having to copy and paste them.
Grammarly Pricing
The Grammarly free version has several features that will require you upgrade to the Premium version. The plagiarizing software will require the upgraded version. The free version of Grammarly will point out a list of errors and allow you to fix them one at a time except for when it comes to certain errors like style, tone, punctuation, run-on sentences, grammar errors, and word choice. The price of Grammarly per month is $29.95 or $135.99 annually.
Similar to our MasterClass review, the value you get from using Grammarly is well worth the cost.
Hemingway Pricing
Hemmingway app is free to use for the most part, but its best features do have to be purchased. It costs $19.99 and after that, you will own it and be able to use the paid features like publishing to WordPress, offline use, and importing and exporting files.
Grammarly Pros and Cons
Pros
User-friendly interface and design.
Plagiarism checker.
Compatible across different devices.
Cons
Cost. It's a bit on the pricey side.
Doesn't support any other languages.
Hemingway Pros and Cons
Pros
No account necessary.
Cheaper compared to most.
Publish directly to WordPress and Medium.
Cons
No checks for plagiarism.
Doesn't check for spelling, tone, style, or emotion in writing.
Who Do I Choose?
This will entirely depend on you and your writing needs. If you are someone who writes often and you know you don't have many grammatical errors, then Hemingway is for you. If you are someone who doesn't write often and need help with a grammar checker and perfecting your technique, then Grammarly is the choice for you. The same goes for the features you want like plagiarizing software or a WordPress uploader.