Not every idea you ever have will be original.
We learn from others and have similar ideas because our life experiences overlap. When it comes to writing, and sharing these ideas, sometimes we accidentally say the same thing in the same way.
With so much information available today online, there is a higher chance that plagiarism can happen. If we are unsure of what to write (or feeling lazy), it's tempting just to copy and paste somebody else's work and pretend it's original.
We're a content marketing agency that has clients paying us tens of thousands each month. The last thing we want to do is plagiarise someone else's work and get sued!
The problem is that plagiarism has some pretty severe consequences. Not just for students, but all types of writers. Copyright infringement is a real problem and can lead to legal cases.
Disclosure: These reviews are reader-supported. We might earn a small commission if you purchase something through our site. Learn more
Our Verdict
Overall, Viper is a great plagiarism checking tool. It uses a huge reference base (over 10 billion pages) and seems to detect most plagiarism issues fairly accurately. While Grammarly might be on the pricey side, you can save 20% with our link. 
Grammarly
Best All-Around
$11.66
/mo – before discount
PROS
86/86% accuracy
16+ billion database
150k+ word limit
5 device limit
1-hour response
CONS
Only English
Expensive without our link
Viper Plagiarism
Limited Features
PROS
Free online plagiarism scans
User-friendly interface
Fast scanning and reporting
CONS
Limited number of scans 
Confusing scoring system
Limited privacy
Grammarly Premium Walkthrough Video
TABLE OF CONTENTS
What Are The Risks of Plagiarizing?
One big problem is that students (and indeed all writers) today are faced with almost unlimited potential to plagiarise. The ability to copy and paste entire pieces of another person's original work makes it hard to resist.
For anyone who doubts that plagiarism is a serious problem:
For all writers, plagiarism can result in legal action, fines or penalties
For students, plagiarism can result in failing courses or even an entire degree
Plagiarism can also result in expulsion from an academic institution
Different Types of Plagiarism
Not all plagiarism is the same. Sometimes it is accidental; sometimes it is deliberate. Let's take a quick look at the most common types of plagiarism.
Accidental Plagiarism
Accidental plagiarism is when a writer makes the exact same argument or shares the same information in a way that has been shared before. This type of plagiarism is common in online articles where many writers will gather information from a similar source (e.g., news stories, or statistics). For students, the most effective solution to accidental plagiarism is to cite references correctly.
Buying Assignments
For students, the act of plagiarism through buying school assignments is an ever-increasing issue. It involves paying another person to ghostwrite your academic work on your behalf. The reason this is a form of plagiarism is that you are claiming the work is original.
If you're willing to pay, the better alternative would be to brush up on your writing skills from MasterClass, where you have some of the best writers teach you their ways.

Deliberate Plagiarism
Deliberate plagiarism is intentionally trying to deceive readers by passing off someone else's work as your own. This intentional plagiarism is the most common form and carries the most severe penalties.
Paraphrasing
Another common type of plagiarism is paraphrasing. This type is when you alter a few words but retain the same sentence structure as the person's work you copied. This type is similar to deliberate plagiarism, as the intention is also to deceive.
Patchworking
Patchworking is the act of borrowing words, phrases, or ideas from multiple source texts and attempting to 'patch' them together.
The bottom line is that plagiarism is a bad idea. It's unethical, lazy, and has some severe consequences attached.
Luckily, there are ways to avoid it and to check that you haven't accidentally plagiarised another person's work.
Viper is a plagiarism tool that is entirely focused on checking your work is original. In this article, we will review how to use Viper, as well as the Pros and Cons.
How Viper Works
Viper is a purpose-built plagiarism checker for students, business, and academic papers. Its tagline is 'Biting Hard on Plagiarism.' Hence the Viper name.
Taglines aside, it is a robust tool. It uses a vast database of 10 billion sources, including essays, journals, and 'numerous other sources' on the internet.
The Viper plagiarism tool is very straightforward to use once you get an account setup.
It's a little confusing the first time you look for Viper online, as the web address is scanmyessay.com. The first time you visit, you may wonder if it is the right site.
But fear not, you are at the right place if you need a plagiarism checking tool.
Getting Started with Viper
Let's take a look at how the Viper Plagiarism tool works for both the free and paid version.
The first thing you'll need to do is create an account, which is pretty straightforward. If you have a Google account, you can even use that as your login. You'll need to verify your account to get going, but it all works seamlessly.
Once inside, it's a simple website. There's not much to do except check for plagiarism.
You have three options for uploading a file for checking:
Upload a document via PDF, Word, OpenOffice and Google Docs
Import directly from Google Docs (you have to give Viper permission to access)
Do a simple copy and paste of your text (choose the 'want to past some text' option)
All three upload or copy/paste methods work the same, and once it's uploaded, you get to the important stuff.

Like most Freemium writing tools, Viper is not shy about asking you to upgrade. As well as having an advertisement at the top of the site, it also explains that you will need one credit (or could be more depending on the document size) to scan.
It's not entirely true that the scan will use one credit, as you can click 'Free Scan.' Once clicked, you'll get another advertisement pop-up explaining the benefits of upgrading to Viper premium (i.e., buying credits).
It's here that you discover you can have two free scans a month of up to 5000 words. Honestly, this is a pretty generous amount for what you get.
Note: As soon as you choose a free scan (after ticking the box to agree to the conditions), Viper goes to work. Keep in mind that by ticking the box and agreeing, you are allowing Viper to republish your work as an example at a later date (more about this under Viper Cons below).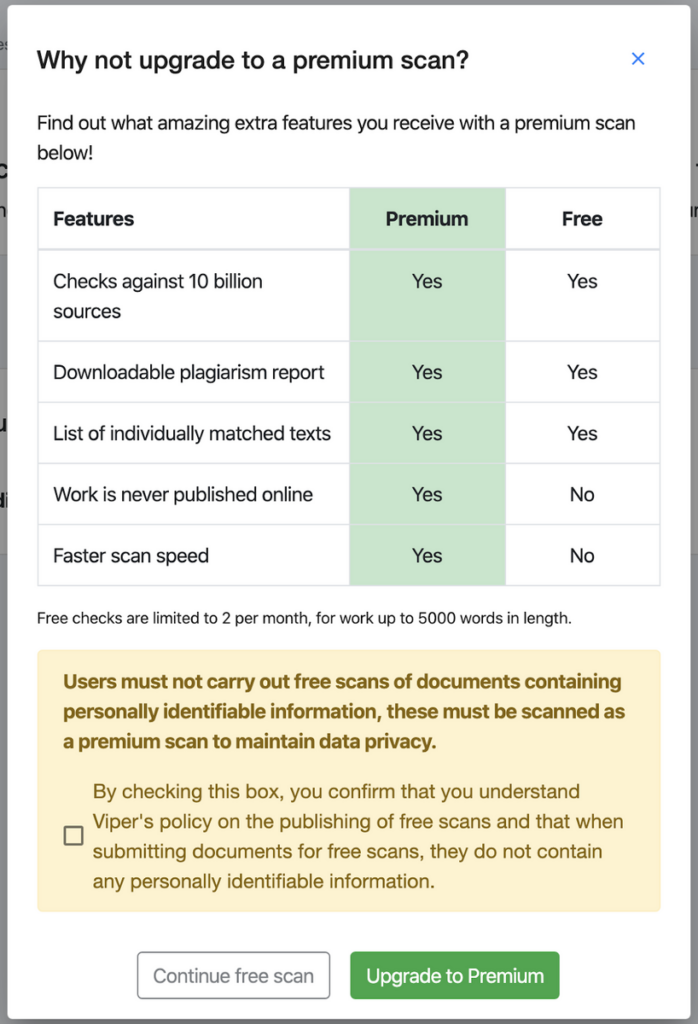 Let's take a look at how the free Viper Plagiarism scan works.
We deliberately chose two different documents that were full of plagiarism. One document had text copied and pasted from the Viper site itself. The other was a larger document (3500 words) that had a lot of plagiarized text.

Within about 20 seconds, it returned a completed scan report, which was quite impressive for a 3000+ word document.
The user interface is pretty straightforward and easy to understand. It's similar in some ways to Grammarly in that it highlights text and then shows the plagiarism sources.
On the left, the plagiarised text is highlighted in a specific color. On the right is the link to the online content source.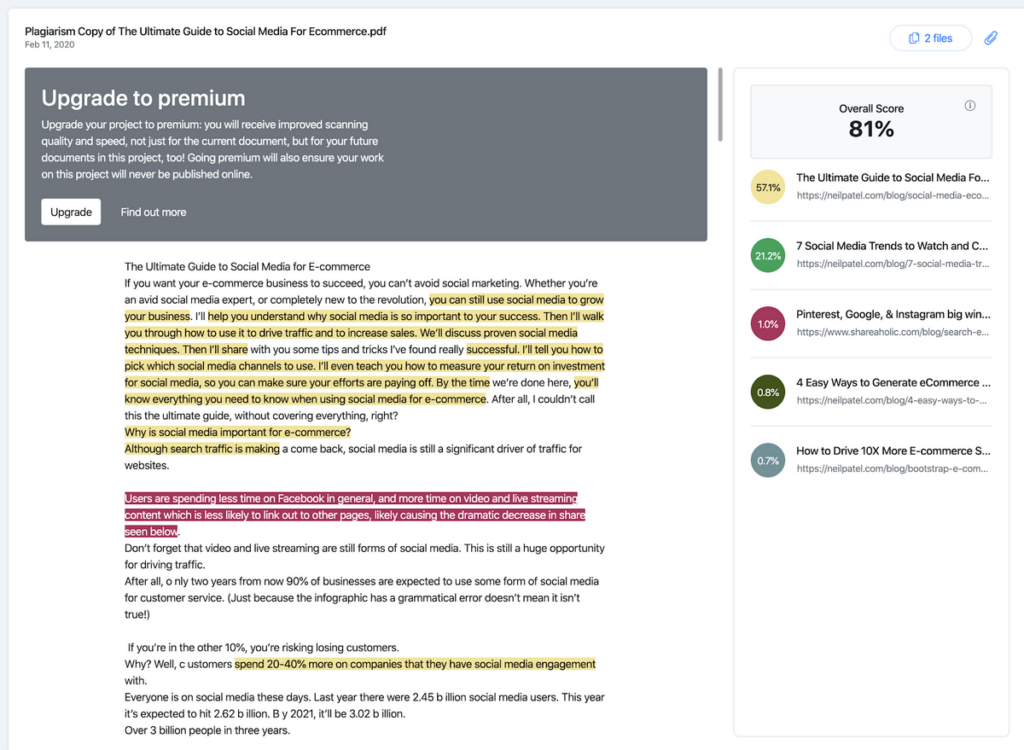 How Does The Viper Plagiarism Score Work?
On the right of the screen, you will notice there is a score listed. This number shows the amount of the document that is plagiarized.
In our test case, almost all of the test document was deliberately plagiarised. We scored 81%, which meant less than 20% of the document was original text.
Viper Plagiarism tool's scoring system is a little confusing the first time you use it.
It works in the reverse of most grading tools, which means the higher the number, the worse your plagiarism levels.
The good news is that this score means the tool is highly accurate, placing it among our top plagiarism checkers like Grammarly, Whitesmoke, and QueText that caught most (if not all) of the plagiarism on this test piece.
Thankfully there is a way to get more information about the Viper Plagiarism score, which helps to explain it.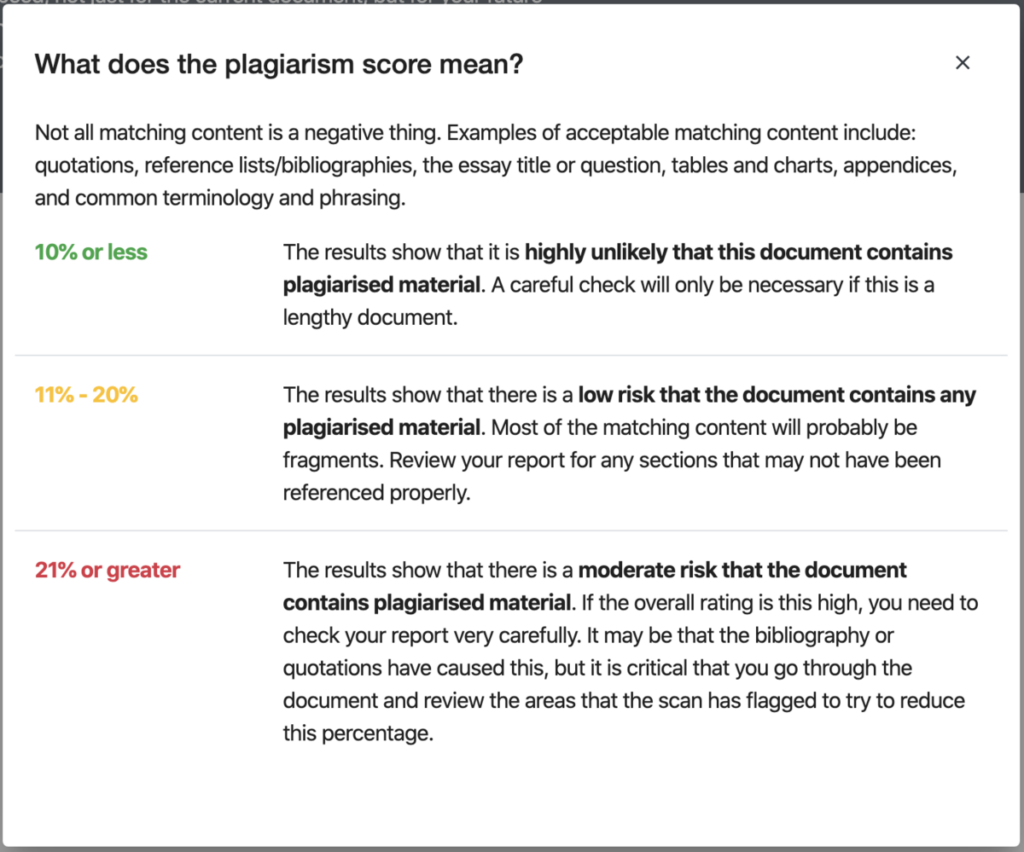 Viper positions itself as an alternative to the Turnitin plagiarism software (which 98% of UK schools, colleges, and universities use).
Most academic institutions agree that 15% is the cap in terms of an acceptable level of plagiarism in essays and report submissions. The reason 15% is allowed is for accidental plagiarism, and accounting for software errors.
The Viper plagiarism scoring system operates at the same 15% rule. For essays, reports, or thesis submissions, a plagiarism score exceeding 20% is a good indicator of deliberate plagiarism.
Viper also makes allowances for software errors to make sure students are not unfairly penalized.
Viper Vs. Grammarly – Which is Better?
Of course, Viper isn't the only name in plagiarism tools, and over the past few years, Grammarly has been slowly gaining ground as an all-in-one writing tool.
One of the big features of Grammarly's premium plans is a plagiarism tool of its own.
For comparison's sake, we decided to run the same deliberately plagiarised document through Grammarly's plagiarism tool.
Interestingly, the results were fairly close.
Grammarly scored the piece as 77% plagiarised, which was close to Viper's 81% plagiarism score.
Both tools claim to check billions of web pages (although Grammarly doesn't specify how many 'billions').
Based on the close scores from Viper and Grammarly, it's probably safe to say they are fairly close in plagiarism detection ability.
Viper Pros +
The biggest appeal of Viper is that you can do free online plagiarism scans (for two documents up to 5000 words per month).
If you are looking for a tool that can check essays, research papers, or articles, it could be enough to stick to the free version.
The interface is very easy to use, and the whole plagiarism scanning and reporting takes less than a minute for most documents.
Overall, it's a great tool if you just need to double-check you haven't accidentally copied someone else's work.
Viper Cons –
By far, the biggest downside of Viper is the limited number of scans available for free. As with most freemium writing software, this is probably to be expected. However, that limit of two documents per month can feel pretty stingy (especially for students or professional writers).
The costs are reasonable for a single document, and there is better value buying the credits in bulk. A single credit costs $3.90, but if you buy 20 at time, you pay $39.80, which means you're paying less than $1.95 per scan.
The scoring system can be a little confusing the first time you use the tool. It's easy to assume that 81% was a 'good' score. However, after a little more research, it appears that the higher the number Viper scores, the worse the plagiarism.
Another drawback of the free plan is that after three months, Viper will republish your work on sites such as LawTeacher.net and Uniassignment.com. (When you agree to the terms for Free Scan, you are allowing them permission to share your work).
Viper's rationale for doing this is for other students to use it to help them write their own essays. As a courtesy, they wait three months after your scan date to do it. This means that your original work may be shared online with other people.
If you choose a premium plan, the work is never shared.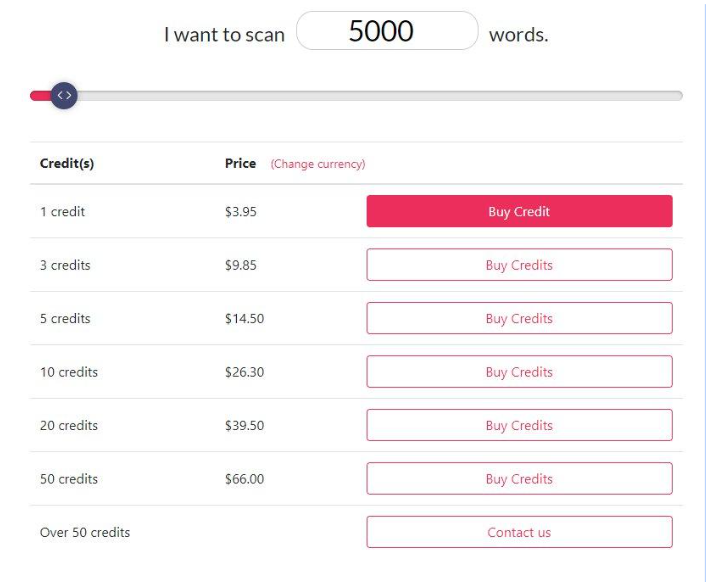 Do I Recommend Viper Plagiarism?
Yes I do.
But be aware that there are costs for both the free version and the paid.
Overall, Viper is a great plagiarism checking tool. It uses a huge reference base (over 10 billion pages) and seems to detect most plagiarism issues fairly accurately.
The free version is a nice way to get a taste of what Viper can offer. The limit on the amount of checks is sort of frustrating but understandable.
However, it's important to remember that using the free version of Viper also means your original work may be uploaded somewhere online at a later date. So if you don't want your work shared, it might be an idea to either pay for a few credits, or try another tool.
For a small fee the ability to check one piece of work is well worth it. It's also nice that you only pay for a piece each time you need it. This is a nice difference than most other software tools that ask for a monthly membership.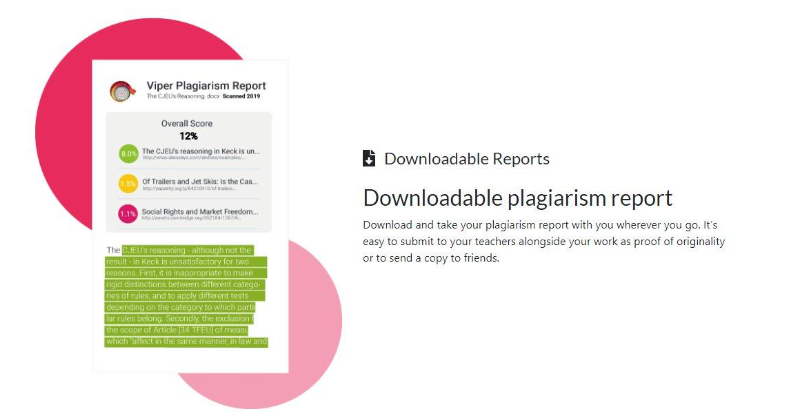 In almost every Viper plagiarism review, you'll find that people are generally happy with its performance. But if you're looking for a more complete writing app that will help you improve your essays with better word choices or more concise sentences, Viper alone won't work for you. If that's your case, combining Viper with the Writer app may be the ideal solution.
Writer is popular among students who want to avoid unintentional plagiarism, as well as people who work in digital marketing. It uses AI technology to help you align all your texts with the brand's voice and make sure you utilize the same terms throughout your academic writing.
These two tools will provide everything you need to create unique content that reads clearly. With Viper's scanner, you'll avoid plagiarized content that Writer doesn't always seem to recognize. Simultaneously, your academic papers and overall grammar will be polished.
Grammarly's plagiarism checker is the most accurate tool you can find online. Still, if you don't want to buy its premium version, you won't get the best of it. If that's the case, Writer's style, spelling, and grammar check features, combined with Viper's plagiarism checker, will do the job just as well.
If you already pay for a tool like Grammarly Premium or ProWritingAid, you already have access to a plagiarism checker, so using Viper may not be necessary.
But for one off plagiarism checking at a small fee, it's hard to beat Viper.