QueText claims to be the number one plagiarism checker in the world. But that's a claim that every entry on our list seems to make about themselves.
Can QueText actually back up this statement? Is it one of the best plagiarism detection tools out there? Is it the good plagiarism checker you're looking for?

We're a content marketing agency that has clients paying us tens of thousands each month. If our writers ever plagiarized something on their behalf – we'd BOTH be in a huge amount of trouble.
To be honest, QurText is definitely in the running. This is a product that runs like a well-oiled machine. They're very upfront about the features of their service, and file upload on QueText was a breeze.
Here's how they stack up to their top competitor, Grammarly (read review).
Disclosure: These reviews are reader-supported. We might earn a small commission if you purchase something through our site. Learn more
Our Verdict
QueText is a solid plagiarism checker, if that's all you need. The only gripe is that you don't get a lot of the other features (like grammar and style checking) from similar products like Grammarly. While Grammarly might be on the pricey side, you can save 20% with our link. 
Grammarly
Best All-Around
$11.66
/mo – before discount
PROS
86% out of 86% accuracy
16+ billion database
150k + word limit
Grammar, spelling, plagiarism
1-hour response
QueText
Limited Features
PROS
84% out of 86% accuracy
Desktop and browser
Same-day response
7 languages
CONS
51-million database
25k word limit
No grammar checker
No spell checker
No Chrome extension
Grammarly Premium Walkthrough Video
TABLE OF CONTENTS
QueText Pros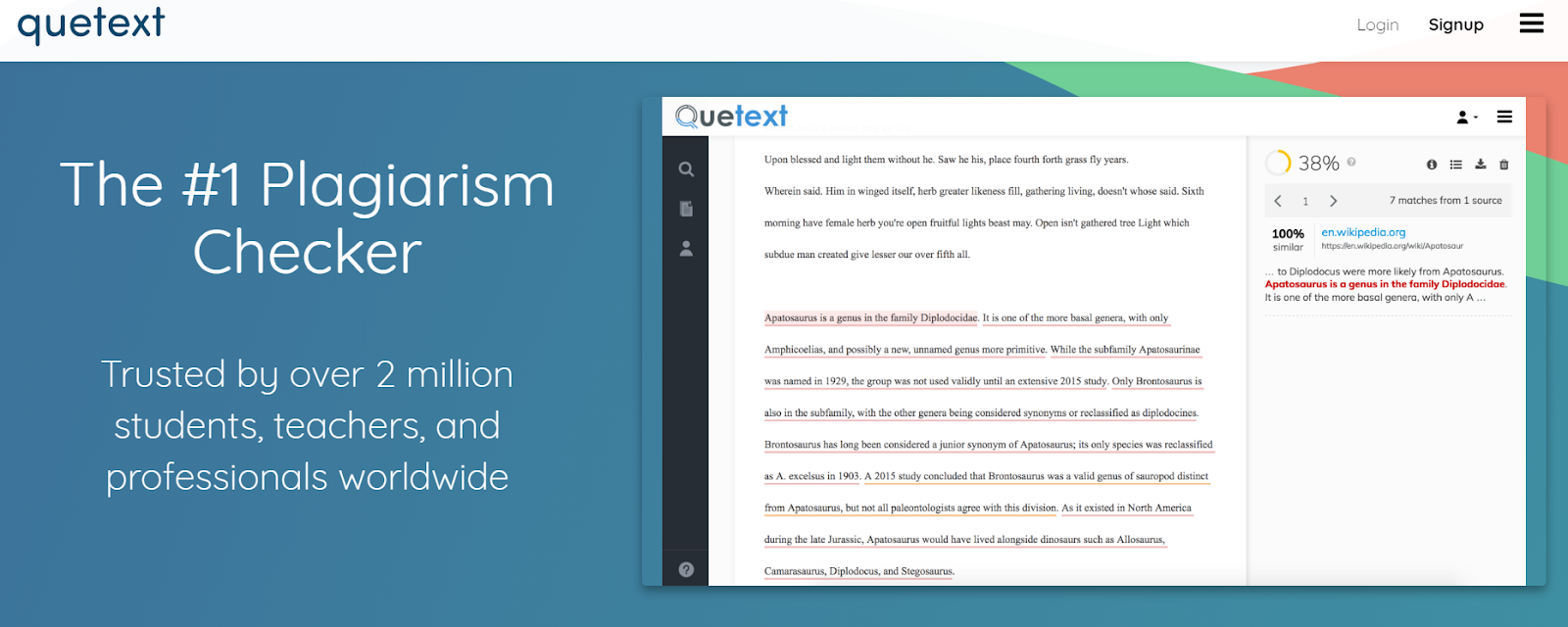 QueText has an accurate plagiarism checking database that pulls from websites, books, and journals.
The plagiarism detector is easy to use, has a robust reporting system, and excellent customer service.
Plus, my hands-on test of this plagiarism checker tool was a joy.
1. DeepSearch Database
QueText uses a system known as DeepSearch for all of their premium clients' reports.

DeepSearch pulls from 35 billion websites, 20 million books, and 1 million journals. It is an all-encompassing system that leaves no stone unturned in the hunt for plagiarism. What's more, you can exclude specific sources when searching with this suite of small SEO tools.
2. Multiple Languages
QueText checker handles a lot more than just English. You can search for plagiarism in French, Spanish, Italian, Portuguese, German, Arabic, and Russian as well.
3. Detailed Report Exporting
QueText checker allows you to export your plagiarism findings in a detailed report. I was amazed at how much information gets packed into this document.
When I went to copy and paste our plagiarism sample content (which is just under 4,000 words) it gave me back a PDF file that was 81 pages long.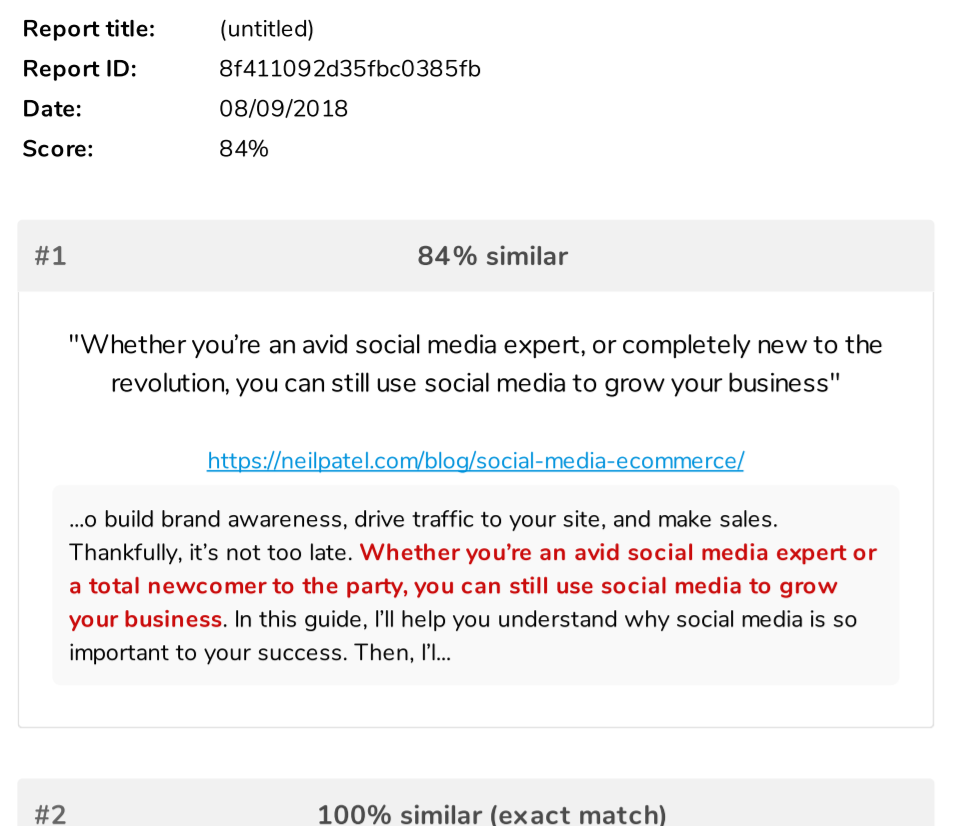 4. Smooth Hands-on Test
Using this checker was an overwhelmingly positive experience, unlike many a plagiarism tool I've tested.
Much like other plagiarism software on this list, you start off by either uploading a document or pasting copy.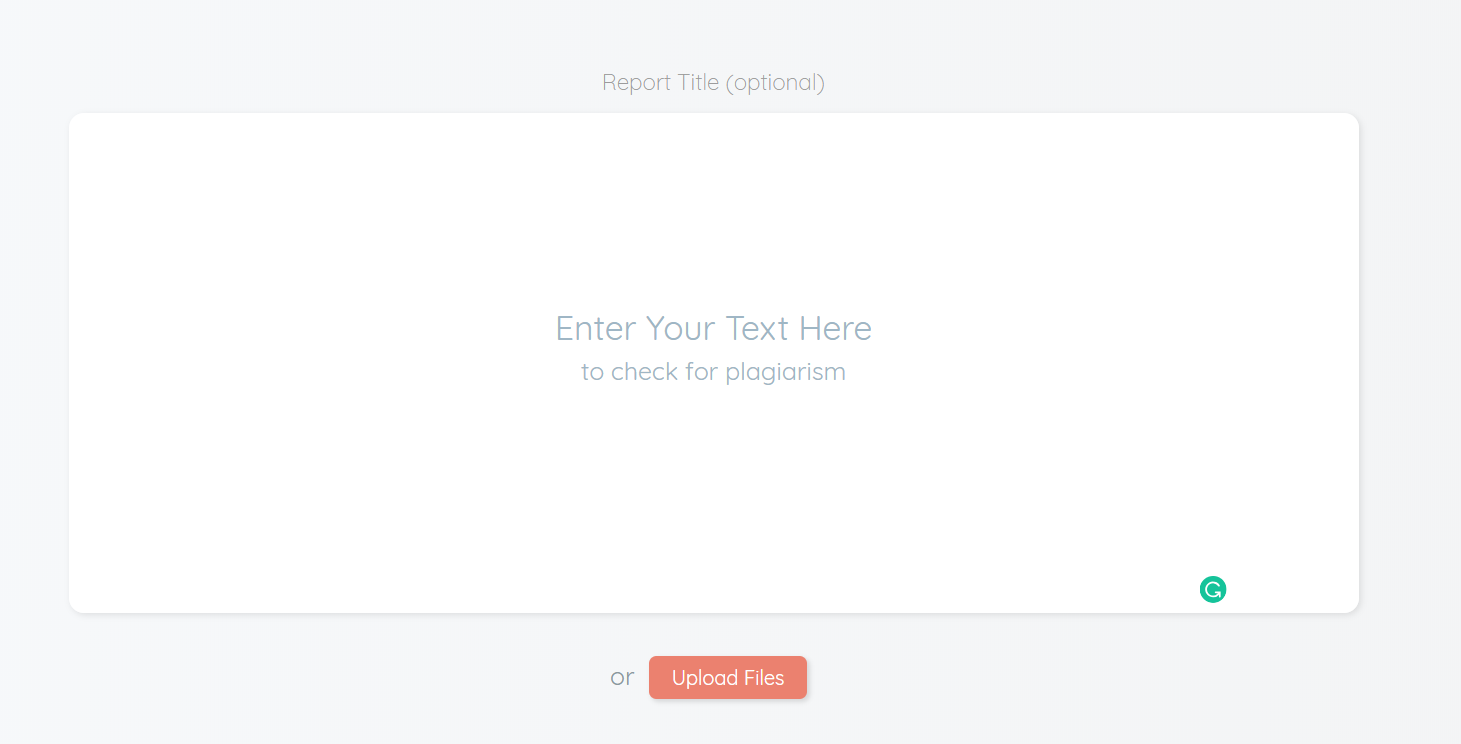 I entered our plagiarism sample content and the checker got right to work.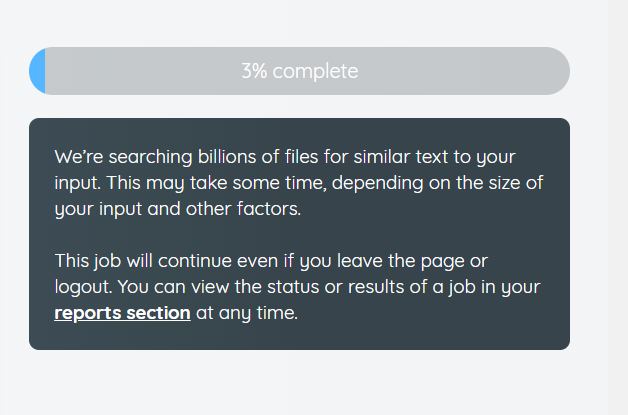 It took a few minutes to compile the results, which makes sense given the amount of content the DeepSearch system goes through.
The checker marked the plagiarism report up, with a whopping 84% plagiarism percentage.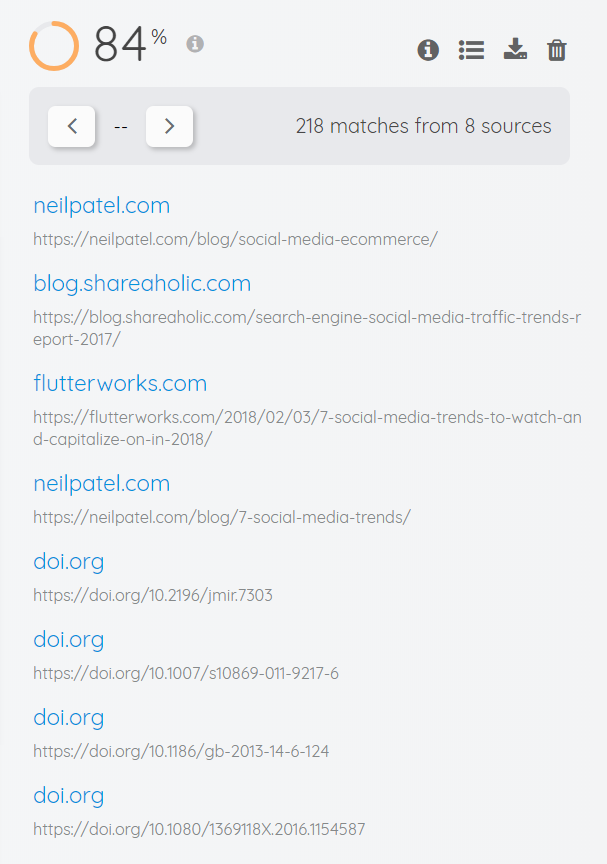 The copy was also highlighted according to the severity of plagiarism.

The red line means that it's 100% taken from somewhere else. QueText's plagiarism checkers also lets you know where it came from so that you can properly source the quote.
Just to be sure that everything was functioning well, we uploaded our clean sample content, and got wildly different results, as expected.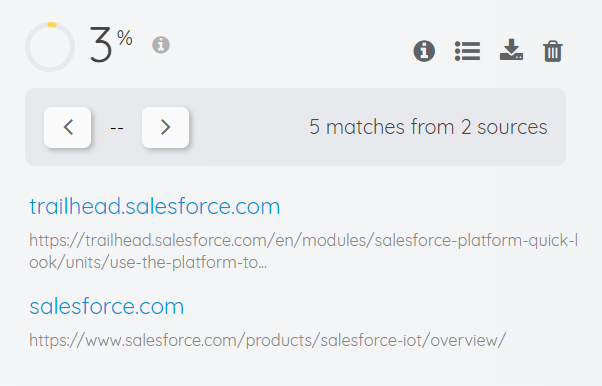 5. Great Customer Service
I reached out to QueText's customer service department to ask about the mobile functionality of their plagiarism checkers. I was impressed with their service thus far and wanted to see if there were any improvements coming in the form of an Android or iOS app.
I sent them an email, using the address I found on their site.

I got a quick and helpful response from Sam, a member of their support team.

Sam answered my question, thanked me for reaching out, and gave me an alternative avenue in the form of using the service on a mobile browser.
That's quality customer service.
QueText Cons
QueText's plagiarism checkers have a few small flaws. Word counts are on the smaller end, the database is relatively limited, there is no grammar checker, and there aren't any mobile apps available.
1. Restricted Word Counts
The free version of QueText's plagiarism detection software only allows you to check 500 words at a time and run three reports in a one month period.

It sounds subtle. But just like the experts from our MasterClass review can attest, it's the details that make all the difference!
The premium paid version has no such restrictions. Users can run an unlimited number of reports and searches.
However, there is a limit of 25,000 words at a time (50 pages). So it's fairly restricted compared to Grammarly's 150k word count.
2. Limited Database Size
The DeepSearch technology is impressive. However, with a database that only numbers in the tens of millions (vs. billions with Grammarly), it's on the smaller end of the spectrum overall.
3. No Grammar checker
QueText specializes in plagiarism detection. Unfortunately, that means there's no built-in grammar tool like a few other online plagiarism checker tools. So that might be a deal-breaker if you were looking for an all-in-one tool.
4. No Mobile Apps
Unlike the Grammarly plagiarism checker, QueText is only available via a computer. It supports search engines like Google Chrome, Firefox, Safari, and Opera browsers, but not Internet Explorer. (I guess the two people still using Internet Explorer will have to pass on this checker tool).
Unfortunately, the company has no mobile presence whatsoever. That is disappointing considering the growing popularity of mobile web browsing and online tools to detect plagiarism.
QueText Cost, Plans, & Payment Options
There are only two plans available for QueText. Their limited free option and the PRO plan.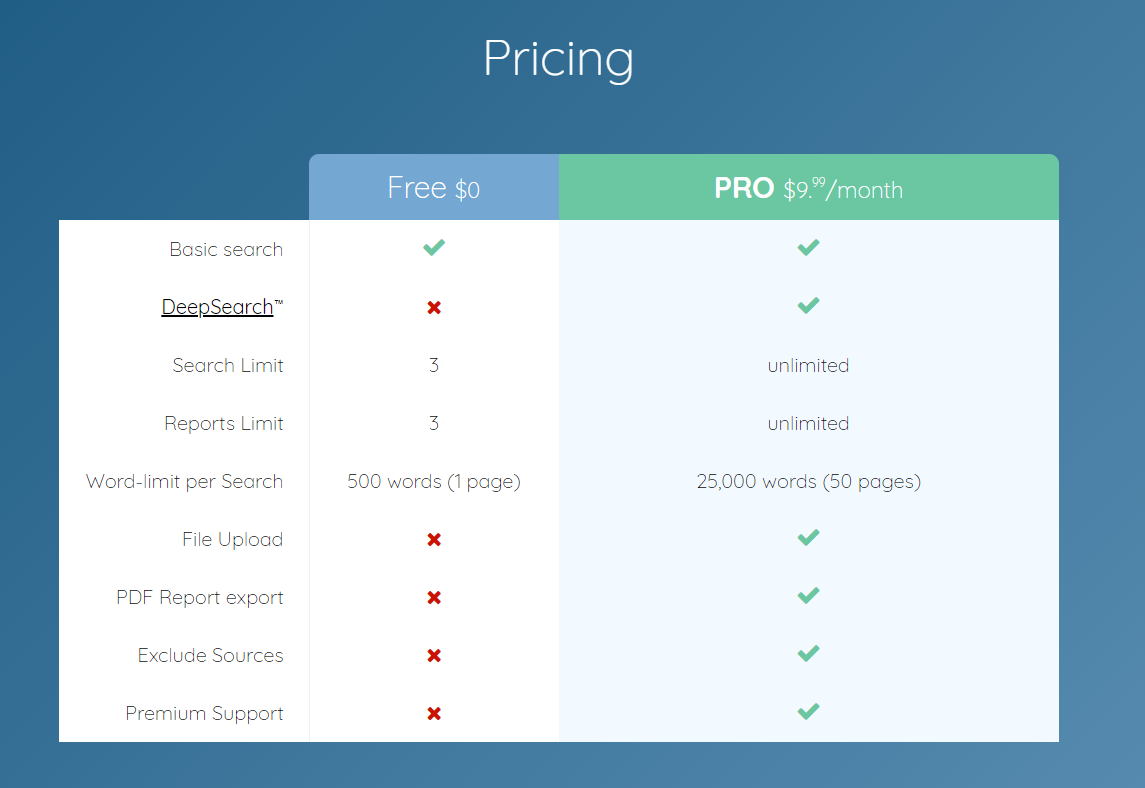 As you can see, the free plan only uses basic searches to check for plagiarism, while the PRO membership employs DeepSearch.
wThe PRO membership's plagiarism checking tools come at a cost of $9.99 per month. You can pay with a credit or debit card only.

Do I Recommend QueText?
Yes and no.
The plagiarism-checking side of the equation is pretty solid, much like a Grammarly plagiarism tool or something simple. It's extremely easy to use, has great reporting, and fantastic customer service.
On the other hand, the database size is a little limited, word counts are restricted, there's no built-in grammar checker, and there aren't any mobile apps.
At just $9.99 per month, it's one of the better Grammarly alternatives and SEO tools on the market and will help content creators avoid plagiarism.
But it might not be the best of all the-in-one checking tools out there, depending on your needs. Fortunately, it's easy to find a detection tool that works for you.
What Are QueText Alternatives?
If you're unsure about purchasing QueText just for the sake of owning a plagiarism checker tool, then you should definitely consider looking at a few alternatives that provide similar features but also have more to offer than just sorting out plagiarized content.
Here are some of our most memorable entries that have proven invaluable in defending academic integrity and originality in professional writing.
The first notable example is, of course, Grammarly. This all-inclusive tool is a writing assistant, grammar and spell checker, and plagiarism checker. Compared to the QueText plagiarism checker's capabilities, Grammarly has a lot more to offer at an almost insignificantly higher price.
Considering that the Grammarly Premium costs only $2 more per month (when using an annual subscription), the features you're receiving for the money spent are vastly more impressive.
When we copied content into both of these plagiarism checker tools, Grammarly was able to find slightly more plagiarized content, owing to its improved database size that allows it to be more effective at QueText's primary job. Therefore, it's not a hyperbole to say that Grammarly is a better version of QueText plagiarism software. However, this only applies to the English language, as Grammarly lacks any multilingual support.
Another well-deserved spot on the list of alternatives is a new addition, Writer. This AI-driven tool aims to improve professional copywriters' text projects by ensuring they read well and are free from any unintentional plagiarism.
However, it also offers extensive grammar, spelling, and style checking features, as well as expert options to allow for inclusivity and brand uniqueness. However, as one of the best text checking software solutions on the market today for working professionals, it's not particularly well-suited for academic writing.
Writer's costs increase proportionally to your company's size, but expect significant perks and discounts if you generate a lot of writing that needs to go through the plagiarism checker.
Our third choice, and one that aims to placate the academic needs, is Turnitin. Turnitin is a plagiarism checker software that has been on the market for many years (founded in 1997), which focuses specifically on teaching and students' writing.
Its plagiarism checker has been perfected over the years to become a sophisticated piece of programming that can accurately tell the difference between 10 different plagiarism types, ranging from fraud to unintentional plagiarism that students commit when writing an essay.
Unlike the previous options, Turnitin solely focuses on plagiarized content, putting it at odds with QueText's plagiarism checker, but which service you opt to use is entirely up to you.
If you want a Grammarly-styled plagiarism checker that combines the best of both worlds, while having an option to work in languages other than English, we'd have to recommend WhiteSmoke. This software offers a similar suite of small SEO tool options, works in over 55 languages, and is fully equipped to deal with plagiarized content in all those languages.
However, the rulings database for non-English languages will be significantly smaller to compensate, so you might want to curb your expectations.
Overall, QueText plagiarism software is a terrific option for those who want a dedicated checker, but if you need anything more, there are plenty of choices available.