Grammarly is best known as an online spelling and grammar checker that can also detect plagiarism.
So it's probably better suited towards writers themselves, the ones rolling up their sleeves, looking for resources like MasterClass to improve their skills, or working inside a larger content marketing agency.
Turnitin, meanwhile, is aimed at those who teach. They have a suite of products that include Gradescope (grading) and Revision Assistant, a tool that allows instructors to provide feedback on a student's work.
However, it's Turnitin's plagiarism checker, iThenticate, that compares most closely to Grammarly's features.
If plagiarism detection software is your primary need, will Grammarly or Turnitin best meet your needs?
Disclosure: These reviews are reader-supported. We might earn a small commission if you purchase something through our site. Learn more
Our Verdict
Grammarly is your best bet for all-around grammar, spelling, and plagiarism checking – save 20% with our link. Turnitin, on the other hand, is primarily for plagiarism checking in schools or universities.
Grammarly
Ranked #1 Best All-Around
$11.66
/mo – before discount
PROS
86% out of 86% accuracy
16+ billion database
Browser, desktop, iOS
150k+ word limit
Includes plagiarism support
Responded within an hour
CONS
Only supports English
Expensive without our link
Turnitin
Popular with Schools
PROS
Over a dozen different languages
Compatible with most browsers and devices including iOS
Database of over 70 billion websites
ETS e-rater
CONS
5,000-character limit for comments
Costs can vary based on student enrollment and features included
Grammarly Premium Walkthrough Video
TABLE OF CONTENTS
Grammarly vs Turnitin Features
Grammarly is available as a browser plugin for Firefox and Chrome. There is also a plugin for Microsoft Word to help correct spelling and grammatical errors and to improve writing style. Similarly, a Grammarly extension can be used to check for issues in Microsoft Outlook. Furthermore, a Windows Grammarly app enables users to type a document into Grammarly or to copy it over, regardless of how it will ultimately be shared. Of course, users do not have to download any software to use Grammarly; they can simply log into their Grammarly account dashboard to use the checker software on the Grammarly website. Their documents will be saved and can be accessed in the future.

Turnitin similarly allows users to upload content, which will be saved and accessible across multiple devices, including iPads. Turnitin will enable users to upload files from Google Docs and Dropbox as well conveniently. The plagiarism checker will run as soon as the content is uploaded, and teachers can mark comments to help students. This feature is necessary because Turnitin does check grammar but does not show the results to students themselves. Turnitin limits comments to 5,000 characters, though. However, Turnitin's grading tools allow instructors to create tags for frequently used comments and drag them into submitted work.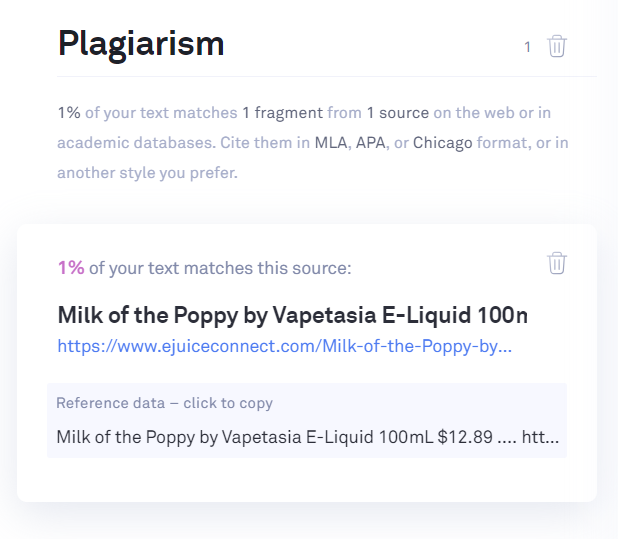 Instructors need to look over any content that is marked as potential plagiarism if any quotations are included. Turnitin will display results in the Document Viewer and color-code passages to indicate possible issues.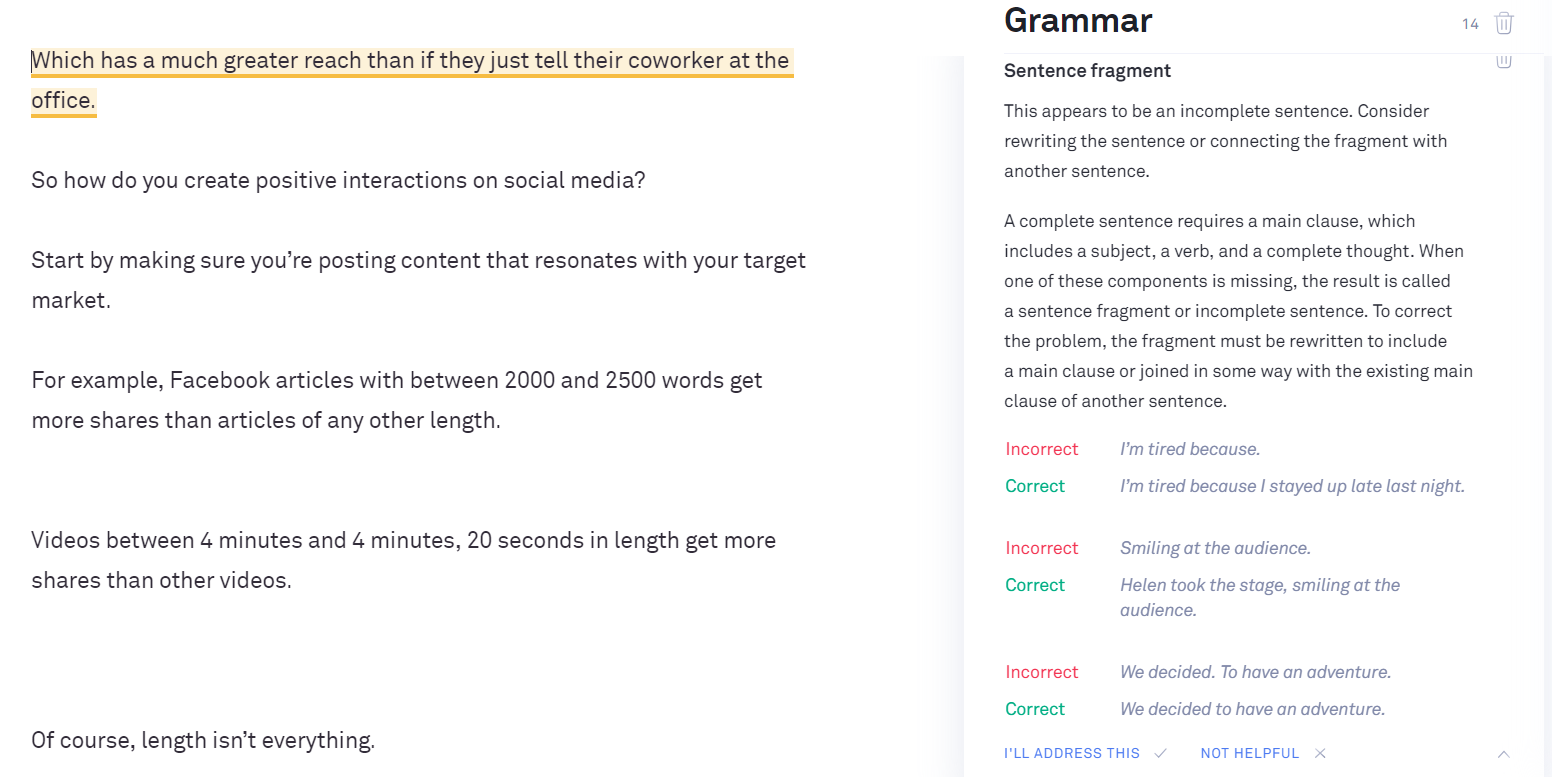 One area where Grammarly lags is in multi language support. While the plagiarism detection tool is useful, it's only available in English. However, users can specify whether they write in American, British, Canadian, or Australian English.
Price
It doesn't pay to compare the features of the Grammarly plagiarism detector with Turnitin if you cannot afford to pay for the plagiarism checker tool. Some organizations provide Turnitin to instructors for free; however, the checker tool is not free. Institutions will have to pay a subscription fee based on the desired features and number of students. Individuals can check a single manuscript for plagiarized text for $100 or spend $300 to check up to 75,000 words, which can be spread across multiple documents. For more or longer documents, users will need to purchase credits. Individual instructors who are not affiliated with an organization that provides access to Turnitin may find the plagiarism detector may prove to be too costly.
In comparison, Grammarly editor checked grammar and spelling for free. However, users can subscribe to Grammarly Premium to unlock advanced spell checking tips and the plagiarism checker. Unlike Turnitin, Grammarly can be used by individual users such as students. This tool starts at approximately $12 per person per month. However, users can save money by signing up for a yearly subscription for less than $150.
Grammarly offers a business plan for similar pricing for up to 149 users, which might work well for small institutions but can become quite pricey. As you increase the number of users, it may be cost-effective to opt for Grammarly@Edu, the tool specifically designed for educational institutions. The only online plagiarism costs $500 per year per five users, which is actually cheaper than the business subscription for the same number of users.
It's important to note that both Grammarly and Turnitin offer custom prices for institutions based on their size and needs. While the prices listed here have been accurate for users in the past, they may not be accurate for your organization.
Are There Other Options?
Although we've focused on Grammarly and Turnitin's offerings, there are additional options, including the SmallSEOTools plagiarism checker. This is a free tool that is available online. The user can copy and paste an essay into the checker. Alternatively, they can upload word files, including those on Dropbox or Google Drive, or submit a published URL to detect plagiarism.
However, SmallSEOTools may not be a reliable plagiarism checker because it doesn't save documents or work with MS Word the way that Grammarly does. Furthermore, you can only check up to 1000 words at a time. Although users can break up their text into smaller checks, doing so may take more time than with other tools.
The question of which tool to use depends on a variety of factors, including your budget and how many users you will need to accommodate. Furthermore, consider whether grammar checking is as important as plagiarism detection. If educators want their students to see their grammar mistakes without having to comment on them, Grammarly may be the better option. Turnitin may be preferable to the plagiarism checker Grammarly comes with for education organizations.
Grammarly may also be the better option for individuals who are not students, including professionals, novelists, and freelance writers. The proofreading tool is quite useful and can help users improve their writing over time, making the Grammarly cost well worth it. Writers can also improve their paraphrasing skills as they learn to avoid plagiarism. Grammarly even has a mobile app, Grammarly Keyboard, to check for grammar errors on Android and iOS.
Remember that the detection of plagiarism Grammarly offers only comes with a paid subscription, so it will only be mentioned in a Grammarly premium review. But even if you only need the proofreading feature, it can be worth it to check Grammarly out after reading this Grammarly review.