English Grammar Check: Best Tools and Tips for Perfect English Writing
English grammar rules are famously hard to grasp.
Even native English speakers make frequent grammatical mistakes in their writing, due to the range and complexity of English grammar rules.
But with perfect grammar, your content will flow better and can be understood by a broader audience.
You don't have to attend a haughty British private school to write in perfect English, though — technology's got your back.
There's a range of inexpensive grammar-checking software tools out there that can scan your content for errors and make corrections easily and quickly.
In this article, we're looking at what the meaning of proper English grammar is, and the best tools out there for automatically perfecting your English writing.
Disclosure: These reviews are reader-supported. We might earn a small commission if you purchase something through our site. Learn more
Grammarly
Best All-Around
$11.66
/mo – before discount
PROS
86% out of 86% accuracy
16+ billion database
150k+ word limit
5 device limit
Includes plagiarism
1 hour response
CONS
Only supports English
More expensive ($11.66/mo)
ProWritingAid
Best Budget
$4.16
mo – before discount
PROS
62%, 73%, 52% accuracy
Millions+ database
Scrivener compatible
CONS
Inaccurate Plagiarism
Only English
24+ hour support response
Grammarly Premium Walkthrough Video
What are basic English grammar rules?
The huge number of English grammar rules can be intimidating. But, there are five basic concepts that, once mastered, will allow you to construct coherent sentences that are both grammatically correct and a pleasure to read.
Word order
In English writing, word order has a powerful effect on meaning. In a basic sentence, you first introduce the subject, then the verb, then the object.
For example, 'The mechanic (subject) will repair (verb) my car (object)'.
Punctuation
Punctuation marks such as commas (,), exclamation points (!), question marks (?), and others are used to represent pauses, give emphasis, or augment the meaning of a sentence. Compare the following two examples:
'He was tired, as everyone else was — but why? I suppose we'd never know!'
'He was tired, as everyone else was, but why! I suppose we'd never know?'
Tense and aspect
Tenses let the reader know whether something refers to the past, the present, or the future.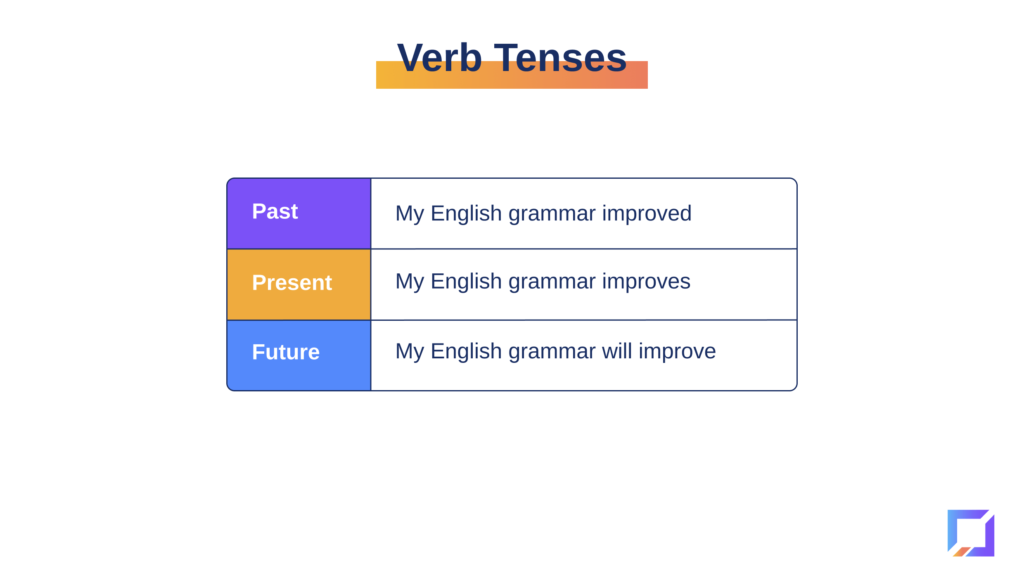 'My English grammar had improved' (past tense)
'My English grammar is improving' (present tense)
'My English grammar will improve' (future tense)
Determiners
Determiners are words to put before nouns to express their meaning with reference to the context of the sentence.
Examples of determiners include 'the', 'my', 'some', 'this', and 'your'.
Conjunctions
These are words that link phrases together to create longer sentences that flow better than multiple short sentences.
The most common conjunctions are 'and', 'for', and 'but'.
Best tools for checking English grammar
With those rules in mind, you'll be able to write content that is free from the most basic grammatical errors. However, when it comes to writing and publishing a high volume of content that truly makes an impact, you'll want to enlist the help of some intelligent English grammar-checking software.
The following tools scan, recommend and correct your content to the highest level of grammatically correct English.
Read on for our reviews of each tool, as well as our #1 recommendation.
Grammarly
You've no doubt heard of Grammarly before. Their reputation in the grammar checking software space is unmatched — and for good reason.
Combining robust spell-checking capabilities with comprehensive English grammar correction and recommendations, Grammarly Premium is a go-to choice for content writers and publishers alike.
The basic version is free and includes spell-checking, grammar, punctuation, and conciseness recommendations.
They also offer tiered premium accounts costing from $12 — $30 per month that include advanced features such as clarity and tone recommendations and a plagiarism scanner.
Put simply, using the free version will help you avoid grammatical errors in your writing. The premium version, however, will enhance the clarity, style, and coherence of your writing and take your content to the next level.
Grammarly is more than just a text scanner. Because of the way the Grammarly writing space is designed and presented, using the tool can actually help you to improve your understanding of English grammar, and therefore your ability as a writer, over time.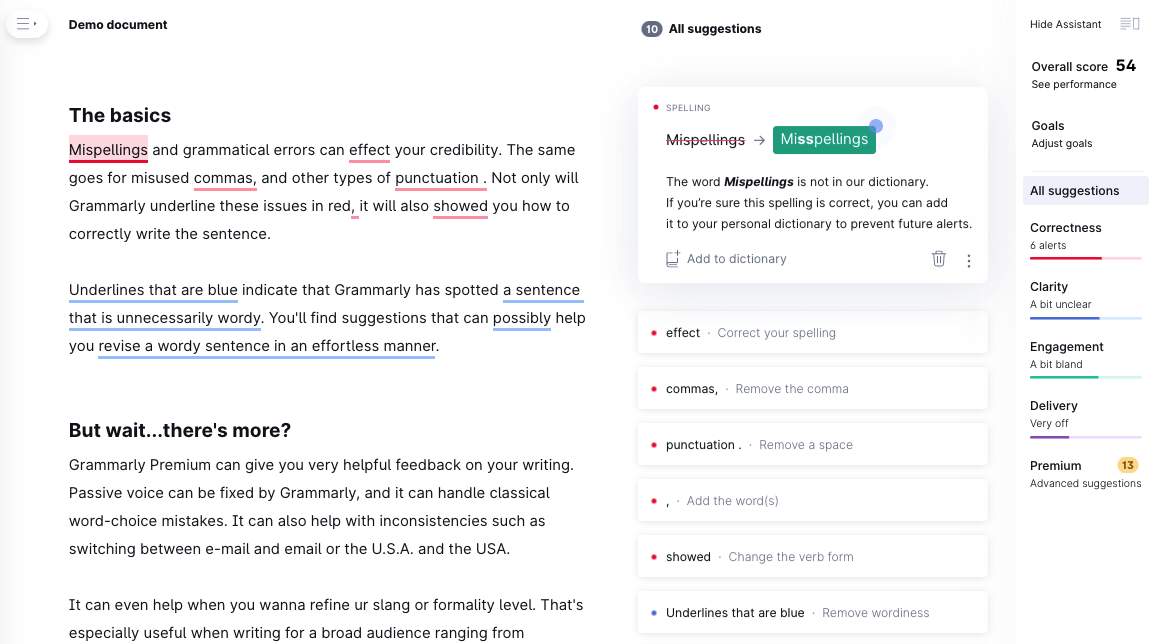 Grammarly Premium has a whole slew of useful tools for better grammar, readability, avoiding plagiarism, and more. So if you only need a quick passive voice checking tool, it might be too expensive. However, if you want better writing overall, Grammarly is a great way to get better.
So, whether you're looking to eliminate any grammatical mistakes in your writing, or you want to raise the standard of written content altogether, Grammarly is perhaps the best place to start.
Read the full Grammarly Review
ProWritingAid
ProWritingAid is a full-fledged writing tool that gives Grammarly, and other paid writing apps a run for their money.
Though you may not have heard of ProWritingAid before, the software is up there with the most functional and user-friendly English grammar checkers on the market.
It's packed with features that can help you write, edit, and improve your grammar, readability, and avoid plagiarism in your work.
It's full of all the great features that Grammarly has, but differs from it in a few meaningful ways.
The 'readability' function assigns a score to your text for overall comprehension and style. From there, you can quickly and easily identify the grammatical and stylistic issues dragging your content down, hopefully raising the score to top marks.
Generally speaking, this tool is targeted more towards fiction and creative writing, with specialist features like a cliche and repeat phrase checking for perfectly fluid and original writing.
We love the option to purchase the tool for a one-off fee instead of mandatory monthly subscriptions, which is a smart choice for long-term or career writers.
ProWritingAid also features multiple software integrations, so you can perfect your English grammar directly from Microsoft Word, Scrivener, or even your web browser.
Read the full ProWritingAid review
Writer
Writer can be described more as a grammar and style assistant than a fully-fledged English writing tool.
With a focus on corporate users, Writer is unique in offering a programmable style guide to keep your content consistent over time.
You can add certain rules like always de-capitalizing a given company name to align with the brand's style, which it will then pick up and suggest to you the next time you write a capitalized version.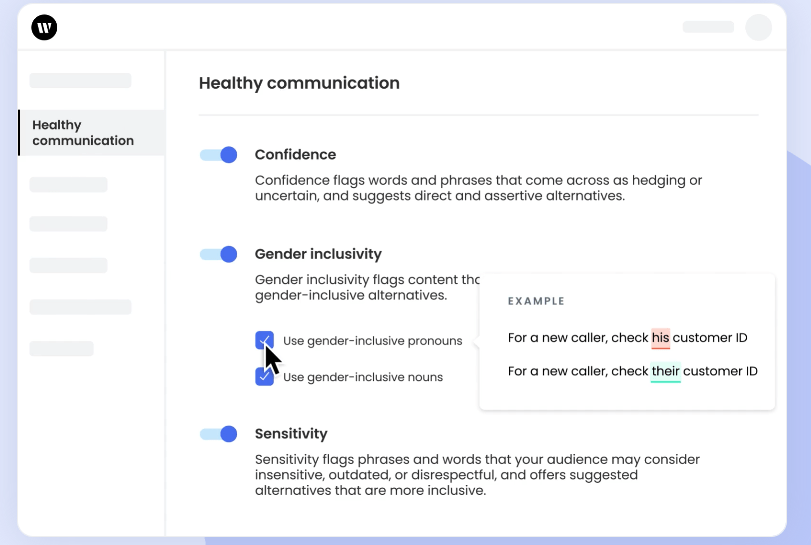 In this sense, Writer focuses less on developing the English grammar skills of a single writer, and more on aligning the voices of a collection of writers producing similar content.
Like ProWritingAid, Writer offers a total score for your text that can be improved by addressing errors in a variety of key categories, including ​​spelling & grammar, terms, style, clarity, delivery, inclusivity, compliance, and plagiarism.
In terms of the pricing system, Writer uses a tiered subscription model with a free base account which includes autocorrect, grammar, spelling, punctuation, and data security & privacy.
Features like clarity, inclusivity, and delivery are locked to the Pro version, and higher enterprise tiers focus on collaboration and software integration features for large teams.
Hemingway
If cost is your main concern when searching for your perfect English grammar checker, Hemingway's free-to-use editing tool could be your best bet.
Billed as 'like a spellchecker, but for style' the Hemingway is a free browser-based grammar checker software that helps you identify different ways to refine and tighten up your writing. There is also a very affordable paid version if you want to use it on your desktop.
Hemingway is browser-based, so you simply need to head over to the site and paste in the content in question to get going. They also have a desktop application that is offered as a very reasonable $20 one-time purchase.
The stripped-back editor highlights lines of your text which need work, with different colors representing different rules of English grammar.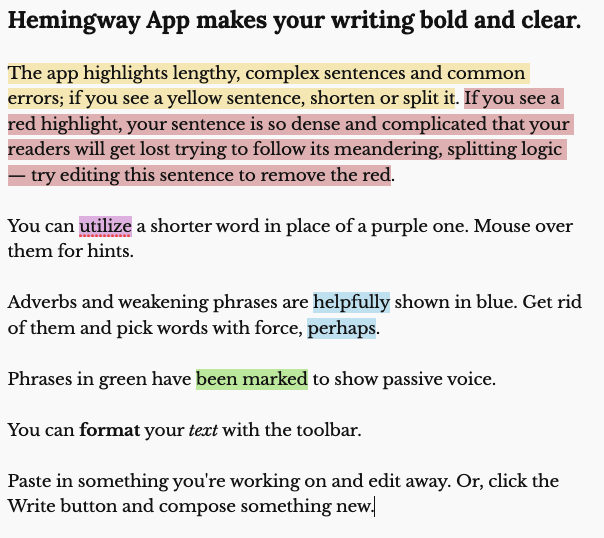 While the app is low/no-cost, it doesn't exactly meet the standard of other English grammar check tools in terms of the range of features and editing intelligence.
For example, Hemingway will highlight your errors and describe what the problem is, but it won't offer a suggested correction. For those of you unfamiliar with the more complex rules of English grammar like active and passive voice, it may take a few attempts at rewriting the sentence to get it right and remove the error.
But if you're a small business owner with decent English, grinding out blogs at your own pace, Hemingway represents a great-value alternative to premium tools like Grammarly.
Read the full Hemingway Review
WhiteSmoke
WhiteSmoke is a highly-focused grammar checking tool that combines several of the most requested features for coherent writing.
Like Hemingway, a color-highlighting system makes your grammar errors easily visible and divides them into several key categories. Red is for spelling mistakes, green is for grammar mistakes, and purple is for writing style issues.
More than just correcting your grammar though, WhiteSmoke is intent on making you a better writer altogether. It does this by offering both written and even video lessons on the key concepts of proper English grammar.
It is compatible with other software applications like Microsoft Office and can be used on Android, Mac, and iOS devices.
An additional selling point for content writers who want to reach a broader audience is the translation feature, which includes 55 languages.
Whitesmoke offers you a monthly and annual pricing plan. The basic tools like the grammar checker, plagiarism checker, and translator start at $6.99 per month in the essential plan.
Read the full WhiteSmoke review
Ginger
Every grammar checking tool is unique in its own way. The Ginger writing tool doubles as a grammar checking software and a language-translation tool.
Closely competing with the prior WhiteSmoke grammar tool, Ginger offers a similar suite of features with a focus on translation and teaching the rules of English grammar to its uses to make them better writers.
The comparable translation tool features over 55 languages, of which 40 are available for use in the free version.
We love the Sentence Rephraser tool, which can show non-native English writers more engaging and dynamic ways of expressing ideas — definitely worth checking out.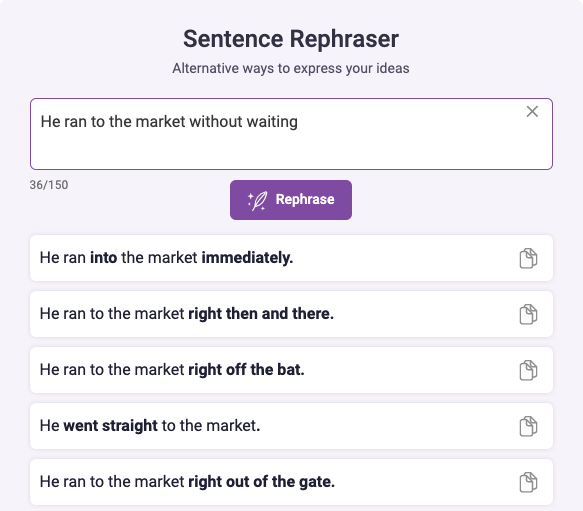 They also have the Ginger personal trainer tool, which is unique in that it develops your English using your own writing mistakes, offering a developmental system that is tailor-made for your needs.
You can enjoy these features and more with their desktop app or as a browser extension, the latter of which is totally free.
The premium version lifts the limits on grammar-checking and rephrasing, as well as adding a few other features like AI-based synonym suggestions.
Grammar check software recommendation
We can't blame you for being intimidated by the crazy rules of English grammar.
But, unfortunately, your content is likely to be abandoned if it's not up to scratch with the highest standards of grammar.
And more than being just 'correct', you can take your content to the next level stylistically, structurally, and tonally by running it through an English grammar checker tool.
There are many out there, but a few springs to mind in terms of effectiveness, range of features, and overall value.
Grammarly is the undisputed grammar checker tool king for a reason. Covering the nuts-and-bolts of English spelling, grammar, and punctuation as well as stylistic recommendations and writer-focused grammatical development, you can't really go wrong – as an independent writer or giant content marketing machine.