PaperRater is a start-up company offering grammar and plagiarism checking services.
It is marketed to students both on the college and high school level working on term papers. They offer a limited free version and a premium plan.
But is it worth if? Even if it's free (or really cheap)?
That's what we're going to answer in this PaperRater review.
Disclosure: These reviews are reader-supported. We might earn a small commission if you purchase something through our site. Learn more
Grammarly
Best All-Around
$11.66
/mo – before discount
PROS
86/86% accuracy
16+ billion database
150k+ word limit
5 device limit
1-hour response
CONS
Only English
Expensive without our link
PaperRater
Limited Features
PROS
Database uses Google & Bing
Decent customer support
CONS
English only
Not very accurate
 No reporting
No mobile support
Grammarly Premium Walkthrough Video
TABLE OF CONTENTS
PaperRater Pros +

PaperRater is an effective program with fair limitations, given its audience.
It's a one-of-a-kind online plagiarism checker that has its own benefits. It's popular among college students as an efficient essay checker, text or grammar checking tool.
It draws on the databases of popular search engines to cover a wide array of internet real estate as it searches for plagiarism.
1. Database Powered by Search Engines
PaperRater checks for plagiarism using the search indexes of Google and Bing, the two most popular search engines on the planet.
A PaperRater representative told me that they are able to pull from "the entire searchable internet."
That sounds promising on the surface. However, as you'll see down below, it doesn't necessarily mean their plagiarism tool accuracy is very good.
2. Decent Customer Service
PaperRater offers customer support Monday through Friday from 9 a.m. to 5 p.m.

I sent an email asking questions about their database. I received an answer within the hour. It was a great response time.

It's not a fantastic reply, but they did answer my question, and did so in a quick and efficient manner. So it's enough to get into the pros section here.
PaperRater Cons
Our hands-on test of PaperRater showed less than the average accuracy in reporting on our sample articles. Its languages, device support, and reporting features all left me wanting.
1. Below-Average Accuracy
When I ran our plagiarism sample through PaperRater, it told me that the piece was 33% original.

That means it received a plagiarism score of 67%. While that's pretty high, most other checkers on this list scored it at over 85%, which means that PaperRater was missing an awful lot of copied content.
We're a content marketing agency that has clients paying us tens of thousands each month. If our writers ever plagiarized something on their behalf – we'd BOTH be in a huge amount of trouble.
Just to see the other side of the coin, I made sure to check out our clean copy as well. PaperRater gave it a clean bill of health at 99% originality.

2. Low Word Count Limits for Student Use
Free users of PaperRater can perform up to 10 plagiarism checks per month and offer relevant suggestions and professional proofreading.
Unfortunately, these checks must be no longer than 5 pages of 300 words each. So, in total, 1,500 words per check.
Premium users can perform 25 checks in a month. Each grammar check cannot exceed 20 pages of 300 words a piece. That equates to 6,000 words.
Either way, that's still far lower than other alternatives on the market, like Grammarly.
3. No Report Exporting
PaperRater doesn't allow you to export your plagiarism report as a PDF.
There is an option to print out your results. Then, you could just scan it into your computer. But it would be far simpler to just have a feature that allows you to export.
It sounds subtle. But just like the experts from our MasterClass review can attest, it's the details that make all the difference!
4. No Mobile Support
The only way a user can access PaperRater is via its website.
There is no mobile support or browser add on function.
5. English Only
Currently, PaperRater only supports the English language. When answering this question on their Frequently Asked Questions page, PaperRater makes sure to use the phrase "Not at this time," meaning that additional languages could be added in the future.
PaperRater Costs, Plans, & Payment Options
PaperRater has one free option and one premium plan. The premium has an option to subscribe for a year, or on a month-to-month basis.
The one-year commitment comes out to $7.95 per month, while the month-to-month service is $14.95 per month. That's quite a lot for a program that caters to students and places restrictions on its use.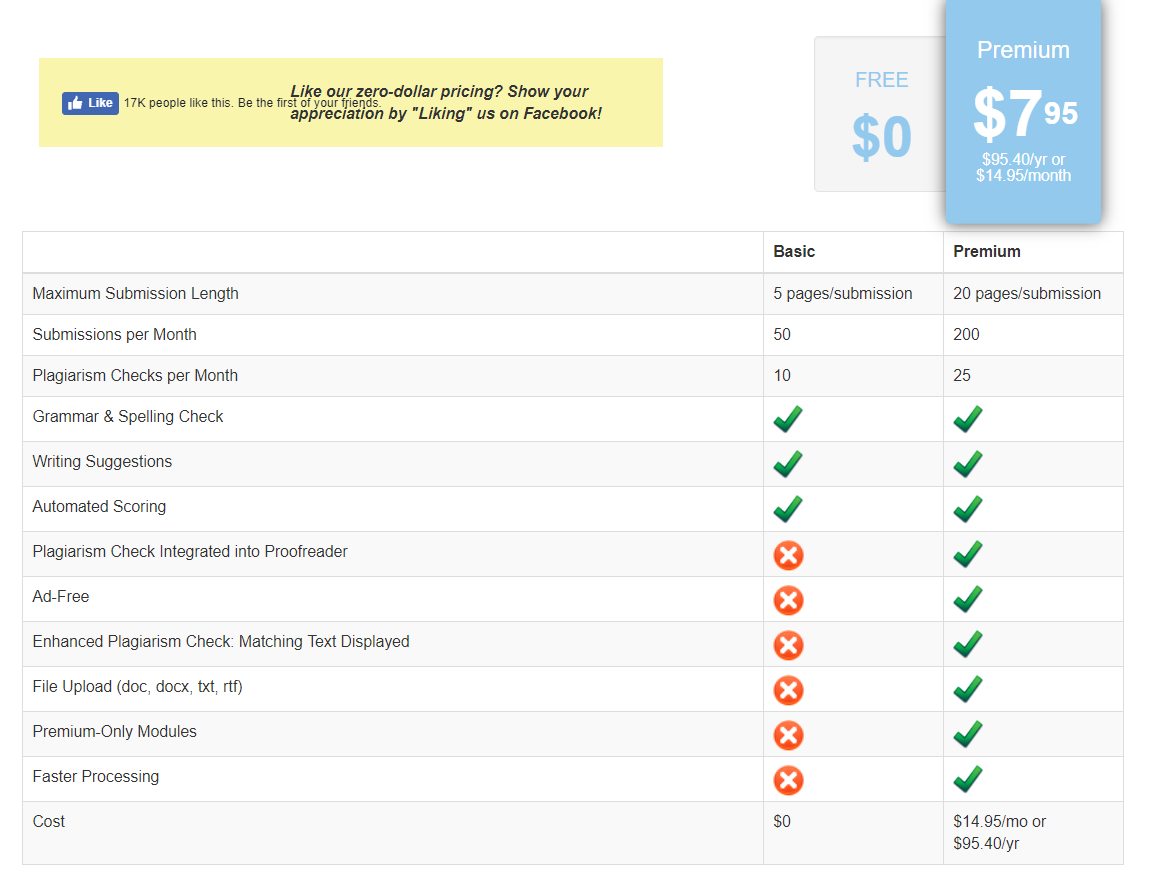 PaperRater allows you to pay with a credit or debit card.
Do I Recommend PaperRater
No, I don't.
As I was going through its features, I was considering recommending this online grammar checker and plagiarism detector for students. If you're a student looking for a free plagiarism checker, then it's worth a go for your shorter papers. If you also need to catch grammar mistakes in your essay, it's worth a try. But I can't in good conscience recommend a $14.95 per month service to a student that has such a poor accuracy rate.
At the end of the day, there are better systems for online plagiarism that come at a lower price point. If you need proper grammar and writing checks as well as a spelling and proofreading tool, there are plenty of options.
Start with Grammarly, instead.