Having to pick between Grammarly vs WhiteSmoke is like being forced to choose between your favorite children.
(First one, hands down.)
They're not identical, but each grammar checker app is very similar on many cases.
Picking one over the other feels a little like splitting hairs.
But they do diverge on a few points. One's grammatical errors accuracy is a little better, while another's pricing is much lower.
Here are the five key grammar checker ingredients app we'll review in this guide:
Accuracy & Database (with things like online grammar)
Limitations & Device Usage
Customer Service Response
Languages
Costs
Disclosure: These reviews are reader-supported. We might earn a small commission if you purchase something through our site. Learn more
Our Verdict
Grammarly is the go-to if you need better accuracy and reporting for the English language. WhiteSmoke, on the the other hand, takes the cake with 55 languages + a slightly cheaper option.
Grammarly
Best All-Around
PROS
86% out of 86% accuracy
16+ bilion database
150k word limit
5 devlice limit
Includes plagiarism
1-hour response
CONS
Only English
More expensive ($11.66/mo)
Grammarly Premium Walkthrough Video
TABLE OF CONTENTS
Feature #1. Accuracy & Database
Both Grammarly and WhiteSmoke are pretty damn accurate.
I judge this by uploading the same exact content to both to get a consistent baseline measurement on grammatical errors and mistakes and spelling checks from the plagiarism checker (along with the other 20+ grammar and plagiarism tools I've reviewed). That way, you have an objective way to get feedback and a spell check.
Speaking of, Grammarly's software plagiarism detector ranking system kinda does the same thing within their own system. Feed it content, and it will spit out a score that compares it to all of the other content they've seen before while considering things like advanced grammar. Pretty cool, huh?

I also like how the app provide detailed context for grammar punctuation each issue in the plagiarism checker. That way, you can see how or why the mistakes were made (and learn from it). Or, you can quickly disregard it. Either way, you know the tool is doing its job.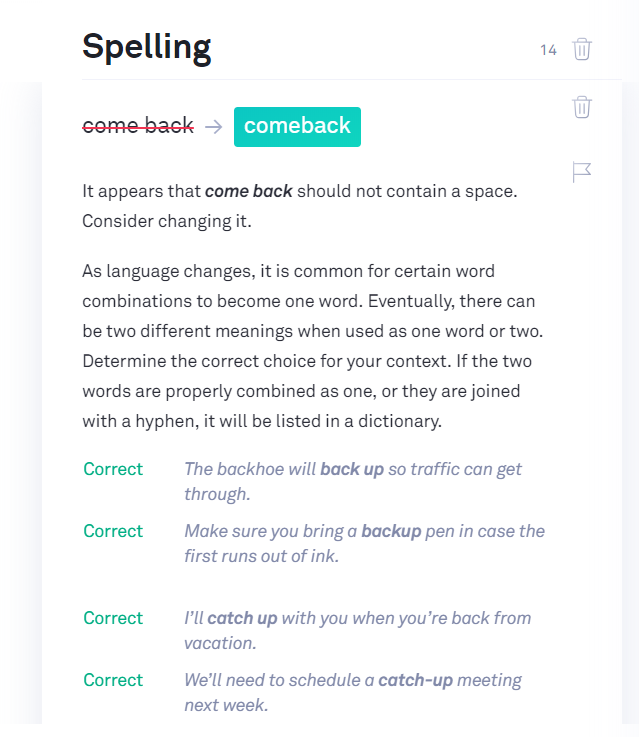 WhiteSmoke is no slouch here, either, though.
Drop your content in the editor and you'll similarly get grammar suggestions or recommendations for mistakes.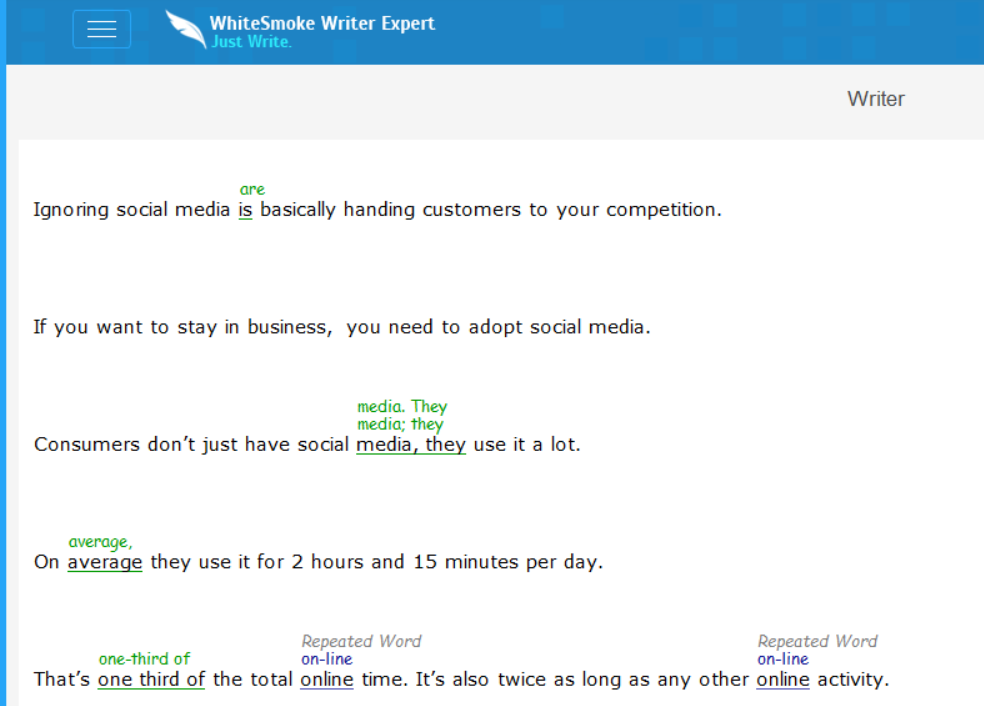 It'll even get into writing style issues, like overusing redundant words, spelling, passive voice, and other grammatical errors and grammatical mistakes. So you won't just get clean copy, you'll get engaging copy, too.
I, unfortunately, have to dock a few points from this grammar checker software because the total aggregate scoring is kinda vague ("8/10" vs. "86%" in Grammarly). But the line-by-line breakdown into what you're doing well (or not so well) is great.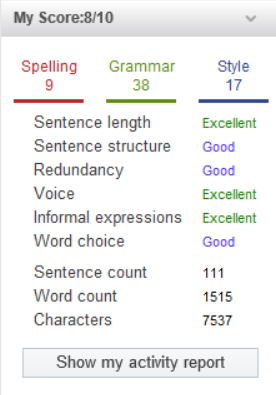 Last but not least, their total database sizes are around the same, too. (16+ billion for Grammarly, vs. 17+ billion for WhiteSmoke.)
You really can't go wrong with either grammar checker in this department. However, there needs to be one winner. So…
Winner: Grammarly
Grammarly just takes this one by the skin of their teeth.
WhiteSmoke's accuracy and database sizes are great. But I'm giving it to Grammarly because the reporting interface and sentence rephraser seem a little more detailed, and a little more user-friendly.
A close one either way!
Feature #2. Limitations & Device Usage
Grammarly app has fairly liberal free restrictions for grammar checking. Basically, you're just losing access to the sentence plagiarism checker and a few other advanced features with this grammar checker. It's like a much more functional version of MS word with better sentence structure suggestions.
You can install the Chrome extensions and desktop app and you're off to the races. Time to finally start cleaning up those error-strewn emails.

Plus, WhiteSmoke plagiarism checker tools have no free version.
So that's a Grammarly win.
Both tools will hook up with your popular writing apps like Google Docs or Microsoft Office. Personally, I'm a fan of the former, but I gave the latter a test drive and it was smooth as silk:

Browsers are covered with Google Chrome, Mozilla Firefox, Safari, Opera, and even Microsoft Edge. And they work on mobile, too.
However, the paid plans do have a few different restrictions.
With Grammarly Premium, you get access to five device connections and the following restrictions:
Monthly: 300 reviewed documents or 150,000 word
Daily: 100 documents, or 50,000 word, in 24 hours
Size: 4MB or less (for uploaded documents)
File types: MS Word documents, OpenOffice, .rtf, and .txt
So yes, you have limits. But I've never run into any of them, to be honest. And my companies check hundreds of long, long documents for spelling mistakes every month from MS word and other sources.
WhiteSmoke grammar checker allows you to use it to detect run-on sentences on unlimited devices. But they have an odd 10,000 character limit on the desktop app and in MS word docs.
That's characters, not words. So it's actually a pretty limiting restriction for people who want to check longer documents for plagiarism.
Winner: Grammarly (barely)
This is another close one. But I'm going to make the controversial call and give it to the Grammarly app.
Here's why.
Grammarly's paid limits are higher (50,000 word vs. 10,000 characters), and they have a free plan.
WhiteSmoke's unlimited devices and editing tools are enticing. And both tools have great apps.
So it's another tight one that could really go either way, depending on what you're looking for.
Feature #3. Customer Service Response
This one was not a close decision.
Both Grammarly and WhiteSmoke offer similar customer support requests and grammatical tools. But one was significantly faster than the other.
First, I tested Grammarly. I submitted a few simple questions: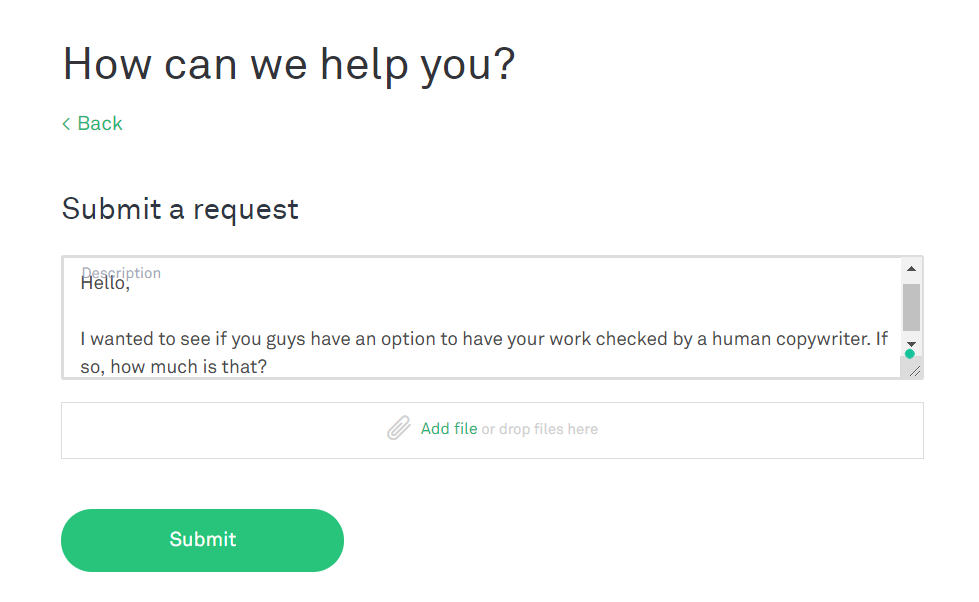 And Christine answered in about one hour. The reply was helpful, too, and not just some generic help desk link they copy and paste.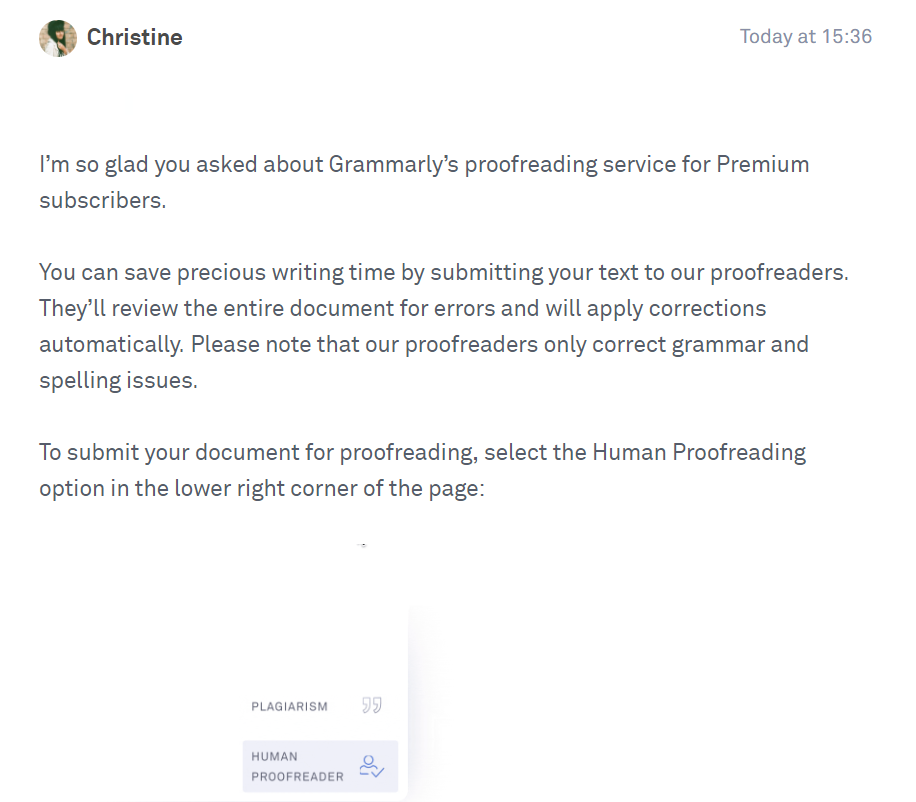 I thought that was going to be hard to beat.
But if anything could do it, it seemed like WhiteSmoke's live chat app option could.
Unfortunately, when I clicked on it, there were no online grammar checker agents available. I had to leave a message, instead.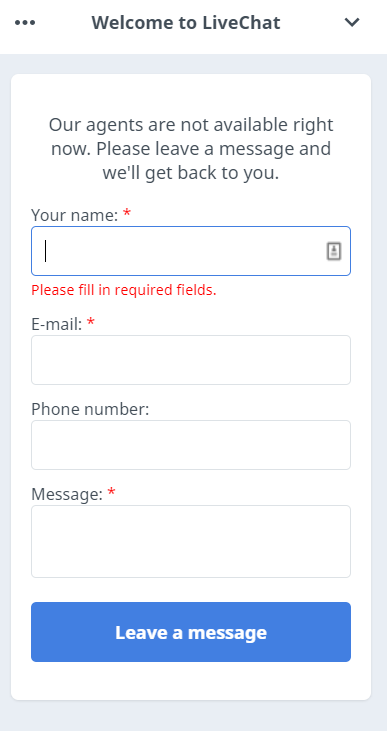 However, nothing came in after waiting a few hours. So I fired off another email question just to make sure.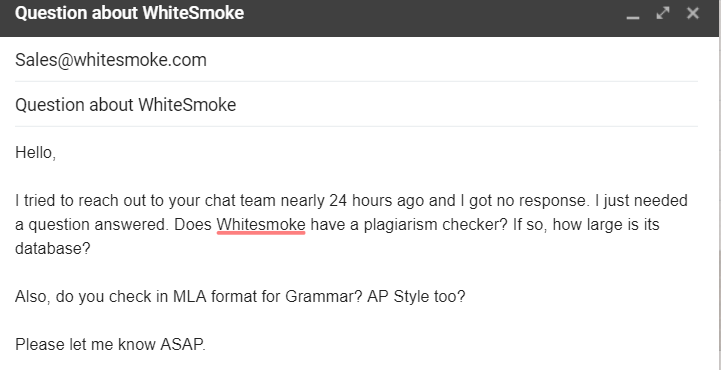 Again, another 24+ hour response. Kinda disappointing.
Winner: Grammarly
Grammarly is the clear winner here. Their customer support was top-notch, both fast and helpful. WhiteSmoke's, meanwhile, was nonexistent.
Feature #4. Multilingual
This is another easy one. Except, in reverse of the last point.
Here, Grammarly app only supports English.
While WhiteSmoke works with over 55 different languages.
Checking grammar, spelling, or plagiarism in another language is super simple. Just click on the "Translator" option, copy and paste your content like normal, set your home and foreign languages, then click "Check Text."
It couldn't be faster or easier if they tried.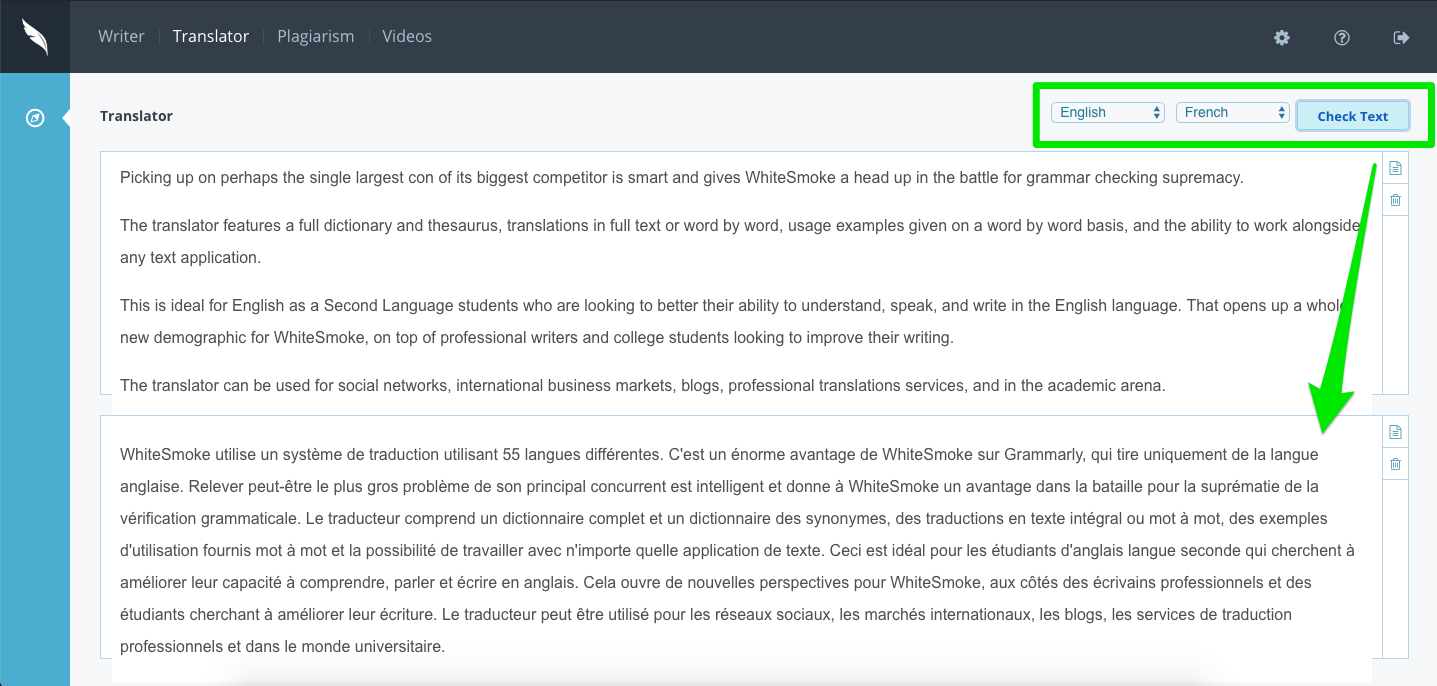 Winner: WhiteSmoke
No surprise here, right?
Grammarly is awesome for English. But only English grammatical errors.
WhiteSmoke is awesome for pretty much every other major language.
Feature #5. Costs
Last but not least, how much are these grammar checker tools gonna set you back?
Grammarly plagiarism checker and punctuation tool has a free version and is the only one with a true month-to-month option. It ain't cheap, though. I paid $29.95 per month.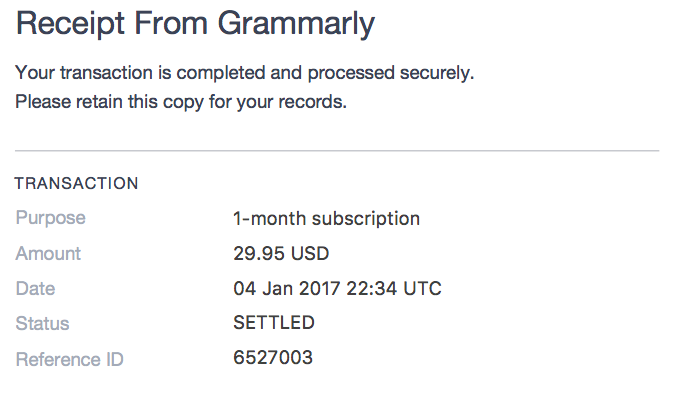 This monthly option is perfect if you want to try out the paid features of a grammar checker for a few weeks. However, you'll want to switch pretty quickly to save some money.
WhiteSmoke app, on the other hand, does NOT have a true monthly option. You'll have to pay annually to use it.
So how do the two annual plans compare?
Grammarly app's annual payment brings the cost down a lot to only $11.66/month (so $139.95 total).
But have since switched to annual billing to take advantage of the huge discount (slashing the monthly price in half to only $11.66 / month):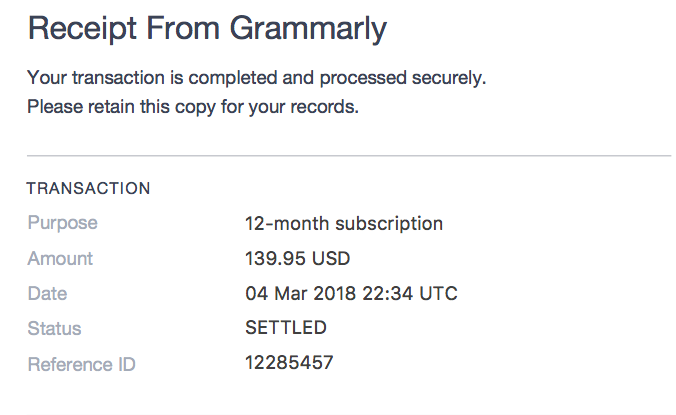 That's a pretty good deal. But not as good as WhiteSmoke.
WhiteSmoke's grammatical tools starting price is only $6.59/month: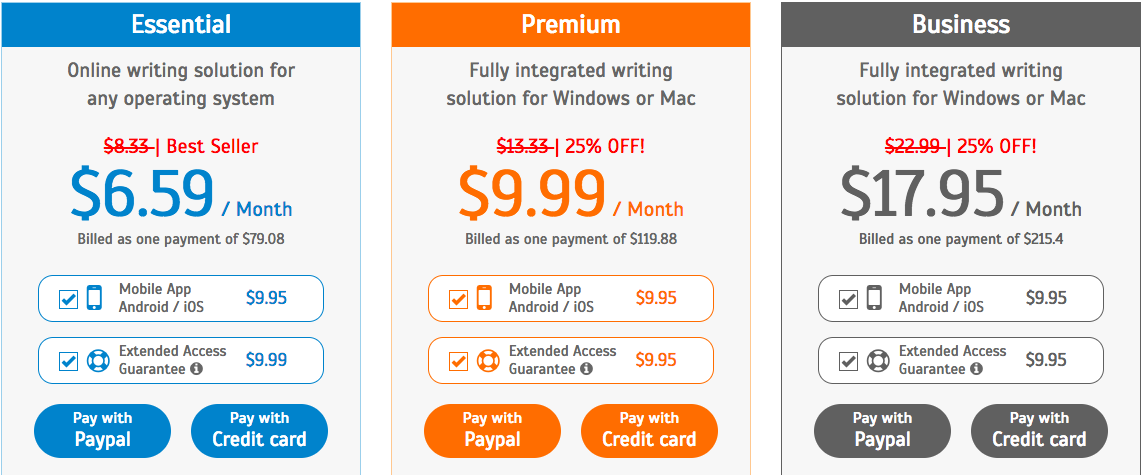 I opted for the upgrade to make sure I had full access to the app browser extension spelling and plagiarism tools for this review, and that still only cost me $9.95/month (or $119.88 total). Many Mac users would choose to do the same.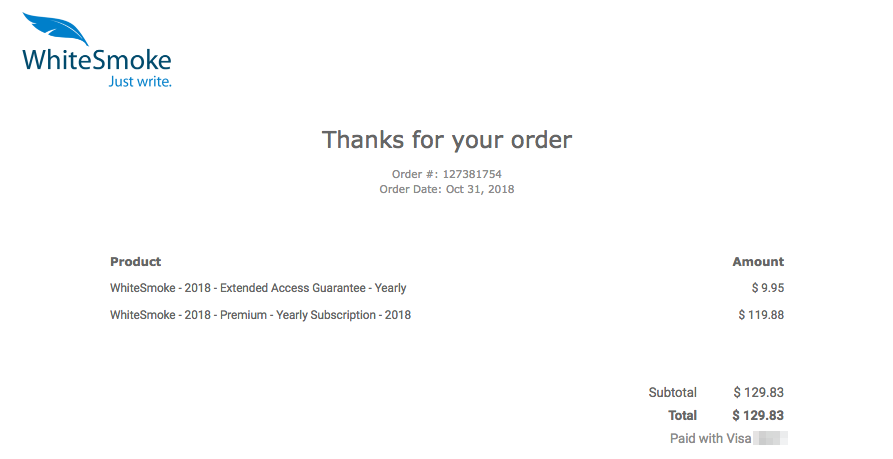 Winner: WhiteSmoke
Although WhiteSmoke app doesn't have a free plan, the paid plans are significantly cheaper than Grammarly. So they coast to an easy victory on this one.
Grammarly vs. WhiteSmoke: Which One Wins?
Both are good grammar and plagiarism app options.
However, they differ slightly in a few areas.
You should opt for Grammarly app if you're interested in accuracy and reporting for the English language, specifically with spelling and grammar. The tool is also excellent in that it allows you to create your own personal dictionary, full of words and phrases you use that aren't necessarily in the larger dictionary. Hemingway App is another complementary tool that works with all web browsers (and on ios and android) to improve your writing skills.
Otherwise, go with WhiteSmoke app if you want to check your spelling and punctuation, save a few bucks, and take advantage of the proofreading and prowriting aid Translator Tool.