Copyleaks is an impressive plagiarism checker that is designed for schools, students, and businesses. This Copyleaks review will show you exactly why.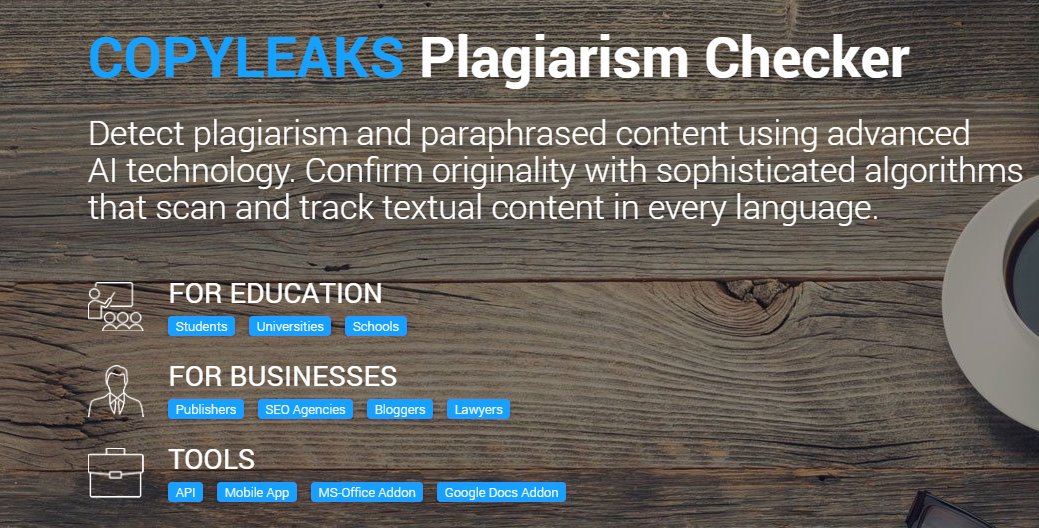 Disclosure: These reviews are reader-supported. We might earn a small commission if you purchase something through our site. Learn more
Our Verdict
It's probably ideal for organizations or educational institutions. But it might be too pricey and lack some features individual users might want. We also recommend Grammarly. While it might be on the pricey side, you can save 20% with our link. 
Grammarly
Best All-Around
$11.66
/mo – before discount
PROS
86/86% accuracy
16+ billion database
150k+ word limit
5 device limit
1-hour response
CONS
Only English
Expensive without our link
Copyleaks
Limited Features
PROS
Billions in database
Desktop, browser, and mobile
Multilingual support
Accurate plagiarism checker
CONS
No individual report exports
No grammar checker
Expensive for heavy users
Grammarly Premium Walkthrough Video
TABLE OF CONTENTS
Copyleaks Pros +
At first glance, Copyleaks' credit-based checker system of limits seems odd. But it's actually very effective and customizable.
The Copyleaks database also pulls from billions of documents around the web, so results are accurate. Plus, Copyleaks is available for a variety of devices and programs.
Here's a deep dive on all that is good about the Copyleaks checker.
1. Extensive Database (Billions)
Copyleaks employs a cloud-based system that pours through billions of websites and online databases to detect plagiarism. While they don't go into specifics, the issue is addressed on their Frequently Asked Questions page:

In speaking with their customer support department, I found out that they pull from all available public checker databases and their own internal one that features over 110,000 documents.
This is good news. Our content marketing agency produces over 300+ articles/month, so we use the best plagiarism checkers.
2. Customizable Credit-Based Pricing System
Whereas most plagiarism checkers that we've seen have hard limits for plans and pricing, the Copyleaks checker is far more customizable.
The service operates on a point-based system, where subscribers pay for a set number of points per month. Each point equates to 250 words, which Copyleaks estimates to be about one page.
Their lowest tier allows you to purchase 100 points per month, equating to 25,000 words. The maximum amount of points is 20,000, which is 5,000,000 words in a month.
It's like a pay-as-you-go plagiarism checker model. You're not stuck paying for a bunch of unused credits. So you can scale up or scale down as needed (and depending on budget).
This also makes it ideal for organizations or groups who want to pool resources and share a dedicated number of points.
3. Compatible with Desktops, Mobile, Microsoft Word, and Google Docs
Copyleaks provides plagiarism detection on both desktop and laptop computers.
It also has apps on the Android and iOS mobile platforms, making it more versatile than your average plagiarism checker.
You can even install Copyleaks plugins that will work in Microsoft Word and Google Docs.
4. Every Unicode Language Supported
One of the best plagiarism checker tools, Copyleaks supports every Unicode language. That means you can check for plagiarism in just about every language imaginable.
5. Responsive Customer Service (~4 Hour Response)
Unfortunately, Copyleaks has no live chat function, unlike lots of plagiarism detection tools.
Otherwise, they have phone, email, and contact form support.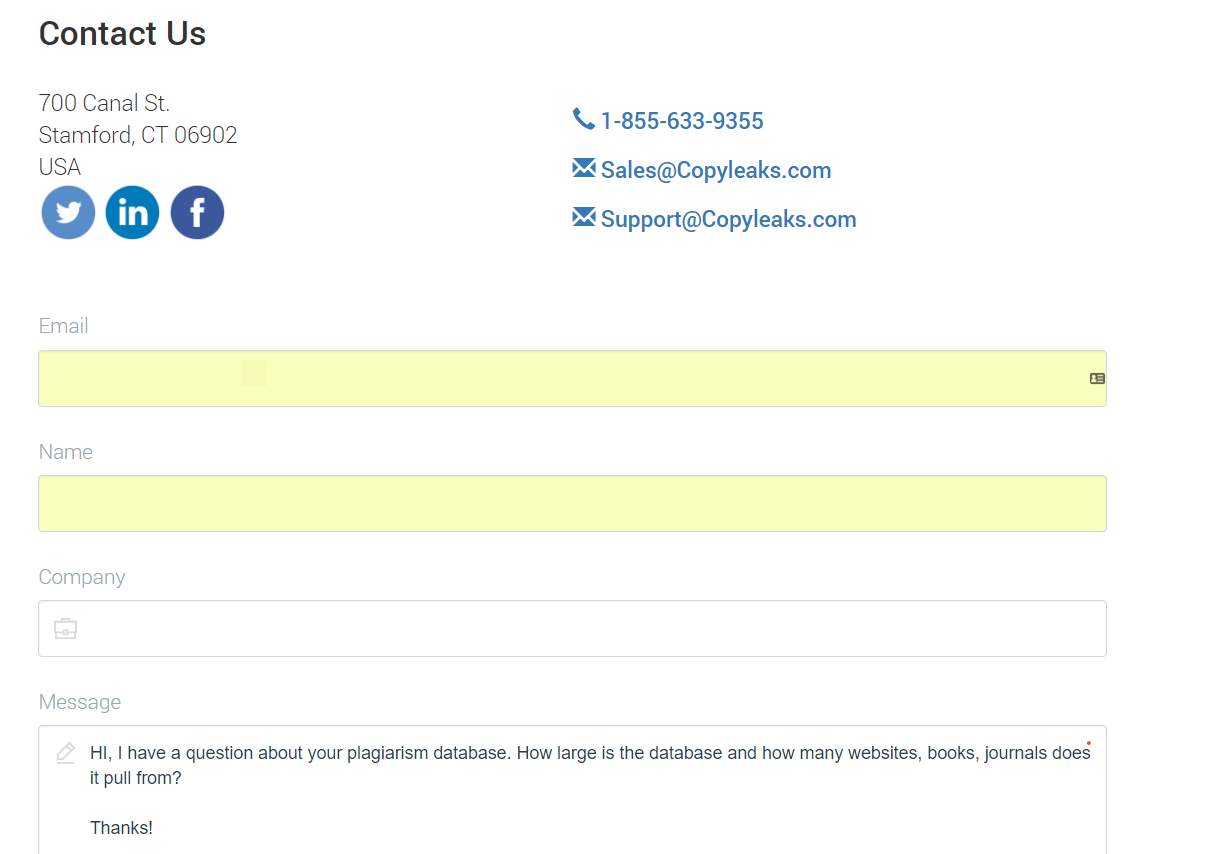 I reached out to Copyleaks through the contact form, asking about their database and its specifications.
I was initially discouraged because the confirmation screen said that I would receive a response within 48 hours.
However, Copyleaks was clearly giving themselves some wiggle room. I got an answer from them within four hours.

They responded quickly and asked if I needed anything more. If I was nit-picking, they didn't give me a straight answer on the database size (only mentioning "billions"). But overall, they were quick and helpful. Can't ask for much more than that.
6. Simple, Hands-On Test
Copyleaks was very straightforward and easy to operate, just like Grammarly plagiarism tools.
You can upload a file, enter a website URL, or copy and paste text into their form to start scanning. I chose to copy and paste: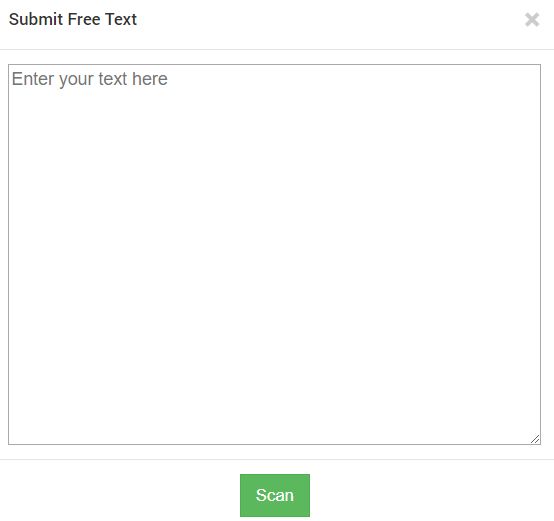 We test each plagiarism checker with a control document that is loaded with issues. For some reason, the writer we paid to produce it thought they could slide a largely-plagiarized article under our noses. Let's just say it didn't work on our text.
I uploaded our plagiarized sample article into Copyleaks and the system got right to work: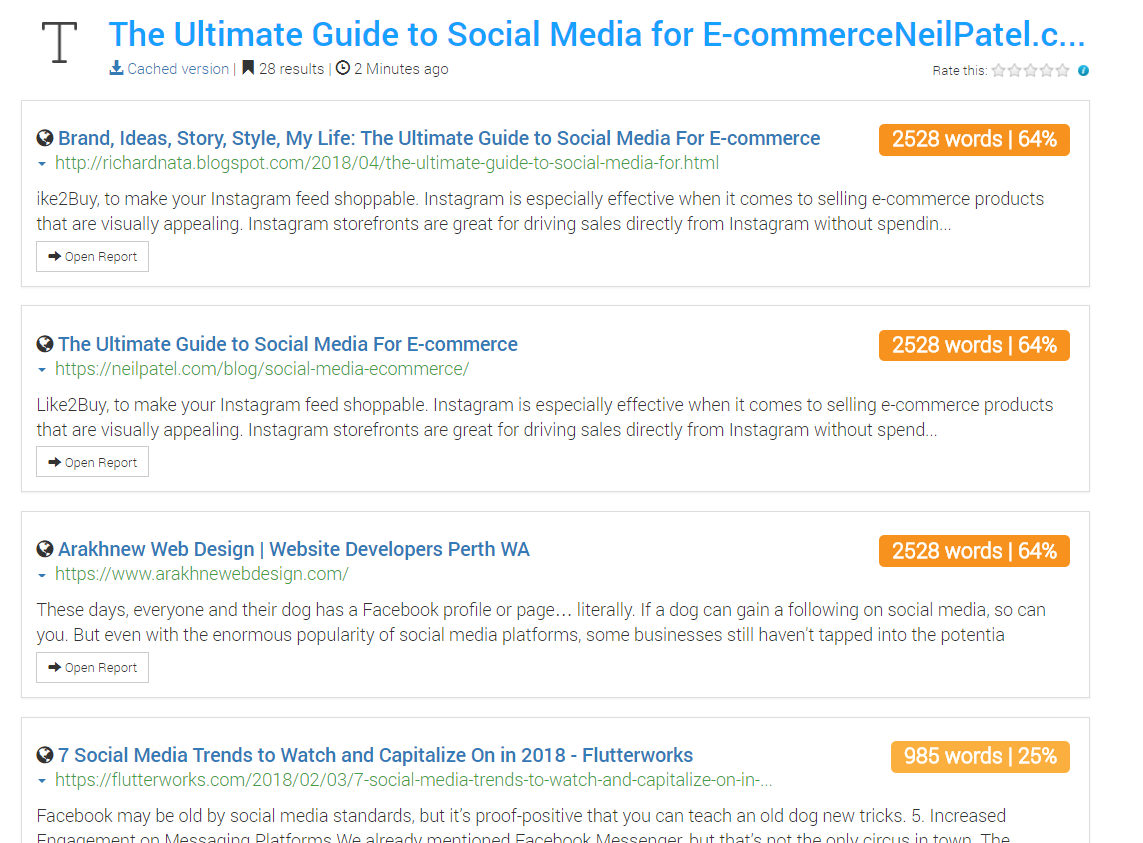 Instead of giving an overall ranking, Copyleaks gives you a number of reports from all of the different sites that have matching text.
When you click on an individual report, it gives you a breakdown of the plagiarized content. The biggest issues are highlighted in yellow: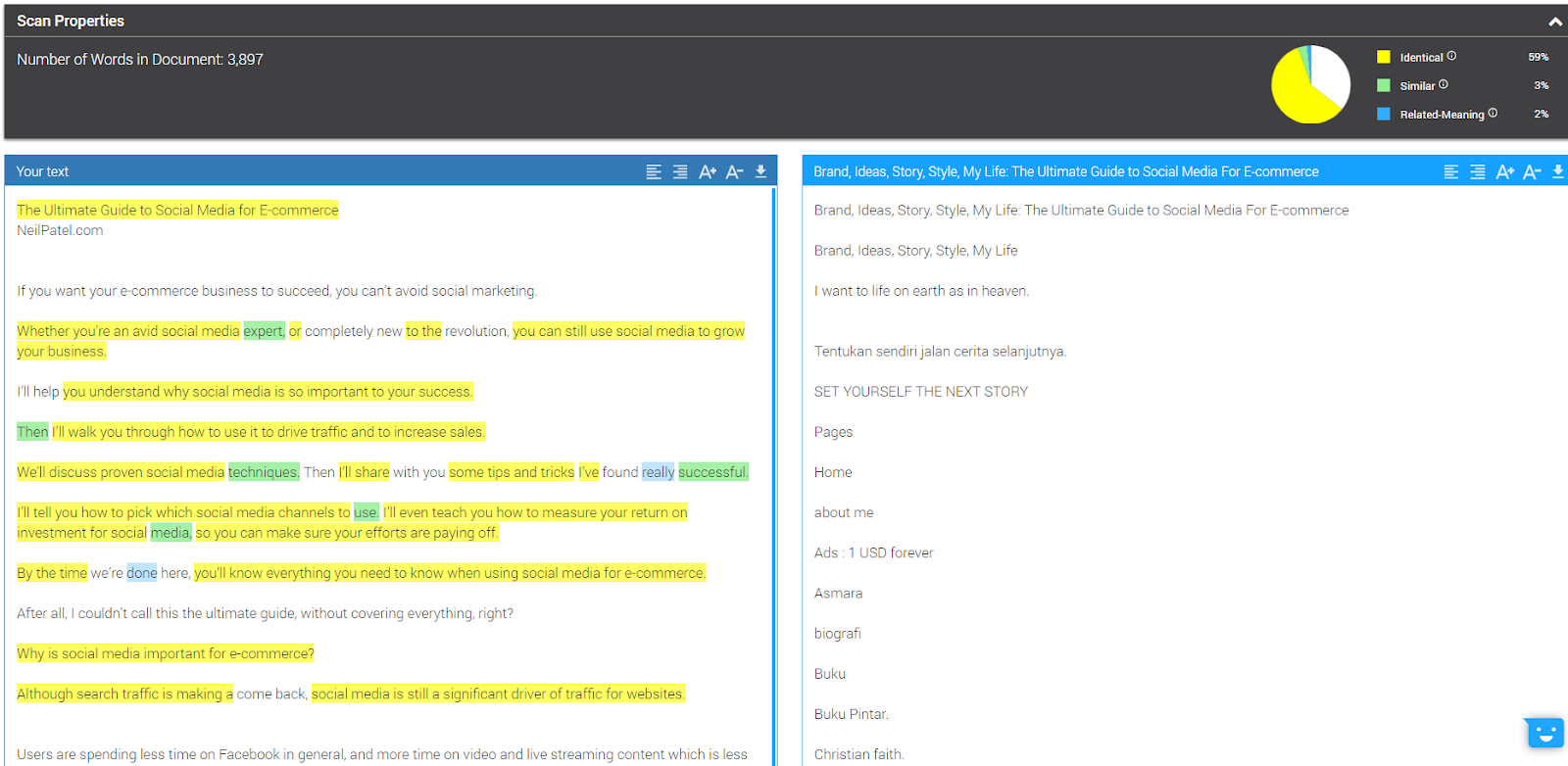 To double check text accuracy, we also uploaded a 'clean' copy to Copyleaks to make sure it wasn't just flagging a bunch of false positives.
It brought up a few potential text issues, but it was mostly just being overly cautious. Usually, anything in the ~1-2% ranges are accidental based on our experience.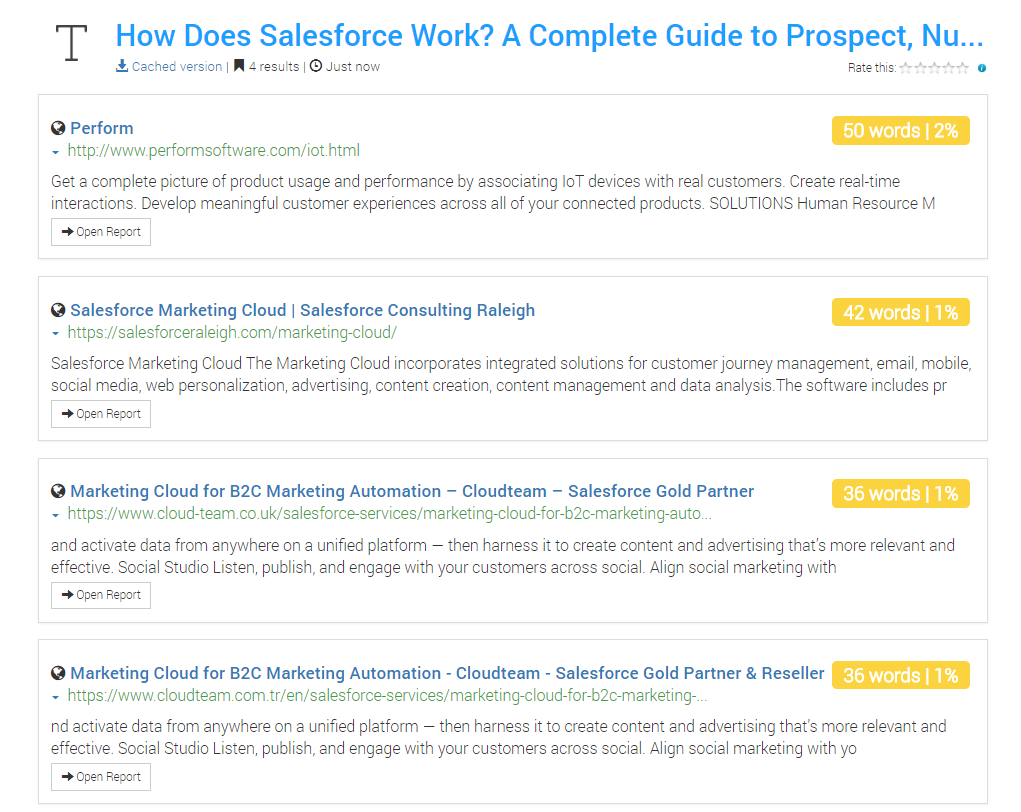 Copyleaks Cons –
Overall, Copyleaks is a strong contender.
However, no text tool is perfect. Including Copyleaks.
There were only three major areas that let us down. Here's a quick summary of each.
1. No Individual Report Exports
Copyleaks doesn't give you the ability to export a PDF of your individual reports.
That's a little surprising considering Copyleaks is popular in academia. You'd think the ability to export individual PDFs for students or based on specific plagiarism issues would help teachers keep track of results.
The lack of reporting also makes it tough to help individuals improve, too. You can't spot recurring issues or bad habits if you're not able to isolate them over several different documents.
It sounds subtle. But just like the experts from our MasterClass review can attest, it's the details that make all the difference!
2. No Grammar Checker
Copyleaks is a legit plagiarism text checker. The problem, unfortunately, is that it doesn't have a grammar checker.
If you were an individual buying this, you'd ideally want both in one tool. Otherwise, you're having to copy and paste the same content into multiple different tools.
Personally, I'm lazy. I'd rather use one tool (and even pay a little more) to kill two birds with one stone (metaphorically speaking, of course).
3. Can be Expensive
Overall, the idea of customizable, credit-based pricing is a good one.
However, when you do the math, Copyleaks ends up looking pretty expensive if you're a heavy user.
For example, one credit on the business plan equals around 250 words. So $9.99/month gives you a limit of 25,000 words. That equals around ~$120/year.
That annual pricing range puts it in the same company as Grammarly, which is our top-ranked overall in both grammar and plagiarism, despite being among the most expensive.
The reason is because Grammarly Premium's monthly limit is 150,000 words.
So with Copyleaks, you'd need to pay ~$60 each month to access the same word count! That would be twice the amount of the normal monthly payment from Grammarly, and about ~4-5 times the annual payment amount.
Overall, it ends up getting pretty expensive pretty quickly.
Plus, Grammarly comes with a built-in grammar checker and other features that Copyleaks lacks.
Copyleaks Cost, Plans, & Payment Options
Copyleaks's credit pricing system means it's super customizable.
For starters, you can choose whether to have a business or an education account. The education accounts cost a bit more but are well worth it if you're specifically looking for access to academic text databases.
On the business side, the lowest tier you can purchase is only $9.99 per month, and that comes with 100 points.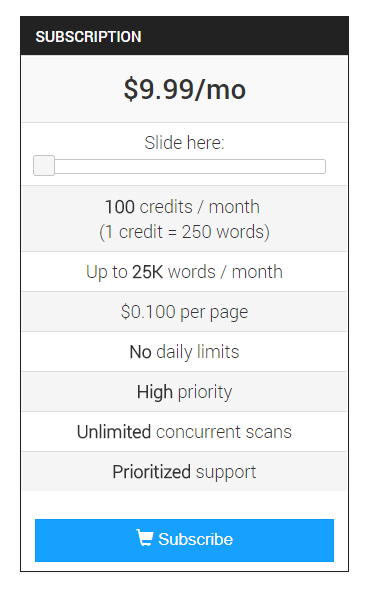 You can move the slider to the right, finding the right number of points for your business needs. The most expensive option, at 20,000 points, comes in at $1,099.99 per month.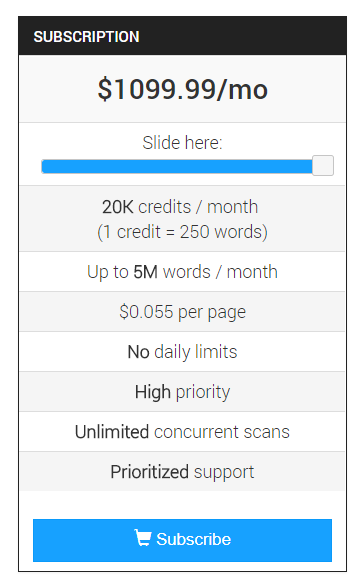 There is also a limited free trial offered to those looking to try the service out.
Copyleaks accepts all major credit and debit cards.
Do I Recommend Copyleaks?
Yes and no.
Copyleaks is a solid plagiarism checker. It has access to some academic resources that you might not otherwise find in other tools.
The customizable credit-based pricing is interesting, and probably really useful for a team of people to share resources.
However, it doesn't have a grammar checker, you can't run individual reports, and it can end up being really expensive if you're a heavy user (or users).
In that sense, it's probably ideal for organizations or educational institutions. But it might be too pricey and lack some features individual users might want.
If you're opposed to using Grammarly and don't need a grammar checker, this is one of the better alternatives on the market.