Have you ever written something for a particular audience only to have your writing fall on deaf ears? It stings a bit, doesn't it?
Just about every writer has been there.
But what if there was a trick to inspire your audience to pay attention to what you're trying to say?
There is. It's called: Grammarly's readability score.
With Grammarly's readability score, you'll have readability statistics at your fingertips. In other words, you'll know if your target audience can read your text with ease. You'll also understand what factors are affecting that reading ease, so you can course-correct as needed.
In this article, we'll take a closer look into what Grammarly's readability score means and answer some of your frequently asked questions.
We'll also give you some tips on how to turn those crickets in the audience into die-hard fans. Or at the very least, people who can understand your writing.
Disclosure: These reviews are reader-supported. We might earn a small commission if you purchase something through our site. Learn more
Grammarly
Best All-Around
$11.66
/mo – before discount
PROS
86% out of 86% accuracy
16+ billion database
150k+ word limit
5 devlice limit
Includes plagiarism
1-hour response
CONS
Only supports English
Expensive without our link
Grammarly Premium Walkthrough Video
TABLE OF CONTENTS
What is the purpose of a readability score?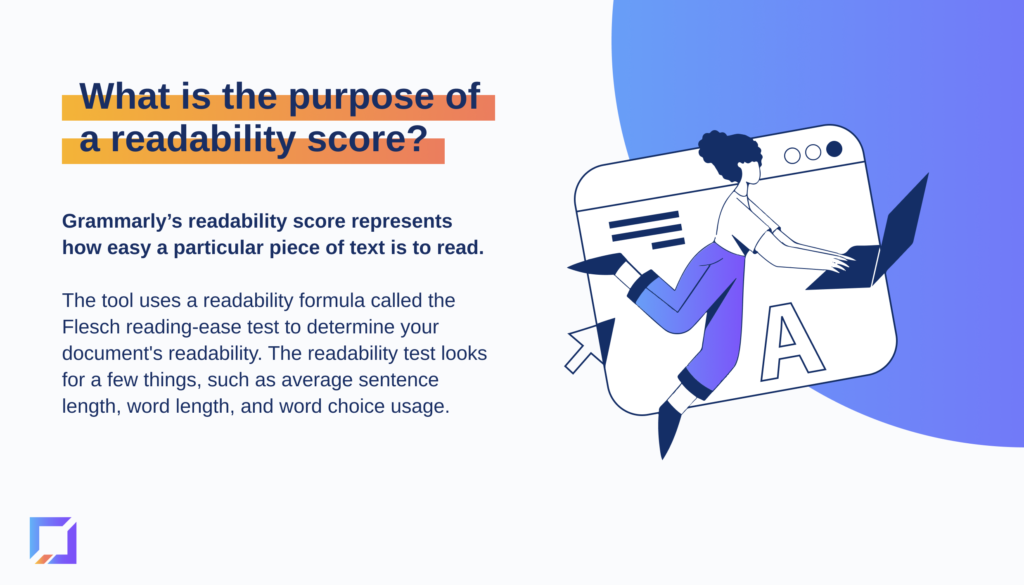 Grammarly's readability score represents how easy a particular piece of text is to read. That's why sometimes you'll hear someone refer to a readability score as a reading ease score.
The tool uses a readability formula called the Flesch reading-ease test to determine your document's readability. The readability test looks for a few things, such as average sentence length, word length, and word choice usage.
Other things can affect your readability score, too. For instance, using complex or unfamiliar words when you can use simpler words that serve the same purpose.
Why is it important to have a high readability score?
A high readability score means the right people will be able to understand your text.
Writing for novices? A high readability score can help you make sure your writing style is easy enough for everyday people to understand. Writing SEO content? A high readability score can help rank your content at the top of the search engines.
What is a good readability score on Grammarly?
Grammarly scores readability between 0 and 100. A high score means your text is easy to understand. And a low score means your text is complex or hard to understand.
As a general rule of thumb, it's best to aim for a score of 60 or higher. This way, anyone with an eighth-grade reading level will be able to read and understand your text easily.
To take a peek at Grammarly's readability checker, head to the Grammarly Editor in your browser and click 'See performance' at the top right. Then, look for the numerical score under the 'Readability' section.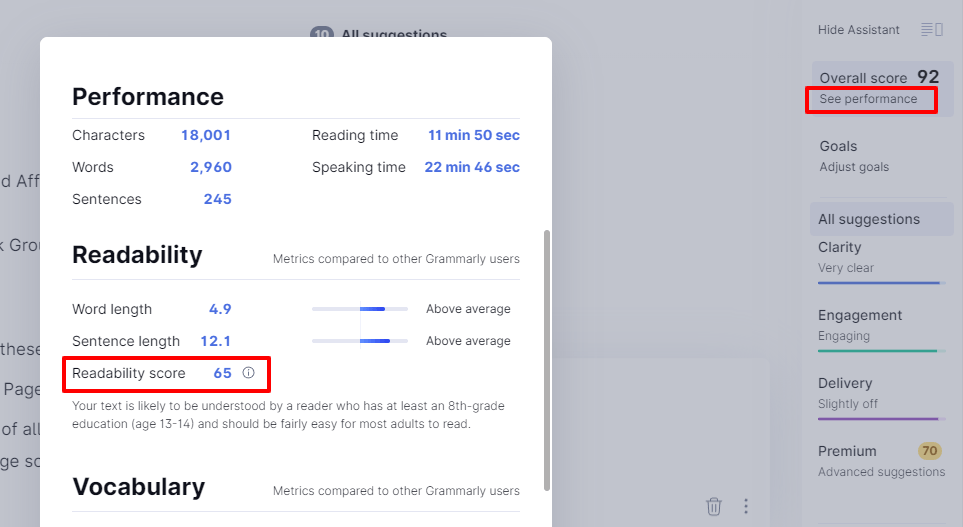 In the next two sections, we'll review what Grammarly looks for when checking readability and how to improve your readability score.
What does Grammarly look for when checking readability?
When scoring readability, Grammarly considers how much energy readers will need to expend to absorb what you're trying to say.
They do this by considering the following factors:
1. Sentence length
Lengthy sentences that could easily be cut down are a major weight on your readability score. If your text is chock full of long or run-on sentences, expect a lower score.
2. Too many complex, long, or overused words
Grammarly doesn't frown on big or complex words. But it does frown on having too many complex, long, or overused words. In other words, word choice and word length are significant factors at play.
3. Fluff
Grammarly's team doesn't outright say that Grammarly measures fluff. But they do say that the writing tool offers ways to tighten your writing and improve your vocabulary — both of which affect your readability score.
4. Clarity
It makes sense that how clear your writing is, directly affects your readability score, right? Need we say more?
5. Poor formatting
When a document is littered with large paragraphs, poor spacing, and poor formatting, readers can easily get lost. In this case, you'll have a lower readability score.
How to improve your readability score on Grammarly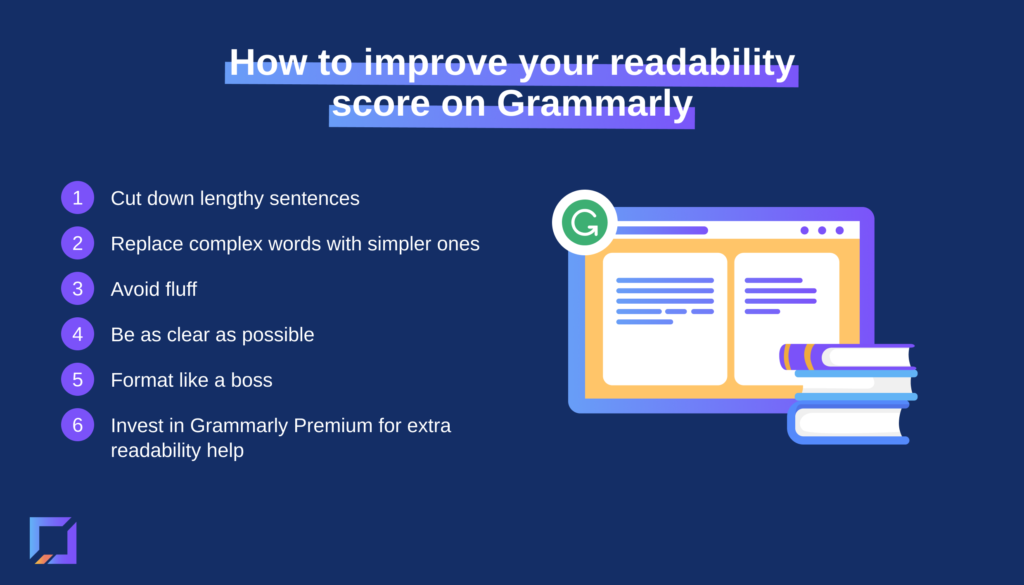 Here are six easy ways to boost your readability score on Grammarly:
1. Cut down lengthy sentences
Cut down any sentences that have 25+ words into two or more clear sentences. Or, head to the Hemingway app and shorten all sentences in your text that are flagged red. Simply copy your text and paste it into the app to see what we mean.
2. Replace complex words with simpler ones
Replace any word in your text that could be considered complex with a simpler synonym.
In other words, don't use 'preposterous' when you can use 'ridiculous'. And don't write 'make a purchase' when you can write 'buy'. Think simpler. Sound less smart.
If you have Grammarly Premium, Grammarly will flag poor word choices and offer other suggestions to use instead.
3. Avoid fluff
Avoid fluff by using as few words as possible to describe or say something. For instance, don't say 'you can use this new software feature to keep a closer eye on your team's schedule'. Instead, try 'stay ahead of your team's schedule with this new feature'.
4. Be as clear as possible
Piggybacking on the previous point, don't beat around the bush when you're writing. Ensure all sentences and ideas are clear and easy to understand. So instead of 'the lowest aperture on this lens is 1.2' try 'you'll get a crisper photo with this lens'.
5. Format like a boss
Keep paragraphs to three or four lines, use headers to identify sections, and use images and lists to break apart text when possible.
6. Invest in Grammarly Premium for extra readability help
If these readability tips sound overwhelming, or if you'd like additional readability support, we can't say enough about Grammarly Premium.
With Grammarly Premium, you'll still have access to every readability tool in the free version. But you'll also have access to loads of other readability features, such as:
Word choice suggestions
Advanced writing suggestions
Formality level suggestions
Formatting suggestions
Clarity-focused sentence rewrites
Tone suggestions
Engagement suggestions
If you want to give premium a try, use our 20% discount to get 20% off your initial membership as a gift from us.
Conclusion
Writing something only to have it fall on deaf ears is a major buzzkill.
If you're going to spend time writing something, why not write something your audience can actually read and understand?
Grammarly's readability features are revolutionary tools you can use to do just that.
With Grammarly's readability score, you don't have to guess how legible your writing is or who can understand it. Instead, you'll know exactly who'll be able to read your text and how to improve your writing.
Win-win.
Oh, and here's that Grammarly discount again, for good measure.