Like it or not, the way you write is judged by other people.
Written words lack tone, so a lot of the weight we give them comes down to the phrasing.
Bosses, clients, and coworkers don't just read our words. They read into them. Poor grammar can be seen as a sign of laziness or lack of authority.
And it's not just at work. Grammatical errors can affect your personal emails, your posts on social media, even that crucial profile one-liner on Tinder.
Thankfully, you now have Grammarly.
Grammarly is a free app (with a worthwhile paid version) that can help you sound smarter, and over time, can even make you a better writer.
This article will show you how to use Grammarly to clean up both your business and personal writing.
All it takes is a simple login and a few minutes of editing with Grammarly.
Here's how.
Disclosure: These reviews are reader-supported. We might earn a small commission if you purchase something through our site. Learn more
Our Verdict
Grammarly is very user-friendly. We've purchased and tested over a dozen grammar and plagiarism checkers, and Grammarly wins out for accuracy and quality – while still being easy to use.
Grammarly
Best All-Around
$11.66
/mo – before discount
PROS
86% out of 86% accuracy
16+ billion database
150k+ word limit
5 devlice limit
Includes plagiarism
1-hour response
CONS
Only supports English
Expensive without our link
Grammarly Premium Walkthrough Video
TABLE OF CONTENTS
How Does Grammarly Work?
Grammarly is a simple piece of software that works kind of like Google Docs or Microsoft Word. If you've ever typed a document and used a spell checker, you already know how to use Grammarly.
As you write your text, the software automatically detects spelling, punctuation, word choice, and style mistakes in your writing. It's like a writing expert looking over your shoulder and proofreading while you write (without all the forboding judgment).
For ten years now, the company has been working to create algorithms that flag grammatical errors in your writing. If you've never used Grammarly before, the good news is that now it's better than ever.
They will help you better understand all those common grammatical mistakes: possessive pronouns, dangling modifiers, split infinitives, sentence fragments, passive voice, run-on sentences, and much more. It even doubles as a plagiarism checker tool to make sure you haven't accidentally copied another writer's work.
Note: our full Grammarly review will go over the complete list of features if you want to know more about what it can do.
Perhaps the best feature of all is that Grammarly explains the reasoning behind each correction, so you make the final choice whether to correct or not. Over time, this makes you a better writer by default.
Getting Started with Grammarly
The first step is to visit Grammarly and create a free account. It takes less than two minutes, and you're ready to start editing. You can use your Facebook or Google logins to make it easier or sign up via email.
Note: you will need an account to use the Grammarly app, and that's a good thing. Grammarly will store all your past edited pieces for you, all inside your login.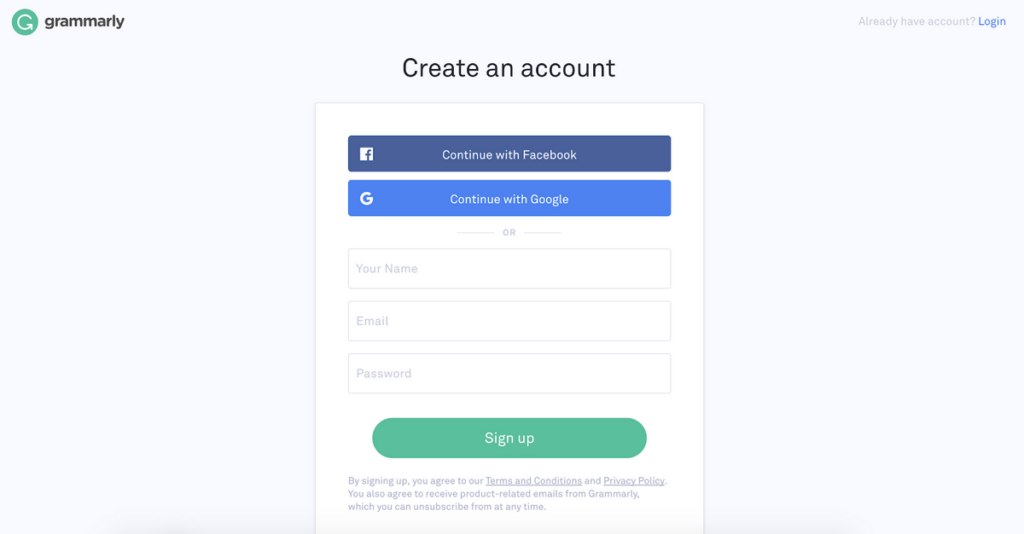 The first time you log in, you will see a fairly blank screen which looks like this: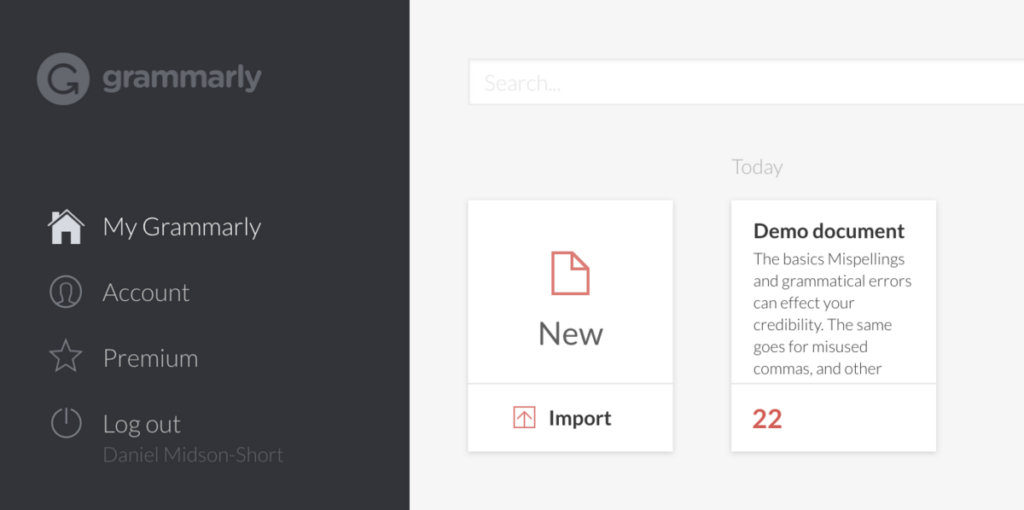 You'll notice over on the left that Grammarly offers a Premium version (we discuss the costs and benefits of Grammarly Premium in detail in this article). But for now, just check out the free version, as it's a fairly robust tool in itself.
How to Use Grammarly Desktop App and Browser Extension
Once you have an account, Grammarly gives you even more ways to access the tools. Instead of only using it online, there are several ways to install Grammarly on your desktop and into your web browser.

The Grammarly App and Chrome Extension (both free) are great ways to use Grammarly.
The Grammarly desktop app (for both MacOs and PC) gives you a standalone version of the tool (which is great for Mac users who can't yet access it through Microsoft Word or Microsoft Office) and also cuts down on distractions.
You can also access the same tools and functionality directly in a browser (chrome, firefox, safari, edge) by visiting Grammarly.
The Browser Extension brings a lot (but not all) of the functionality of Grammarly onto almost every part of the web: Gmail, Facebook, Youtube, Google Docs, etc.
Especially for grammatical errors on your social media posts, the Grammarly browser extension is a great tool to have.
Similar to a spell checker tool that you've probably seen before, it's a correct-as-you-go tool. The browser extension app can be useful if you like to edit as you work. If you prefer to do all your editing at the end, it can sometimes prove distracting.
Since both tools are free, it's worth trying them out and seeing which you prefer.
How to Use Grammarly for Proofreading
The first time you open Grammarly and log in, you won't have any documents of your own. Just a sample document that shows you how Grammarly works.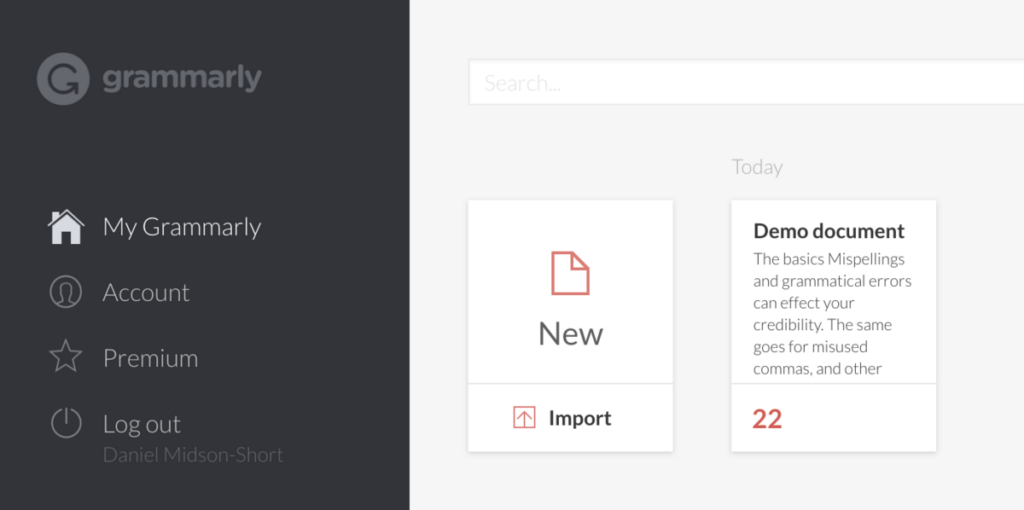 It's definitely worth taking a few minutes to click on this sample document as it will give you a guided tour of the Grammarly app and most of the features.
When you're ready to start editing your own written work in Grammarly, there are three different ways to do it:
Option 1 – Write directly in Grammarly (web-based or Native app). The app will keep offering suggestions as you go.
Option 2 – Copy and Paste your work. If you have formatting such as headings, hyperlinks, or bolded, underlined, italics, etc. it will all be retained in Grammarly.
Option 3 – Upload a word document. All formatting will also be retained in Grammarly.
Note that at this stage, only Microsoft Word documents can be uploaded into Grammarly. However, using the Chrome Extension in Google Docs is a workaround if you prefer Google's suite over Microsoft Office tools.
Grammarly Will Help you 'Set Goals' For Better Writing
When you begin to type (or paste or upload a document) into Grammarly, you will immediately be faced with a pop-up screen suggesting for you to set some 'goals' for your piece.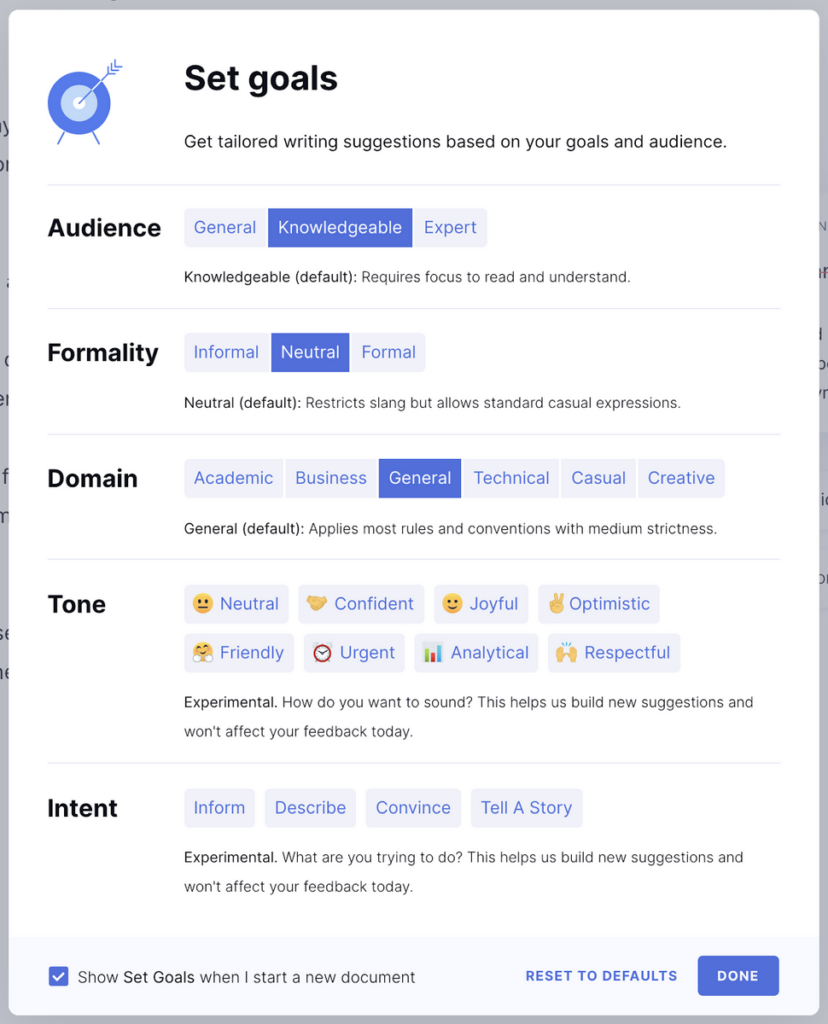 This is a relatively new feature and allows Grammarly to enhance the piece further. These goals can include:
– Audience – who are the people you're writing for?
– Formality – do you need to sound more formal or more neutral?
– Domain – what kind of writing do you want (e.g., technical, business, casual, etc.)
– Tone – helps you sound more confident, friendly, analytical, urgent, respectful, etc
– Intent – do you want to inform, describe, convince, or tell a story?
Note: some features such as Academic writing are only available with a Premium subscription.
You can also turn off this feature at the start or reset it during each review by clicking Adjust Goals over on the right side of the screen.
How the Grammarly Editing Process Works
Once you have pasted or uploaded your document into Grammarly, you will see the algorithm begin to go to work.
Depending upon the length of the piece, this will usually take 10-30 seconds of proofreading before it starts returning suggestions and an overall score.
Grammarly corrects over 150 grammar errors, and it will begin to show you a working list of:
spelling errors
punctuation errors
poor sentence structure
run-on sentences
passive voice errors
wordy sentences
lots more grammatical mistakes you even didn't know existed
Don't be overwhelmed the first time you open Grammarly as it's a lot to take in. Luckily the app interface is extremely user-friendly and guides you through correcting your grammar sins.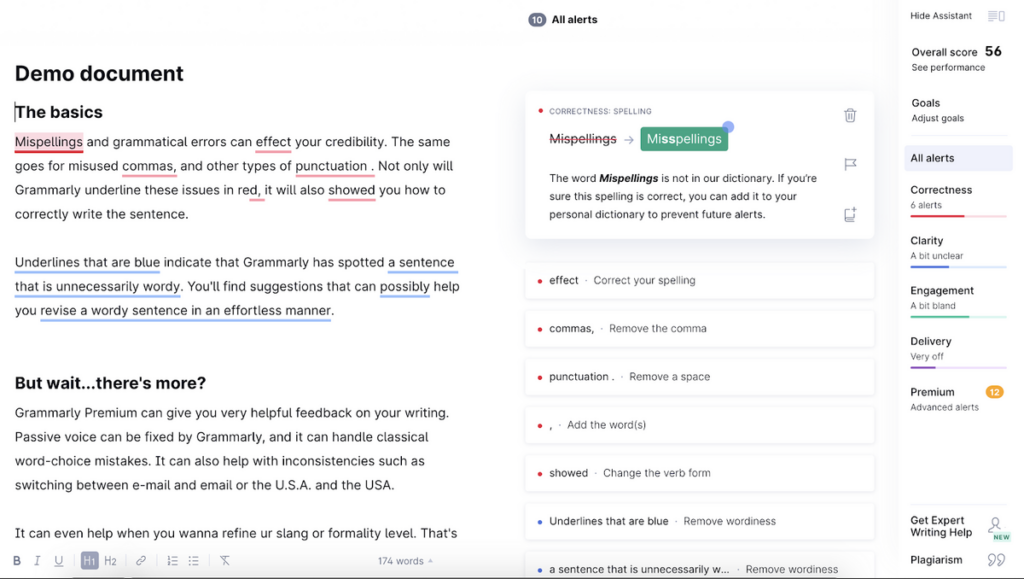 On the left side of the screen will be your original document. In the middle are the suggested edits (complete with explanations). And over on the right is the overall performance score.
Down the bottom of the screen, you'll also see editing tools and, on the far right, some extra features such as expert writing help and a plagiarism checker.
Using Grammarly Suggestions and Explanations
Probably the coolest part of the Grammarly tool is that it makes you a better writer by teaching you, rather than just correcting you.
Each suggestion it gives you also has an explanation underneath that helps you understand how to improve the piece.

As you edit more of your writing in Grammarly, you will notice that you have the same bad writing habits cropping up time and again.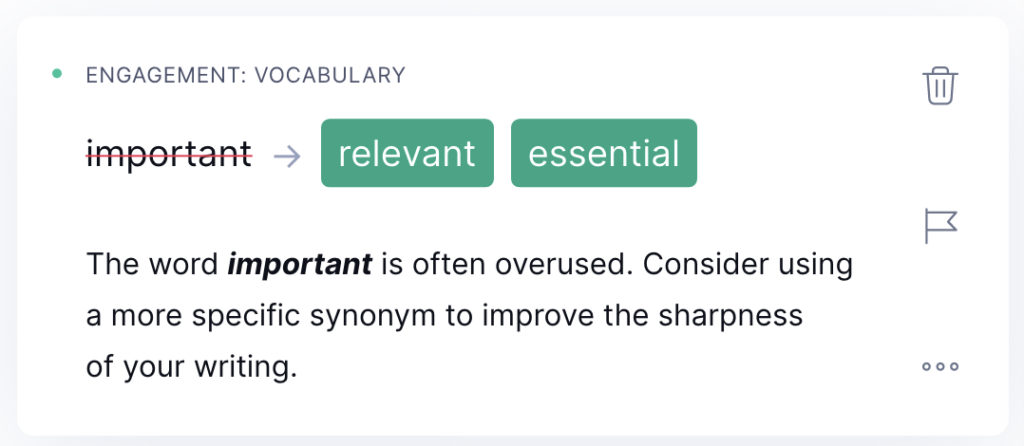 In some instances, you might even choose to ignore the suggestion and keep an original word or phrase. To do this, simply click the small trash can icon in the top right of the screen.
How Does Grammarly Performance Score Work?
As you work through each of the suggestions, Grammarly will increase your overall performance score.
This is a metric that Grammarly derives by comparing your writing to documents written by other Grammarly users with the same goals.
If you click on the performance number at the top right of the screen, you will get an in-depth review of the written content.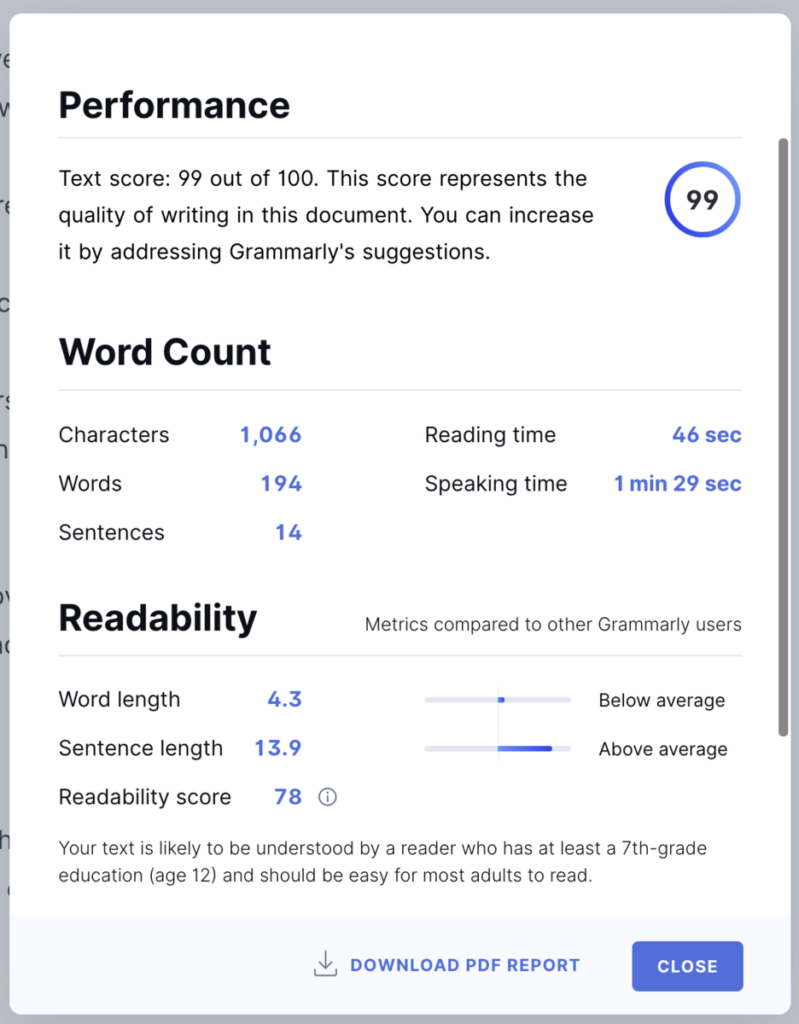 Alongside an overall score, the other two factors that Grammarly measures are:
Readability – includes word length, sentence length, and an overall score based on Flesch reading-ease test.
Vocabulary – includes unique words and rare words.
What is a good overall Grammarly score?
As a rule, anything over 92 is a good measure of accuracy; however, if you follow most of Grammarly's suggestions, you will find yourself scoring in the high 90s quite often.
Grammarly Free Vs. Grammarly Premium
There's no doubt that the free version of Grammarly does some great basic things. In our full Grammarly review we cover even more of the basic grammar checking tools available.
Using the free version for a few weeks, and you'll be sounding more coherent, concise, and correct in your writing.
However, one thing you will notice is that every time you use the free version, you get a notification over on the right once all the suggested edits are complete.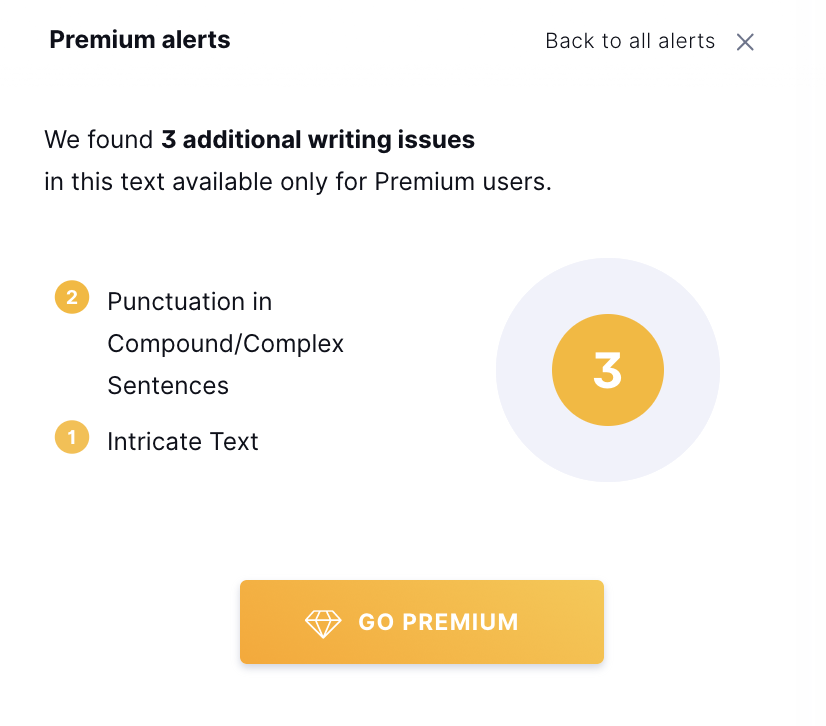 Once you've spent a few weeks or months using the free version of the app, it's likely you'll be tempted to try out the premium version. The costs for Grammarly Premium aren't exorbitant, and you can even do a 7-day trial, so it's well worth sampling.
What Does Grammarly Premium Do Better Than the Free Version?
You can think of Grammarly Premium as a little like a hands-on writing coach. The tool goes further into each piece and adds depth and nuance to your writing, and improves readability.
Some of the extra suggestions you receive as part of the Grammarly Premium tool are:
Readability – looking at the length of sentences, and the individual words in each sentence.
Vocabulary – the tool will also offer alternative words that can add flourish and variety.
Plagiarism – an in-built plagiarism checker tool will check your work against over 16 billion web pages and look for potential matches that could be considered plagiarism. This tool alone might be worth the price, as it ranks number one on our list of plagiarism checkers.
Writing Style / Tone – the tool will also offer additional suggestions for clearer writing, removing passive voice, and more.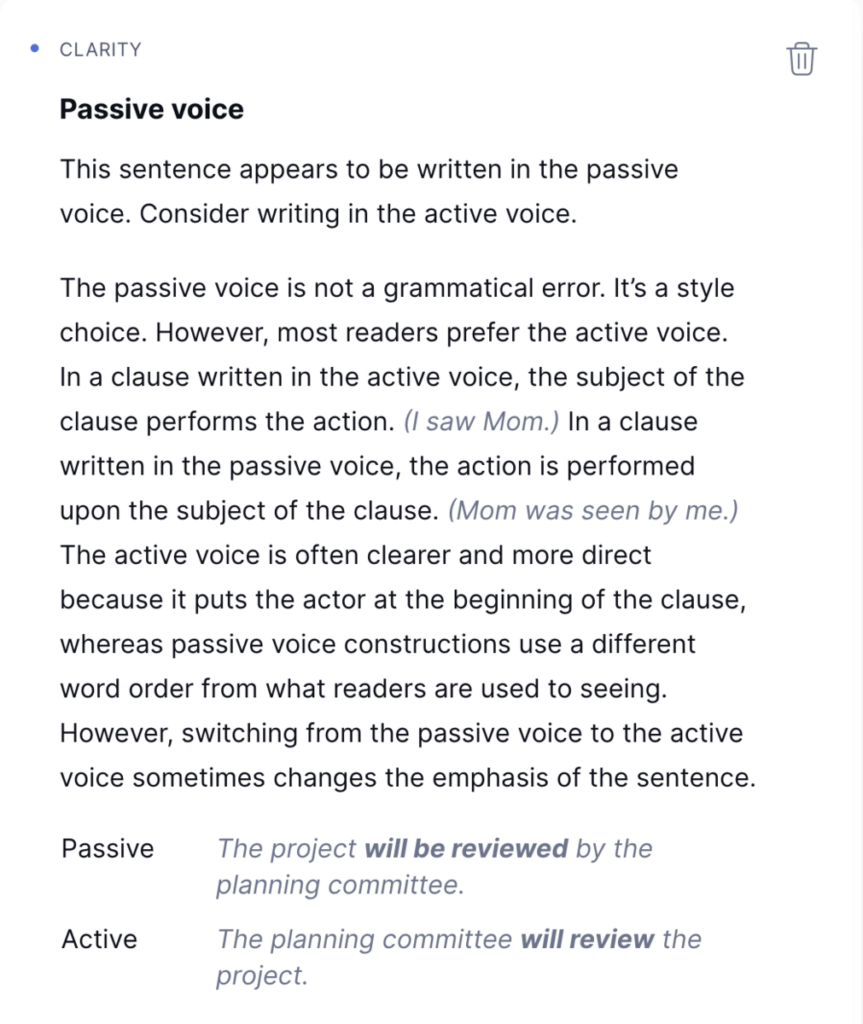 Nothing to Lose, Lots to Learn
If you're considering trying out Grammarly to improve your writing, there's not much more to say.
Take it for a spin and see how much it helps you. Perhaps the easiest way to start is with the Chrome Extension as it will give you tips as you write.
Or, if you prefer to edit after you write, then try the free version of Grammarly Desktop app or web-based app.
There's a reason that Grammarly has been around for over ten years. It's free to start, and will instantly make a difference to your writing.