Grammarly is at or near the top of the grammar checker game.
But, that doesn't mean it's perfect.
Or even the one you should definitely use.
It has a few drawbacks. And there are other options out, like ProWritingAid, that are as good or better than Grammarly in certain areas.

Our content marketing agency produces over 300+ articles/month, so we use these tools on a daily basis.
If your job involves writing a lot, it's worth investing in an online grammar software or punctuation checker to make your editing smoother. Aside from grammar mistakes, punctuation errors are a plague, too.
Disclosure: These reviews are reader-supported. We might earn a small commission if you purchase something through our site. Learn more
Our Verdict
Grammarly is the best all-around grammar and plagiarism checker. But ProWritingAid is an excellent alternative for grammar checking (and it's a little cheaper, too).
ProWritingAid vs. Grammarly: Head-to-Head Comparison
Grammarly
Best All-Around
$11.66
/mo – before discount
PROS
86% out of 86% accuracy
16+ billion database
150k+ word limit
5 device limit
Includes plagiarism
1 hour response
CONS
Only supports English
More expensive ($11.66/mo)
ProWritingAid
Best Budget
$4.16
mo – before discount
PROS
62%, 73%, 52% accuracy
Millions+ database
Scrivener compatible
CONS
Inaccurate Plagiarism
Only English
24+ hour support response
Grammarly Premium Walkthrough Video
TABLE OF CONTENTS
Feature #1. Editing Accuracy & Proofreading Database
It's tough to find a specific number for the size of ProWritingAid's database. The most I got was somewhere in the "millions."
That sounds nice on paper, but can it compare to Grammarly's 16-billion large?
It seems to for grammar. Upload a doc or enter your copy into the grammar checker, and you'll get a complete breakdown of scores across Grammar, Spelling, Style, and an Overall.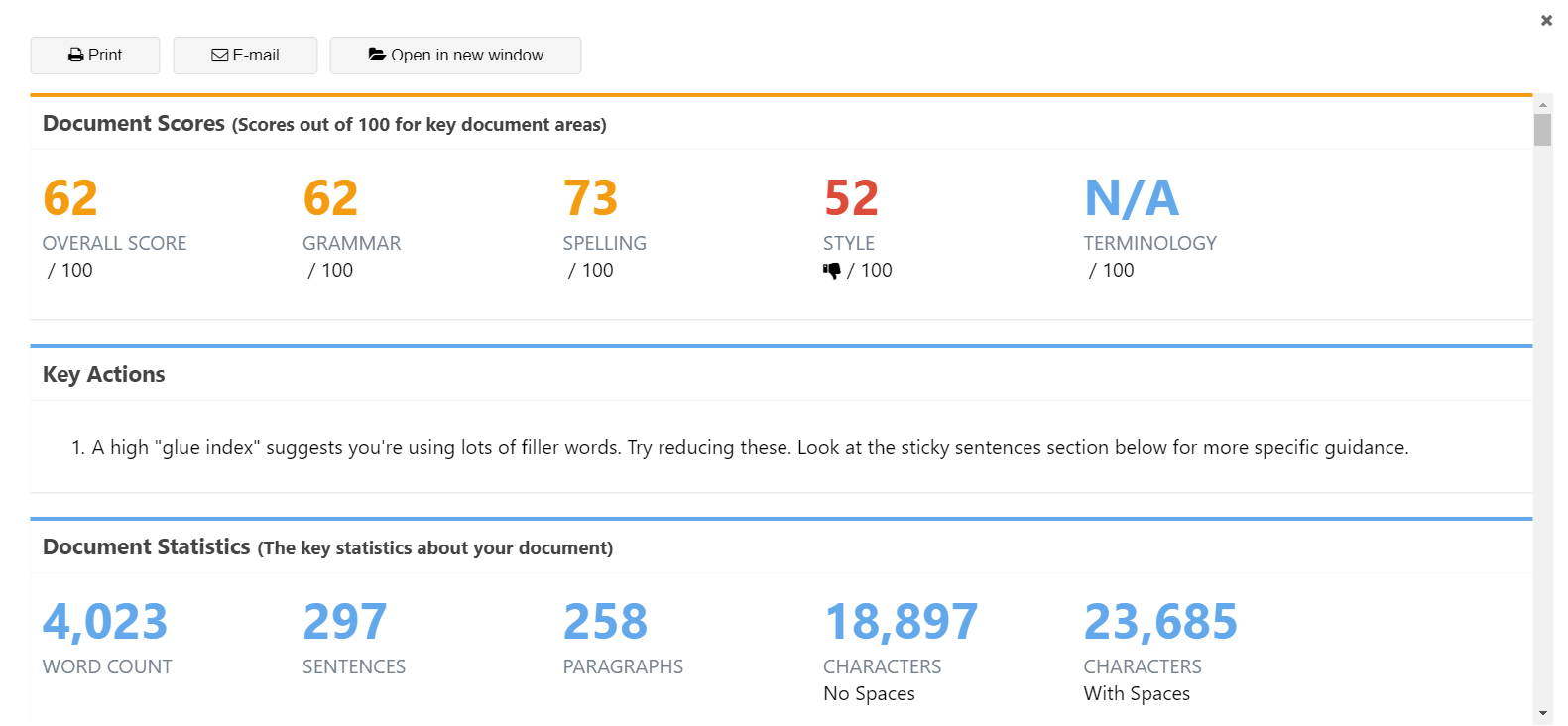 This is a little different than Grammarly's all-in-on score, so it's tough to compare apples to apples. But both seem excellent based on my tests.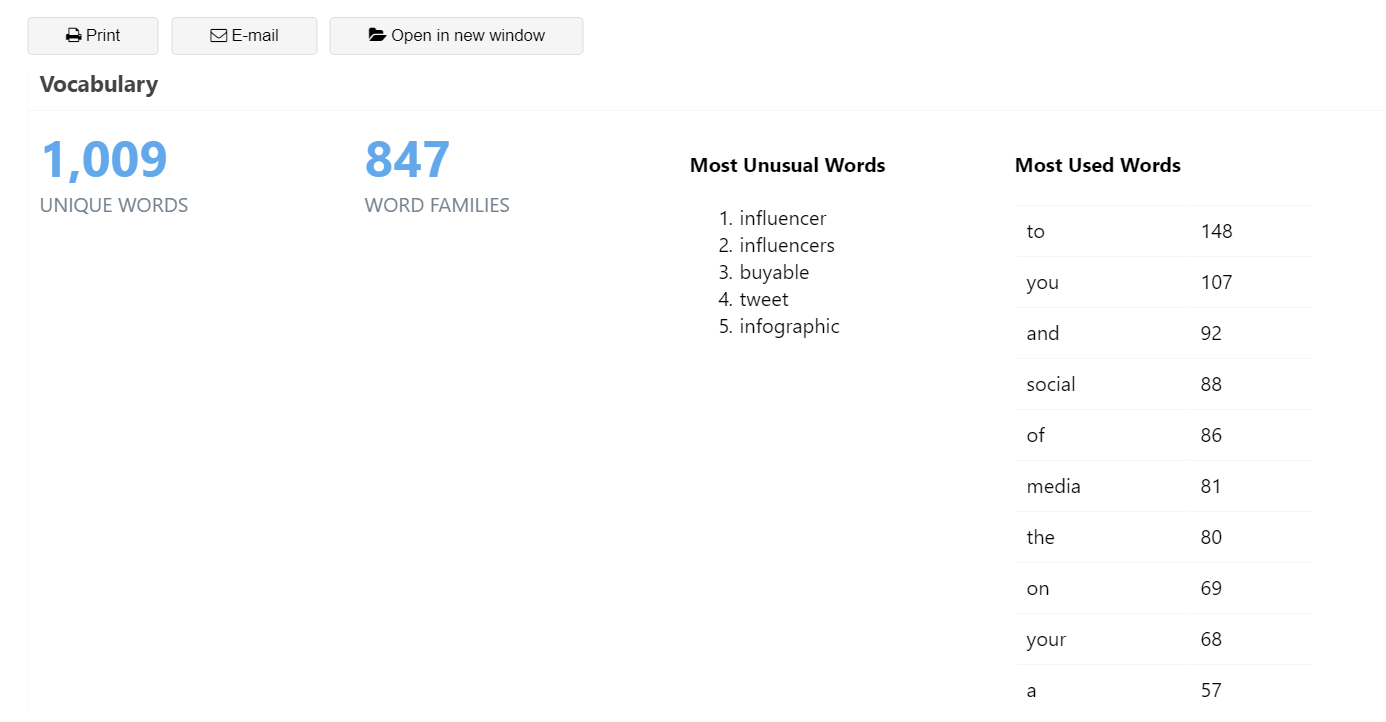 For example, the Vocabulary option will break down unusual words you use, along with the most used (or overused ones) to watch out for.
I also loved the Flesh-Kincaid analysis to help figure out where your readability stacks up across several different markers: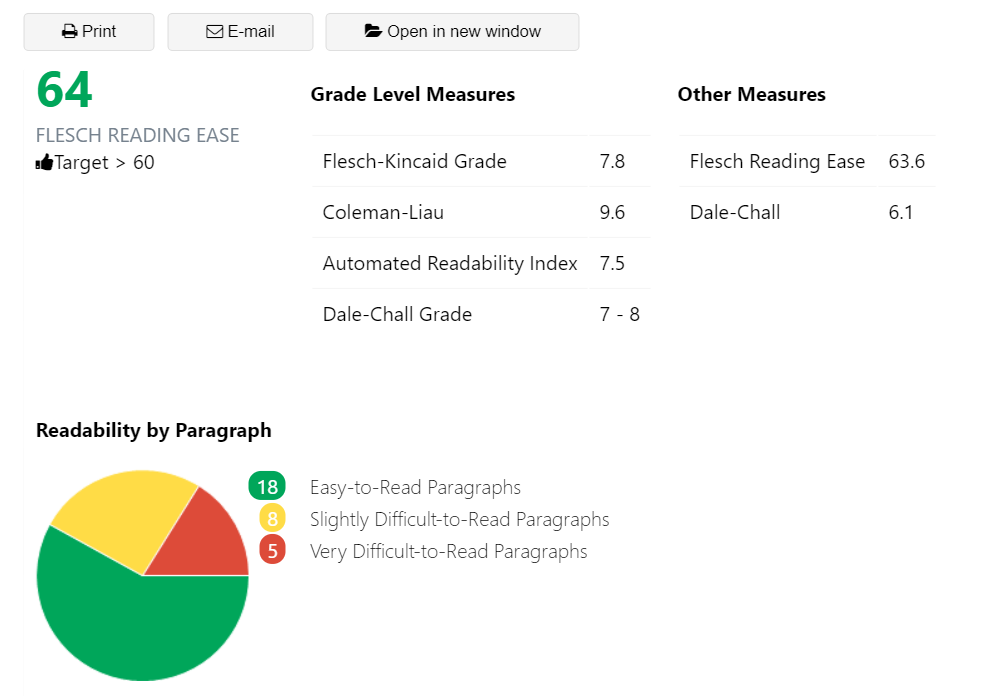 Plus, the Writing Style report gave insight into those common writing mistakes, like passive voice, which plagues us all.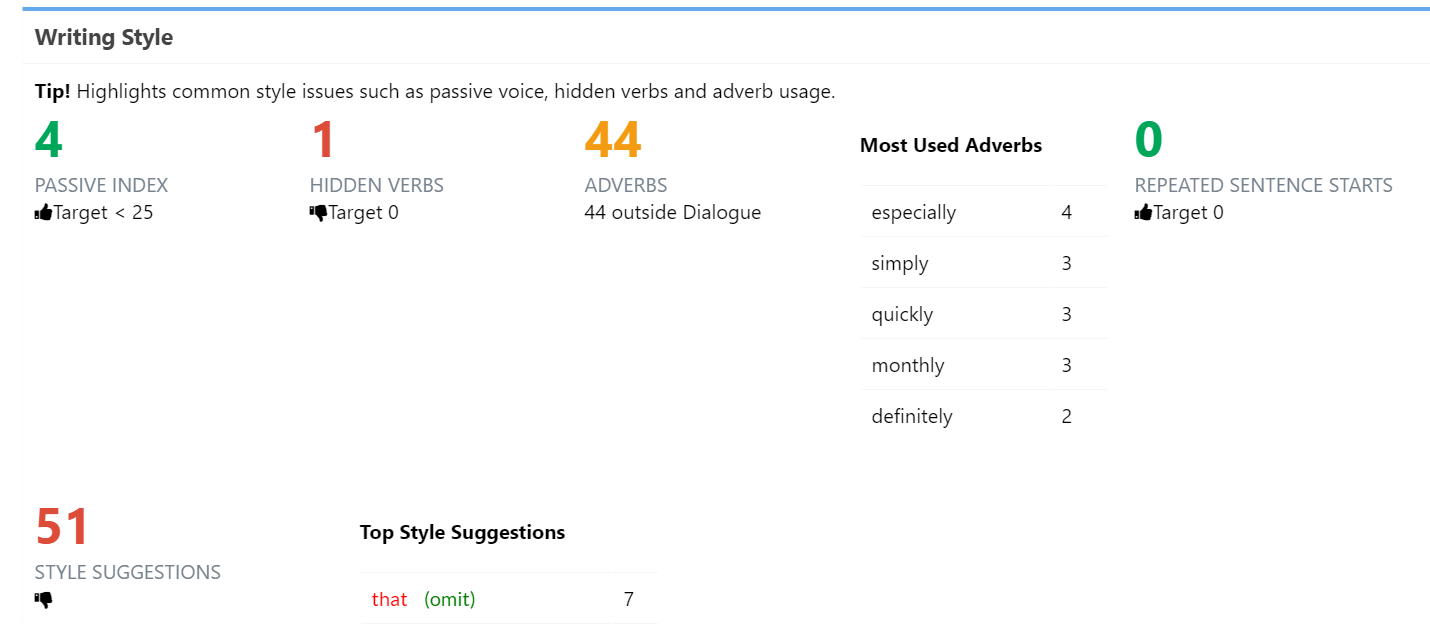 Grammarly's editor, meanwhile, gives you an overall rank or score based on comparisons across all the other content they check.

And then they also separate out different sections like Spelling, Conciseness, Clarity, and more.
The Spelling one, for instance, will catch the most glaring snafus: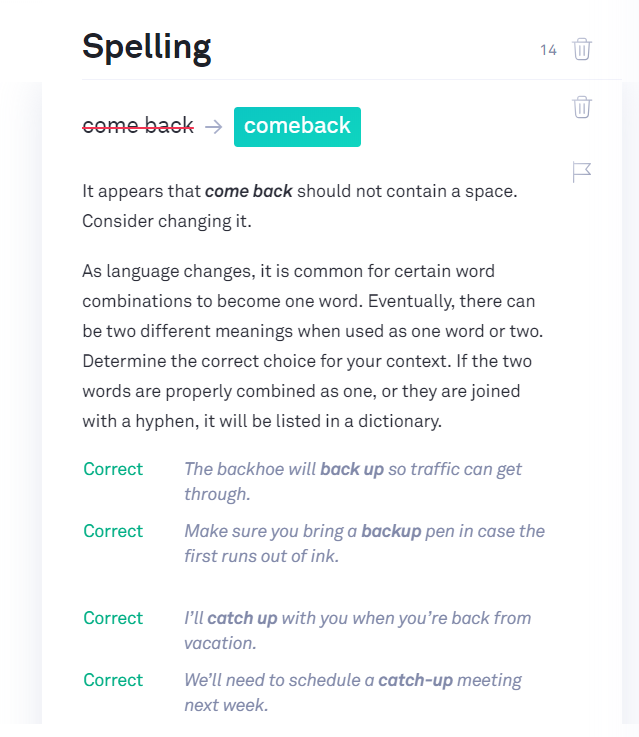 And it'll not just catch sentence fragments, but also give some context as to why these spotted issues are technically wrong.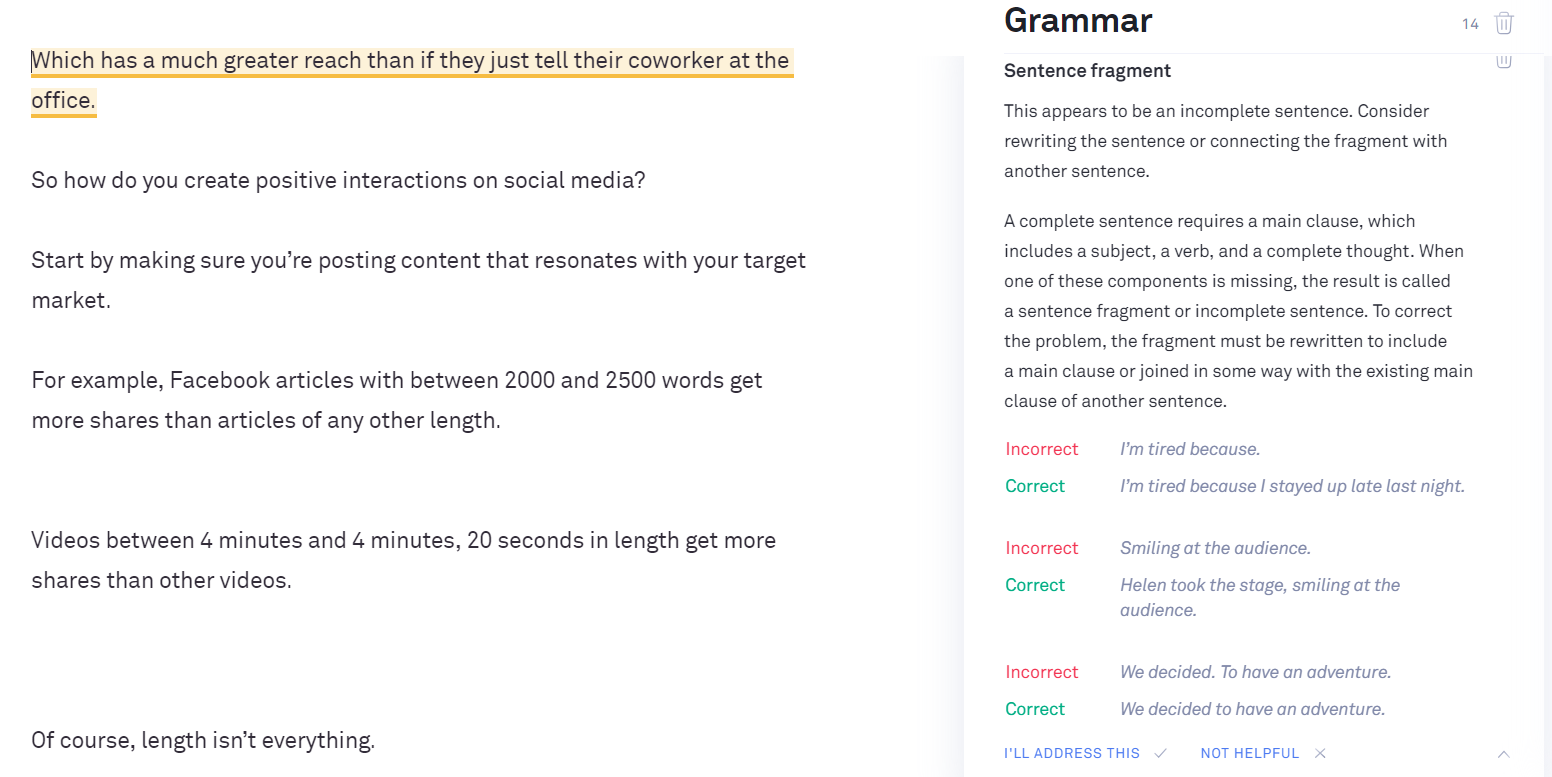 Winner: Grammarly
This one is really tough to score. Both ProWritingAid's and Grammarly's editors excel in this area.
They both offer large databases to accurately score your work.
They both breakdown overall scores into key areas so you can see exactly how and where your errors pop up.
And both provide recommendations with context to help you actually improve as a writer.
It's like splitting hairs. They're both excellent editors.
However, I'm giving Grammarly the tiniest of edges for two reasons:
This grammar checker has a bigger database to compare results, and
That database keeps getting bigger because they also compare you against all the other content added to their system.
Just like the experts from our MasterClass review can attest, it's the details that make all the difference!
Feature #2. Editing Limitations & Device Usage
Both ProWritingAid and Grammarly have free options.
However, I'd only classify one of those as a 'good' free option that you could conceivably use for longer than a few weeks.
ProWritingAid's free plan restricts you to 19 writing reports, 500 words at a time, and online-only use.
Those free restrictions aren't bad if you just need to use the service one time. But you'll probably get frustrated quickly if you're looking for an ongoing (free) solution.
The Grammarly free limitations, by comparison, are much better. So you'd probably be fine installing the Chrome extension, for example, and never even considering the Premium option.
These browser extensions will flag all of the mistakes you make across each tab, like Gmail.

Things change slightly when we compare the paid plans for each grammar checker, though.
Once again, it's a tight race. Both paid plans are excellent, offering tons of editing tips with little restrictions.
They both have apps for pretty much every device you use, including an excellent ProWritingAid Chrome app of their own.

Both offer apps for Safari and FireFox.
ProWritingAid and Grammarly have Open Office and Microsoft Office-friendly apps. (Although, Grammarly's doesn't work with Mac, only Windows). Each editing tool gets added directly in the product so you can run checks without having to leave your writing app.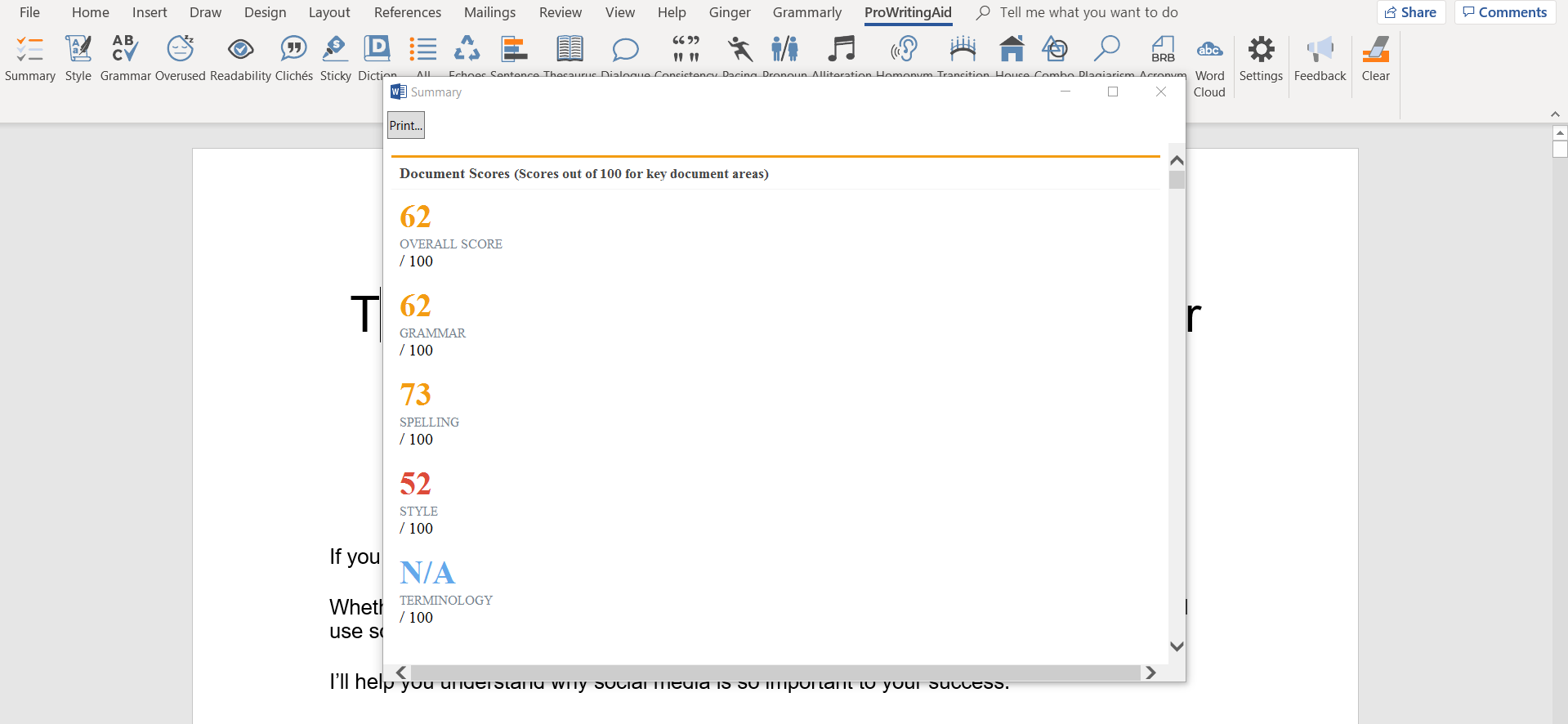 However, only ProWritingAid integrates directly with Scrivener, the screenwriting and book writing specialty app.
Premium Grammarly plans do have a few limitations, numbering into 150,000 monthly words. But that's pretty high. We use Grammarly at my company, where we create a hundred long-form articles a month and have never hit that limit.
ProWritingAid, on the other hand, offers unlimited — yes, unlimited — checks for premium users. Zero restrictions at all.
Winner(s): Grammarly for Free, ProWritingAid for Paid
Another dead heat, but this time, ProWritingAid edges the victory for paid device usage and limitations. (They can't compete with Grammarly's free plan.)
The reasons come down to (a) unlimited checks and (b) better device integration, including Scrivener.
Feature #3. Customer Service Response
Neither ProWritingAid or Grammarly offers live chat, so you'll have to submit a question and wait for the email response.
I did exactly that with both of them.
You'll see a little "Help" icon inside ProWritingAid.

Click on it, and you can navigate past the help desk articles to submit a message.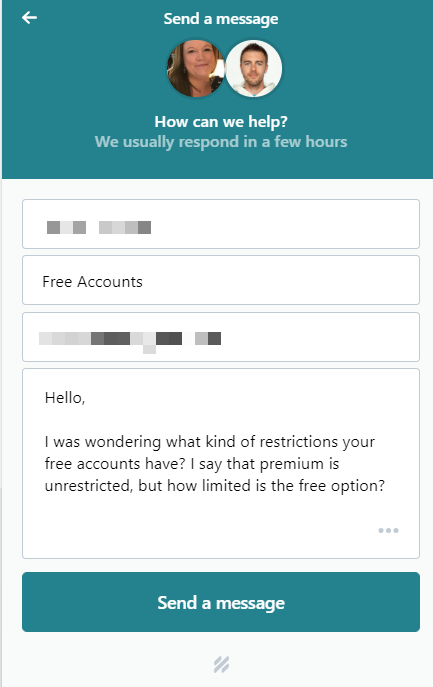 ProWritingAid got back to me around a day later, with this friendly response: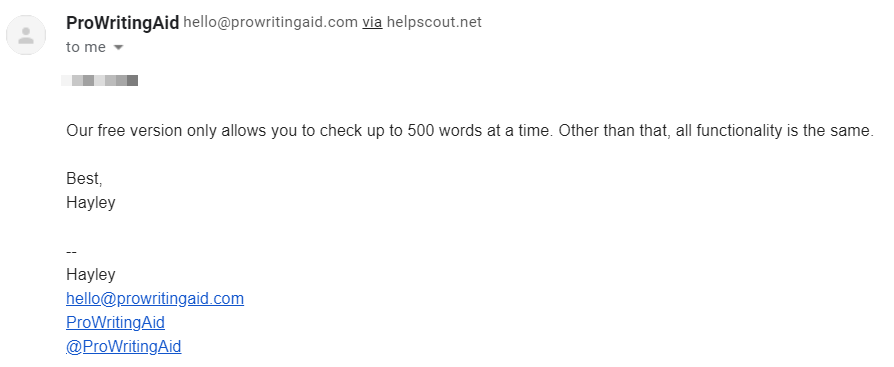 My only quibble is that the response might contradict what's on the site. I've read in several places that you can only access the free version online, and you can't run as many reports (19).
Grammarly's customer service flow is similar, where you can submit a request and they'll get back to you soon.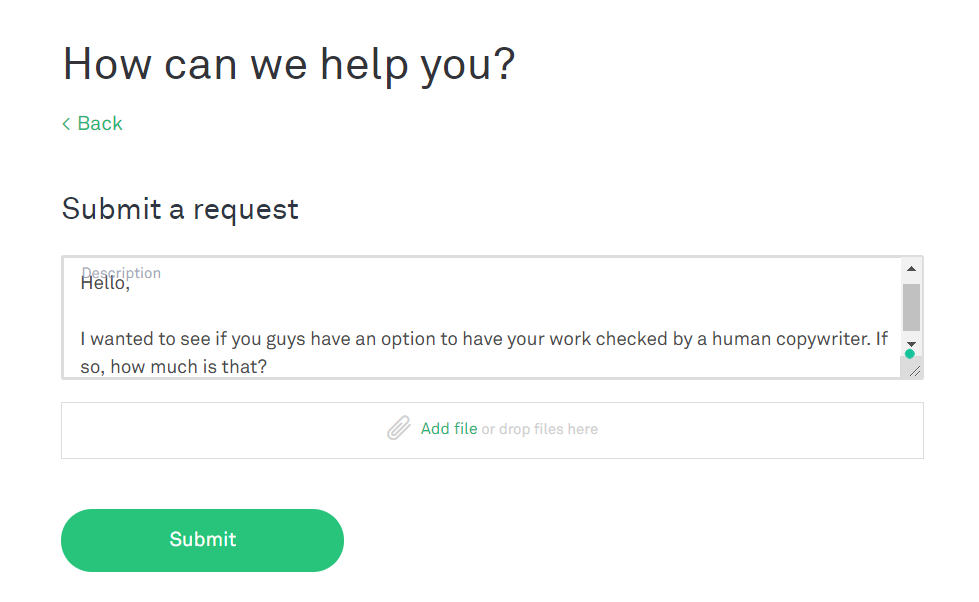 In this case, it only took them one hour to respond! Lightning fast.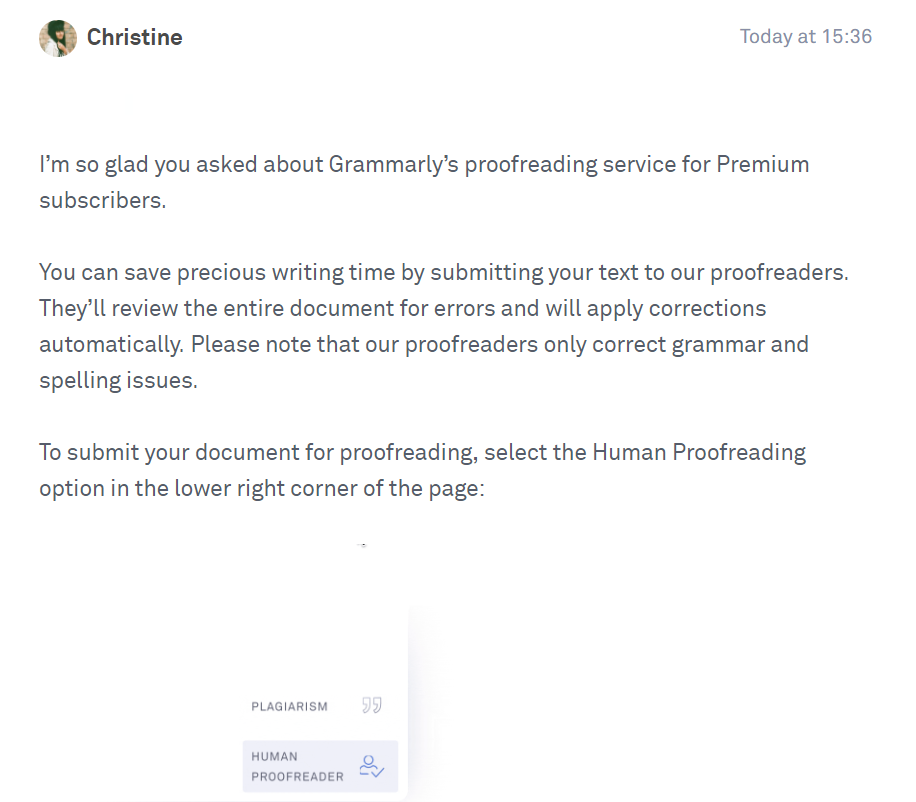 It was also a thorough answer, going into details around the question I asked.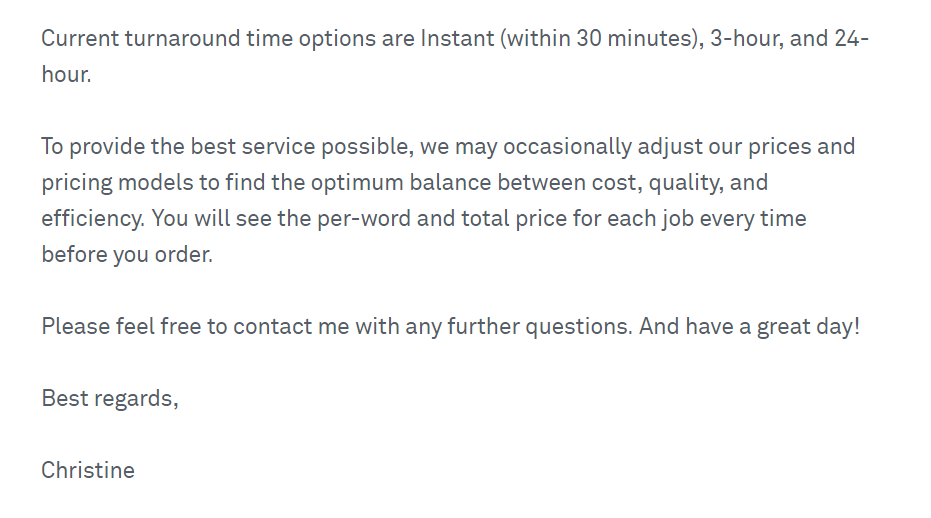 Winner: Grammarly
ProWritingAid's customer response wasn't bad, but Grammarly's was just that good.
It's the best grammar checker support I've seen after evaluating over 20+ different tools to date. I was really impressed.
Feature #4. Multilingual Editing Options
This is the part that I usually compare all of the different languages each grammar or plagiarism tool checks.
Except, in this case, they both only offer English.
So it's not much of a contest!
You do get different styles, like British vs. Canadian vs. American. But that's not much of a 'multilingual' option in any event.
Winner: Push
Neither option is good for multilingual users. Try Ginger instead.
Feature #5. Grammar Checker and Editor Costs
This is another easy answer.
Yes, Grammarly's free plan is better than ProWritingAid's.
However, ProWritingAid's paid plan is much, much cheaper than Grammaraly's costs.
You can pick up ProWritingAid's Premium annual plan for as little as $50!

And if you know the right people, you can bring this cost down even more with a coupon. For example, I only paid $36 for the year: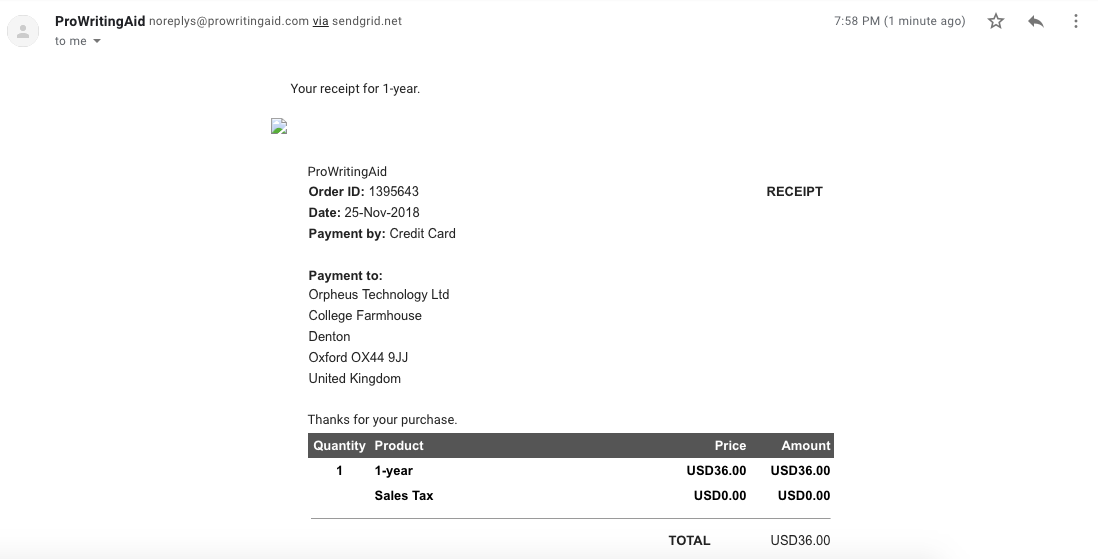 Now, compare that to Grammarly. I'm a happy paying customer, but that doesn't change the fact the annual option will set you back $139.95. That's on expensive grammar checker, no two ways around it.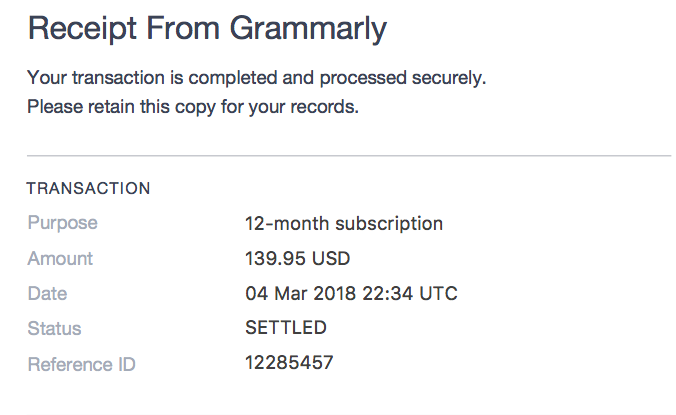 In comparison, you can pay ~$30 bucks more than this with ProWritingAid and get a lifetime plan! That's a massive deal for what you're getting in return.
Winner: ProWritingAid
If Grammarly had one big fat con, it would be the price. It's more expensive than almost every other alternative.
ProWritingAid, on the other hand, is among the cheapest editing options out there.
So if your budget is a concern, there's only one true winner here.
ProWritingAid vs. Grammarly: Which Grammar Checker Wins?
This is a really tight race. Both are good grammar checker options.
There's no clear winner per se. They both have good proofreading accuracy. Both integrate with a ton of tools like a desktop app and Microsoft Word.
So, here's how I would break down the recommendation:
If price is a concern or you want extended app access like Scrivener, go with ProWritingAid.
If accuracy is your goal and customer service is critical, go with Grammarly.
The good news is that you can't really go wrong with either option.
Alternatives to Grammarly and ProWritingAid
If you don't want to use Grammarly or ProWritingAid, there are a number of viable alternatives worth considering.
Writer
Writer is a powerful AI Writing assistant that is designed specifically for companies that want to ensure brand communications stay consistent, no matter who is writing.
Features include:
Grammar and spell checker similar to Grammarly
Create your own style guide and then have Writer evaluate all communications based on that style guide
Chrome, Word, and Google Doc extensions
Clarity, delivery, and inclusivity checks
Price: $11/month per user
Ginger
Ginger is often considered to be one of the top alternatives to Grammarly.
Features include:
Spelling and grammar checker
Support for more than 60 languages
Desktop and browser apps, plus integrations with Microsoft Office
Unlimited checks for paid users
Easy-to-use interface
Price: $20.97/month