Grammar is a big piece of being a great writer. Even though most people won't appreciate the quality of your Grammar, it will make you stand out amongst a sea of poor writers.
Practicing proper Grammar teaches you to be a more precise, concise writer.
And the good news is that nowadays you can depend on grammar software tools to help you a great deal.
For Mac users, there are a ton of options for great grammar checkers and plagiarism checkers, as well as extensions for iOS devices like iPad and iPhone.
In this article, we'll take a look at some of the best grammar checkers for mac and iOS to help you upgrade your writing.
Our Verdict
Grammarly and ProWritingAid are at the top of the heap when it comes to grammar checking tools and plagiarism checking features.
Grammarly
Best All-Around
$11.66
/mo – before discount
PROS
86% out of 86% accuracy
16+ bilion database
150k word limit
5 devlice limit
Includes plagiarism
1 hour response
CONS
Only English
More expensive ($11.66/mo)
ProWritingAid
Best Budget-Friendly
$4.16
/mo – before discount
PROS
62%, 73%, 52% accuracy scores
Millions in the database
Scrivener compatible
CONS
Only English
24+ hour support response
Inaccurate plagiarism checker
TABLE OF CONTENTS
1. Grammarly
Grammarly is an all-in-one grammar checker, proofreading tool, and plagiarism checker. It offers both a free version and premium plans.
It also boasts one of the easiest to use, and friendliest tools for making sure your documents are free from spelling errors, grammar errors, punctuation mistakes, plagiarism issues, and more.
Best of all, Grammarly offers explanations that actually improve your Grammar along the way, so you understand the why, not just the what or grammatical errors.
Pros
Getting Started with Writing Goals
As soon as you log in to Grammarly, you will notice that both the web-based and desktop app versions are easy to use.
To get started using the tracker, you can copy and paste your text, upload a document (using a Microsoft Word document), or you can even type directly into Grammarly.
As soon as you have your document pasted or uploaded into Grammarly, it will offer to set some writing goals for the piece. This feature is relatively new but makes the software feel even more customized to your needs.
Grammarly will ask you to decide your intent for the piece.
Do you want to inform, describe, convince, or tell a story?
Is your audience general, knowledgeable, or are they experts?
What kind of tone do you want? Friendly, formal, urgent, analytical, etc.?
Finally, you can tell Grammarly the audience it can better decide how to handle specific writing styles and formatting:
General
Academic
Business
Technical
Creative
Casual
Note that some of these goals, such as Academic and Technical writing, do require the Premium version to work. However, the free version still offers writing goals.
In-Depth Grammar Corrections
Within about 10 seconds, the grammar checking software will start returning suggestions for grammatical errors.
The system boasts over 150 different aspects of Grammar, formatting, and punctuation, and you will be immediately impressed by how many grammatical mistakes it catches.
Not only will the grammar checking software find spelling mistakes, but it will also focus on:
punctuation,
repeated words,
run-on sentences,
passive voice,
vocabulary
weak or uncertain language
Easy Interface and Explanations
When Grammarly has finished analyzing your text, you have a marked-up article (similar to that old red pen from college classes). The sidebar that lets you navigate the one by one, or also by category.
Grammarly gives your document a score based on its overall grammatical correctness. As you edit and change the text, the score will continue to rise. The AI editor also gives you little compliments as you're working and improving your text.
Another great feature is the explanations for each of the grammar improvements. Rather than just telling you that you have an issue with passive voice, it will explain the difference between passive voice and active voice as well as give examples.
This aspect helps you become a better writer as you gain a stronger understanding of the most common grammar mistakes, and the ways to improve them.
Robust Plagiarism Checking Tool
Not only is plagiarism a sign of weak character, but it can also actually have legal implications if you're not careful. Very often, plagiarism is accidental, but you still need to check for it.
Grammarly ranks the highest out of all the plagiarism checkers that we have tested. Using a database of over billions of web pages, Grammarly's plagiarism checker will discover even single sentences that might have appeared elsewhere.
When you are finished editing your piece with all of the grammar improvements, you can run the plagiarism checker in the same place. It's a simple, powerful, and essential tool for writers.
We got a very positive plagiarism report back, citing only one fragment from one source that was the only kind of similar.
An Essential Business Writing Tool
Grammarly allows very high word volumes (up to 150,000 every 30 days). Even for most people who write professionally, that is an extremely high limit. It does have a daily limitation of 100 documents or 50,000 words in any 24 hours.
Depending on how you prefer to write, you can download the desktop app, or you can use the web-based editor (both have identical functionality).
Grammarly also offers extensions for Chrome, Firefox, Safari, and Edge. This extension allows you to spell and grammar check on the fly on social media sites, in emails, and even in Google Docs.
There is also a Grammarly Microsoft Word extension that adds a lot of these helpful grammar correction tools that Microsoft Word lacks.
No matter whether you prefer to edit online, or via the desktop app, or even inside other programs, the Grammarly tools have you covered.
If you still feel uncertain about your writing skills after using the Grammarly tools, you can request a human proofreading review for a small fee.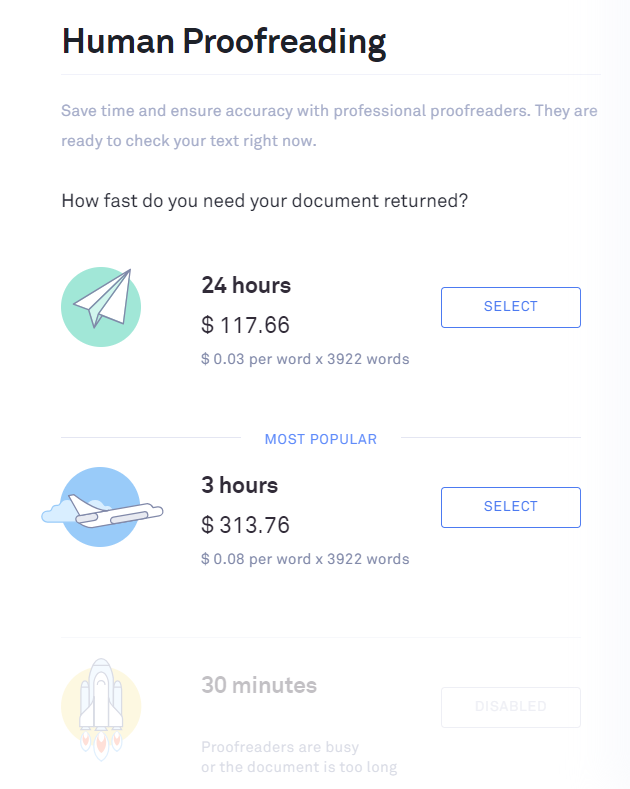 The Grammarly human proofreaders charge by the word, and depending upon how soon you need the document back, it can get expensive.
Free Version Vs. Paid Version
Grammarly is probably one of the best free grammar checkers on the market for iOS and macOS. There is even a Grammarly keyboard that will work with your iPhone.
But, the free version is limited in what it can do to improve your Grammar. And the software isn't shy in telling you that you're missing out on extra proofreading, formatting, and grammatical errors by not upgrading.
The premium version of most grammar checkers, proofreading, and plagiarism checkers we've reviewed fall in the $10/month range. Grammarly costs anywhere between $11.66 – $29.95 a month, depending on if you pay monthly,
Here's how the Grammarly Premium plans work:
The month-to-month plan costs $29.99 per month. The quarterly plan costs $19.98 per month (billed as one payment of $59.95) and lasts for four months. The annual plan is $11.66 per month (billed as a one-time payment of $139.95.)
The annual Grammarly discount saves you the most, but it's a more significant investment upfront. (Keep in mind that Grammarly is a business expense for your taxes.)
Overall, Grammarly is the best grammar checker for Mac on the market today. It offers a robust AI grammar checker, plagiarism tools, and a friendly interface that teaches you to be a better writer.
Try the free version of Grammarly for yourself, and you'll immediately see improvements.
Grammarly
Best All-Around
$11.66
/mo – before discount
PROS
86% out of 86% accuracy
16+ billion database
150k+ word limit
5 devlice limit
Includes plagiarism
1 hour response
CONS
Only supports English
Expensive
2. ProwritingAid
ProWritingAid is probably the closest competitor to Grammarly when it comes to grammar checker tools for Mac users.
In our reviews of the best Grammarly alternatives, it came out on top.
ProWritingAid is an absolute pleasure to use. It has real-time reporting while you are editing, and integrates into a large variety of programs.
The free version of ProWritingAid boasts excellent features such as proofreading, grammar check, sentence structure, and more. The premium package offers even more features at a reasonable price.
Pros
Integrations with Every App
Many of the grammar checkers today offer a desktop app or web-based editing software.
However, ProWritingAid takes it a step further by integrating with other apps, such as Google Docs, Microsoft Office, and even writing apps like Scrivener.
You can download a Google Chrome extension to ensure that each sentence is being reviewed as you type.
As a bonus, the same ProWritingAid license can be used on multiple devices at the same time.
An Unrestricted Premium Plan
Even though they are helpful, most grammar and proofreading software tools have some restrictions.
ProWritingAidsets itself apart from the crowd with no limitations. It has no word count limits, which is a significant bonus to businesses and content creators who are writing or editing every day. Authors and full-time professional writers will get a massive benefit from the unlimited options that ProWritingAid offers.
Accurate Text Editor and Grammar Checking
ProWritingAid stands up to the test when it comes to checking Grammar, and ensuring your writing is error-free.
You simply paste your document into the software, and it will immediately begin spotting mistakes and giving corrections in real-time.
ProWritingAid checks for grammar and spelling mistakes, but it also looks for cliches, readability, repeated words, passive voice, and much more. Each document is given an overall score broken down by:
Side by side, the grammar checking ability of ProWritingAid may prove to be even more stringent than Grammarly, but both tools offer much the same level of correctness.
Cons
Limited Free Plan
There is a free version of ProWritingAid. However, there are limitations. First of all, you can only check 500 words at a time and get 19 reports. This limit is frustrating if you write long-form content or stories.
The reality is that if you want the best that ProWritingAid has to offer, you're going to have to upgrade to a paid plan. Fortunately, the paid plans are extremely affordable.
Other limitations for ProWritingAid are the fact it only works for English grammar checking. It also offers only desktop app and web-based browser versions. Currently, there are no iOS app versions available.
Inaccurate Plagiarism Checker
Probably the biggest drawback of ProWritingAid, and why it rates below Grammarly is the plagiarism check feature.
The plagiarism checker tool is very slow. Once you click on the 'Plagiarism' option for your writing you're met with a spinning wheel:
It can take anywhere from 2-5 minutes to return a result. At times you might think it's not working, but rest assured it is. Just really slowly.
Eventually, the results will show up on the left-hand side of the editor:
This ProWritingAid plagiarism score is meager compared to the others we've tested. This could be because their plagiarism database is too small.
ProWritingAid Costs
Most online grammar checkers will offer monthly payment options. However, ProWritingAid only sells licenses on an annual basis. Even though it's a hefty up-front cost, their prices are relatively low compared to other options for Mac users.
A one year license for ProWritingAid Premium is only $50. Or you can also choose a lifetime subscription to this service for $175.
In comparison, one month of Grammarly Premium costs $29.95. For another $20, you could have ProWritingAid for the rest of your life.
As an alternative to Grammarly, you can depend on ProWritingAid for excellent grammar checking, formatting, readability improvement, and much more.
Even though it's plagiarism tool leaves a lot to be desired, the unlimited text aspect also adds to its value.
Test out the free version to see if you like the format and then go from there.
3. WhiteSmoke
WhiteSmoke is another grammar checker that has several features that work together to shake off the grammar police.
It is compatible with multiple devices (including Mac and iOS) and also translates to a large number of languages.
Here are some of the benefits and drawbacks of the Whitesmoke grammar tool.
Pros
Accurate Grammar Checker
WhiteSmoke's main functionality is the grammar checker tool. It checks for a number of common grammatical errors including:
sentence fragments
run-on sentences
incomplete sentences
subject-verb disagreements
double negatives
tense shifts
spelling errors
punctuation mistakes
capitalization
object clauses
comma splices
fused sentences
missing words
many more

Writing Tutorial Features
Perhaps the most unique feature of WhiteSmoke is that it includes written and video writing tutorials designed to help better your understanding of what it takes to be a better writer.
WhiteSmoke also features a style correction function. The system corrects typical style issues like overused words, poor pacing, or switching tenses.
It uses a color-coding system to highlight each type of mistake. Red is a spelling mistake, green is for Grammar, and purple is a style issue.
Compatible with Multiple Devices
WhiteSmoke can be used on many different devices and is compatible with browsers like Google Chrome, Mozilla Firefox, Apple's Safari, Opera, and Microsoft Edge.
It can be added to your desktop computer on Mac platforms. WhiteSmoke also offers a web-based application, which provides the same quality and features without having to download a program.
As well as this, Whitesmoke works well with iOS devices such as iPhone and iPad. This is great as very often, text communication suffers more from grammar errors than written content.
Available in 55 Languages
WhiteSmoke uses a translation system that draws from 55 different languages.
This ability makes Whitesmoke ideal for English as a Second Language (ESL) students who want to improve their ability to understand, speak, and write in the English language.
The translator can be used for international business markets, business and personal blogs, professional translations services, the academic arena, and social networks.
This one feature offers a considerable advantage over Grammarly, which currently only pulls from the English language.
Cons
Edit Limits & Slow Functionality
Unfortunately, there are some issues with the WhiteSmoke plagiarism checker. The checking limitations were low, and it takes a long time to check for plagiarism (more than five minutes for a 3,000-word document).
The desktop app version of WhiteSmoke also has a limit of 10,000 characters at a time. For an author trying to check a 60,000-word novel, or a student trying to correct a thesis, this would prove to be a big frustration.
WhiteSmoke is excellent for checking emails, social media posts, and the occasional short blog post, but it has limits for anything od substantial length.
Keep in mind this character limit does not apply to their web-based application. This version of the software allows the entire article to be pasted and to get a full report back.
WhiteSmoke Costs
If you are looking for an affordable Grammarly alternative, WhiteSmoke is an attractive option.
It offers three different pricing plans to choose from with two different commitment periods.
Annual plans start at $6.99 per month for the essential plan. Premium users pay $9.99 per month, and business users pay a whopping $17.95 per month.
Keep in mind, the essential plan works with all browsers and offers the grammar checker, plagiarism checker, and translator only.
Premium plans include desktop software, all browser extensions, Microsoft Office, and Gmail compatibility. Its features include the grammar checker, plagiarism checker, translator tool, and proofreading tool.
Prices are lower with a three-year commitment, with essential plans at $4.44 per month, premium at $8.29, and business coming in at $12.42.
4. Ginger
With so many options to check your Grammar, you might wonder how Ginger manages to stand out from the crowd.
Like each of the grammar checking tools we reviewed, it has its own unique selling advantages. Ginger doubles as grammar checking software and a language-translation tool for writers.
Here are some of the main reasons Ginger is worth considering.
Pros
Over 50 Language Translations
One of the biggest complaints about Grammarly is its lack of language compatibility. While Grammarly is known as the best grammar checker in the world, it is still only available in English.
Consider that English is spoken by less than 20% of the world's population, and you can understand why language translation software for grammar checkers is needed.
Fortunately, tools like Ginger offer proofreading and grammar checking services in more than 40 different languages for free users, and 60 languages if you become a premium user.
Ginger can also translate entire essays from one language to another, which can be an incredibly valuable tool for those English as a Second Language (ESL) students.
Unlimited Premium Use
Many grammar checkers will limit how much you can use them, even for paying customers. Granted, most services have limitations over hundreds of thousands of words, but they are still limitations nonetheless.
Ginger imposes no such limits; you can check a full novel's worth of text every single day (if you are somehow incredibly prolific).
Of course, free users of Ginger don't have the same freedom. They are allowed 14 corrections per month.
There is also no limit as to how many devices you can connect to. This freedom makes Ginger ideal for businesses and families that would require multiple connections.
Multi-Device Compatibility
Ginger can be downloaded into Chrome and Safari web browsers. This enables the grammar checker to work on most of the popular websites: Gmail, Facebook, Twitter, LinkedIn, and many others.
Ginger can also be installed in Microsoft Office to work with programs like Microsoft Word, PowerPoint, Outlook, and more.
Ginger also offers a desktop app that can be installed on the Mac OS, as well as an iOS app to check your mobile content posts.
Easy to Use Writing Tools
Using Ginger's grammar checker is simple and easy. It's like a blank sheet that you can easily paste your document into. Ginger has a wealth of features to help with Grammar, formatting, structure, and readability.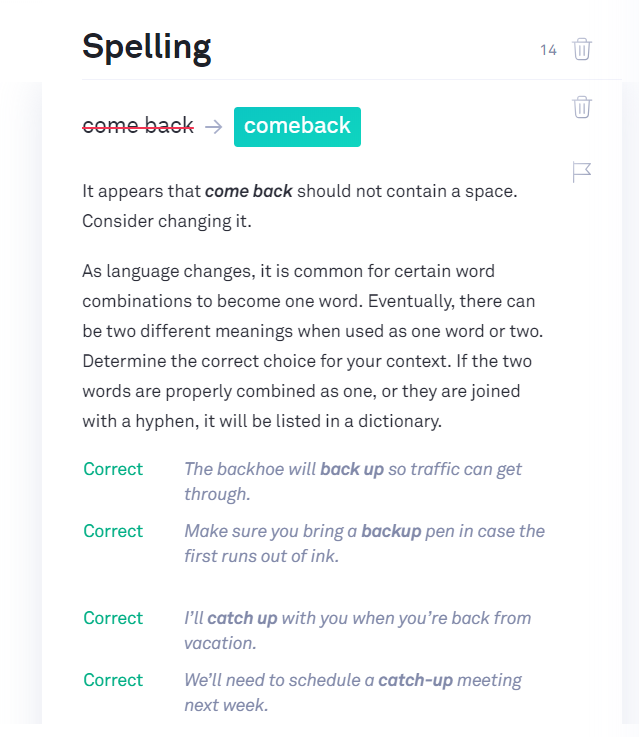 You can add words to a personal dictionary, and the system syncs up with every device associated with your account. This feature is useful for adding commonly flagged words like a people's names or a company name so that Ginger will overlook them in the future.
Another great feature of Ginger is its sentence rephraser, which takes the sentences you write and offers up different ideas on how you can create more compelling content.
As well as this, Ginger has a system called English Personal Trainer, which lets the user practice writing in English and receiving advice on how to write and speak more fluently. It's an excellent tool for people trying to learn the English language.
Another handy tool is the text reader function, which allows users to hear their text read back to them. Sometimes hearing your writing helps to rephrase what you want to say.
Cons
Some Glaring Issues
The biggest downside is that Ginger does not have a plagiarism checker. This discrepancy immediately puts them behind other tools that offer it.
Additionally, none of the article's formatting carries when pasted into Ginger. This can be frustrating when writing documents with a lot of headings, hyperlinks, or images.
Also, there are no itemized corrections like in other software. Ginger essentially works like a regular spell-checking program. It will highlight mistakes until you hover over them and let you choose whether or not to change them.
Ginger Costs
Like all the other Grammar Checkers, there is a free version of the Ginger software. However, it does limit some of the functionality, and in particular, the number of languages available.
The costs are spread out over a month, yearly, or over two years. Currently, Ginger offers a 30% off promotion, which makes the pricing more enticing.
Ginger's grammar checking software has many attractive features and includes 40-60 languages. However, the inability to do a plagiarism check means one of the most basic core needs in a writer's life goes completely unanswered.
It's worth a test drive, especially if the language translation appeals to you, to see if Ginger might be worth upgrading.
PROS
More than 60 Language Translations
Unlimited Premium Use
Installs on Many Devices
Easy to Install
Easy to Use
Lots of Features
CONS
No Plagiarism Detector
Poor Reporting
Poor Customer Service
5. Scribens
If you are on a budget, or just don't want to spend money on grammar checking software as yet, then Scribens is worth considering.
It integrates with Mac via Chrome, Firefox, Safari, and has a comprehensive and straightforward user interface.
Scribens offers typical grammar suggestions that can help writers avoid repeating the same mistakes in their writing.
Pros
Easy Setup and No Login
Scribens is so easy to use you don't need to create an account or install any app.
Simply open up the website, copy and paste or upload your content, and hit the red 'Check' button.
Scribens offers APIs for Google Docs and Microsoft Word so that you get the same benefits without leaving your writing space.
Grammar and Clarity Checker
You can think of Scribens as a bare-bones grammar checker that can also help you gain more clarity by suggesting replacements for common or overused words.
Thanks to its vast dictionary, you can easily find a better alternative to your current words.
On the left-hand side of the screen, Scribens breaks down your entire document based on various grammar errors such as redundancy, cliches, subjectivity, run-on sentences, and more.
On the right-hand side, it will display statistics about your content that includes total word count, grammar errors, Flesch-Kincaid reading score, sentence length, word patterns, and more.
Additionally, they offer an entire section on grammar mistakes to help educate their users.
No Word or Character Limitations
Most grammar checking and writing tools have a daily word or page limits, especially free ones.
However, Scribens is an exception. It doesn't appear to have a limit on the number of characters or words that can be reviewed during an online grammar check.
Device Compatibility
When it comes to device compatibility, Scribens beats almost all other grammar checkers.
It offers extensions for Google Chrome, Mozilla Firefox, and Safari. The tool is also compatible with:
Word 2016 for Mac
Excel 2016 for Mac
Word Online
Excel Online
Microsoft Office Suite
LibreOffice
OpenOffice
Google Docs
Google Sheets
Mozilla Thunderbird
Cons

Inaccurate Grammar Checker
Being a free tool there are bound to be some drawbacks.
Unfortunately, Scribens proofreading tool misses occasional words, such as this incorrect use of the word "their":
The online tool is a decent grammar and punctuation checker on the surface, but except for commas, grammatical errors, punctuation errors, incorrect brackets, it can't analyze other punctuation marks.
No Plagiarism Checker
Another big drawback is the lack of plagiarism checker tools. While understandable for a free tool, it is a missing component that is essential for most writers.

No Multilingual Options
With Scribens, the only language currently supported by this grammar checker is English. For those who need translation tools, you might need to consider other options.
Scribens Cost
When you add up all the features, it's not a bad deal for zero dollars.
And that is probably the most significant appeal of Scribens. You can use it with almost any browser, and it's also compatible with lots of writing tools.
Giving it a test drive is a no-brainer, and the only cost will be the time it takes to copy and paste your document.
Conclusion
Grammarly and ProWritingAid are at the top of the heap when it comes to grammar checking tools and plagiarism checking features.
However, the other free and paid tools do have some redeeming and unique features that make them at least worth testing out.
It might seem like using a simple word document with spell check, and a grammar checker might be enough for you to get started. And that's true.
But these grammar checkers for mac will add depth, nuance, and impact on your writing.
Even if some of them cost a little more upfront, over the long term, they will save you time and money.