Surely, you've heard about MasterClass.
It's the one place where artists like Anna Wintour, Martin Scorsese demystify their craft. Where iconic figures casually teach you how to appreciate wine, negotiate like a CEO, or… bake beautiful bread.
Only with MasterClass can you learn from renown experts on an unparalleled viewing and learning platform. With an annual subscription to MasterClass, you'll have the unique opportunity to learn from the best, at your home, without compromises.
If you're interested in bread, pastries, and other flaky specialities, you should consider trying a baking MasterClass to learn new skills and techniques — here's why.
Disclosure: These reviews are reader-supported. We might earn a small commission if you purchase something through our site. Learn more
In this MasterClass review, you'll learn:
A few frequently-asked questions…
Do I need a subscription to access this course?
Yes, you need a subscription to MasterClass in order to take baking or any other classes. Pricing plans start at $15 a month, billed annually, and come with a 30-day satisfaction guarantee.
How long is the MasterClass?
MasterClass is an educational platform hosting various courses. Some take just two hours to complete, while others include over six hours of video content.
Does MasterClass have a cancellation policy?
You can get your money back within 30 days after the purchase if you don't enjoy the courses.
How much does it cost to learn baking on MasterClass?
By buying a single MasterClass subscription, you gain access to all of the courses on the platform. It's important to note that your MasterClass subscription comes with full access to 180+ courses, including everything from cooking, interior design, photography, music, writing, makeup, poker, and even negotiation.
Subscription prices start at $15.75 a month (billed annually).
Can I buy just one baking MasterClass?
You can only buy a MasterClass subscription but not individual courses. However, some pricing plans allow you to download classes for offline viewing.
6 reasons to learn baking on MasterClass
There's no scarcity of cooking channels, blogs, and online schools. So, what is it about MasterClass that makes it stand out?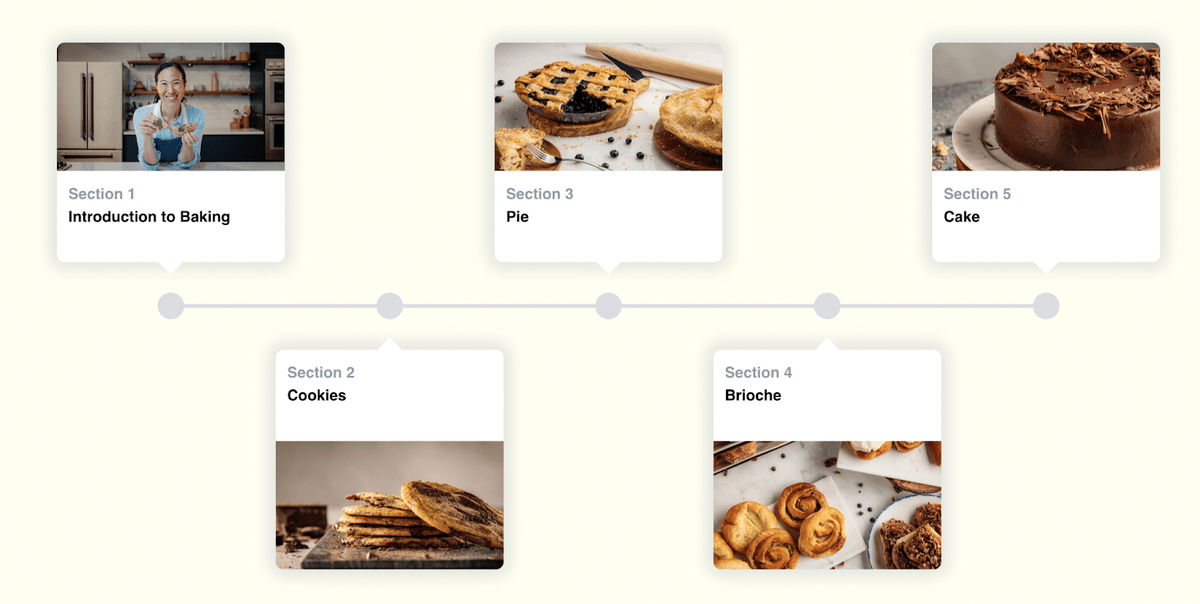 You can't really compare MasterClass courses to YouTube lessons or cookbooks — this is an entirely different learning experience.
It's unique. These aren't your regular no-name recipe videos — you get a once-in-a-lifetime opportunity to learn from the rockstars of the cooking world.
It's fun to use. With MasterClass, you pay a fair price to be able to enjoy the highest-quality content and state-of-the-art usability.
It's intuitive. You can follow a structured curriculum and expand your learning journey by switching to related courses recommended by the platform.
It's social. By joining MasterClass, you become part of a creative community and get a chance to connect with like-minded people.
It's practical. The platform encourages you to get hands-on experience while learning. You can use downloadables to perfect your skills outside of the virtual classroom and rely on them long after you've finished the course.
It's convenient. You can learn from anywhere and save money on expensive in-person baking classes, which may not even be available where you live.
With that in mind, let's see what kinds of baking classes are currently available on MasterClass and who they're intended for.
1. Apollonia Poilâne Teaches Bread Baking
Runtime: 3 hours 35 minutes
Course value: 5/5
Lessons: 17
Supplementary materials: Workbook and access to student community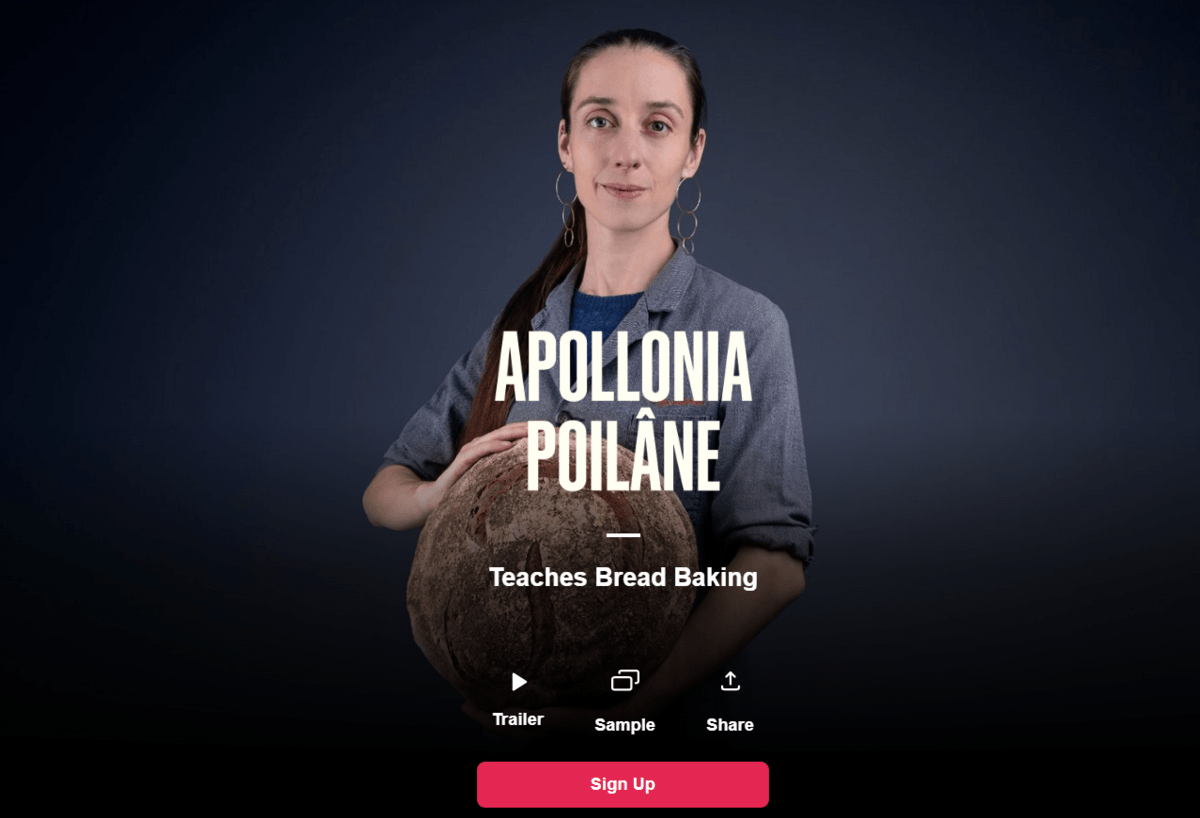 Apollonia Poilâne's MasterClass teaches traditional techniques for baking rustic French breads as well as clever techniques for zero-waste cooking. You'll learn how to bake divine-tasting artisanal loaves and decorate them.
Apollonia Poilâne is a Franco-American third-generation baker, CEO, and gallerist based in Paris. Her unique background has enabled her to turn bread-baking into pure art, which is exactly what draws people to her courses.
In the course, she shares her baking philosophy, addresses common mistakes, and demonstrates professional mixing, shaping, and scoring techniques that tend to elude home bakers. The high-quality close-ups allow you to catch every little hand movement.
Here's what you'll be able to bake after the course:
Country-style wheat loaf
Rye loaf
Traditional brioche
Gluten-free and vegan corn loaf
Rye-based cookies
Pain de mie, a classic French toast bread
In addition, you'll learn essential techniques for turning dry or stale bread into bakery-style sandwiches and condiments. The class will also teach you how to work with a sourdough starter and yeast to produce consistently fluffy and flavourful loaves.
This course is perfect for patient beginners as well as confident home cooks eager to explore new baking styles. You'll mostly be working with flour, dough, water, yeast, and a sourdough starter. Not to worry, you won't need a wood-fired oven — this course is targeted at home cooks, so you'll only use basic equipment such as loaf pans and a dough scraper.
2. Bake Like a Pro With Joanne Chang
Runtime: 30 days, self-paced
Course value: 5/5
Lessons: 5 sections, approximately 10 lessons each
Supplementary materials: Active student community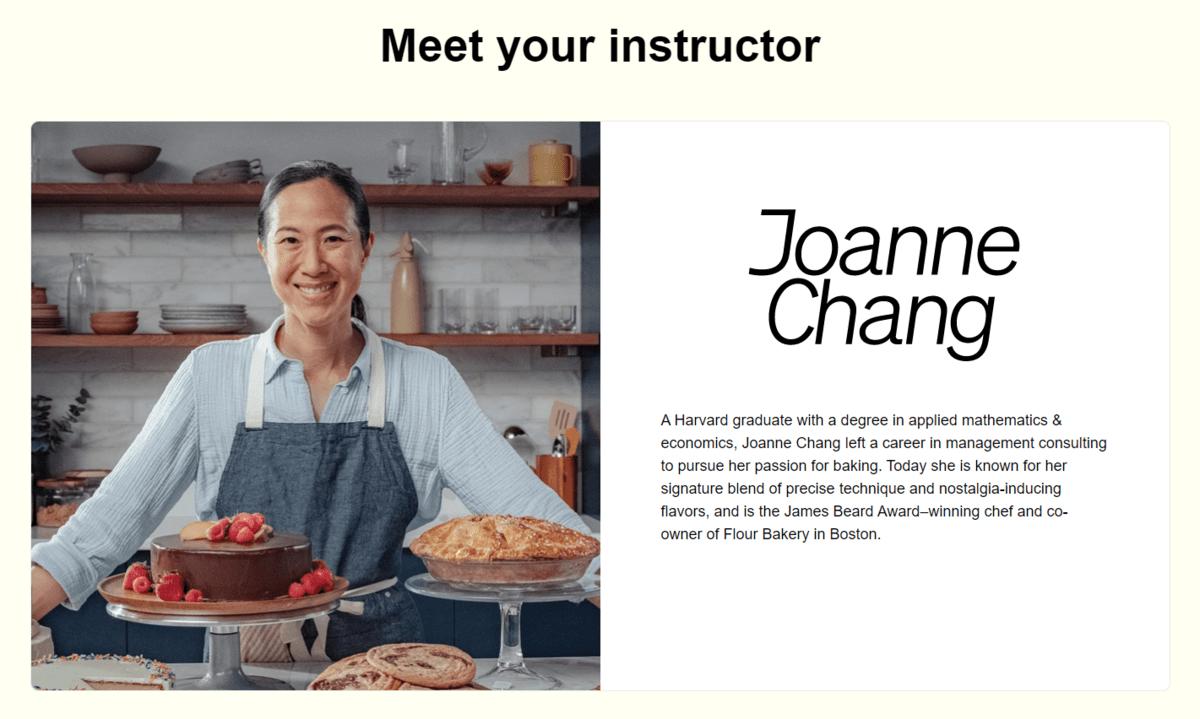 Joanne Chang's Session is more intensive and instructive than a regular MasterClasses. Think of it as a pastry-baking bootcamp. The Session format allows you to get your hands dirty (with flour) right away and acquire professional baking skills in a few weeks.
Joanne Chang is a renowned Boston-based pastry chef and the co-owner of Flour Bakery. She's published multiple cookbooks and developed hundreds of recipes. Chang has a background in mathematics, and her MasterClass reflects that — her lessons are engaging but also highly precise.
The Session has a logically structured curriculum that can be broken down into individual lessons. You'll start with simple bakery-style cookies and gradually progress toward gorgeous layered cakes.
Here's a quick overview of what you'll learn:
Sourcing quality ingredients
Understanding the chemical and physical processes behind baking
Decorating pastry like a pro
Creaming butter and sugar "just right"
Creating sweet and savory variations of the same pastry
Preparing fillings, ganache, and soaks
Ensuring crispy cookies and flaky pie crusts
Developing your own original recipes with confidence
The course is intended for home cooks with varying levels of proficiency.
Amateurs are likely to find this baking MasterClass quite thorough, given its pace and rich contents. At the same time, experienced cooks will also be able to pick up new tricks and hone their technique during the class.
3. Dominique Ansel Teaches French Pastry Fundamentals
Runtime: 3 hours 37 minutes
Course value: 5/5
Lessons: 17
Supplementary materials: Workbook and access to the student community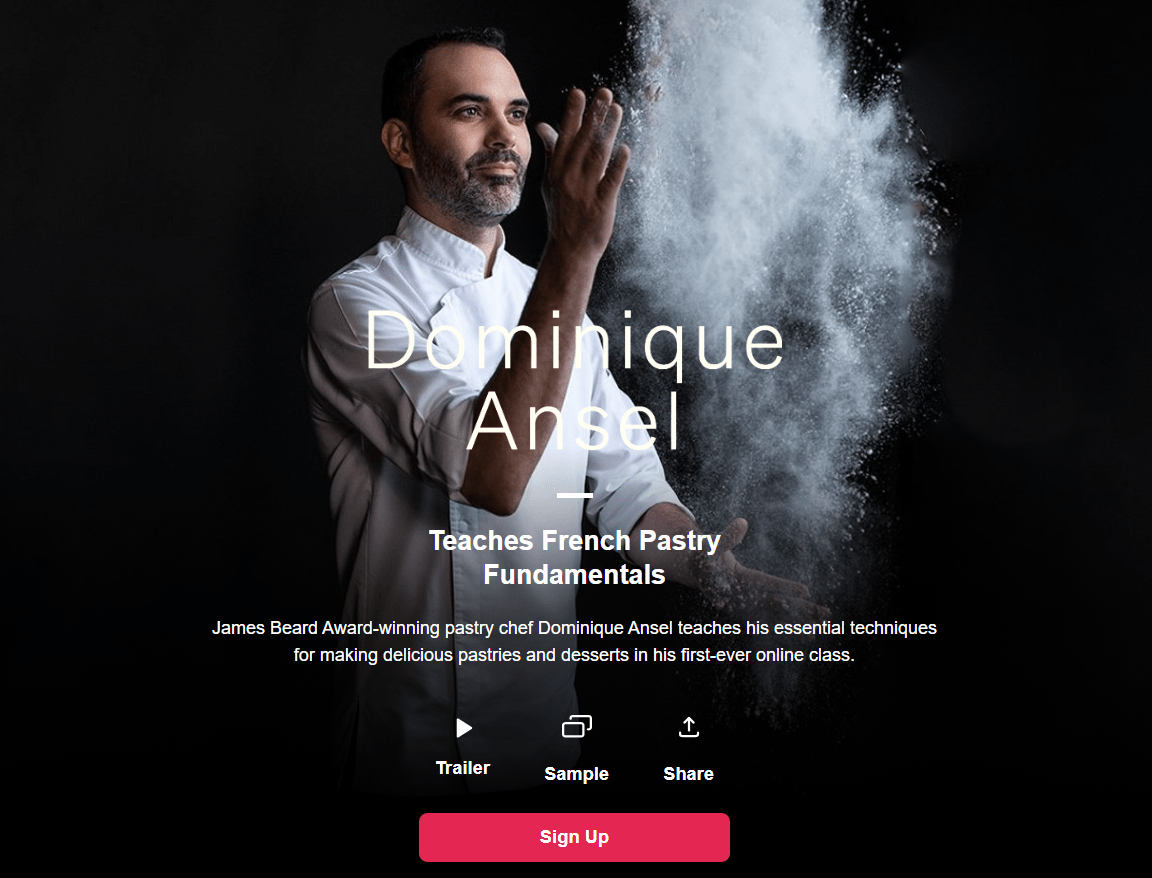 If Apollonia Poilâne's bread-baking class got you excited about French cuisine, Dominique Ansel's MasterClass should be your next stop. You'll get to learn classic recipes, professional methods, and creative techniques from one of the most innovative pastry chefs of our time.
Dominique Ansel is considered to be the world's best pastry chef. He's responsible for creating the Cronut, a fascinating croissant-donut hybrid, the Cookie Shot, Blossoming Hot Chocolate, and many other signature desserts you've probably seen in your local hip cafes. According to Time Out and Zagat, his eponymous bakery is the best in New York City.
This MasterClass is perfect for you if you want to get serious about baking cakes and tarts.
Dominique demystifies the art of preparing a tart base and fillings and gives you presentation tips. He also explains the science behind baking the spongy, pillowy cakes France is famous for. You'll also learn how to create the perfect croissant and confidently experiment in the kitchen.
This baking MasterClass is slightly more demanding than the other classes mentioned here. You'll need good-quality tools for proper whisking, whipping, and mixing. However, if you only have very basic equipment, it shouldn't stop you from enjoying the course.
The techniques Dominique teaches you are timeless and can be applied to a variety of desserts. This course is recommended for home bakers who already know the basic principles of working with dough, sugar, and butter and have attempted to make cakes before.
4. Thomas Keller Teaches Cooking Techniques III: Seafood, Sous Vide, and Desserts
Runtime: 4 hours 51 minutes
Course value: 4/5
Lessons: 17
Supplementary materials: Workbook and access to the student community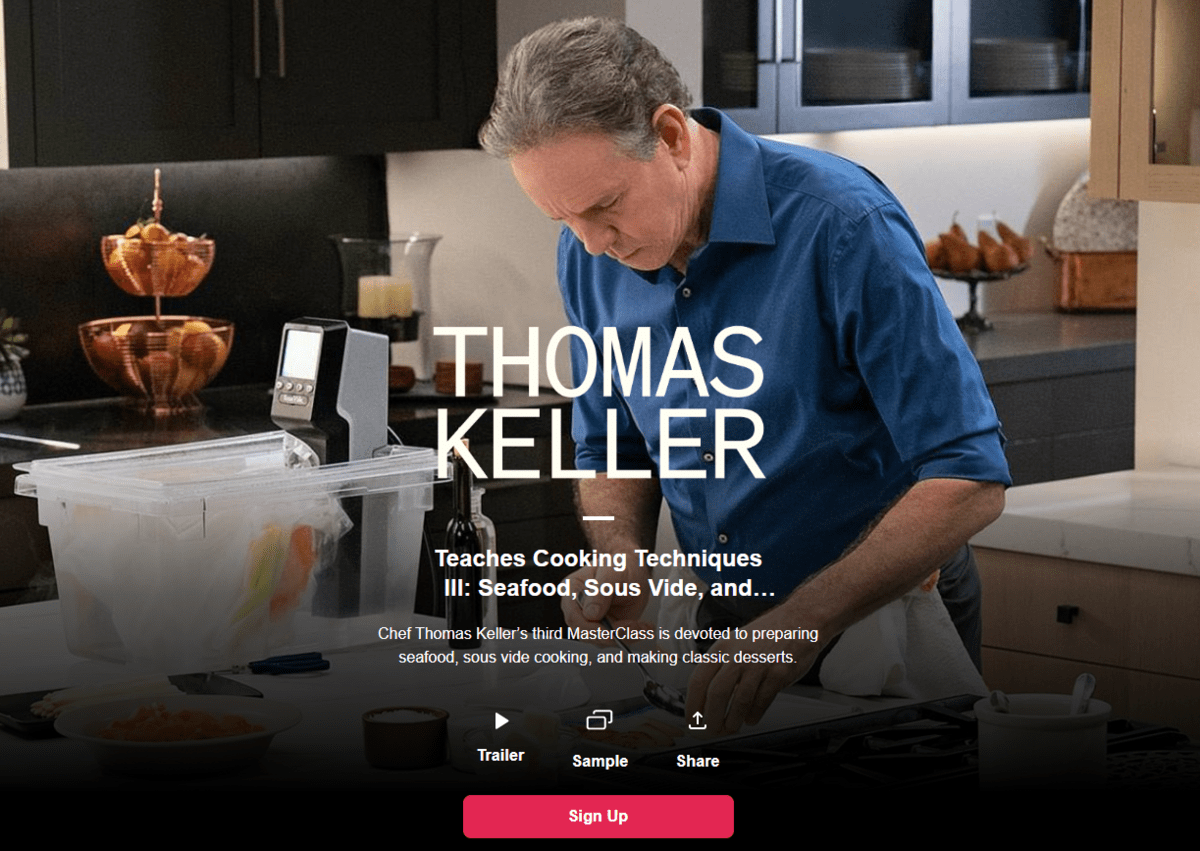 Thomas Keller's MasterClass teaches multiple cooking skills, including baking. Keller demonstrates and explains the key techniques for preparing three classic desserts: a rich French custard, a lemon tart with a pine nut crust, and an apple pie with a lard crust.
Thomas Keller is a famous American chef and restaurateur. He's published five best-selling cookbooks and has won multiple awards from the James Beard Foundation. His calm, thorough, and patient approach will certainly resonate with home cooks who're tired of extravagant and dramatic chef personalities.
The course is aimed at somewhat advanced home cooks who are ready to explore new cooking methods like sous vide and who have the right equipment to do so. That said, if you've enrolled in the course just for the baking part, you won't need any unique tools because the techniques taught here are traditional.
5. Madhur Jaffrey Teaches Indian Cooking
Runtime: 2 hours 26 minutes
Course value: 3/5
Lessons: 12
Supplementary materials: Workbook and access to the student community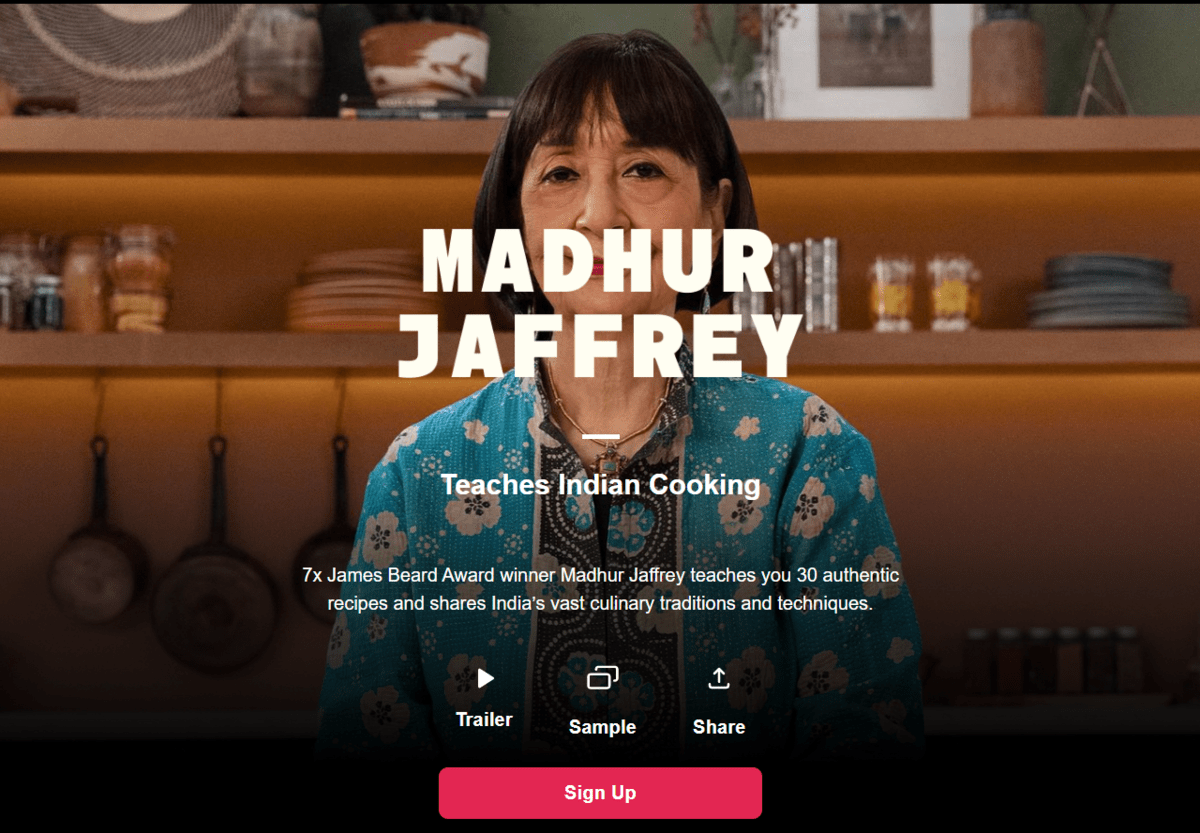 Madhur Jaffrey's MasterClass revolves around Indian cuisine, its philosophy, and traditional techniques. In this course, Jaffrey not only teaches you 30 flavorful recipes but also explains the rich history behind and the meaning of iconic Indian ingredients and dishes.
Madhur Jaffrey is an Indian-British-American actress with a passion for food and travel. She's a 7-times James Beard Award winner and a renowned cookbook author who cherishes authentic Indian recipes but isn't afraid to simplify them when needed.
Although this course is mostly focused on savory dishes, it can be useful for bakers, too. In it, Madhur Jaffrey teaches her audience about Indian breads and explains how to make a classic chapati.
When it comes to chapati or any other flatbreads, manual kneading techniques are quite different from those used in Western cooking. As a result, this course can enrich your cooking repertoire by encouraging you to try something spicy and entirely new.
6. Mashama Bailey Teaches Southern Cooking
Runtime: 3 hours 23 minutes
Course value: 3/5
Lessons: 10
Supplementary materials: Workbook and access to the student community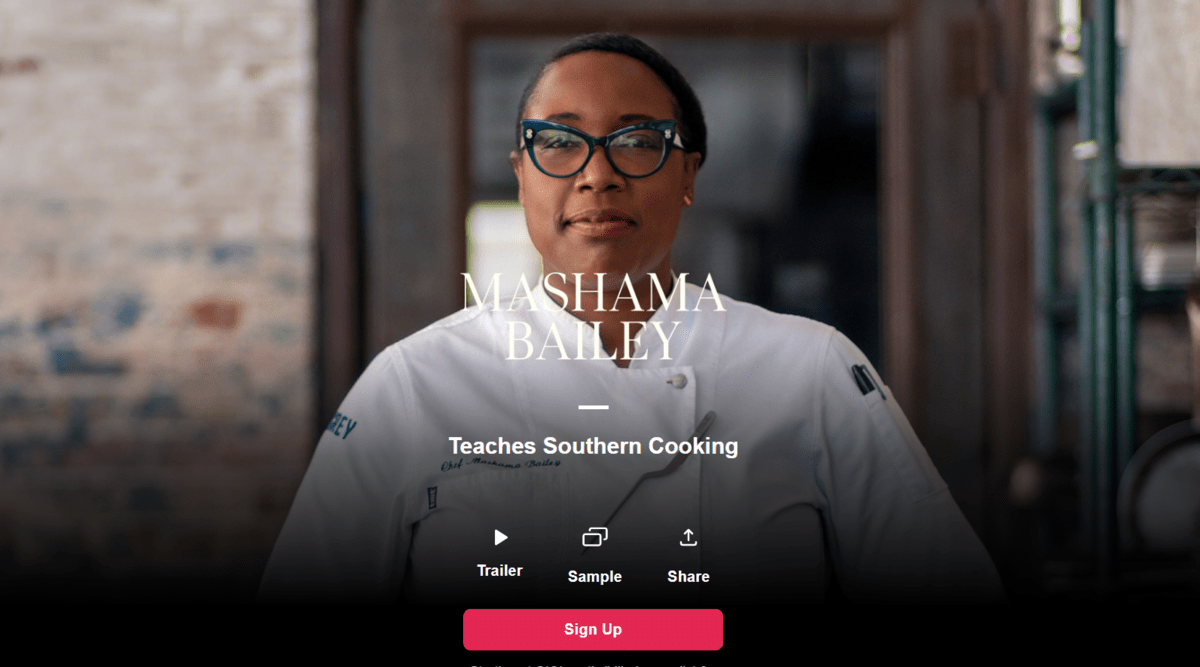 If you love bright and flavorful food, Mashama Bailey's MasterClass on African American Southern cuisine should also be on your list. Mashama Bailey's unique talent to mix family cooking traditions with haute cuisine has made her a favorite chef in the Southeast. Her restaurant, The Grey, was chosen as one of the best 100 places in the world by Time in 2018.
In this MasterClass, Mashama Bailey shows you traditional and reimagined Southern techniques and recipes, including the one for oyster hand pies, a crowd-pleasing pastry with a rich, umami filling.
Whatever your cooking experience level is, feel confident to check out this MasterClass, especially if you love Southern cuisine and can get your hands on authentic and fresh ingredients such as okra, oysters, sweet corn, or lima beans.
Another way to learn baking on MasterClass
Did you know that MasterClass also has a blog with tons of useful information for amateurs and confident home cooks? In the Food category, you'll find tested step-by-step recipes, culinary tips, and guides that can easily be printed out and used on their own.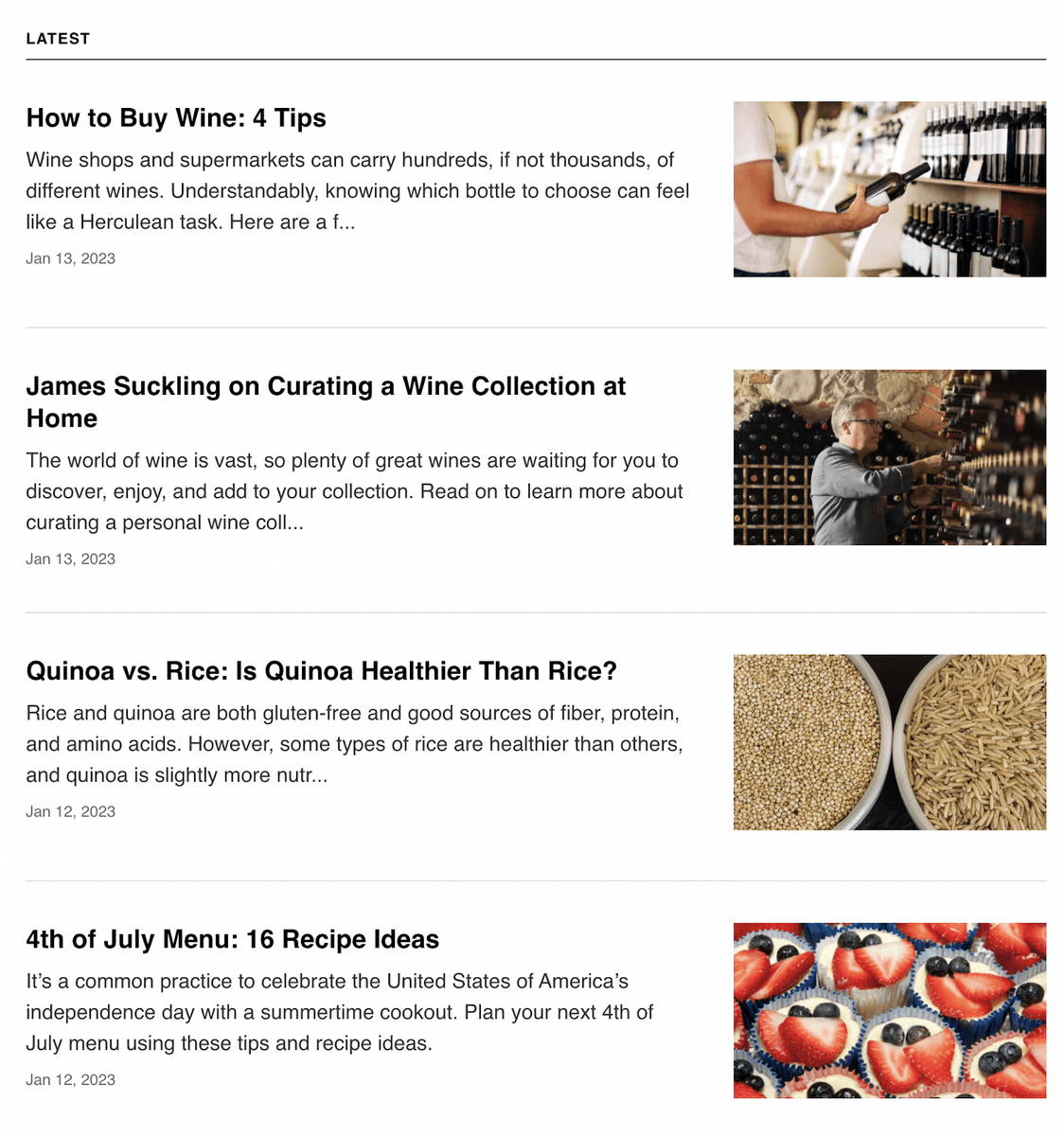 The blog can teach you how to pick better ingredients, understand wine, create complex flavor profiles, and serve dishes like a pro. In other words, the blog offers a nice sneak peek of the full-scale cooking and baking MasterClasses.
The best part? It's absolutely free.
Our final verdict
If you're fed up with basic banana bread and are looking for culinary inspiration, MasterClass is the best way to go. The platform offers an unparalleled learning experience — insightful classes, charismatic chefs, intuitively structured courses, and breathtaking visuals are guaranteed to awaken your creativity and your taste buds..
Sure, the platform won't teach you every possible baking style or technique, but it'll give you the basics and help you explore new cooking methods and philosophies. Start your membership today and get ready for an exciting creative journey with MasterClass!