Malcolm Gladwell MasterClass review synopsis
What you'll learn: Discover the best ways to write nonfiction articles and books with accomplished author and longtime writer for The New Yorker, Malcolm Gladwell
How long does the Malcolm Gladwell MasterClass take?: The Malcolm Gladwell MasterClass will take 4 hours and 54 minutes to complete.
Similar courses: Neil Gaiman, James Patterson, Judy Blume
Do I recommend Malcolm Gladwell's MasterClass?: Yes, if you feel a calling toward writing nonfiction, this is an excellent MasterClass for you.
Learn to write nonfiction with the Malcolm Gladwell MasterClass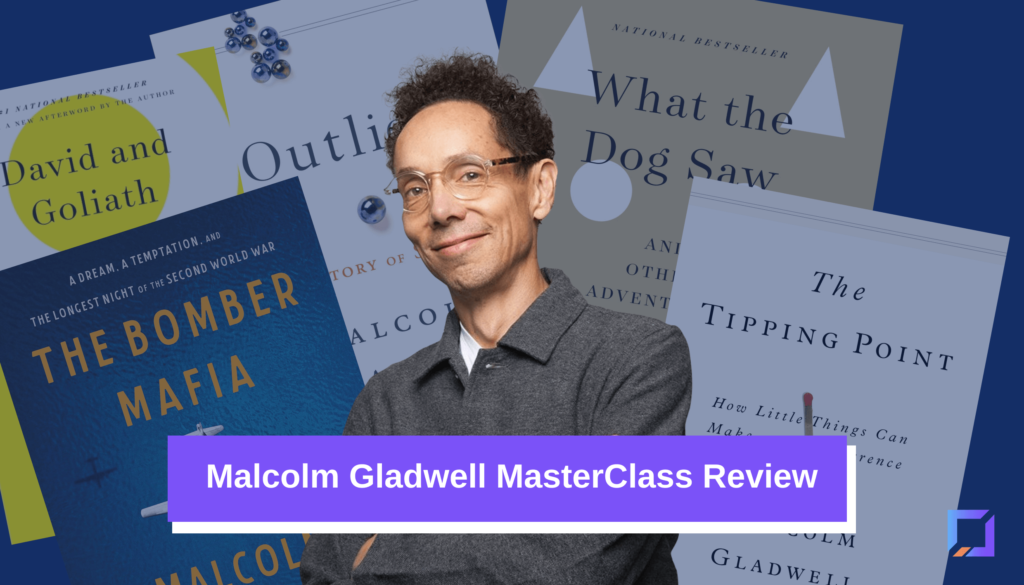 It's one thing to write captivating fiction. It's another thing entirely to write compelling nonfiction.
In fiction, you create fantastical worlds and control the action to interest your readers. It isn't easy, but it's much easier than taking events that occurred in real life and presenting them in a way that will keep people hooked.
It takes a special kind of individual to write good nonfiction, and that's Malcolm Gladwell to a T.
In the Malcolm Gladwell MasterClass, you'll get 24 entire lessons about what it takes to become a captivating nonfiction writer. It covers everything from the writing process to making it as a writer in the modern business world.
While Gladwell talks for nearly five hours in this writing course, is what he's saying effective? Can you actually learn to become a nonfiction writer through Gladwell's MasterClass?
That's what we're going to talk about in this Malcolm Gladwell MasterClass review.
Disclosure: These reviews are reader-supported. We might earn a small commission if you purchase something through our site. Learn more
Our Verdict
If you're an aspiring nonfiction writer, I recommend this MasterClass. Malcolm Gladwell will make the art of nonfiction writing come alive for you.
Malcolm Gladwell MasterClass
Discover the best ways to write nonfiction
PROS
Uses case studies from other articles
Section on reading
Section on working as a writer
Fantastic insight
Great Hub engagement
CONS
Comes off a little arrogant sometimes
Not a lot of variety in scenes
Boring workbook
In this MasterClass review, you'll learn:
In this MasterClass review, you'll learn:
A few frequently-asked questions…
Let's start by exploring some of the most common questions about Malcolm Gladwell's course on nonfiction writing.
Do I need a subscription to access this course?
Yes, a MasterClass subscription is required to take the Malcolm Gladwell MasterClass. By signing up for one of these quality subscription offers, you'll get access to the 180+ courses MasterClass offers in several categories, ranging from cooking, baking, interior design, photography, music, makeup, poker, and even negotiation.
How long is the MasterClass?
Gladwell's MasterClass takes 4 hours and 54 minutes to complete. It is composed of 24 online classes.
Does MasterClass have a cancellation policy?
Yes, all MasterClass subscriptions come with a 30-day money-back guarantee.
Is the Malcolm Gladwell MasterClass worth it?
If you aspire to become a nonfiction writer, you can learn a lot from someone like Malcolm Gladwell. Whether you want to conquer the nonfiction shelves or write for prestigious magazines, the course has something to offer.
Write compelling nonfiction with the Malcolm Gladwell MasterClass
About Malcolm Gladwell
Malcolm Gladwell is a renowned storyteller and staff writer at The New Yorker, where he has been employed since 1996. He is famous for his writings about the unexpected implications of social sciences like psychology and sociology.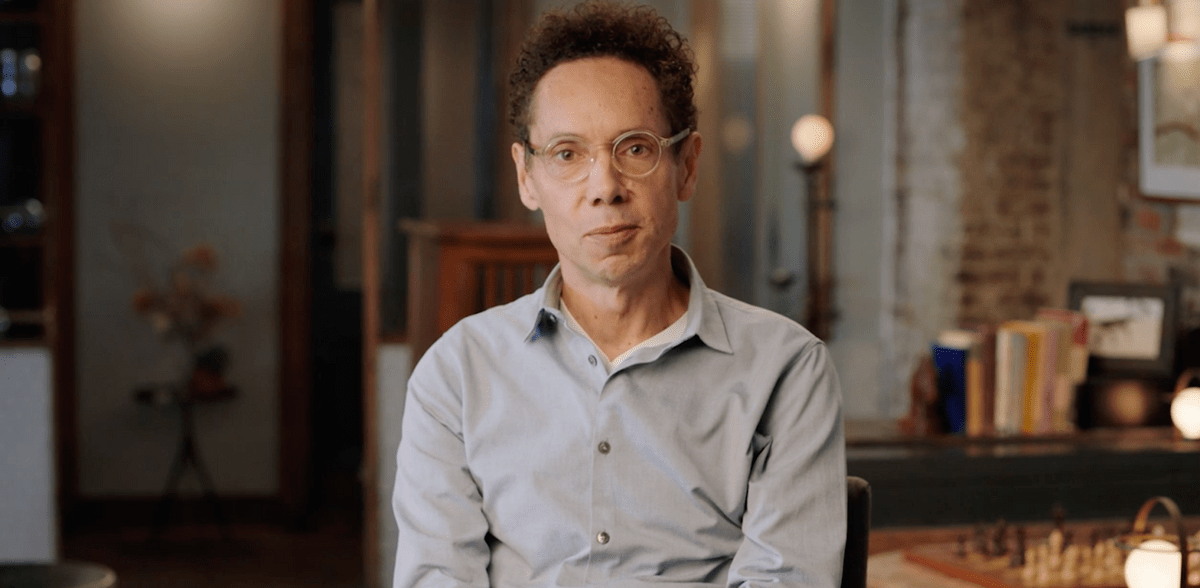 Gladwell published his first book in 2000, and since then, has gone on to publish seven nonfiction books. His first five books hit the New York Times bestseller list.
His literary works include:
The Tipping Point
Blink
Outliers
What the Dog Saw
David and Goliath
Talking to Strangers
The Bomber Mafia
Combined, these books have sold over 6 million copies around the globe. In 2011, Gladwell was appointed to the Order of Canada.
How much does Malcolm Gladwell's MasterClass cost?
Gladwell's MasterClass on nonfiction writing comes with any MasterClass subscription. When you subscribe to the program, you get this course and the entire MasterClass library, including Neil deGrasse Tyson, Neil Gaiman, Martin Scorsese, and many more.
There are three tiers of MasterClass membership.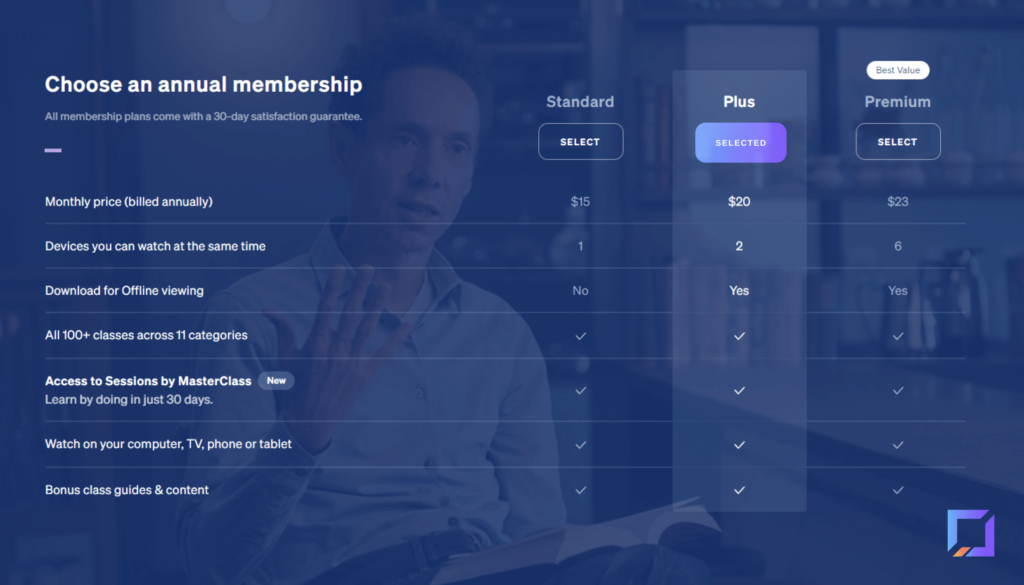 First up, you have the Standard Plan, which costs $15 per month billed annually. Standard subscribers can watch classes using one device — smartphone, tablet, computer, or TV — at a time. All classes include workbooks and access to a MasterClass Hub, a members-only community forum unique to each MasterClass course.
Then you have the Plus Plan, which clocks in at $20 per month billed annually. Plus subscribers get everything in Standard, plus the ability to access classes on two devices simultaneously. This level also lets you download videos for offline viewing on iOS devices.
Finally, the Premium Plan costs $23 per month billed annually. It includes everything from Plus Plan, plus the option to watch classes on six devices at the same time.
Pick the MasterClass subscription plan that's right for you
What is included in the Malcolm Gladwell MasterClass?
Runtime: 4 hours and 54 minutes
Course Value: 4/5
Lessons: 12
Supplementary materials: Supplementary workbook and access to MasterClass Hub forum
Supplementary workbook
All MasterClasses come with a supplementary workbook — usually a breakdown of the lessons with space to perform assignments.
The best MasterClass workbooks have visuals and interesting layouts to break up the monotony and dreaded walls of text that can bully students into submission.
Unfortunately, this is not one of them.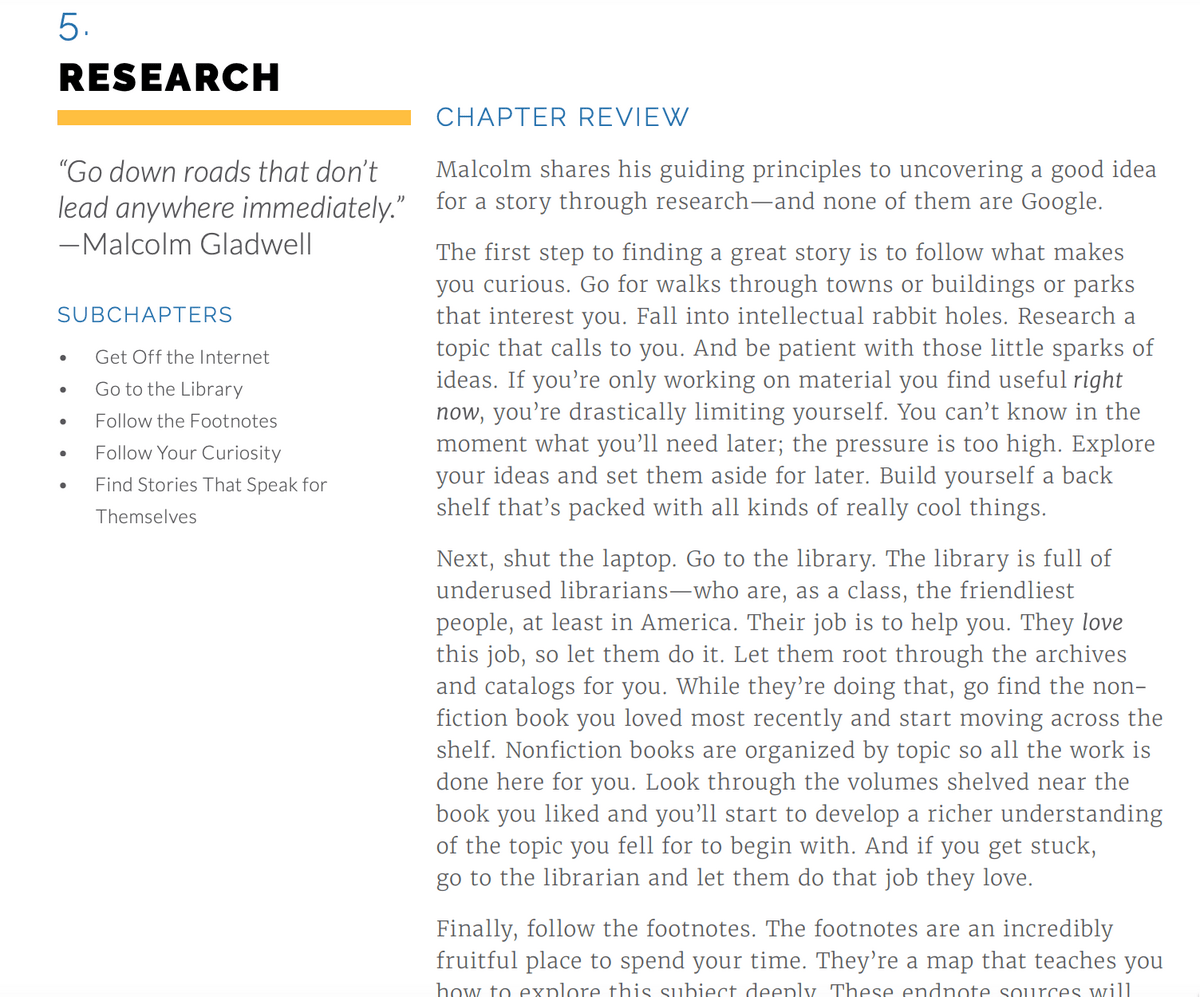 This workbook will take you back to your student years, going over droll study guides. Don't get me wrong, the information within is great; but the presentation has all the flair of run-of-the-mill cardboard.
The MasterClass Hub
Every course includes a community forum where students can come together to socialize and discuss what they've learned.
Normally, these MasterClass Hubs aren't hopping with conversations, so I expected to be underwhelmed when I cracked open the Malcolm Gladwell MasterClass Hub.
I was wrong.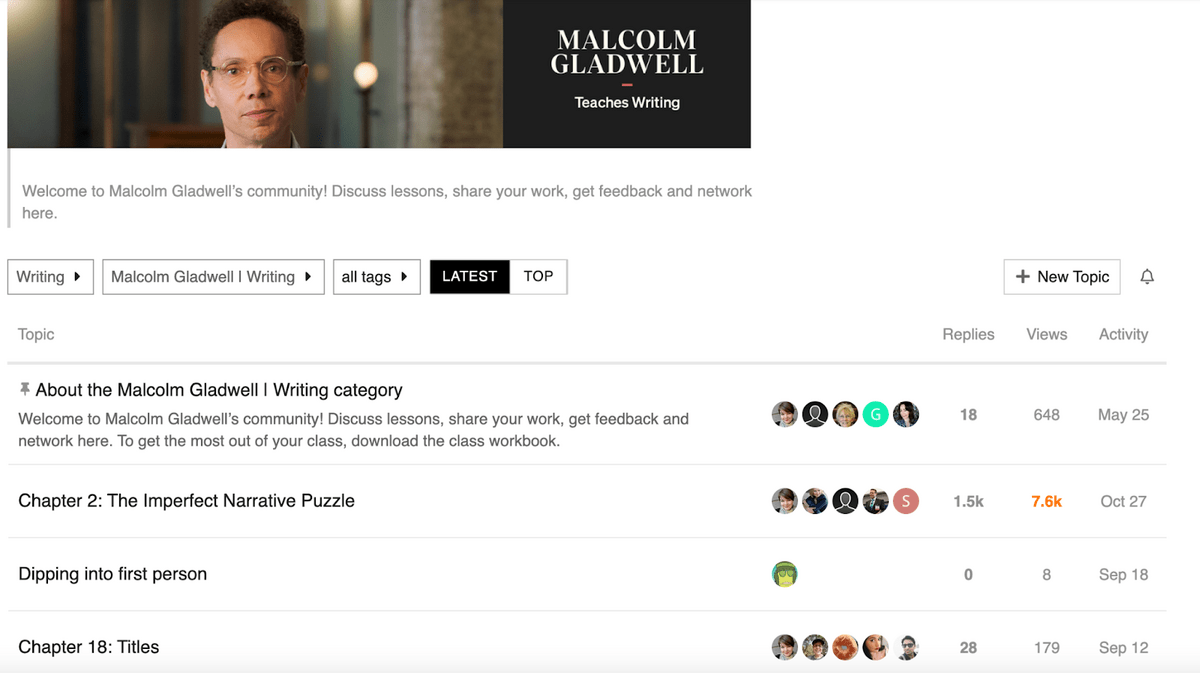 Malcolm Gladwell has one of the most active MasterClass Hubs I've seen, with some conversations having more than 1,500 replies.
A complete breakdown of the Malcolm Gladwell MasterClass curriculum
Gladwell's MasterClass includes 24 different lessons. I'll explore the curriculum in detail below.
Curriculum:
Introduction
Structuring Narrative: The Imperfect Puzzle
Holding Readers: Tools for Engagement
Holding Readers: Controlling Information
Research
Selecting the Story
Developing the Story
Developing the Story: Analogous Words
Interviewing
Characters: Descriptions
Characters: World Building
Character Case Study: "The Pitchman"
Structuring Language
Jargon
Tone and Voice
Humor and Melancholy
Case Study: Language and Emotion in "Something Borrowed"
Titles
Drafts and Revisions
When Your Story Enters the World
Working as a Writer
How to Read
Who to Read
Conclusion: A Theory of Other Minds
Course summary:
Writing nonfiction is an art form; some may even refer to it as a calling. Malcolm Gladwell says as much in his MasterClass on writing.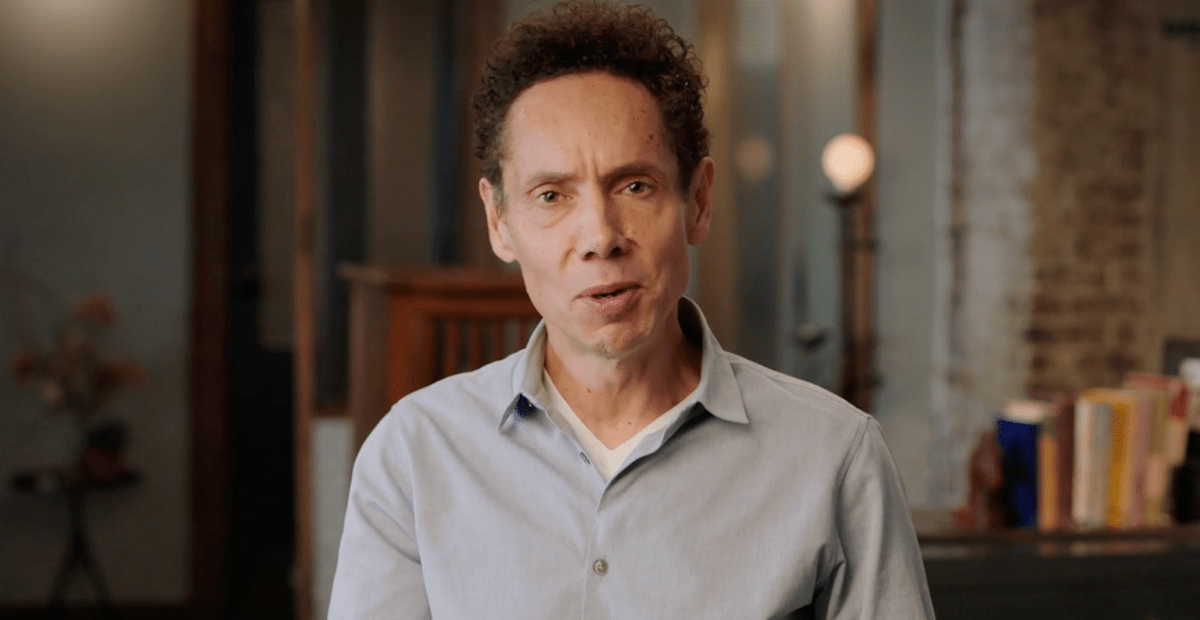 And you really believe that when he says it. He has a passion for the written word that has served him well over a long career. He's also a very effective speaker, unlike many writers, who, while brilliant on the page, fall to pieces when you interview them live.
Gladwell speaks about nonfiction in the same way that fiction writers like Neil Gaiman and James Patterson talk about their works — with passion and flair.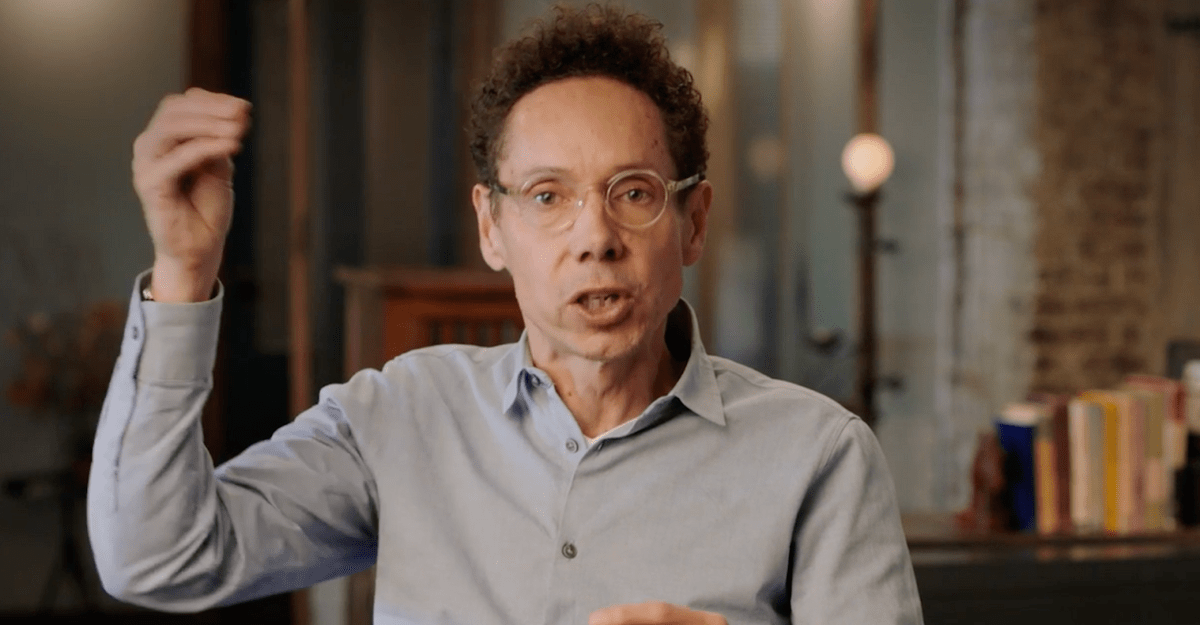 He starts off by just talking about writing and how the writing process works for him. Then he explores broader topics, like how to draw an audience in. He likens good writing to a puzzle, where you have to put the pieces together in the right way to make it compelling for someone else.
He also says you should keep things imperfect to leave the reader wanting more. I enjoyed this lesson as it showcases an original approach to nonfiction writing.
Gladwell also gets deeply psychological toward the relationship between writers and readers, detailing the human psychological need to understand the minds of others. The nonfiction writer's job is to present this information to the public.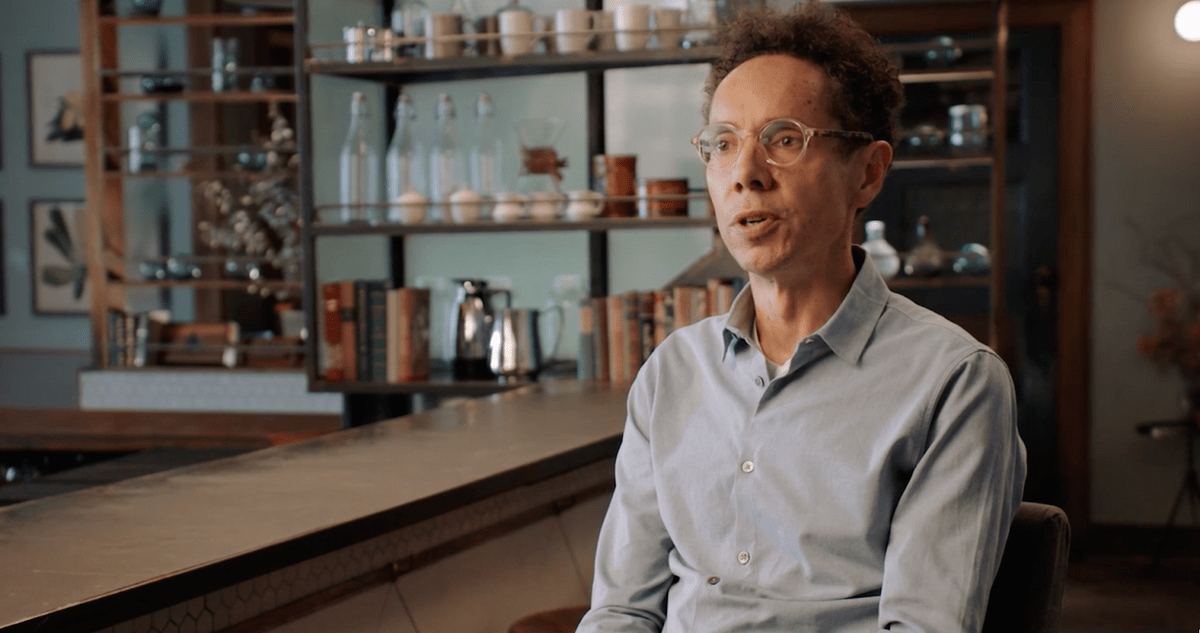 There are also several chapters about the business of writing. Malcolm talks about working as a writer, the editing process, what to do once your work is published, and more.
My only complaint was how monotonous the videos are. You never see his books or a change in scenery. You have one background and two camera angles. That's it — for nearly five hours.
But ultimately, this is an excellent addition to the MasterClass collection and a worthy endeavor for anyone looking to jump into the world of nonfiction writing.
What I learned
In my career, I've written a lot of fiction and nonfiction. While I always liked fiction, nonfiction always seemed quite dry and drab to me.
That has changed after listening to Malcolm Gladwell. He brought nonfiction to life and inspired me to look at the entire genre in a completely new light.
I learned a lot from this course, and here are some of my takeaways.
11 takeaways from this MasterClass
1. Writing is a calling
There is a higher purpose to writing. Writing is a huge part of how we as human beings fulfill ourselves. That is true of both writing and reading.
2. Good writing is like a puzzle
The mystery and challenge of a puzzle are what pull people in. Good writing is the same for a writer. We desperately need to make the pieces fit together. You have a shelf of objects and try to arrange them compellingly. The words already exist. You just have to put them together in the correct order to make something unique and wonderful.
3. Imperfection can be perfect:
Imperfection in an argument can draw readers in. Gladwell gives the example of saying apples are like oranges. We typically think of apples and oranges as being complete opposites of one another, but when we stop to think about it, they actually do have quite a lot in common. That imperfect argument draws the reader in. The puzzle that you create shouldn't be perfect in the end. You want it to be slightly odd because that's what draws people's attention.
4. Surprise can be cultivated:
Your job as a writer is to create an environment where you can tell engaging stories. If you don't know everything about a topic, you shouldn't pretend that you knew it from the start. When something surprises you, highlight that. Pretending you know it all will make you sound disingenuous. You can even invite the reader to guess and take them on your exact journey.
5. Worldbuilding is needed, even in nonfiction:
Often, you can better understand who a person is by describing their surroundings. Build a world around your subject to give audiences a sense of what they go through. Portraying someone's bedroom or living room can sometimes give you a better feel of who they are than describing their appearance. They are part of their own world and their own story and the reader needs access.
6. Jargon can be useful:
While writers often say to avoid jargon, it can be helpful to identify it and explain it to the audience. That gives your audience a window into how someone in that world acts and speaks. You're helping them explore a universe they're not a part of, and that's fascinating.
7. Leave your ego at the door:
People can tell if you're a jerk just by reading your books. When you insert yourself too gratuitously into a story, you annoy the reader who wants to understand the topic, not you. Readers assess not just what you're saying but also who you are. So don't be a jerk.
8. An intentional tone can tell your story:
You can draw your readers in with an intentional tone — intentionally selecting words and applying a "feel" to the narrative. Gladwell uses an example from one of his books about the horrible violence in Northern Ireland between Catholics and Protestants. He said that someone was "just a newlywed" to show you her innocence to make the violence around her seem even worse.
9. Titles must grab the reader:
A title is nothing more than an edited attention grabber. Gladwell spends a lot of time thinking of titles for his books because he wants something that will pull in readers and establish the tone of his story right away. Gladwell doesn't take criticism on titles because he puts so much work into them. Your title should also include emotions and tension. Contradictions in a title can create that tension.
10. You have to be a reader to be a writer:
You not only have to read to be a writer, but you have to take the task of reading seriously. You can't read something and dislike it if it's written in a way that you wouldn't have done it. That's being a bad reader. Instead, you have to search for the writer's intent and appreciate it not as a colleague but as a part of that writer's audience.
11. Nonfiction speaks to a need for humans to understand other humans:
The "Other Minds Problem" in psychology speaks to our fascination with how other people's minds work. As writers of nonfiction, we're feeding into that need in others and giving them a glimpse into not just our minds but the minds of the subjects we write about. You're going out, finding someone else's world, learning how their mind works and relaying that to your readers.
See what you'll take away from the Malcolm Gladwell MasterClass
Memorable quotes from this MasterClass
"You don't read nonfiction for the same reason that you chew gum or watch the Kardashians on television. You read it because you're in search of something powerful and fundamental about what it means to be a better person."

– Introduction
"One thing I want you to take away from this class is the idea of writing as a calling. It's an activity that has a higher purpose."

– Introduction
"The best kind of arguments are the arguments that are imperfect because the perfect argument is too obvious."

– Structuring Narrative: The Imperfect Puzzle
"If someone's a jerk, you can pick it up in their writing."

– Tone and Voice
"Reading is of equal importance to writing. There is no writing without reading."

– How to Read
"Writing is an act of service. And it's also an empathetic act."

– Conclusion: A Theory of Other Minds
"Without an understanding of what goes on in other people's minds, you can't fully be human."

– Conclusion: A Theory of Other Minds
Malcolm Gladwell MasterClass pros and cons
Before you sit down and dedicate time to the Malcolm Gladwell MasterClass, you should review the pros and cons of the course.
Pros
You're going to find a lot to enjoy about Malcolm Gladwell's MasterClass. Here are some of the major upsides to taking this class:
Uses case studies from other articles
Section on reading
Section on working as a writer
Fantastic insight
Great Hub engagement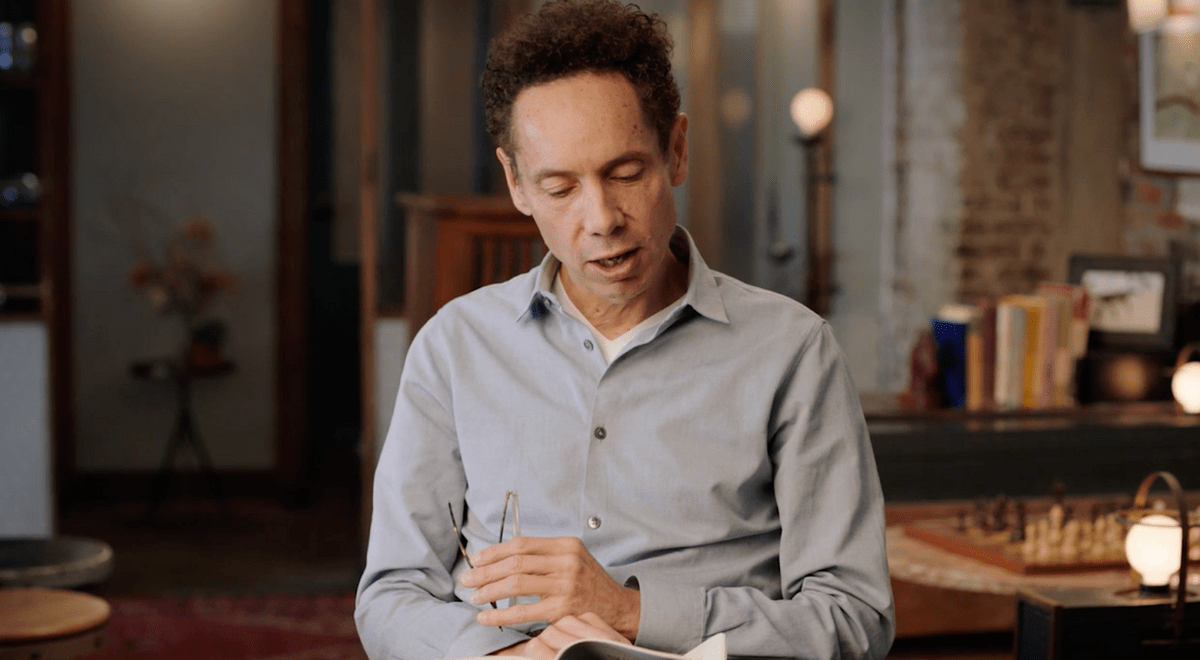 Cons
There are a few cons to review as well, but I don't think any of these are deal-breakers:
Comes off a little arrogant sometimes
Not a lot of variety in scenes
Boring workbook
Do I recommend this MasterClass?
If you're an aspiring nonfiction writer, I recommend this MasterClass. Malcolm Gladwell will make the art of nonfiction writing come alive for you.
It's a great course that goes beyond the mechanics of writing, exploring reading, audience psychology, and making a living as well. It might just set you on your ultimate career path.
If you need help with improving the quality of your writing, check out our review on the best grammar checker.
The best thing about it is that you can expand your horizons by learning to write in various formats and genres. Each course is memorable, insightful, and one-of-a-kind. Start your membership today to unlock your creative potential.