Shonda Rhimes is behind some of the biggest shows on television. Grey's Anatomy, Scandal, and Bridgerton are a few that come to mind.
Signing up for this MasterClass, I was excited to find out how Rhimes creates her shows. I wanted to know where she gets her inspiration from and how she crafts her characters, and I hoped for practical advice on writing a script.
This MasterClass delivered everything I hoped for and more.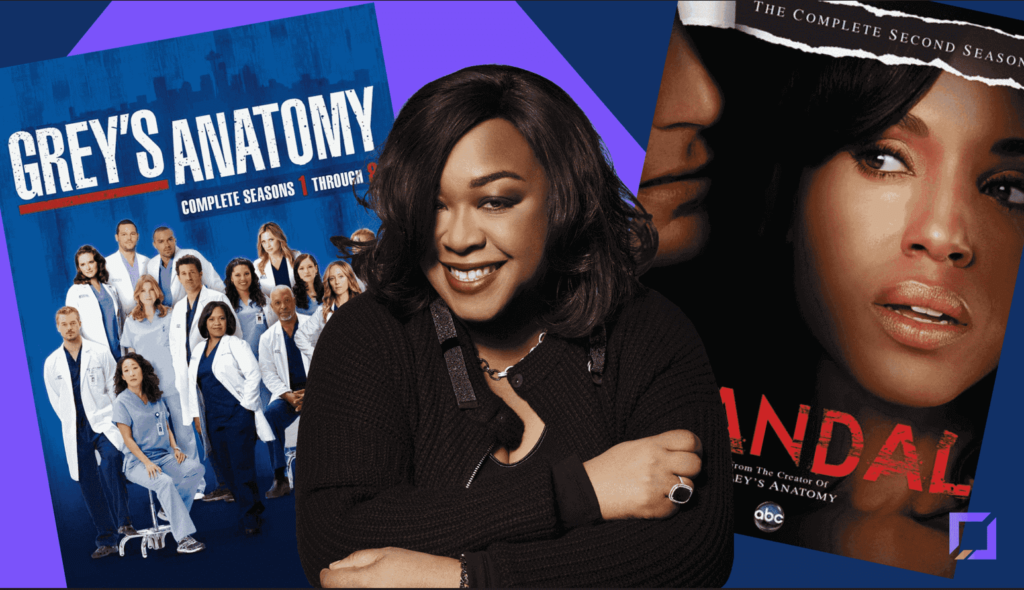 Rhimes goes through a wide variety of topics relating to TV writing. These include scriptwriting, creating engaging characters, and even how to pitch your ideas to a network.
The course is full of insightful and helpful advice for TV writers, so much so that I couldn't stop taking notes throughout. As a natural storyteller, Rhimes is also an engaging teacher (which helps when you have over 6 hours of videos to go through).
Keep reading to find out exactly what the Shonda Rhimes MasterClass offers, how much it costs, and ultimately if it's worth your time and money.
Disclosure: In the interest of full transparency, Codeless uses affiliate links in our MasterClass reviews to cover our site's costs. Learn more
Our Verdict
The Shonda Rhimes MasterClass is a well-structured and engaging course that'll give writers the confidence and knowledge they need to write a TV show.
Shonda Rhimes MasterClass
Learn the basics of writing a script
PROS
Case studies of real-life examples
An engaging and experienced teacher
A variety of topics, including practical advice about the TV industry
CONS
Advice is sometimes repeated throughout the course
The case studies all relate to Rhimes' work. If you're not familiar with it, you might not get the full picture.
Some suggestions are pretty basic
In this MasterClass review, you'll learn:
A few frequently-asked questions…
Before we dive into the MasterClass, let's take a look at some of the most common questions about this course.
Do I need a subscription to access this course?
Yes. To get access to the Shonda Rhimes MasterClass, you need a MasterClass subscription. Prices start at $180 annually. But the good news is you'll also get access to the entire MasterClass library, ranging from cooking, baking, interior design, photography, music, makeup, poker, and even negotiation.
How long is the MasterClass?
6 hours and 15 minutes in total, plus however long you spend reviewing the supporting documents.
Does MasterClass have a cancellation policy?
Yes. You can cancel your subscription at any time, and it comes with a 30-day money-back guarantee.
Is the Shonda Rhimes MasterClass worth it?
If you want to improve your TV writing or find out more about breaking into the industry, this MasterClass is worth it.
Sign up for the Television Writing MasterClass.
About Shonda Rhimes
Shonda Rhimes is a TV writer, producer, and showrunner. Her early screenwriting work includes movies such as Crossroads and The Princess Diaries 2: Royal Engagement.
But television is where Shonda Rhimes truly shines.
Rhimes knows a thing or two about creating successful TV shows. Her production company, Shondaland, launched in 1995 with its first hit television show, Grey's Anatomy. The series focused on the everyday lives of surgeons. It was an immediate hit, and it's still in production today, more than 25 years later.
Since Grey's Anatomy, Shondaland has produced a collection of TV shows — most of which Rhimes wrote herself. These include Scandal, How to Get Away With Murder, and a spin-off from Grey's Anatomy called Private Practice.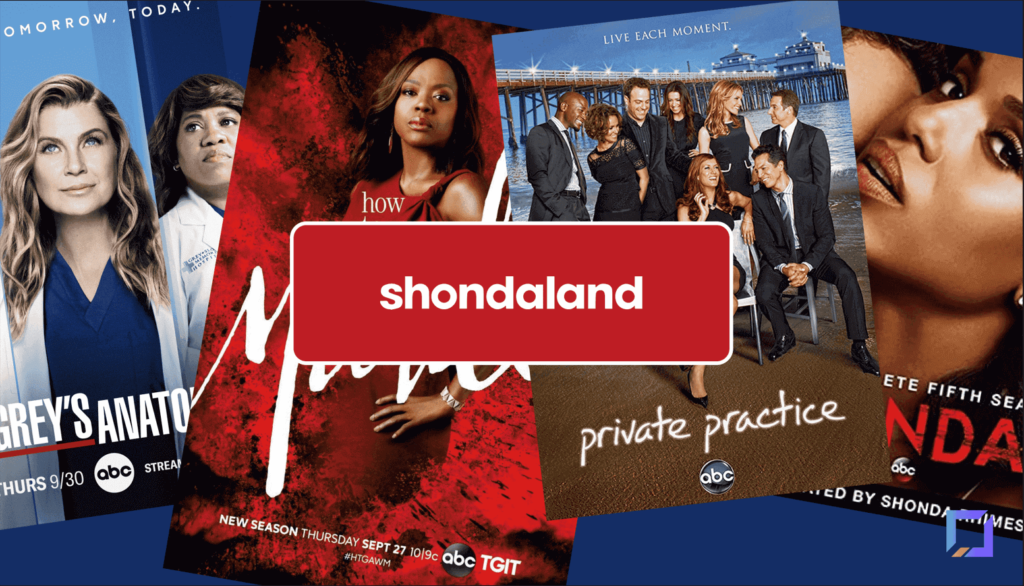 Rhimes has a few pretty impressive accolades to her name. She's won awards from the Writers Guild of America, Producers Guild of America, and Director's Guild of America. She's also won a Golden Globe and has three Emmy Award nominations.
How much does the Shonda Rhimes MasterClass cost?
Unfortunately, you can't buy the Shonda Rhimes MasterClass as a standalone course. You have to sign up for a MasterClass membership — but that's not necessarily a bad thing.
When you have a MasterClass membership, you can access the entire library of courses. That's right — everything. So if you're interested in learning more about writing for film and television, you could also take Aaron Sorkin's screenwriting course or Neil Gaiman's storytelling course without paying more.
Subscription prices start at $180 annually, but there are three different memberships to choose from: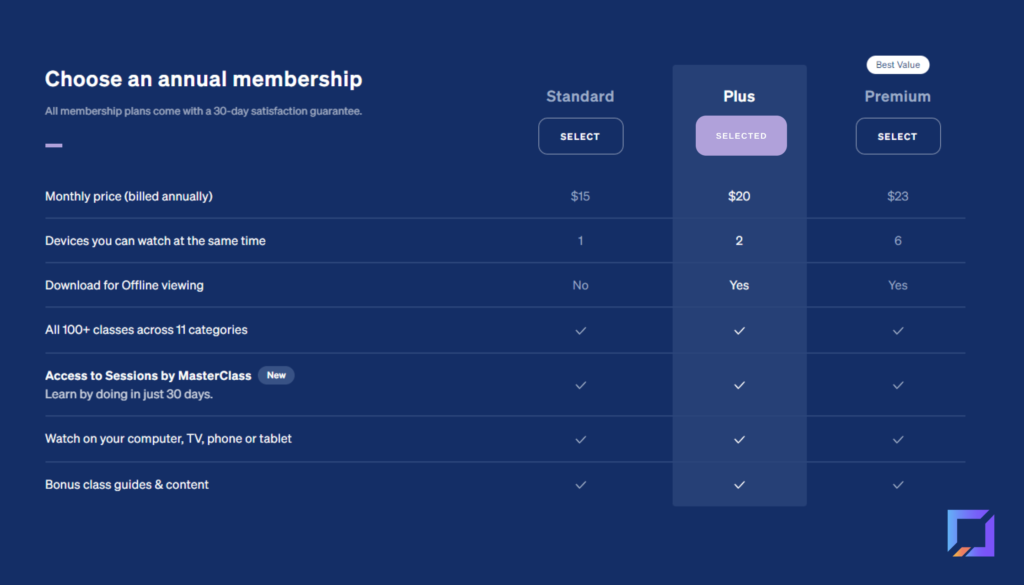 There are only two main features that the standard package doesn't include:
The number of devices you can use to stream content simultaneously — the Plus package allows two, while the Premium package allows 6.
The ability to download videos for offline use.
You can cancel your subscription at any time. MasterClass also has a 30-day satisfaction guarantee, so you can get your money back if you're not happy with the course.
Is a MasterClass subscription worth it? Find out here.
What is included in the Shonda Rhimes MasterClass?
Runtime: 6 hours and 15 minutes.
Course Value: 4.3/5
Lessons: 30
Supplementary materials: Class workbook, original pilot scripts, alternative opening scenes, and a story bible.
Supplementary workbook
At 64 pages long, the Shonda Rhimes workbook supplements the MasterClass well. It mirrors the course chapters, giving you exercises and assignments to put the theory into practice.
Here's a section from the 'Teach Yourself TV Writing' section: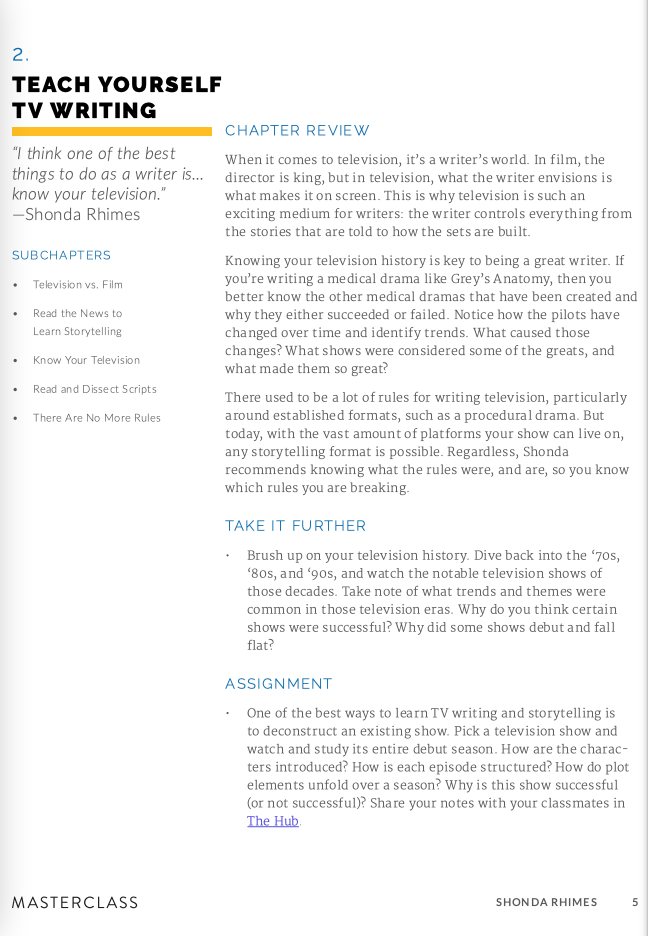 It also has a lot of space for notes, which is handy if you want to use the workbook on the go.
The MasterClass Hub
The MasterClass Hub is a space where users can discuss courses, share notes, ask questions, and connect with like-minded individuals. Here's a sneak peek of the Shonda Rhimes Hub: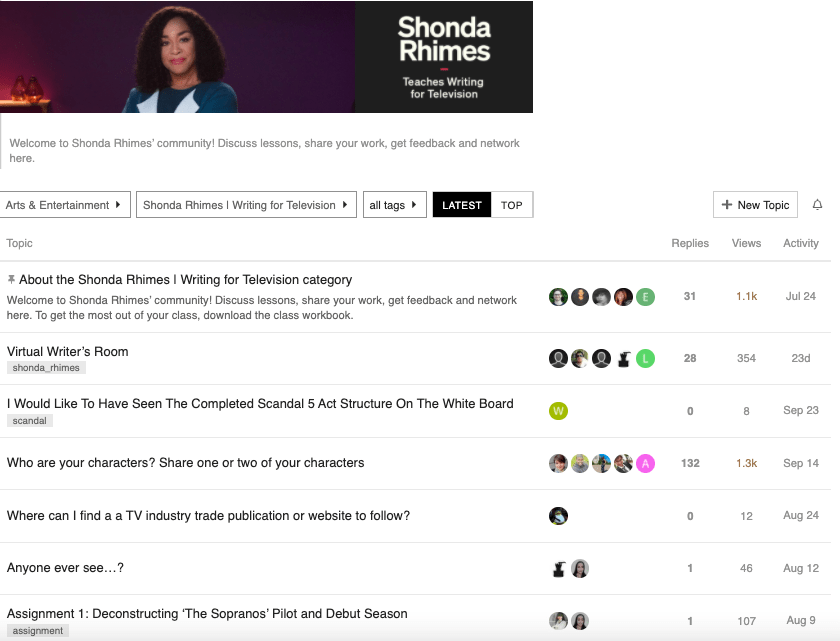 As you can see, it's full of writers sharing their ideas, asking questions, looking for feedback, and offering resources. There's even a thread that arranges a virtual writers room: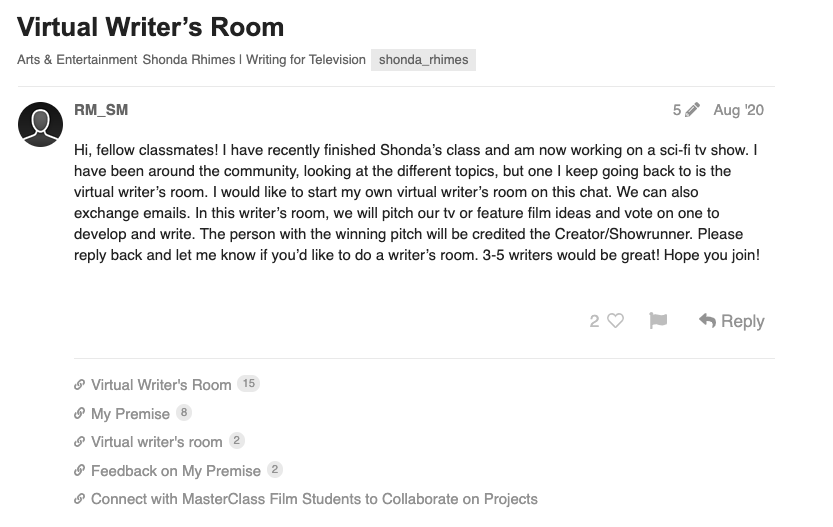 Simply put, it's a pretty good way to share your work, get feedback, and connect with other writers.
A complete breakdown of the Shonda Rhimes MasterClass curriculum
This MasterClass is broken down into 30 video lessons. Here's the complete list:
Curriculum:
Introduction
Teach Yourself TV Writing
Finding an Idea
Developing the Concept
Researching Your Story
Creating Memorable Characters: Part 1
Creating Memorable Characters: Part 2
Pitching Your Show
Writing a Script: Structure
Writing a Script: Process
Writing a Script: Effective Habits
Writing a Script: The Pilot
Writing Authentic Dialogue
Case Study: Grey's Anatomy Pilot – Part 1
Case Study: Grey's Anatomy Pilot – Part 2
Case Study: Scandal Pilot – Act One
Case Study: Scandal Pilot – Act Two
Case Study: Scandal Pilot – Act Three
Case Study: Scandal Pilot – Act Four
Case Study: Scandal Pilot – Act Five
Editing Your Script
Beyond the Pilot: Writing a Series
Scandal Case Study: "It's Handled"
Breaking into the Industry
Working in a Writers' Room
Working in TV Production
Showrunning
Life of a Writer
Shonda's Journey
Conclusion
Course summary:
The course starts with Rhimes giving some hands-on advice. She outlines how to teach yourself TV writing, how to research your story, and the process of building an idea into a well-rounded concept.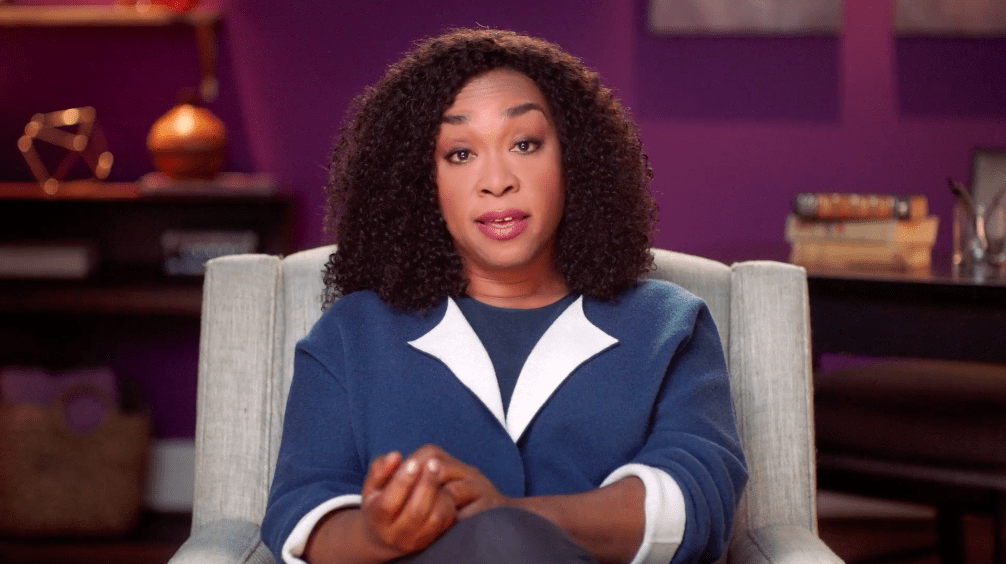 As the course goes on, the lessons focus on a few key topics. Let's take a look at what these are and what Rhimes has to say about them.
Characters
For Rhimes, TV writing is all about the characters. If your show doesn't have original and compelling characters, the audience won't pay attention. And if your audience isn't interested, your series won't succeed.
So how do you create compelling and original characters?
Rhimes suggests starting with the basics. Where do they live? What's their income? Who are their family and friends? Ask yourself these simple questions to start bringing your characters to life.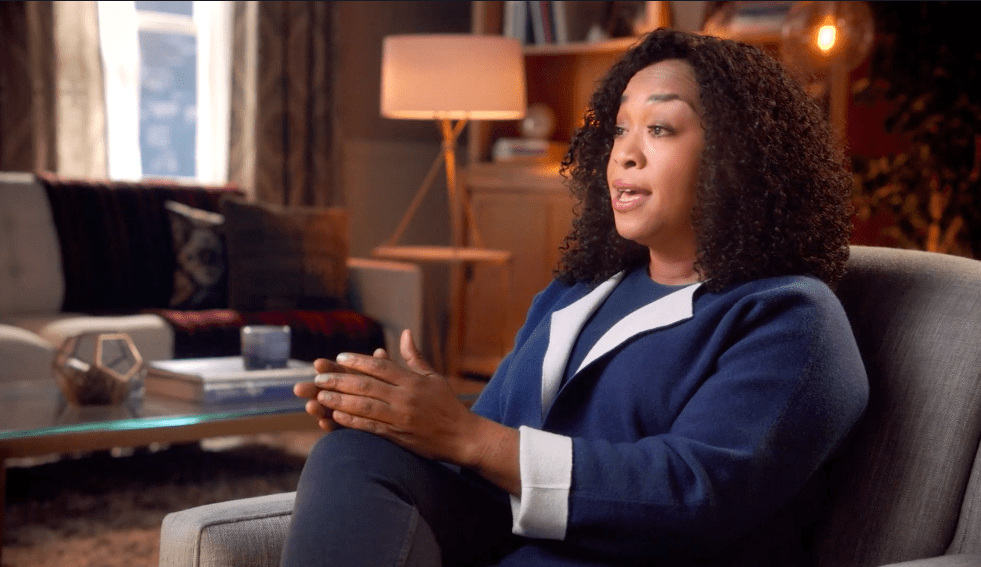 Once you've mastered this, you can look at them in more detail. If they went to therapy, what would the therapist think? Is there anything they don't know about themselves? What do they need/want in their life?
These in-depth questions let you fill up their lives and make them as interesting and engaging as possible. And the more you know about your characters, the easier it'll be to make them feel real for the audience and develop them over time.
Writing a script
Rhimes outlines how you should structure your script into 5 acts and what they should include:
Act 1: Introduce your characters and their world in an exciting way. Present a problem at some point.
Act 2: Escalate the situation, so things heat up for your characters.
Act 3: This is the center of the show. Things start to peak and either take a turn for the worst or most exciting. At the end of the scene, there's a surprising turn.
Act 4: Characters start to reveal themselves as who they really are. That also pushes them towards a key action they're going to take.
Act 5: Your characters hit their moment of victory or loss, depending on the situation.
It's helpful to keep this structure in mind when writing a script. It gives you some direction, which will make your first scriptwriting experience a lot smoother.
Dialogue
Rhimes explains that dialogue needs to be natural and believable. She shares a few tips to help you achieve this. Here are the two that stuck with me:
Avoid cliches at all costs. If you've heard it before, don't use it.
Make the dialogue fit the personality of the character. It will make it more believable and help solidify your character, too.
Rhimes also says that people rarely say what they mean. You have the dialogue on the one hand and the subtext behind it on the other.
You must find other ways to convey the subtext. For example, you can use stage directions to show the actor's body language. Think about how you can portray what a character is feeling without simply saying it.
Case studies
A good chunk of the course focuses on case studies from Rhimes' shows. These lessons include group sessions where Rhimes reviews and dissects specific episodes with other writers — with a focus on the pilot of Scandal.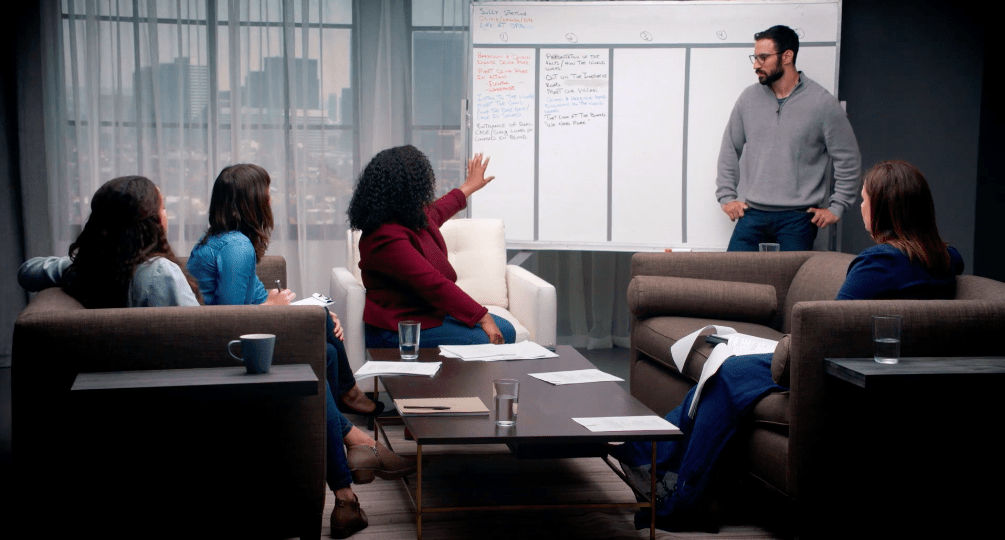 In this case study, the group breaks down the episode, reviewing what happens in each act and why. As a result, you can understand Rhimes' entire thought process behind the creation of the pilot.
Practical advice for working in TV
The latter part of the course focuses on what screenwriters need to know to break into the industry and how to succeed in it. Here are some of the key points she makes:
Have a good attitude and work hard, no matter what your job is.
Be open and honest with communication. If you're not sure about something, ask.
Manage your time effectively.
The creative process is quite intimate. For it to work, you need to get along with your peers.
Prepare for writer's room meetings. Come in with new ideas and suggestions and familiarize yourself with what happened at the last meeting.
These are just a few of the pieces of advice Rhimes offers throughout the course. Of course, she also shares other nuggets of wisdom for aspiring writers trying to get their foot in the door.
What I learned
From characters and dialogue to production and working in a writer's room, there's a lot to take in from this MasterClass. Here are some of the key takeaways I was left with when I wrapped things up.
4 takeaways from this MasterClass
1. Be original
Although Rhimes stresses the importance of absorbing other work for inspiration, she emphasizes how imperative it is to be original. To help you create an original concept, she suggests using a combination of sources for inspiration.
2. Pay close attention to your characters
Characters are at the heart of any good TV show. The plot revolves around their emotions and the way they react to certain situations. If you don't have well-developed characters, your show will lack the depth it needs to keep people interested. It should feel like you're watching the private lives of real people.
3. Write every day
If you want to be a writer, you need to write every day. It doesn't have to be for a long time, and the writing doesn't have to be good, but you need to access that creative space in your mind regularly.
4. Create a solid structure for your pitches
Although not every writer enjoys pitching, it's something you can't avoid. Fortunately, Rhimes offers advice on how to create and deliver a solid pitch to a network. She says the structure is critical. You need to know what you want to say, why you're saying it, and prepare for any questions. In total, it should only last 5-10 minutes.
You don't want to be vague. You need to figure out what information they need to hear. The executives you're pitching to just want to know how they can market the show. Keep this in mind when you're preparing your pitch.
Check out the Shonda Rhimes Teaches Writing for Television MasterClass.
Memorable quotes from this MasterClass
"A good TV idea has to have a compelling character. It has to have compelling main characters with compelling dilemmas."

– Lesson 3, Finding an idea
"You really want your characters to feel human, to really feel actually human. For people to feel so invested in them that they forget they're not real."

– Lesson 6, Creating memorable
"You don't want a flat show. You want a show that has ups and downs and places for people to go emotionally."

– Lesson 9, Writing a script: Structure
Shonda Rhimes MasterClass pros and cons
To wrap things up, here are a few of the pros and cons of the Shonda Rhimes MasterClass.
Pros
Case studies of real-life examples
An engaging and experienced teacher
A variety of topics, including practical advice about the TV industry
Cons
Advice is sometimes repeated throughout the course
The case studies all relate to Rhimes' work. If you're not familiar with it, you might not get the full picture.
Some suggestions are pretty basic
Do I recommend this Masterclass?
Yes, I thoroughly recommend it. The Shonda Rhimes MasterClass is a well-structured and engaging course that'll give writers the confidence and knowledge they need to write a TV show.
Sure, it's not perfect. But if you want practical advice from an accomplished screenwriter, this MasterClass does the trick. By the end of the course, I felt inspired to start writing ASAP.
The best thing about a MasterClass subscription is that you can expand your horizons by learning to write in various formats and genres. Each course is memorable, insightful, and one-of-a-kind. Start your membership today to unlock your creative potential.