Judd Apatow MasterClass review synopsis
What you'll learn: Looking for an inside scoop on how to produce epic comedy? This MasterClass is just what you need. Follow Judd Apatow as he teaches you to write, perform, produce, edit, and direct comedy for film and television
Run time: 6 hours and 34 minutes.
Pairs well with: Steve Martin teaches comedy, David Sedaris teaches storytelling and humor, David Lynch teaches creativity and film, Mira Nair teaches independent filmmaking. Shonda Rhimes teaches scriptwriting
Recommendation: Whether you're a seasoned chess player or a newbie looking to start somewhere, this MasterClass will take how you think about strategy and grit to a whole new level. If you're still not sure about this MasterClass, keep reading — we'll explain everything you need to know.
Do I recommend Judd Apatow MasterClass? Yes. If you have an interest in comedy or Judd Apatow's movies, you'll enjoy this MasterClass. Is there room for improvement? Sure. But overall, Apatow is an engaging teacher who offers actionable advice to break into the industry.
Judd Apatow has made a name for himself in Hollywood. Chances are you've seen at least one of his movies. The 40-Year-Old-Virgin, Knocked Up, and Anchorman, just to name a few.
Heading into this MasterClass, I was prepared for a pretty enjoyable ride. I hoped for some laughs, some insight into the production of his movies, and a few comedy writing tips and tricks along the way.
I got what I wanted and a little extra, too.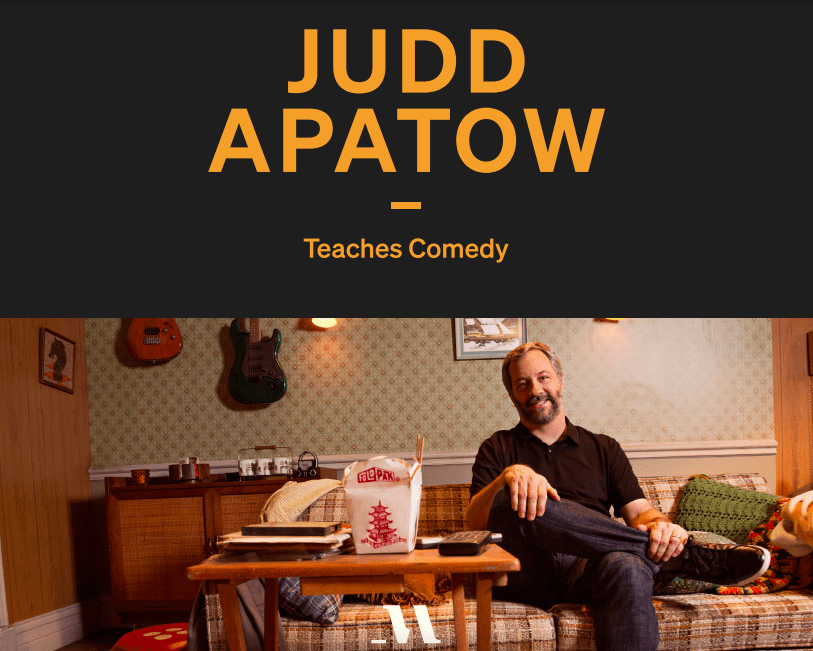 We learn from the man himself about his life in comedy and stand-up and his role in creating and editing movies. Plus, there's a lot of actionable advice about how to make comedy films.
Sure, there's room for improvement (more on this later). But it's worth watching if you're a budding comedy writer or anyone who's a fan of Apatow's work.
In this review, we'll take you through what's included in Judd Apatow MasterClass, how much it costs, and whether it's worth it.
Disclosure: In the interest of full transparency, Codeless uses affiliate links in our MasterClass reviews to cover our site's costs.
Our Verdict
This MasterClass is full of useful tips about how to break into the industry and the best practices you can follow to make your writing as funny and successful as possible. Apatow goes into a lot of detail about filmmaking, the comedy industry, and working on television.
Judd Apatow MasterClass
Become a Pro at Comedy
PROS
Lots of case studies and real-life examples.
Tons of actionable advice for comedy writing.in genius, unconventional way
Variety of additional resources.
Wide variety of topics.
Apatow's a pretty funny guy to listen to.
CONS
You might need some level of comedic knowledge to understand Apatow's references. simul isn't necessary
Apatow is a bit of a mumbler. Sometimes it's hard to follow exactly what he's saying (turning on subtitles will help).
Although this MasterClass is teaching comedy, a lot of the focus is on filmmaking in general.
In this MasterClass review, you'll learn:
A few frequently-asked questions…
Got any questions about the course? You might not be the only one. Take a look at some FAQs:
How much does the Judd Apatow MasterClass cost?
You need a MasterClass subscription to take the course. It costs $180 annually, and you get access to the full range of MasterClass courses. You can enjoy classes taught by famous figures like Margaret Atwood, Annie Leibovitz, and Alex Honnold and Tommy Caldwell.
Take a look at this MasterClass review to see if it's worth it.
What are the video lessons like?
Lessons are broken down into 10-20 minute video segments. They're well shot, and having the lessons broken down into sections makes it easier to digest.
Does MasterClass have a cancellation policy?
Yes, and it's pretty good. You can cancel your MasterClass subscription whenever you like. If you cancel within the first 30 days, they'll give you a full refund.
Is the Judd Apatow MasterClass worth it?
If you want practical advice about working in comedy, yes — it's totally worth it.
Learn from one of the greatest comedic minds, Judd Apatow
About Judd Apatow
Comedian Judd Apatow is a man of many talents. He's a screenwriter, editor, director, and producer of film and television.
Apatow founded his own production company in 1999, named Apatow Productions. Since its creation, the company has made over 25 movies and 6 television series.
He's best known for creating offbeat comedy films with unconventional and relatable protagonists. Some of his most popular movies include Knocked Up, Trainwreck, The 40-Year-Old-Virgin, Bridesmaids, and Anchorman.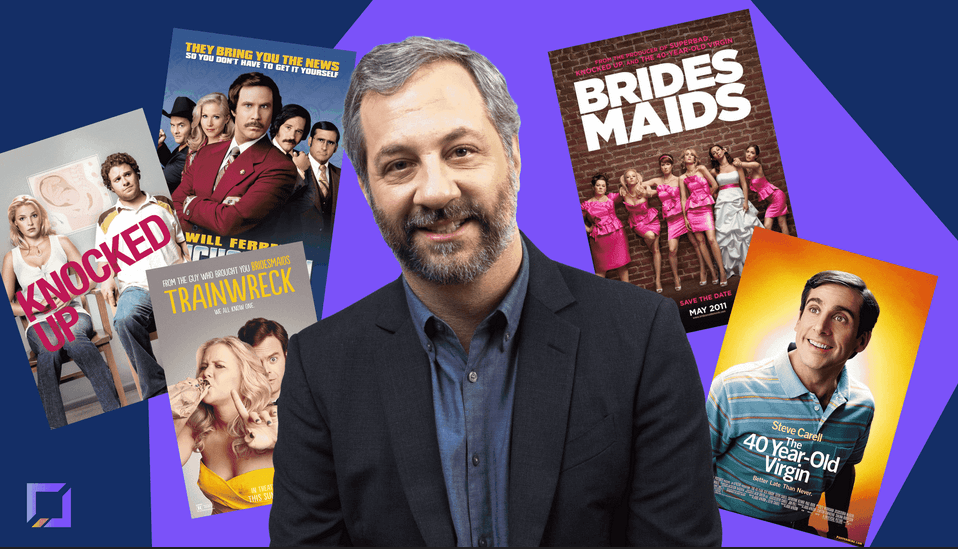 In 2013, Apatow won a BAFTA for his work on Girls. He's also won 2 Emmy Awards, a CinemaCon award, a Hollywood Film award, and even Comedy Person of the Year in 2008.
These are just a few of Apatow's accolades, so it's safe to say he's a pretty accomplished man.
How much does Judd Apatow's MasterClass cost?
Unfortunately, you can't purchase the Judd Apatow MasterClass as a standalone product. You have to buy a MasterClass membership, which is $180 for the standard annual plan.
You can also choose a Plus or Premium membership, which allows you to watch the courses on multiple devices and download them to watch offline.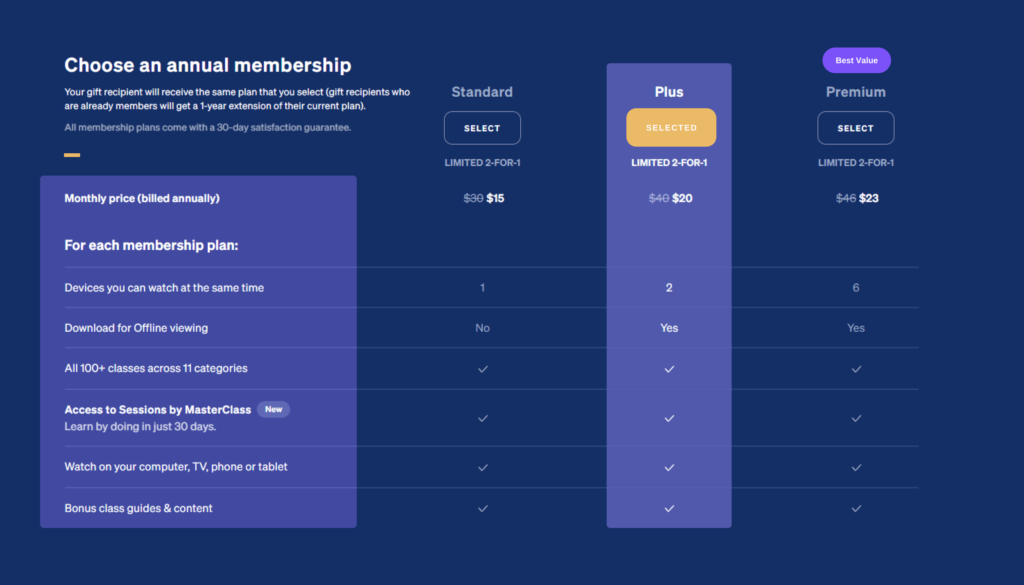 The good news is when you sign up for any of the membership plans, you get access to the entire MasterClass library.
There are currently over 110+ courses that cover a variety of topics, so you've got a wide selection to choose from if you sign up.
Discover what's available with MasterClass
What is included in the Judd Apatow MasterClass?
Runtime: 6 hours and 34 minutes
Course Value: 4 out of 5
Lessons: 32 video lessons, plus 12 documents for download
Supplementary materials: 12 additional documents, including a workbook, drafts, scripts, brainstorms, and hand-written notes. There's also a community forum (known as the Hub) for MasterClass users
Supplementary workbook
The Judd Apatow workbook is pretty great. It's 55 pages long and full of chapter reviews. Each chapter outlines what's included in the video lesson, the subchapters, and a quote (that's usually hilarious) from the man himself.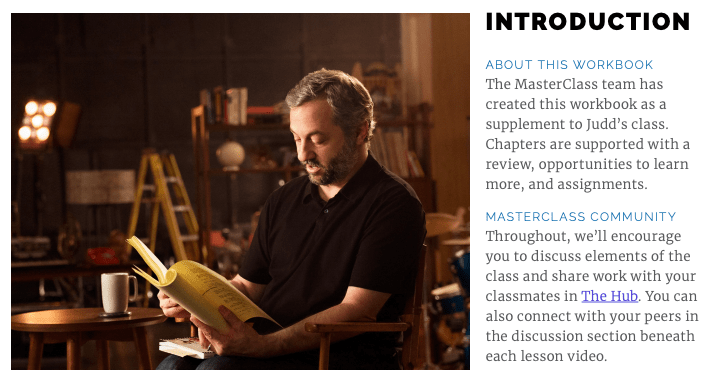 The workbook also includes a viewing list, a reading list, and links to some of the sketches, scenes, and transcripts that Apatow mentions throughout the course.
There are also worksheets and assignments you can do at home to develop your writing.
The MasterClass Hub
The MasterClass Hub is an online community where users can meet other subscribers. There are specific MasterClass Hubs for each course.
Judd Apatow's community is a place where participants discuss lessons, share their work, get feedback, and network with other comedians and film professionals.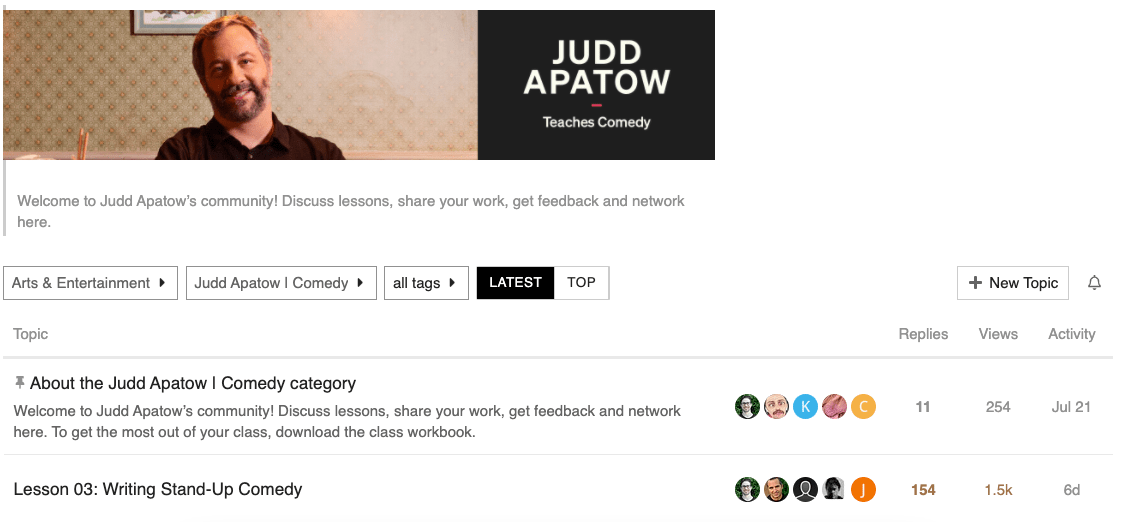 The threads have a lot of prompts for writing jokes and encourage users to put what they've learned into practice.
Here's an example of one of the threads in the 'Writing Stand-Up Comedy' section: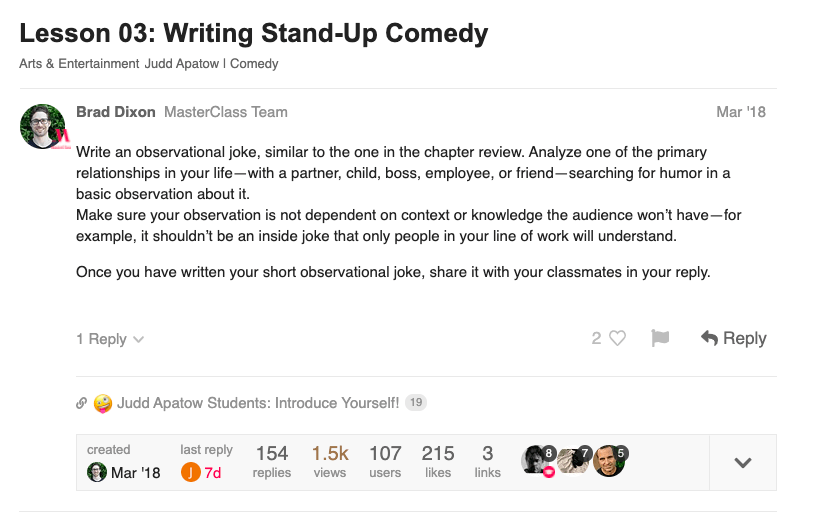 The Hub is a great resource for those looking to develop their writing and meet other comedy folks. It doesn't give you the same level of detail and depth that you get from the MasterClass itself, but it's a good way to continue developing your comedic genius.
Additional materials
On top of the workbook and the Hub, users also have access to additional materials provided by Judd himself.
These include scripts (first drafts and final edits) and hand-written notes of his own ideas, and brainstorming sessions with peers.
A complete breakdown of the Judd Apatow MasterClass curriculum
As well as covering his background in comedy, Apatow's MasterClass is full of practical advice for aspiring comics. Although the structure jumps around a little, it focuses on three core subjects:
Stand-up comedy
Comedy in television
Comedy in film
Curriculum:
Introduction
Judd's Journey
Writing Stand-Up Comedy
Performing Stand-Up Comedy
Developing Life Into Story
Case Studies: Developing Life Into Story
Crafting Comedic Storylines
Structuring Films, Part 1
Structuring Films, Part 2
Writing Process: First Draft
Writing Habits
Character, Part 1
Character, Part 2
Dialogue
Tips for Writing Television
Workshopping Scripts, Part 1
Workshopping Scripts, Part 2
Casting
Working With Actors
Advice for Actors
Directing: Tone
Directing: Shooting Comedy
Directing: Production
Case Studies: Improvisation
The Evolution of a Scene: Knocked Up
Editing and Testing Films, Part 1
Editing and Testing Films, Part 2
Music in Comedy
Pitching
Succeeding in Show Business
A Life in Comedy
Closing
Course summary:
The course begins with Apatow telling us about his life. We find out why he fell in love with comedy, where he gets his comedic inspiration (spoiler alert: Garry Shandling is a key influence), and how he climbed up the comedy ladder to get to where he is today.
Stand-up
Before long, we're looking at how to write and perform stand-up.
Apatow talks in-depth about how to craft a joke — whether that's building a joke around the punchline or starting with the premise and taking it in different directions.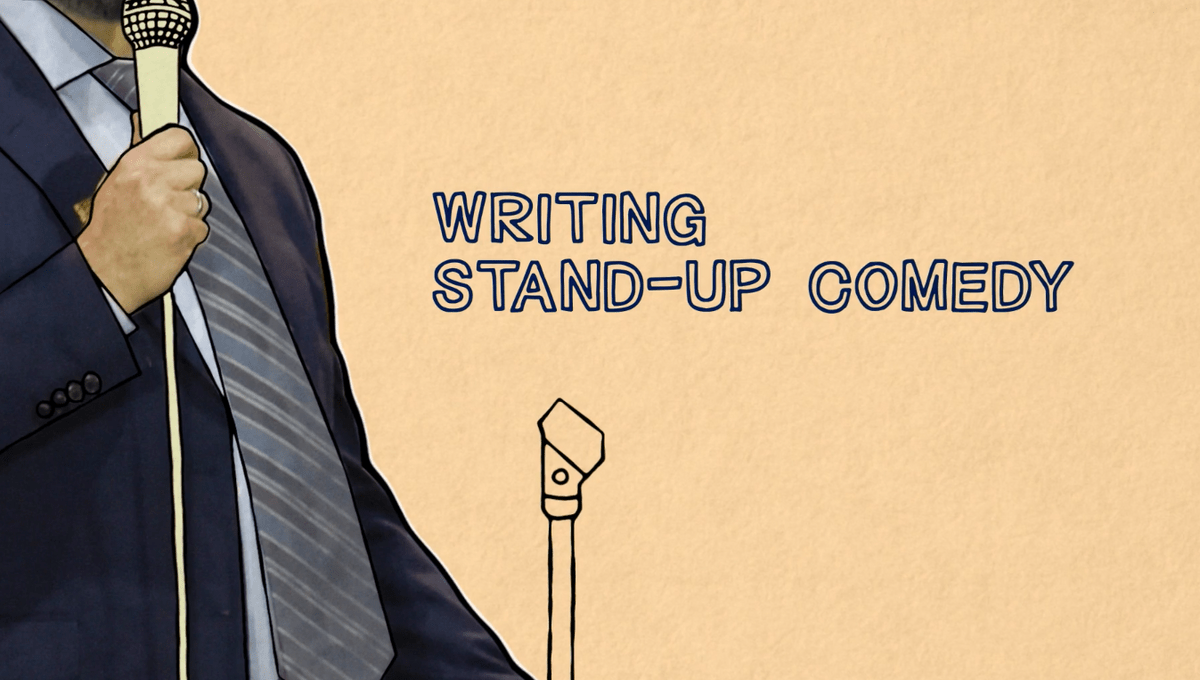 He also talks about getting personal with your jokes and making sure that you consider any jokes you've written from multiple perspectives. You might find something even funnier if you look at the same situation from a different angle.
The rest of the MasterClass switches between talking about film and television. There's a bit of overlap, so I'll take you through what's covered under each of the main topics.
Comedy in film
First, we look at film. Apatow shows us how to create hilarious storylines and how to structure a comedy film. He also suggests looking at your comedies as dramas. Simply put, a comedy needs to work just as well without the jokes.
Comedy in television
Apatow talks about comedy in television throughout the course, but there's a specific 'Tips for Writing Television' section which focuses solely on how to write comedy for TV. He explains how he creates stories for TV, which often involves starting with how the series will end.
The writing process
In this part of the course, Apatow shares his advice on how to find your flow and let your creativity take charge.
It includes a step-by-step process for brainstorming ideas with peers, how to create an outline, and setting reasonable goals for drafts.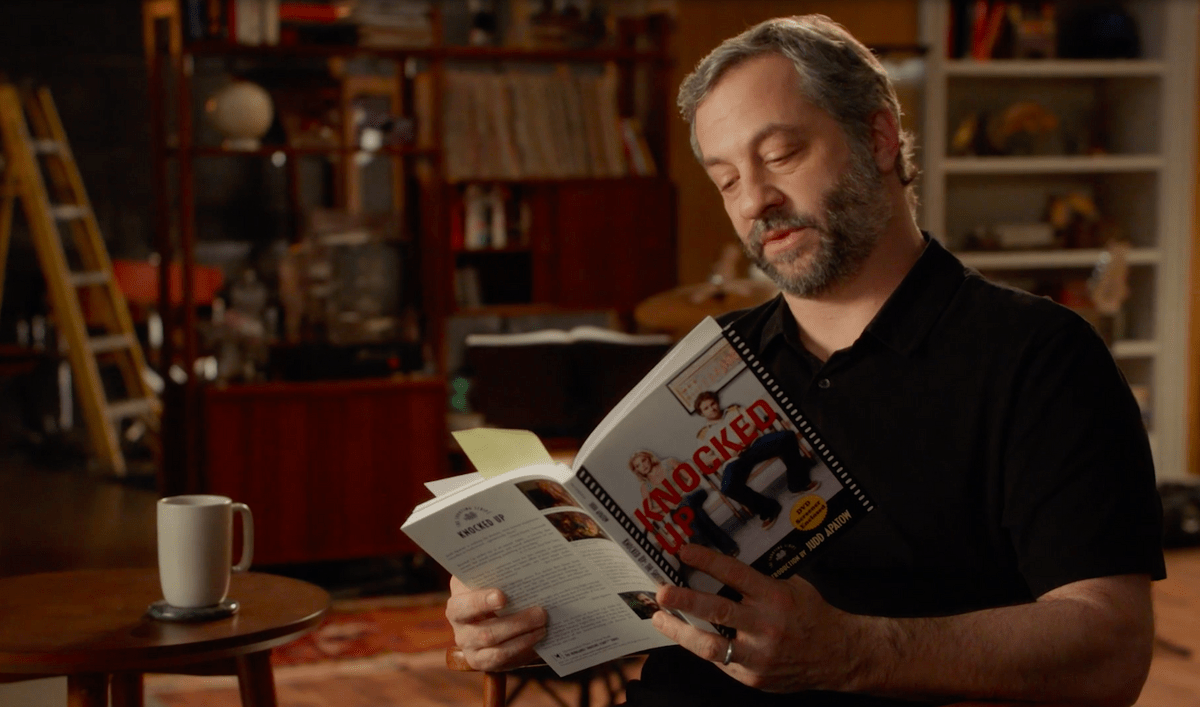 Apatow also talks us through how he collaborates with peers during the writing process and the importance of rewriting.
He uses a few examples of how rewrites have improved scripts. I particularly remember the rewrite of a scene from Knocked Up —when Seth Rogen's character discovers he's going to be Dad.
The revised version is undoubtedly funnier.
Characters
Amazing characters are a vital part of any successful comedy, and no one knows this better than Judd Apatow.
In this section, he tells us about his character inspiration and explains how to create authentic, funny, and relatable characters. One of his personal habits involves reading self-help books to better understand human behavior.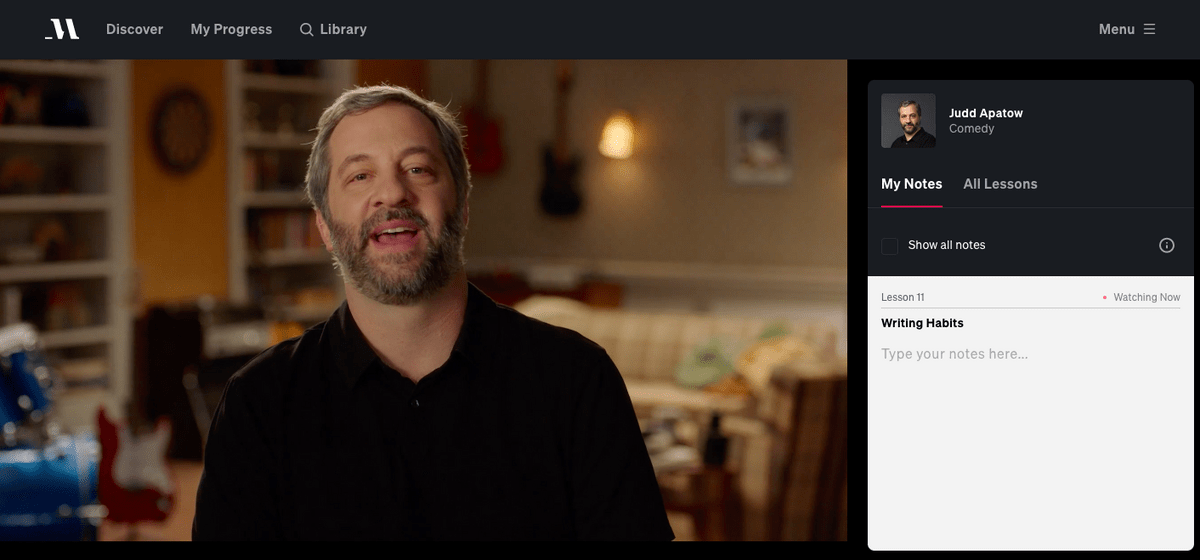 Apatow also talks about how things are always funnier when they're true to character. By fully understanding your character's personality, you can write funny and realistic dialogue.
Directing
A key focus of the MasterClass involves how to direct movies and work with actors. He talks about how to get the best performance out of an actor and the importance of letting them do a little improv.
He also covers some of the more technical aspects of producing movies, such as editing, managing a crew, overseeing budgets, and sticking to the allocated time frame.
What I learned
One of the most important takeaways I learned from this course is that great comedy is a team effort. The evolution of a joke stems from collaboration and getting input from people you trust and respect.
Here are a few of the other key takeaways.
7 takeaways from this MasterClass
1. Self-discipline is key
At its core, comedy is about writing — whether it's for stand-up, television, or film. Apatow talks a lot about treating comedy like a full-time job. For example, dedicating a set amount of time writing at a desk every day. You need to be disciplined to get the best out of yourself and your writing.
2. Keep it personal
Use the cinematic moments in your life to make your work as personal as possible. Apatow and his wife, Leslie Mann, took parts of their own birth story and used them in the movie Knocked Up.
3. Make your characters feel real
When people understand the reasons behind why people are behaving in a certain way, it makes them funnier. So spend time building who your characters are, and you can tailor jokes accordingly.
4. Rewrite as many times as it takes
Rewriting is a key part of the process. Consider feedback openly and keep an eye out for any similarities that keep cropping up. If people are picking up on the same thing, chances are it needs to change. And remember — their feedback might not always be right, but it could steer you in the right direction.
5. Comedy is subjective
You have your own voice and perception of what's funny and what's not, just like your audience. Stick with your style, have a clear vision, and trust your intuition.
6. Find your people
Surround yourself with people who are on the same page creatively. They don't always have to agree with you — in fact, it's sometimes better if they don't — but they need to understand who you are and what you're trying to achieve.
7. Don't always stick to the script
Improv allows directors, producers, writers, and actors to create great scenes that haven't been scripted. As Apatow says, 'let them play' with the scene.
Sign up for the Judd Apatow MasterClass
Memorable quotes from this MasterClass
"Like all types of writing, stand-up gets better when people get more personal."

– Lesson 3, Writing Stand-Up Comedy
"I always think that people should look at comedies as dramas when they're writing. It really doesn't help to think of these stories as 'comedy stories'. They should be stories that would work just as well without any jokes. If you have a great story and great characters, it's easy to find a way to make it funny."

– Lesson 7, Crafting Comedic Storylines
"Everything about screenwriting is about the rewrites. You can bang out a draft, but really it's going to become amazing through revisions."

– Lesson 17, Workshopping Scripts, Part 2
Judd Apatow Masterclass pros and cons
Still trying to figure out if Judd Apatow's Masterclass is right for you? Take a look at these pros and cons.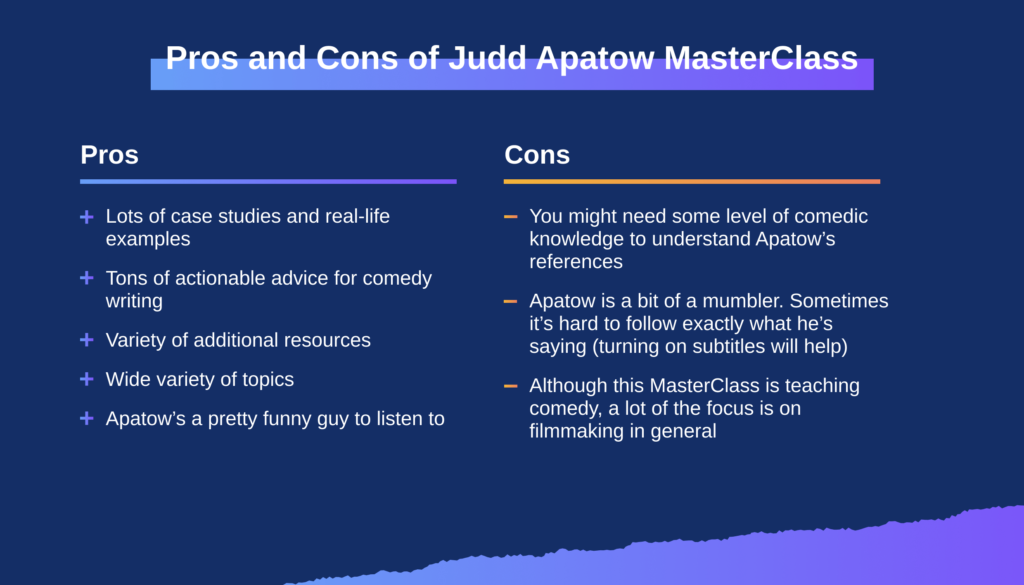 Pros
Lots of case studies and real-life examples.
Tons of actionable advice for comedy writing.
Variety of additional resources.
Wide variety of topics.
Apatow's a pretty funny guy to listen to.
Cons
You might need some level of comedic knowledge to understand Apatow's references.
Apatow is a bit of a mumbler. Sometimes it's hard to follow exactly what he's saying (turning on subtitles will help).
Although this MasterClass is teaching comedy, a lot of the focus is on filmmaking in general.
Do I recommend this Masterclass?
If you're looking for a MasterClass that'll give you practical advice about comedy writing and filmmaking, yes — I recommend this MasterClass.
It's full of useful tips about how to break into the industry and the best practices you can follow to make your writing as funny and successful as possible.
If you have a vague interest in comedy, this isn't for you.
Apatow goes into a lot of detail about filmmaking, the comedy industry, and working on television. Sure, it's interesting to learn more about Apatow's movies. But if that's all you're here for, this MasterClass probably isn't worth it.