I'm not a photographer. I don't aspire to be a professional photographer.
But like most people, I enjoy taking pictures of the experiences I have, sights I see, and people I know and love.
Unfortunately, I'm often disappointed in the results. I wish I had a better understanding of how to capture a moment beautifully.
That's why the Annie Leibovitz MasterClass appealed to me. She is one of the most renowned portrait photographers in the world, and I hoped to take away a few beginner-friendly tips from her vast expertise.
But did the course deliver?
That's what I'll tackle in this review. I'll dig into exactly what the Annie Leibovitz MasterClass has to offer, including the cost, curriculum, and major takeaways — everything you need to decide whether or not it's worth it for you.
Disclosure: These reviews are reader-supported. We might earn a small commission if you purchase something through our site. Learn more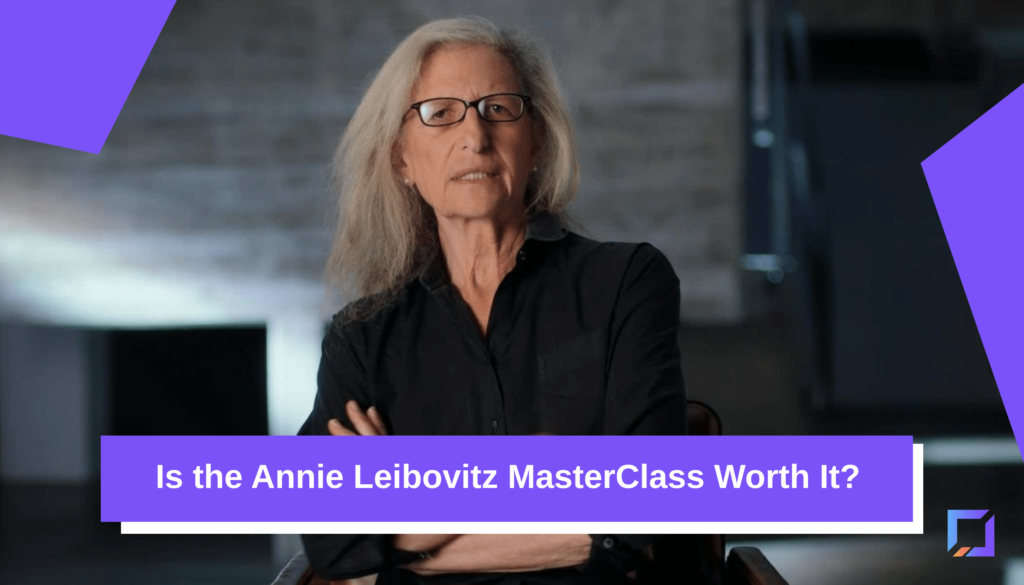 Our Verdict
Take this MasterClass because you want to understand the mind of someone the Library of Congress deemed a "living legend." This course will teach you how to tell stories with your portraits, and develop your own unique style.
Annie Leibovitz MasterClass
Tell stories with your portraits
PROS
Annie Leibovitz is world famous as a portrait photographer
The course shows many examples of her iconic work
You get to see Annie Leibovitz at work on photoshoots
Assignments are given at the end of the lessons
Photographers of all levels can understand this course
CONS
Not a technical course
Very few practical takeaways
Classroom sessions fall flat
In this MasterClass review, you'll learn:
A few frequently-asked questions (FAQs)
Before we look at the course content, here are a few quick answers to questions you might have.
Do I need a subscription to access this course?
Yes, you need a MasterClass subscription to access Annie Leibovitz's MasterClass. With that membership, you can also take 180+ other courses taught by experts in various fields, ranging from cooking, baking, interior design, music, writing, makeup, poker, and even negotiation.
Does MasterClass have a cancellation policy?
You can cancel the auto-renewal of your MasterClass subscription at any time. If you cancel within 30 days of signing up, you can get a full refund.
Is the Annie Leibovitz MasterClass worth it?
If you go into the course with the right expectations, it's worth it.
Annie Leibovitz is one of the best in the world at what she does, and in this class, you learn about her philosophy on photography. She also tells compelling stories from her long career of shooting famous people with a camera.
But she gives very little practical advice.
The class is worthwhile as insight into Leibovitz herself but not a great source for photography how-to tips.
Find out who inspired Annie Leibovitz.
About Annie Leibovitz
Annie Leibovitz is a photographer known for her celebrity portraits.
As a student at the San Francisco Art Institute, Leibovitz originally intended to become an art teacher. But the course of her life changed when she took a photography night class.
What started as a hobby quickly became an obsession, and finally, a career.
She started her career as a staff photographer for Rolling Stone magazine, eventually becoming the chief photographer in 1973. During her time at Rolling Stone, she took many famous photos, including one of John Lennon and Yoko Ono just hours before Lennon died.
In 1984 she moved on to Vanity Fair and started to take on more and more individual projects.
The long list of celebrities Annie Leibovitz has photographed includes Dolly Parton, Whoopi Goldberg, Leonardo DiCaprio, Queen Elizabeth, and Amy Schumer.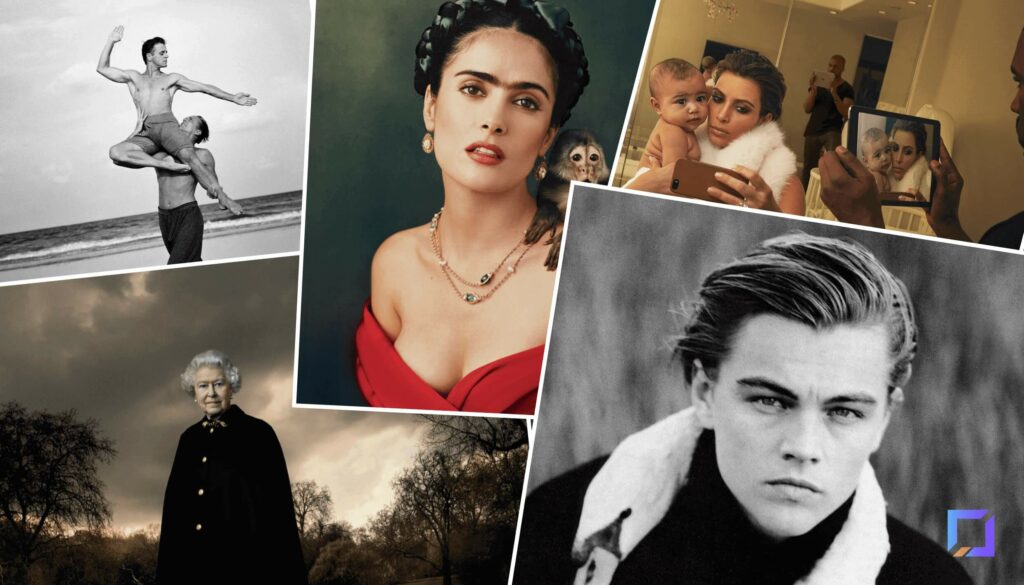 Multiple museums feature her work, with collections at the Art Institute of Chicago, The Museum of Modern Art in New York, and the Los Angeles County Museum of Art. She was also the first woman to have a feature exhibition at Washington's National Portrait Gallery.
How much does the Annie Leibovitz MasterClass cost?
To take the Annie Leibovitz MasterClass, you need a MasterClass membership. The MasterClass subscription comes in three price tiers: Standard, Plus, and Premium.
The Standard plan, which costs $180 per year, is all you need to access all MasterClass courses. That's just $15 per month, which is a great deal, with 180+ courses all taught by true experts.
The Plus and Premium plans let you download the courses and watch them on multiple devices at once. Plus gives you two devices for $240 per year, and Premium allows up to six devices for $273 per year.
Remember: you're also gaining access to a wealth of other classes taught by many other recognizable names like Dr. Jane Goodall, Dan Brown, and Christina Aguilera.
Unlock the Annie Leibovitz MasterClass with a membership.
What is included in the Annie Leibovitz MasterClass?
Runtime: 3 hours 4 minutes
Course Value: 3.5/5
Lessons: 15
Supplementary materials: Student workbook and discussion forum
Supplementary workbook
The course comes with a downloadable 43-page workbook. The workbook summarizes each lesson, includes suggestions for further study, and assignments for you to complete.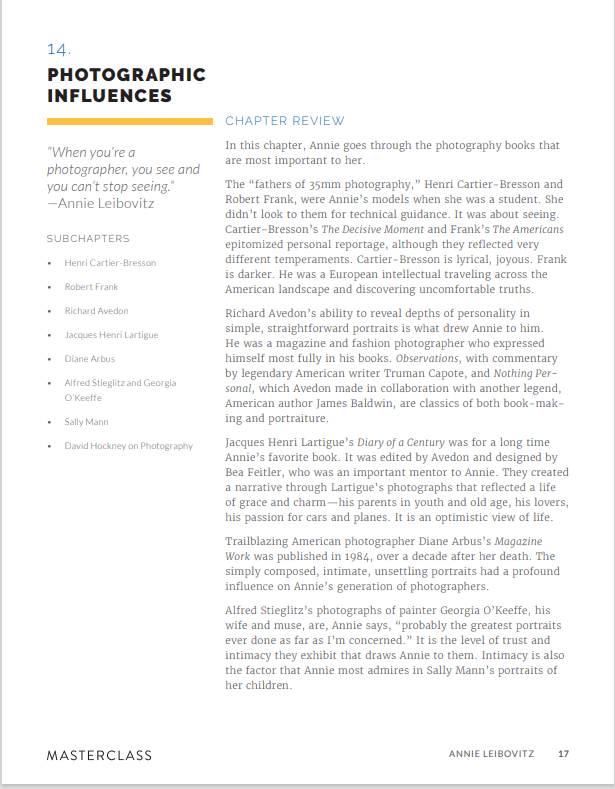 Throughout the video lessons, you see many examples of Annie Leibovitz's work. In the back of the workbook, there's a helpful index of all the images shown.
The workbook also contains a list of books for reference and future learning.
The MasterClass Hub
Every MasterClass has a community discussion forum for students of the class.
The Annie Leibovitz community is relatively active, with students showing examples of their photography and discussing the course.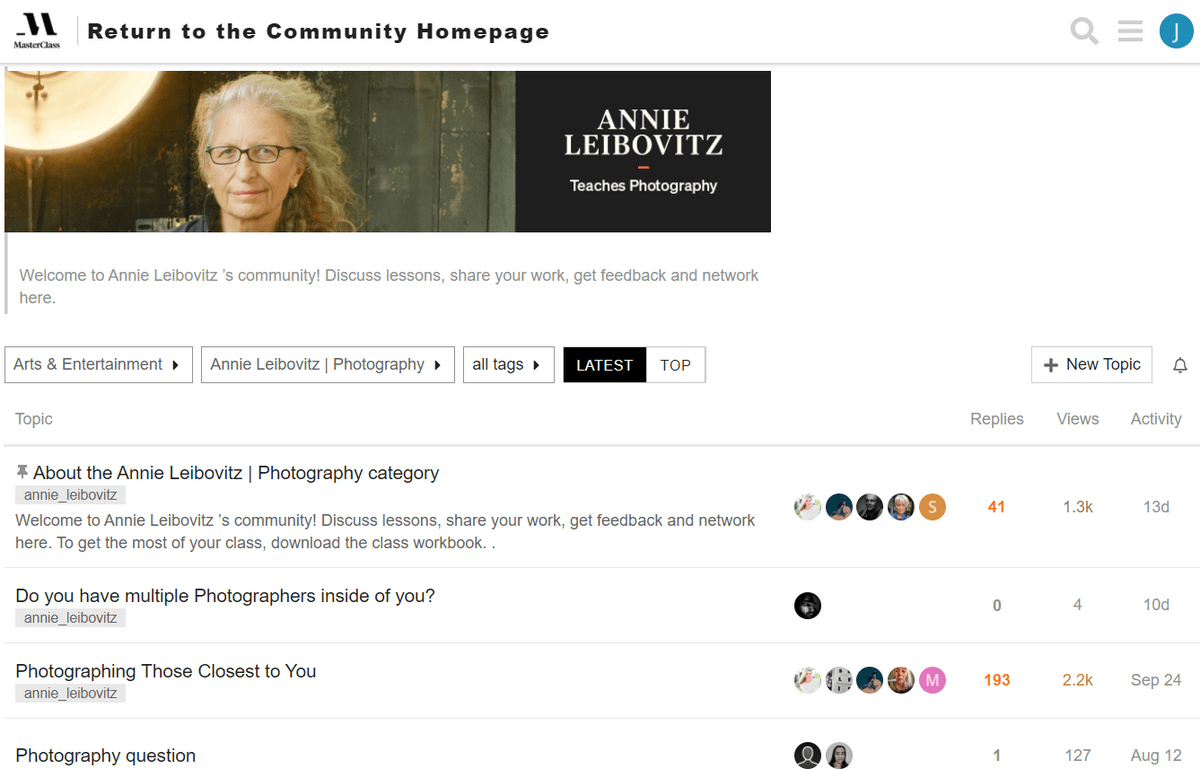 A complete breakdown of the Annie Leibovitz MasterClass curriculum
To help you understand what to expect from this MasterClass, let's get into the details of the course taught by Annie Leibovitz.
Curriculum:
Introduction
Portrait Photography
Creating Concepts
Working with Light
Studio vs. Location
Working with Your Subject
Case Study: Angels in America Photoshoot
Photographing People Who Are Close to You
Looking Back at Your Work
The Technical Side of Photography
Student Sessions
Case Study Part 1: Photographing Alice Waters
Case Study Part 2: Digital Post-Production
Photographic Influences
The Evolution of a Photographer
Course summary:
I went into this MasterClass hoping that I could learn a few ways to improve my photography.
But even as a total novice photographer, I'm hard-pressed to come up with anything new I learned from the course in terms of technical skills.
But that is likely by design. Annie Leibovitz herself says she's "not a technical photographer" and stresses focusing on content over equipment.
Even lesson 10, "The Technical Side of Photography," doesn't actually tell us about the tech so much as introduce Leibovitz's feelings about using technology to take and enhance photographs.
But with the right approach to a subject, like being deliberate about location, outfit, and lighting, you can take extraordinary photos even on a smartphone.
Despite the lack of practical tips, I did find the lessons interesting — but at times, they felt more like an interview with Annie Leibovitz than a MasterClass.
Iconic photographs and their backstories
The most compelling part of this MasterClass is the stories Leibovitz tells from her career.
She photographed John Lennon hours before his death and Arnold Schwarzenegger in the 1970s (she found his large physique "freaky," having just spent six months photographing a skinny Mick Jagger). She helped Caitlyn Jenner announce her identity to the world.
Throughout the class, Leibovitz describes how she approached these photo sessions. Not how she chose the camera settings or framed the shot, but what she was thinking about that led her to take each picture.
The photographs are shown in the lessons to illustrate the concepts Leibovitz is discussing.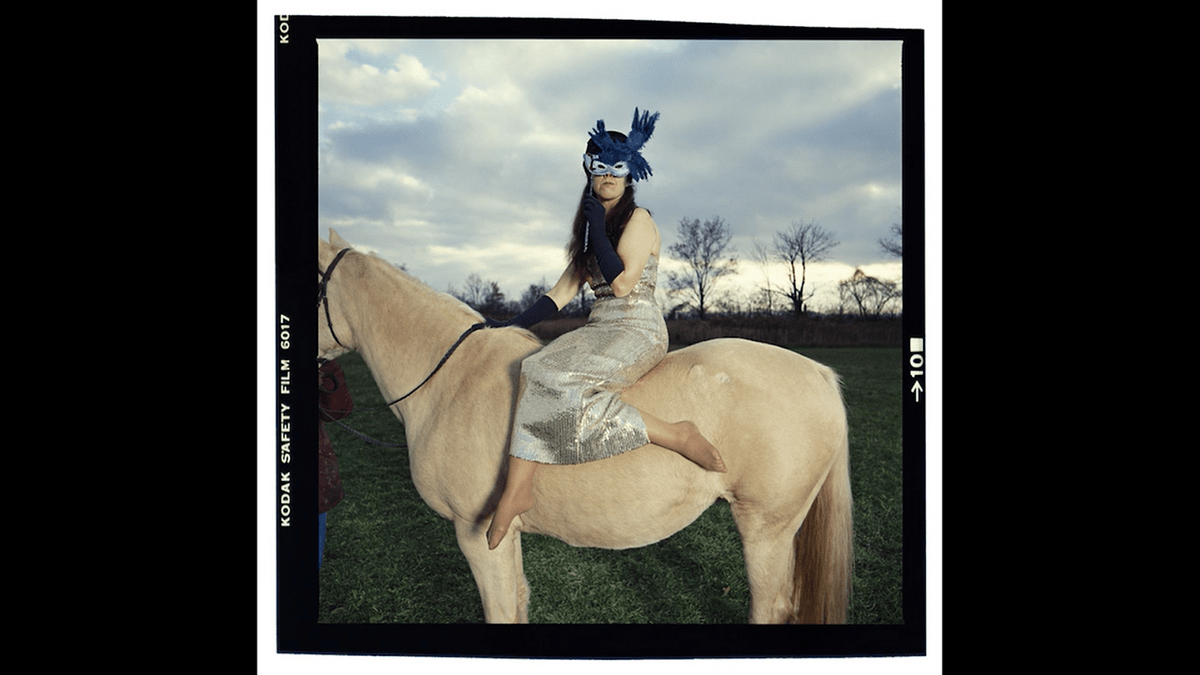 Case studies
In addition to the shorter anecdotes, the course includes two case studies.
The first is the Angels in America photoshoot, pictured below.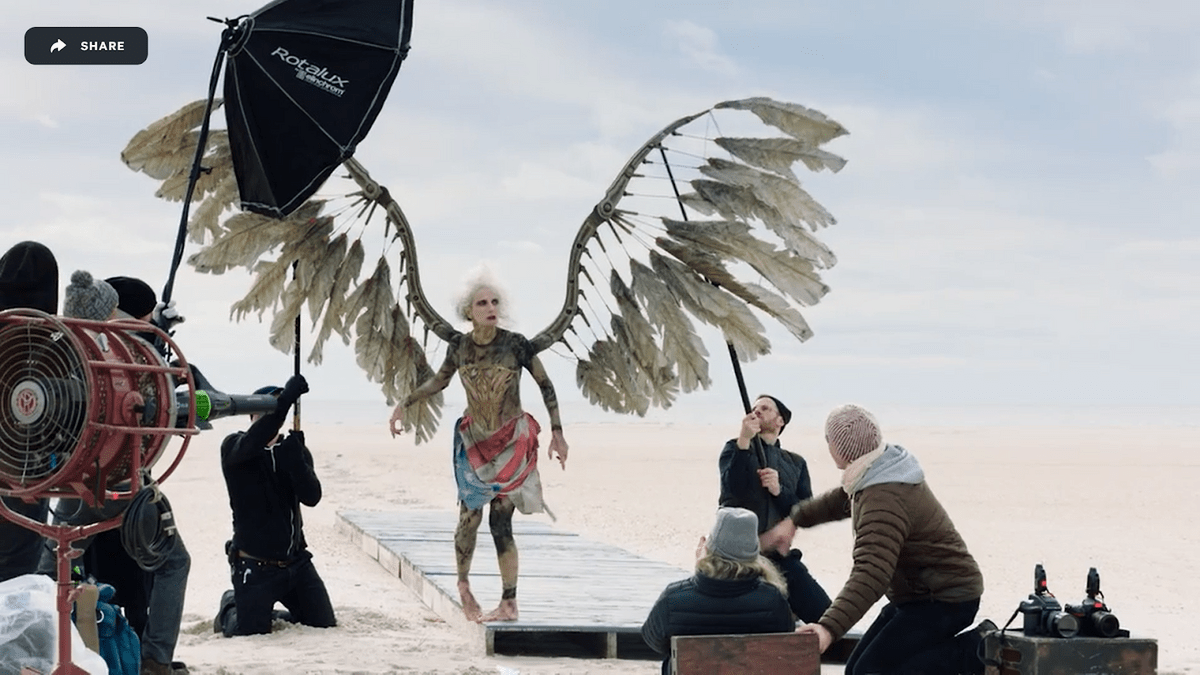 I can't tell you much more than you can learn from the screenshot because the lesson does little to explain it. We see Leibovitz at the shoot, taking pictures and talking to people on the set, but nothing about what we should learn from it.
I found this case study pretty useless.
The second case study, focused on a photoshoot of chef Alice Waters, is better.
Before we see her photographing her subject in part 1, Leibovitz explains things like how she chose her location and the music she played during the set.
In the second part of the case study, she works with a technician on editing her shots. She doesn't give us any general advice on editing, but we can see how she makes her decisions about a particular photo.
Classroom sessions
Some of the MasterClass features Leibovitz teaching a group of students.
In lesson 11, "Student Sessions," she looks at some of the students' work and gives her thoughts on it.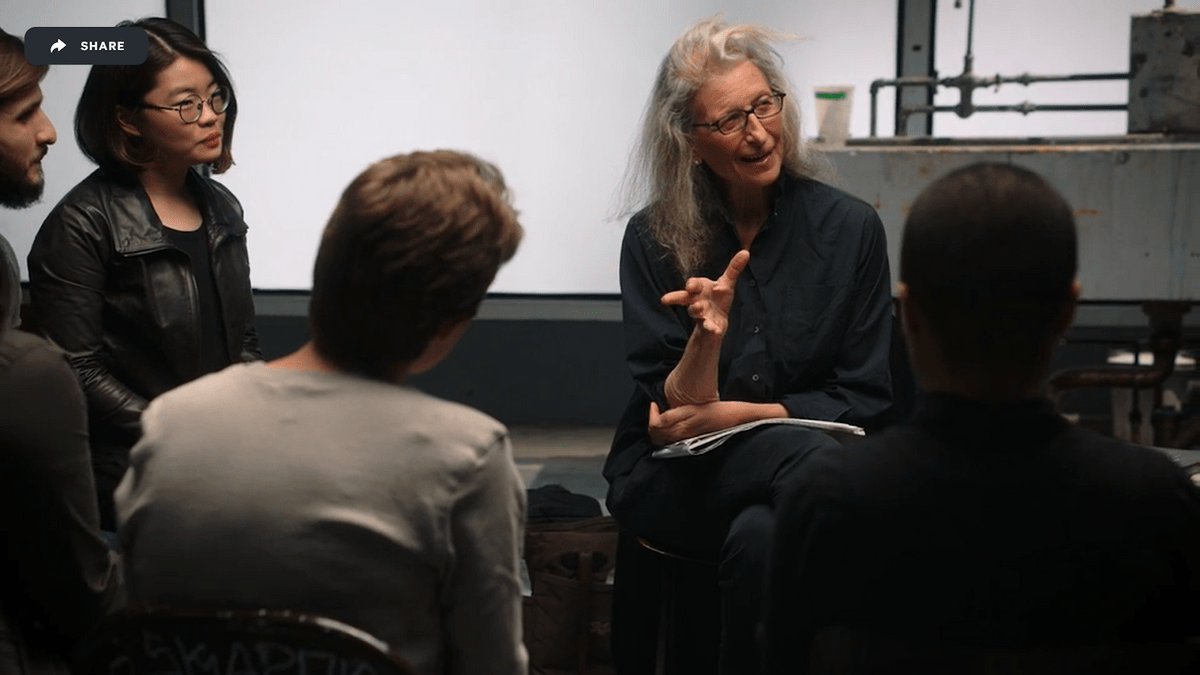 MasterClass gives this description for the lesson:
"Annie sits down with students from her alma mater, the San Francisco Art Institute, to critique their work and share her approach to core principles of photography."
In reality, Leibovitz gave one positive comment on each student piece and used it to launch into talking about her own experience.
I found all of the segments with the students a bit awkward for that reason. Presumably, they're there as a device to get Annie Leibovitz talking about various subjects. But she often fails (or appears through editing to fail) to directly answer their questions or give them her full attention, which feels uncomfortable.
Assignments
All of the MasterClasses I've taken so far, including this one, have assignments in the downloadable workbook.
In this MasterClass, Annie Leibovitz actually introduces the assignments herself at the end of the video lesson.
I liked this approach a lot. The assignments feel more relevant when integrated into the videos.
What I learned
While I didn't exactly learn what I hoped to from this course, I did discover a new way to think about portrait photography.
4 takeaways from this MasterClass
1. The gear isn't important
If you've read this far, you won't be surprised to know that Annie Leibovitz doesn't focus on the equipment.
That doesn't mean she's against advances in technology. She tells the students that when digital came along, she knew it was the next stage in photography and didn't waste time getting on board.
She also enjoys what digital editing allows her to create, and there's a funny moment where she admits to photoshopping herself out of a photo of Kim Kardashian and her family.
To Leibovitz, it doesn't matter that the tools of the trade have changed, because it's all about the story.
2. Portraits are versatile
I would have imagined that portrait photography was a narrow subset of photography, but for Annie Leibovitz, it's the opposite.
She likes portrait photography because you can do anything with it. She says, "You can be conceptual, you can be abstract, you can tell a story, you can be journalistic if you want. There are so many options available in portraiture, and you're not confined."
3. You can't capture a whole person in one photograph
Leibovitz rejects the idea that any single picture can capture the essence of a person.
She understands that humans are complex, and she often chooses to publish multiple images together to show the different facets of a person.
For example, she did a series of portraits of Las Vegas showgirls. For each woman, she took one picture of her in her everyday clothes and one in her costume.
4. Do your research
Portrait photography isn't just about taking the best-looking picture. You're telling a story and representing some aspect of a person.
Throughout the MasterClass, Leibovitz talks about how she learns about her subjects before the shoot. She even looks at other photographs taken of them, so she doesn't repeat a concept.
Try the Annie Leibovitz MasterClass today.
Memorable quotes from this MasterClass
"Your picture depends on what is in it, which has nothing to do with technology. That is the last thing you should worry about."

— Lesson 2, Portrait Photography
"Photography is the study of light. I use natural light as a teacher."

— Lesson 4, Working with Light
"There's this idea that it's the photographer's job to set the subject at ease. I don't believe in setting people at ease."

— Lesson 6, Working with People
Annie Leibovitz MasterClass pros and cons
Other reviews and online comments about this MasterClass are mixed, and I understand why. There's plenty to like about the course, but it won't live up to everyone's expectations.
Pros
Any chance to peer into the mind of a great artist is valuable. The biggest "pro" of this MasterClass is simply that a true master of her craft teaches it.
Annie Leibovitz is world famous as a portrait photographer
The course shows many examples of her iconic work
You get to see Annie Leibovitz at work on photoshoots
Assignments are given at the end of the lessons
Photographers of all levels can understand this course
Cons
If you're looking for a step-by-step course on how to take good photographs, this isn't it.
Not a technical course
Very few practical takeaways
Classroom sessions fall flat
Do I recommend this MasterClass?
Yes, I recommend this course — but with serious caveats.
Take this MasterClass because you want to understand the mind of someone the Library of Congress deemed a "living legend." Take it if you want to learn how to tell stories with your portraits, and develop your own unique style.
Don't take it to learn how to make your everyday pictures look better or which camera to buy.
In just a few clicks and a couple hours of your time, you could be digesting some of the best photography practices from the world's leading experts. Get started today with MasterClass' photography courses and begin taking incredible photos.