From writing classes to interior design courses, photography tips to poker training, MasterClass has a wide range of actionable lessons delivered by the biggest names in each industry.
Combining case studies, video lectures, group workshops, and hands-on tasks, each course provides an in-depth tutorial stacked full of practical takeaways.
Here are the most popular courses trending on MasterClass right now.
Disclosure: These reviews are reader-supported. We might earn a small commission if you purchase something through our site. Learn more
Our Verdict
Whether you're looking to hone your writing skills or train your new puppy, MasterClass has a course for you.
Don't pass up the chance to learn from multifaceted experts in every domain. Access invaluable teachings delivered by top-caliber professionals on MasterClass today. 
MasterClass Review
Learn from the Best
PROS
Affordable pricing
User-friendly platform
Features celebrity instructors
Easily refundable
High quality content
Bonus materials
CONS
No free trials
No reviews within the platform
Heavily geared towards creatives
TABLE OF CONTENTS
A few frequently-asked questions…
Here are some of the answers to your most pressing questions about how MasterClass works.
How much does MasterClass cost?
MasterClass has three pricing plans that range from $15.75 to $24.15 a month (billed annually).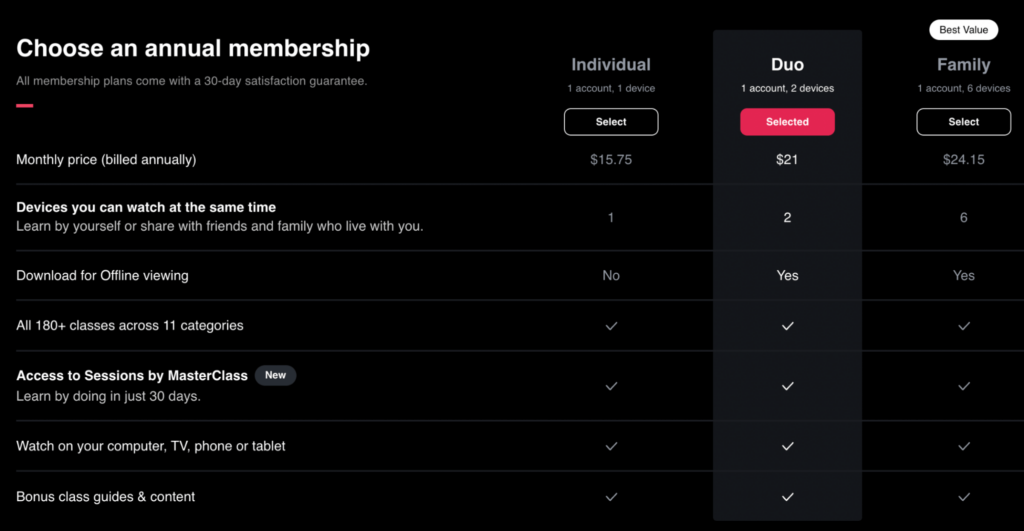 To choose the right plan, decide how many devices you want to use at the same time and whether you need offline viewing.
Do I need a subscription to access MasterClass?
Yes. To access MasterClass courses, you'll need to sign up for a yearly subscription. By signing up for one of these quality subscription offers, you'll get access to the 180+ courses MasterClass offers in several categories, ranging from cooking, baking, interior design, photography, music, writing, makeup, poker, and even negotiation.
How long are MasterClass courses?
Most courses are three to five hours long, with each class running for around five to ten minutes.
Does MasterClass have a cancellation policy?
You can cancel your subscription at any time, but MasterClass won't return any subscription fees that have already been paid. However, you'll have access to classes until the end of the subscription period you've already paid for.
A list of the most popular MasterClass courses
MasterClass prides itself on offering well-rounded courses presented by top experts in the subject matter.
Here's a MasterClass list of the most popular courses available right now.
Cooking classes
MasterClass is a hotbed of cooking lessons. Whether you're looking to brush up on your culinary skills or learn a brand new style of cuisine, you'll find an abundance of top chefs sharing their expertise.
Try some of these trending cookery classes:
Aaron Franklin: Texas Style BBQ: If you're a grilled meat lover, take this course to learn Aaron Franklin's famous low-and-slow method for producing succulent pork butt, brisket, and ribs. Not only will you learn how to properly smoke and grill meats and vegetables, but the James Beard Award-winning chef also teaches you how to build and manage your fire, choose the right fuel, select and prepare your cuts, and make mouth-watering sauces.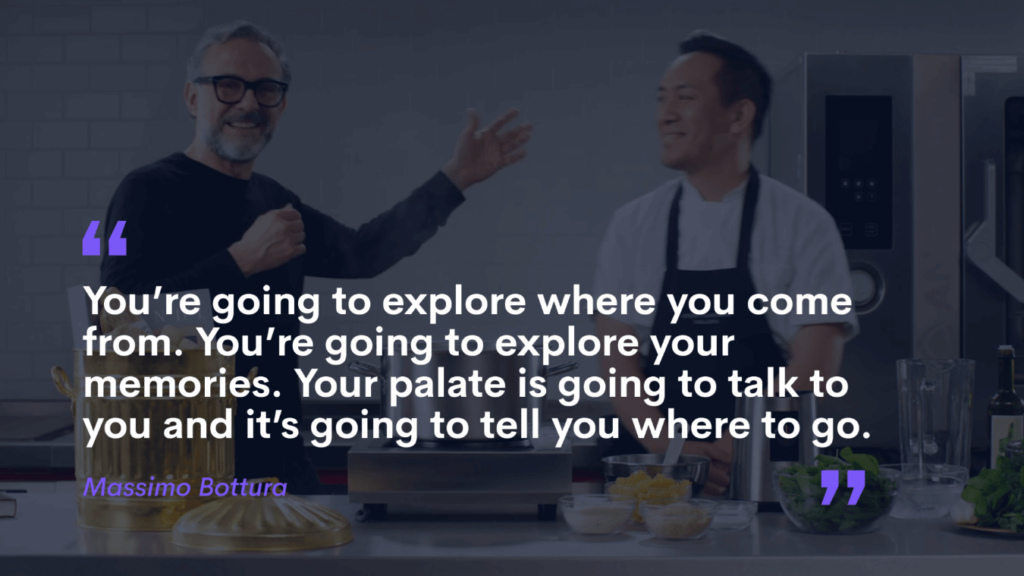 Massimo Bottura: Modern Italian Cooking: For fans of Italian cuisine, three-Michelin-star chef, Massimo Bottura, teaches modern twists on regional Italian classics. Learn three pasta dishes, along with a fish entree, a MasterClass-exclusive burger recipe, and a traditional Italian dessert.
Yotam Ottolenghi: Modern Middle Eastern Cooking: Another James Beard Award winner, Yotam Ottolenghi teaches his modern take on Middle Eastern cuisine. Learn how to cook mezze, brunch, and veggie spreads; vegetarian and meat entrees; and marinades, pastes, and condiments.
Thomas Keller: Cooking Techniques: To hone your culinary techniques, take Thomas Keller's three classes that focus on vegetables, pasta, and eggs; meats, stocks, and sauces; and seafood, sous vide, and desserts. He gives in-depth instructions on all kinds of skills, such as blanching, glazing, braising, pickling, pureeing, roasting, sautéing, grilling, making sauces, and crafting desserts.
Gordon Ramsay: Restaurant Recipes at Home: In his second MasterClass course, celebrity chef, Gordon Ramsay teaches you how to make fine dining dishes in the comfort of your own kitchen. From Szechuan Chicken to Raspberry Soufflé, Ramsay teaches you both the techniques for exquisite flavor and restaurant-quality presentation.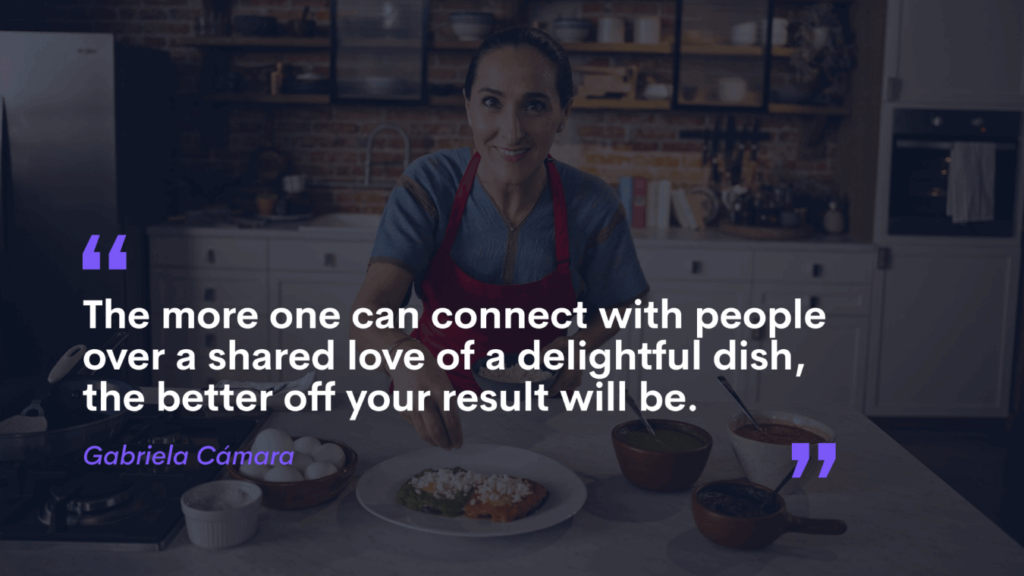 Gabriela Camára: Mexican Cooking: Known as the "star of modern Mexican cuisine," Gabriela Cámara combines traditional Mexican recipes with contemporary, sustainable practices. Learn how to make staple favorites like tortillas, tacos al pastor, and quesadillas, as well as huevos rancheros for breakfast, and snacks like tamales and tostadas.
Mashama Bailey: US Southern Cooking: Owner of award-winning Savannah restaurant, The Grey, Mashama Bailey teaches you how to make African American Southern cuisine. You'll learn to prepare and cook time-honored traditional dishes like gumbo, grits, smoked collard greens, pickled oysters, and succotash. As a bonus, Bailey also shares the cultural significance of these meals for African American communities.
Piano lessons
If you're interested in playing piano, MasterClass offers a handful of free guides that help you learn about types of pianos, reading sheet music, and preparing to play.
While MasterClass doesn't currently have an exclusive course on learning piano from scratch, you can get a good look into the basics with Herbie Hancock's MasterClass course on Jazz.
Among the course content, you'll find five key lessons that help piano players grow their skills:
Piano Basics
Piano Exercises
Improvising Alone
Expanded Improv Techniques
Composing
Interior design programs
Whether you're interested in switching to a career in interior design or simply want to improve your own living and working spaces, MasterClass is a great place to start.
Try these two popular programs:
Kelly Wearstler Teaches Interior Design: Known for her pioneering influence in hotels and hospitality spaces, award-winning designer, Kelly Wearstler, hosts this diverse, short curriculum on interior design. Covering a vast range of topics, Wearstler teaches you how to find inspiration and work with your environment, utilizing color, pattern, texture, lighting, and furnishings to cultivate your signature aesthetic.
Corey Damen Jenkins Teaches Interior Design: Highly-acclaimed interior designer, Corey Damen Jenkins, teaches you how to upgrade a space on a budget. Not only will you learn how to coordinate color, match patterns, and manipulate lighting, but you'll also discover how to plan your space to get the most for your money.
You can also check out MasterClass' free interior design guides on mastering the basics, drawing floor plans, and understanding the difference between architecture and design.
Check out our in-depth review on MasterClass' interior design courses.
Makeup tutorials
Tired of too-quick TikTok makeup tutorials that are so fast they make your head spin? Check out MasterClass' makeup content instead.
You can access several makeup guides for free, including an eye concealer tutorial, a lesson in applying primer, and a list of bridal makeup tips.
If you're looking for more hands-on courses, try these two:
Sir John – Create Makeup Looks for Any Moment: In Sir John's MasterClass Session, you'll enjoy a flexible 30-day curriculum that teaches everything from skincare routine basics to mastering the 'no makeup' look. You'll learn how to create the perfect base, followed by professional techniques to make up eyes, lips, and brows.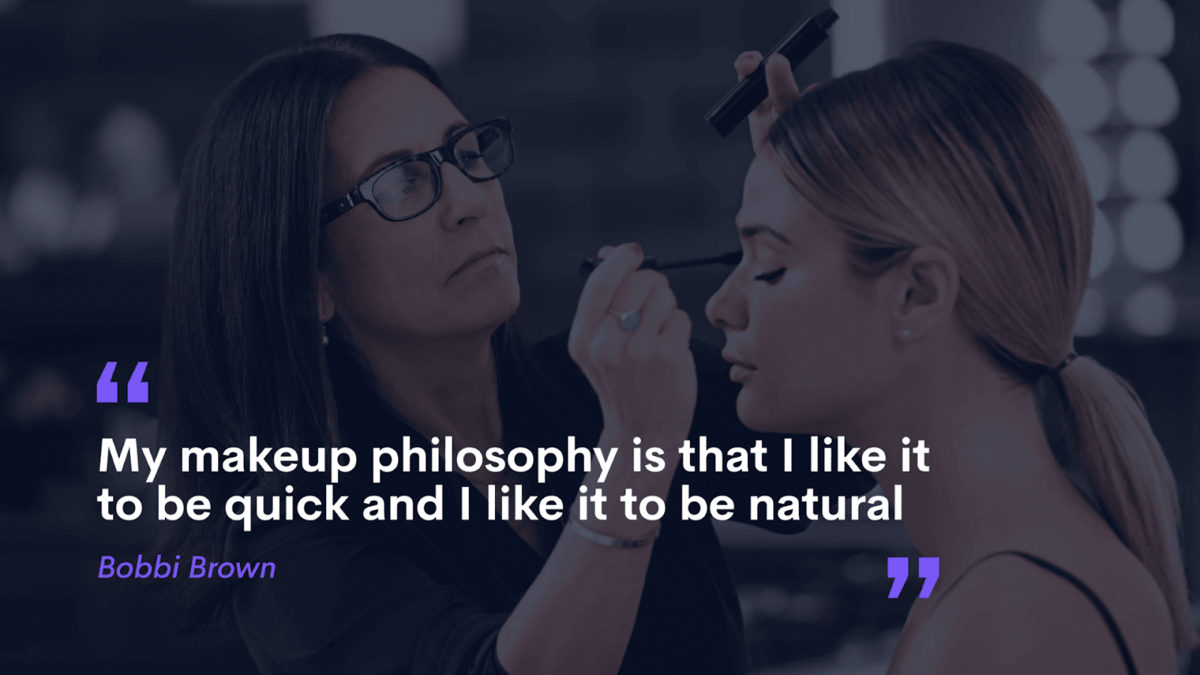 Bobbi Brown Teaches Makeup and Beauty: Beauty tycoon, Bobbi Brown, hosts a jam-packed course covering all the fundamentals of applying makeup alongside business tips for aspiring beauty entrepreneurs and makeup artists. You'll also learn how to create workplace looks, master the perfect smokey eye, and correct makeup mistakes.
Check out our in-depth review on MasterClass' makeup courses.
Graphic design courses
If you're thinking about a career in graphic design, MasterClass has some insightful free content about working with clients, breaking into the advertising world, and becoming a graphic designer.
To learn the specific techniques of graphic design, try David Carson's course. Having worked with top-caliber clients such as Ray Ban, Armani, and Aldi, Carson has made a name for himself by breaking boundaries in traditional graphic design thinking.
This course teaches you how to use intuitive design to work with typography, photography, color, and collage. Carson also gives his top tips for working with clients, developing your own style, and designing your future career.
Dance lessons
MasterClass gives you the opportunity to learn new ways to move your body. From dance techniques to creative choreography, MasterClass offers courses that teach dance and performance from world-class dancers.
Try these three courses:
Misty Copeland Teaches Ballet Technique and Artistry: Ballet pioneer, Misty Copeland, was the first female African American lead dancer for the American Ballet Theater. In her video workshops, Copeland teaches warmups, barre technique, and partner steps, alongside performance deconstructions and style development. Not only does this course show you some wonderfully artistic performances, but you also get the extra pleasure of a co-tutorial with Prince.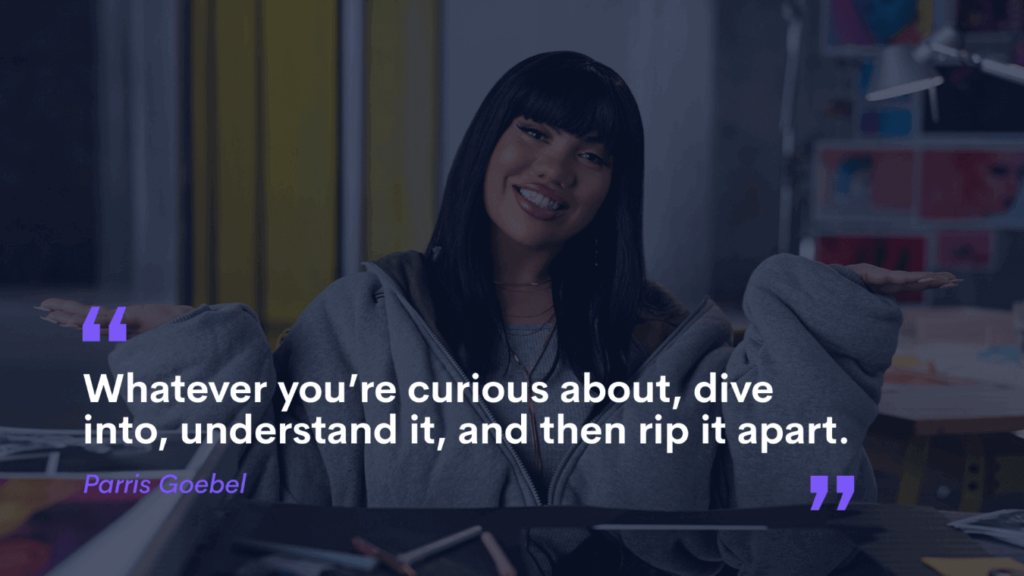 Parris Goebel Teaches Creativity in Choreography: Choreographer Parris Goebel has worked with Justin Bieber, Jennifer Lopez, Kanye West, Janet Jackson, and more. In this two-hour course, Goebel teaches you the building blocks of choreography, the foundations of dance formations, and the path to unlocking your creativity. You'll also get insights into directing music videos, building your brand, and leading a team of dancers.
Usher Teaches The Art of Performance: While it's not a specific dance program, Usher's course has a whole chapter dedicated to dance. As a world-renowned performer and dancer, Usher gives valuable tips on how to improve your dance performances.
Poker training
Improving your poker game means honing your skill and strategy.
MasterClass offers two in-depth poker classes that break down all elements of the game to help every level player upgrade their gameplay:
Daniel Negreanu Teaches Poker: An extremely comprehensive course, this 38-part curriculum is delivered by the all-time biggest live tournament poker winner, Daniel Negreanu. Negreanu dissects every aspect of poker to teach even the most basic of beginners how to play strategically. Learn about positioning, betting types, tournament strategy, spotting tells, and more.
Phil Ivey Teaches Poker Strategy: Considered the world's best all-round poker player, Phil Ivey hosts a complete guide to poker strategy. Ivey coaches you on how to play every hand strategically, delving into betting tactics, bluffing, deepstack play, tells, and mental preparation.
Check out our in-depth review on MasterClass' poker courses.
Writing courses
For writers, MasterClass is teeming with courses to improve your creative flair and literary technique. With lessons in all kinds of writing, from poetry to political essays, from screen writing to fantasy, MasterClass is the ideal online writer's retreat.
Check out these popular writing courses from prolific authors, writers, and poets:
James Patterson Teaches Writing: Having written more than 200 books with 19 consecutive New York Times No. 1 Best Sellers, James Patterson is more than qualified to teach writing. His course runs through the complete process of building a story, including research, outlines, crafting characters, writing dialog, building suspense, and creating endings. He also teaches valuable habits and skills such as editing, writing with a co-author, and getting published.
Billy Collins Teaches Reading and Writing Poetry: Two-time US Poet Laureate, Billy Collins, teaches you how to connect with and through poetry. Not only will you learn the process of writing poetry, but you'll also learn how to find inspiration and craft your unique voice as a poet. Collins also teaches you how to use sound, humor, and visible shape in poetry.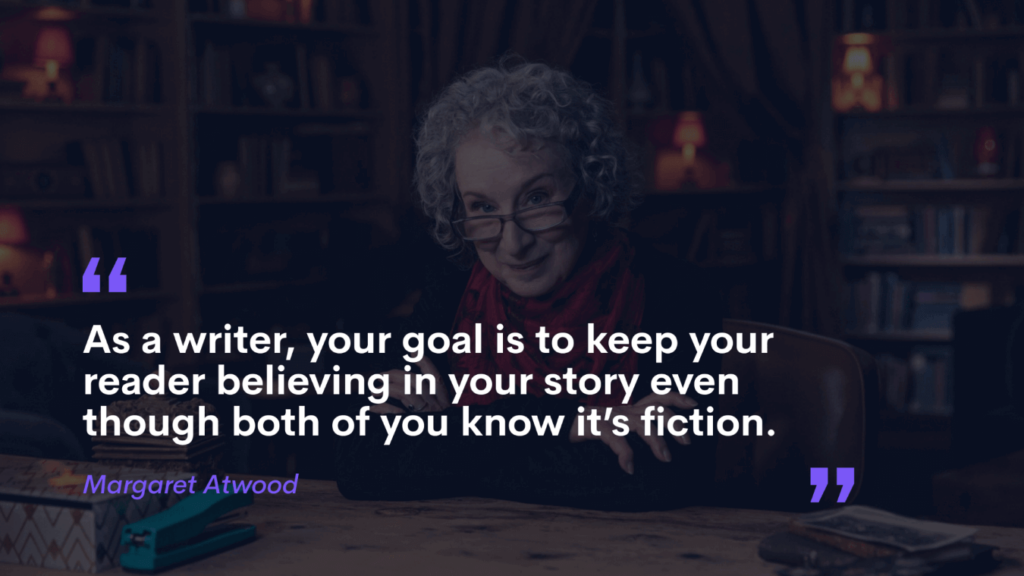 Margaret Atwood Teaches Creative Writing: Famous for her dystopian work, most notably "The Handmaid's Tale," Margaret Atwood is an expert in creative writing. In this course, she teaches you how to plan your plot, layer narratives, angle your viewpoint, and script nuanced characters. You'll also learn how to work with time and space to create a well-rounded story, as well as how to determine your own style and texture.
Dan Brown Teaches Writing Thrillers: Having sold more than 250 million copies of his books, Dan Brown is one of the most notorious thriller writers of this age. In this course, he teaches invaluable writing tools such as how to research your idea properly, create suspense through your writing, and develop characters with realistic dialog. Teaching you to build the story from the ground up, Brown's course breaks down the anatomy of a thriller and runs you through how to write, rewrite, and edit your chapters and scenes.
Judy Blume Teaches Writing: Known for her controversial children's books and young adult novels, Judy Blume has sold over 85 million books worldwide, despite many being banned in libraries and schools. Bringing a rebellious streak to creative writing, Blume teaches you how to find ideas, create memorable characters, devise strong plot structures, and craft dialog. She also talks about important setbacks for writers, such as rejection, controversy, and censorship.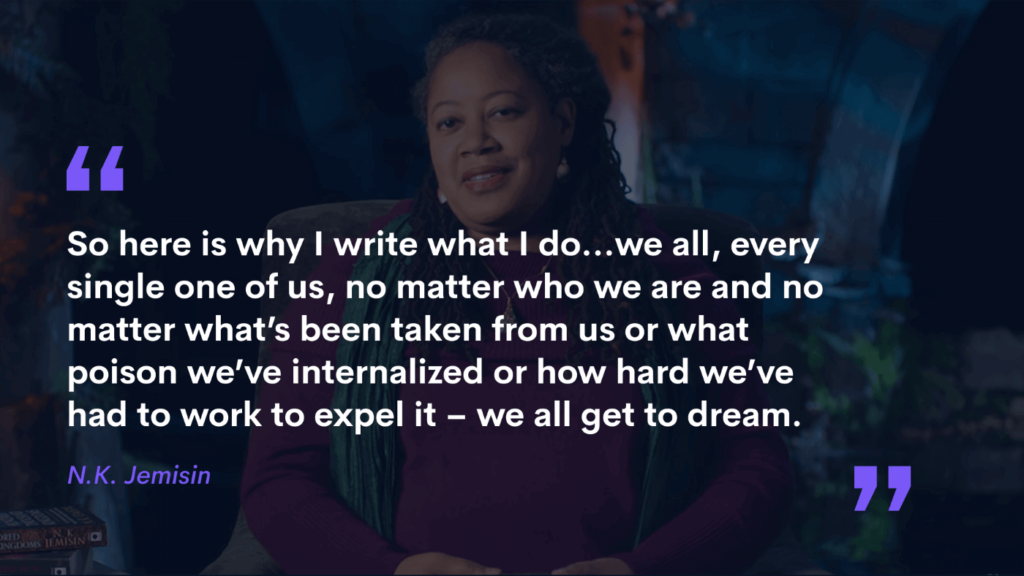 N.K. Jemisin Teaches Fantasy and Science Fiction: Three-time Hugo Award winner, N.K. Jemisin is known for creating deeply-detailed dimensions in her science fiction novels. In this course, she teaches you everything you need to know about creating your own fantasy world, building from the macro to the micro. Learn how to create culture, build power dynamics, invent magic, and immerse your reader in complex character points of view.
Aaron Sorkin Teaches Screenwriting: Academy-award winning screenwriter, Aaron Sorkin, teaches you everything you need to know about how to write a script that'll actually sell, from researching your idea to building a story arc to writing strong dialog. Through video lessons, group workshops, and case studies, Sorkin uses examples from his real work to demonstrate the tools you'll need and how to apply them.
Malcolm Gladwell Teaches Writing: Bestselling author of books like "The Tipping point," "Blink," and "Outliers," Malcolm Gladwell is famous for breaking down complex concepts into approachable prose. In this course, you'll learn how to do the same, as Gladwell teaches you how to structure language, inject humor, leverage emotion, break down jargon, and tailor your tone and voice.
Dog training classes
If you're looking for a way to teach your dog to be a little more obedient, MasterClass can help.
You can access two informative guides for free. There's one on dog training in general and one specifically about positive reinforcement.
If you're looking for a more detailed training program, try Brandon McMillan's Dog Training course.
The Emmy-winning host of 'Lucky Dog' teaches you how to train good behaviors and fix bad habits, like barking, chewing, and digging. Learn seven common commands and how to silently signal them, along with leash techniques for good behavior outside the home.
Photography lessons
Whether you're a beginner looking for tips on how to start shooting or an old hand who wants to improve their craft, MasterClass has a few photography classes led by expert photographers.
Petra Collins – Capture Your Vision Through Photography: In this 30-day curriculum, artist, photographer, and model, Petra Collins helps you to shoot an original photo series. You'll discover how to turn your vision into a full series, while learning and practicing hands-on camera and lighting skills, including techniques for film camera users.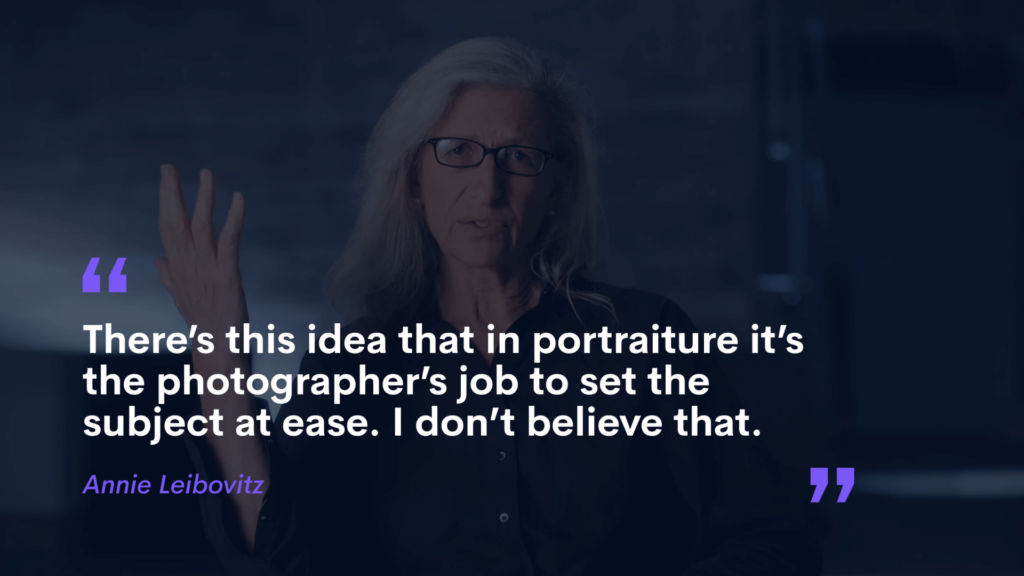 Annie Leibovitz Teaches Photography: World-renowned portrait photographer, Annie Leibovitz, teaches you how to find the story behind the photo. For those interested in portrait photography, you'll learn how to create your own concepts and use your lighting, subjects, and angles to manifest those ideas. You'll also find out how to select the right location, find influences, and reevaluate your work.
Jimmy Chin Teaches Adventure Photography: National geographic photographer, Jimmy Chin, teaches you how to take awe-inspiring shots while out and about in the world. Not only will you learn the principles of 'on location' photography, but Jimmy also delves into the realism of commercial shooting and how to approach these jobs. If you need help choosing the right camera gear and understanding the settings, this course explains all these concepts in an approachable way.
What next?
Whether you're looking to hone your writing skills or train your new puppy, MasterClass has a course for you.
Don't pass up the chance to learn from multifaceted experts in every domain. Access invaluable teachings delivered by top-caliber professionals on MasterClass today.