There have never been more ways to learn online. There are dozens of platforms offering text and video-based courses in everything from economics to software development and cooking.
One development with the proliferation of online courses is that anyone can create one. This means you get varying levels of expertise and course design. MasterClass sets itself apart by offering a curated collection of high-quality online courses led by well-known experts and public figures.
Graphic design is a popular topic on these online learning platforms. While some people are interested in graphic design as a creative outlet, it's also a growing industry. Revenue for graphic design services are projected to reach $11.3 billion by 2024.
In this article, we'll introduce David Carson, the instructor of the MasterClass graphic design class, the topics covered, and whether it's worth the price.
Disclosure: These reviews are reader-supported. We might earn a small commission if you purchase something through our site. Learn more
Our Verdict
If you're already a David Carson fan, or you're looking to expand your design horizons and learn how to break the rules effectively, David Carson Teaches Graphic Design is right up your alley.
You can start this MasterClass course today, with the peace of mind of a 30-day satisfaction guarantee.
MasterClass Review
Learn from the Best
PROS
Affordable pricing
User-friendly platform
Features celebrity instructors
Easily refundable
High quality content
Bonus materials
CONS
No free trials
No reviews within the platform
Heavily geared towards creatives
Click the links below to head straight to the section which interests you most:
A few frequently asked questions…
Before we dive into the details of David Carson Teaches Graphic Design, let's cover some of the most commonly asked questions about MasterClass.
Do I need a subscription to access this course?
Yes. To access a MasterClass course, you need to be a MasterClass member. This one membership gives you access to over 180 courses, from cooking, baking, interior design, photography, music, writing, makeup, poker, and even negotiation.
How long is the MasterClass?
MasterClass courses vary in length, but courses tend to include two to five hours of instructor content. David Carson's MasterClass in graphic design runs at a little more than two hours (not including time spent on exercises and assignments).
Does MasterClass have a cancellation policy?
Every MasterClass membership comes with a 30-day satisfaction guarantee. If you sign up for an annual plan and then change your mind, you can request a refund within 30 days of purchase.
Are MasterClass courses available offline?
Both the Duo plan and Family plan allow members to download content for offline viewing. The Individual plan does not include offline viewing.
Is the David Carson MasterClass worth it?
If you're interested in learning how the lauded designer approaches his work and the process he has developed over a decades-long creative career, it's definitely worth it.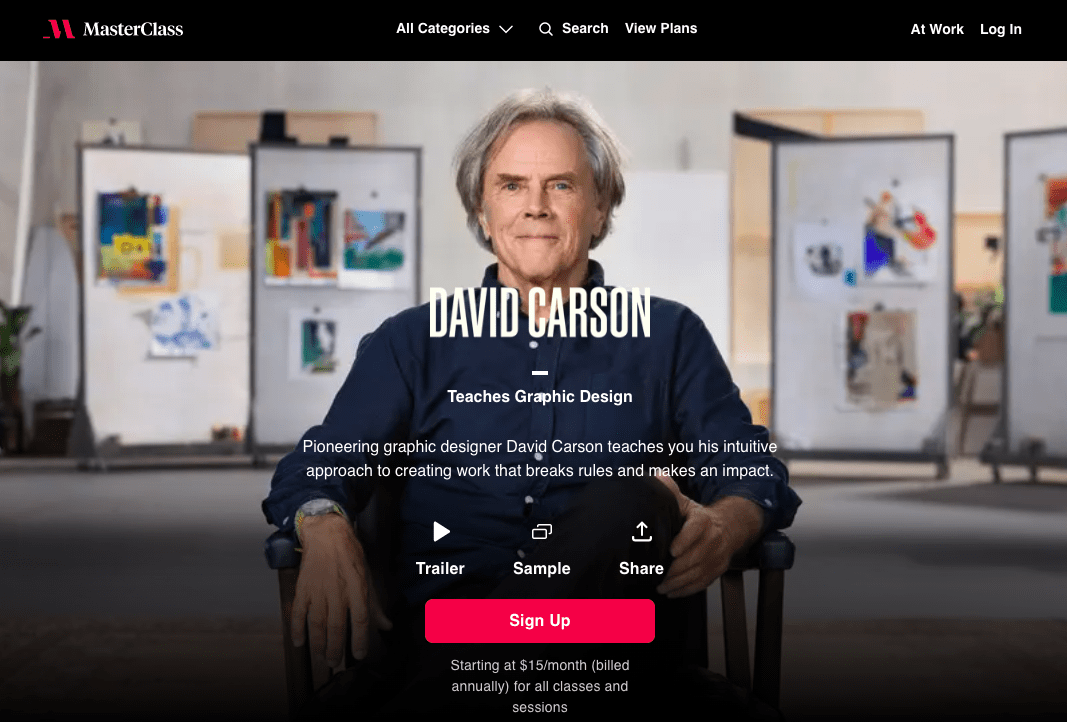 Keep in mind graphic design is art, so there's some subjectivity in the course.
What is MasterClass?
MasterClass is an online learning platform for practical, creative, business, and personal development topics.
What separates MasterClass from other online learning resources is the caliber of their experts and the high production value. The platform works with well-known artists and experts and produces intimate conversation-style videos.
If you've ever wanted Alicia Keys, Bob Iger, David Lynch, or Anna Wintour to be your personal mentor, MasterClass is the next best thing.
How much does MasterClass cost?
MasterClass offers three different plans. Although they often advertise with monthly rates, the membership is billed annually.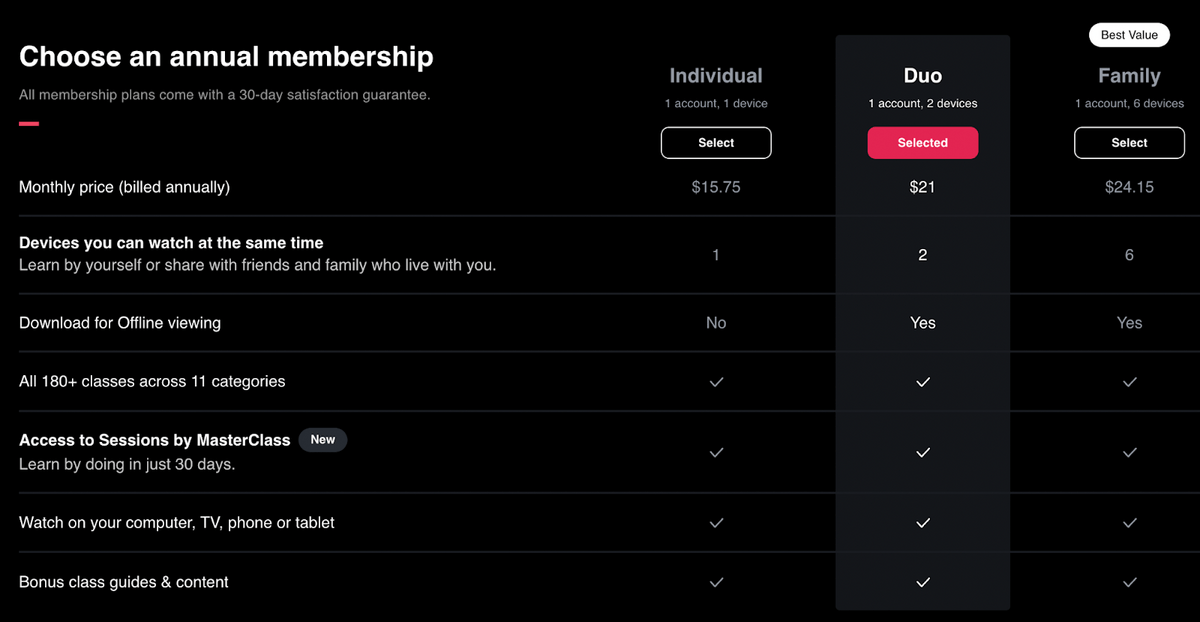 Individual membership: At $189 ($15.75 per month), this is the most affordable plan. You can only watch MasterClass on one device at a time (no sharing with friends and family).
Duo membership: For $252 ($21 per month), Duo accounts can use MasterClass on two devices at a time. This makes it a good deal to share with a friend or loved one. Unlike Individual accounts, Duo memberships allow you to download content for offline viewing.
Family membership: At $289.90 ($24.15 per month), the Family membership has the highest price point, but allows learning on up to six devices at a time. This makes it great for sharing with family or friends.
MasterClass at Work allows employers to offer MasterClass as a perk or personal development tool. Companies can either purchase a license plan to share access with a team, or MasterClass has a Gifts option, where employers can award individuals a 12-month membership.
About David Carson Teaches Graphic Design
Runtime: 2 hrs 7 min
Course value: 5 out of 5
Lessons: 13 video lessons
Like most MasterClass courses, David Carson Teaches Graphic Design is delivered through video lessons that feel like an intimate conversation with the instructor. Each of the 13 video lessons is also transcribed, and students can take notes within the MasterClass interface.
Who is David Carson?
David Carson is a legendary graphic designer who got his start with a two-week commercial design class and gigs with surfing and skateboarding magazines. He became the art director of Raygun, a music magazine.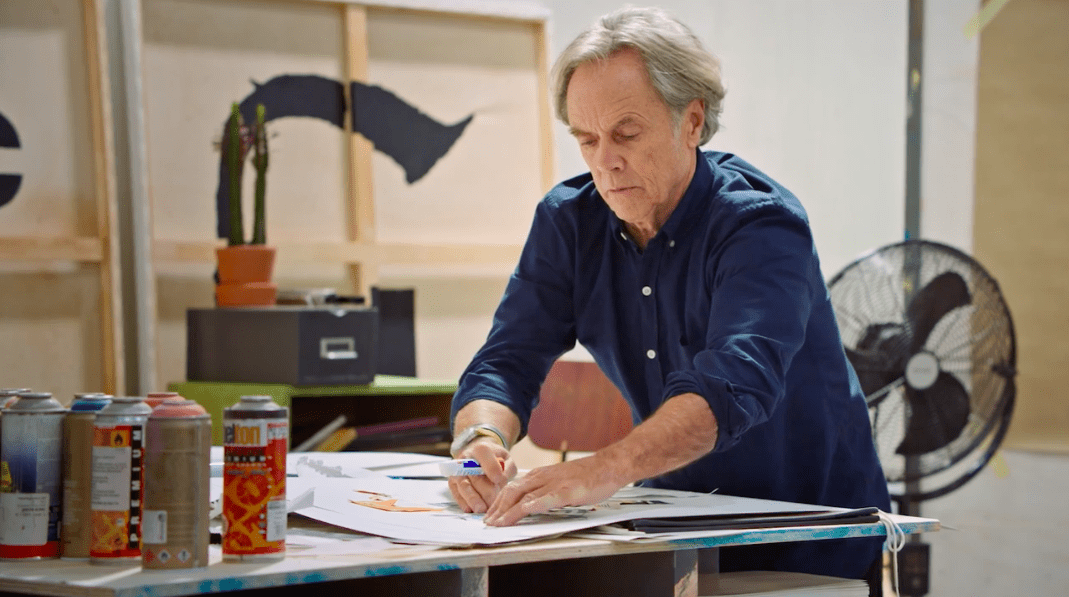 His daring and unconventional design style caught the eye of major brands and won him projects with Levi's and Nike. Over the years, he's created several traditional and experimental books.
As an instructor, he emphasizes intuition and challenging conventions and expectations stating: "There's so much slick, fine, professional, forgettable graphic design out there. There's even more reason we need a few rebels to make something stand out."
What do you learn in David Carson's graphic design MasterClass?
Graphic design is a broad category.
Here's what David Carson Teaches Graphic Design covers.
Intuition in graphic design
Because it's such a big industry, it's easy to think of graphic design as a business instead of an art. Carson begins the course by reminding you that uniqueness is your greatest asset.
One of Carson's first lessons is "An Intuitive Approach to Design," where he encourages students to trust their gut and go beyond the sanitized graphic design that has become ubiquitous.
Carson uses his own work to explain the role intuition plays, both in client projects and in collecting inspiration from your environment.
Collage art and found materials
While Carson does plenty of work on his laptop, he shares that both he and his clients are drawn to designs with a more human touch. Collage art, where you combine different paper, fabric, and other materials to create an entirely new object, is a very hand-on design technique.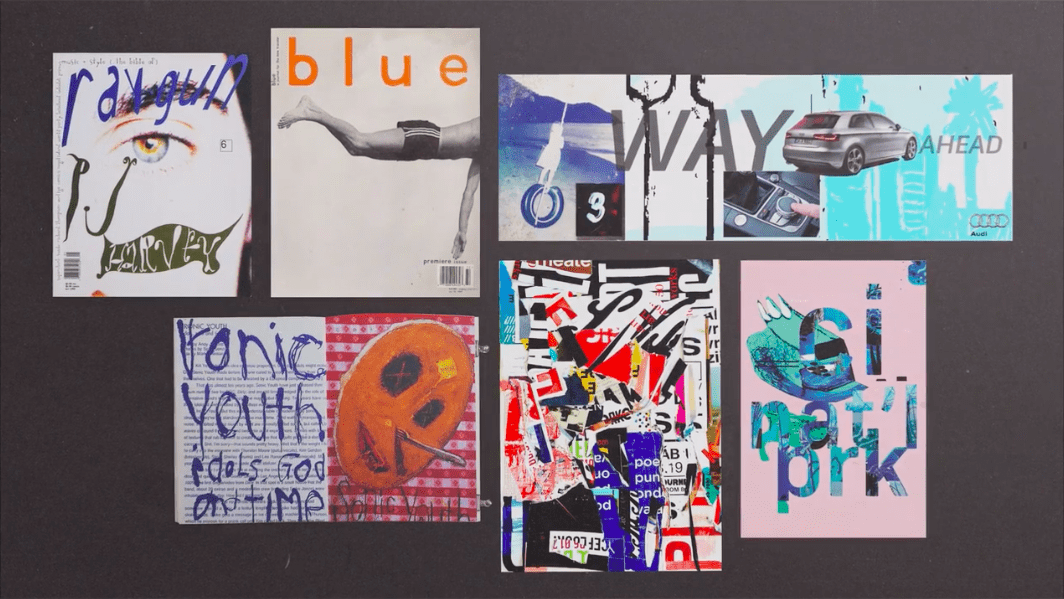 In the lesson "Collage Art for Designers," the instructor walks you through the creation process, discussing color, texture, and contextual meaning. He plays with found materials to evoke feeling, tell stories, and bring balance to designs that may, at first glance, seem chaotic.
Photography in design
Carson got his start in magazines with little or no photography budget, so he learned how to identify and use interesting pieces of seemingly unremarkable photos. He discusses how creative cropping allowed him to create a unique look with the same PR photo every other magazine received.
Carson also discusses how choosing photos should be an early part of the design process, rather than an afterthought when a magazine page has already been laid out with text. When using photos in design, he says, "the idea that you just drop it into a prearranged box is probably going to kill all the impact."
In the lesson "Using Photography in Design," Carson also discusses how elements of photos can inspire other choices elsewhere in a project.
Typography
Typography is a key part of any graphic design education and Carson takes a feelings-first approach to how he uses and arranges text. Instead of feeling burdened by the necessary text, he encourages designers to see typography as a powerful tool for reinforcing the design's overarching message.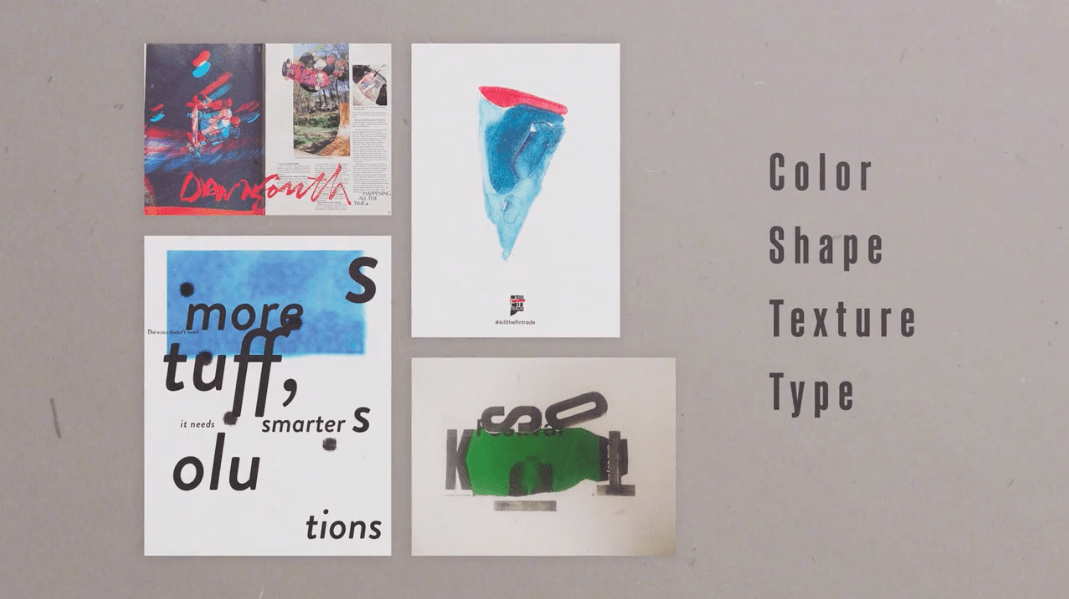 Carson explains how typography actually comes with a wealth of creative decisions: font choice, spacing, size, color, and layout. Using case studies, Carson walks you through the unique possibilities of hand lettering as well as how he used temporal cues in the type of his work with luxury clothing brand Armani.
How to design a logo
Designing logos is a common and impactful graphic design project. It's also a difficult asset to get right. Logos need to be recognizable, adaptable, and accurately reflect the brand in just a small image. Carson explains how a logo can tell you whether a brand is conservative or experimental, approachable or exclusive. Researching the company is essential.
As he walks you through examples such as coffee shops and wetsuit companies, he covers how initial input and feedback from the client serve as breadcrumbs leading him to the final destination. Above all, Carson emphasizes that logo design is an iterative process, where designers can and should offer lots of ideas.
The end result of all those iterations, however, should effortlessly communicate and resonate with the audience. "I often still think, okay, are people going to want this on their shirt, on their T-shirt, on their coffee mug? And if they do, you've probably stumbled upon a pretty good logo."
Life as a working graphic designer
Even with graphic design skills and a thorough knowledge of design principles, only experience can truly show you what it's like to build a career as a graphic designer. Carson shares his experience in lessons about workspaces, collaboration, and working with clients.
The instructor discusses not only how to manage distractions in your studio or workspace, but also how where you live impacts your design career. The lessons cover the importance of both accepting input but also protecting your creative vision from death by committee. "At some point, you've got to trust yourself… And that's where the best work comes from."
Carson walks you through work he's done, such as a map for Amtrak, to illustrate how you can start with the brief and fulfill the brief, while maintaining creativity and pride in your work.
MasterClass graphic design assignments
To help you learn by doing, this MasterClass graphic design course includes three assignments, each explained by David Carson. You even get to sit in as he guides a workshop discussion with a few designers. You get the benefit of both the instructor and the questions and insights of your fellow designers
Assignment 1 – Put Yourself Into Your Work: This first assignment asks you to use only the letters of your first name and the colors black and white to illustrate your personality. Carson explains how excluding other colors and imagery, forces you to think differently about the options you do have. Carson and the small group of students review examples and explain how the elements communicate a desire for connection or a dreamy disposition.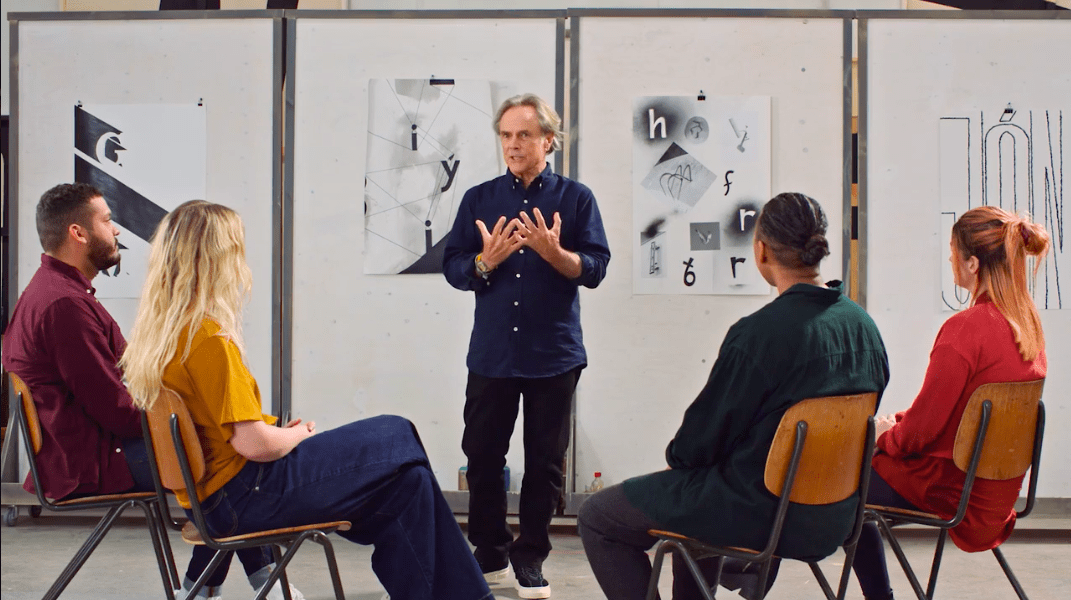 Assignment 2 – Tap Into the Power of Color: Designed to build on the first assignment, the second asks you to use color to show how your week is going. Carson and the other designers discuss the emotional effects of different colors as well as how the shapes and textures can change the overall effect.
Assignment 3 – Designing Your Future: In this final assignment, you are free from material restrictions and Carson asks you to represent your future in ten years, using color, texture, type, and more. The small group discusses examples and Carson points out ways to make their designs stronger.
Is the MasterClass graphic design course worth it?
This MasterClass graphic design course is a great choice for creatives and designers who want to learn how to make bold choices that grab the audience's attention. If you want to learn how to use digital design tools or how to adhere to best practices, however, this isn't that class.
Even if you were only interested in David Carson Teaches Graphic Design, the price isn't very steep. But your MasterClass membership allows you to access more than 180 other courses, many of which complement this one.
After completing David Carson Teached Graphic Design, you can move on to:
Become a master of graphic design
You have tons of choices when it comes to online learning resources. MasterClass courses come with a guaranteed level of expertise, as well as engaging, high-quality production.
If you're already a David Carson fan, or you're looking to expand your design horizons and learn how to break the rules effectively, David Carson Teaches Graphic Design is right up your alley.
You can start this MasterClass course today, with the peace of mind of a 30-day satisfaction guarantee.