Chris Hadfield MasterClass review synopsis
What you'll learn: This class explores what it's like to be an astronaut, the science behind going to space, and what the future of space exploration holds.
How long does the Chris Hadfield MasterClass take? 7 hours and 47 minutes. It is one of the longest courses on MasterClass.
Similar courses: Neil DeGrasse Tyson Teaches Scientific Thinking and Communication, Dr. Jane Goodall Teaches Conservation, Alex Honnold & Tommy Caldwell Teach Rock Climbing
Do I recommend Chris Hadfield's MasterClass? Absolutely. This class is a great opportunity to learn about space exploration first-hand from an experienced astronaut and natural storyteller.
When I was in 7th grade, I desperately wanted to be an astronaut.
Inspired by my growing Star Trek obsession, I decided it would be tragic if I never got to go to another planet.
While I quickly moved on to desperately wanting to be a Broadway star, I never lost my love of space and the idea of exploring the cosmos.
So when I saw that MasterClass offers a course by Canadian astronaut Chris Hadfield, I was excited, but also confused. MasterClasses are usually about skills that regular people can pursue — cooking, writing, or even doing magic tricks.
As a grown woman, I know I'm never going to be an astronaut. As far as I know, I have no need for "astronaut skills" in my life — whatever they may be. Would almost 8 hours of a space exploration MasterClass be worthwhile?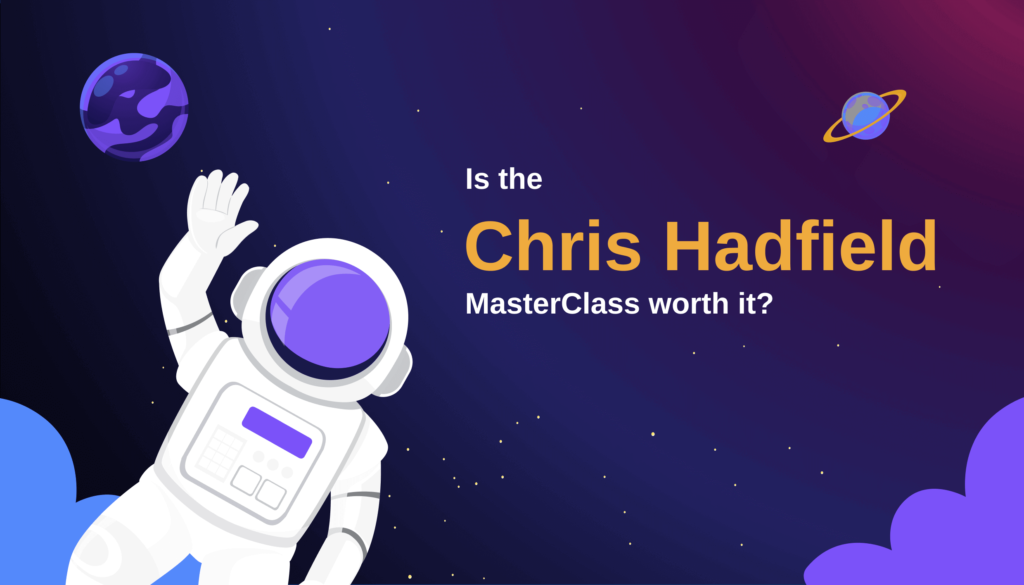 I'll dig into the details of the course in a bit, but here's the short answer: yes! This class blew me away!
I heard some fascinating stories, learned cutting-edge scientific ideas, and felt inspired to pursue my own non-astronaut-related dreams.
In this review, I'll break down the curriculum, cost, and course materials so you can decide for yourself whether to take Chris Hadfield Teaches Space Exploration.
Disclosure: In the interest of full transparency, Codeless uses affiliate links in our MasterClass reviews to cover our site's costs.
Our Verdict
If you're looking for inspiration as you work toward your own dream, I suggest you start by watching the Chris Hadfield MasterClass. This MasterClass was interesting, informative, and inspirational.
Chris Hadfield MasterClass
Pursue your own dream
PROS
Chris Hadfield is one of the few people ever to experience living in space
He's a great storyteller and communicator
The use of props, illustrations, and video enhances the lessons
He explains difficult concepts with simple language and examples
There's a logical flow to the lessons
CONS
It lasts for almost 8 hours (pro or con depending on how interested and busy you are)
Most of us will never use this knowledge
In this MasterClass review, you'll learn:
A few frequently-asked questions (FAQs)
Before we get into the details of the course, here are a few answers to common questions.
Do I need a subscription to access this course?
Yes. You need a MasterClass subscription to access the Chris Hadfield MasterClass. The good news is that this membership will also give you access to 100+ other classes taught by expert instructors.
Does MasterClass have a cancellation policy?
Yes. You can cancel your membership auto-renewal at any time. If you decide to cancel within 30 days of signing up, you can get a full refund.
Who is this class for?
At the beginning of the course, Chris Hadfield says that it isn't just about space — it's about exploration in general.
But make no mistake, the main topic is space.
If you aren't interested in what weightlessness feels like or how rockets work, it may not be the course for you.
If you are interested in things like that, definitely sign up, even if you lack a science background. Yes, you will learn actual equations and other complex concepts, but it's explained so well that it's not hard to understand the basic ideas.
Find out how Chris Hadfield predicts we'll live on Mars.
About Chris Hadfield
When he was nine years old and watched the Apollo 11 Moon landing on TV, Colonel Chris Hadfield decided he wanted to be an astronaut. And unlike most of us, he never changed his mind.
After an impressive career as a fighter and test pilot with the Canadian military, he finally got his chance in 1992 as one of four candidates accepted into the Canadian astronaut program (out of 5330 applicants).
He became the first Canadian to walk in space in 2001.
Hadfield is most famous for his five-month tenure as commander of the International Space Station (ISS) in 2013. While on the ISS, he gained a large social media following by posting pictures and stories of his life in space.
He ended his time on the ISS by filming a cover (with some revisions to the lyrics) of David Bowie's Space Oddity. The video has over 50 million views on YouTube, and Bowie himself said it was "possibly the most poignant version of the song ever created."
Since retiring from his astronaut career, Chris Hadfield has written books, hosted TV shows, taught at the University of Waterloo, and even created this MasterClass.
How much does the Chris Hadfield MasterClass cost?
You can take Chris Hadfield's course with a MasterClass membership. MasterClass memberships have three plans available: Standard, Plus, and Premium.
All memberships give you access to the entire selection of MasterClasses. You can take as many as you want with no added costs. All MasterClass instructors are at the top of their fields.
The difference between the plans lies in the ability to download the online courses or watch them on multiple devices at once.
With the Standard plan, which costs $180 for a year, you can't download courses, and you can only watch on one device.
Plus gives you downloads (on iOS) and two devices for $240 a year, while Premium allows downloads and up to six devices for $273 a year.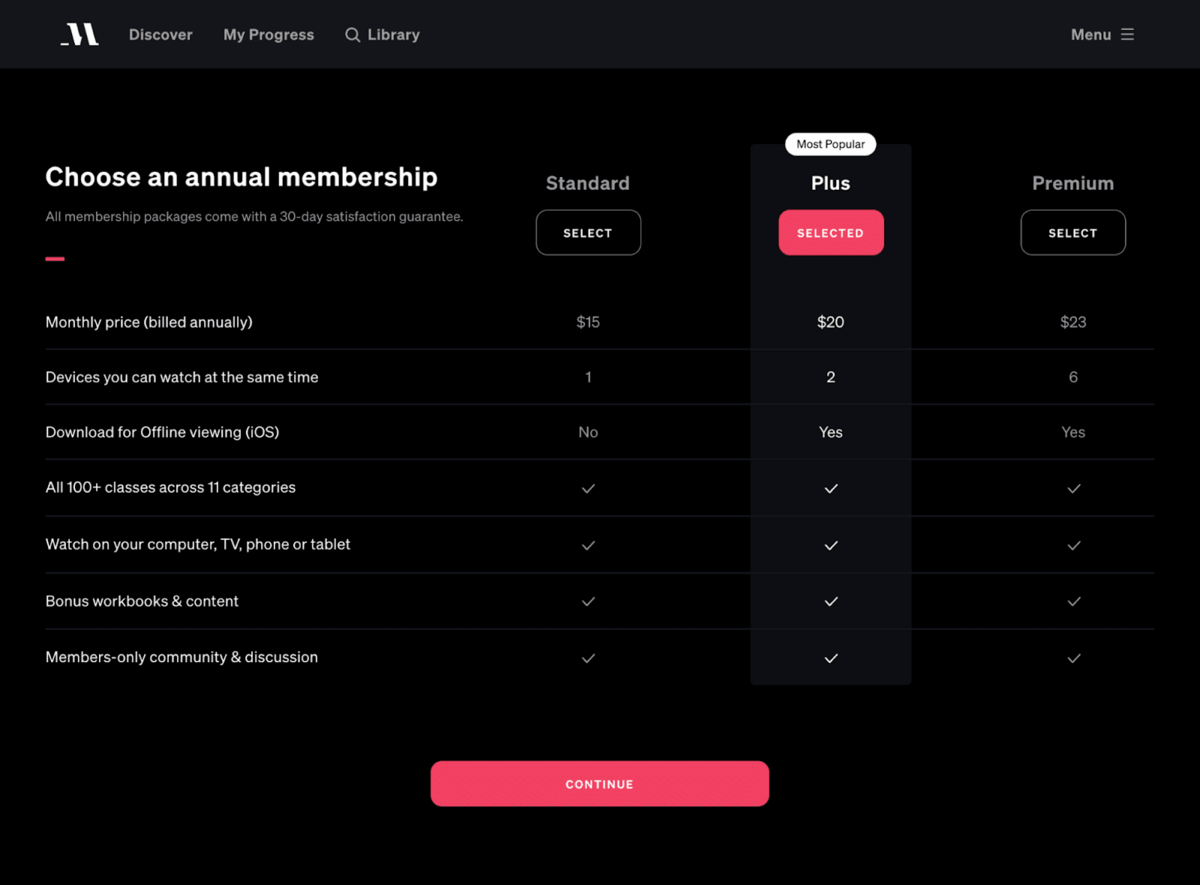 Though this may seem expensive, you can enjoy a plethora of other courses with one membership — for example, Neil Degrasse Tyson's MasterClass on scientific thinking, Alice Water's MasterClass on cooking, or Neil Gaiman's MasterClass on Writing.
Unlock the Chris Hadfield MasterClass with a membership.
What is included in the Chris Hadfield MasterClass?
Runtime: 7 hours 47 minutes
Course Value: 5/5
Lessons: 29
Supplementary materials: Student workbook and MasterClass Hub
Supplementary workbook
All MasterClasses come with a downloadable PDF workbook.
Like the class itself, this workbook is longer than average at 97 pages. It summarizes each video lesson, making it easier to internalize the science you learned in the course.
Understandably, this workbook doesn't have assignments like many of the MasterClass workbooks do. After all, going on a spacewalk or moving to Mars yourself is a big ask! But It does provide you with loads of recommended reading and ideas of what to look up online.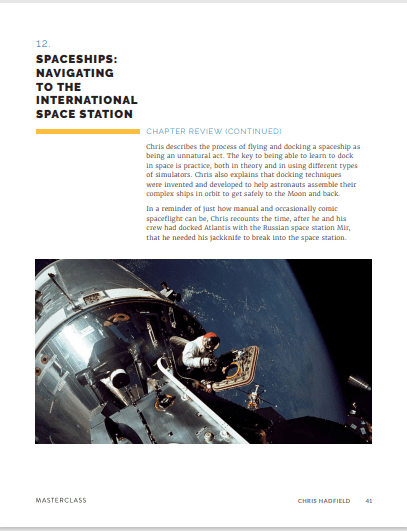 The MasterClass Hub
The Chris Hadfield MasterClass has a community forum where you can discuss the class with fellow students.
Join in to talk about Chris Hadfield, life in outer space, and whether you want to go to Mars.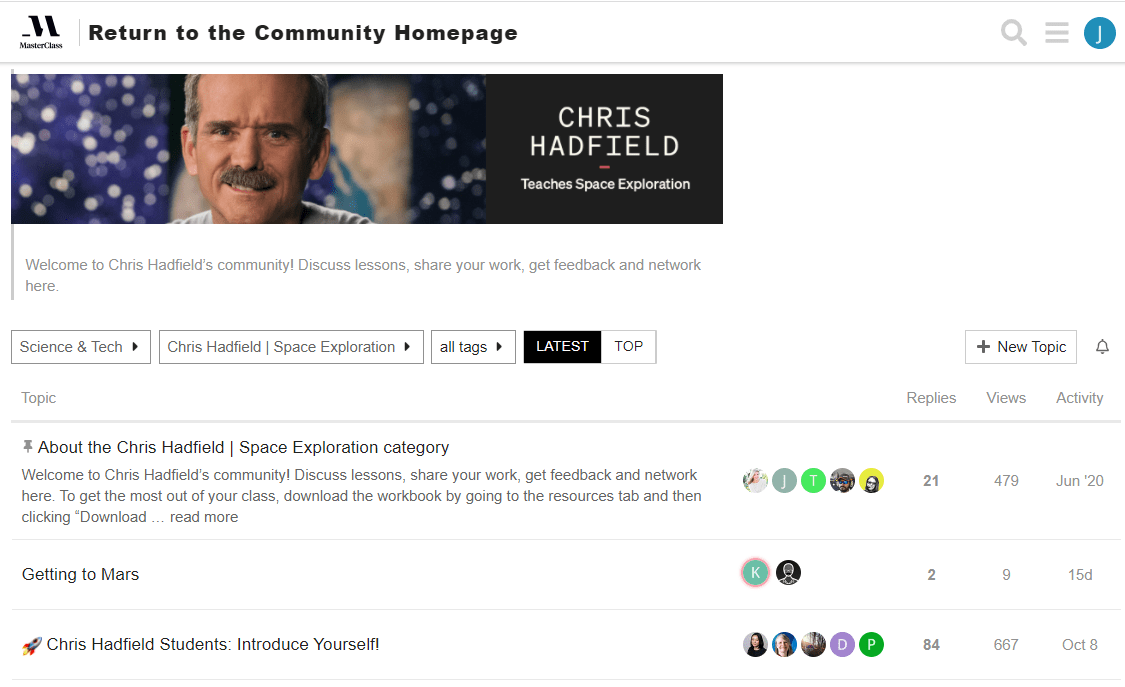 A complete breakdown of the Chris Hadfield MasterClass curriculum
Chris Hadfield's MasterClass consists of 29 lessons that range from two to twenty-four minutes long.
Below, you can explore the complete list of lessons.
Curriculum:
Introduction
Astronaut Training
Rockets: How Rockets Work
Rockets: What it Feels Like to Launch
Rockets: Atmospheric Drag
Rockets: Orbital Mechanics
Rockets: Fuels and Propulsion
Rockets: The Price of Exploration
Spaceships: Capsule Design
Spaceships: Shuttles and Beyond
Spaceships: Navigation Systems and Human Variables
Spaceships: Navigating to the International Space Station
The ISS: Conception, Design, and Construction
The ISS: Life Support Systems
The ISS: Experiments
Leadership: Commanding the ISS
Training and Learning: One-Pagers
Comms: Mission Control Evolution and Operations
Spacewalking: Spacesuits
Spacewalking: Spacewalks
Spacewalking: Training
Spacewalking: Space and Perspective
Training and Learning: Simulations
Mars: How to Get to Mars
Mars: Living on Another Planet
Mars: In-Situ Resource Utilization
Mars: Exploring Mars, Geology, and Astrobiology
Conclusion: The Future of Exploration
Bonus Chapter: Chris's Journey
Course summary:
Before starting the course, MasterClass gave me the standard welcome pop-up asking about my proficiency in space exploration.

Although I'm sadly not proficient in exploring space, I soon felt like I had experienced life as an astronaut. Although much of the course focuses on science, Chris Hadfield peppers the lessons with anecdotes from his career.
And he's a great storyteller.
Whether he's talking about his first days of astronaut training or spacewalking through the southern lights, he paints a vivid picture. I could clearly imagine what it would be like to hear the countdown before my rocket launched.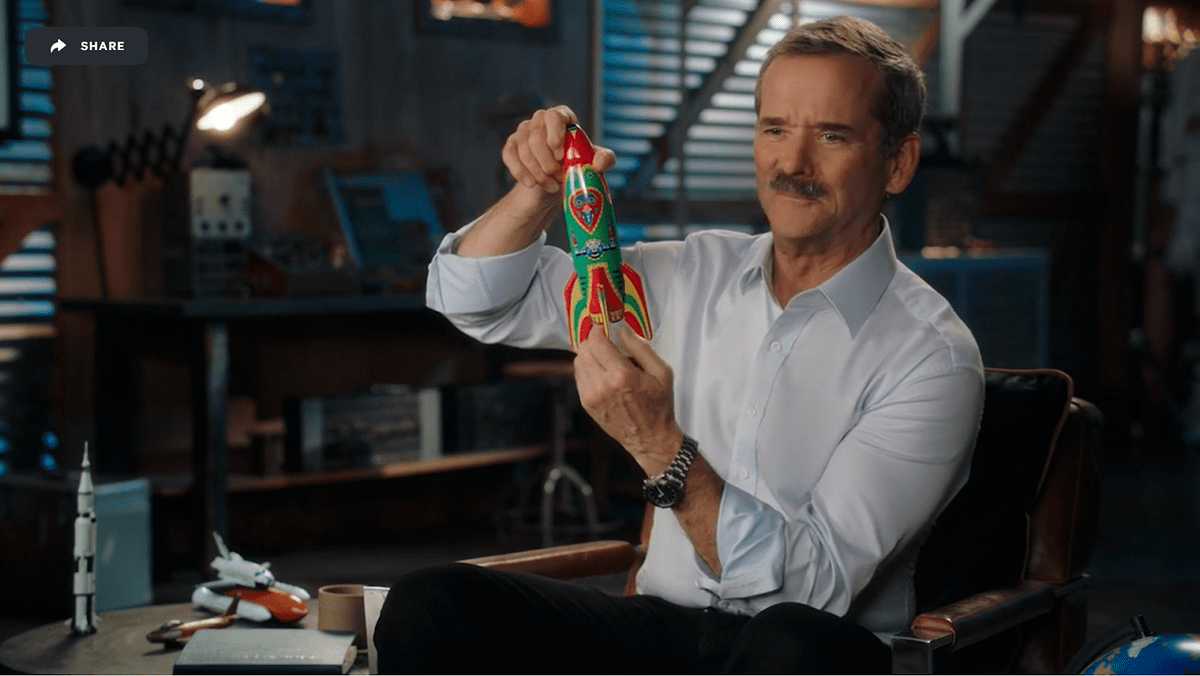 Science and technology
Most of the lessons focus on the science and mechanics of exploring space.
I wasn't sure if all of these chapters would hold my attention as I've never taken a strong interest in orbital mechanics or atmospheric drag before. Still, it was surprisingly enjoyable, and I learned a lot.
Hadfield is great at boiling complex topics down to the basics. He used tons of props, wrote on a chalkboard, and showed video clips of the science in action.
The whole curriculum tells a linear story. First, Chris Hadfield talks about astronaut training. Then we learn about how rockets work. The following chapters cover the spaceships those rockets carry, including the various possible designs and how they dock at the International Space Station.
Once we're on the space station, we learn about its construction and what it's like to live there. Sometimes astronauts have to go outside of the station, so the next four chapters are about spacewalks, going into his personal experience in great detail.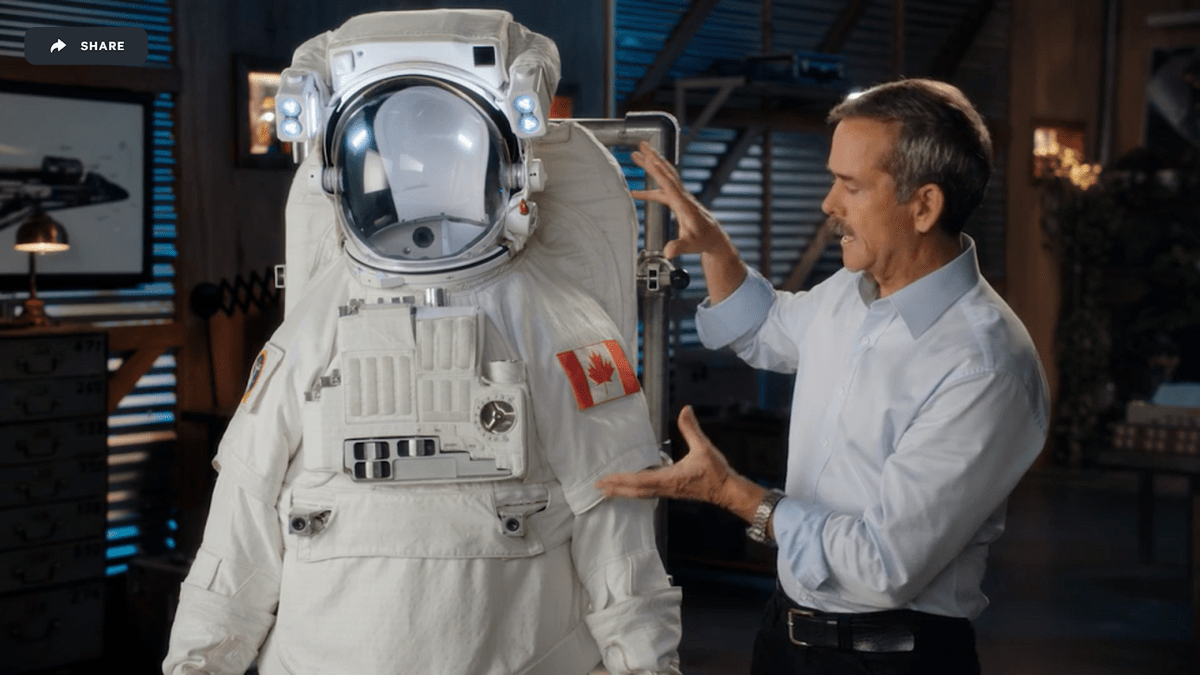 Finally, Hadfield talks about the future and what it will take to go to Mars.
Mars and the future
Did you know that bringing a single T-shirt to Mars would require 70 pounds of rocket?
That is just one of the many issues with a Mars mission that Chris Hadfield explores in the MasterClass.
How will we protect astronauts from radiation? After a 6-month flight, how soon will they be able to function in Mars's gravity? How do you support the crew when a message from Earth might not arrive for over 30 minutes?
I walked away with a much better understanding of what we can do now and what we need to be able to do in the future.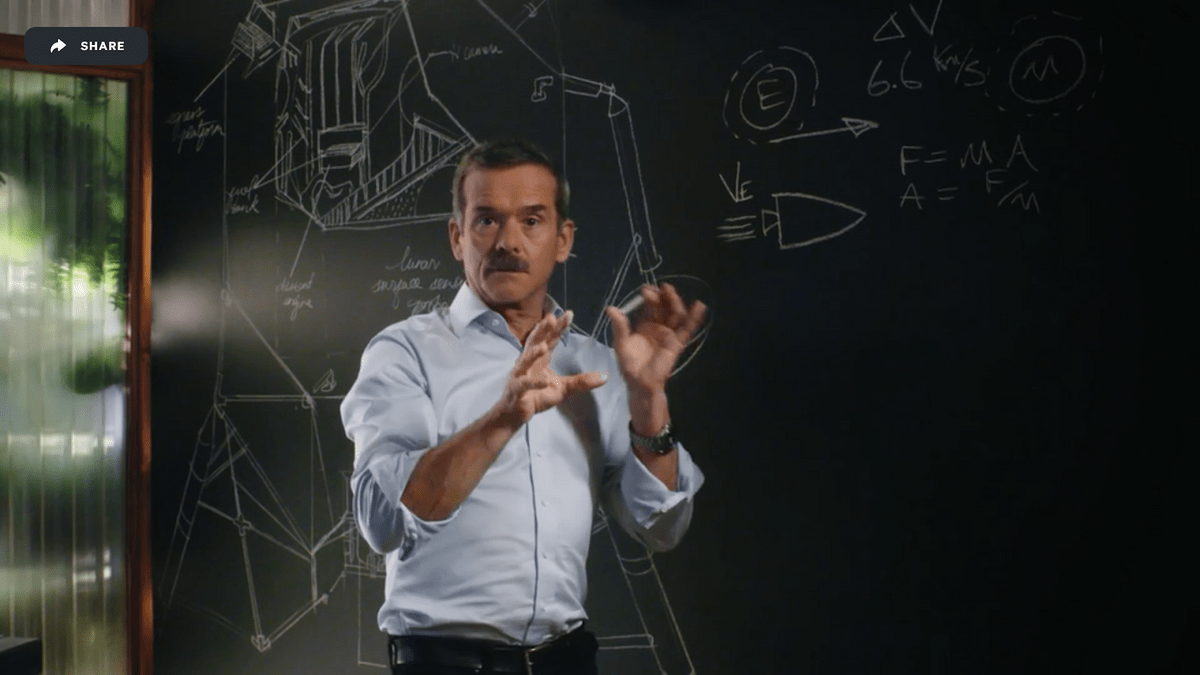 What I learned
While I learned a lot about rockets, spaceships, and space stations, I also had some big takeaways about astronaut life and the future of space missions.
4 takeaways from this MasterClass
1. It's not Star Trek
Like me, Chris Hadfield watched Star Trek as a kid. And judging by the number of Star Trek references in this MasterClass, he's still a fan.
But he's clear that being a real astronaut is nothing like Star Trek (although he thinks they were on to something with holodecks).
Science fiction typically portrays space exploration as an adrenaline-filled action-adventure. But Hadfield says that the last thing you can be as an astronaut is a thrill seeker. It's all about remaining calm and collected and remembering your training.
After all, you might have "just one breath" to solve your problem.
2. Being an astronaut is about accepting risk
Hadfield devotes a chapter to talking about the dark side of being an astronaut.
He remembers the crews of the Challenger and Columbia space shuttles, especially his good friend, commander of the space shuttle Columbia, Rick Husband.
He explains his philosophy on risk saying, "with great reward comes great risk, and each of us gets to define what the great reward is."
For Chris Hadfield, "the pursuit of the nearly impossible" was worth the danger he faced.
3. "The best antidote for fear is competence"
I was blown away by just how much astronauts have to know. They need to be able to observe Earth from space, so they learn geology, land use patterns, and history.
They have to understand orbital mechanics and other principles of spaceflight. They need to know how to repair the electronics on the ship.
They become EMTs in case a crewmate is injured.
And for potential emergency landings, they have to know how to survive until rescue, whether they land in the jungle or the ocean.
Accumulating so much knowledge across different disciplines allows them to problem-solve and effectively perform many roles in space.
4. We're just getting started
When Chris Hadfield was born, no one had been to the moon. When he decided to be an astronaut at age nine, Canada didn't have astronauts.
But everything changed, and it will continue to change.
Hadfield compares our current level of competency to the explorers of the 1400s. They knew about dugout canoes and other boats, but they were still figuring out how to make long voyages in ships. Many of them died.
We're still in those early stages of space exploration when our knowledge is rudimentary — we can just barely survive going to space.
But we'll get better.
Find out what skills future astronauts will need.
Memorable quotes from this MasterClass
"A large part of successfully being an astronaut is learning how to manage information."

— Lesson 17, Training and Learning: One-Pagers
"If you can go all the way around the world in the time it takes to eat supper, then it can't be very big."

— Lesson 22, Spacewalking: Space and Perspective
"If there can be life on Mars, no matter how primitive, then there can be intelligent life out in the universe."

— Lesson 27, Mars: Exploring Mars, Geology, and Astrobiology
"It's good that we're impatient. It helps drive us to do things we've never done before."

— Lesson 28: Conclusion: The Future of Exploration
Chris Hadfield MasterClass pros and cons
I thoroughly enjoyed this course and don't have anything negative to say about it. But you should note that it's one of the longest online courses on MasterClass, which could be a pro or a con for you.
Pros
Chris Hadfield is one of the few people ever to experience living in space
He's a great storyteller and communicator
The use of props, illustrations, and video enhances the lessons
He explains difficult concepts with simple language and examples
There's a logical flow to the lessons
Cons
It lasts for almost 8 hours (pro or con depending on how interested and busy you are)
Most of us will never use this knowledge
Do I recommend this MasterClass?
I highly recommend this Masterclass. It was interesting, informative, and inspirational.
In the final video lesson of the course, Chris Hadfield talks about his journey to becoming an astronaut. At every point in his life, his dream propelled him forward.
He advises us to do the same — choose a long-term goal and base our smaller life decisions on that bigger objective.
If you're looking for inspiration as you work toward your own dream, I suggest you start by watching the Chris Hadfield MasterClass.