Content marketing is massive. All kinds of businesses use it to spread brand awareness, reach new customers, and drive high-quality traffic to their site.
While content marketing is so valuable, it's also incredibly competitive. This is why it's important to understand the best content marketing hacks to help you make a bigger impact without raising your budget or effort.
By using a few content marketing hacks, you'll be able to reach more people with your content and get more traffic heading your way. These are easy things that you can do to create more optimized content for better results.
Here are 6 of the best content marketing hacks to use in 2022. They apply to blog posts, social media, and video content for any kind of business.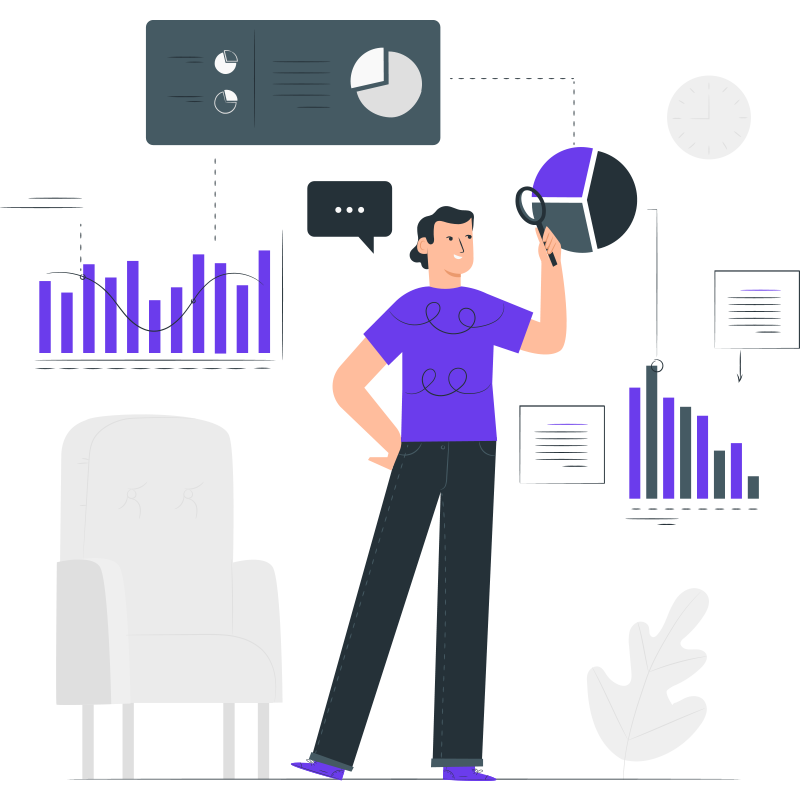 Get long-term ROI.
We help you grow through expertise, strategy, and the best content on the web.
6 of the best content marketing hacks:
1. Use Short-Form Video
Short-form video content is huge on social media right now. TikTok is leading this trend, with Instagram Reels following suit.
Why are these short videos so popular? Because they're one of the most engaging ways to create and share content. Everyone loves short videos, they're easy to make, and they're addictive to watch.
Short-form videos are also the best way to go viral on social media. And we know going viral is the fastest way to grow unless, of course, you buy Instagram followers. For example, Instagram gives Reels more reach than a regular Instagram post. There's a much better chance of your Reels appearing on the Explore Page compared to regular Instagram posts.
TikTok also gives its short videos more reach. Thanks to the unique TikTok algorithm, anyone can go viral on this platform, even if they don't have any followers. By utilizing a high-quality TikTok video editor, selecting a popular theme, and developing a strong concept, one can increase their chances of achieving viral success on the platform.
So if you want to reach loads of people on social media and produce trending content, then you should try short-form video content.
You can create these types of videos easily, and don't need to worry too much about them looking "perfect'. It's more about offering a fun and realistic representation of your brand than creating a Hollywood production.
And the more of these videos you create, the better you will get at them.
Here are some ideas for short-form video content on social media:
Create behind the scenes videos
Join viral hashtag challenges
Create how-to videos
Show your products in action
Create videos based around trending audio content
Introduce the "real side" of your brand
Show a before and after video
Introduce yourself and tell your story
2. Promote Your Blog Posts On Pinterest
If you're not using Pinterest to distribute your content, then you're missing out on a lot of opportunities.
Pinterest is an excellent place to drive high-quality traffic to your blog. With over 430 million monthly active users, it's an awesome way to get a lot of people to find your content.
When creating a Pinterest strategy for content marketing, understand that Pinterest is not like other social media channels. It's more of a visual search engine, which means you can use it to get longer-lasting results.
As soon as your pin starts ranking at the top of the right searches, it can generate a lot of consistent traffic for your blog.
So, how do you use Pinterest to increase blog traffic? Here are a few important tips to follow;
First, create a Pinterest Business account. This allows you to access analytics, as well as Pinterest's own keyword tool (which can be found when you create an ad)
Explore your niche and understand what types of boards you need to create. The names of each board need to be optimized to relevant search queries
Design pins that stand out and look great. The optimal size for a pin is 1000 x 1500px. Search for your topic on Pinterest first to see what other high-ranking pins look like, and make sure yours will stand out amongst these
Use keywords in your Pinterest descriptions. Just like you would with blog SEO, Pinterest also relies on keywords. Include a few hashtags too for good measure
Watch your analytics and see how your pins are performing. It's a good idea to try different Pinterest strategies (like uploading a video pin vs a static image) and watching which gets you the most engagement
The most important thing about using Pinterest as a content marketing hack is that you add value to the user. Use Pinterest to provide something that your audience is genuinely interested in, and get them to click through to your blog to gain even more value.
If done correctly, Pinterest can be an amazing tool for driving long-term traffic to your blog.

3. Repurpose existing content into video
If you want to expand your reach and create content that attrracts more engagement and traffic, then consider adding video into the mix. These days, everyone has the tools to create killer video content. All you really need is a smartphone and a free video editing app to get started.
If you've already got a blog that's full of content, you can use this as a blueprint for your videos.
By repurposing blog content into video content, you'll be able to maximize your reach. You won't have to invest much extra time or effort into producing videos, because you've already got all the content ready.
Now you can add original videos to your blog posts to make them more engaging, and you can distribute your blog content through video platforms. It's a win-win.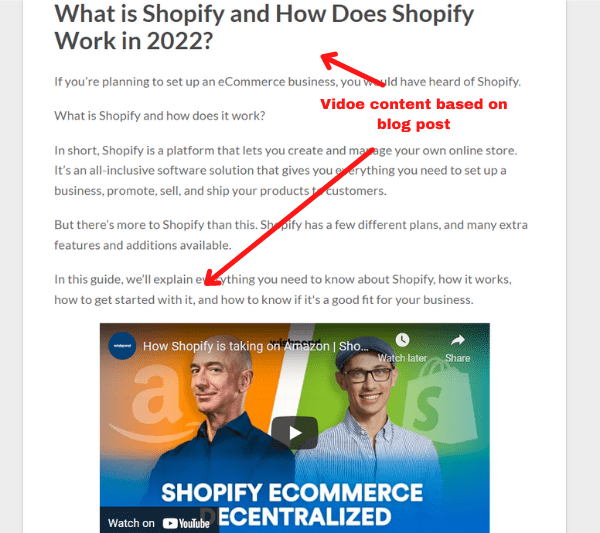 YouTube is bigger than ever, and this is where you need to focus your video content strategy for longer videos.

However, you can also repurpose your content ideas into those short-form videos that we spoke about earlier – like TikToks and Instagram Reels.
If you have a listicle blog post, for example, this can be easily converted into an excellent Tiktok video.
4. Find the Best Time to Post
Social media remains one of the best ways to promote your content.
If you want to get more engagement and reach on social media, then you'll need to post when your audience is most active. This may seem pretty straightforward, but it's something that so many businesses overlook.
Understand where your audience is based, and what times they are most active. By posting during this window, you'll be able to generate a lot more engagement straight off the bat. This will make it easier to get your post discovered and going viral.
Now you'll end up driving a lot more traffic to your content.
It doesn't matter how game-changing your social media content is, you won't get much traction from it if you post it while your audience is sleeping.
Something as simple as knowing the best time to post Reels on Instagram or understanding when Facebook posts get the most engagement can be a major contributing factor to how successful your content distribution strategy and overall Instagram marketing strategy are.
It doesn't take much effort to figure this out. Just go to your social media analytics page, see where your audience is located, and post at the time this audience is most active. Generally, this is in the early morning.
If you were just posting content at random times, you'll see how much of a difference the right time makes.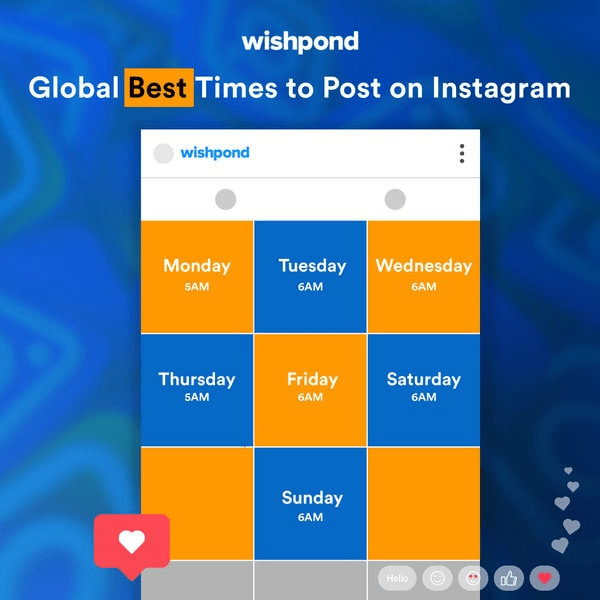 5. Publish Your Content in Various Places
Your blog might be the main focus of your content marketing strategy, but this doesn't mean it's the only place you can publish your content. If you're considering influencer marketing as part of your content strategy, it can be helpful to know how to find the right influencers who align with your brand to get started.
By publishing across different platforms, you'll be able to tap into the audiences in each different space. Ultimately, this means more traffic heading your way.
Two great examples of blog publishing platforms are LinkedIn and Medium. Once you've published a great piece of content on your own blog, you can publish the same type of content on these platforms, and link them back to the original post.
A good strategy is to change the angle slightly on each platform. This way, you're able to target users with slightly different intent, widening the range of your audience.
For example you could publish one blog post that looks like this: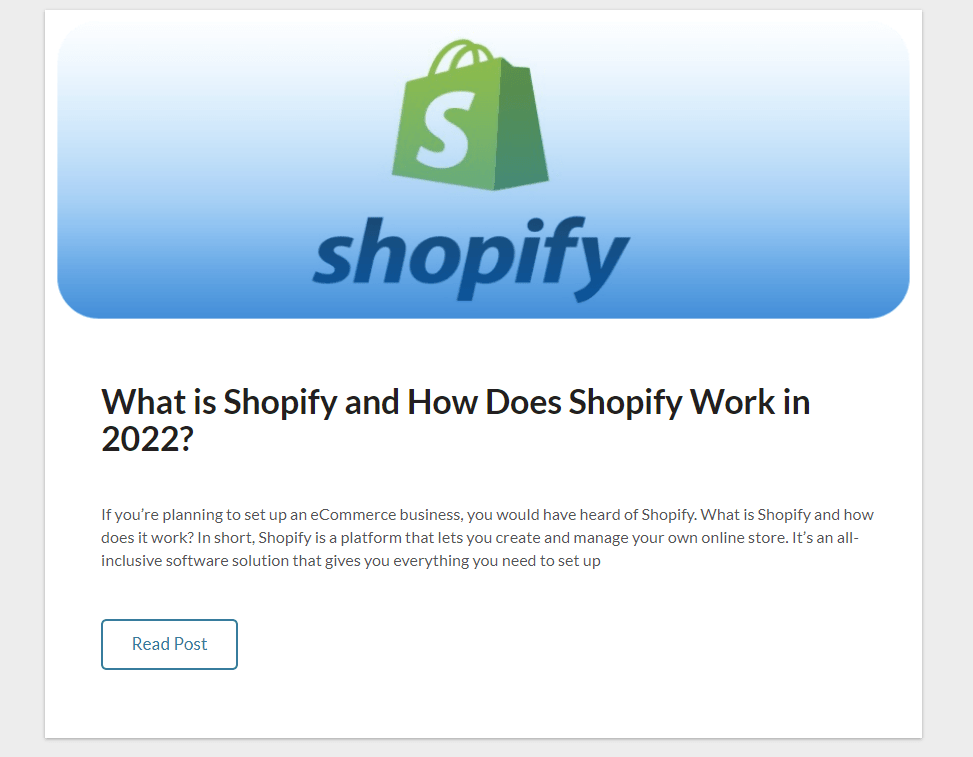 Then publish an article on LinkedIn that looks like this: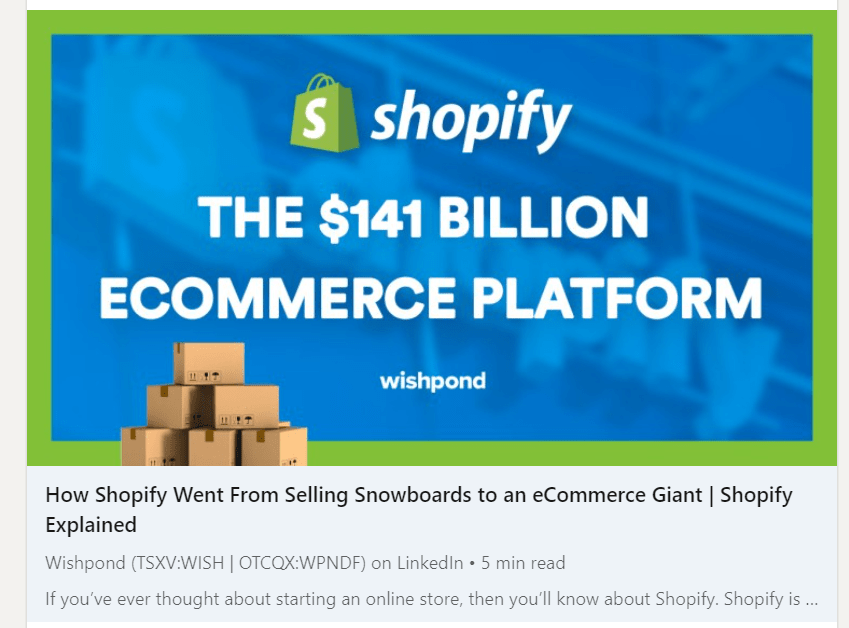 Finally, create something slightly different on Medium:

This will hardly take any extra effort or time, because you've already got all of the information prepared. You just need to add a slightly different spin on it for each platform.

It's always a good idea to make your original blog post the most in-depth piece of content, and then make any "supporting" blog posts shorter, with a link pointing back to the original. Like this:

This way, you get to create maximum impact and expand your reach x3 with a single piece of content.
Top Tip: If you follow the previous content marketing hacks and also distribute this content through video formats, you'll be able to widen your reach even further. 6.6
6. Stay On Top Of Trends
The problem with content marketing and SEO is that it's extremely competitive.
You might write an amazing article on a topic with loads of search volume, but there's a good chance it will just be buried underneath the already established competition.
While there are endless SEO guides and strategies to help you overcome this, one of the most effective content marketing hacks is to try to write about content before anyone else does. This brings the competition right down and puts you in a better position to reach that number one spot.
And because you're creating content about something that's just starting to trend, you'll get a lot more search queries and interested traffic heading your way.
This may sound easier said than done, but it's really not.
Just make sure you're connected to all the relevant insights and news reports in your industry. Use a news aggregator to round up the most relevant and current stories on your chosen topic each day.
As soon as you see something interesting, create content on it straight away. And if news drops about something you've already written a piece of content on, just add in a new section to the existing content, like this: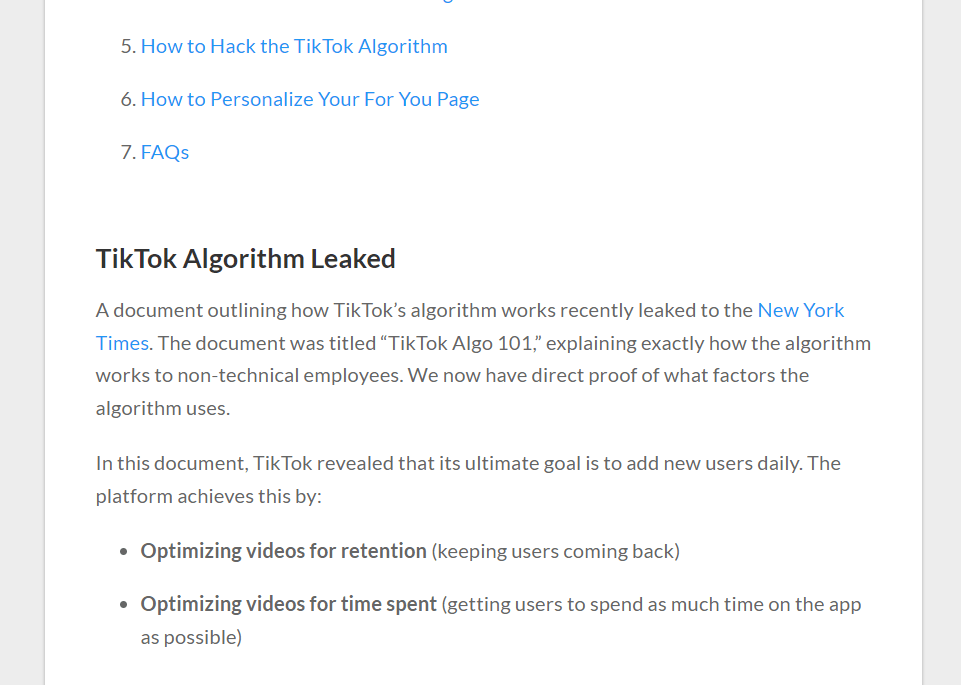 In the example above, the original article didn't include a section on the leaked document. It was added in as soon as the news dropped, which resulted in a significant spike in traffic and search engine ranking.
This content marketing hack doesn't only apply to Google. By staying on top of the latest Instagram or TikTok trends for businesses, you'll be able to post more relevant content at the right time.
If you pick up on a trend while it's still early, it will help you to get a lot more reach and engagement.
So, stay active on social media and news sites and always keep up to date with your niche. Jumping on trends early can pay off big time.
Conclusion
If you've created a great piece of content, this doesn't necessarily mean it will get the recognition it deserves. You need to follow a few hacks and strategies to get that content properly distributed and seen by more people.
These content marketing hacks don't require big marketing budgets, specialist skills, or lots of time. By making a few simple moves that you would normally overlook, you can end up getting your content a lot more traffic and engagement. This results in a content marketing strategy that delivers stronger results for your business.