A marketing team used to be one that stuck to print media. Today, with an immense range of tech and with a large, not to mention, varied customer base. Even the ads are more targeted, the content more poignant, so that every step an organization makes is both effective and impactful.
Therefore, there is no room for error, no room for delays, and especially no room for incompetencies. And hence, you require tools that can aid you with that kind of efficiency and perfection.
If you are looking for such a set of tools that can help you simplify and streamline your whole marketing process, you have found yourself in the right place.
With this toolkit, your team is sure to come up with foolproof plans, successful executions, and brilliant results.
So without further ado, let's jump on to the first one with: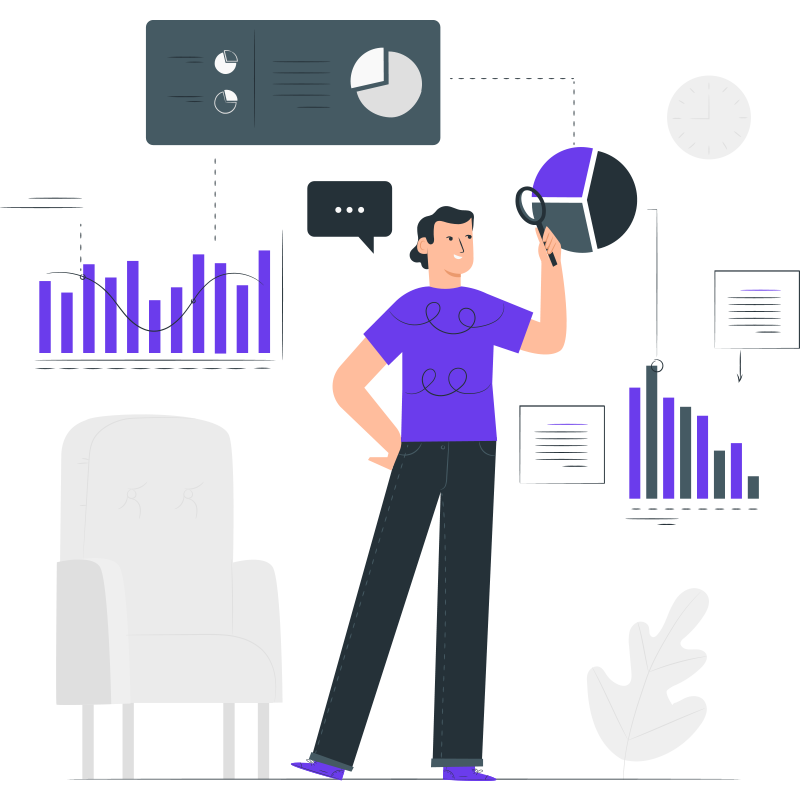 Get long-term ROI.
We help you grow through expertise, strategy, and the best content on the web.
#1 All-in-one marketing management tool: Proofhub
ProofHub will help you centralize all your plans, projects, tasks, subtasks, and even notes, under the same roof. It helps in managing people, clients, and projects with the utmost ease.
Why do I need an all-in-one marketing management tool?
These tools help you track all ongoing team activities, assign tasks to various people of the team, manage projects, and get a bird's eye view of the campaigns. In addition, these tools will also help your team with seamless collaboration throughout the life of the project.
Why is Proofhub the best solution?
ProofHub comes with a plethora of inventive features that help in actively managing all the moving parts of a project. It allows the user a personalized space to view their tasks and keep up with their schedule.
It has Kanban boards that help track task stages and move the tasks through the project with drag and drop functionality.
It has simplistic controls and an interactive interface that helps everyone visualize and navigate the tasks efficiently.
An instant chat that helps people stay in contact all the time.
A proofing tool that helps in giving loud and clear feedback.
Additionally, it has some more intuitive features that truly make it one of the most valuable tools in the market at the moment.
Approval management for files.
Saving different versions of the same file within the tool.
Stickies, to quickly jot down important information.
Notes for keeping your passwords and customer information safe and sound.
#2 Social media marketing tool: Buffer
Buffer is a highly versatile platform that helps you tailor every post, every message you want to put out on social media to your unique brand message.
Why do I need a social media marketing tool?
This will help you prepare posts, schedule them, and post them to the web with a tool that centralizes all your social media presence on one platform.
Why is buffer the best solution?
Buffer comes with a set of features that is both effective and futuristic. It helps keep track of what works on what platform and helps you implement winning marketing strategies on said platforms.
Analyze and keep tabs on what type of posts are performing well and on which platform.
Schedule all the posts and collaborate on everything.
Comment on everything.
Track your engagement and following.
Additionally, it helps:
Label comments according to their importance and priority.
Propagate messages through all platforms, all the airwaves all at once.
Additional workflow tools to manage all activities efficiently.
Exportable, downloadable reports to work off of.
#3 Content curation platform: Feedly
Feedly will help you tune out all the noise and help you focus on ongoing trends and every type of content that piques your interests and pertains to your niche.
Why do I need a content curation tool?
These tools help you keep up with fresh content and trending ideas. These help you filter out the content you need that will help you excel in your social media game.
Why is Feedly the best solution?
Feedly is an AI-powered content curation and management tool that can help you step up your posting game on any platform.
Organize the posts from the publications that you love to create a reading list.
Trust Leo, an AI assistant, with all your research work.
It helps analyze your feed as well as find everything that you will find useful.
Collaborate with your team for research and to discuss key pointers.
Additionally, it has:
Personalized controls to set priorities.
Features to help you organize all important links and posts that you would like to save.
Features to help you plan, schedule, and prioritize trends, topics, and campaigns.
Keyword alerts to help you sort through what you really need.
#4 Content publishing tool: Wordable
Wordable is a content publishing platform that helps save hours and hours of work by allowing you to upload content on a regular basis with the utmost ease.
Why do I need a content publishing tool?
The ideal content publishing tool will help you quickly export and import content and automatically publish it to your website. Furthermore, these platforms help monetize the website and integrate it with the relevant social media channels.
Why is Wordable the best solution?
Wordable is a state-of-the-art software platform that helps teams upload content from virtually any platform with minimum effort.
It allows teams to export content from any Google Docs instantaneously.
It does not ask for reformatting when you export content from Google Docs to your website.
These posts can be posted to WordPress websites almost instantaneously.
All the media files within the doc get saved into the media gallery.
Additionally, Wordable can also help you achieve the following:
It saves you numerous hours that are usually spent on manual content uploads.
Post the same content on multiple websites all at once.
Write content distraction-free, without worrying about messing up the formatting.
Sync docs across devices and work with a clean code.
#5 Social media dashboard: Zoho Social
Zoho Social is an all-in-one tool that helps you manage all your web presence from one centralized platform. It will help you get an idea of how everything works, how your campaigns are progressing, and how you can go about improving your work processes.
Why do I need a social media dashboard?
Tools like Zoho Social not only help you understand the analytics of how your posts are performing but also help you map out a solid strategy for your content that will work well on social media platforms across the web.
Why Is Zoho Social the best solution?
Zoho Social is a tool that is very easy to get used to. It has a sleek and effective compact design that helps teams navigate through data with the utmost ease.
Manage multiple brands all at once.
Keep tabs on your overall social media presence from one central place.
Make predictions about what time works best for what kind of social media platform.
Request and manage approvals all in the same social media management dashboard.
Additionally, it has some of the most useful features
It helps teams track brand-related keywords.
It helps centralize all brand reviews.
It helps create custom reports.
It also helps maintain a descriptive publishing calendar to help teams be on top of their agenda.
#6 Time management app: Time Doctor
Time Doctor is a time management software that will help you track the tasks, time, and progress of your team. It helps boost productivity and increase accountability.
Why do I need a time management app?
The one thing a content marketing team always has to compete with is time. Beating time is the one thing that marketing teams need to always be ahead of. Whether it is about planning a campaign or rolling it out, one needs to stay with the times and make the best of it.
Why is Time Doctor the best solution?
Time Doctor is a tracking solution for all teams of all industries out there. However, marketing teams have a lot to benefit from it. It helps teams track campaigns and document progress effectively.
It helps document progress in the form of automated quarterly reports.
It helps track and analyze the utilization of time.
It helps track where your resources are being spent.
It helps edit time manually so as to maintain accurate reports.
Additionally, it has some of the best tracking features that marketing teams will find especially helpful:
The Time Doctor app can be used and synced up on all your devices.
It helps keep track of money and supports all currencies.
It helps convert your time data into billable hours.
Facilitates a CRM to combine the efforts of the marketing and the sales teams.
#7 Customer engagement management: Acquire
Acquire helps teams maintain an incredible customer experience. It is a tool used for customer and client management that can help marketing teams keep track of leads and stay connected with customers as well as potential customers.
Why do I need a customer engagement management tool?
It is important to gain new customers, but retaining the old ones is just as important. Tools like Acquire help marketing teams contact the customers and provide them the very best customer experiences.
Why Is Acquire the best solution?
Acquire gives the customers a conversational experience where the audience feels heard and also helped. It is a platform that enables the team to provide constant support to the customers and collect feedback from them on the go.
It facilitates tracking and analyzing through a highly descriptive activity dashboard.
It helps schedule reports and analytics to be directly sent to your inbox.
It has chatbots and an active chat feature so that the customer always feels heard.
Experience a 40% increase in digital conversations.
Additionally, Acquire has features like:
A knowledge base to fill up with valuable information like contact details and passwords.
It has an AI-driven interface that learns as it goes.
It acts as an integrated service platform that helps and retains customers.
It also aids managers by providing accurate agent performance insights
#8 Social Media Management tool: Plann
Plann is a social media management tool that allows you to easily plan, schedule, and analyze your social media content in one place. With features such as hashtag recommendations,
content ideas, and post performance tracking, Plann simplifies the social media process and saves you time, allowing you to focus on creating engaging content and growing your audience.
Why do I need a Social media Management tool?
A social media management tool can help you save time, stay organized, and improve the effectiveness of your social media strategy by allowing you to easily plan, schedule,
and analyze your social media content in one place. It's a valuable resource for individuals and businesses looking to optimize their social media presence and grow their audience.
Why is Plann the best solution?
Plann is the best social media management tool because it offers comprehensive features, user-friendly interface, affordability, and flexibility to suit various business needs.
Plann provides various features such as content scheduling, post analytics, visual planning, and hashtag research to help businesses manage their social media presence efficiently.
Plann's user-friendly interface makes it easy for individuals and teams to manage multiple social media accounts in one place.
Plann's affordable pricing plans make it accessible to small businesses and individuals with a limited budget for social media management.
Plann's flexibility enables businesses to customize their social media strategies and adapt to changing trends and needs in the industry.
Additionally, it has:
Collaboration features that allow team members to work together seamlessly on social media campaigns.
Integration with various social media platforms such as Instagram, Twitter, Facebook, LinkedIn, and Pinterest, makes it easy to manage multiple accounts from a single platform.
Access a library of high-quality stock photos, graphics, and templates to quickly and easily create visually appealing content.
A mobile app that lets users manage their social media accounts on-the-go, allowing for greater flexibility and convenience.
Conclusion
Marketing teams of 2021 are proactive, quick, but most importantly, they have too much on their plates. Here's hoping that this content marketing toolkit will help you simplify your work processes and streamline absolutely everything.
All the tools mentioned in the list above come with a free trial, therefore, we suggest that you sign up for these tools for free and find the tools that will fit the exact needs of your team.