Just 19% of marketers believe that they understand their data.
Let's put that another way.
Only one in five marketers is comfortable with translating data and understanding its purpose in marketing.
Is your mind blown yet?
This is where the surge of SEO software companies enters the picture.
Over the past few years, there's been a boom in SEO analysis companies, like Cora, who have come to the aid of content marketers.
But what makes the CoraSEO model unique?
Let's start with a bit of history…
Ted Kubaitas, who's been in the SEO game for over 10 years, created Cora SEO Software. With a background in mathematics, Ted decided to use a more analytical approach to the SEO challenge.
Does this data-driven approach work and is it right for everyone?
This Cora SEO tool review will dive into the details.
Our Verdict
If you're an expert SEO who is looking for empirically driven information and who loves to dive into every nuance of data, you might enjoy this tool.
TABLE OF CONTENTS
Publish Google Docs to your blog in 1-click
✅ Export in seconds (not hours) 
✅ Less VAs, interns, employees
✅ Save 6-100+ hours/week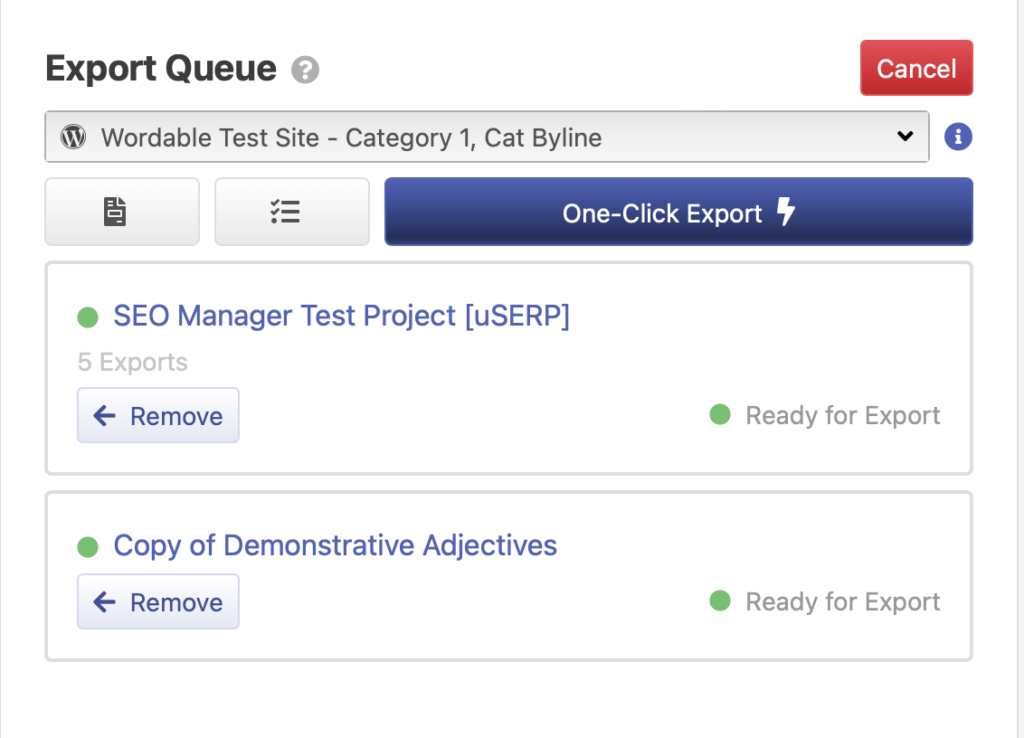 About Cora SEO Software
Cora SEO — by SEOToolLab — is desktop software designed for PCs and Macs.
Unlike many of its competitors, Cora isn't a cloud-based SEO software. This means that you have to download the entire program onto your computer to run it.
Cora doesn't cast a massive net like some of its competitors. Instead, it relies on empirical data to deliver results.
Their platform looks at a narrower field of data to pin down correlating ranking factors.
We'll get into that more in a moment.
Originally, Cora SEO software was one suite that provided high level data to the advanced SEO expert.
Recently, the company has expanded to deliver a secondary set of tools that are aimed more toward Jr. to mid-level marketers.
A math-based SEO solution
Cora differentiates itself from competitors by offering an empirical analysis as opposed to looking at hundreds of thousands of data pieces.
Think of this in terms of a casino visit.
Imagine you are rolling a pair of dice and you roll seven for three turns in a row.
That could be luck, right?
Now imagine you are rolling ten times in a row and get the same result.
At this point, you're thinking that you might be using a rigged pair of dice.
Once you roll ten sevens in a row you're certain the dice are rigged.
That's how Cora SEO looks at data.
They're able to take a smaller percentage of ranking factors and see how Google is ranking them. This way, they can get a good look at what is "rigged."
The "rigged" data means Google is using those ranking factors when sorting and that those are the factors to pay attention to.
Make sense?
Pros of Cora SEO Software
Now that we've learned how it works, let's talk about what Cora is and why it works.
Cora is a desktop SEO measurement tool for PC's and Mac's
To get started, you'll need to put in the following information:
Search term
Country
Language
Type of results you're looking for (mobile or desktop)
Your domain.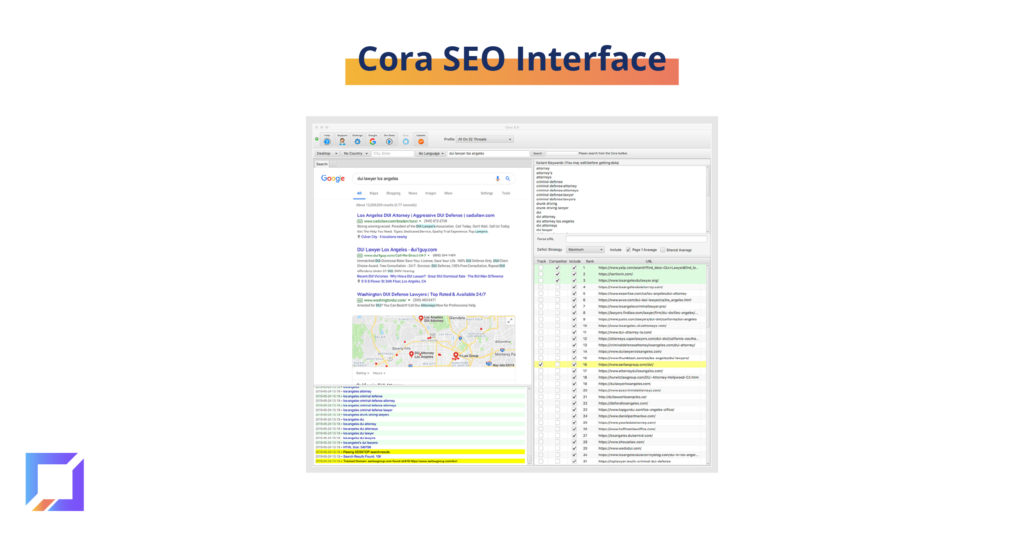 The software measures over 520 SEO ranking factors and the top 100 results for your keywords.
The search result will appear after a short wait (usually about 5 – 10 minutes).
When the analytics are complete an Excel report will be produced.
This report is broken into tabs. The first tab is the SEO Roadmap. This will show you the immediate improvements you should focus on making.
The second tab is the Overview. This shows you a summary of all the data. It's useful if you want to dig deeper for more specific analysis.
The third tab is the Basic and Intermediate Tunings. This shows you all of the ranking factors that you need to improve.
The fourth tab is the Top Words. This is useful to see what other words are being used on higher ranking pages.
The fifth tab is the LSI tab.
Now, I know what you're thinking: what the heck is LSI?
Latent semantic indexing (LSI) is a mathematical concept that helps improve information retrieval.
Basically, LSI finds the relationships between words within content.
This tab offers some information about how top-ranking sites are using LSI.
The final tab is the Results. Use this tab to see all of the results including titles and meta descriptions.
If you are a more visual person, Cora has a whole tab just for charts.
And for those who love details, there is a tab that shows you keyword densities.
Cora SEO toolbox
As is the case with many competitive SEO tools, Cora SEO isn't a standalone.
When you sign up for Cora, you also get these tools.
Cora Diff — The Diff tool can compare top-ranking keyword factors at different points in time. This is helpful for taking a look at how your ranking factors might have been affected by an algorithm change.
Page Tool — Page Tool creates a web page that's already optimized for a specific keyword. This is based on one of the reports you have already run. This is helpful to begin your content creation.
Trends — The trends tool is beneficial for analyzing a specific niche. The tool evaluates and produces a report based on a folder of previously run reports. These reports are ones that you identify as having related keywords. The best ranking factors, among all of the reports, is then combined into one.
Keywords — The name says it all. This helps find relevant keywords. It can also give you geo-specific keywords. You can use this keyword analysis tool to also find keyword variations.
Outreach — Outreach Tool is most helpful for marketing your search engine optimization services to clients. Basically, you find a relevant keyword, run a report for that keyword, and the tool creates an HTML document. That document details the findings from the SEO report. You can use this report as a way of connecting with potential clients.
Cora Lite
As we talked about earlier, Cora Lite is the newest offering from SEOToolLab.
It's intended to be a cheaper and more user friendly alternative to Cora.
Cora Lite features on-page only analysis, up to 556 measured factors, and white label reports.
These reports are brandable so they make it easy for prospecting clients.
Cora Lite wasn't made as a replacement for Cora — it's a secondary tool.
In fact, they offer Cora Lite free to current Cora subscribers.
I'm not going to sugar coat things.
Cora is such a complex system that Cora Lite was a necessary step for SEOToolLab.
Let me explain why.
Cons of the Cora SEO Analysis Tool
Before we even get into the product, I want to take a moment to talk about the SEOToolLabs website.
Any marketer understands that your website is your calling card. It's what draws potential clients in and showcases why they need your company.
The SEOToolLabs website isn't pretty
The website feels clunky and outdated. There are so many words and links that it comes across overwhelming.
Multiple fonts and font sizes are used and some of the pages look as though they were created in the early 2000's.
And the SEO Editor Pro tool, despite being prominently featured on the site, reads as being unavailable.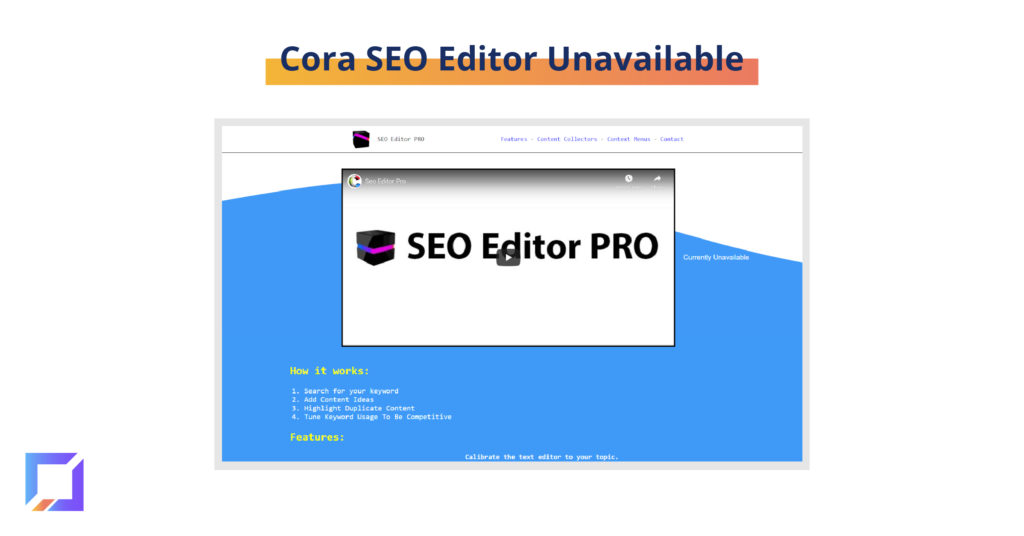 Not exactly the best first impression.
Interface
The tool's interface isn't aesthetically pleasing.
When you look at the main screen, it's challenging to know exactly where to begin.
As with the website, the interface is text heavy and confusing.
For example, although the Google search bar is prominently displayed, that's not where you search. In fact, if you try to search there, it messes up your reports.
The actual search bar is located at the very top of the page.
Additionally, because this is a desktop download, it takes up a lot of space on your computer.
There are stories about it taking quite a bit of RAM to process as well.
Finally, the install process itself is scary. Because the installer isn't verified, users get many messages that indicate the program could be a virus.
The developer claims to be working on a fix, but as of this posting, we haven't seen an answer to the problem.
Brand "voice"
Let me get on my soapbox for a minute.
I've researched other SEO optimization tools and I have never come across one where the voice of the product made me cringe.
The SEOToolLab/Cora voice is my first experience with this.
In the footer, there's a message that states "Don't be an idiot. All websites use cookies, send data via forms, store IP addresses in log files, and store information in databases like contact information. If you have a problem with this please stop using the Internet."

Some may find this funny but I find it rude.
Throughout the interviews, video walkthroughs, and website quotes, the developer gives off an air of cockiness and superiority.
There were many videos that felt as though they were talking down to SEO's who weren't at an expert level.
Jr. or mid-level SEO's looking for a solution could easily be turned off by this first impression.
I know I was.
White hat vs black hat SEO
Much of what SEOToolLab puts out there revolves around the idea that they are the "best".
The idea of which approach to SEO is the best is largely subjective.
There's one distinction that floats through the ethers of the SEO realm and that's white hat vs black hat SEO.
First, a definition:
White Hat SEO is the the most ethical way to optimize a site. It focuses on human audience, follows search engine guidelines, and takes a long-term approach to SEO.
Black Hat SEO is basically the opposite of white hat. It goes against the search engine guidelines, manipulates Google's algorithm to improve rankings, and focuses on quick wins.
In an interview, CEO Ted Kubaitis stated he was a bit of both.
There's something off putting about a company that claims to have anything to do with black hat SEO.
Especially when they're asking you to commit so much money to the product.
Price
Cora is expensive and doesn't give the user an option for a free trial.
We'll do an in-depth examination of their pricing below.
Cora SEO Plans and Pricing
What are the pricing plans?
To start, both subscription plans accept Visa, MC, AMEX, Discover and are processed with the ThriveCart plugin. Paypal is also accepted.
There are no contracts and you can cancel at any time.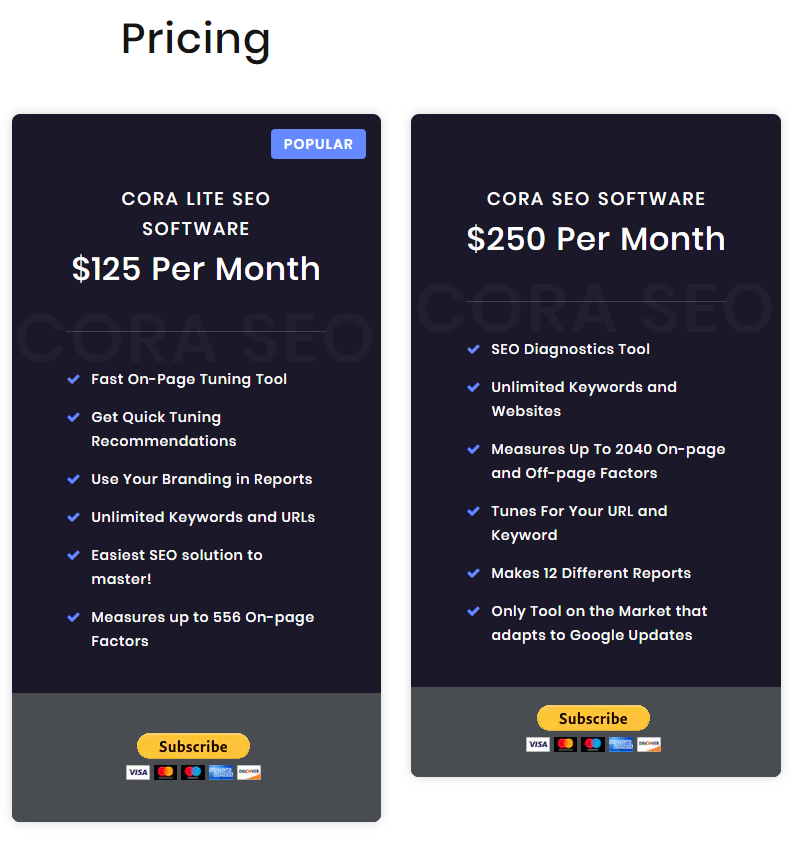 Plan #1: Cora SEO
The basic Cora SEO package is priced at $250 per month.
It comes with the SEO Diagnostics tool and unlimited keywords and website searches.
The basic package makes 12 different reports and adapts to Google updates.
There are some reports of inconsistencies with the Google updates but we weren't able to verify these.
Plan #2: Cora Lite SEO Tool
Cora Lite is priced at $125 per month, but Cora SEO users get Cora Lite for free
Cora Lite measures up to 556 keywords, and features a fast on-page tuning tool.
It also offers unlimited keywords and URLs, as well as white paper reports for branding purposes.
Do I Recommend Cora SEO?
No.
This wasn't a black and white decision.
While the Cora software has gotten many great reviews from SEO experts and clients, it feels like something is off.
The tool is very expensive for what it provides and there's no free trial.
There are other SEO options that offer similar results for a fraction of this cost. While the method behind the results may vary, results are results.
The product is much more expensive than its competitors and the output is much more clunky.
The software isn't cloud-based and eats a great deal of RAM. There's also a questionable installation process.
But the biggest turn off, for me, is the voice of the developer.
The pompous attitude doesn't lend itself to being very customer service friendly. It feels as though any questions would be met with a smirk and an eye roll.
However, if you are on the market for an app that allows you to export from Google Docs to WordPress in 1-click, then we recommend checking out Wordable. It will not only clean and properly format your HTML, but also compress images, open links in a new tab, automatically set featured images, or create a table of contents, and lots more.
Who is Cora SEO Right For?
If you're an expert SEO who is looking for empirically driven information and who loves to dive into every nuance of data, you might enjoy this tool.