Here's something to think about:
Just 35% of marketers feel they can quantify their efforts and over 20% of companies struggle to demonstrate the impact of their marketing spending.
Marketers are in dire need of data-driven tools that are also easy to use and understand.
Is Cora SEO one of them?
Dive into this review to find out. We'll take a sober look at Cora's features, pricing, and positioning to understand whether this tool is relevant in 2023 and beyond.
Our Verdict
If you're an expert SEO who is looking for empirically driven information and who loves to dive into every nuance of data, you might enjoy this tool. However, its relevance in 2023 is questionable.
TABLE OF CONTENTS
Publish Google Docs to your blog in 1-click
✅ Export in seconds (not hours) 
✅ Less VAs, interns, employees
✅ Save 6-100+ hours/week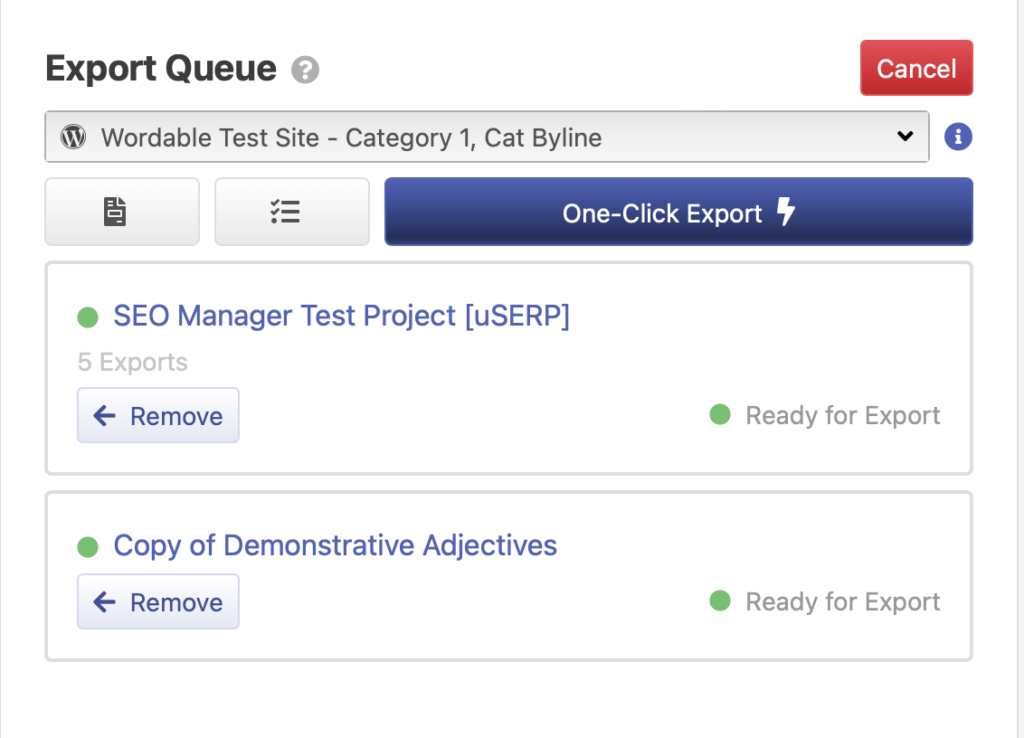 About Cora SEO Software
Let's start with a bit of history to better understand Cora's special sauce.
Ted Kubaitas, who's been in the SEO game for over 10 years, created Cora SEO Software. With a background in mathematics, Ted decided to use a more analytical approach to the SEO challenge.
Now, Cora SEO — by SEOToolLab — is desktop software designed for PCs and Macs.
Unlike many of its competitors, Cora isn't cloud-based SEO software. This means that you have to download the entire program onto your computer to run it.
Cora doesn't cast a massive net like some of its competitors. Instead, it relies on empirical data to deliver results. Their platform looks at a narrower field of data to pin down correlating ranking factors.
Originally, Cora SEO software was one suite that provided granular data to advanced SEO experts.
Recently, the company has expanded to deliver a secondary set of tools aimed more toward junior to mid-level marketers. That's why there are two versions of Cora available for download.

A math-based SEO solution
Cora is factor-correlation software. It differentiates itself from competitors by offering an empirical analysis as opposed to looking at hundreds of thousands of data pieces.
What Cora does is reverse-engineer possible content ranking factors to help you understand how to optimize your content.
Think of this in terms of a casino visit.
Imagine you're rolling a pair of dice. You roll seven for three turns in a row.
That could be luck, right?
Now imagine you roll ten times in a row and get the same result.
At this point, you're thinking you might have a rigged pair of dice.
Once you roll ten sevens in a row you're certain the dice are rigged.
That's how Cora SEO looks at data.
They're able to take a smaller percentage of ranking factors and see how Google is ranking them. This way, they can get a good look at what is "rigged."
The "rigged" data means Google is using those ranking factors when sorting and that those are the factors to pay attention to.
So far, after 10 years of research, Cora has discovered over 2,000 variables that affect Google rankings.
What is Cora SEO made of?
Now that we've learned how it works, let's talk about how Cora's superpowers are applicable in everyday life. What would your workflow look like? What features does Cora offer? Let's start with the advanced software version and progress toward stand-alone SEO tools powered by Cora.
Cora SEO software
Search term
Country
Language
Type of results you're looking for (mobile or desktop)
Your domain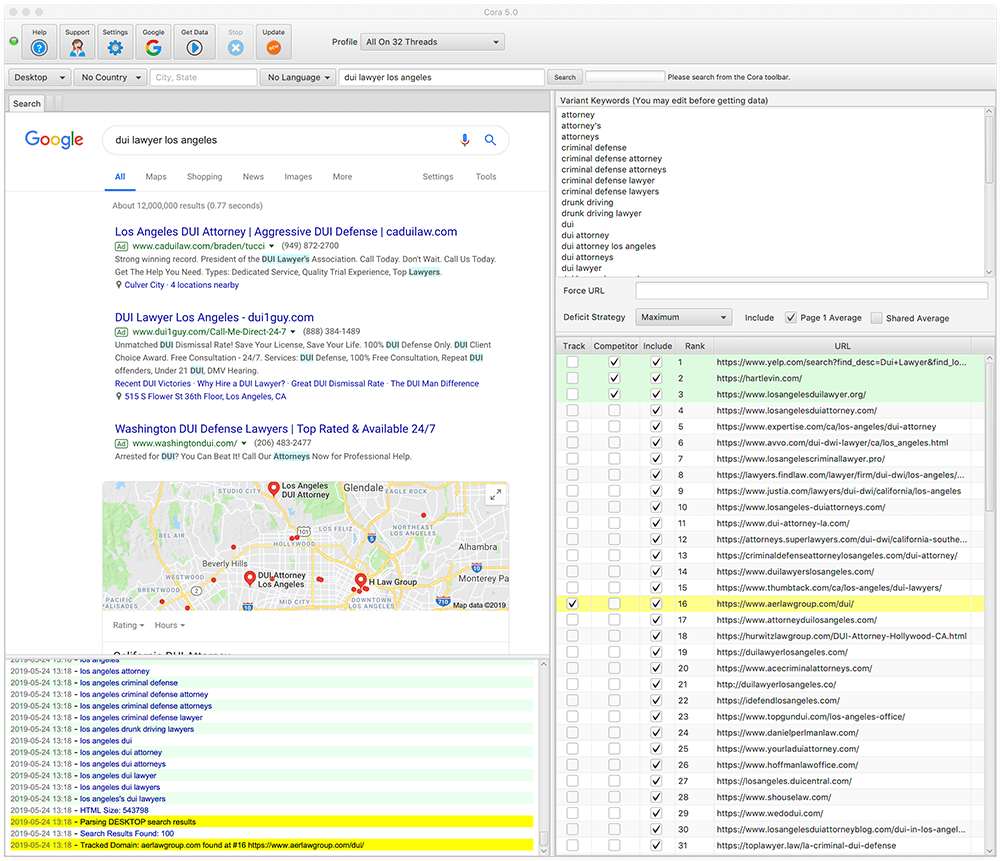 The software measures up to 2,040 SEO ranking factors and the top 100 results for your keywords.
The search result will appear after a short wait (usually about 5-10 minutes).
When the analytics are complete, an Excel report will be produced.
This report is broken into tabs. The first tab is the SEO Roadmap, which shows you the immediate improvements you should focus on making.
The second tab is the Overview, which shows you a summary of all the data. It's useful if you want to dig deeper for a more specific analysis.
The third tab is the Basic and Intermediate Tunings, which shows you all of the ranking factors you need to improve.
The fourth tab is the Top Words, which shows the terms that higher-ranking pages are using in their content.
The fifth tab is the LSI tab.
Now, I know what you're thinking. What the heck is LSI?
Latent semantic indexing (LSI) is a mathematical concept that helps improve information retrieval. LSI finds the relationships between words within content. This tab offers some information about how top-ranking sites are using LSI.
The final tab is the Results. Use this tab to see all of the results including titles and meta descriptions.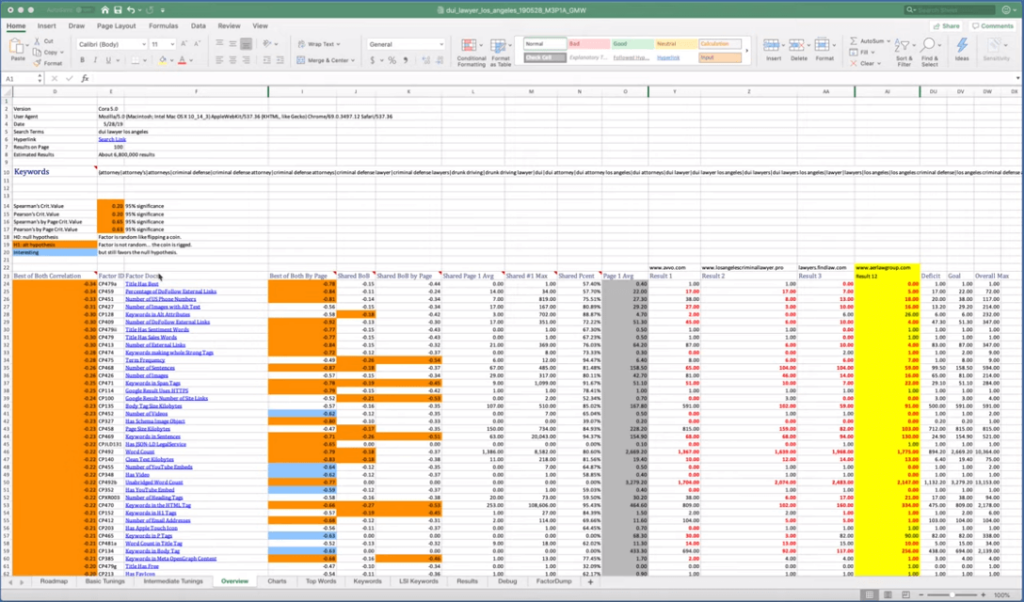 If you are a more visual person, Cora has a whole tab just for charts. And for those who love details, there is a tab that shows you keyword densities.
All Cora subscribers are allowed to schedule a free one-hour Cora training session, which is highly recommended because the Cora interface can be intimidating.
Cora SEO software toolbox
Cora SEO subscription comes with a bunch of useful tools. Here they are:
Cora Diff: The tool can compare top-ranking keyword factors at different points in time based on your previous reports. This helps you understand how your ranking factors might have been affected by an algorithm change. With Cora Diff, you can quickly develop an action plan once you see your numbers go down.
Cora Trends: This enterprise feature lets you identify the strongest factors that some groups of keywords have in common. If you're managing busy resources with hundreds of pages, Cora Trends can be extremely helpful for defining SEO policies for them.
Cora Correlate Anything: This visual tool enables you to correlate factor measurements with rank positions in Google. If a certain factor doesn't correlate with a high ranking, you'll know so you won't have to waste your time trying to improve it.
Cora Lite SEO software
As we discussed earlier, Cora Lite is the newest offering from SEOToolLab.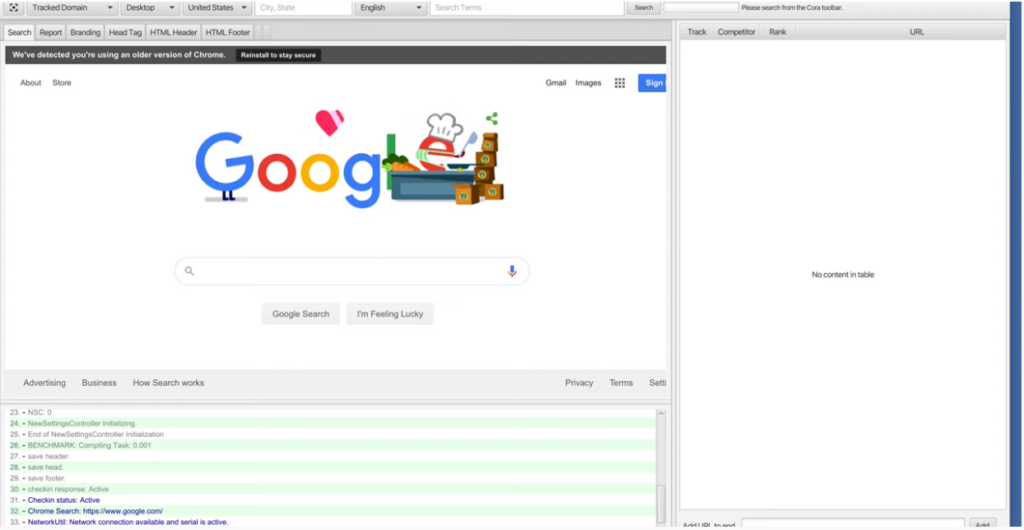 It's intended to be a cheaper and more user-friendly alternative to the original Cora SEO Software.
Cora Lite measures up to 556 factors. You can discover and target your direct competitors to fine-tune your content in alignment with their strategies. The software also gives you actionable advice on how to get ahead of them.
With Cora Lite, you get unlimited keywords and websites as well as white-label reports, which is super useful for prospecting.
The tool wasn't meant to become a replacement for Cora — it's just a lighter version. The team behind the Cora ecosystem offers Cora Lite for free to their current Cora subscribers.
Cora SEO Volatility tool
The final tool in Cora's box, SEO Volatility software can help you demystify ranking fluctuations and keyword difficulty.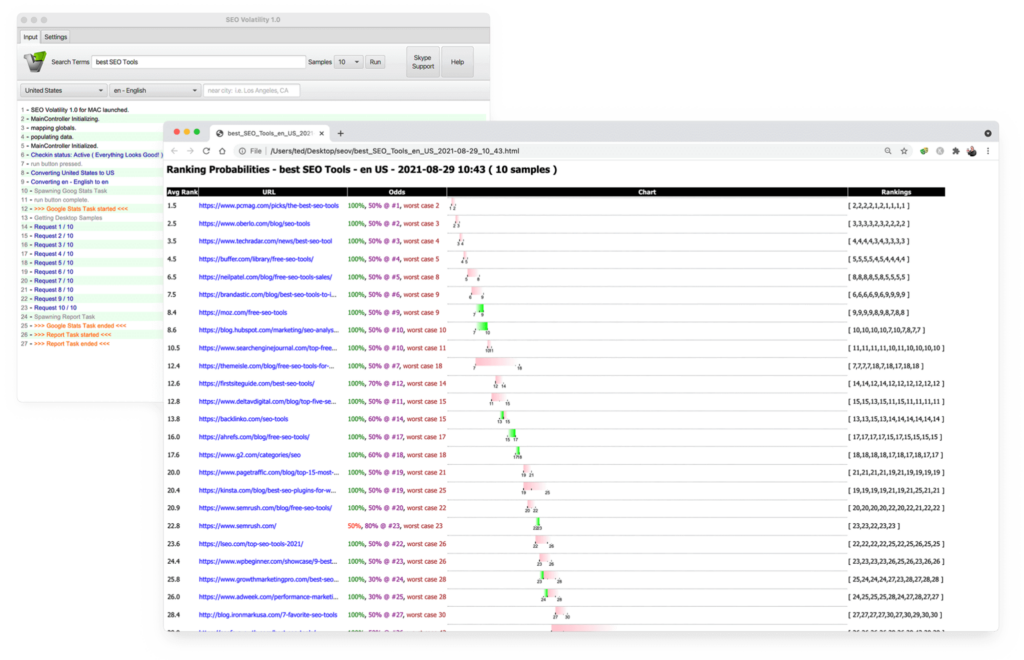 The tool allows you to predict a ranking probability and whether Google is considering dropping your rankings. With it, you'll be able to visualize more subtle SEO gains to set and manage client expectations with ease.
The cons of Cora SEO
By now, you might have noticed that this software isn't like anything you've seen before. The interface, the main idea behind it, and the tone of voice — all of these things can make or break your experience with Cora SEO, so we must address them.
Spoiler alert: we don't sugar-coat things.
The SEOToolLabs website feels outdated
Before we even get into the product, I want to take a moment to talk about the SEOToolLabs website.
Any marketer understands that your website is your calling card. It's what draws potential clients in and showcases why they need your company.
Because of certain design choices and sensational-sounding copy, this website feels clunky and outdated. There are so many words and links that it comes across as overwhelming.
Multiple fonts and font sizes are used, and some of the pages look as though they were created in the early 2000s.
Finally, the SEO Editor Pro tool, despite being prominently featured on the site, reads as being unavailable.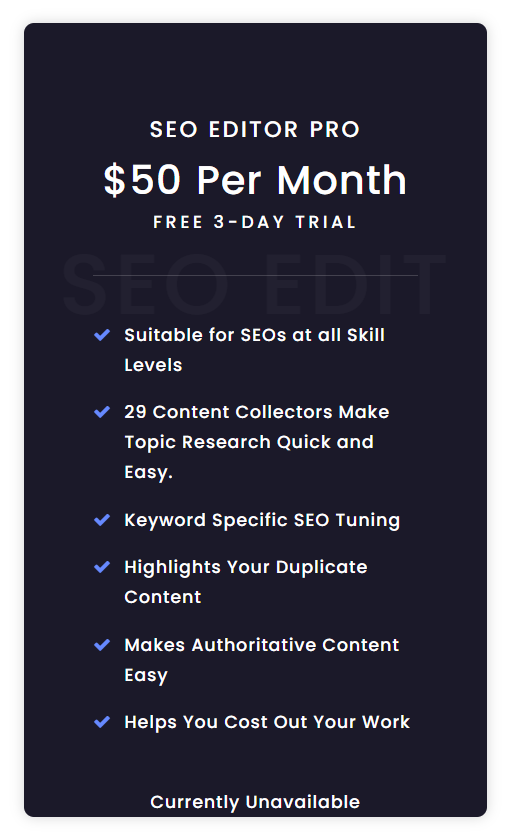 Not exactly the best first impression.
Interface
The tool's interface isn't aesthetically pleasing — it's raw, overly utilitarian, and, sometimes, redundant. When you look at the main screen, it's challenging to know exactly where to begin.
As with the website, the interface is text-heavy and confusing.
For example, although the Google search bar is prominently displayed, that's not where you search. If you try to search there, it messes up your reports.
The actual search bar is located at the very top of the page.
Additionally, because this is a desktop download, it takes up a lot of space on your computer. Some users note that it takes quite a bit of RAM to process as well.
Finally, the installation process itself is scary. Because the installer isn't verified, users get many messages that indicate the program could be a virus.
The developer claims to be working on a fix, but as of this posting, we haven't seen an answer to the problem.
Brand "voice"
Let me get on my soapbox for a minute.
I've researched other SEO optimization tools, and I have never come across one where the voice of the product made me cringe.
The SEOToolLab/Cora voice is my first experience with this.
In the footer, there's a message that states "Don't be an idiot. All websites use cookies, send data via forms, store IP addresses in log files, and store information in databases like contact information. If you have a problem with this please stop using the Internet."

Some may find this funny, but I find it rude.
Throughout the interviews, video walkthroughs, and website quotes, the developer gives off an air of arrogance and superiority — as if they didn't want to sell their product at all.
And some of their videos feel condescending, as though they were talking down to SEOs who weren't at an expert level.
Junior or mid-level SEOs looking for a solution could easily be turned off by this first impression.
I know I was.
White hat vs. black hat SEO
Much of what SEOToolLab puts out there revolves around the idea that they are the "best".
At best, this idea is largely subjective.
There's one distinction that floats through the ethers of the SEO realm and that's white hat vs. black hat SEO.
First, a definition:
White Hat SEO is the most ethical way to optimize a site. It focuses on a human audience, follows search engine guidelines, and takes a long-term approach to SEO.
Black Hat SEO is the opposite of that. It goes against search engine guidelines, manipulates Google's algorithm to improve rankings, and focuses on quick wins.
In his interview, CEO Ted Kubaitis stated he supports both approaches.
There's something off-putting about a company that claims to have anything to do with black hat SEO.
Especially when they're asking you to invest so much money into the product.
Price
Cora is expensive and doesn't give the user an option for a free trial. Furthermore, there's no clear price breakdown, and it's confusing why the user has to make monthly payments for a product they have to manually install.
We'll do an in-depth examination of their pricing below.
Cora SEO plans and pricing
You can pay for any of the Cora tools using Visa, MC, AMEX, Discover. The payments are processed with the ThriveCart plugin. Paypal is also accepted. All Cora tools are available for Mac and PC.
There are no contracts, and you can cancel at any time.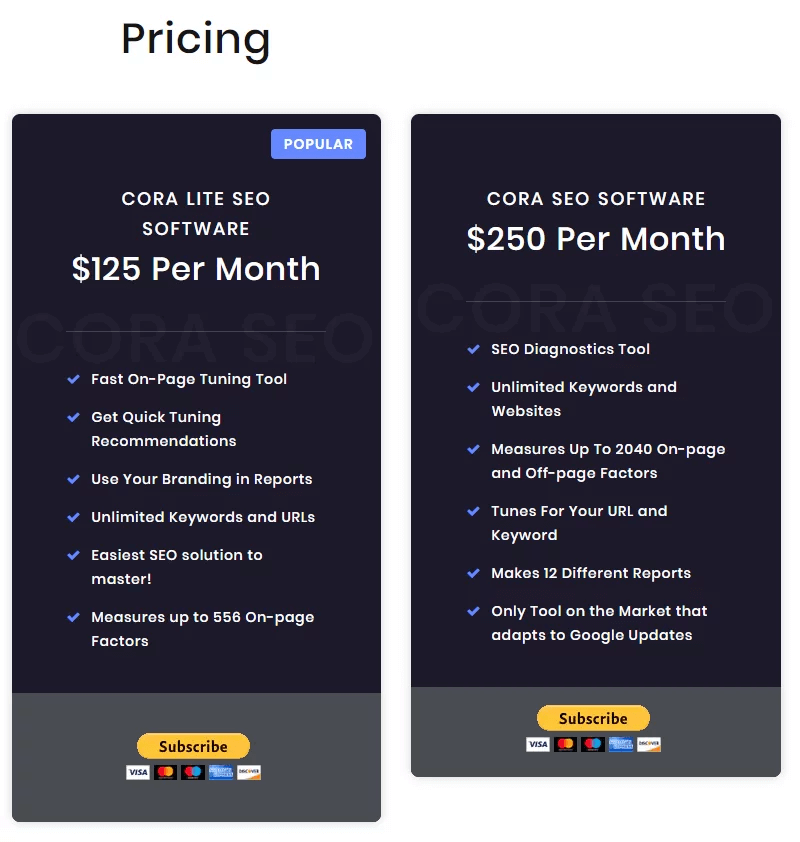 Let's take a closer look at the Cora packages.
Plan #1: Cora SEO software
The basic Cora SEO package is priced at $250 per month.
It comes with the SEO Diagnostics tool and unlimited keywords and website searches.
The basic package makes 12 different reports and adapts to Google updates.
There are some reports of inconsistencies with the Google updates, but we weren't able to verify these.
Plan #2: Cora Lite SEO Tool
Cora Lite is priced at $125 per month, but Cora SEO users get Cora Lite for free.
Cora Lite measures up to 556 factors and features a fast on-page tuning tool.
It also offers unlimited keywords and URLs, as well as white-label reports for branding purposes.
Plan #3. SEO Volatility tool
SEO Volatility Software costs $99 a month. It can be applied on its own, but you'll get the most use out of it in combination with Cora SEO or Cora SEO Lite. That said, this is an expert-level tool, and it makes sense to purchase it if you have multiple clients with high-traffic websites.
Do I recommend Cora SEO?
No.
This wasn't a black-and-white decision.
While the Cora software has gotten many great reviews from SEO experts and clients, it feels like something is off.
Here are the main arguments against Cora SEO:
The tool is very expensive for what it provides, and there's no free trial.
Cora may be unique in its methodology, but there are other SEO options that offer similar results for a fraction of this cost. While the method those competitors use may vary, their results speak for themselves.
The product is much more expensive than its competitors, and the output is much more clunky and hard to interpret.
The software isn't cloud-based and eats a great deal of RAM. There's also a questionable installation process.
But the biggest turnoff, for me, is the voice of the developer.
The pompous attitude doesn't lend itself to being very customer-friendly. It feels as though any questions would be met with a smirk and an eye roll.
Speaking of support, Cora only has a limited-availability help center, and its documentation and video tutorials are quite wordy. There's no quick internal search to address an issue on the go.
However, if you are in the market for an app that allows you to export from Google Docs to WordPress in one click, then we recommend checking out Wordable. It will not only clean and properly format your HTML, but also compress images, open links in a new tab, automatically set featured images, create a table of contents, and more.
Who is Cora SEO right for?
If you're a seasoned SEO expert who is looking for empirically driven information and who loves to dive into every nuance of data, you might enjoy this tool.
Just keep in mind that it's a bit old-school and don't focus on Cora SEO alone — accompany it with other, more modern solutions to get a full picture.
If your budget is tight, we recommend paying attention to other, more user-friendly, lightweight, and approachable tools like Ahrefs or Semrush.
The SEO world is rapidly changing, especially now, with AI-powered search engines on the horizon, and it doesn't make sense to spend money and time on tools that may soon become obsolete.