Copywriting courses can help you learn copywriting and creative writing, one of the most evergreen, in-demand skills on the market in 2022.
Do you own a business and want to convert more prospects online through the written word? Learn copywriting.
Want to write landing pages that drive sales? Copywriting.
Want to write social media posts that drive thousands of hits? Take an online copywriting course.
Copywriting is all around you: article headlines, YouTube titles, social content, emails, and subject lines, and so much more.
Learning copywriting can make you more money, accelerate your career, and help you sell more effectively.
Here are the 10 best copywriting courses to learn copywriting in 2022.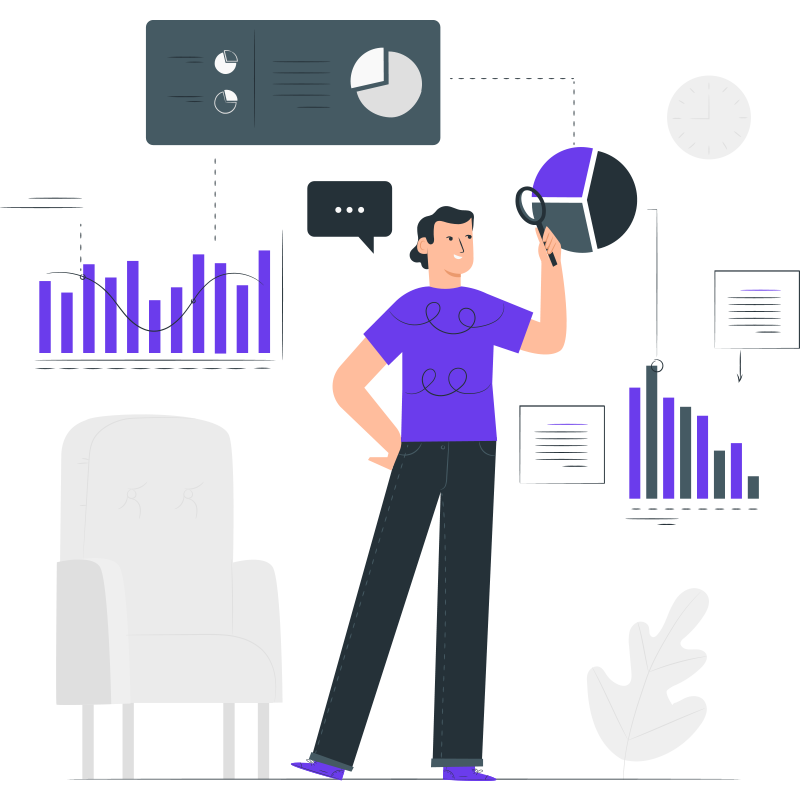 Get long-term ROI.
We help you grow through expertise, strategy, and the best content on the web.
Why Start With a Copywriting Course?
The single best way to learn copywriting is to take action. To put your pen to paper or pull out your keyboard and to start typing.
The problem most people face is: where do you start? How do you go from a blank page to ideas that captivate an audience enough to take action? Teachers use a lesson plan template to get started, and many of the best courses do the same.

The goal of copywriting isn't to sound fancy and use jargon. The sole purpose of copywriting is to produce sales at scale using written word.
Effective copywriting is communicating value to the reader in a way that drives a desired action.
For example, when you do copywriting for a landing page, your goal is to drive a conversion, like a sale or an email sign-up.
Every word you use on that page from your body text to your call to action is copywriting. Each word serves a specific purpose and should keep the reader engaged and excited to purchase what you are offering.
A copywriting course, although incomparable with getting an advertising or a creative writing degree, is a great place to start because you can avoid starting from scratch, guessing at what writing styles might make someone buy.
You can learn from legendary copywriters, marketers, and business owners directly.
Without further ado, here are the 10 best copywriting courses to take in 2022 to level up your game.
The Best copywriting courses:
1. Malcolm Gladwell Teaches Writing
Malcolm Gladwell is a prolific, published author with works like "Blink" and "The Tipping Point" that have made him a bestselling author. It's safe to say that he's mastered the art of writing copy that captivates people and commands attention.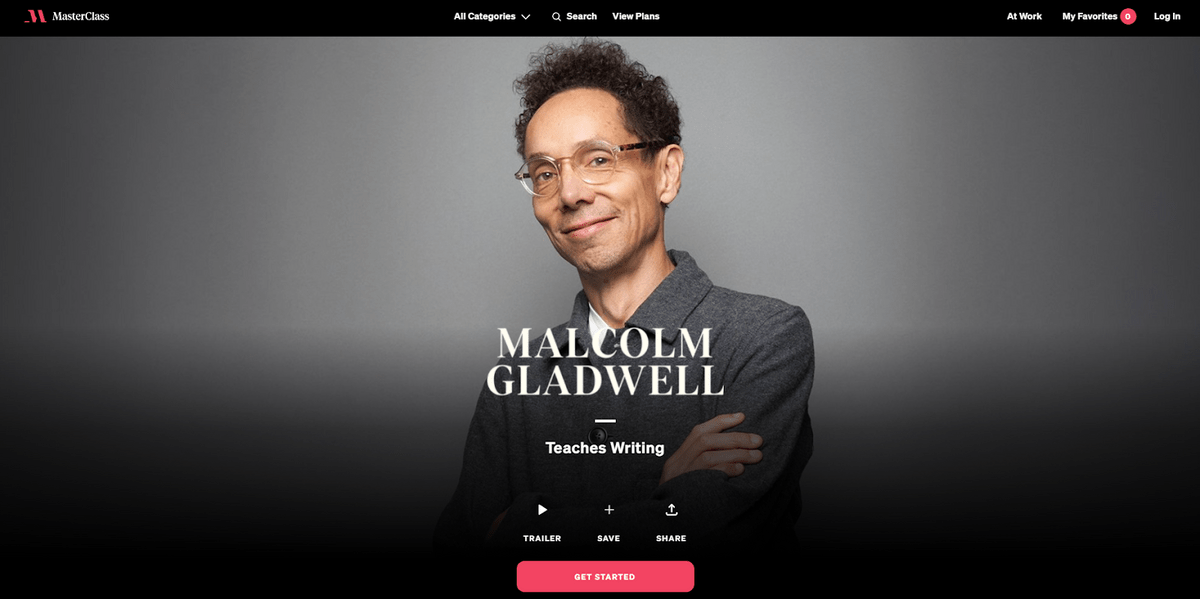 While he's more known for writing books than short, snappy bits of copy, the two are one in the same: your goal is to captivate readers and compel them to action.
Whether that action is buying or reading the next page, or even buying your next book, the objective is the same.
Malcolm Gladwell is a great instructor and in this course you'll learn how to craft narratives that connect with your audience.
See the course: Visit Malcolm Gladwell's MasterClass
Style: Self-paced
Cost: $180/yr subscription
Our review: 4/5, read our review
Pros
24-lesson course that dives into detail on all things writing
Learn about tone, voice, language, headlines, titles, and more
Subscription allows you to consume other interesting courses on the platform too
Cons
Recurring billing, so you have to pay to keep using the service.
Courses are only video, so you don't have any direct materials or workbooks to use
Recurring billing, so you have to pay to keep using the service.
Courses are only video, so you don't have any direct materials or workbooks to use
2. Neil Gaiman – The Art of Storytelling
Storytelling, creative writing, and copywriting are heavily intertwined and interconnected. Being able to craft simple stories with your writing that motivate people to take action is the hallmark of great copywriting. While it may sound easy, it's far from it.
Neil Gaiman has a course on MasterClass that teaches you how to do exactly this.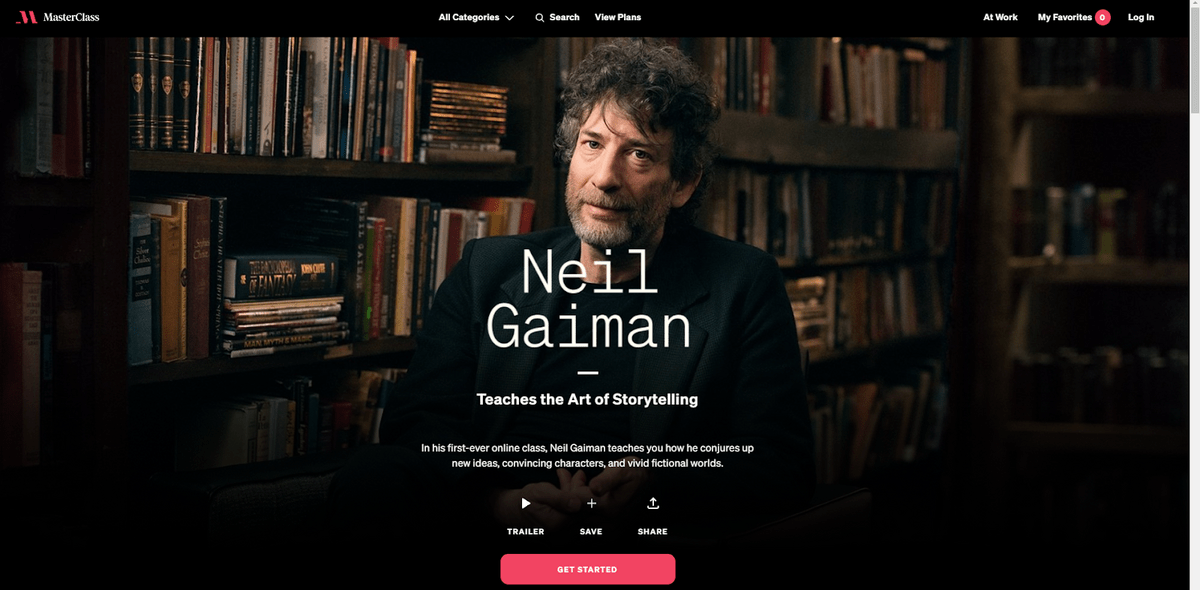 His modules cover key aspects of copywriting like storytelling, genre, tone, how to break through writing plateaus and writer's block, rules for writers, and much more.
It's class length contains 19 video lessons totaling nearly 5 hours of material. With MasterClass, you can also download classes for offline usage.
In addition, a subscription to MasterClass means you can take many other courses as well, which is a great added benefit.
See the course: Visit Neil Gaiman's MasterClass
Style: Self-paced
Cost: $180/yr subscription
Our review: 4/5, read our review
Pros
Very in-depth video-based course with 5 hours of material
Detailed modules from writing to the art of storytelling
Subscription allows you to consume other interesting courses on the platform too
Cons
Recurring billing, so you have to pay to keep using the service.
Courses are only video, so you don't have any direct materials or workbooks to use
3. Copy Course
Copy Course is a website-focused copywriting course designed to help you do copywriting for your website that increases conversions. It's a mix of SEO copywriting and conversion-focused copywriting designed to make your website a sales machine.
Whether you own a business, are creating a portfolio/resume site, or want to freelance and create landing pages for clients, this course delivers:

(Source: CopyCourse)
The course contains video-guided walkthroughs teaching you step by step on how to write web copy. Jeremy Moser, the course creator who's run global campaigns for companies like BigCommerce, monday.com, RobinHood, and more, provides 70+ pages of formulas so that you don't have to start from scratch and guess what to write.
In the course, you get: landing pages templates with copywriting frameworks telling you where and what to write based on your own product / service, a guided ebook with exercises, and video walkthroughs to guide your journey.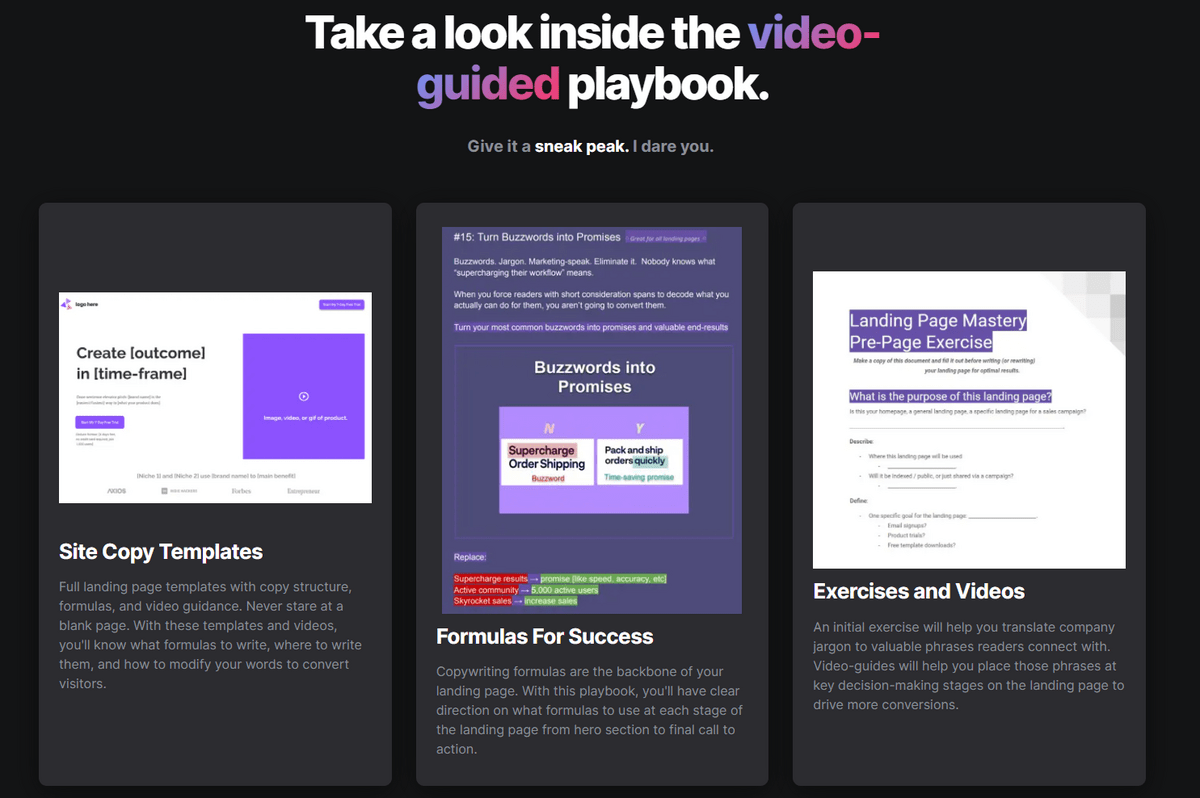 (Source: CopyCourse)
The best thing about this course is that you can learn the foundations of good copywriting and can apply them beyond just your website. It even includes formulas for article or video headlines, subject lines for emails, and more.
See the course: https://www.copycourse.io/
Style: Self-paced, complete and reuse on your own time, anytime.
Cost: $179 one-time
Our review: 4.9/5
Pros
The course can be completed on your own time, and then you can reuse the templates, formulas, and playbook over and over again on any project
40+ minutes of video content
70+ pages of formulas and guided tips
Exercises to help brainstorm value and positioning
Cons
No live presentations / cohorts
4. AWAI Copywriting Course
The AWAI, or American Writers & Artists Institute has a wonderful course on copywriting that covers great topics like how to quickly become a successful copywriter and hone your craft, how to make a living from writing, and more.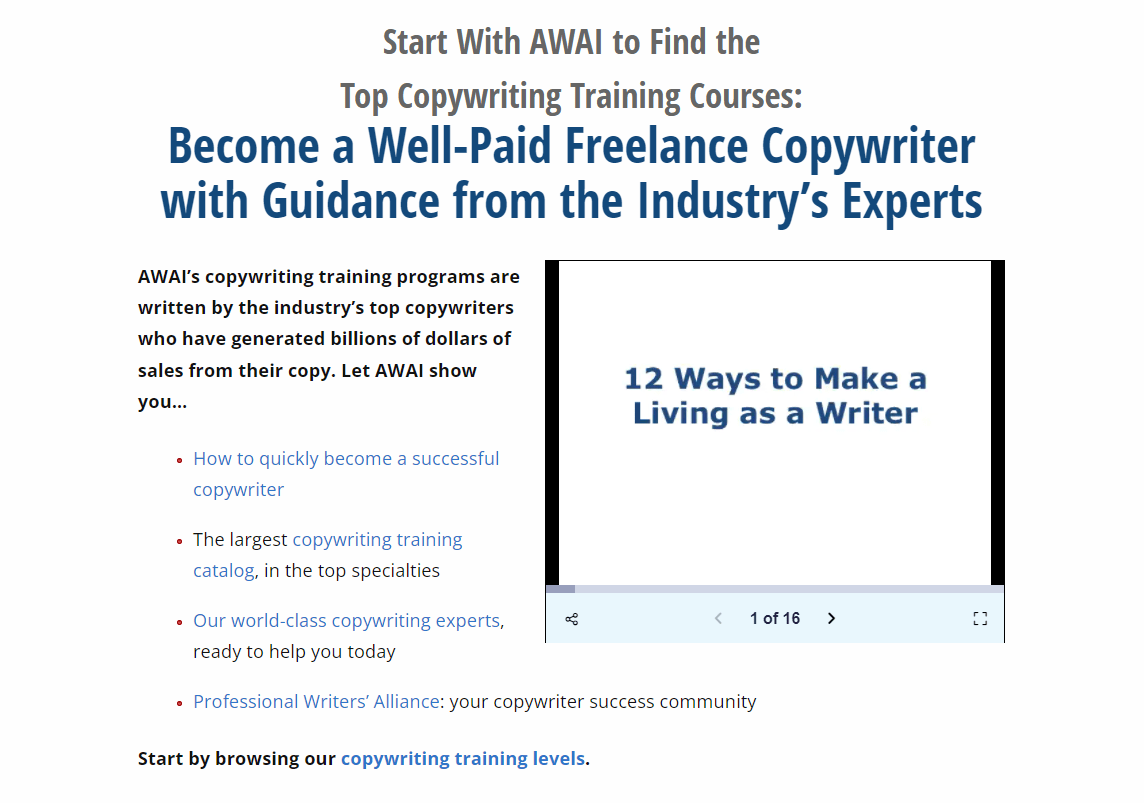 With multiple levels of courses, you can pick which sections to take based on your existing level of skill. For example, beginner copywriters will find the basics and get to know all about copywriting. Experts and more advanced people can refine their skills with designated expert workshops.
This course is great for beginners and experts alike.
See the course: https://www.awai.com/copywriting/
Style: Self-paced, complete and reuse on your own time, anytime.
Cost: $495 one-time
Our review: 4.2/5
Pros
Diverse list of experts that have created great modules
Can fit any skill level – you can grow with the course
Mix of both pre-recorded and live events
Cons
Have to call to get started and sign up
More expensive for people looking to get into copywriting
5. General Assembly Digital Course
The Digital Marketing Course by General Assembly is a cohort based course that meets multiple times per year to cover all things digital marketing, including digital copywriting and sales copy.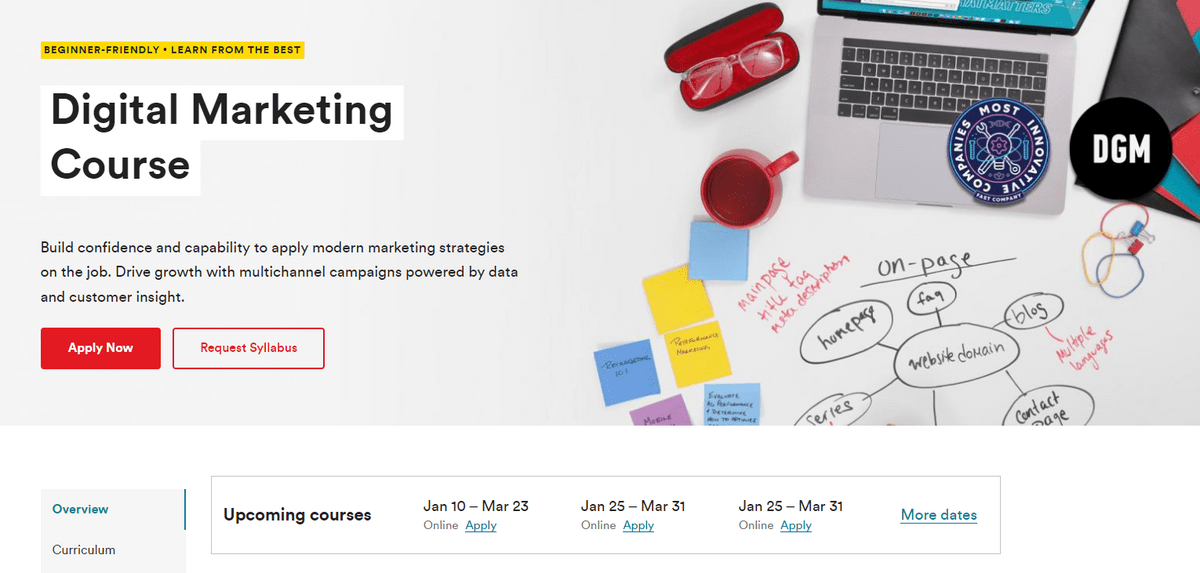 With a vast and detailed curriculum, the course is great for anyone looking to expand beyond just copywriting and learn how copywriting fits in the larger digital marketing world and online landscape.
If you are looking to be more well-rounded as a copywriting professional and marketer, this is a great course to take.
Modules in this course include topics like: branding, social media, search strategy, SEO, conversion optimization, and analytics.
See the course: https://generalassemb.ly/education/digital-marketing
Style: Cohort style
Cost: $3,950
Our review: 4/5
Pros
Diverse list of experts that teach courses
Live cohort style if you prefer learning in real-time with instructors
Some self-paced prep and lessons available too
Modern and updated for 2022 with new course material
Cons
Expensive (but potential to get employer to sponsor you / pay for it)
More general and not solely copywriting-driven course material
Can't see full syllabus of topics and modules
6. Success Works – SEO Copywriting Certification
Success Works' SEO Copywriting Certification course is meant to teach you all about copywriting for search engines and your website. When you complete it, you are awarded a certification you can show to your employer, future clients, or display on your portfolio or resume.
Looking to rank higher in search engines and write copy that gets people to click on your website? This course can help you do that: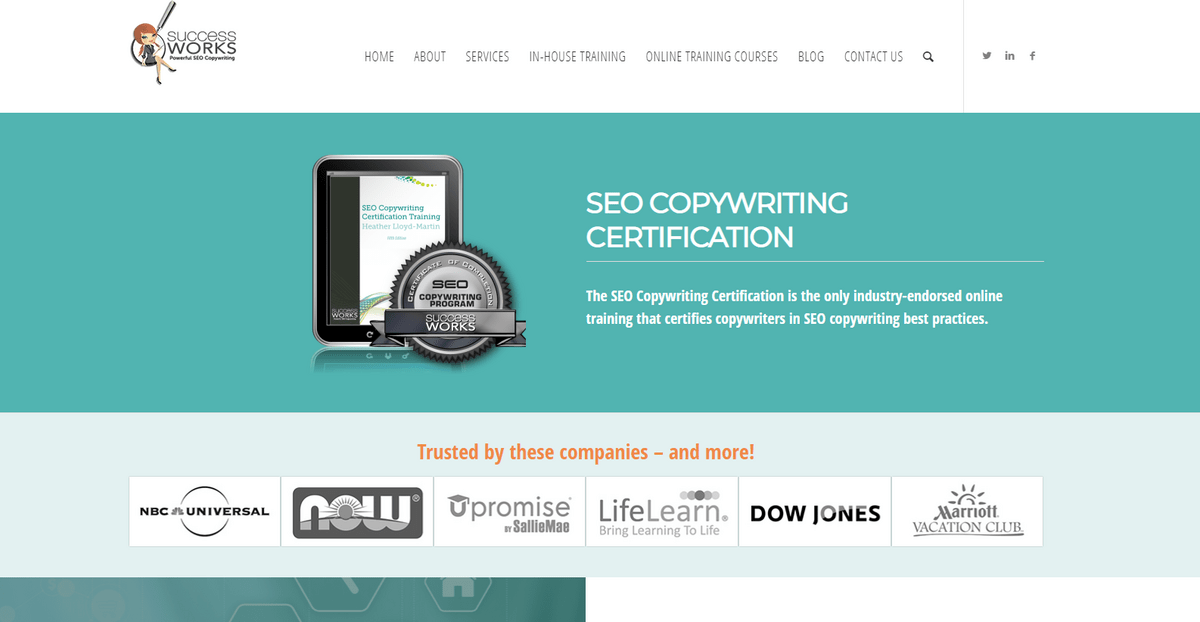 It's a three-month long course that you can complete on your own time, and has been taken by employees at various large companies.
Being SEO-focused, it's a great blend of copywriting and learning to write for search engines to make you a well-rounded writer.
It's an expensive course, but is packed with great value and a handy certification to display.
See the course: https://seocopywriting.com/seo-copywriting-certification/
Style: Three month course
Cost: $995 one time
Our review: 3.8/5
Pros
Written and directed by an expert copywriter
Online and self-paced course that can be completed on your own time
Blends copywriting and SEO for multiple benefits
Cons
Expensive for what you get ($1,000 for a three month course is college-level pricing)
Not regularly updated with new and fresh content
7. Copy School
Copy School by CopyHackers is a collection of many courses and modules that are designed to help you with copywriting, content marketing, and more.
Being a library of courses, you can pick and choose which modules interest you most around these subjects: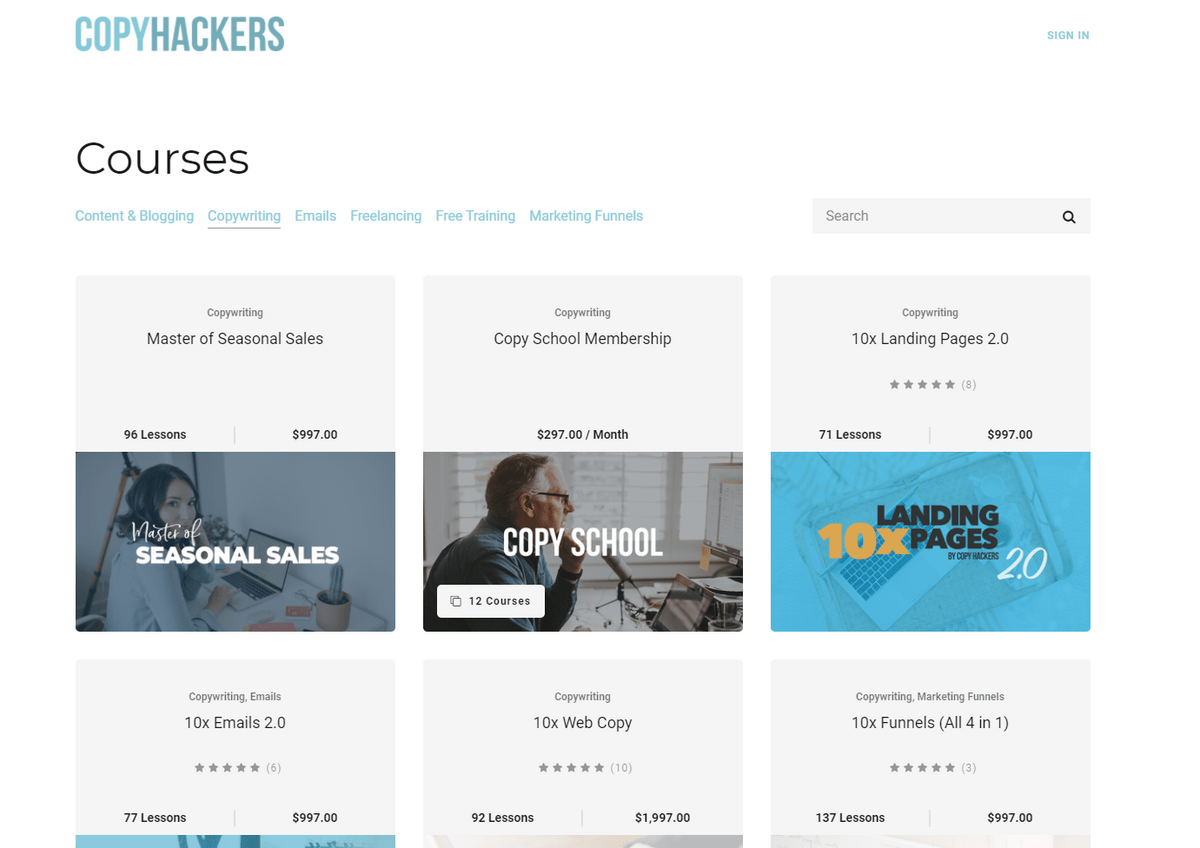 Ranging from all types of skill levels and instructions, the lessons are jam-packed with value for beginners and seasoned professionals.
The biggest draw of these courses is that they teach you full-funnel impacts of copywriting and how copywriting plays into a real-life marketing scenario. So instead of just learning to write compelling copy, you learn to write that copy for a real business, a real funnel, and real customers.
See the courses: https://school.copyhackers.com/collections?category=courses
Style: Self-paced library of many courses and videos
Cost: $5,497 one time full access, or pick and choose courses you want
Our review: 4.5/5
Pros
Dozens of courses to pick from, ranging from copywriting to content, blogging, emails, freelance writing, and more
Full access membership available for lifetime access
Updated regularly and content is refreshed for free, forever
Cons
Very expensive courses and membership
So, Which Course Do We Recommend?
Modern copywriting requires learning multiple facets of the larger copywriting landscape.
This means learning web copy, email copywriting, marketing copy, how to use marketing funnels, and so much more. You need to understand how copywriting fits into all aspects of digital marketing and business to effectively utilize and display your skills.
Because of that, it's hard to recommend a single copywriting course that is comprehensive and full-service. The best route is to choose 2-3 courses that can help you learn to write better marketing copy in different sectors of digital marketing. Ideally, each course focuses on differentiating segments of writing.
For example, you might start with a copywriting course around web copy and writing landing pages. This can help you build a foundation and a business website that is ready to sell.
Once you've done that, you can learn copywriting for emails, ads, and social media to market that website and business.
Then you can round-out your skills with an advanced level class to refine and optimize.
Based on that, here are the courses we recommend:
Now go out there and turn your passion into six figure copywriting skills!