Do you often get confused about what to post next on your social media platform?
Do you want to learn how to create a social media calendar?
Then you are at the right place.
If you often get confused with what to publish next, you need a social media content calendar!
Having a content calendar helps you to organize and plan your content well in advance.
We all know how social media algorithms keep updating. Digital marketers have to tweak their content constantly to get better engagement. So, if you are also on social media, you should do it too!
With 4.2 billion active users, you can't neglect social media. Also, this active population is quite impatient. They need information quickly, or else they move on to the alternative option.
So, even if you have successfully built your audience, you need to post consistently. If there is a gap of a day or two, you will start seeing a negative result in the insights.
To maintain consistency, you need organization skills and determination. Although most of us start with a bang, as we move forward, we lose our focus. If you have struggles with achieving your goal for the business, you can rely on mentorship programs.
These programs help in learning how to stick to your goals and solve your business problems in an easy manner.
However if you think you are determined enough, you can start with your content calendar plans. Having a comprehensive social media content calendar can help stay focused. But you need to know how to create a social media content calendar that works.
But before we get on to how to create a social media content calendar, let's learn a few benefits of making it.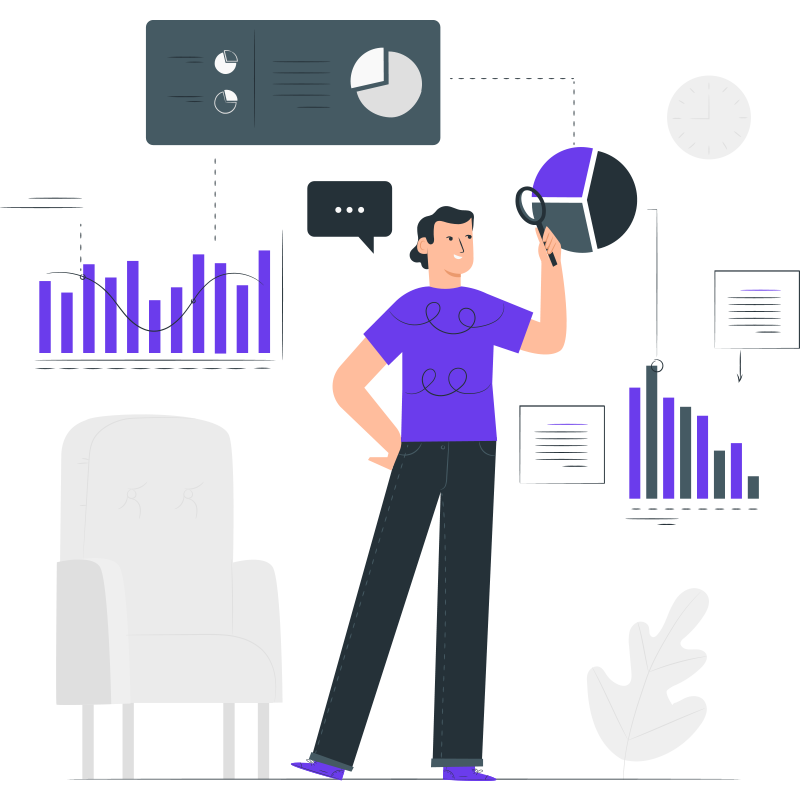 Get long-term ROI.
We help you grow through expertise, strategy, and the best content on the web.
Why do we need a social media content calendar?
While developing an Instagram or Facebook marketing strategy, you should consider having a social media content calendar, as it can help you work according to your social media marketing strategy.
It's essential to follow the strategy as it will help us achieve our goals. However, there are several more benefits.
Saves time and energy
When you have a content calendar ready to go, you don't have to spend time thinking about what to do next. You already have the plan which you need to execute.
When you prepare your calendar, you dedicate time to plan for a month or week. When you design it, your focus should be on finding the best ideas for the content.
Content calendars help you plan and organize your posts and updates for a week, fortnight, or month in advance. It allows you to declutter valuable working hours getting wasted to create future social media content strategies.
Plus, it will save your precious time, which you use on finding the perfect post idea for a whole day.
Helps prepare unique content for each channel
A social media content calendar enhances your creativity. It makes you a thoughtful marketer who takes time to craft customized posts for every social media platform.
As a marketer, you must have pages on almost all popular social media sites. Generally, when we don't have a proper plan, we use a single post on every platform.
This can hamper the engagement.
Your fans may be following you on all the platforms. They won't like seeing the same content everywhere.
So, you need to publish unique content on each platform.
For this, a social media content calendar can be a great help. It will tell you what type of content should be perfect for each social media platform.
Most marketers use the same information in different ways. For example, you post text content on LinkedIn, and you may use the same information to create images for Instagram.
However, if you have this planned out in a content calendar, it will be more helpful.
You can't customize every content in various forms. Some days, you also need to post different content on each platform.
Helps in using analytics to plan future posts
Several tools help you analyze the performance of your content. You must use this data to create a future post.
Some of the popular tools to analyze post performance are:
When you prepare your social media content calendar, you should check the insights of your content. This will help you learn which type of content is working for you.
So, when you prepare your calendar, you will have the posts that can work. Also, you can plan your content according to your social media marketing strategy.
Unique content on special days
Do you know that 26% of people in the US used social media to research holiday shopping in 2020?
As a marketer, this statistic is crucial for you. There is comparatively higher engagement on social media posts during the holiday seasons.
You can't ignore this rise. So, you should plan your unique content for holidays to get the most of it.
Your holiday posts must be special and unique. Something different from your usual content such as mobile video ads. With the right holiday hashtags, you can surely gain a hike in engagement on these days.
Now that you know about the benefits. Let's learn how to create a social media content calendar in 5 easy steps.
How to create a social media content calendar that aligns with your marketing strategy?
Step 1: Audit your audience and content types
Social media can be overwhelming at times.
With billions of contents shared across social media platforms, it isn't easy to learn which one works well.
If you do some research work on your past posts and competitors' posts, you will learn a lot.
So, for starters, start analyzing and reviewing all the posts.
Multiple metrics help you decode the kind of content your audience is feeling more connected with.
Some of the metrics that will help you judge the performance are:
Number of likes and views
Number of shares and comments
Use of branded hashtags
Number of mentions of your profile username
And more.
You need to dive into the world of contents and topics and find out what is resonating within each network.
Step 2: Define your content marketing goals.
Whether you want to initiate conversation or engage with your target audience, all this shapes your content layout and tone.
If you know what you need to do with content marketing, you can achieve your goals faster.
So, with your content marketing in place, you need to figure out what type of contents you want to publish. This will help to measure the content marketing success.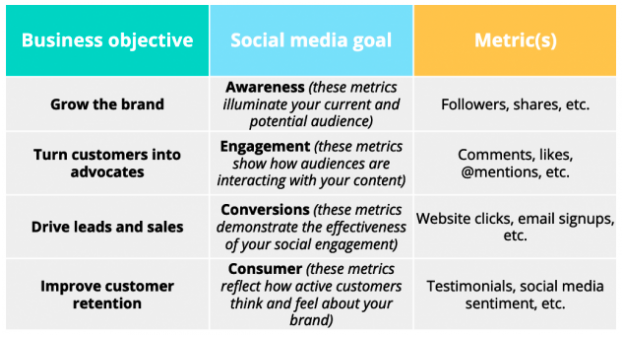 Step 3: Plan your posting schedule.
How often do you want to post?
Which social media platforms work for you?
You need to know this to create your social media content calendar.
Although digital marketers are still debating on the posting frequency, here is what we have to say.
Twitter: Anything posted on Twitter has 18 minutes of average lifespan. It means you have to post many times a day to get noticed. We recommend starting five tweets during the working days and see how things shape up.
LinkedIn: LinkedIn is pretty slow compared to Twitter. You can take care of LinkedIn by posting twice or thrice a week.
Facebook: Like LinkedIn, this platform is relatively slow-paced. So, it is enough if you are posting three to five times a week.
Instagram: Consistency is the key for Instagram growth. You should keep a post a day for your Instagram feed. At the same time, try to use Reels, IGTV and more to boost your engagement.
It would help if you planned the frequency and time of posting in your social media content calendar to get the best results.
Step 4: Work the content mix.
A perfect content mix is an amalgamation of the rule of three.
One-third of your post should promote your business
One-third of your post should be from other relevant sources.
One-third of your post should be well-researched and original content that facilitates interaction with your target audience.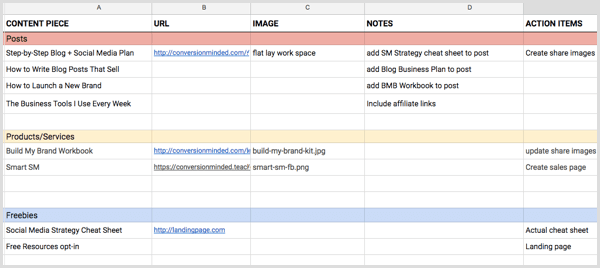 It will take time to track what works well for you, and you can always tweak your content mix.
Step 5: Put into action
After having done all your homework, it is time to give your content calendar an actual shape.
You can use simple tools like Microsoft Excel or Google Sheet to create a calendar.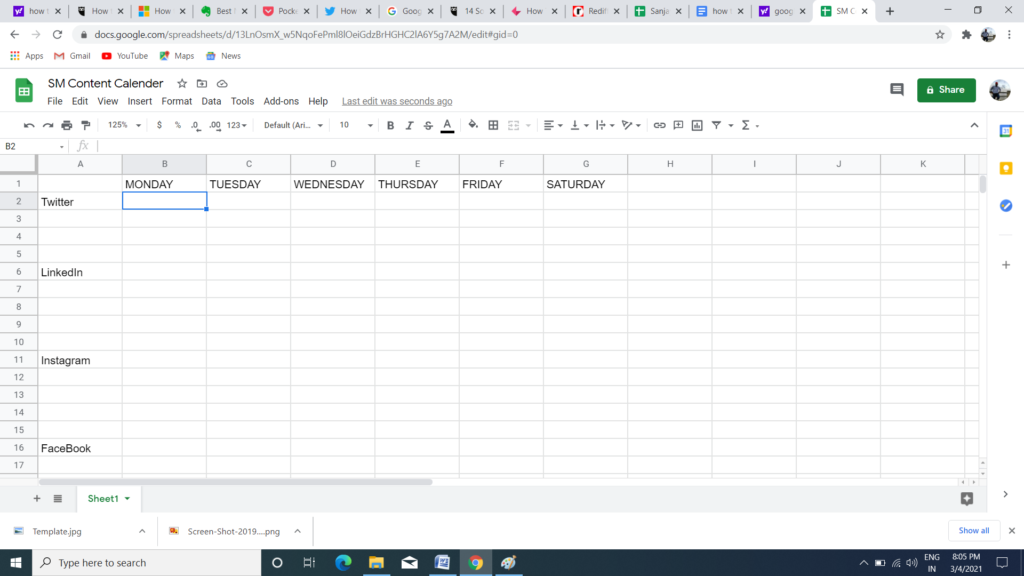 The benefit of creating a content calendar with Google Sheets is you can share it. You can share the link with any other person within your team to have his/her inputs incorporated here.
Are you ready to prepare your social media content calendar?
Content calendars can do wonders for you if you know how to create a proper social media content calendar.
However, you must remember that the calendar must align with your social media strategy. It will help you achieve your goals. If you are unable to get on with your content, you can always rely on special content production services or management tool like SocialBee.
This will help you with the content so you can keep up with your content calendar.
Also, don't forget to monitor your competitor's posts if you want to be ahead in the race.The content calendar will also let you keep track of the analytics and monitor the post performance.
So, follow these steps and let us know if they helped you.