Keeping up with social media accounts is time-consuming at the best of times. But if you're trying to run a business, too, the task can seem daunting.
How often should you post? How do you find the time to diversify your content? And why does it feel like you're just shouting into the wind?
Managing social media platforms for an effective marketing campaign takes a lot of careful juggling. You need just the right amount of content and posts to keep people engaged.
If you need an efficient social media management system, you aren't alone.
That's where SocialBee comes in. Think of them as the superhero of social media management.
They handle all the details of keeping up with your marketing strategy on social media, so you don't have to. SocialBee offers a variety of options to help you manage your social media platforms and content so that you can focus on other things.
What Is SocialBee?
You've probably seen all the social media management tools and apps on the market. Nearly half of all social media users use these platforms to research products.
In turn, businesses adapted their campaigns to follow suit and apps are cropping up all over the place. It seems like everybody has a great idea to streamline your marketing efforts on these platforms.
But SocialBee is a little different.
They do offer tools for effective social management if you want to go at it alone. However, if you decide you want to hand off certain aspects of management or content writing, they've got you covered. Their concierge service is an a la carte add-on if you want your own "Bee" to handle things for you.
From freelancers and startups to big corporations, SocialBee has something for everyone who uses social media for business.

Why Use SocialBee?
SocialBee has a variety of features to optimize and grow your social media following. Some of the features include:
1. Post Categorization and Organization
Edit multiple posts at a time or edit profiles to tweak posts for different social media platforms with this feature.
2. Schedule and Share Across Platforms
SocialBee supports a variety of social media networks:
Instagram
Pinterest
Twitter
Facebook
LinkedIn
You don't have to worry about keeping track of where you post and where you share. With this feature, you can automate posts where you post content on one profile and share it across the rest of them.
3. Analytics
Have you ever wondered what your competition was up to?
You can take a peek at your competitors' audience or analyze your own with this suite of features from SocialBee. From researching user accounts on Twitter to searching keywords and hashtags, this toolset helps you optimize the followers you have. And get some insight into gaining some new fans.
There's a laundry list of features not included in this article. But SocialBee offers everything you need to increase your leads without sacrificing your productivity. And if you want to hand social media duties off to someone else, their concierge service will oblige.
It sounds subtle. But just like the experts from our MasterClass review can attest, it's the details that make all the difference!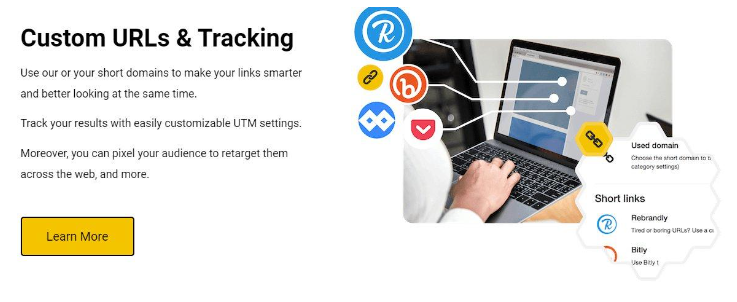 How Much Is SocialBee?
Let's get to the factor that's one of the biggest concerns when signing up for a new service – price. No matter how awesome the service is, it does you no good if you can't afford it, right?
SocialBee falls somewhere mid-range when it comes to pricing for their services. It's not exactly inexpensive (or free). But it's affordable, even for the strictest budget. The three-tier pricing structure looks like this:
Bootstrap – $19 per month
Accelerate – $39 per month
Pro – $79 per month
Each plan includes posting capabilities on Twitter, Facebook, LinkedIn, Instagram, Pinterest, and Google My Business.
SocialBee also offers a variety of concierge services from social media specialist to concierge onboarding. Prices start at $99 per month and go up to $399, depending on the service.
One of the great things about SocialBee, though, is that you can upgrade or downgrade without penalty. If you do decide that you want to downgrade your plan, anything leftover is credited to you on a pro-rata basis.

SocialBee FAQs
Which social media does SocialBee support?
SocialBee supports the following social media:
Facebook
Twitter
LinkedIn
Instagram
Pinterest
Google My Business
What is the starting price of SocialBee?
SocialBee has a three-tier pricing structure that starts at $19 per month. But if you want to try it out before signing up, they offer a free two-week trial with Pro plan access.
Does SocialBee have a free plan?
No, SocialBee does not have a free plan. However, they do have a free 14-day trial period.
Do you need a credit card for the free trial on SocialBee?
No, you don't need a credit card to sign-up for the free 14-day trial.
When you do decide to sign-up for the service, though, SocialBee offers a variety of payment methods including credit card and PayPal. They even accept Amazon Payments and Bank Wire Transfers.
What does the free trial include on SocialBee?
When you sign-up for the free 14-day trial, you get access to the Pro plan tools. That includes up to 25 profiles and access to all the tools in the SocialBee suite, including unlimited content posts and RSS Feeds.
If you do choose to sign-up for a downgraded plan, you'll still have access to most of the SocialBee tools. It'll just be at a lower cap.
Unfortunately, the free trial does not extend to concierge services. However, if you do decide to add these services, SocialBee has a 30-day money-back guarantee for any work done by their Social Media Bees.
Conclusion
Hopefully, this article helps you make a decision about choosing a social media management tool. Their concierge is a plus for people looking to streamline their social media management process or hand it off completely.
Signing-up for access to SocialBee tools may save you time. Just how much time per week depends on the user, and how involved you are in the process. Will it save you up to 16 hours per week as the SocialBee website claims? That really depends on how you use it.