Email marketing is facing challenges.
But it's still the best performing online marketing channel you can use. So to stay relevant and effective, email marketing needs to evolve.
A few years ago, Hubspot hosted a webinar lead by Dan Zarella, the "Social Media Scientist" of HubSpot. Dan also has a great, short book called, Zarrella's Hierarchy of Contagiousness: The Science, Design, and Engineering of Contagious Ideas (NOT an affiliate link – just a recommended book.)
What separates Dan and HubSpot's work from most internet marketing advice is that they're data driven. They're not satisfied with the typical "rainbows and unicorns" advice you're used to hearing. They want to dig deeper and understand why something happens a certain way, so they can translate that into actionable steps you can use to improve.
But before we start with the tips, it's important to note that this information is pulled from a large sample of data, and your own effectiveness may vary.
Just like our recent "Traffic" posts (How to Get Traffic That Will Turn into Loyal Customers, and How to Pick the Best Online Marketing Channels for Your Business), tactical advice and techniques work differently for different audiences, businesses, and industries.
So without further ado, here are 10 actionable email marketing tips from Dan & HubSpot's latest webinar.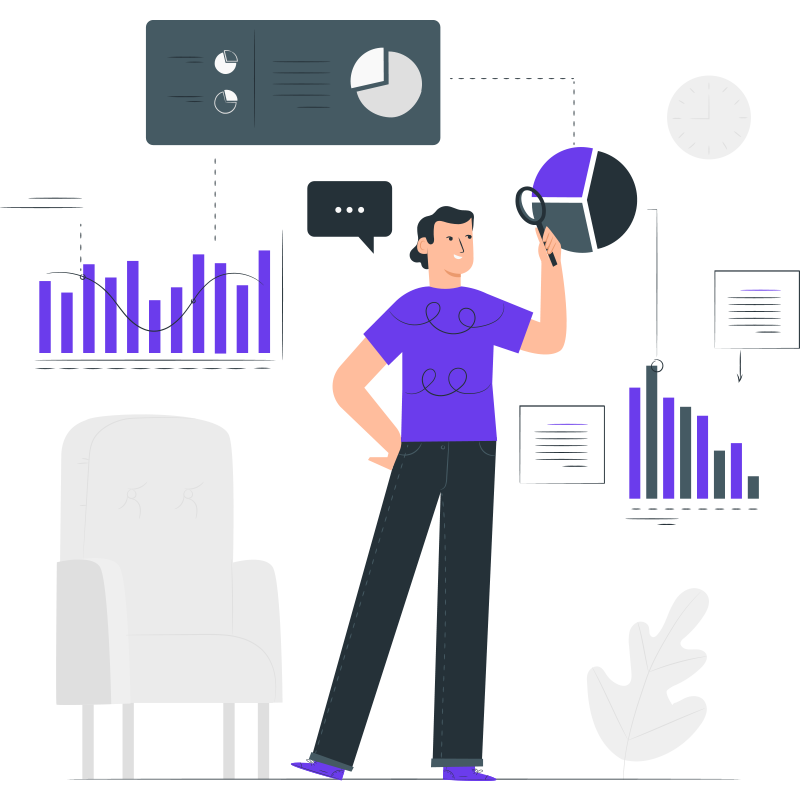 Get long-term ROI.
We help you grow through expertise, strategy, and the best content on the web.
1. Recognize Today's Challenges
Email marketing is still #1 in terms of your marketing ROI. It has the highest conversion rate of any online marketing channel and it's the most personal, direct way to reach someone. Even Dan said he'd rather get someone's email address than a new Twitter follower or Facebook friend.
But email marketing faces some challenges in 2021. Specifically:
The volume and amount of clutter everyone gets
People are viewing email on their mobile devices
88% of people surveyed use one inbox for both personal and work emails
58% of people said they use a separate "junk" email address that they never check
Your email marketing needs to evolve to be successful. The following tactics should help you overcome these hurdles, so you can get your message across.
2. Create Powerful Subject Lines
If people don't open your email, then they'll never read it or click on your offers.
Because everyone gets so much email everyday, we have a problem filtering through everything on a daily basis. So people are scanning their inbox to see what subject lines jump out at them.
Dan and HubSpot analyzed subject lines to identify the best and worst performing emails.
The key takeaway?
Tell the reader what they'll get from opening your email. It was clear from the data that people want to read or open emails that benefit them.
But that's not all. There are also words and phrases that you should avoid. Beware of sales-y jargon or high pressure words that are supposed to create urgency. It seems people are sick of them. Subject lines with words like "consultation", "solution", etc. usually performed poorly.
Another great tip is to personalize emails wherever possible. You're going to see better results anytime you can add the person's name, or their company name in the subject line. Also, make sure to follow the etiquettes of professional email. Email etiquette is essential for conveying your message and drawing in new clients. It will help you create more professional and effective email marketing campaigns.
3. Send Visual Emails
A lot of companies have questions about how their emails should look.
According to HubSpot's statistics, 88% of people said they like emails from companies to be in HTML. Some people might assume plain text might be better because it's more personal. But the data doesn't lie.
65% of surveyed respondents also said they want their emails to be mostly images (as opposed to mostly text, or a mix of the two).
So what does this mean?
Send more visual emails. Give people images they can click (like a Groupon email) and they can read more on your website if they're interested. If your HTML email looks like plain text one, don't forget to add an email signature with a headshot or a visually appealing banner. Using email signature for marketing will increase the CTR of your emails and drive additional awareness to your company or personal brand.
4. Increase Relevance with Segmentation
The first reason people subscribe to email newsletters is "relevance". The information is something they're interested in and want to receive more of.
But the term "relevance" is also kind of vague. How do you actually improve it?
You can easily increase relevance through segmentation. You separate your email subscribers into smaller, more targeted groups based on their interest, actions, and other attributes. Make sure to also do email warmup if you're sending this from a new email account. This will reduce the chance of your emails being marked as spam.
For example, the Click-Through-Rate (CTR) was higher for companies who had multiple email lists, instead of only one major list. So by segmenting people and creating smaller, more targeted lists, you're able to send them users more appropriate – or relevant – emails. However, it's equally crucial to maintain the quality of your email list. Using a bulk email verifier can help you ensure that your email addresses are accurate and up-to-date, preventing bounce-backs and improving your overall email deliverability rates.
5. Give People Offers to Join
The second reason people subscribe to email newsletters is for "special offers".
So figure out how you can incentivize or give deals and offers to get people to opt-in. Free coupons or trial offers work great. But you can also use content incentives like webinars, whitepapers, kits, or ebooks.
However just like your subject lines, stay away from sales-y words like "demo" or "consultation".
Dan also did some research into the optimal length of an ebook. It appears that people want either short (5 pages or less), or long (50-100+ pages). These two extremes performed better than the middle ground.
6. Give Subscribers Exclusivity
The third most popular reason people subscribe to email newsletters is for "exclusivity".
So provide subscriber-only content, like deals, exclusive offers, extra content, etc. Exclusivity makes people feel like their participation is more valuable.
You can also give people exclusive access, like priority entry to an event, or first-shot at new products. Think of ways that you can provide them with something special or extra to give them that feeling of exclusivity.
7. Send Email More Frequently
Most businesses are worried about sending "too much" email and annoying their readers. Again, the data might surprise you.
After sending around 4 emails per month, your unsubscribe rate falls dramatically.
That means if you're already sending one email a week (which you should be), then you could even increase that to one per day (if you wanted to), and your unsubscribe rate wouldn't go up significantly.
Dan's assumption is that people get used to seeing your emails and adjust to your frequency quickly. To see for yourself, try experimenting with different sending frequencies and keep an eye on your Click-Through-Rate (CTR) and unsubscribe rate for each email.
8. The Best Performing Traffic Sources (for Email Subscriptions)
Your individual marketing channels and traffic sources have a huge impact on your conversion rate.
So traffic from one channel might convert higher than traffic from another. Here's what Dan found to be the best performing traffic sources for email conversions:
Paid
Email
Social
Referrals
Organic Search
Now compare this to your own Promotion Strategy. For more information on how to get traffic and pick online marketing channels, check out our latest mini-series:
9. Experiment with Action Based Buttons & Calls-to-Action
The actual Call-To-Action text you use will impact your conversion rate. So you might need to test different words and phrases to see what works best for you.
One tip is to try using action-based phrases like "Sign Up", or "Get Started". This should coincide with what the reader is expecting to do.
Otherwise use something non-committal like "Click Here", or "Go", which performed better than "Submit", "Download", and "Register".
The word "Submit" in particular is one of the worst performing phrases you can use (even though it's the default for most).
10. The Best Performing Days and Times
Finally, people always want to know the best days and time to send email marketing campaigns. Dan's research didn't disappoint. Here are some highlights:
Click Through Rate (CTR) is higher on Saturday and Sunday
Unsubscribe rate is higher on Tuesdays
Takeaway: Experiment sending emails on weekends.
Click Through Rate (CTR) is higher from 4:00 AM – 8:00 AM
Unsubscribe rate is the same
Takeaway: Send emails in the early morning.
5 More Ways to Improve Your Email Marketing Today
Here are some more tips to refresh you on some of the best email marketing practices.