As the name suggests, email marketing automation lets you send personalized emails promptly without any manual work. However, as a marketer, you need to set certain triggers to get started with the email automation process. Once activated, the email is then sent to the prospect automatically.
These triggers could be anything from a new visitor to someone who made a purchase. Therefore, you've different email templates to complement these triggers. This is why more than 80% of companies use email marketing software to run their email marketing.
The few common marketing email types you can automate are:
Welcome Emails: they're the first interaction with your prospects as almost 25% of your audience is sales-ready and expecting a personalized interaction with the brand.
New Announcements: it's related to new sales, free trials, any other single service/product, or any company-related news.
Product Updates: regular updates on new editions and upgrades.
Lead Nurturing flows: convincing prospects into making a purchase. This is used to bring prospects further down the sales funnel.
Sponsorships: These are back-to-back emails for collaborations. Automated emails are sent to ask for collaborations without manually doing so.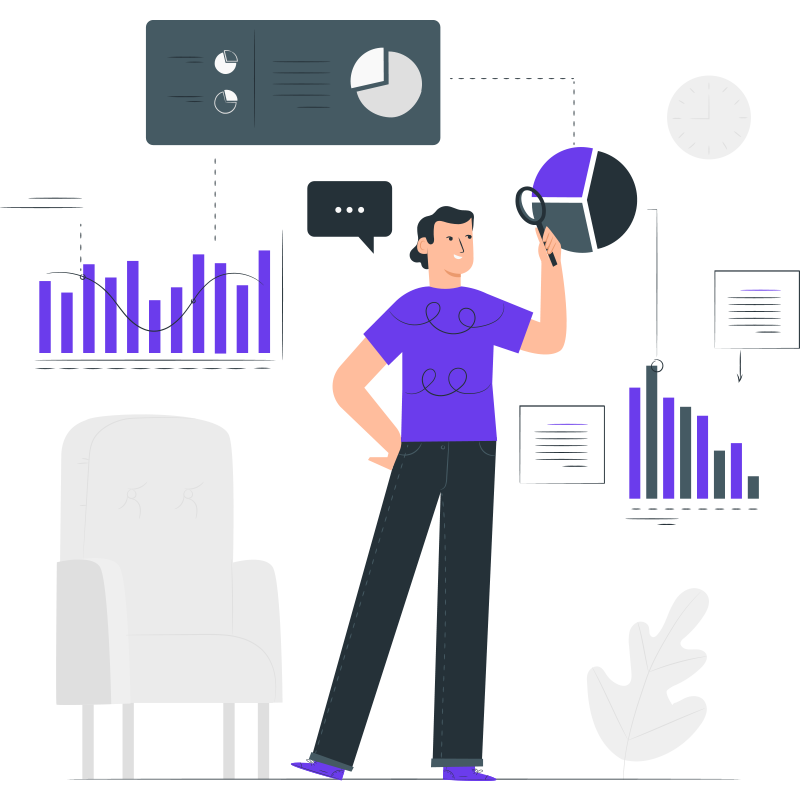 Get long-term ROI.
We help you grow through expertise, strategy, and the best content on the web.
7 Key benefits of email marketing automation
1. Segments your audience
Segmenting an audience allows you to send more relevant content to your audience and improve engagement rates. Segmented email campaigns lead to more than 58% of all email returns on investment.
2. Automates the entire process
One of the most significant benefits of email marketing automation is that it works on its own. Once you have set it up, you can choose certain criteria to trigger the workflows that run automatically. You don't have to work to send out the emails manually. All you have to do is make a list of recipients and the email marketing software will automate all of your emails, even the follow-ups. You can even use advanced automation tools to send emails at scale.
3. Increases brand awareness
Email automation makes businesses look more responsive and organized. When your audience receives relevant emails at the right time, they have a greater understanding of your business. So when a salesperson from your team contacts them, they will know all about your business and will be more interested in it.
4. Reduces the possibility for errors
If you have one person writing and sending emails to new leads, there is a chance that they can make a mistake like getting someone's name wrong. This can lead to your new leads having less trust in your business as it shows a lack of attention to detail. With email marketing automation, you can automate fields like names, addresses, websites, and companies, thus reducing unwanted personal errors.
5. Saves time
When using automation, you can save a lot of time as you let the software handle tasks that would be too time-consuming for you. Automation will work on email creation, follow-ups, and auto-replies without you investing time in each task. You can do other tasks while email marketing automation is working independently.
6. Reduces cost
Instead of paying a large team for making cold calls every day and ensuring that emails are sent out regularly, you can depend on marketing automation tools. The tools are a one-time investment and work on their own. No manual labor is required for moving prospects in the customer journey hence saving the cost. When people are ready to be contacted, your team can approach them.
7. Leads to deeper customer insight
Email automation helps you understand your customers better. You learn about the links they click on, which pages they visit more and what type of content they are interested in.
And how exactly can you go about this?
Simple — through data. You need to collect and analyze customer data to figure out what they like and dislike. This, in turn, can help you customize your email marketing campaigns for them.
But how can you do this effectively?
The secret lies in data science. By leveraging the learnings from a degree in data science, you can seamlessly understand your audience better and power up your email campaigns.
Top 7 tools for email automation/choosing the right platform for email automation
When choosing a platform for email automation, there are a few factors, other than its automated features, you should consider. Firstly, you should check whether the platform's user interface is easy to use or not. The platform should have good customer support and learning resources as well.
Many companies go for the most well-known names in the email-marketing game when automating their emails, but it's paramount that you weigh your options carefully. There are certainly differences between each and every platform, so make sure you know what you are looking for, and don't shape your email marketing around the features they offer.
If you're not satisfied with what commonly used tools like MailChimp offer or are looking for ActiveCampaign platform alternatives, start by writing down what features you are looking for specifically, and then cross-check the platforms you find with that list. Don't settle for less!
1. Marketo
Marketo is an American software company owned by Adobe that develops and sells marketing automation software. It is built to help businesses run and calculate marketing engagement and workflows automatically.
Marketo provides three pricing tiers, at $895, $1,795, and $3,175 per month, and each tier unlocks new features. Some prominent features of Marketo are email marketing, lead nurturing, website personalization, and web activity tracking. Marketo is time-saving and a more effective spend.
2. Mailmunch
Mailmunch is a lead generation and email marketing tool. It helps you capture leads and send email campaigns using one system. The price can vary according to your requirements. It is $13.30 per month for up to five websites along with advanced features. However, if you want to run it for unlimited websites, the price is $34.30 per month with free installation and priority support.
Mailmunch gives you the tools to turn visitors into customers and grow your email list. Users can generate and design sign-up forms without coding knowledge. With the help of Mailmunch, you can get to know your audience with segmentation. You can increase conversations with your customers using personalized emails and automate your funnel. Lastly, Mailmunch helps you connect with all your desired platforms to make your workflow quicker and easier.
3. Hubspot
Popular for its blogging and social media features, Hubspot is also a great email marketing tool. It lets you segment the audience for marketing, like sending emails, grouping leads for sales, and much more.
Moreover, it integrates with third-party apps for auto-analysis and research on consumer behavior. Hubspot is an all-in-one platform and offers everything a marketer needs to stay focused on his task.
It also offers great support and is very easy to use. Hubspot prices can be divided into three categories. Basic is for $200 with 100 contacts, pro is for $800 with 1000 contacts and enterprise is for $2,400 with 10,000 contacts.
4. Contactually
Contactually is a customer relationship management platform that helps users develop a strong relationship with their audience. It is very easy to use and your client data will remain safe.
After a 14 day free trial, the price for a professional is $69 per month and for the accelerator, it is $119 per month. It has many benefits like you can have unlimited contacts and connections to email accounts. It reminds you of your pending activities and campaigns as a virtual assistant.
5. EngageBay
EngageBay is a powerful, yet very easy-to-use email marketing automation software that helps companies to grow their business. This system includes an advanced email marketing solution with templates, a drag and drop editor for quick visualizations, a scheduler, etc.
It allows businesses to build, manage and nurture their audiences in one central hub. You can set up workflows (or "triggers") to automatically send emails based on specific events. It also personalizes your website's email flow, provides you with reporting and analytics, reduces unsubscribes, and boosts the overall performance of your email marketing campaigns. EngaheBay offers a free plan with all basic features, paid plan starts from $10.79 per user/month, the growth plan $35.99 per user/month and the pro plan $57.59 per user/month.
6. Mailtrap
Mailtrap is an Email Delivery Platform for businesses and individuals to Test, Send, Control their email infrastructure in one place.
Mailtrap covers all email-related needs in one place, including:
Email Testing – Use email sandbox to inspect and debug emails before sending them to your recipients.
Email Sending – Use email API or SMTP service to deliver emails to your recipients just in time.
Use Actionable Analytics to Control your email infrastructure performance.
After years of experience building email flows for unicorns and startups, Mailtrap provides customers with an email platform that ensures high deliverability rates and effortless maintenance.
All platform customers can rely on fast and quality support from deliverability experts.
7. NotifyVisitors
NotifyVisitors is a powerful email marketing tool designed to help businesses grow. With its intuitive platform, NotifyVisitors enables users to get their products and services in front of the right customers with precisely targeted campaigns that deliver maximum ROI.
Marketing teams can use its reliable tools to optimize their site's user engagement strategies, from retargeting to tracking and even optimizing CTAs.
NotifyVisitors provides great insights into customer behaviors so that businesses can improve their tactics with data-driven decisions. With all these features, it's no wonder NotifyVisitors has become one of the leading marketing automation platforms!
Best practices in email marketing automation
Create custom templates
It is crucial to make a plan before you start emailing everyone. You should understand who you are emailing and should always have a template prepared to send out campaigns. These templates are a base for many future campaigns and can be reused on your site.
Email templates with common content, layout, and hierarchy can manage emails efficiently. Choose from a library fo email automation templates to save precious time and send customers exactly what they need at the right time.
Nurture leads
Users should use lead scoring to qualify, make data-driven decisions, and hit multiple channels. There should be immaculate alignment between marketing and sales as well. Lead data should be used to customize your messages and users should monitor the customer journey.
Personalized milestone emails
A way to show your leads and customers that you care about them is by reaching them on special events such as their birthdays. Moreover, you can share your milestones, especially when you've opened up a new store, launched new products, or achieved accolades. It helps them in making a part of your success journey.
Maximize targeted leads with lead magnets
Lead magnets play a very important role in the high-converting lead generation funnel. You should create email automation for all of your lead magnets, where you share more resources on all the topics you are covering.
The first email must contain the download link to the lead magnet, and you should introduce your brand. In the following emails, you should give more material around the topic of your lead magnet. You should also write some teaser sentences and put a call-to-action with a link to the content in the email.
Up-selling is a technique used to convince a customer to buy a more expensive product while cross-selling is used to convince a customer to buy an additional product. You should look at your contacts and check what product or service they have purchased.
Then according to that, you should trigger different automation recommendations on other products and services that complement the ones your customers have already purchased.
Improve customer experience
You should send your customers a satisfaction email where you ask them if they liked your quality of service. This will show your customers that you care about them and value their opinions.
Conclusion
Every business needs email marketing campaigns to boost sales and increase customer engagement. To really take advantage of email marketing, investment in automation tools is necessary. When purchasing a platform for your business, ensure that the selected tool helps you grow your customer base and loyal clients, and offers core automation features.
Secondly, it should boast a user-friendly interface and excellent customer support to help you with the tool operations. Primarily, it should assist you in making sales and increase web traffic by building a strong persona for your brand.
It is because the right email marketing tool will help you create effective marketing campaigns that make $44 on every dollar spent, amounting to a 4400% ROI.