The best writers are readers.
That's as true of old grizzled journalists or screenwriters, as it is for content marketers or students.
Yes, you should still polish your skills by watching MasterClass greats.
But if you have any hope of making a living with words, you should be spending nearly as much time reading as writing.
Unfortunately, that's not always practical.
We all have busy lives.
Especially writers cranking away trying to hit deadlines and due dates.
Thankfully, that's where Audible comes into play. Yes, it's kinda cheating. But you can listen to audiobooks while commuting, making dinner, walking, and pretty much any other moment in your life besides putting pen to paper (or keys to keyboard).
Our Verdict
Is Audible right for me? If you're a serious writer, editor, content marketer, or anyone else that makes a living with words, the answer is a resounding YES.
TABLE OF CONTENTS
With an extensive collection of titles, Audible is basically synonymous with "audiobooks" today.
But does it justify the price? And most importantly, do you really need Audible? What are Audible offers and which one is for you?
This is what I'm going to answer in this Audible review. I'll go through the benefits, flaws, and costs of this audiobook service.
So without further ado, let's see if you should go with Audible (or stick to some free resource).
What Are Audiobooks?
An audiobook is basically a talking book, and some sources will refer to it as such. An audiobook is made by recording a written work being read aloud, usually by a professional voice actor.
You might find it hard to believe, but the audiobook concept is actually not a novel feature. Prototypes have existed since the 1930s, but they were mostly limited to educational material or plays. It was not until the 1980s that books have been transferred to audio format, with decent success.
Over time, cassettes have been replaced by modern media formats, and audiobooks have found their place on the internet.
Today, audiobooks are just one way to consume more content in a busy world. Statistics show that audiobooks have surpassed ebooks in market share, as more and more people are willing to listen to books than take time off to read them online.
Maybe the written word is a bygone concept, soon to be replaced by a spoken one?
However, don't worry, as books themselves are still going strong, and audiobooks are just a way to reach those people who lack the means or time to indulge in the sensation of pages pored over at home.
Why Use Audible?
Amazon Audible has become one of the behemoths of audiobooks, with an ever-growing collection that emphasizes ease of access. Audible's audio content is compatible with an array of devices, including most mobile devices, such as phones or tablets, as well as smart home assistants like Alexa.
With Amazon's growing popularity, it's no wonder it has become the platform of choice to purchase audiobooks from. Its dedicated apps are easy to manage and will make listening to your favorite content a breeze.

How Does Audible Work?
Sign-up
The first step to getting access to millions of audiobooks on Amazon is to sign up for Audible Plus. Luckily, we've provided a link to get you started.
You'll need an Amazon account to access the audiobooks, but it's free, and you probably already have one since Amazon has become ubiquitous for purchasing items online.
Memberships and Costs
The Audible Plus membership costs $7.95/month and gives you access to Amazon's Audible Originals database to listen to at any time.
Suppose you want to go a step further. In that case, the Amazon Premium Plus subscription costs $14.95/month, giving you a bonus premium title of your choice each month and discounts toward purchasing premium titles in the store.
Luckily, Amazon also offers a 30-day free trial to ease you into the world of audiobooks and help you decide if they are the right choice for you. There's nothing to risk by signing up for a free trial with an option to listen to select titles.

Audible Credits
Audible credits are a sort of audiobook currency used on Amazon. With one credit, you can purchase a premium title without paying money for it. Premium titles will always have an option to be bought with credits where applicable.
If you have a Premium Plus subscription, you'll receive one credit each month. Credits build up over time, so you don't have any pressure to decide which titles to purchase in a particular month. In addition, they last up to 12 months before expiring.
Amazon Prime members have an additional perk when signing up for Audible, as they receive an extra monthly credit to use at their discretion.
Now that we've outlined the basics of how Audible works, let's tell you what we thought of the experience.
Audible Pros
I've been using Audible for a long time, and it's been a perfect companion to me while I commute to work or deal with the daily errands.
If you're an avid reader or in this case, a listener like me, then its massive library and easy return policy is something you will drool over. The Audible library has a lot to offer with plenty of audiobooks to choose from including non-fiction books.
It is compatible with a range of devices that gives gadget lovers, too, a fair reason to love it. Similarly, it has some other major plus points that I've mentioned in the following section.
1. Great choice for fanatic readers
With an Audible membership, you get one credit and two Audible originals every month. A credit simply means the power to purchase one audiobook for free regardless of its price. There are other advantages to the audible subscription.
Besides this, you get a 30% discount on every book you purchase after that.
It's a great deal for those who rely more on the audio format than reading a hard copy. Because, an average audiobook lasts for 6-7 hours, and if you spend half an hour every day listening to the book, it'll take you around two weeks to finish it.
After that, you can either switch to Audible originals – specific audio materials made by famous journalists or theater writers – or buy another title with a discounted price.
And before you confuse Audible originals with audiobooks, let me clarify that while audiobooks are like a commercial Hollywood movie, an Audible Original is like a documentary or short feature film.
2. Huge collection of titles
Not having a broad range of titles to choose from is the biggest turn down for any book lover. And it seems Audible takes this thing quite seriously.
That's why it gives you the luxury to choose from more than 180,000 audiobooks (and counting) divided into various genres like business, romance, spiritual, motivational, and many more.
It takes things a step further by adding sub-genres, so you don't have a tough time searching your favorite book.
We've personally exhausted the business book genre as we've built our content marketing agency.
3. Easy return policy
Since the maximum number of Audible Credits you get is two (with Platinum membership), you would always want to use it for a meaningful read. But what if you end up with a mediocre book? And if you can't find your favorite books, can you cancel your membership?
No worries. Audible has the motto of "Great Listen Guarantee", and it allows you to return the audiobook within 365 days of purchase or exchange the book with a different one.
And the best part:
Once you return the book, it also restores your credit to your account. Plus, there are no limitations on the number of times you can return a book.
However, I won't recommend you to overdo it, as Amazon can either impose a return limit on your account or penalize you for abusing its generous policy.
4. High-quality audio
Most of the audiobooks in Audible are recorded by experienced narrators, dubbing artists, and writers themselves. Some notable examples – Michelle Obama, Stephen Fry, and Mel Robbins.
So, most of the time, you get a superior voice quality and tone that enhances the whole listening experience.
Another great news is, once you've downloaded the book, it's forever yours to keep and read. Even if you end your monthly membership with Audible.
5. Compatible with different devices
It's next to impossible to use a phone or computer in every single place, and Audible understands this very well.
That's why it provides a plethora of device options that support the Audible app. It includes:
Windows and Mac computers
iOS and Android smartphone or tablet
Amazon Kindle
Amazon Kindle Fire tablet
All the devices that support Amazon Alexa
Mp3 players & Visually impaired devices
I also love its drive mode that lets me listen to my favorite book while driving to the grocery shop or coming back home.
In short, it eliminates all your excuses for not having the time to read a book because, with so many options available, you can literally listen to an audiobook anytime, anywhere.
6. WhisperSync feature for Kindle and Audible
As the name suggests, WhisperSync is a unique feature in Audible that syncs your listening sessions with your e-reading device.
It enables you to start the book on your e-reading device from the same point where you left the last time you listened to it on Audible and vice versa.
It's convenient if you like consuming a book in different formats. You'll never feel lost and finish it in less than your usual time.
But the only catch is, the book you're listening to must be available on Amazon as an eBook. Otherwise, it won't work.
7. A summarized version of the audiobook
Most of the audiobooks in Audible are around 6-8 hour long and sometimes you don't have that much time to commit. It's like skimming through a long-form blog post to get only the major points instead of reading every word.
And you'll be glad to know that Audible has this facility, too. Along with the full versions, it also offers the summarized version of audiobooks at lower prices for those who are tight on budget or time.
Though it is not available with all the titles, opting for the ripped copy (where it is available) is still an excellent choice for saving time and money at the same time.
8. Rollover credits and freeze membership
To be honest, according to me the most captivating aspect of Audible is, it adds up the unused credits of the current month to the next month.
And it also allows you to freeze your account for up to 3 months in case, you're busy on a long European tour with your loved ones.
However, before you get all excited, it's worth keeping in mind that each unused credit is valid only till the next five months (six months for Platinum members). After that, Audible automatically cuts off the credit from your account.
So, it's better if you use it within a few months before it gets null. Because a downloaded audiobook will be there forever but not your credits.
Audible Cons
My experience with Audible has been positive most of the time. But there are a few areas where it could do better. Here are those sections:
1. Audible audiobooks can be expensive or cheap
The price of Audible audiobooks used to seem more expensive. However, the price has evened out as Kindle prices have risen in the past few years.
Just make sure you're redeeming Audible credits on full-length books. Otherwise, the 'flat-fee' nature of it doesn't make sense on shorter books. For those, I recommend just paying the Audible dollar amount (it's usually between $0.99-$3.99 for each).
Then, you can save the $14.95 credit for larger works that will usually cost at least the same (if not more) on Amazon.
2. Credits expire as you cancel the subscription service
I love the cancellation process of the Audible subscription. It's smooth as silk and doesn't make you mad by asking too many questions.
However, the sad part is, as soon as I got out of the Audible membership, it canceled all my unused credits even though they were all valid.
I was left only with my downloaded audiobooks. So don't repeat my mistake.
Before you even think about canceling your monthly subscription, use all your credits by downloading audiobooks, only then move ahead to break up with Audible.
3. No free account
Audible is a pay to play the game. Sure, there's a 30-day free Audible trial to test the service before committing to a monthly or yearly plan, but that's all it has for free users. Listen to Audible with your free trial and check out what audiobooks you love and if you do need an audible membership.
After the trial period ends, you can either choose not to be a member and pay full price for the audiobooks or opt for a subscription plan.
However, I've noticed some free titles in Audible that Amazon could offer to free users and increase its user base. But it seems to care more about its revenue numbers as of now.
Audible Cost and Payment Options
Audible is costlier than many of the other audiobooks publishers. As I mentioned earlier, after the 30-day free trial where it asks for your card details, it charges you $14.75/month or $149 if you choose to pay yearly for its Gold membership. This membership plan gives you some advantages.
As a Gold member, you get 1 Credit and 2 Audible Originals.
On the other hand, if you're ready to spend more, the Platinum membership could be a better deal for you where you get 2 Credits and 3 Audible Originals in $22.35/month or $223.5 per annum.
Fortunately, it accepts payments from all the major credit cards and debit cards as well as via Amazon Store card (if you have one). Good news if you're someone like me who doesn't use credit cards.
PROS
Ideal for commutes
180,000+ titles
Easy return policy
High-quality audio
Supports most devices
Sync Kindle progress
Get book summaries
Roll over credits
CONS
Credits expire if you cancel
No free account
Is Audible Worth It?
Okay, so finally… the big question: is Audible right for me? And should I buy a subscription to listen to audiobooks?
Well, the answer could be yes as well as no depending on who you are and what your priorities are.
First of all, let's see why Audible is not for you. So, Audible is not worth it if:
You're a frugal person who cut on lattes to save for your retirement. Seriously, if that's you, then the $14.95 monthly fee is definitely not something you would be excited about.

You can buy

occasionally as

a non-member, but a full-time membership is a strict no-no.
If you can't sacrifice the smell of a newly arrived print book (you know how good that aroma is, right?) over audio or electronic versions.
If cost is an important factor for you because as I mentioned in the cons section, audiobooks are way expensive than paperbacks and hard copies.
Now, let's find out all the reasons to say yes to Audible. It's worth getting a membership if:
Audiobooks are not a new thing for you, and you read at least two audiobooks every month.

You also know your way around

and can even recommend a

to your friends.

If you have a hectic schedule and hardly get time to read a physical book.
If you're a C-Level executive or startup owner or anyone who has long commute hours or spends a considerable amount of time flying from one place to another. In such cases, an Audible membership is a prerequisite for you.
If you're someone like me, who starts feeling heavy as if you're about to get a headache while reading in a cab.
If you want to make your gym sessions, morning/evening walk, gardening time, or even your laundry time more productive and

need a great

on the go.
Right now, Audible's also offering a deal for new sign-ups.
Sign up for the free trial and get 2 free downloads now.
FAQs
Do Audible Credits Accumulate?
As noted, your Audible credits can accumulate over time, but they will be lost after 12 months if you haven't used them. When making a purchase, the oldest credit will be used up first.
Are Audiobooks Cheaper Than Written Books?
Unfortunately, the production cost of an audiobook is dependent on the cost of the voice actor, and can easily range in the thousands of dollars.
Considering this higher cost, their price tags are usually well above written books, not to mention ebook titles on Kindle Unlimited, which can be extraordinarily cheap due to the lack of printing requirements involved.
Audible isn't cheap in the long run, but the subscription gives you a hefty discount, as the credit is usually worth more than the $14.95 you virtually paid for it.
What Happens to my Audiobooks if I Cancel?
If you cancel your subscription, you get to keep the downloaded books! You can keep listening to your favorite titles, although there may come a point where you get bored of them and need new content to consume. You can also restart the subscription later to get additional audiobooks.
How Do I Restart My Audible Membership?
Restarting your membership is the same as signing up for a new one. You can use your existing Amazon account to create a new subscription. You'll still have access to your old, downloaded audiobooks and can start accumulating credits again and listening to Audible Originals with the new membership plan.
Is Audible Free With Prime?
Unfortunately, Amazon Prime and Audible are separate subscriptions, and you won't get free access to audiobooks if you sign up for Prime. However, you do get the benefit of receiving an extra monthly credit to your Audible account.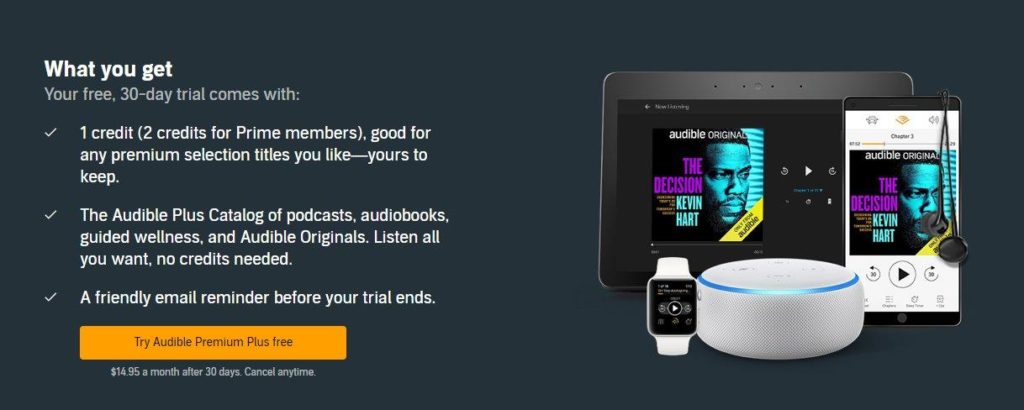 Conclusion
Now you know more about audiobooks and Amazon Audible, one of the world's largest markets for audio titles. Using audiobooks is quick and easy, but it is not for everyone, especially those who are working on a stricter budget.
Audible is definitely a unique opportunity to access more content to enjoy, and we've had some fun times listening to the various titles available.