As part of your marketing strategies, one of the crucial steps is collecting and presenting data. Several businesses use basic spreadsheet software to keep track of their data. But, in the long run, this isn't an efficient solution.
To make your customer relationships as smooth as possible, using Customer Relationship Management (CRM) software for marketing is the way to go.
Using the software lets you keep necessary data like lead info, sales activities, and lead behaviors. The data presented via marketing automation tools help your marketing team and every branch of your company. (We'll talk about that below.)
80% of business officials conceded that they used CRM software exclusively to keep track of their customers. Since most companies solely use management software to maintain customer records, you need to know that they are modified to their needs.
Several tools are available on the market, but you must choose software that fits your needs. Having a generalized CRM solution will give you generalized results, and that's not what you want for your brand. So, let's first talk about the reasons why your team needs to use CRM software today.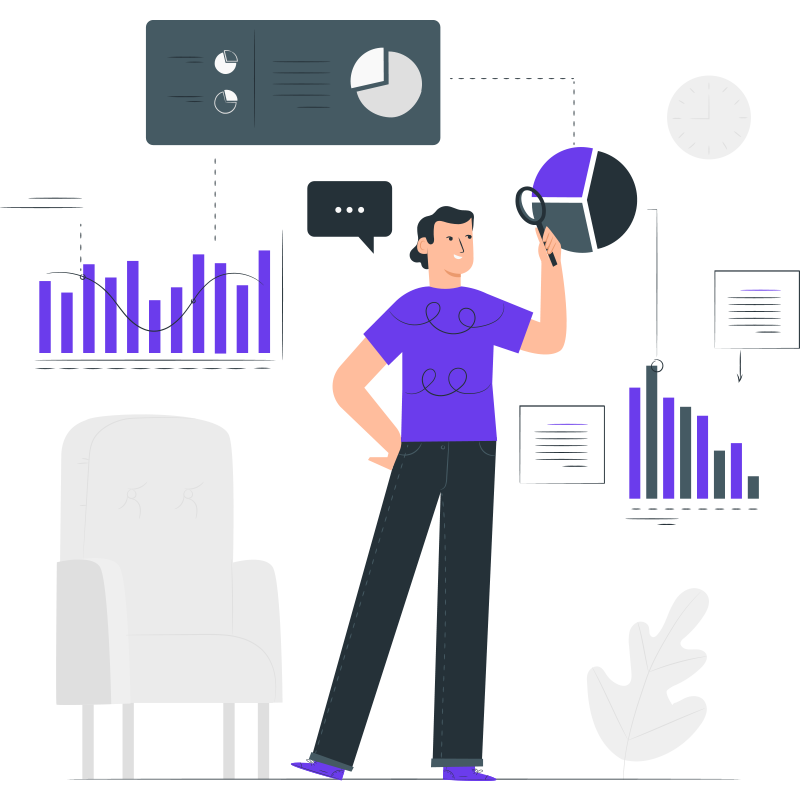 Get long-term ROI.
We help you grow through expertise, strategy, and the best content on the web.
Why your marketing team needs to use a CRM from the get-go
Creating rock-solid relationships with your customers is key for your business to grow. As a result, here are the different benefits of using CRM to maintain records:
Connect with the right customers
Seizing the opportunity when it comes knocking is key in marketing. With that in mind, CRM software for marketing allows you to classify leads based on their warmness easily. This will enable you to create targeted engagement strategies for the various kinds of customers that you would want to engage with. You can sort through these records swiftly, allowing you to save time.
Delivering better custom service
In 2020, 52% of customers wanted the offers they received from a company to be custom-made for them. In 2019, this figure was at 49%.
Can you see the trend here?
Your customers want to feel like your company cares about them and wants you to tailor your offers for them. This is where using marketing automation tools comes into play. You can monitor customer behavior using CRMs, and target your service to be the best for individual customers.
The program achieves this by giving you access to their history, tendencies, and preferences in the same place.
Improving customer retention rates
An established fact in the business world is that it's easier to make a past customer buy from you again. So, you need to ensure that you're keeping your existing customers happy.
Managing at-risk accounts and customized problem solving is one of the best ways to retain clients. Access to their history, problems, and campaigns helps you engage with them organically. You gain a buyer for the long run, which will help your business grow several times faster.
Factors to consider while choosing a CRM software
As talked about earlier, not all CRM software will solve your business problems. Additionally, not all automation programs were created equal either. So, you need to adopt a system that works for yourrequirements. Here are the things you need to consider when choosing a CRM:
1. Your business goals
The first step in choosing a management tool is identifying your targets. What is it that you need this software to accomplish? It is also important to keep your niche in mind when choosing your software. For instance, for event management the tool you want is much different than a regular management software.
Do you need more leads? Offer customers a better service experience? Need to increase conversions? If these are some of the challenges you're running into, using CRMs is a good idea.
If you're planning on upscaling or cross-scaling your brand as well, then using a CRM can make finding patterns easier. This helps you create unique marketing solutions.
2. Mobility
If you have a team of highly efficient workers, you'll want to make things as smooth for them as possible. With this in mind, choose a CRM that encourages mobility for your employees. For instance, it allows them to look up client data working remotely. Good software will also be tailored for a mobile experience, and it shouldn't be a scaled-down version of the website.
3. Integrations and productivity
Does the software you're considering work well with the other applications you're using in operations? If not, it might not be a good idea to go forth with it.
Narrow your search down to apps that work with accounting software, digital marketing apps, productivity apps, or anything else that you apply in your workflow. In doing so, you will ensure that productivity goes up instead of making the management system alien to your process and hindering the process.
4. Workflow analytics
A great CRM software not only makes your workflow smooth but performs analytics and reports data on the process to highlight what's working and what isn't. Keeping track of your employees or the program's users is also one of the key features of a reputable program. This way, you can see the workers who are doing okay, need extra training, and the ones who deserve a raise.
5. Software reputation
Remember, there is nobest marketing CRMavailable for anybody. There are plenty of great programs out there, and you need to find the one that suits your needs the best.
In dealing with business matters, you want to ensure that the software you're going to use is secure. It should also have a good reputation among the users. Read the unbiased customer reviews, know the system's pros and cons, and evaluate the product based on your judgment.
Your options for the best CRM software
Now that we've laid down the benefits of using automation tools and how it helps your business grow, it's time to decide which is right for you.
To help you out further, we've narrowed down your search to the top five picks to choose from:
Zoho
Zoho is an excellent choice for businesses on a budget and is specifically made for small and medium businesses. You can easily and quickly migrate your data from other spreadsheet and CRM tools. The interface is highly customizable and enables performance tracking for your workers as well.
Using Zia, Zoho's AI, you can further automate the process and project performances based on trends.
Insightly
Insightly is a very easy-to-navigate tool for centralized data storage. You can navigate to any point of the system rapidly, and it also allows integration with other common platforms that businesses use to moderate their operations. It also comes with a very useful iPhone app that promotes mobility.
Copper
Copper is one of the most highly rated CRM tools on the market. It is easy to set up and use and provides great customer service. One of the most liked features about Copper is its smooth integration with Gmail and allows data entry to be a completely automated process.
PipeDrive
PipeDrive is among the more affordable CRM software tools on the market, but it is also one of the best. It has a great sales pipeline view and integrates seamlessly with Google and other mobile and web apps. You can also set goals and track them over a timeline, making the process easier to follow.
Nutshell
Nutshell is a highly scalable software and allows you to import contacts in several ways. You can classify them according to your liking and reach out to them via email using a set template as well. The best feature of this product is its reporting feature that helps you monitor the performance of all your teams.
When should you consider a custom CRM solution?
Even with so many products on the market, you might want to consider building custom software for your company. You can hire a developer today to create the most suitable CRM solution for your business needs. But remember, it can be pretty expensive to do so. Hence, you need to make an informed decision that you really can't find a good option on the market and need a tailored solution.
That said, there are ways to cut down on costs if you need a relatively simple program. The best way to find out the scope of the price quotes is to discuss them with a freelance developer of your choosing.
Personalized service is needed when you want features beyond the basic scope of the products on the market or to solve a specific problem. It is also a great idea to go for a custom product to automate communication between the departments of your company despite keeping the departments segregated.
Conclusion
With so many benefits of using CRM software for marketing, even if you're a small or medium business, you should make the switch as soon as you can. Putting healthy practices into place early will help your business grow fast. Having an organized display of your customers and their history is crucial for improving your product and customer service, which is invaluable.
Remember, choose a software that suits you best after careful evaluation of your goals and priorities.