Email marketers are asked to do a lot.
Not only do they have to write and design engaging email campaigns, they also need to review analytics, create segments, track conversions, and more.
On top of those responsibilities, multiple email campaigns might be required frequently — if not daily — making any email marketers' plate immediately full.
To achieve their goals, they need an email marketing platform (EMP) that works well for their business and campaign strategy.
This is where two leading platforms, GetResponse and ActiveCampaign, come into play. Both are popular email marketing platforms, but which one is right for you?
In this post, we'll look at the value both GetResponse and ActiveCampaign provide their users.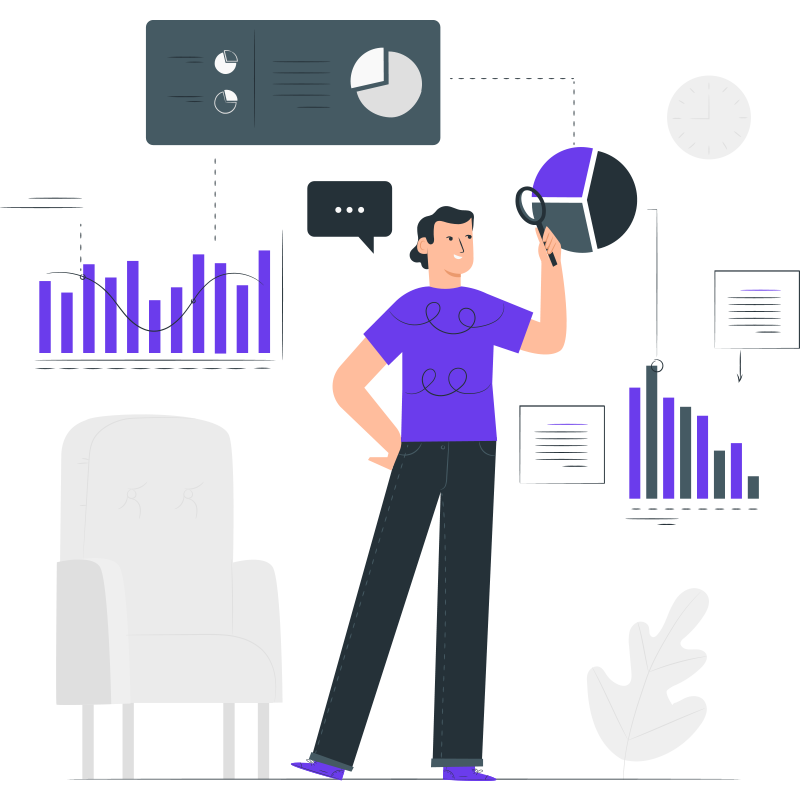 Get long-term ROI.
We help you grow through expertise, strategy, and the best content on the web.
TABLE OF CONTENTS
Publish Google Docs to your blog in 1-click
✅ Export in seconds (not hours) 
✅ Less VAs, interns, employees
✅ Save 6-100+ hours/week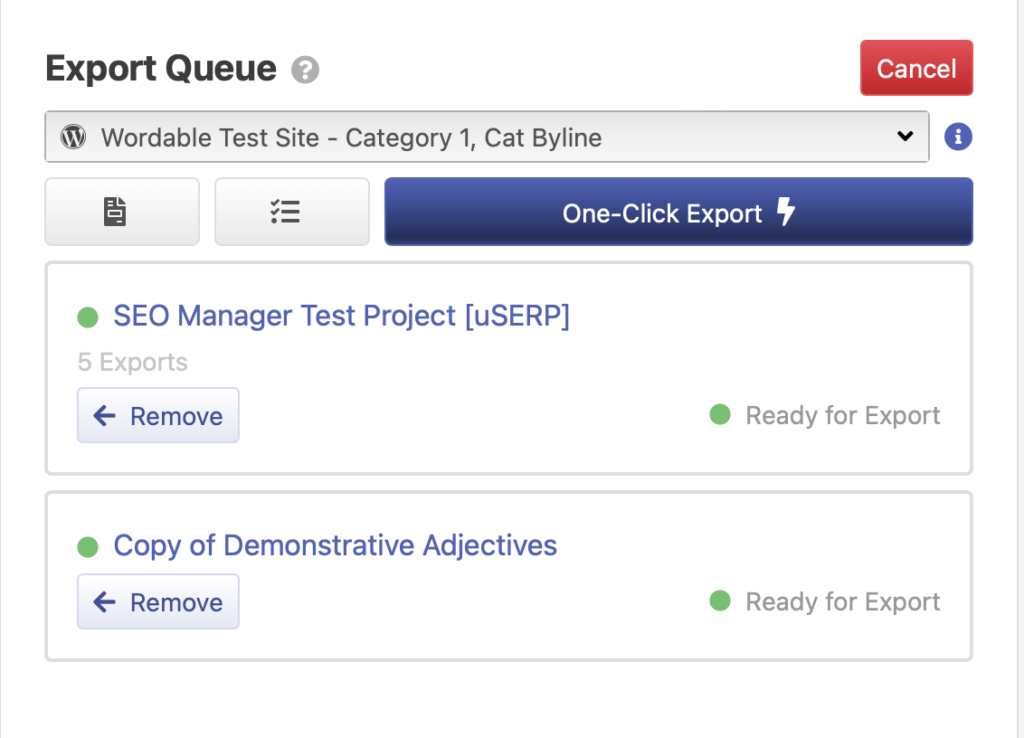 GetResponse overview
GetResponse is an online marketing software that helps business owners achieve their objectives and engage their prospects.
The company launched in 1997 and evolved into the global company it is today with 350,000+ customers across 183+ countries.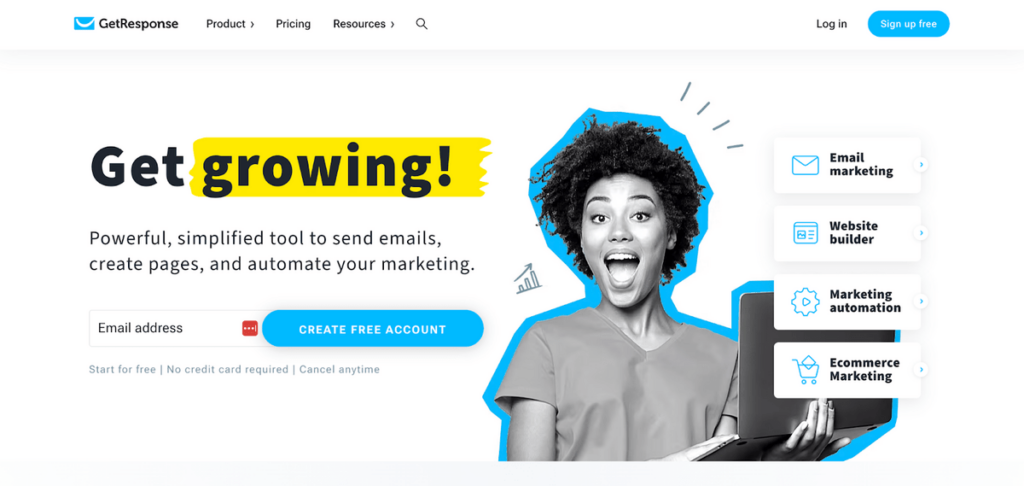 With so many clients using the platform, it's clear GetResponse is an effective email marketing tool for your digital communication needs.
ActiveCampaign overview
ActiveCampaign's marketing platform helps businesses "deepen relationships with customers at every touch point."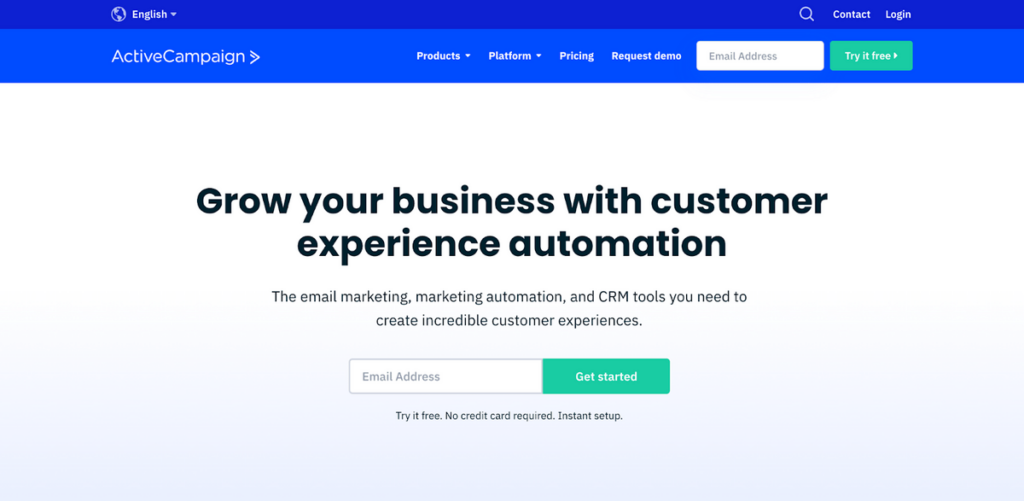 More than 180,000 clients across 170 countries use ActiveCampaign to power their digital marketing campaigns. ActiveCampaign is ranked #1 by G2 in Marketing Automation and ranked #1 by TrustRadius in Email Marketing.
GetResponse features
GetResponse is an expansive marketing platform with various functions and features to scale your marketing operation and reach more customers.
Some of the top functions that the platform offers are email marketing, marketing automation, multichannel engagement, lead collection, and more.
Email marketing
GetResponse offers an easy-to-use email marketing interface for customers to navigate and launch beautiful marketing campaigns. Like other email marketing providers (EMPs), GetResponse has a drag-and-drop builder, newsletter templates, and more.
A unique offering is GetResponse's autoresponders and send-time optimization. Autoresponders can trigger, based on a specific time or action, to nudge the prospect towards conversion without an additional call or touchpoint from your team.
Perfect Timing is the name of GetResponse's send-time optimization tool which aggregates data and recommends the best time to send your campaign. This optimization tool can help get your email campaigns to the top of consumers' inboxes and get opened by your audience.
Marketing automation
Companies should use marketing automation to scale effectively. GetResponse offers a visual workflow builder so you can map out every touchpoint your company has with potential buyers and see them in front of you.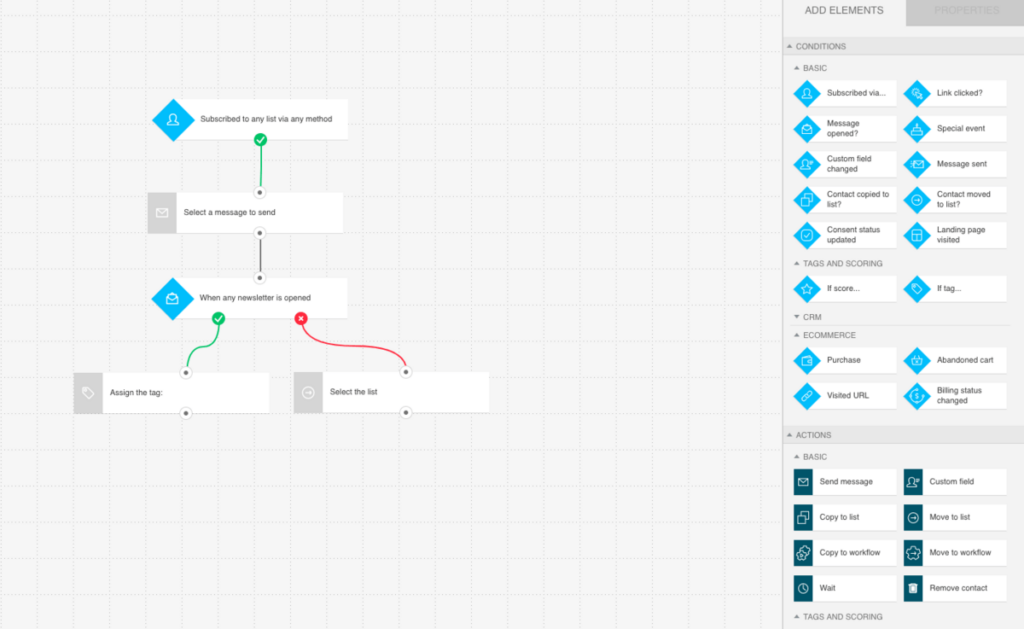 These touchpoints can be triggered through GetResponse's advanced triggering feature which lets users get granular into when and how a message is delivered (whether by action, time, device, or more).
Users can also set up transactional emails or custom promo codes that are sent to a prospect automatically based on an action they took on the site.
Multichannel engagement
GetResponse isn't just about email. Businesses can use the platform to engage customers across multiple different channels. Some of the most popular ways include web push notifications, SMS marketing, web pop-ups, and even live chats.
As consumer habits evolve, it's important to expand your marketing efforts beyond traditional channels like email and social media. GetResponse enables users to do this effortlessly all through the same dashboard.
Lead collection
Nearly every aspect of lead collection is brought together under one roof with GetResponse. Users can use GetResponse's templates to create beautiful landing pages and set up easy-to-use sign-up forms in a few clicks.
In addition, you can A/B test changes to the landing pages and forms to ensure your pages are optimized and converting as planned.
But how does this compare to what ActiveCampaign offers? Let's take a look.
ActiveCampaign features
Business owners will love the range of features that ActiveCampaign offers to help launch effective marketing campaigns and scale sales operations.
ActiveCampaigns offers a wide array of features including email marketing, marketing automation, landing pages, customer relationship management (CRM), ecommerce, and more.
Email marketing
Much like GetResponse, ActiveCampaign offers an easy-to-use email marketing campaign builder that is complete with segmentation, subscription forms, and site tracking.
The email campaigns can be built in a drag-and-drop editor that is functional and intuitive. Marketers will appreciate the site tracking function which connects website activity to marketing and sales functions, providing more transparency and attribution data.
Marketing automation
ActiveCampaign has an automation map (similar to GetRespons's visual workflow builder) to organize communications with prospects and existing buyers. This enables companies to send dynamic content to various segments in real time based on their customer profile or action.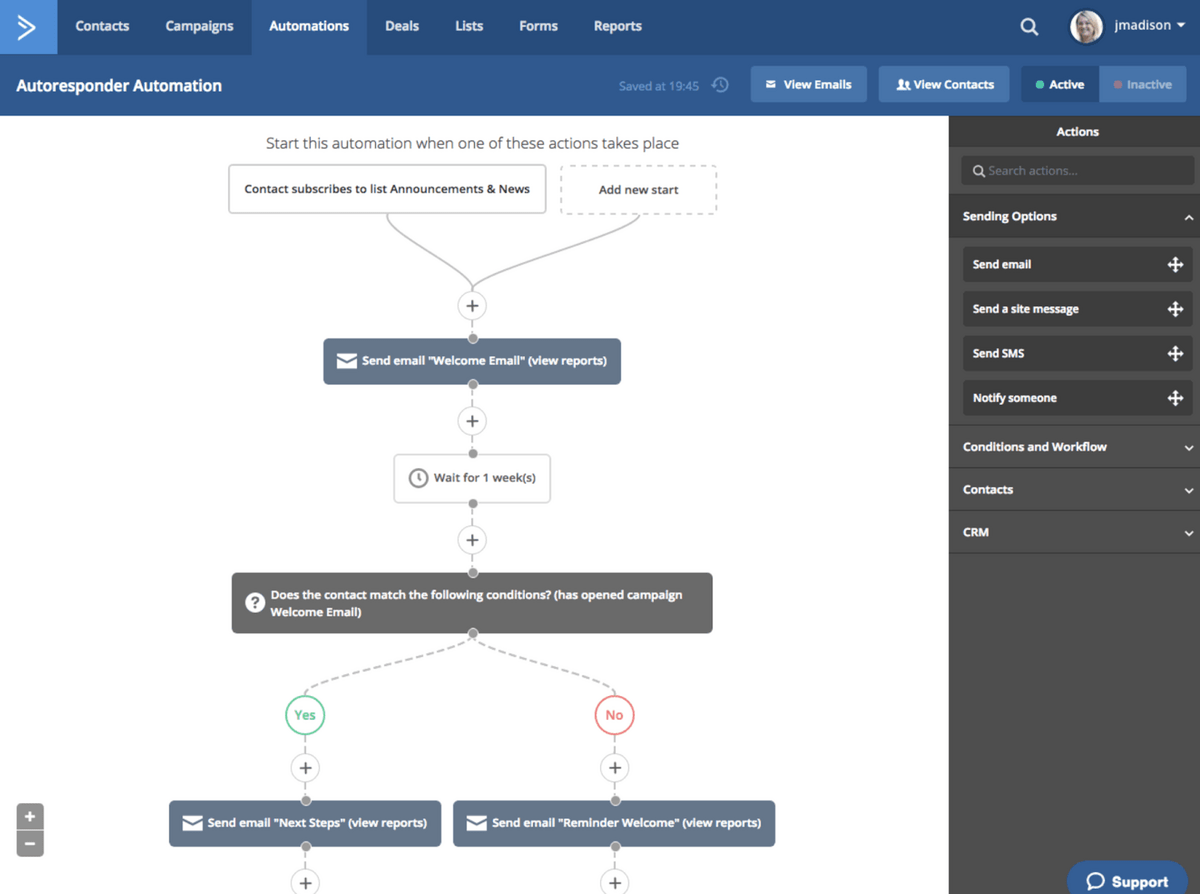 The automation suite is complete with event tracking (the ability to see if and when a prospect takes a specific action) as well as integration with Facebook to collect Facebook customers from the social platform.
Landing pages
ActiveCampaign provides a robust landing page creator with customizable templates, a drag-and-drop design interface, and much more.
The company even offers list builders, enabling you to upload a list of existing customers or natively collect new signups with an embedded form on a landing page.
CRM
CRM functionality is one of the core differentiators of ActiveCampaign when compared to GetResponse.
ActiveCampaign provides users with a fully-functional CRM that's fully integrated with their marketing software, complete with lead scoring, pipeline visibility, win probability ratings, and attribution.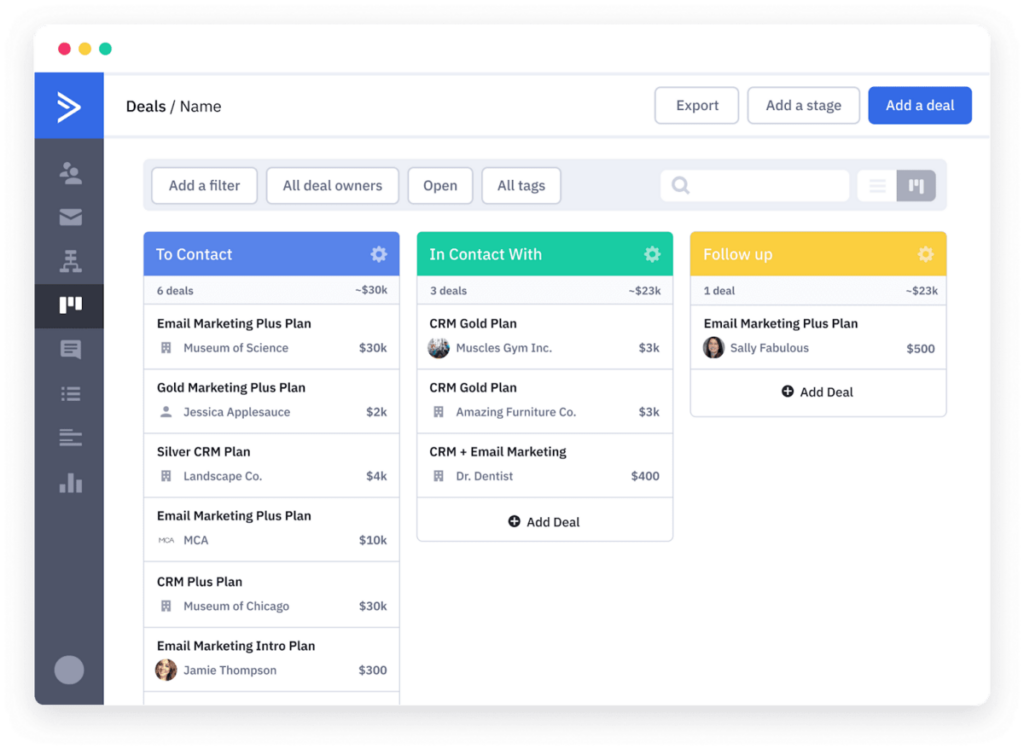 Since ActiveCampaign offers email marketing capabilities, sales representatives can also initiate one-to-one email campaigns to specific prospects that are sent and cataloged within the system.
Ecommerce
ActiveCampaign's ecommerce integrations enable the seamless flow of data between ecommerce platforms like Shopify, WooCommerce, BigCommerce, and others with the ActiveCampaign dashboard.
This enhances the CRM and marketing capabilities because you'll be able to see who converts and purchases with the attribution data available.
GetResponse pricing
Depending on your team and use case, GetResponse has a plan and pricing structure for you.
GetResponse follows a scaling price plan that correlates to your number of contacts in your lists.
GetResponse offers the following plans:
Free: This plan provides you with 2,500 newsletters per mo, 1 landing page, website builder, domain, signup forms, and more.
Email marketing: This is a more enhanced plan that starts at 1,000 contacts for $15.58 per mo and offers unlimited newsletters, unlimited landing pages, website builder, basic segmentation, autoresponders, integrations/API
Marketing automation: This plan is great for businesses or entrepreneurs who are focused on automation. The plan starts at $48.38 per month for 1,000 contacts and includes marketing automation, event-based automation, webinars, advanced segmentations, contact scoring, sales funnels, and more.
Ecommerce marketing: This plan is great for businesses with an ecommerce site. The plan starts at $97.58 per month for 1,000 contacts and includes transactional emails, ecommerce segmentations, abandoned cart recovery, promo codes, product recommendations, web push notifications, and more.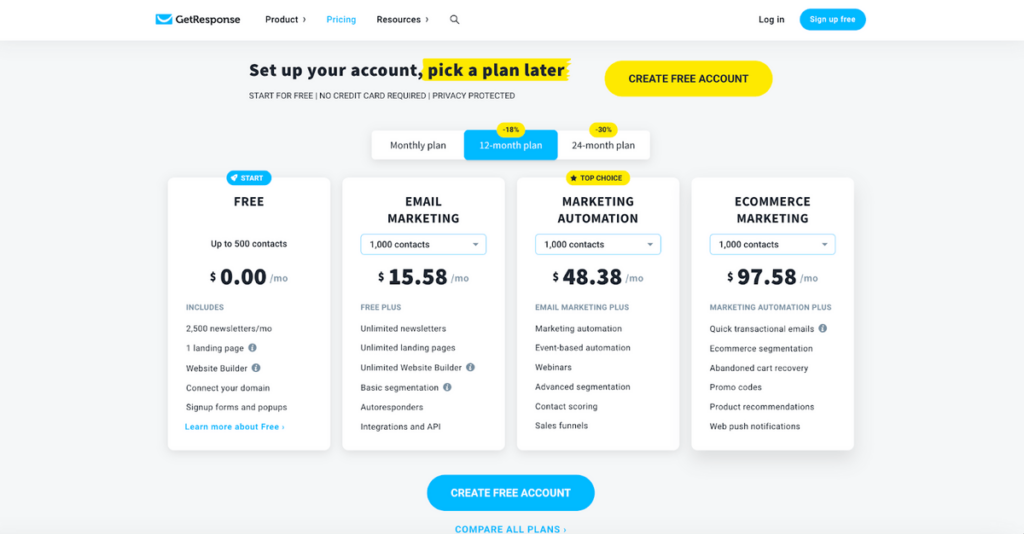 Since GetResponse offers a free plan, it can be perfect for solo entrepreneurs or small businesses starting off. However, be careful. As your list grows, so will your cost!
ActiveCampaign pricing
ActiveCampaign offers a variety of pricing plans depending on your business and whether or not you're focused on its marketing or sales functionality.
Marketing pricing
ActiveCampaign offers four marketing bundles which include their email and marketing automation platform.
They include:
Lite: A $29 per month plan that's great for solo entrepreneurs and includes the email marketing and automation platform, support, forms, site, event tracking, webhooks, and more.
Plus: A $49 per month plan that's perfect for small teams and includes the lite plan along with landing pages, Facebook Custom Audiences, lead scoring, pop-ups, ecommerce integrations, and more.
Professional: A $149 per month plan that's perfect for teams that want to scale their marketing and includes all of the above functionality in addition to predictive sending, split automations, CRM integrations, attribution, and more.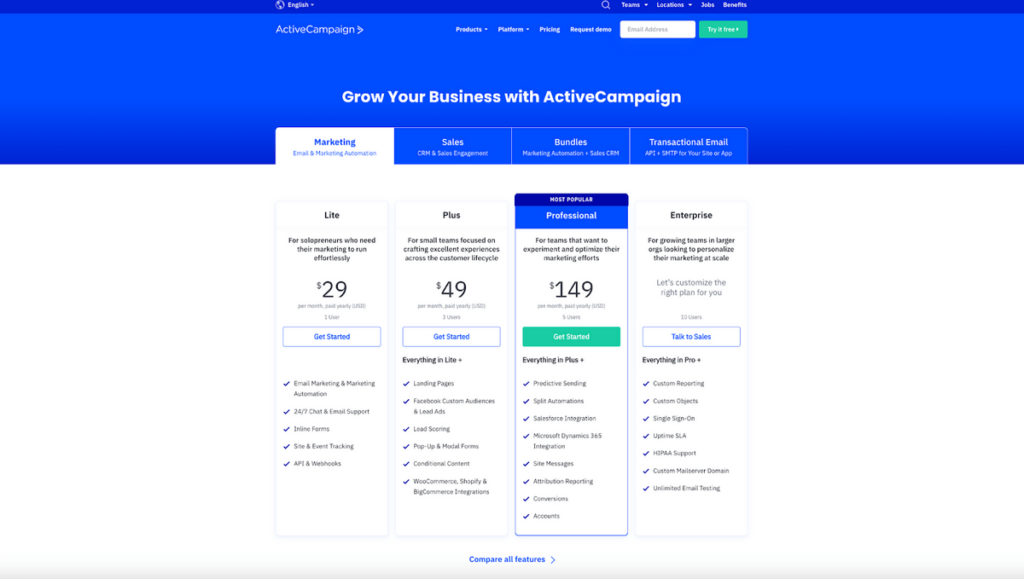 Enterprise plans are also available for custom requests and more advanced reporting for enterprise businesses.
Sales pricing
For sales professionals, ActiveCampaign's sales functionality will be useful. They offer specific plans to take advantage of their CRM and sales enablement platform.
Those plans include:
Plus: A $19 per month plan for small sales teams who need to catalog leads and manage pipelines.
Professional: A $49 per month plan for larger teams that want more capabilities like one-to-one email, sentiment analysis, win probability rating, Facebook lead ads, and more.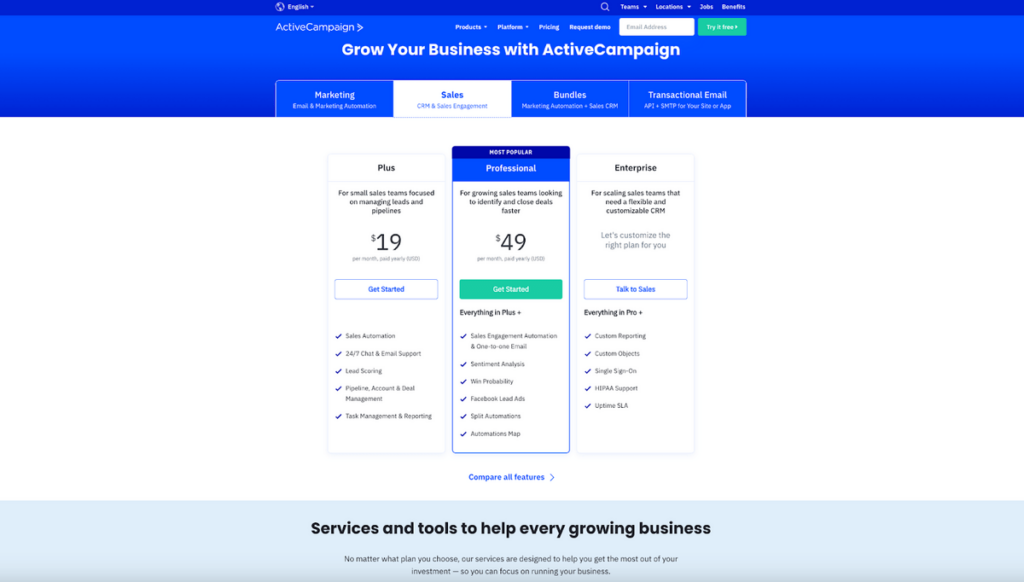 Enterprise plans are available as well.
Want both marketing and sales capabilities? ActiveCampaign offers bundles starting at $93 per month to enhance your marketing and sales efforts.
GetResponse vs ActiveCampaign reviews
Both GetResponse and ActiveCampaign are great platforms with pros and cons associated with them.
Many users like GetResponse's email marketing capabilities, but dislike its inflexibility, minimal funnel transparency, and limited paid ad offering.
Some ActiveCampaign users praised the platform's ability to go beyond standard email marketing functionality, but believe the interface is targeted to more sophisticated CRM users.
According to G2.com, ActiveCampaign scored 4.6/5, while GetResponse scored 4.2/5 with consumers.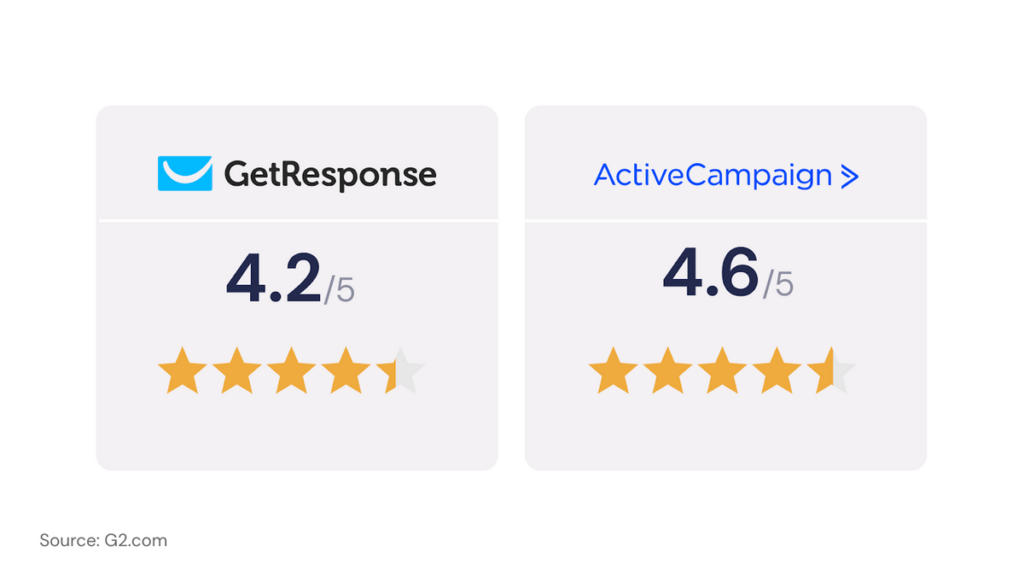 As you can see, both are rated favorably overall, making them strong contenders for your email marketing platform.
For most use cases of entrepreneurs and small to large organizations, ActiveCampaign will edge out GetResponse due to both its functionality and pricing.
ActiveCampaign outperforms GetResponse
Enhancing your digital marketing efforts starts by upgrading the platforms you're using.
But when it comes to ActiveCampaign vs. GetResponse, which should you use?
While both have unique differences and features, ActiveCampaign edges out GetResponse overall in terms of usability, functionality, and price.
Their marketing automation features, email marketing tool, capture forms, visual campaign builder, seamless integrations, ecommerce features, and overall user interface make it a winner.
Whether you're looking for a reputable email service provider, landing page builder, easy-to-use automation workflows, or more, ActiveCampaign is the platform to use.
The range of features that ActiveCampaign offers — from form builders to key marketing automation features — is tough to beat.
Get started with ActiveCampaign and begin supercharging your digital marketing efforts today.